Wondering what different types of WordPress forms are out there and want to see some form examples?
You might be surprised to learn how many different things you can do with forms on websites. So if you're looking to boost your website's success, check out all these different kinds of WordPress forms to grow your business.
Does WordPress Have Built-In Forms?
No. WordPress doesn't have a built-in form builder. The good news is that it's easy to install one.
WPForms is the best form builder plugin for WordPress and has an easy drag and drop builder. It also includes hundreds of pre-made form templates, allowing you to create different types of WordPress forms in just a few minutes.
Types of WordPress Forms
Most people simply underestimate the power of website forms. But, good forms can skyrocket your website's income potential.
So here's a list to help give you some inspiration to start using the many different types of WordPress forms out there to grow your business!
1. Contact Forms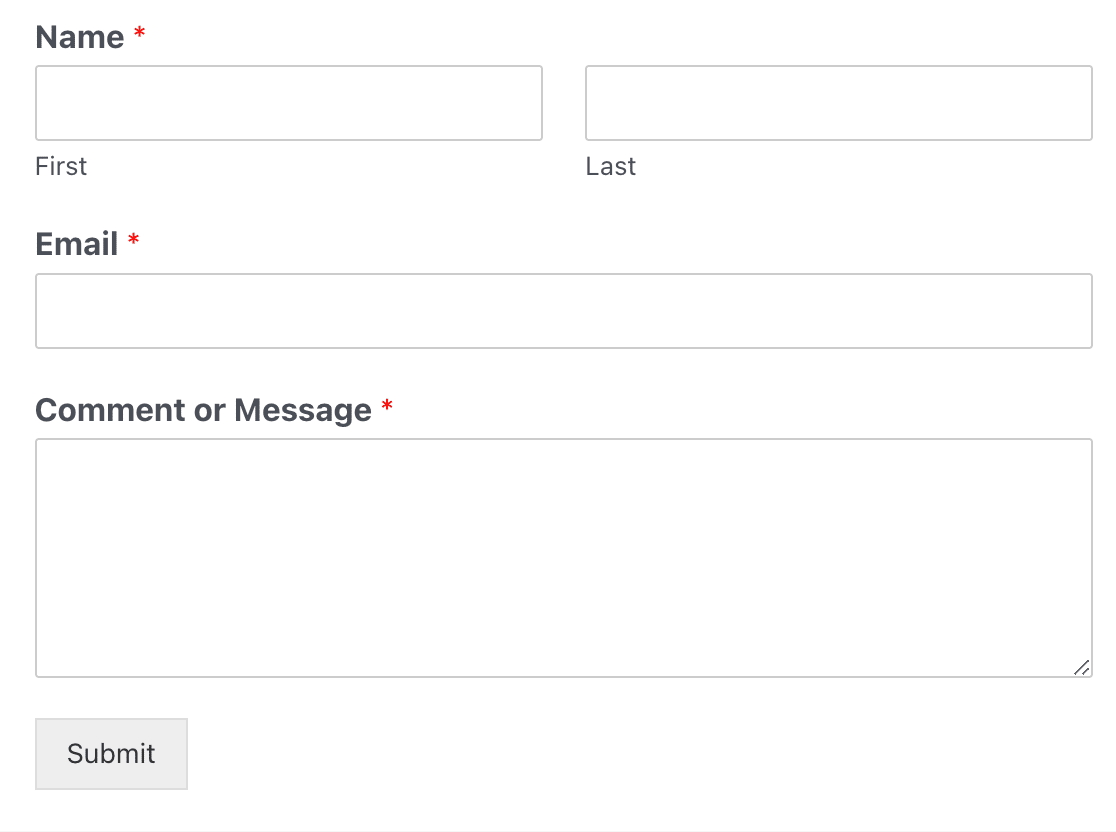 Most WordPress form builder plugins will let you make a basic contact form either on your own or with a developer's help.
But, some of the more popular form builders like WPForms offer super user-friendly drag and drop builders that make it easy for anyone of any skill level to make a contact form.
And once you have a contact form, you can easily create a request a call back form to make it even easier for customers to contact you.
Check out this comparison of WPForms Lite vs Contact Form 7 to find out which free form builder is best for your site.
2. Survey Forms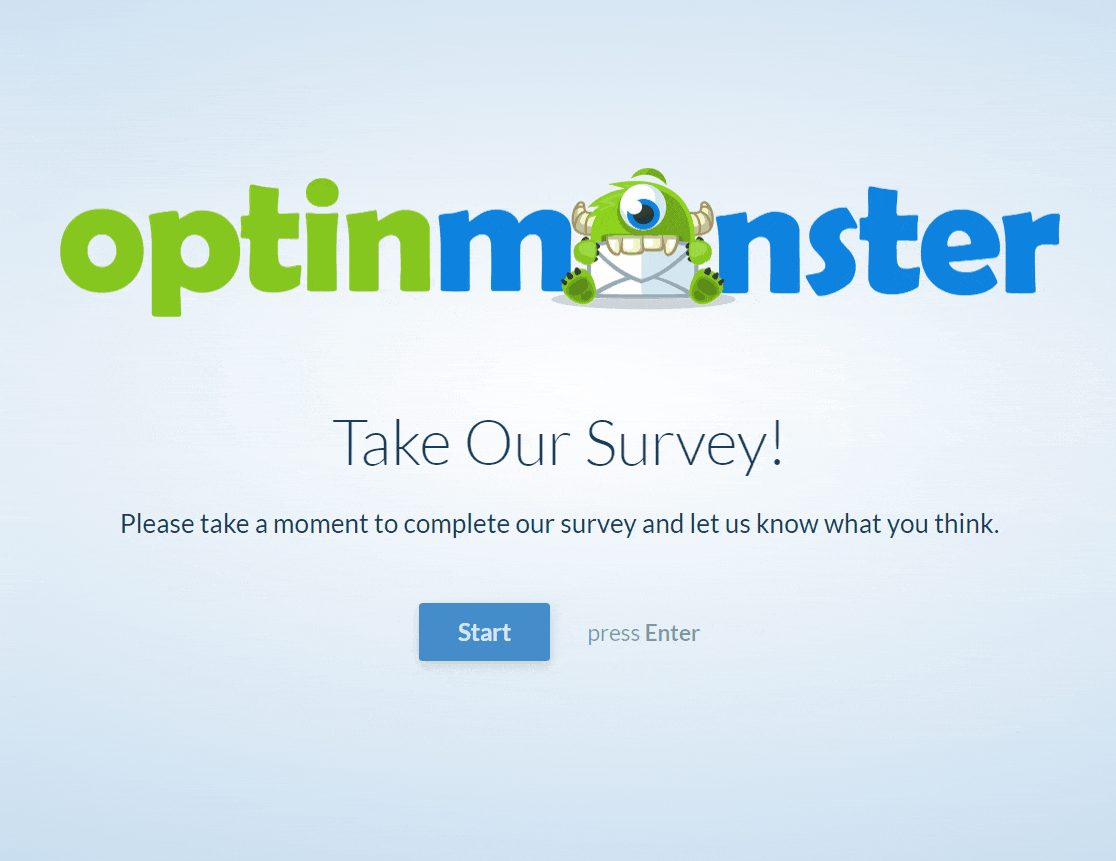 A wonderful type of form you might not be using on your website is a survey form. You can use survey data to get feedback, get business ideas, and more.
Also, you can make your survey forms even more beautiful and engaging with tools like Conversational Forms. WPForms is the best Typeform alternative on the market.
Need some inspiration? Check out these examples of customer surveys we like.
3. CRM Connected Forms
One of the more underrated types of forms is one that integrates with your CRM software. Whether you're using integrating Salesforce, HubSpot, Zoho, or another popular CRM software for your business, you should definitely know you can connect them to your website forms.
These are an amazing way to organize your leads and contacts as they come in from your website. That way, you can use the power of that awesome CRM software even further.
4. Popup Forms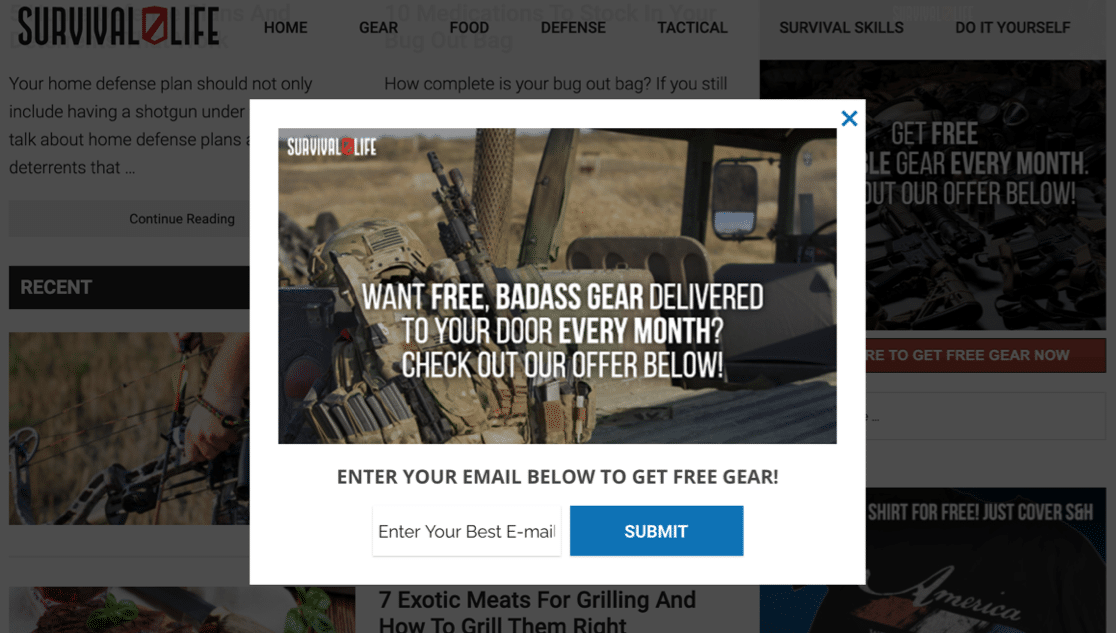 There's a type of WordPress form you've definitely seen before. The popup form.
Popup forms are forms that appear on a website automatically or by a triggered action, and they're known for explosive conversion rates.
Popup forms are incredibly powerful. Actually, this might very well be one of the most powerful types of WordPress forms you can use. They're one of the most effective ways to get your forms in front of your website visitors.
You can use them to call attention to a contact form, an email newsletter optin form, lead magnet, or more.
5. Booking and Event Registration Forms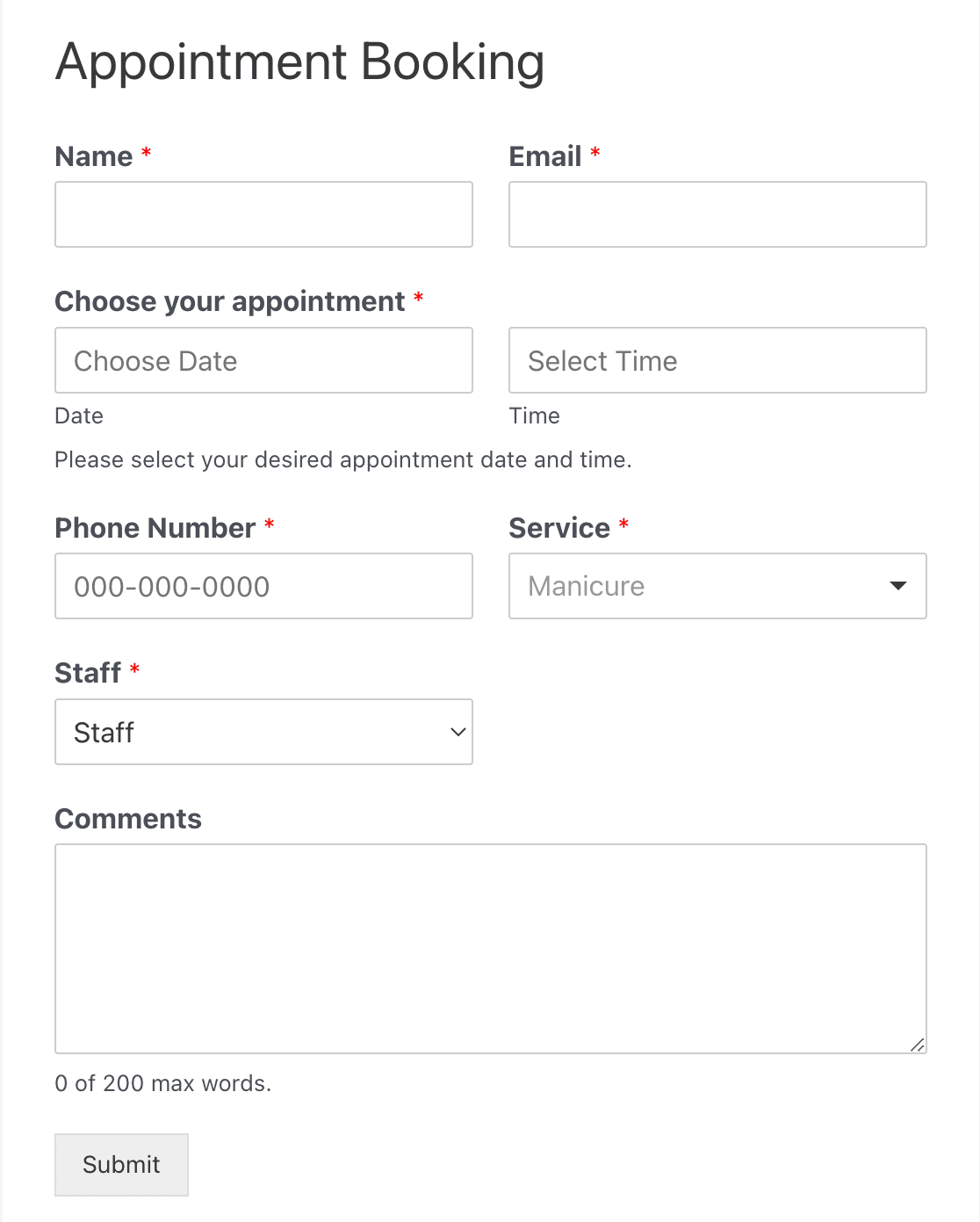 Are you running a service-based business? You can use your website forms for more than just contact forms!
You can create a booking form in WordPress to let clients and leads send you appointment requests right through your WordPress site.
And if you run a community site, you can make a form so users can submit their own events.
Check out this simple guide to making a WordPress form with a datepicker.
6. Job Applications Forms
Another cool type of WordPress form is a job application form. Simply add a file upload field to your form and you can get resumes right on your website.
These file upload fields let you accept job applications or other documents, right on your website through your forms. So you can gather and organize resumes, references, and other docs before even reaching out to candidates. It's a great way to qualify applicants quickly and efficiently.
If an employee decides to leave, you can also create an exit survey to get their feedback on the job. Surveys like this can really help to improve your processes for everyone else.
7. Image Upload Form
Another type of WordPress form you may not have considered is an image upload form. They use file upload fields on your forms to accept media files.

File upload fields on forms can let users submit images, videos, and even audio recordings to your site. This makes them great to use on a podcast site, or even an eCommerce store that lets people submit custom designs for t-shirts or other products.
WPForms is the best plugin for file uploads. It has tons of options that let you customize the way files are uploaded and stored.
8. Testimonial Forms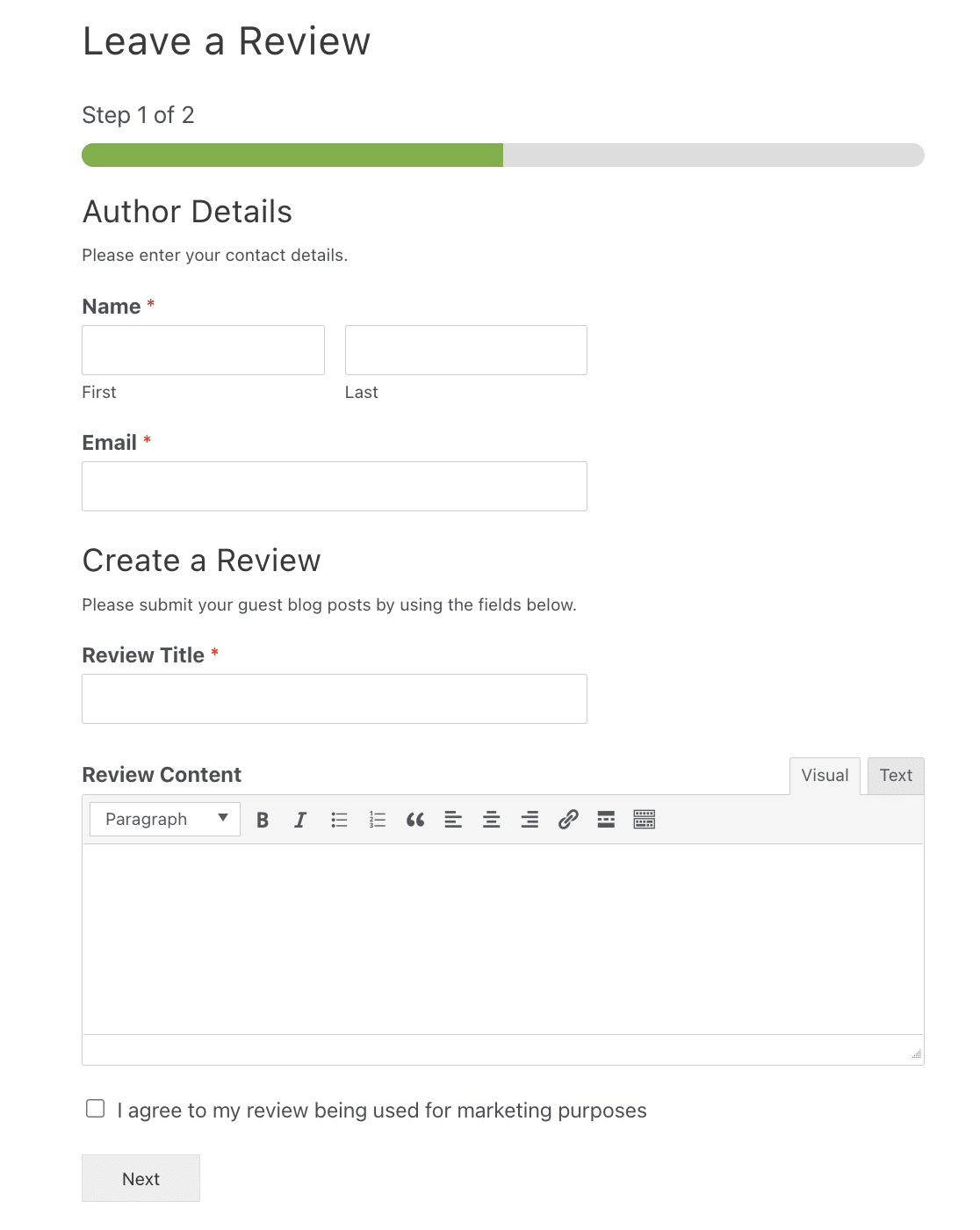 You may not have realized this type of WordPress form exists. You can create testimonial forms to gather reviews and feedback from your customers.
Why not display good reviews about your product, service, or website? This lets you tap into social proof.
9. Payment or Donation Forms
A great way to make money from selling goods, services, or products is with WordPress order forms. Your forms can easily take payment over the internet.
And, if you're using nonprofit donation forms, you can accept funds and donations through your forms as well.
If you prefer to take pledges, an online pledge form is a great way to raise funds for a sponsored event.
10. Subscriber Growth Forms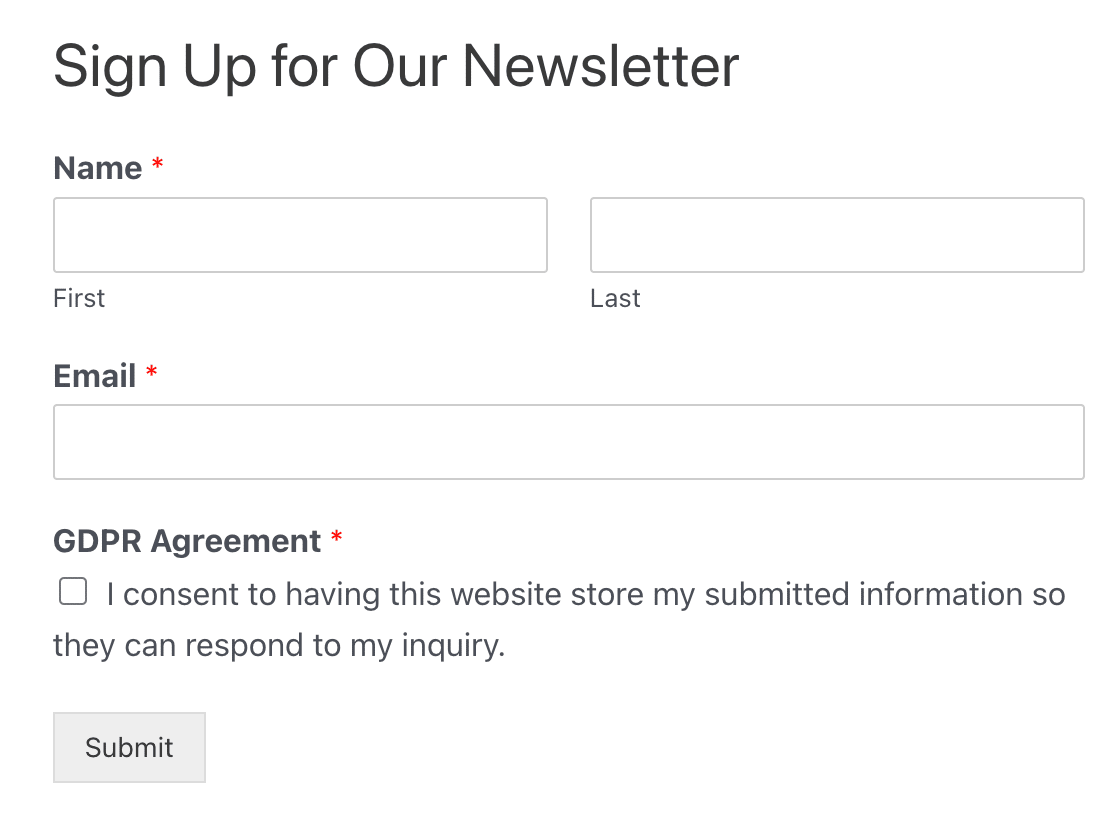 You can grow your subscriber list like crazy when you connect your forms to your email marketing service.
WPForms connects to the most popular email marketing providers including:
11. Frontend Posting Forms
There are forms out there that let your users post their own content to WordPress on the frontend. This means they can send you content to publish on your blog without having to access your WordPress dashboard.
The WPForms Post Submission addon lets you control the post type, whether you want to review submitted posts before they go live, and more.
You can ask for user bios and then collect the blog post all in the same form. And you can even add your own custom fields.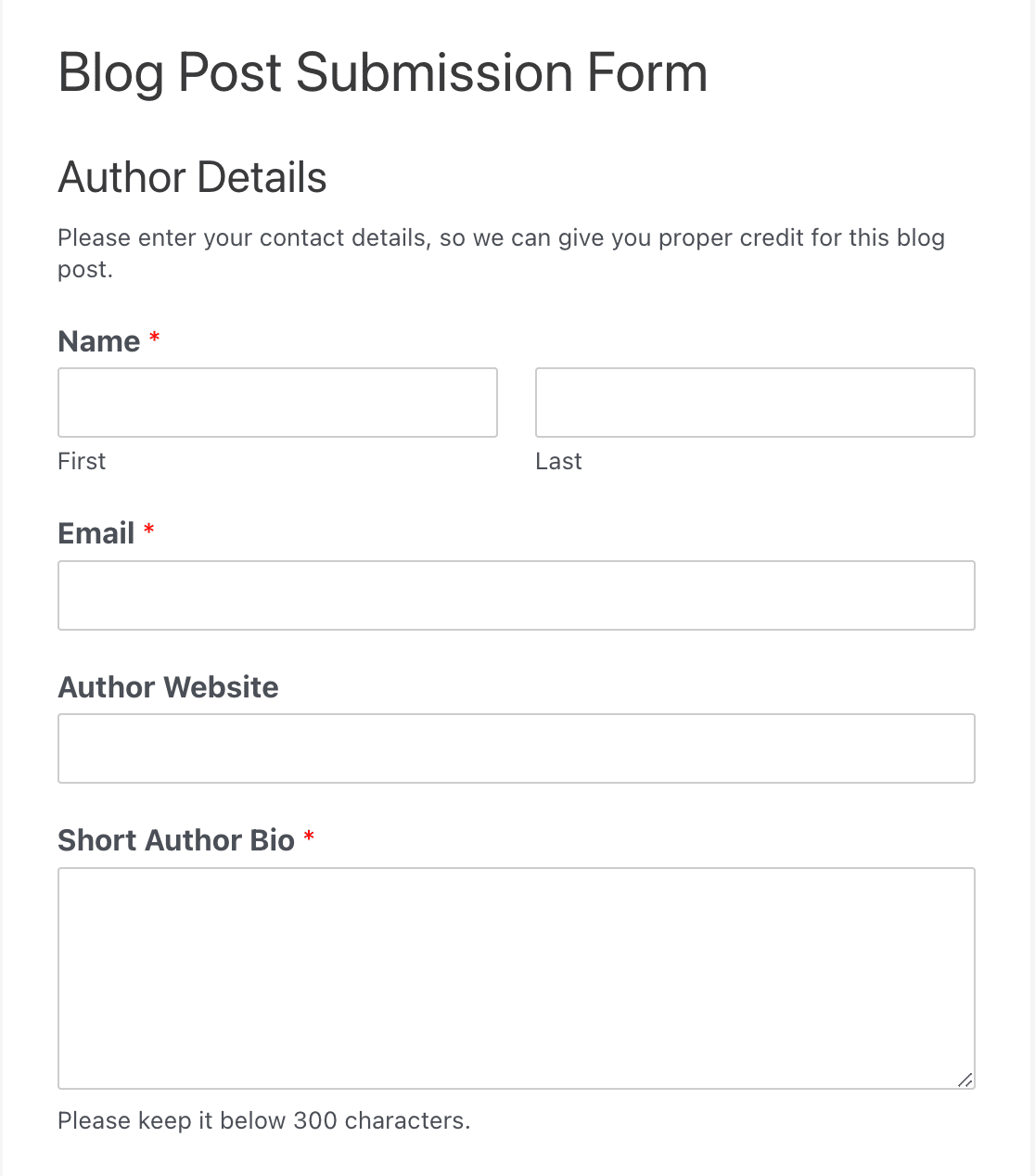 If you use the Rich Text field to collect writers' post content, you can let them style their own text and upload images right in their posts. This will save you a lot of time during the review and publishing process.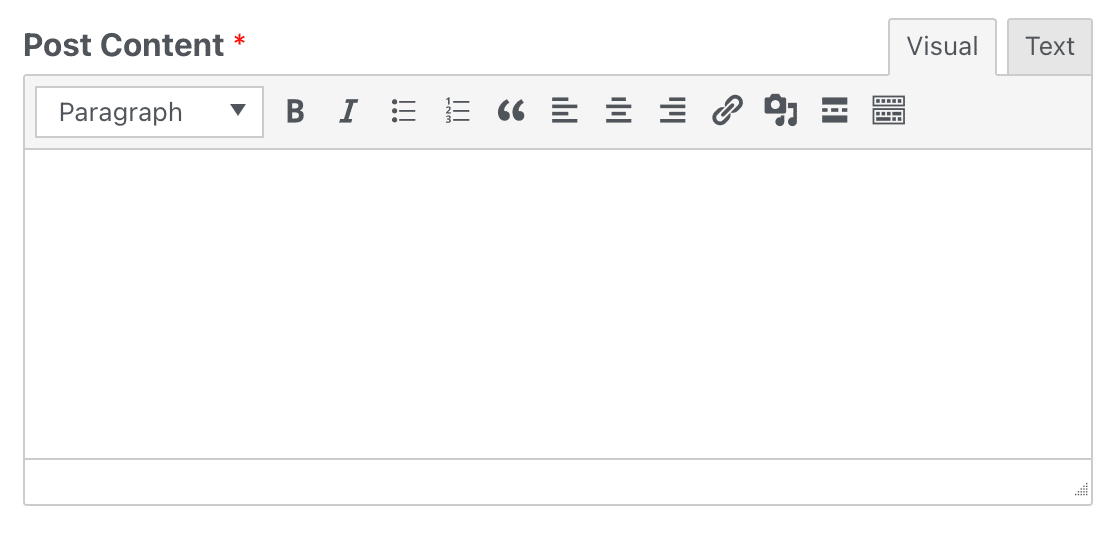 This is a great way to collect user-generated content through your web forms. The more you can get content from others, the more you can work on other important stuff on your website and small business!
12. Multi-Page forms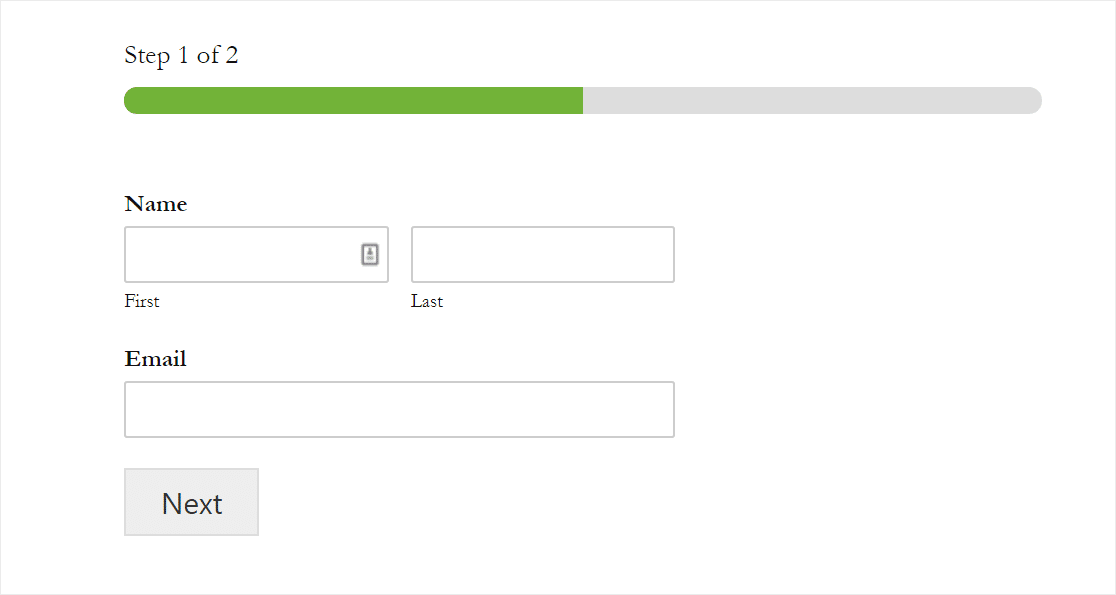 Multi-step forms like the website form example above are simply forms that include more than one 'page.' You can make the type of form like the one above where there are 2 steps. Or, you can customize it and add steps if you'd like.
Using breadcrumbs, you can visually show users there's more to the form. But, without taking up a ton of space on the page. These are great types of WordPress forms because they help keep your conversion rate high and fight form abandonment.
13. Lead Qualifying Forms

You can use lead qualifying forms to segment your audience with conditional logic. Conditional logic can hide or show form fields based on a user's previous answer. This can help keep your forms from getting too long and causing users to abandon them.
Most importantly, conditional logic can also help you qualify leads and send them to the right people. Take the image above for example.
Say you're an apartment leasing agency. If someone filling out the form has a pet, you can send the lead to Susan who finds apartments that are pet-friendly. If they don't, Karen, who works with apartments that don't allow pets, gets the lead.
To get more leads, check out these awesome examples of landing page forms.
14. Instant Notification Forms
You can send entries that come through your WordPress site directly to your email. Or, send them to someone else's email, too. That way, your sales team or administrative assistant can stay on top of incoming requests and leads from your contact forms.
Although it can be a little tricky with some form builders, setting up email notifications to come through to your inbox after a form submission is super easy with WPForms.
15. Offline Forms
You may not know that these super cool types of WordPress forms exists, but you can make your form act as an Offline form.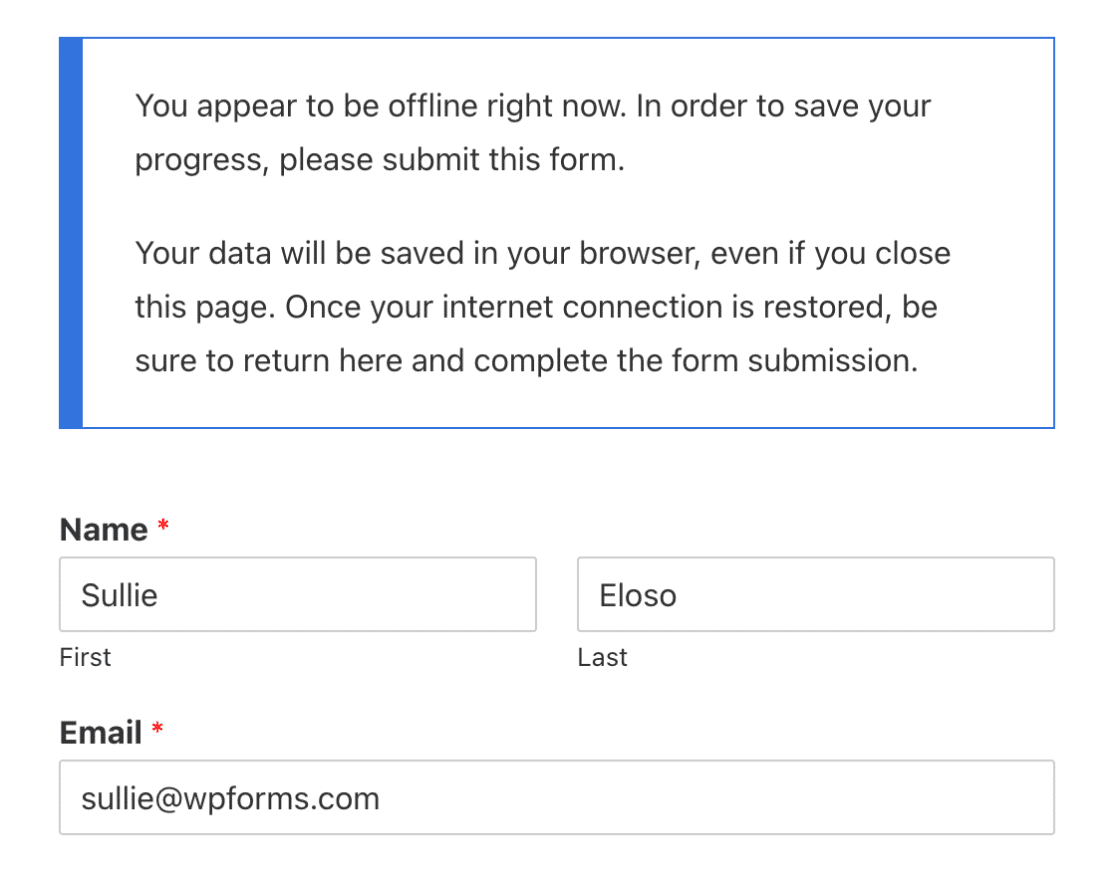 WPForms, one of the best WordPress plugins available, offers an incredible feature that lets you capture offline entries. So if someone is filling out your form and loses internet, it will save it to be sent over once they get back online.
16. Poll Forms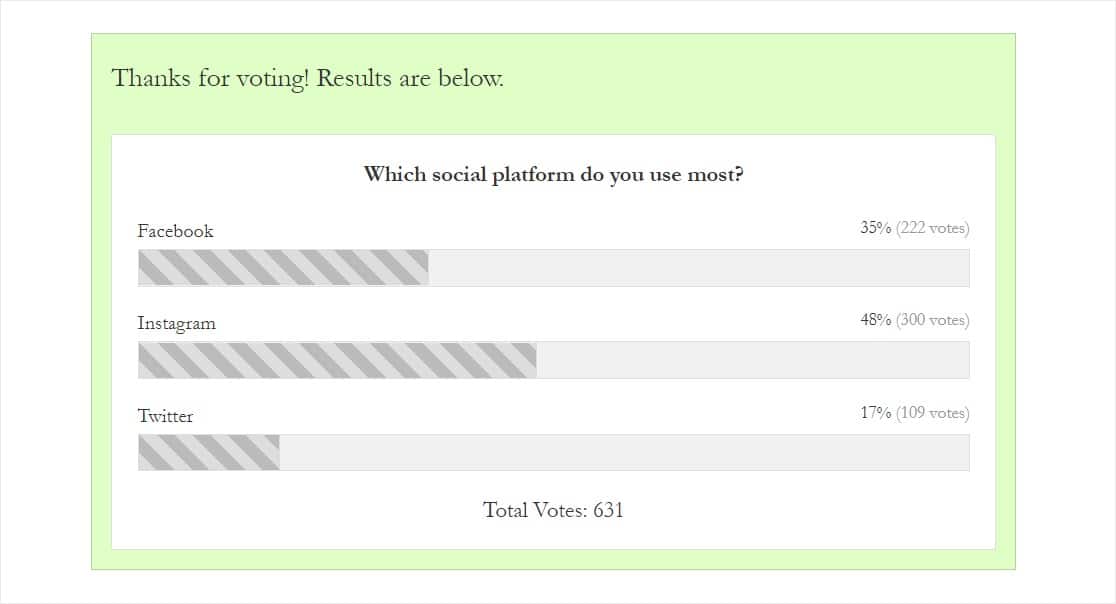 Small business owners sometimes forget that you can simply ask your audience for ideas on what to work on next. Or, for what needs improvement. And a great way to do this is with a poll form.
There are tons of poll questions you can ask to get your audience excited and engaged. Poll questions are a fantastic way to help get your audience involved and interested with your product, services, or site in general.
17. User Registration Forms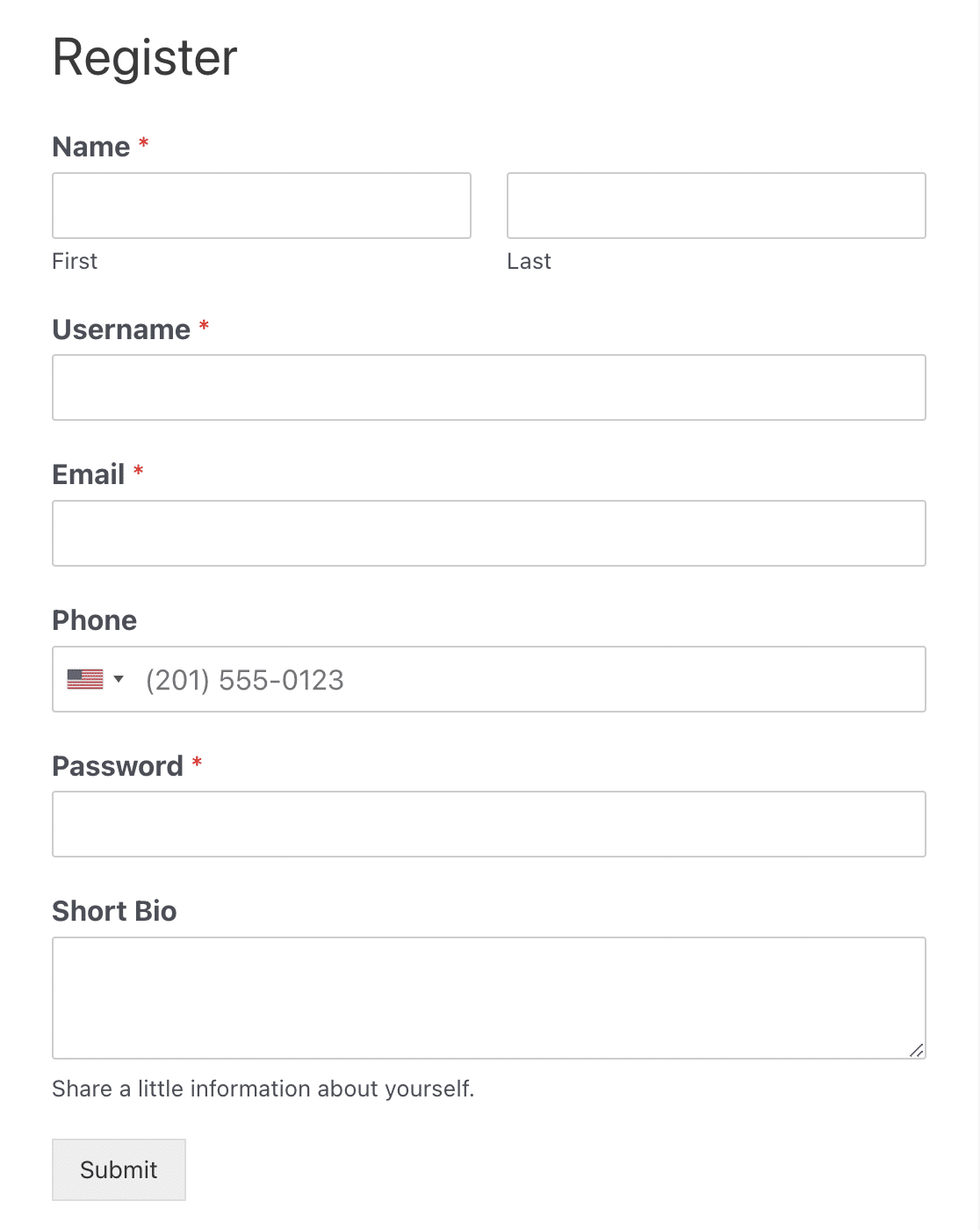 User registration forms can help boost your site engagement in a number of ways. They provide access to private content just for users, as well as things like:
Keep It Secure — Requiring new users to submit a form with activation requirements, and help stop user registration spam.
Stay Organized — Recorded entries of all your registered users' important details so they can access their account.
Make Them Members — You can create a membership site using one of the best WordPress membership and member plugins and require people to register as a member using a registration form.
Customize Things — Control which info you get from users who register by customizing the form.
Plus, user registration forms can improve your branding when you customize your embedded login form to match the rest of your site.
18. Customer Feedback Forms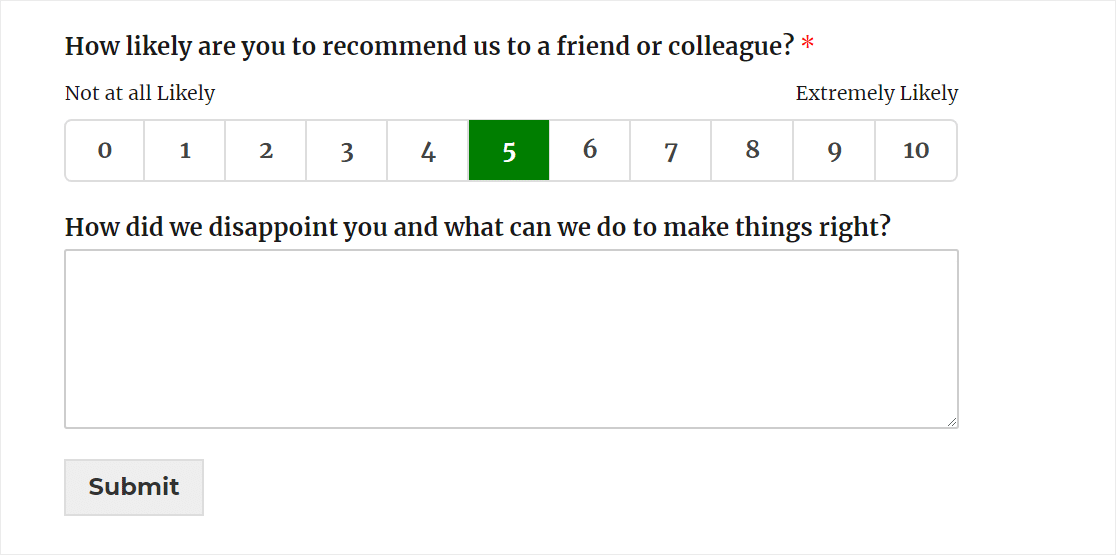 You've probably seen these types of forms around. In fact, you've probably filled one out yourself. You can get customer feedback by using NPS surveys.
NPS Surveys are super cool. You can ask how likely people are to recommend your business to friends. And, use a comment box to get more details based on how high their score was (using Conditional Logic).
Next, Learn Why WPForms Is the Best Form Builder
We hope this list of website form examples helped you get some great ideas. As you can see, there are tons of clever (and effective) uses for your WordPress forms, besides just a simple contact form.
You'll just need the right tool to do it. Check out our post on Gravity Forms vs Ninja Forms vs WPForms and check out our solutions to Gravity Forms not sending email.
PS. Don't forget to avoid the massive security risk of WPForms Pro nulled.
But if you're ready to start using all these amazing features above, get started with the world's best form builder today.
And don't forget to please follow us on Twitter and Facebook to get updates from our blog.