Do you want to learn an easy way to collect testimonials from site visitors and display them on your website? Testimonials from happy customers can be used as social proof on your website to help foster trust with new site visitors and boost conversions.
In this article, we'll show you how to create testimonials from WordPress form submissions that you can easily add to your website.
If you'd prefer written instructions, keep reading.
Step 1: Create a Simple Contact Form in WordPress
The first thing you'll need to do is install and activate the WPForms plugin. For more details, see this step by step guide on how to install a plugin in WordPress.
Now you'll need to create a contact form. For help with this, check out our tutorial on how to create a simple contact form in WordPress.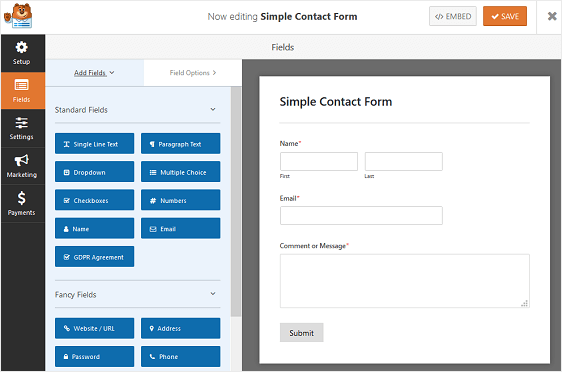 You'll see that a simple contact form comes with the form fields:
Name
Email
Comment or Message
To customize your form so site visitors know you're collecting testimonials from them, simply drag the form fields you want to add to your from from the left hand panel to the right hand panel. Then to make changes, click on the field.
In our example, we'll start by adding the Rating form field.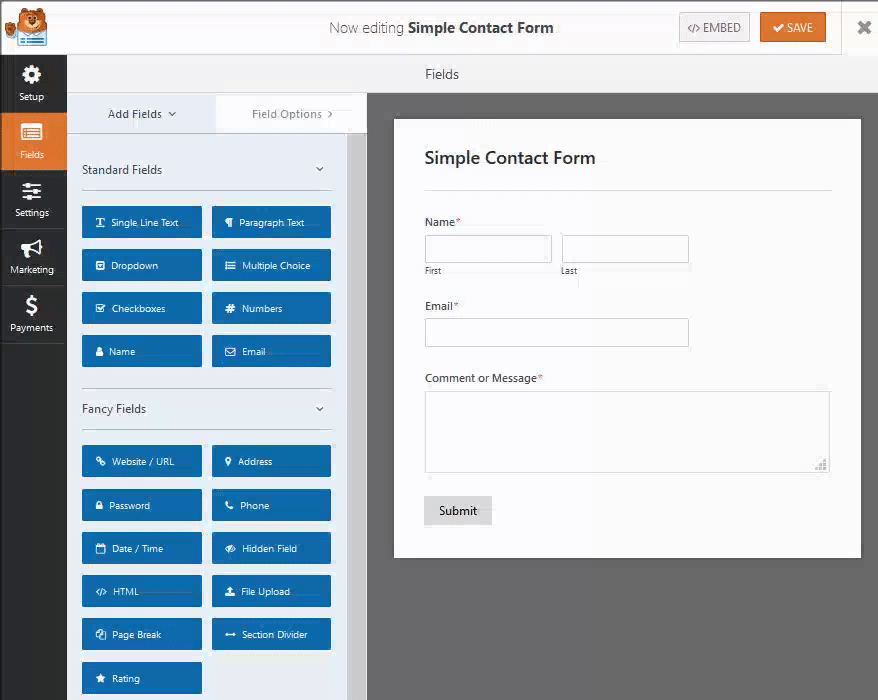 For more details, check out this helpful tutorial on adding user ratings to your WordPress forms.
Next, we'll customize the Comment or Message section by clicking on it and changing the label to read "Testimonial."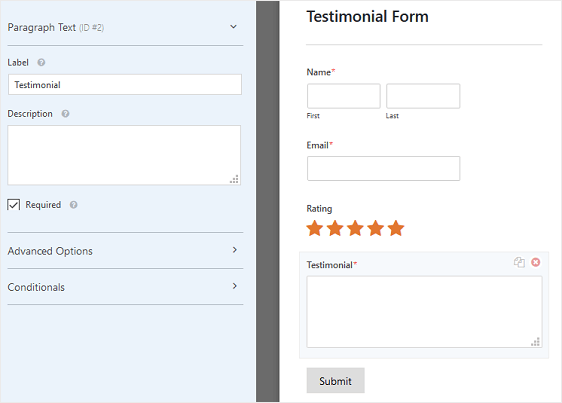 You can also add a Net Promoter Score (NPS) form field to your form to find out whether people are willing to recommend you to others.
And, if you want to get feedback on what you are doing well and what people want to see more of, check out these sample Likert scale questions for survey forms.
Step 2: Install and Activate the Post Submissions Addon
Next, you'll need to install and activate the WPForms Post Submissions addon.
To do this, go to WPForms » Addon and find the one labeled Post Submissions.
Click Install Addon and then Activate.

Click Save.
Step 3: Install and Activate Easy Testimonials
Now you'll need to install and activate the free Easy Testimonials plugin.
This plugin is one of the best testimonial plugins for WordPress and gives you an easy way to collect customer feedback that you can add directly to your website.
To start, go to Plugins » Add New in your WordPress dashboard. Next, search for "Easy Testimonials" and click Install Now.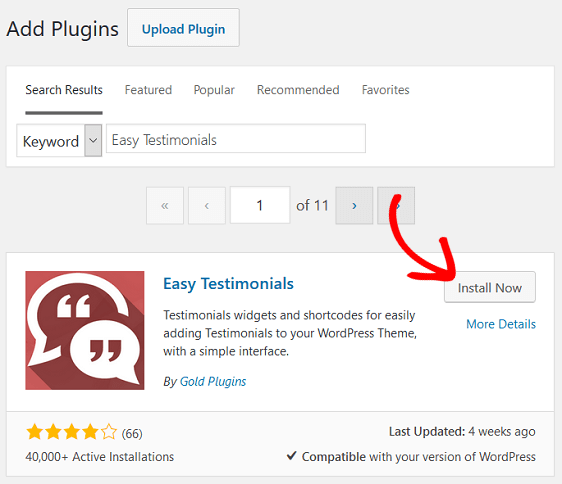 Then, click Activate.
You'll notice that a new menu item has been added to your WordPress dashboard labeled "Testimonials." This means the plugin has been installed and activated and is ready for use on your website.

Step 4: Configure Post Submissions Addon Settings
Now, you'll need to configure the Post Submissions addon settings. To do this, go to the simple contact form you created, and in the form editor, go to Settings » Post Submissions.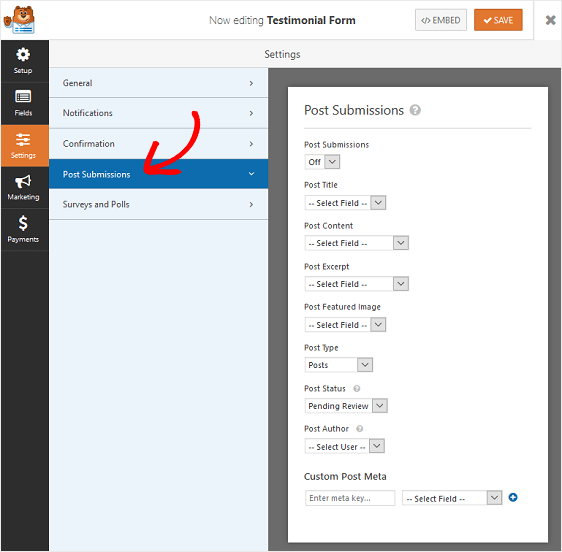 There will be many fields to configure:
Post Submissions: choose "On" from the dropdown menu.
Post Title: select "Name." This is for internal reference only.
Post Content: select "Testimonial."
Post Excerpt and Post Featured Image: you can skip these two dropdown menus.
Post Type: select the post type, which is "Testimonials."
Post Status: you can choose the testimonial site visitors leave on your site to be a Draft, Pending Review, Private, or Publish. We'll choose "Pending Review" so you can review each testimonial as people submit them.
Post Author: leave that as "Current User."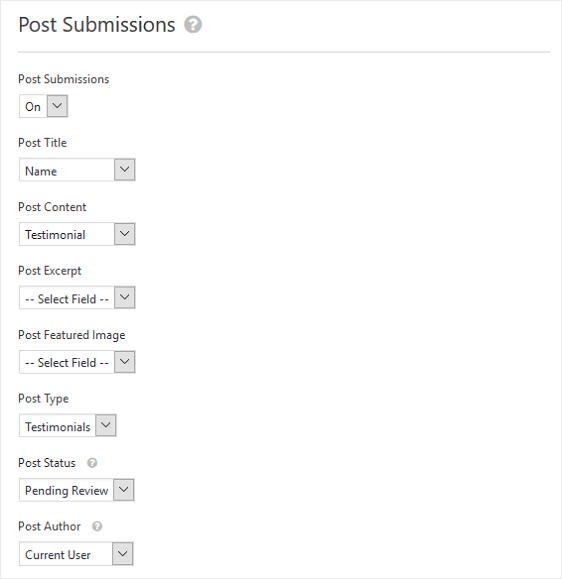 Now you can configure the Custom Post Meta settings.
To do this, add the following meta keys and select the following fields based on the form fields you've added to your testimonial form:
Client Name: _ikcf_client
E-Mail Address: _ikcf_email
Position / Web Address / Other: _ikcf_position
Location Reviewed / Product Reviewed / Item Reviewed: _ikcf_other
Testimonial: _ikcf_testimonial
If are wondering where to get these meta keys, start by submitting a test entry on your testimonial form.
To do this, go to WPForms » All Forms and find your testimonial form. Then, click on "Preview."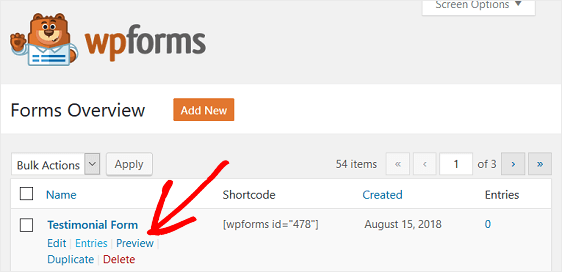 Submit your form on your website like you would as though it were real so that a test entry records. You'll see your entry when you go back to WPForms » All Forms.

Now to find your meta keys, go to Testimonials and click on your test entry. Scroll down the bottom of the screen where it says Testimonial Information. Then, right click and choose Inspect Element.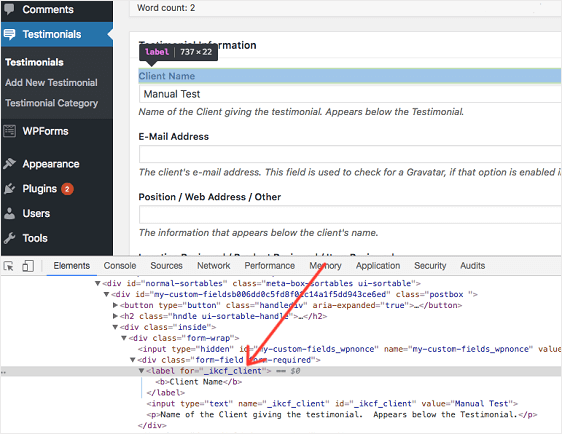 Now that you have your meta keys, go back to Settings » Post Submissions in the WPForms form editor.
In our example, we'll add the Client Name meta key first, and choose "Name" from the dropdown menu.

Then, we'll click the plus (+) sign and add the next meta key, which will be the Email one. Lastly, since we only have three form fields people will be filling out, we'll add the Testimonial meta key.
This is what the settings will look like:

If you have more form fields for people to fill out while collecting testimonials, you'll need to add those meta keys.
Now you're ready to test your form to make sure testimonials record when someone submits a form on your site.
Step 5: Test Your Form
To make sure everything is working, try another test entry.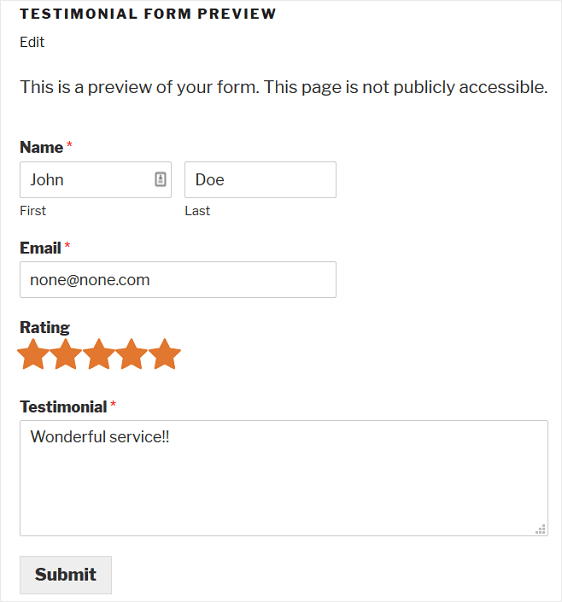 Then, go to Testimonials » Testimonials in your WordPress dashboard to see your entry: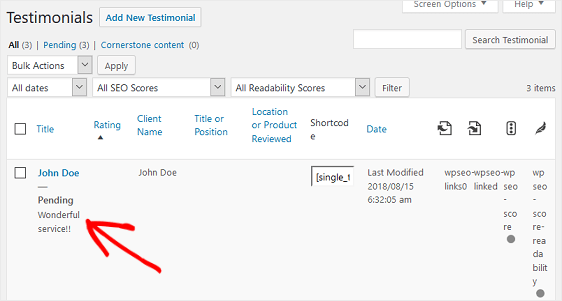 If everything looks good, click Edit so your testimonial shows up in the WordPress Visual Editor. Scroll down to the section labeled Testimonial Section to see the site visitor's information.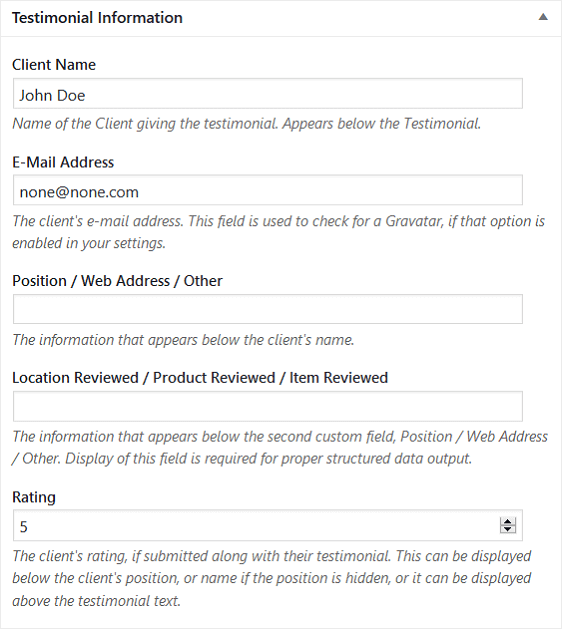 Make any changes in the Visual Editor you want and click Preview to see how your site visitor's testimonial will look on your site once published.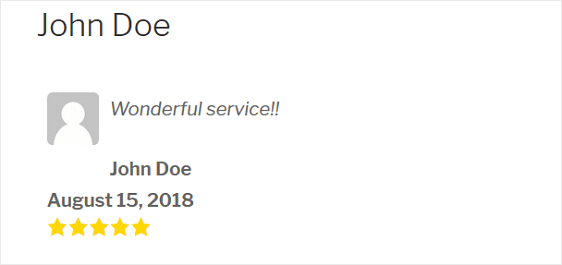 Now that your form looks and acts the way it should, it's time to add it to your website so site visitors can fill it out.
WPForms makes adding forms to your WordPress website easy. Check out the various places you can add a form to your site:
And there you have it! You now know how to create testimonials from WordPress form submissions so you can establish your credibility and continue to grow your business.
If you want to learn about some other ways you can market your small business, and increase conversions and sales, check out this roundup of small business marketing ideas and how WPForms can help.
So, what are you waiting for? Get started with the most powerful WordPress forms plugin today.
And don't forget, if you like this article, then please follow us on Facebook and Twitter.