Are you looking for the best CRM software for small business to help you manage leads and contacts?
Maintaining relationships with people who show interest in your business, as well as people who are established customers, is a great way to grow your business.
In this article, we'll look at the top CRM software systems out there so you can find one to help you increase sales and productivity.
Is CRM Software Really Useful for Small Businesses?
The short answer is yes, CRM software can be very helpful even for small businesses. When it comes to running a small business effectively, the most important goal should be boosting sales and strengthening relationships with your customers.
To do this, you'll need a CRM, or Customer Relationship Management tool. A CRM is an all-in-one management software that allows you to store, organize, and manage your lead and customer information in one place. A good CRM solution also gives you insight into your business' history with each customer.
The best CRM software products will store contact information such as names, email addresses, phone numbers, and any correspondence you've had with your customer. This acts as a lightweight project management tool.
For example, your CRM platform notes may have emails, invoices, and a sales pipeline so you can continue to build relationships with leads and nurture existing customer relationships.
In addition, a CRM will help your sales teams by working as a task management tool to help their overall sales and business processes. But it's important to provide necessary training to your team to ensure effective CRM usage. This is one of the CRM best practices for modern brands.
Having a CRM with powerful functionality helps your reps stay in touch with those who are most likely to buy from you, and improves the customer experience.
They also help your entire sales team access customer data in real-time and stay up to date on where in the customer journey each lead is.
What to Look for in the Best CRM Software for Small Business
Before deciding what the best CRM to use for your small business is, check out some key features to look for:
Cloud-Based Client Management: Your entire team needs to be able to access your CRM solution from any device they're working on in real-time. Lead management has to be in the cloud for your entire team.
Pipeline Management: If your business has sales reps, it's important to be able to control the data that is accessed and shared. It's also important you have a process in place to lead people from lead to conversion without forgetting any steps, such as sending out automatic emails based on behavior, making follow-up phone calls, and offering free trials.
Contact Profiles: Each lead who shows interest in your business should have their own profile, complete with name, email address, phone number, and even social media links. This way you can easily get in touch with your contacts whenever you need to. It also serves as a way to identify whether they fit your buyer persona or not.
Now that you know why you need a CRM and what to look for in one, let's check out the best and most popular CRM software for your small business.
Best CRM Software for Small Business
Let's go ahead and dive into our top picks for the top CRM software for small businesses. Here's a quick comparison table, with more details below.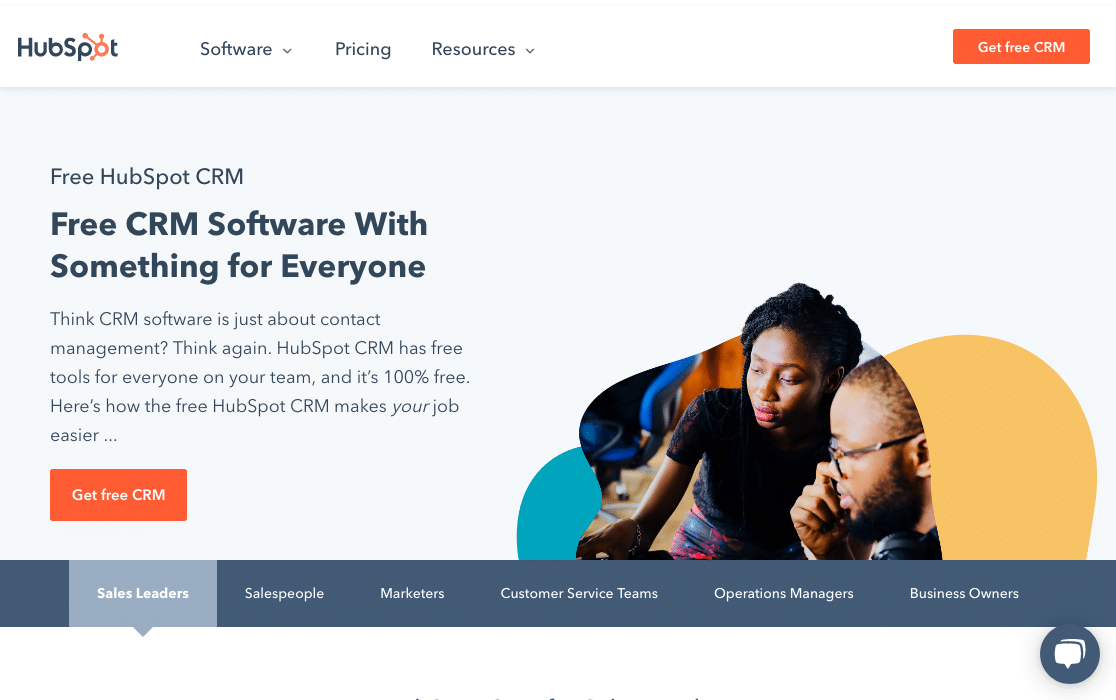 HubSpot CRM is a completely free CRM small business solution that helps you organize, track, and nurture leads and customers. It seeks to automate tasks your marketing team doesn't like, record all customer interactions, and make pipeline management a cinch by speeding up the sales process for your entire team.
In the HubSpot CRM dashboard, you can access every contact and their personal information in one convenient location. And adding contacts to your HubSpot CRM is easy to do with WPForms HubSpot addon. It's great for everyone including startups through enterprises.
Additional features found in the HubSpot CRM include:
Send personalized email sequences to leads and existing customers
Place phone calls from the CRM
A robust free version
Get real-time notifications regarding lead behavior
Access the communal data dashboard
Connect HubSpot to Gmail or Outlook to log email activity automatically and for email tracking
Stores unlimited users
Integrate with popular apps like Salesforce, Shopify, and Microsoft Dynamics
Offers customizable email templates
Anyone can use HubSpot as a free CRM software for small business… forever. If you want to upgrade for more features and increased limits, pricing starts at $45/month.
Get started with HubSpot CRM today.
2. Drip (eCommerce)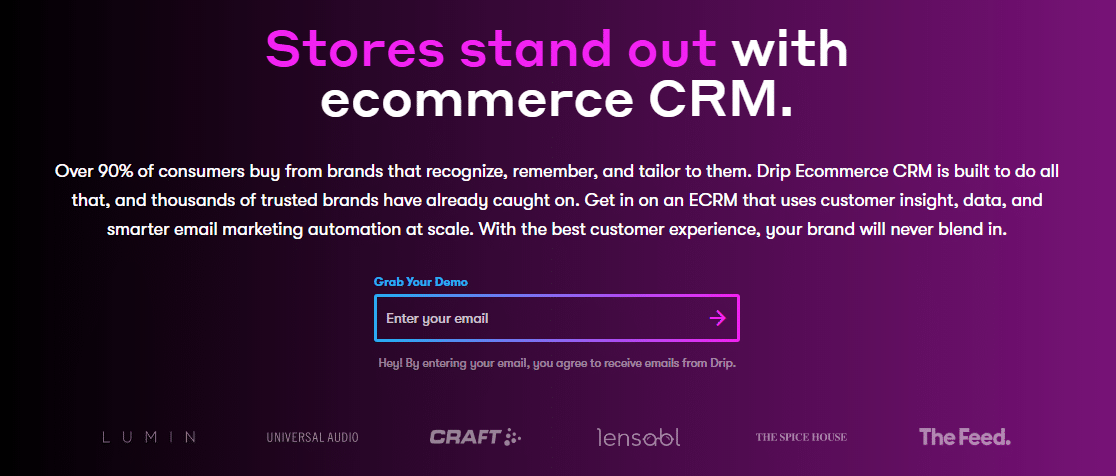 Drip is more than just one of the best email marketing providers out there. It's also an insanely powerful ECRM (eCommerce). On top of all of the amazing functions for emailing marketing, it also helps automate your sales process through workflows in an all-in-one CRM and marketing platform.
Just imagine being able to use one of the best CRM software tools that doesn't just integrate with your email marketing service, but can handle email marketing for you as well (a digital marketer's dream come true). Drip offers the unique feature of automated customer workflows that trigger specific actions. Including split testing workflow automation.
And just because the tools are more powerful doesn't mean it's not user-friendly, either. In other words, this complete marketing automation software is great for beginners. Plus, it has a sleek and modern user interface.
Some of Drip's most impressive features include:
Visual workflow builder for automation workflows with great customization
A/B testing to find out when and how your users engage with your messages
Sends SMS texts
10 built-in reports on your WordPress dashboard with easy export
Split testing workflows
Syncs to your email marketing campaigns
Connects with Facebook Lead Ads and Custom Audiences
Advanced subscriber management
Landing page integrations
Lead generation workflows to help tap into Facebook and Instagram's huge user base
Drip's Basic plan starts at $49/month for unlimited emails and up to 2,500 subscribers. In addition, there's a 14-day trial available.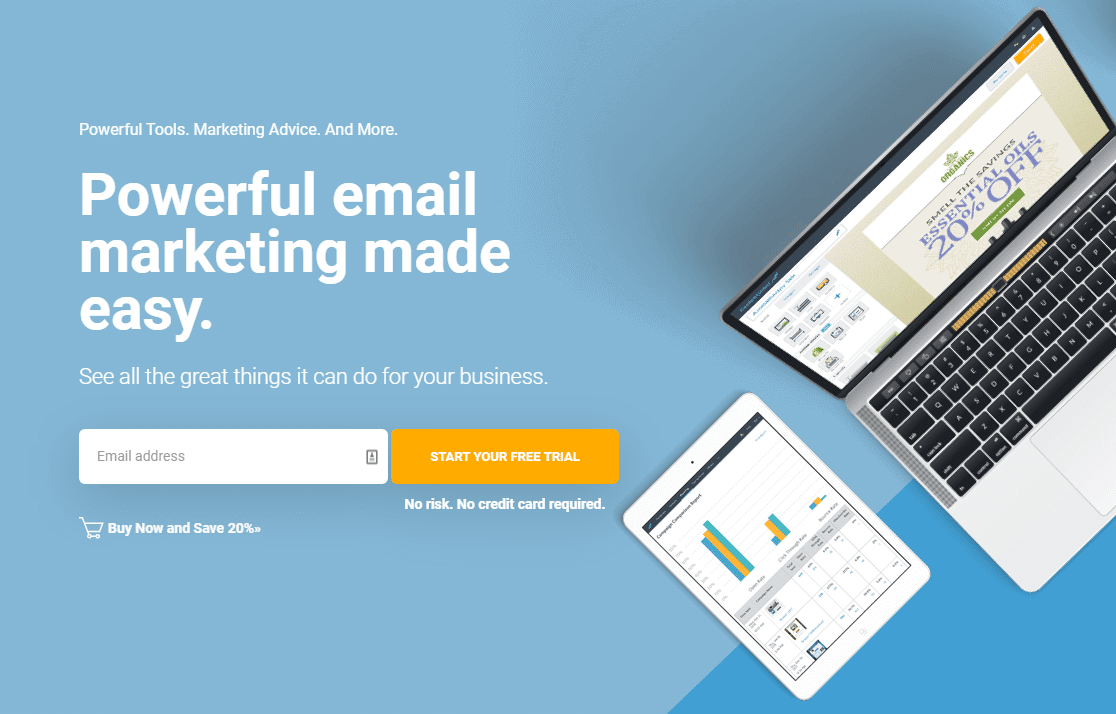 Constant Contact is a great low-cost CRM software for small business that can work as an email marketing service and also has great support. It's super simple to use which helps save busy small business owners lots of much-needed time. Plus, it's known across the CRM and email marketing industry as having an amazing customer support team.
Constant Contact lets you easily store contacts, manage customer information, send emails, and track customer activity all from your dashboard.
On top of that, Constant Contact is one of the email marketing tools that comes already built into the WPForms plugin. You can easily add a Constant Contact checkbox to any WordPress form on your site.
Some of the greatest features of Constant Contact are:
Powerful eCommerce CRM tools to help you capture, engage, and convert your leads into customers with sales automation
Extremely easy to use for viewing simple reports, scheduling emails, and creating sales funnels
Keep track of leads and customers by storing their social media profiles, company info, notes, and more
Automatically send personalized emails to visitors based on their behavior
Tons of integrations with 3rd party apps to help you even further with marketing automation
Built-in heat tracking lets you see exactly where your readers are clicking
View previous email campaigns and tag engaged users to follow up with
Constant Contact's pricing is based on the number of contacts you have and it starts at $9.99/month. However, if you want to add multiple team members then you will need the Plus plan which starts at $45/month. Also, it offers a 60-day free trial that doesn't require a credit card.
Get started with Constant Contact today.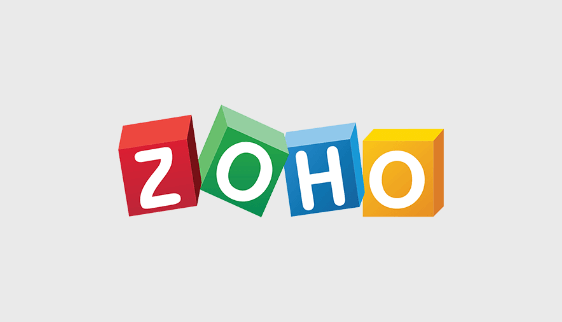 Another popular tool on our list of the best CRM software for small business is Zoho CRM. Zoho is a powerful cloud-based suite of software that has a wide range of features designed to help you run your small business with ease. It comes with a robust set of features centering around sales and marketing and includes things like online productivity tools and SaaS applications.
Zoho's primary goal is to help small businesses manage sales, market their brands, organize leads and contacts, offer customer support, and more. Capture leads through social media, integrate with our WPForms plugin, segment visitors, and utilize the built-in live chat system.
Here are the best features of Zoho CRM:
Multichannel management through email, phone, live chat, and social media
AI voice assistant for forecasting business trends and creating intelligent dashboards
Detailed analytics reports and metrics for making data-driven decisions
Mobile apps for accessing your CRM on the go
Team collaboration tools to help with data entry
IT management for monitoring websites and handling support tickets
Can serve as a central help desk because of its ease of use
Built-in security measures for keeping data safe and assigning team roles
Zoho CRM has a free plan available for up to 3 users.
If you're interested in Zoho's premium plans, you can sign up for a 15-day free trial. After that, paid plans start at $14/user/month.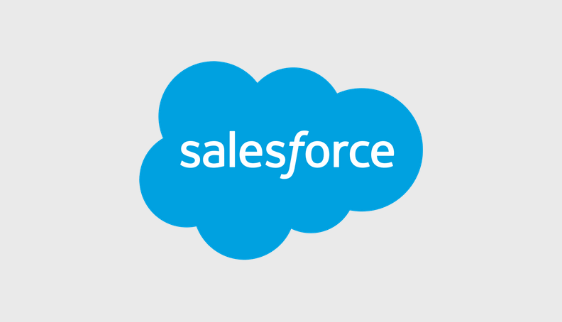 Salesforce is probably the biggest and best CRM software for small business. That said, it caters to businesses of all sizes, including small businesses trying to succeed through contact management. If you're looking to close more deals, increase productivity, and fill your pipeline with high-quality leads, Salesforce is a great option.
To start, capture leads from WordPress to Salesforce using WPForms. From there, guide leads through a personalized customer journey, utilize the intelligent marketing platform for emails, mobile, social media, and digital advertising, and use one of its unified eCommerce platforms to drive more sales.
Take a look at some more of the Salesforce CRM features:
Guided onboarding and setup
Customized dashboards and reports
Social media and email support
eCommerce capability on all devices
Advanced contact manager including email integrations and follow-up reminders
Sales forecasting
Tons of third-party integrations
Salesforce has a very simple free plan for 1 user, which lands it on our list of the best CRM software for small business.
Plans start at $25/month per user for the Salesforce Essentials plan.
Get started with Salesforce today.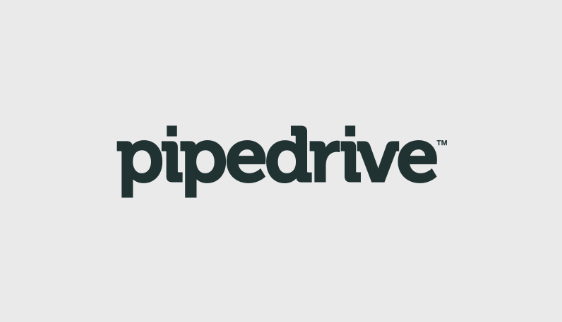 Pipedrive is a sales management tool that helps small businesses manage the sales process after collecting leads with our Zapier addon. It's designed to boost sales without a steep learning curve, so it's very easy to set up and learn.
Automate responsibilities so you stop wasting time on low value tasks, streamline sales and marketing management using one unified tool, and view your business' pipeline visually to manage sales.
More features offered by Pipedrive include:
Reminder emails and mobile alerts
Integrate with Google apps, Trello, Zapier, and more
Email integrations so all sales communication is in one place
iOS and Android mobile apps
Forecast future sales and analyze current sales with detailed analytics
Drag and drop tasks as customers follow the sales funnel
You can try Pipedrive for free to see how you like it. After that, plans start at $14.90/month/user for the Silver plan.
Get started with Pipedrive today.
Freshsales CRM is known by a lot of small business owners as the very best and most robust CRM software around. Find the best sales leads based on buying signals and behavior, have deeper conversations with those leads to drive them to buy, and manage the overall sales pipeline by tracking the progress of your deals, assigning tasks, and sending automated emails. Plus, make one-click business phone calls from the CRM without additional costs.
A CRM software's main goal is to manage customer relations, and Freshsales lets you do just that. For instance, it helps you eliminate bottlenecks in the sales process, open up more business opportunities, and gain your customers' loyalty so they'll become repeat buyers.
Freshsales comes with more features to help your small business such as:
Total access to customer profiles, complete with customer touchpoints
Lead scoring for prioritizing leads and boosting sales
Sales team grouping according to territory and automatic lead assignments
Visual sales pipeline with drag-and-drop navigation for identifying business opportunities
Mobile app integration for managing your business on the go
Freshsales comes with a 30-day free trial. After that, plans start at $12/month/user.
Get started with Freshsales today.
Choosing the Best CRM Software for Your Small Business
If you're looking for a lightweight CRM solution that focuses solely on sales activity to grow business, Pipedrive is the likely best small business CRM software for you. It comes with an easy-to-visualize pipeline, automates repetitive tasks, and integrates with your email marketing service (Like Mailchimp, Drip, Constant Contact, Sendinblue, etc.) so collecting leads is easy to do.
That said, if you want a more robust platform, your best bet will be either Salesforce or Freshsales. Salesforce has social media integrations to help capture leads and lets you sell through multiple channels to make more money online. Freshsales lets you manage customer relations and your sales team at the same time for maximum results. Utilize its built-in lead scoring, manage on the go, and even use segmentation on your sales team to find the best business opportunities.
If you're on a limited budget, but need a CRM software to help generate leads and nurture customer relationships, HubSpot CRM is the right CRM for you. Get real-time notifications, make calls from the CRM, and even send personalized email sequences based on user behavior.
And for those who need a little more than the free HubSpot CRM solution, there's always Zoho. Built-in security measures, IT support, and multichannel management all help you to grow your business in an affordable way.
Expert Tip: Capture Leads For Your CRM
Once you decide which CRM you want to use for your small business, it's time to start importing leads you capture from your WordPress forms.
We recommend WPForms for capturing leads. With WPForms, you can customize your lead generation forms in under five minutes and collect all the information you want so you can guide them further down the sales pipeline.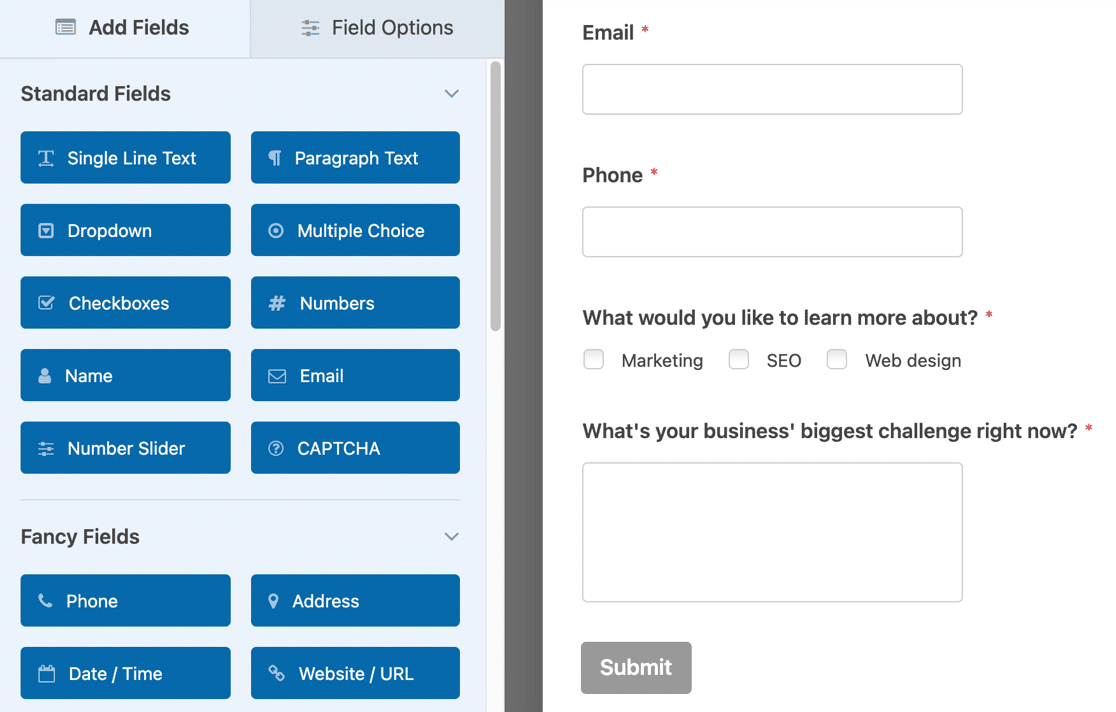 Since it's intuitive enough for beginners to use, thanks to the drag-and-drop form builder, generating leads and sending them right to your CRM requires only a few clicks. You can send them to HubSpot, Drip, or Salesforce with our dedicated addons, or create other connections with the Zapier addon.
And that's it! You now know which CRM software you need to manage your leads in the best way possible.
Next, Generate More Leads for Your Site
If you need more tools for capturing leads, check out this helpful article on WordPress lead generation plugins to grow your email list. And for help with boosting form conversions, find out how to create a distraction-free, dedicated form landing page in WordPress.
You can also track your visitors' journeys through your website to make better design and content decisions for your users' satisfaction. See this list of the best visitor tracking tools to understand what your users are really looking for (or avoiding) on your site.
Create Your WordPress Form Now
So, what are you waiting for? Get started with the most powerful WordPress forms plugin today.
And don't forget, if you like this article, then please follow us on Facebook and Twitter.