Looking for some DocuSign alternatives?
DocuSign is a popular tool for capturing electronic signatures, but some users find its entry-level plan a bit costly for the features it provides.
Fortunately, there are quite a few DocuSign alternatives. We'll cover 9 great ones in this article!
Does Google Docs Support Electronic Signatures?
You can create digital signatures in Google Docs, using the drawing tool. In your Google Docs document, head over to the menu and click Insert » Drawing » New.  This will open up a new window where you can draw your digital signature or simply insert some text if you prefer.
This won't always be the best solution though. You might need a tool that integrates well with your WordPress website, or you might simply need a solution that allows you to create electronic signatures in PDF documents.
Whatever your needs are, we've got you covered. Read on to see 9 more of the best alternatives to DocuSign.
The Best DocuSign Alternatives For 2023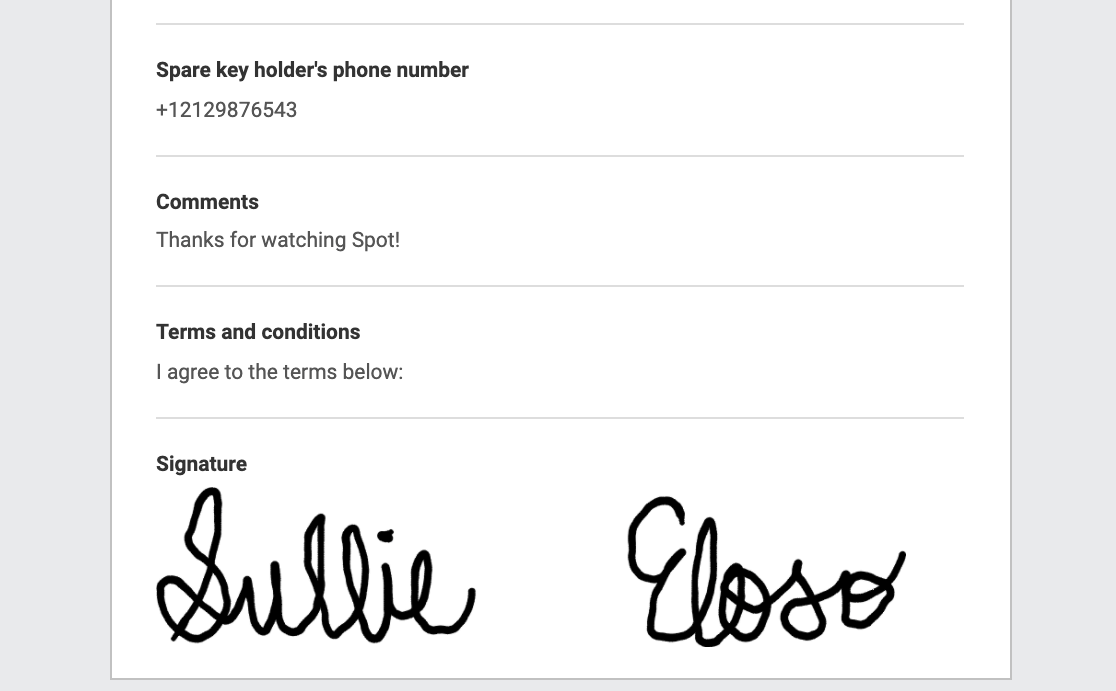 Did you know WPForms can capture electronic signatures using its Signature Addon plugin? With this plugin, you can turn form entries into signed contracts, non-disclosure agreements, sales orders, and service agreements.
The Signature Addon allows your visitors to agree to your terms by signing them electronically. This works on both desktop and mobile devices. On mobile devices, in particular, you can draw your electronic signatures using the mouse or your finger.
This means you can save a lot of time, and paper too! Ordinarily you would have to go through a potentially tedious back and forth email routine to get your contracts signed. Now users can simply log on to your website, sign a document and you'll receive the notification by email. 
The WPForms Signature Addon comes with the paid version of WPForms. So you'll need to buy this first. Once you have, log in to your WPForms account. Once in, click on Account » Downloads.

Here you can download both WPForms Pro and the Signature Addon. Hopefully, you already know how to install plugins. You'll need to install them both.
Alternatively, if you've already installed the WPForms Pro plugin, you can install the Signature Addon from within your WordPress dashboard. To do this, simply follow our straightforward guide on how to install addons in WPForms.
To create a new form with the signature field enabled, hover over the Forms tab in your WordPress dashboard then select Add New. This will open up a new interface where you may choose from several form templates.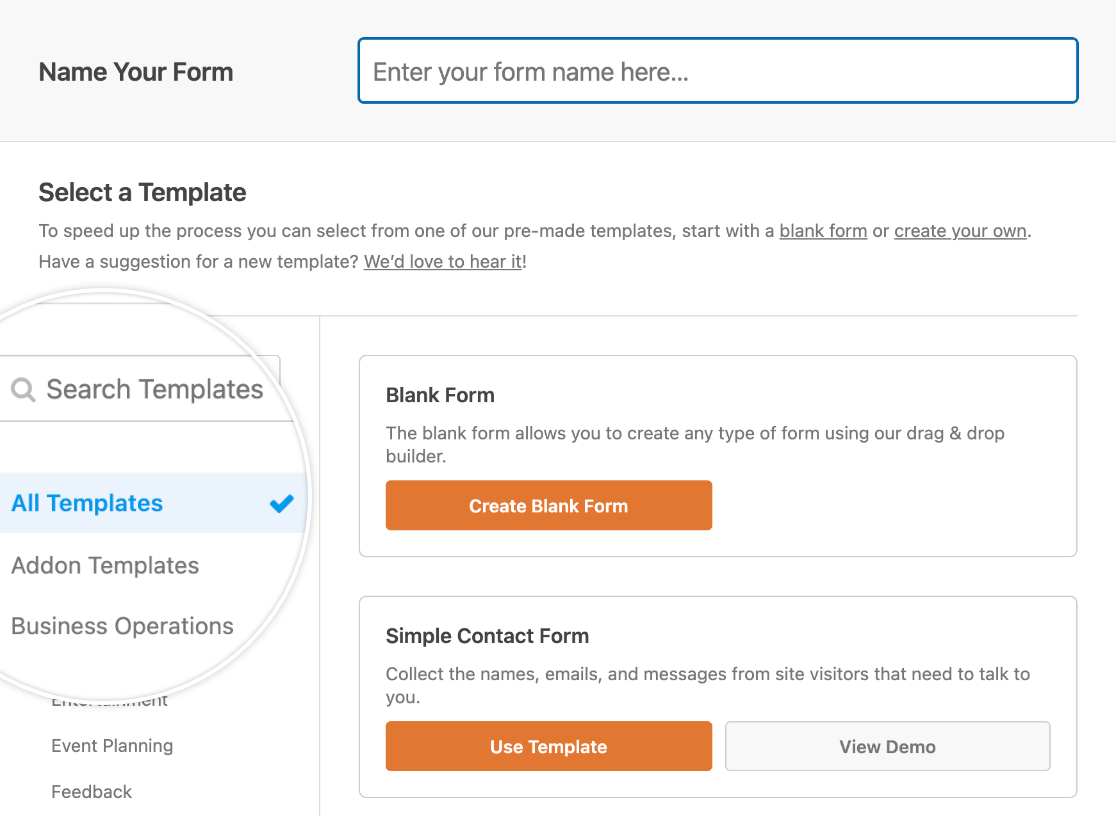 Some of these helpful templates include things like registrations, contracts, sales orders, and other useful business documents.
You can choose from the templates provided or build your own. Whichever your choice, you can always add a signature field to your forms.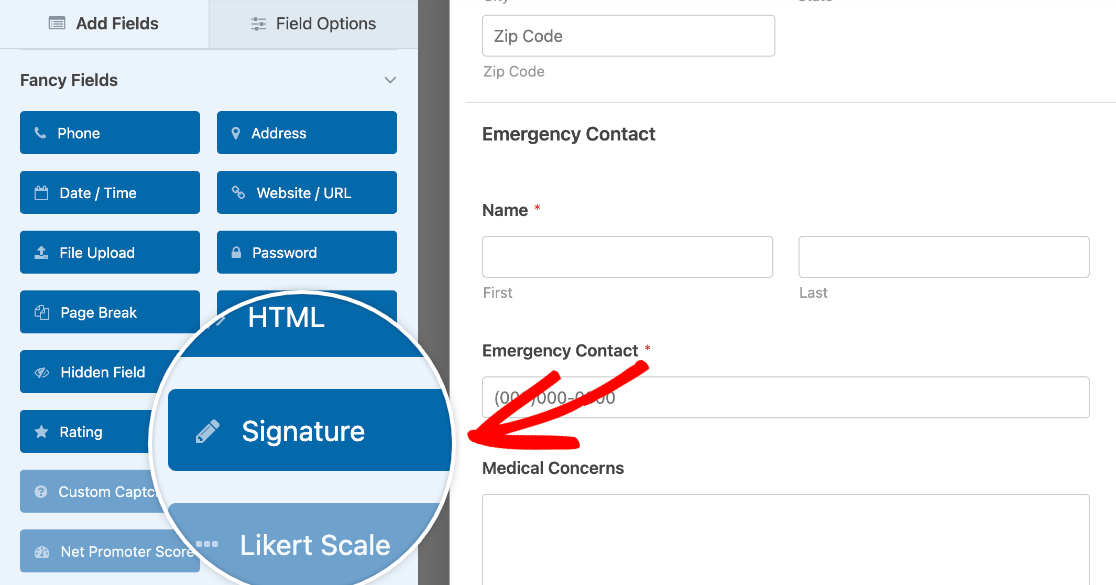 All you have to do is scroll down to Signature from the form builder (on the left side of the page). Drag and drop the signature field onto the form, wherever you would like it to be.
That's it!
Wherever you choose to display the form, including on private access pages, users will be able to draw their signature into the signature field using their mouses or their finger.
The signature will then be saved as an image file, and you will be notified by email. And to make it easy for you to receive signed documents in your email, we don't send you the actual signature image file. Instead, we simply send you a notification email with a link to the signature.
WPForms Signature Key Features:

Seamless integration with WordPress websites
Pre-built templates
Hide or display fields with conditional logic
Control the size of the signature field
Mobile friendly
Easily review signatures without losing form content
WPForms Signature Addon Pricing
WPForms Signature Addon is available for free with your WPForms Pro subscription.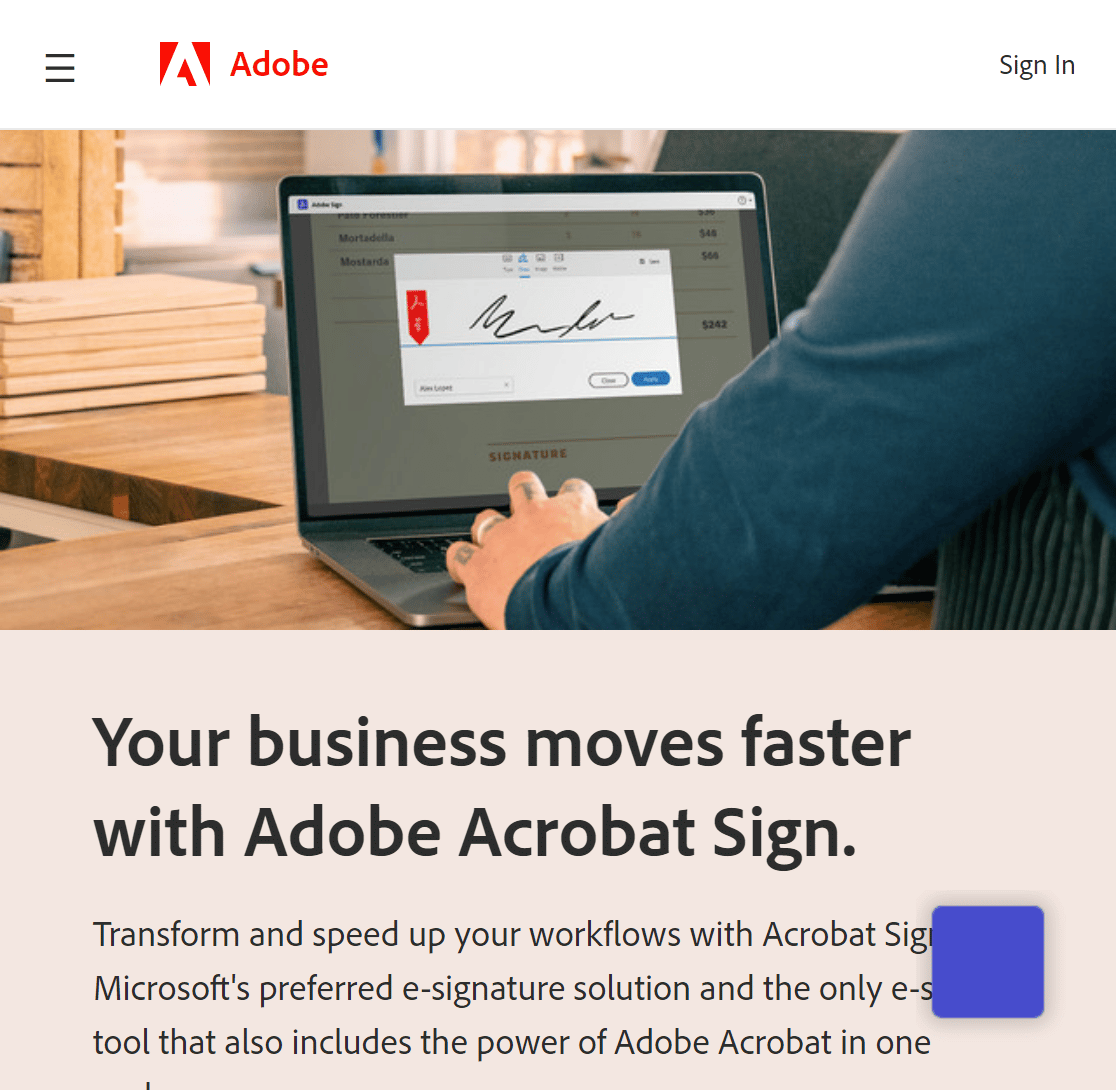 Acrobat Sign is an Adobe addon that gives users the ability to sign PDFs and other document types with ease. The app is well-featured and comes with benefits such as the ability to create reusable templates, mobile-friendliness, and so on.
If you work with paper documents a lot, you might particularly like the fact that Acrobat Sign has the ability to transform paper files into fillable forms.
Additionally, Acrobat Sign integrates seamlessly with Microsoft Office along with other major apps like Google Drive, Salesforce, MasterCard, and so on.
Adobe Acrobat Key Features:
Edit PDFs
Mobile friendly
Microsoft Office integration
Available in 36 languages
Acrobat Sign Pricing
Acrobat Sign is available in two plans. These are Acrobat Standard DC and Acrobat Pro DC. Acrobat Standard DC costs $12.99 per month when you pay annually, with Acrobat Pro DC going for $14.99 per month when you pay annually.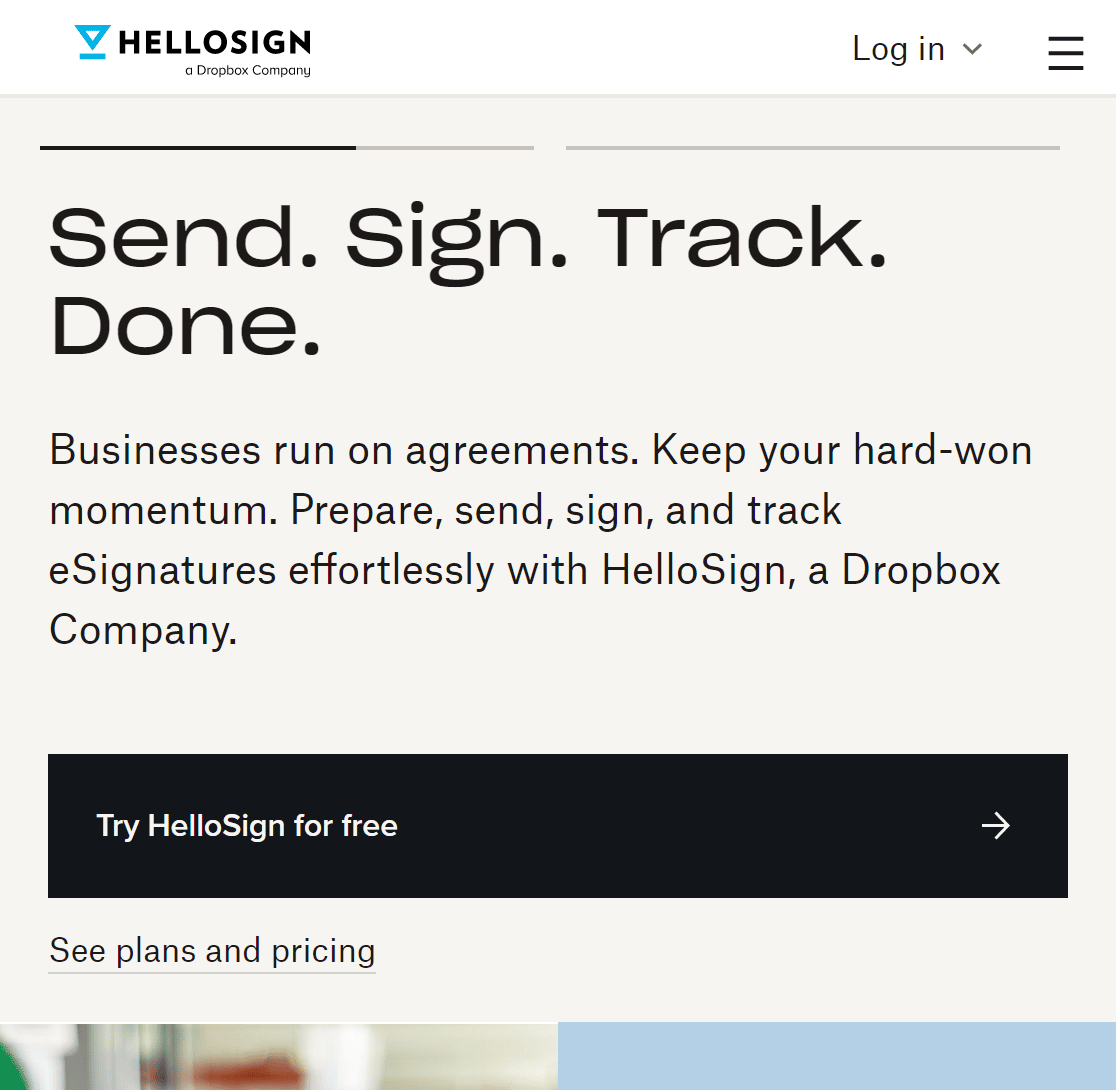 HelloSign is a helpful e-signature software for creating sales contracts, financial agreements, mortgage and escrow agreements, and other types of documents.
You can use HelloSign as an in-browser app or download and integrate the HelloSign e-signature API with your website.
HelloSign integrates with popular collaboration tools like Dropbox, HubSpot, Salesforce, Slack, SharePoint and so on.
HelloSign Key Features:
Audit trail
Supports 22 languages
Mobile app available
High-grade document encryption
HelloSign Pricing
The HelloSign in-browser app offers a limited free plan, and four paid plans which range from $15 per month for the Essentials plan to $25 per month for the Standard plan, with bespoke pricing for the top tier premium plan.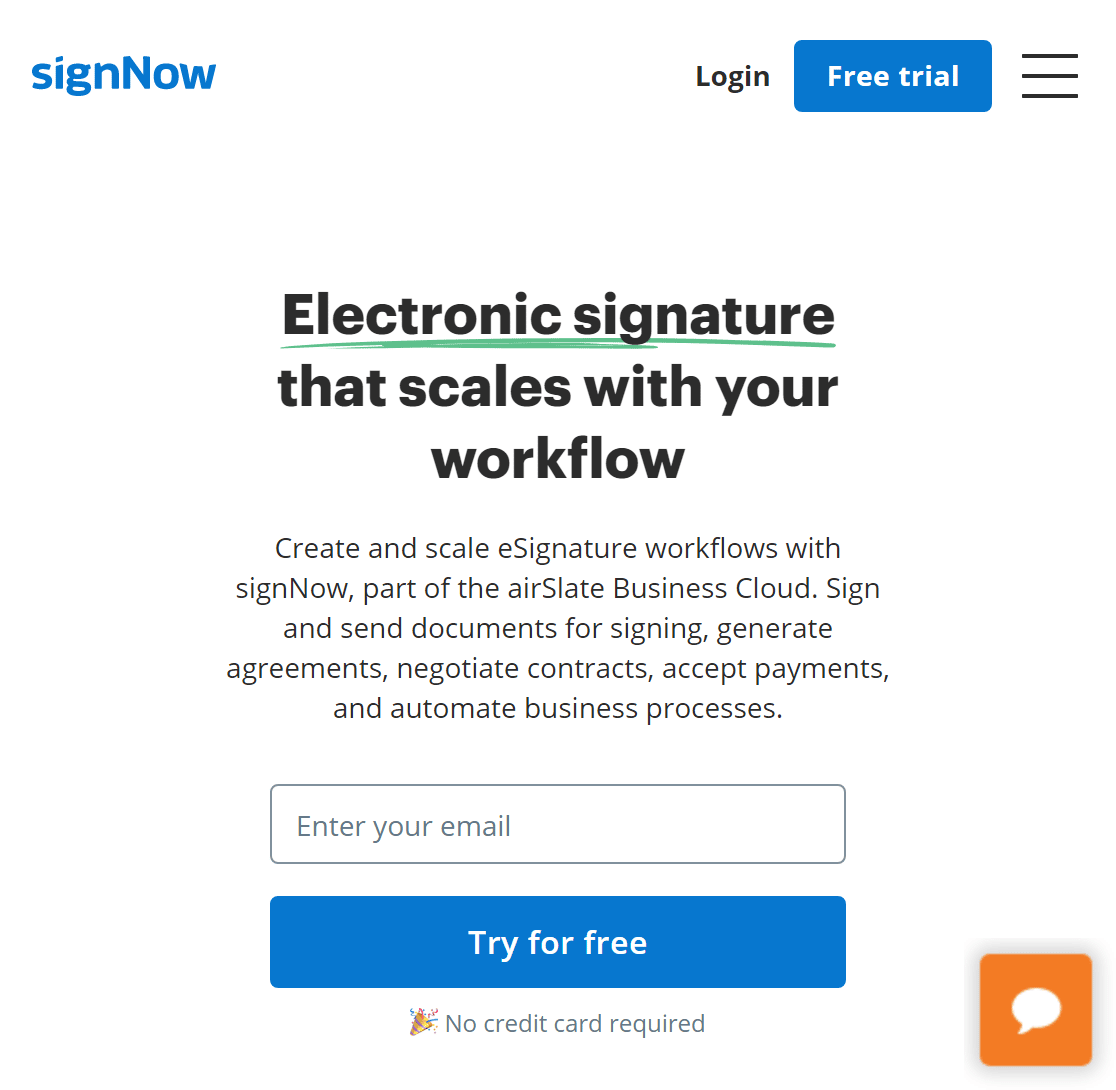 signNow offers a well-featured, affordable electronic signature solution. It doesn't have a free plan but its entry-level plan is considerably cheaper than DocuSign's entry-level plan. It also offers a good collection of document management features on this plan.
Some of these features include mobile-friendliness, support for bulk invites, the ability to create unlimited templates, and so on.
signNow requires two-factor authentication from users, potentially making it less user friendly, but great for protecting your documents.
signNow Key Features:
Bulk invite feature
Support for collaboration
Import Word Documents
Mobile-friendliness
signNow Pricing
When billed annually, signNow starts at $8 for the Business plan and costs $15 for the Business Premium plan, $30 for the Enterprise plan, and $50 for the airSlate Business Cloud plan monthly.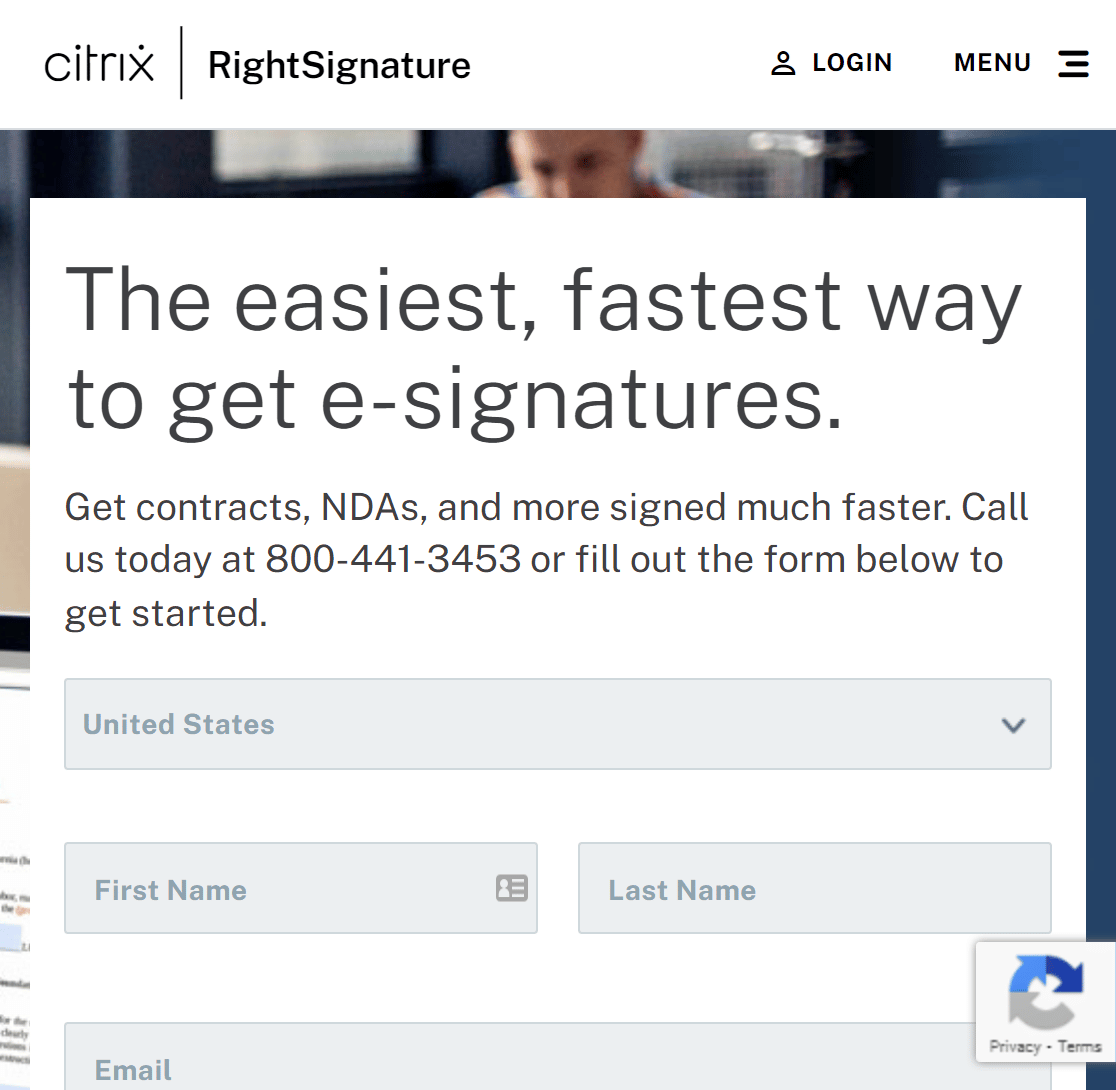 RightSignature is an easy-to-use electronic signature app but if you're looking for affordable alternatives, this likely won't be the one, as you'll see.
The app works on any device and is able to import documents from Google Drive, ShareFile, Salesforce, Dropbox, etc., among a number of useful features.
In addition to having an intuitive user interface, RightSignature also provides step-by-step instructions to make signing documents a breeze.
Some of the additional standout features of RightSignature include support for multi-party signing and team collaboration and its ability to send multiple documents at once.
Right Signature Key Features:
Custom fields
Support for audit trail
Use on any device
High-grade encryption
RightSignature Pricing
RightSignature costs $12 per month for the Standard plan and $60 per month for the Advanced plan.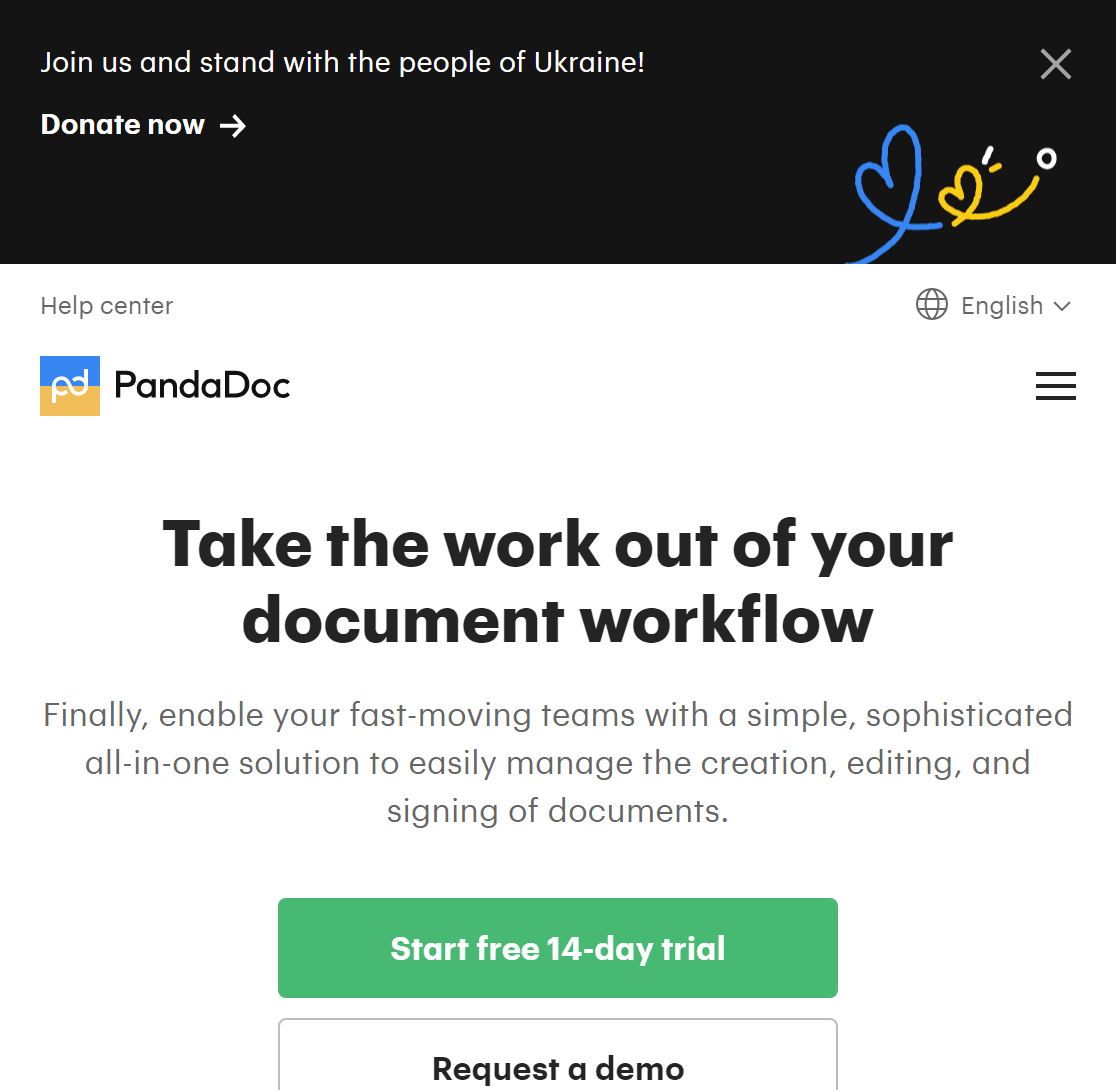 PandaDoc offers a comprehensive document management environment, and its electronic signature product is just one part of the picture.
The full PandaDoc is a little too high-powered if your sole need is for electronic signatures. However, you can use PandaDoc's electronic signature product for free, with unlimited use.
If you have the budget—and the need—for it, though, the paid version of PandaDoc may be a worthwhile investment. One of its standout features is that it makes it easy to integrate payment gateways into your forms and other documents. This helps to speed up the process of signing some agreement and receiving payment for it.
In addition to these payment gateways, PandaDoc also supports lots of useful integrations such as Zapier, HubSpot, and so on.
PandaDocs Key Features:
Payment integration
Mobile app available
Templates
Document analytics
PandaDoc Pricing
PandaDoc offers a free entry-level plan that allows for the creation of unlimited electronic signatures. But if you would like access to more features like templates and document analytics, you may try the paid plans. These start from $19 per month for the Essentials plan, with a $49 per month Business plan, and a top tier, custom-priced Enterprise plan.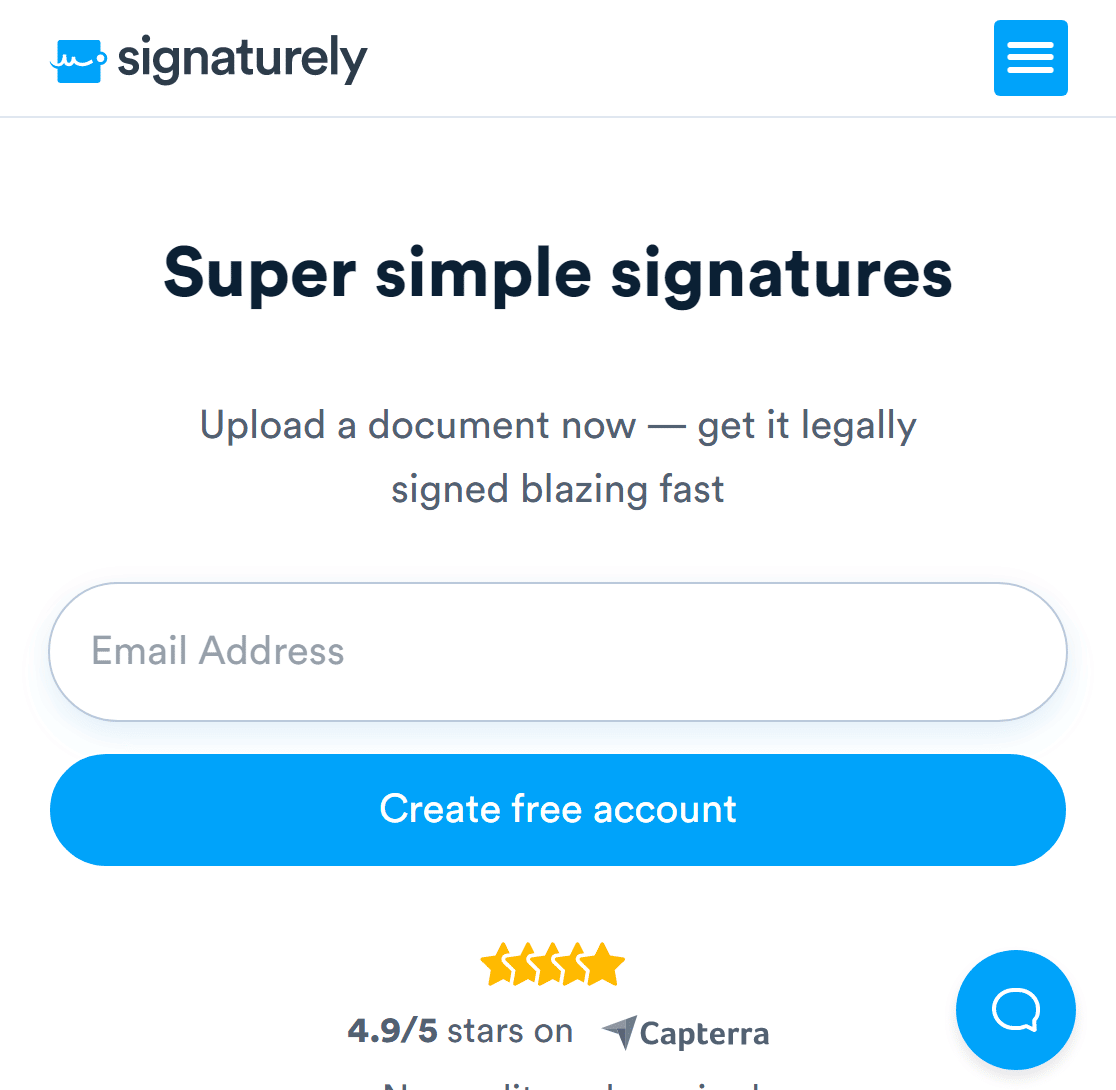 Signaturely is another easy-to-use electronic signature app. The app focuses on simplicity and ease-of-use so it doesn't have as many bells and whistles as some of the other apps on this list. Still, it is a useful solution for creating electronic signatures.
One of the ways Signaturely does stand out is by offering guided signing to show users how and where to sign. The app also integrates well with leading document management software like Google Drive, DropBox, OneDrive, and so on.
Signaturely Key Features:
Templates available
Multi-party collaboration
Integrations with major document management services
Support for audit trail and log history
Signaturely Pricing
There is a free entry-level plan that allows you to use it with up to three documents monthly. If you would like to use it more than this, or to use its premium features such as integrations with popular apps like Google Drive, you may choose between the Personal and Business plans at $20 and $30 per month respectively.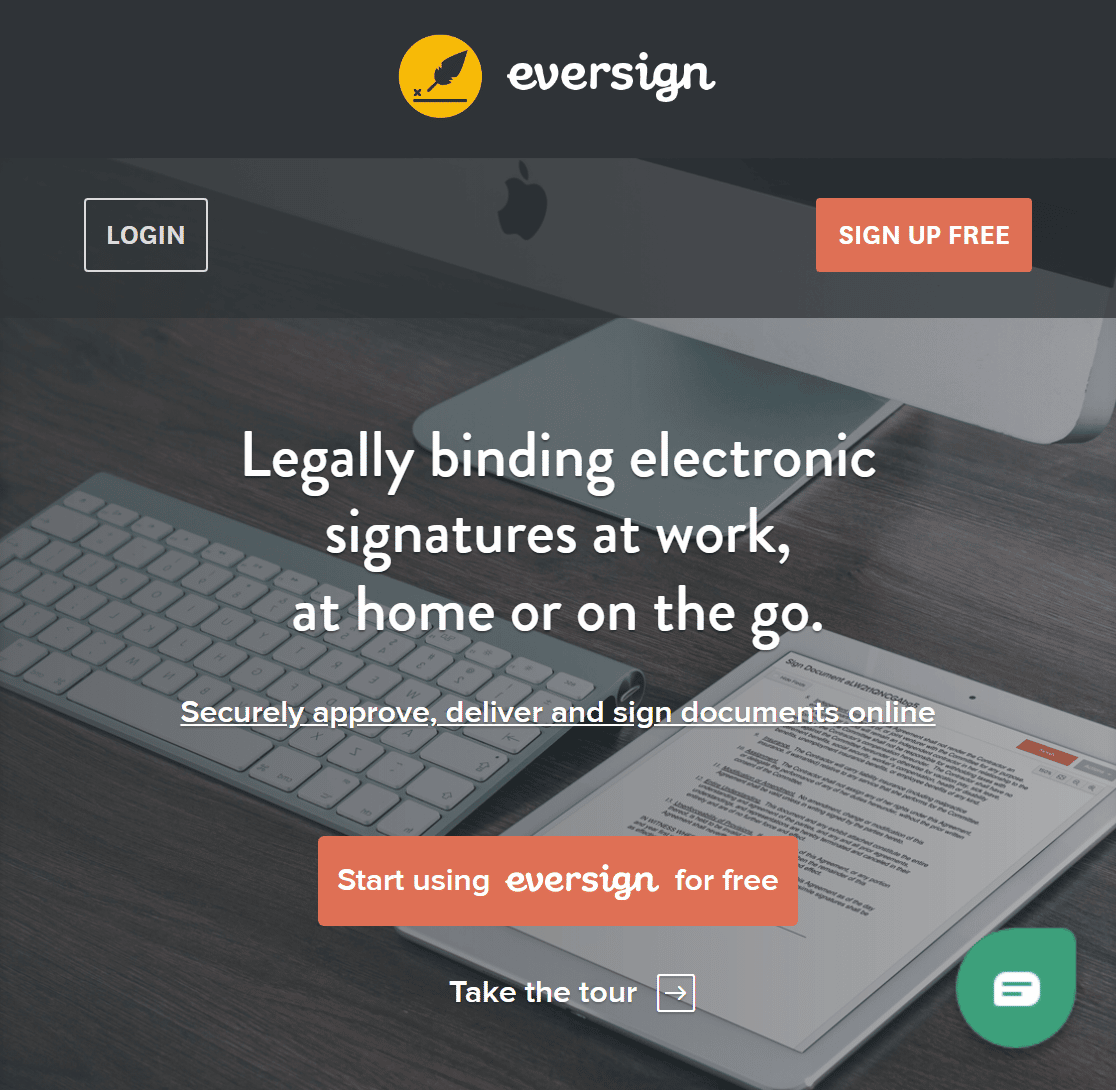 EverSign is another app that is focused on comprehensive document management. This means it offers lots of useful features such as cloud storage, a word processor, contact management features and so on.
If you're solely after the electronic signature feature, you can get this done either through the web app or by integrating EverSign's API into your website.
EverSign Key Features:
Templates available
Integration with major document management apps
Automate documents using EverSign API
Support for collaboration
EverSign Pricing
EverSign has a free entry-level plan but you'll be limited to five documents per month and no access to its templates.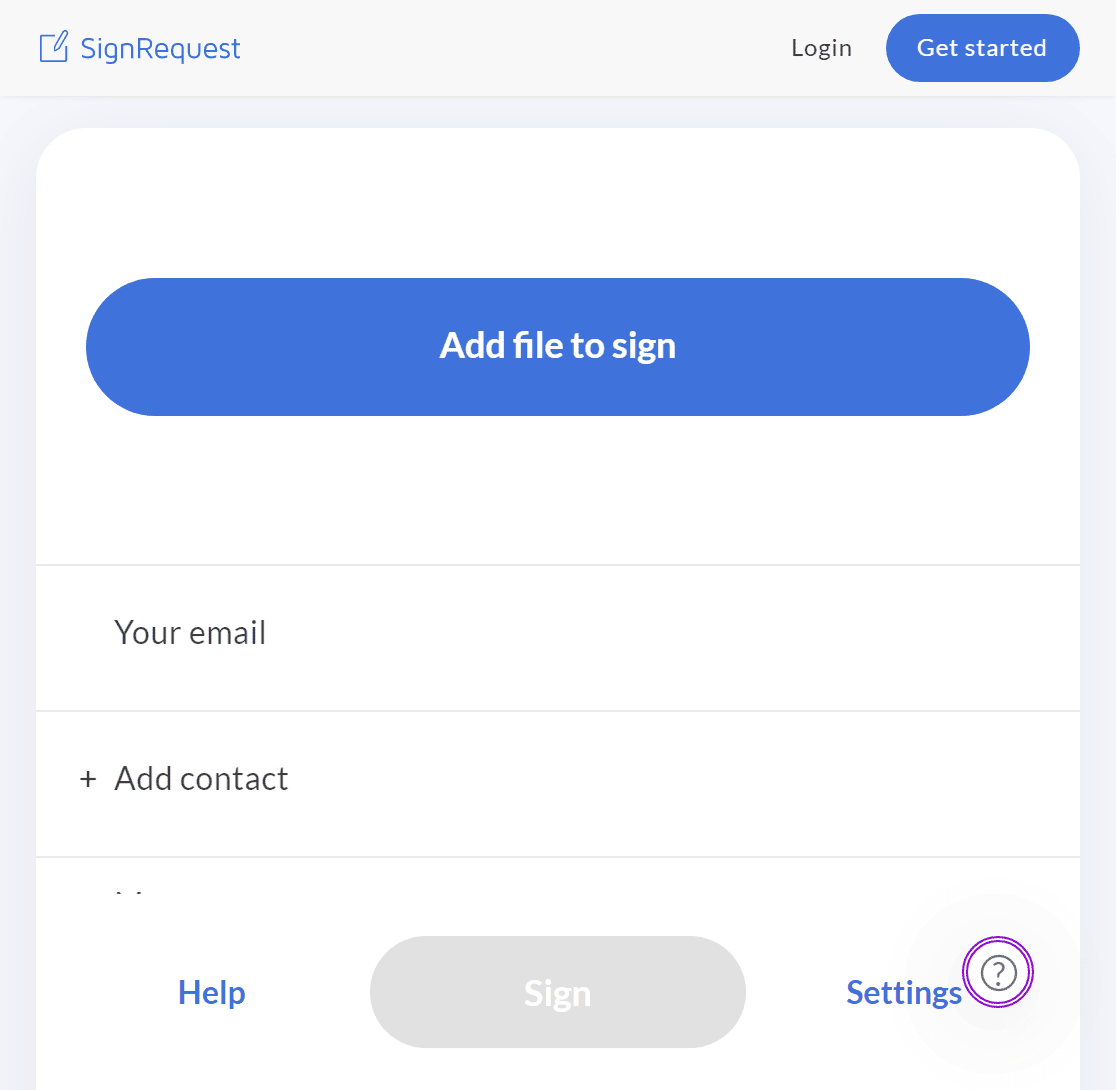 SignRequest is a handy electronic signature app with lots of practical features. The app allows you to add a signature to any of the major document formats (PDF, word, excel), from any device.
Additionally, you might find SignRequest's document management features quite convenient. These include features such as easy tracking of the signing status of your documents, along with an email notification system that will send copies of signed documents and the signing log to all parties.
SignRequest integrates well with 5,000+ Zapier apps along with popular apps like Slack, Google Drive, Google Workspace, TOPdesk, Formdesk, and so on.
SignRequest Key Features:
Secure audit trail
Templates available
Supports 17 languages
Custom branding
SignRequest Pricing
SignRequest offers an entry-level free plan along with a Professional plan at € 9 monthly, and a top tier Business plan at € 15 monthly.
What Is the Best Alternative to DocuSign?
If you already have a WordPress website, though, then WPForms along with the Signature Addon is the best solution to consider.
Once you have WPForms Pro, you can download the signature addon and any other addons you need to boost your site and grow your business.
And as we've mentioned previously, the signature addon offers:
Seamless integration with WordPress websites
Pre-built templates
Ability to hide or display fields with conditional logic
Ability to control the size of the signature field
Mobile-friendliness
Easy to review signatures without losing form content
All of these come in addition to the full functionality of the WPForms main plugin itself along with tons of helpful addons.
All points considered, WPForms Signature Addon is an excellent solution for small business owners. To get started using it, here's our detailed guide on using WPForms to add electronic signatures to forms.
Decided on an electronic signature tool that you like? All the options discussed are popular and work well for different uses. Remember, if you're looking for a solution that integrates well with WordPress, you can't go wrong with WPForms!
FAQ
Here are answers to some commonly asked questions we receive regarding DocuSign alternatives.
Do DocuSign alternatives offer legal validity?
It's best to research this on an individual case-by-case basis. In general, many of the free DocuSign alternatives utilize processes that would hold up in court if necessary.
Do free DocuSign alternatives have storage limits?
Yes, free plans will typically have more limited storage than their paid counterparts. Each tool varies a bit, but you can expect less storage space across the board than if you paid to upgrade.
Can I get signatures from mobile devices as well as computers?
In most cases, yes, signers can provide a signature using a finger to write it on their mobile device screen.
Can I customize the signing area on my digital forms?
Yes, most digital signature tools will let you customize the signature area. How much customization you can do depends on whether you use a free or paid signature tool.
Do I need an account to collect digital signatures?
Yes, regardless of which tool you decide to use to collect digital signatures, you will need to create an account first.
Next, Take a Look at The Top 7 Alternatives to WPForms.
Undecided on which WordPress form plugin to use? While WPForms is the leading WordPress form plugin, you might want to consider a few others before you decide. Take  a look at our guide to The 7 Best WPForms Alternatives.
Create Your WordPress Form Now
Ready to build your form? Get started today with the easiest WordPress form builder plugin. WPForms Pro includes lots of free templates and offers a 14-day money-back guarantee.
If this article helped you out, please follow us on Facebook and Twitter for more free WordPress tutorials and guides.