Do you want to compare the features in WPForms Lite vs Pro?
The Pro version adds tons of useful integrations and addons that'll help you to grow your business or nonprofit.
In this article, we'll run through a complete comparison of WPForms Lite and WPForms Pro so you can easily see what you'll get when you upgrade.
Create Your WordPress Form Now
How Much Does WPForms Pro Cost?
The Pro license unlocks almost all of the features and addons in the plugin. Pricing starts at $199.50/yr, and you can use your license on 5 sites. All WPForms plans have affordable pricing, especially for the features you get.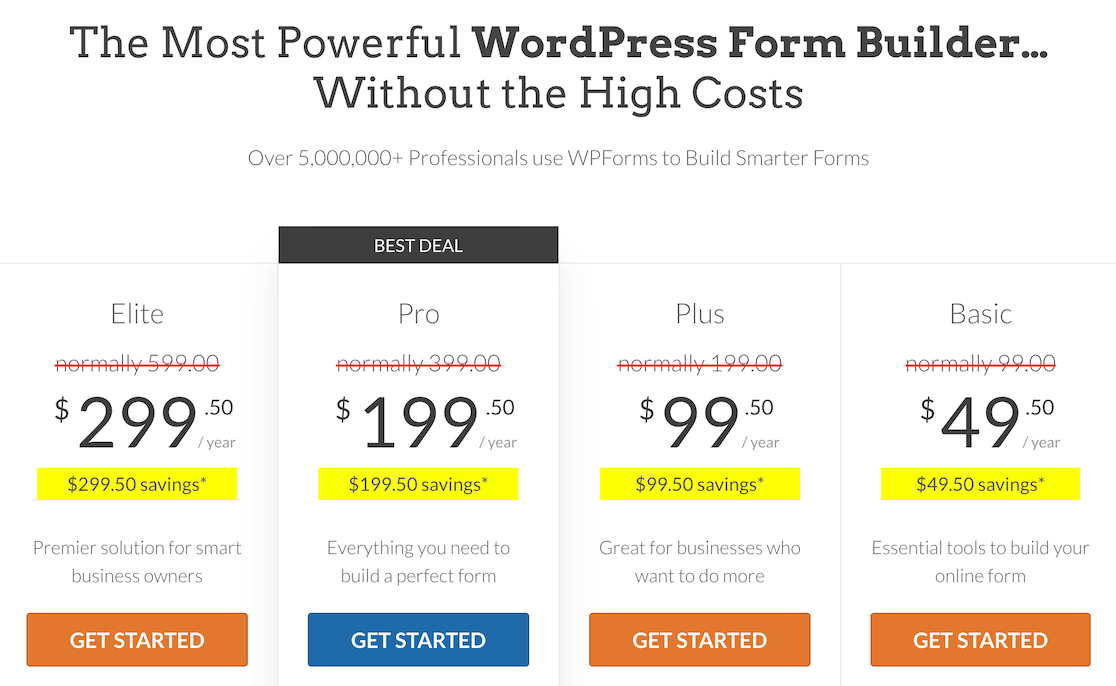 We snapped this image during a sale. Click here to see if the discount is still available!
While WPForms Lite features are very useful, the paid plans unlock a whole new variety of features that can make form building extremely easy for you.
WPForms is a contact form plugin that's super versatile and easy to use. With Pro, you can easily create:
Surveys and polls
File upload forms
Application forms
Payment forms
And a lot more.
So: what do you get in WPForms Lite vs Pro? We're going to break it down so you can see all the benefits of upgrading.
WPForms Lite vs Pro: Is It Worth the Upgrade?
This article will help you decide if it's time to upgrade to a premium version of WPForms. First, let's look at the form builder and how it works.
Getting Started: WPForms Lite vs Pro
WPForms Lite and WPForms Pro share the same awesome drag and drop form builder that's super easy for beginners. No matter which version you start with, the WPForms editor works in exactly the same way.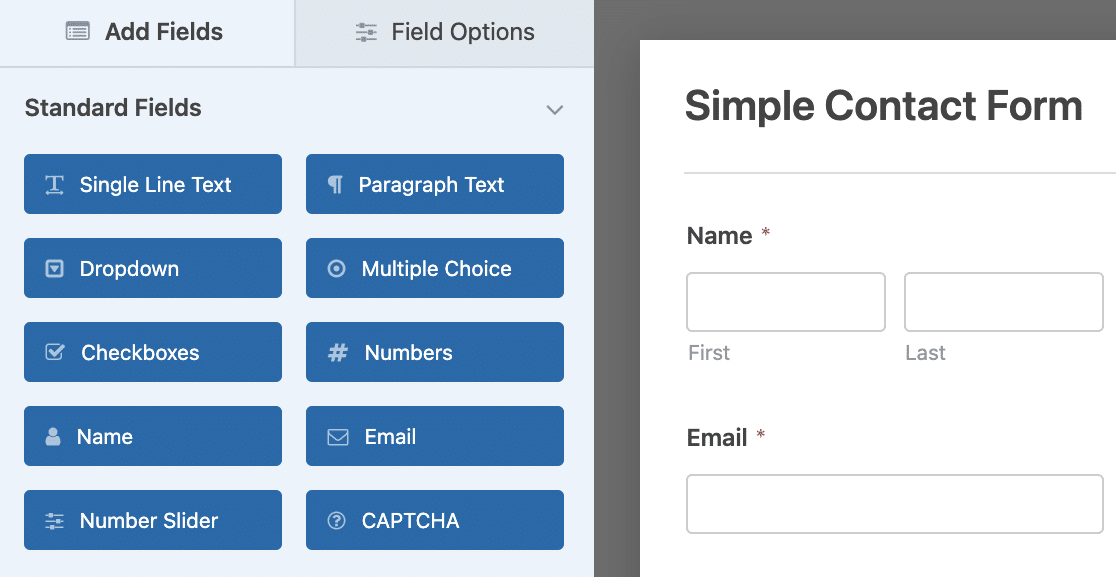 The WPForms user interface is easy to learn, too.
To add a field, you just drag it from left to right. To open the field options, click once on the field in the editor.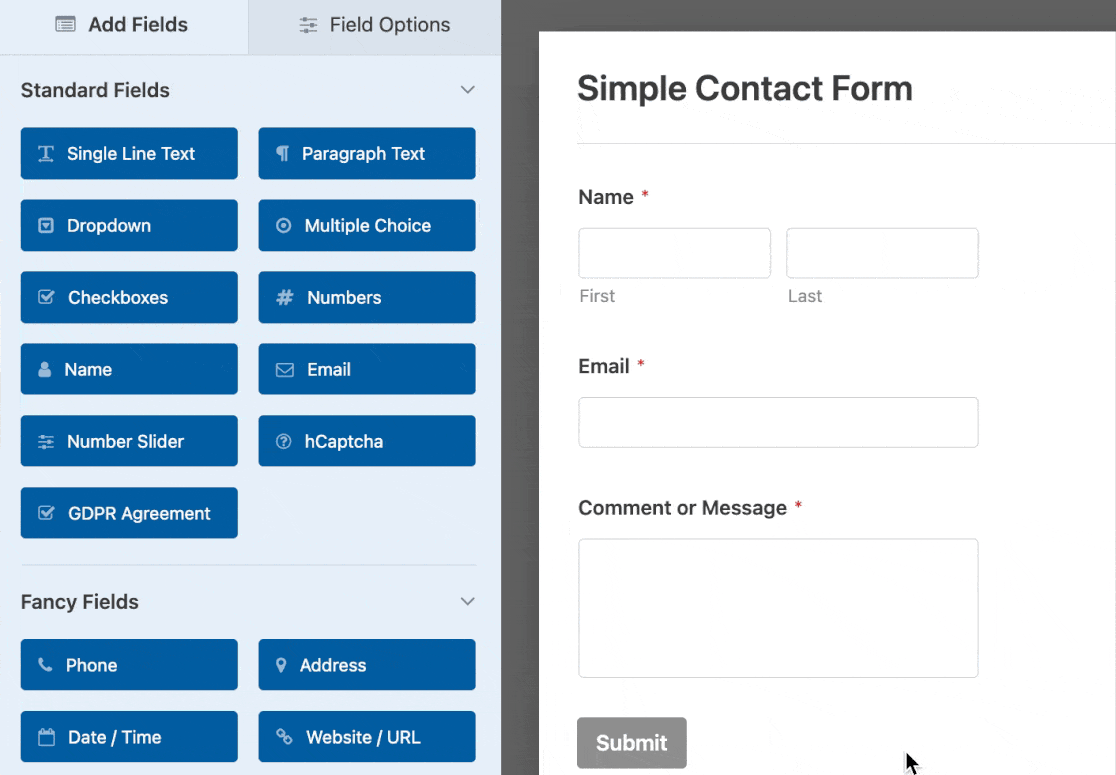 You can easily make and publish a contact form in less than 5 minutes.
And our form builder is a little different from other form builders like Gravity Forms. Because with WPForms, you can expand the form builder so that it fills your entire monitor.
So it's a WordPress plugin, but it works like a professional form builder platform!
Next, here's another great tip. There are also no usage limits in WPForms Lite or WPForms Pro either:
| | WPForms Lite | WPForms Pro |
| --- | --- | --- |
| Unlimited forms | ✓ | ✓ |
| Unlimited responses | ✓ | ✓ |
| Unlimited views | ✓ | ✓ |
| Unlimited disk space | ✓ | ✓ |
Keep in mind that your hosting company might have limits. For example, your hosting plan might have a disk space limit. But unlike hosted form builders such as JotForm, WPForms won't impose limits.
You definitely don't want your form to be disabled right when your traffic is increasing!
Our free version has more than has 12+ thousand 5-star reviews on WordPress.org . And 6+ million customers like you are already using it: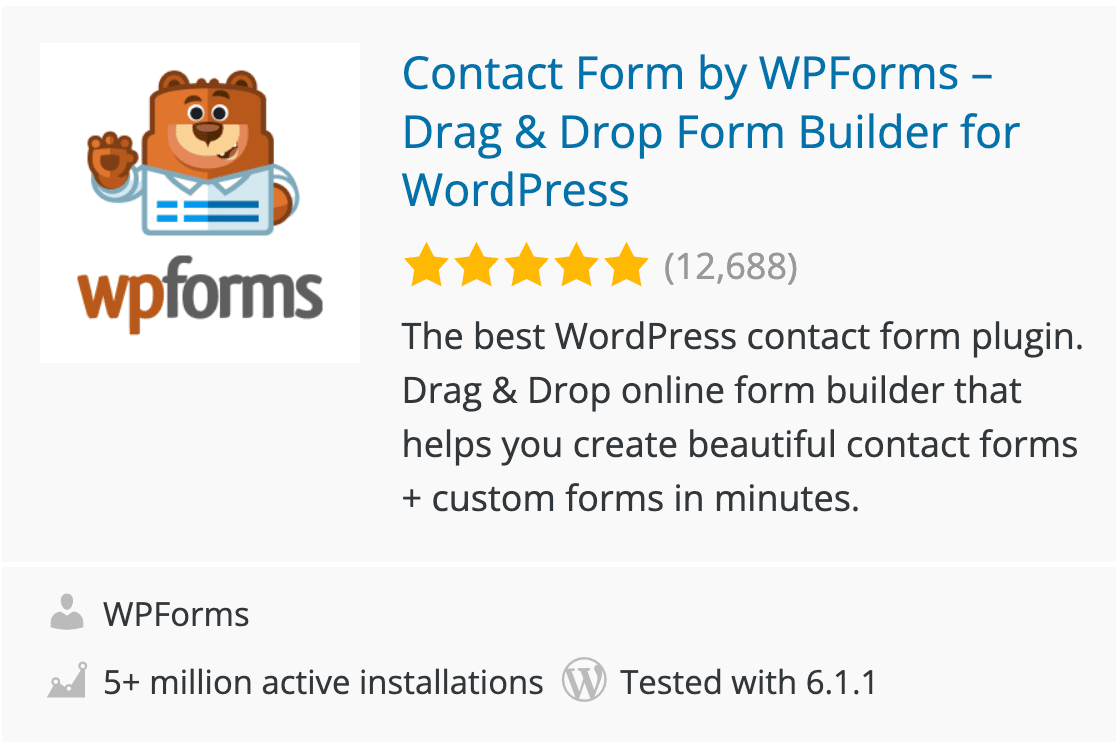 If you want to learn why WPForms has so many awesome ratings, check out this comparison of WPForms Lite vs Contact Form 7 to see how much easier it is to make forms without writing code.
You can also see this Zoho Forms vs Jotform vs WPForms comparison to see how WPForms provides extra value with some unique form features that you don't get elsewhere.
Up next, we'll look at the components you can use to make your forms. When you upgrade and buy a WPForms license, you get to use more fields and unlock way beyond what you get in WPForms Lite features. Let's take a look.
Form Fields in WPForms Lite vs Pro
The form fields you can use are different in WPForms Lite and the Pro version.
Let's look at the similarities before we check out the differences:
| | WPForms Lite | WPForms Pro |
| --- | --- | --- |
| Name | ✓ | ✓ |
| Email | ✓ | ✓ |
| Text | ✓ | ✓ |
| Number | ✓ | ✓ |
| Number Slider | ✓ | ✓ |
| Dropdown | ✓ | ✓ |
| Multiple Choice | ✓ | ✓ |
| Checkbox | ✓ | ✓ |
| Payment fields | ✓ | ✓ |
| reCAPTCHA/ hCaptcha/Akismet/Turnstile | ✓ | ✓ |
| GDPR Agreement | ✓ | ✓ |
These basic fields let you easily make forms for your business, hobby site, or nonprofit. With these fields, you can easily:
If you upgrade to Pro, you get access to the 'fancy' fields in the plugin too:
| | WPForms Lite | WPForms Pro |
| --- | --- | --- |
| Phone | | ✓ |
| Address / Map | | ✓ |
| Date / Time | | ✓ |
| Website / URL | | ✓ |
| File Upload | | ✓ |
| Password | | ✓ |
| Rich Text | | ✓ |
| Layout (Multi-Column Form) | | ✓ |
| Page Break | | ✓ |
| Section Divider | | ✓ |
| HTML | | ✓ |
| Content | | ✓ |
| Entry preview | | ✓ |
| Hidden Field | | ✓ |
| Custom CAPTCHAs | | ✓ |
| Signature | | ✓ |
| Survey fields (star ratings, Likert scale, Net Promoter Score) | | ✓ |
These fields are super helpful when you want to:
Make longer forms easier to fill out: Splitting a form into sections and creating multi-page forms helps to make your visitors feel comfortable answering longer questions. It also avoids form abandonment because they won't feel overwhelmed.
Make surveys and polls so you can conduct your own research and find out what makes your customers tick.
Get signed contracts, which is awesome for any business or freelancer who needs to get signed agreements.
Prevent spam with your own custom CAPTCHAs.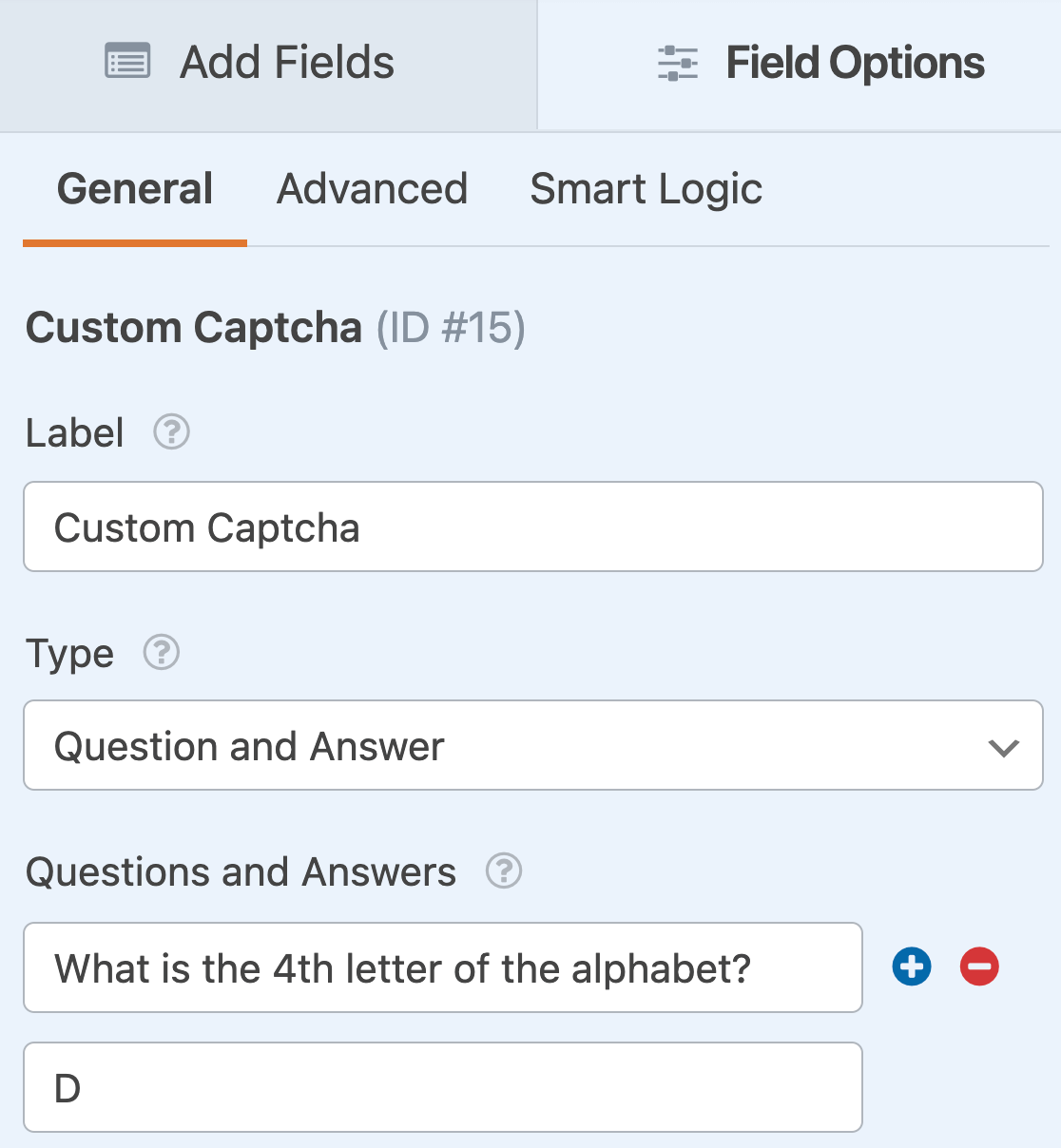 There are a few fields in the Pro list that are especially handy, so let's focus on those next.
First, here's an example of the 'smart' phone field in action: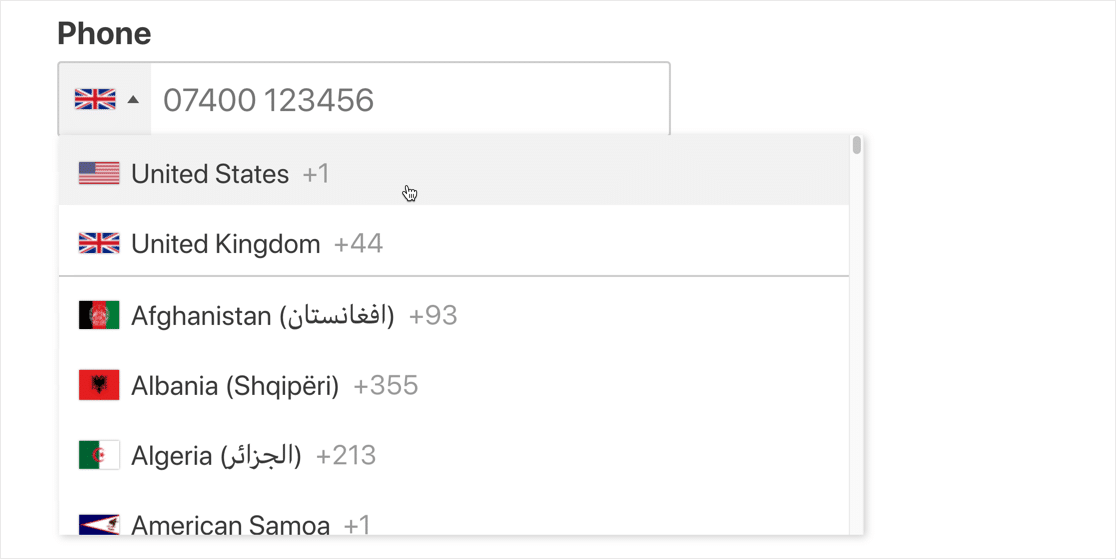 This field will automatically show the correct phone number input based on your visitor's location.
This really helps to avoid confusion when you're getting phone numbers for sales leads, especially if you have visitors from different countries.
Next up, we also wanted to show you how the address autocomplete works because it's awesome!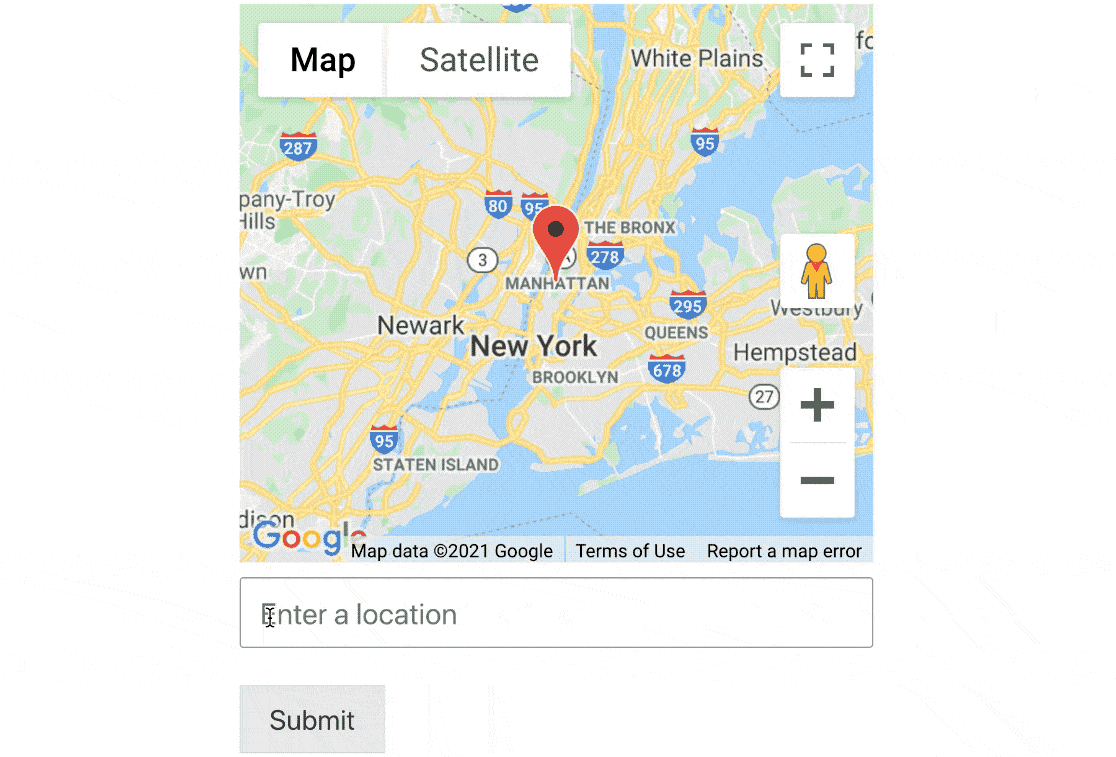 The Pro Geolocation addon connects to Google Maps or Mapbox and will automatically detect the address and complete it for your visitor. It's a great way to add an interactive map to your address field too!
Next, let's take a look at the Rich Text field. This allows visitors to format their entry with bold, italics, lists, colors, and more. And they can upload images too.
This is the perfect field if you want to allow users to submit blog posts through your forms.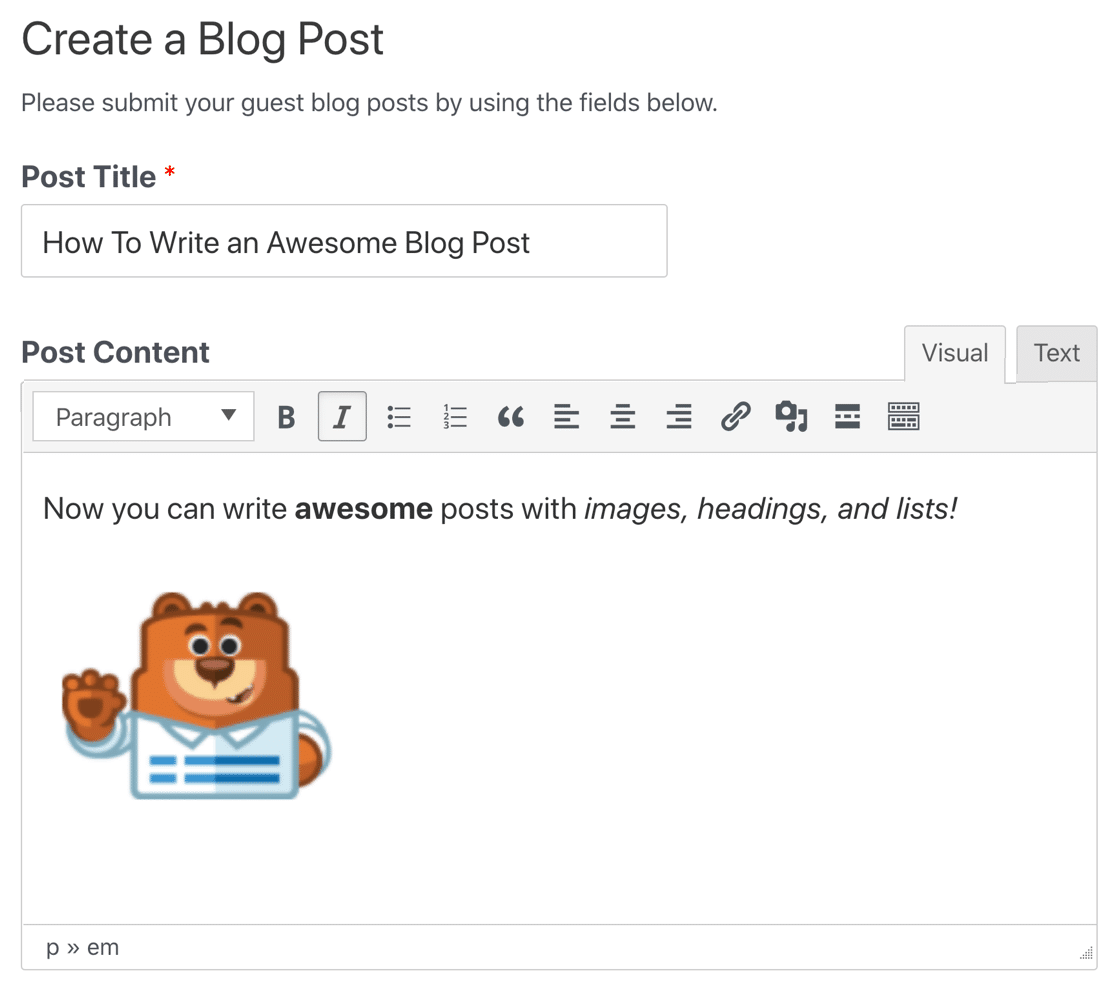 And finally, let's look at 1 more field that could make your workflow a lot more efficient.
Using the Signature addon, your visitor can draw their signature on any form you create.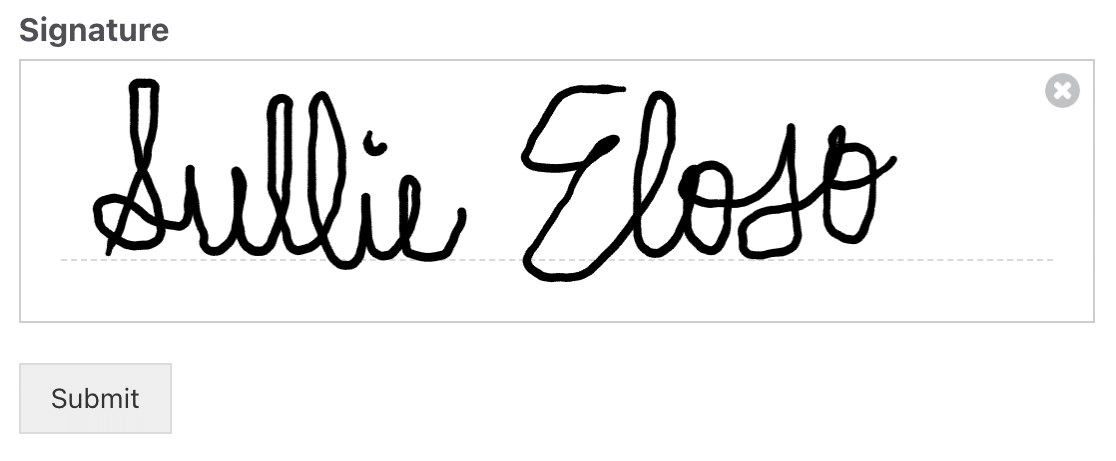 You can use this to create your own:
But wait. Are you wondering if these fields will make your forms look too complicated?
Let's take a look at how conditional logic can help with that.
Why Use Conditional Logic on Forms?
If you're still on the fence about upgrading, conditional logic is one of the #1 benefits of upgrading to a WPForms paid license.
With conditional logic, you can set up specific fields to show or hide automatically.
For example, you could show and hide fields based on previous answers.
Conditional logic can be used in other ways too. You can:
Process payments only if certain conditions are met
Filter your survey questions according to a demographic question
Get more control over when marketing integrations fire and when they don't.
With WPForms Pro, you can hide all of the fields that aren't immediately needed, then reveal them when necessary. That way, your visitor will never see tons of empty fields that don't apply to them.
Notifications and Entry Storage in Lite vs Pro
Both WPForms Lite and WPForms Pro will send notification emails when your form is submitted. (If you don't receive notifications, this guide on how to fix WPForms not sending email will show you the easy way to fix it.)
On top of that, WPForms Pro gives you more ways to send and manage your notifications.
Here's a quick breakdown to give you an idea of the differences.
| | WPForms Lite | WPForms Pro |
| --- | --- | --- |
| Form notification emails | ✓ | ✓ |
| CC recipients on 1 notification | ✓ | ✓ |
| Confirmation message on form submission | ✓ | ✓ |
| Multiple notifications on a form | | ✓ |
| 1-click notification cloning | | ✓ |
| Form abandonment notifications | | ✓ |
| Conditional notifications | | ✓ |
With the
Lite Connect
feature, you can store all your form entries in the cloud. You can access those entries when you upgrade to Pro. For more details, check out this post:
Where does WPForms Data Go?
If you want to have every form entry saved in your WordPress dashboard, WPForms Pro is the best choice.
You can search and filter your entries to find exactly what you need.

And you can even get notifications for forms that aren't submitted.
In fact, WPForms Pro has the best entry storage features in any WordPress form builder plugin:
| | WPForms Lite | WPForms Pro |
| --- | --- | --- |
| Form entry storage in WordPress | | ✓ |
| File uploads stored in Media Library (optional) | | ✓ |
| Survey and poll reporting | | ✓ |
| Show visitors' location | | ✓ |
| Show user journey | | ✓ |
| Export and print entries | | ✓ |
| Mark entry read/ unread and star entries | | ✓ |
| Get form entries offline | | ✓ |
You might be wondering what some of these features look like, so let's focus on a few awesome things you can do with Pro entry storage.
First up, we can't talk about Pro without talking about the Surveys and Polls addon!
This addon turns WPForms into a full survey platform: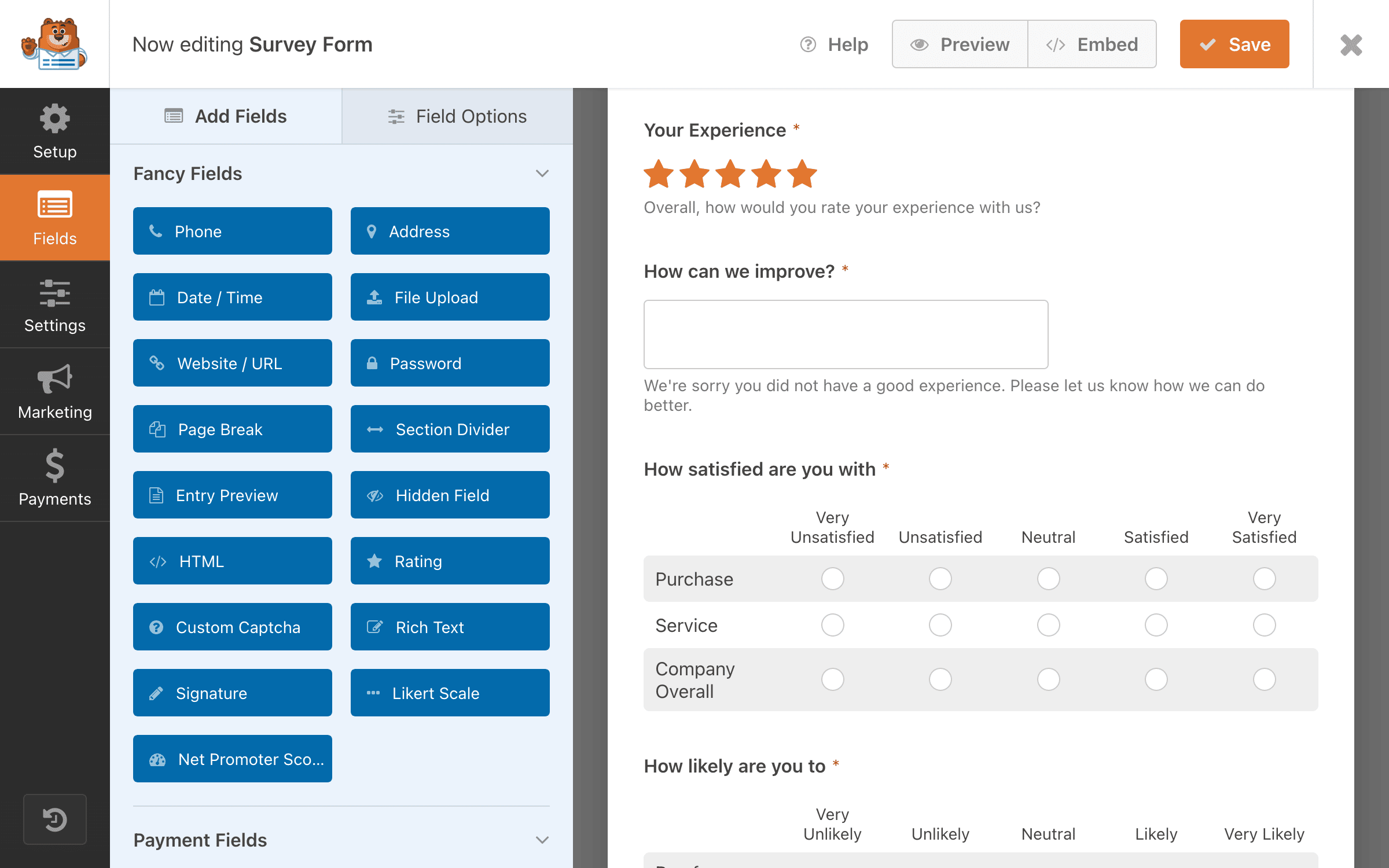 Compared to professional survey tools, WPForms Pro has 3 huge advantages:
You can embed surveys and polls easily on your site, which makes them super easy to share and distribute. Every form has an Embed button right in the online form builder.
Your survey responses are all stored right in the WordPress dashboard. You don't have to log in to different platforms to see your responses.
Survey charts are automatically generated in WordPress. It's easy to download and reuse these charts any way you want.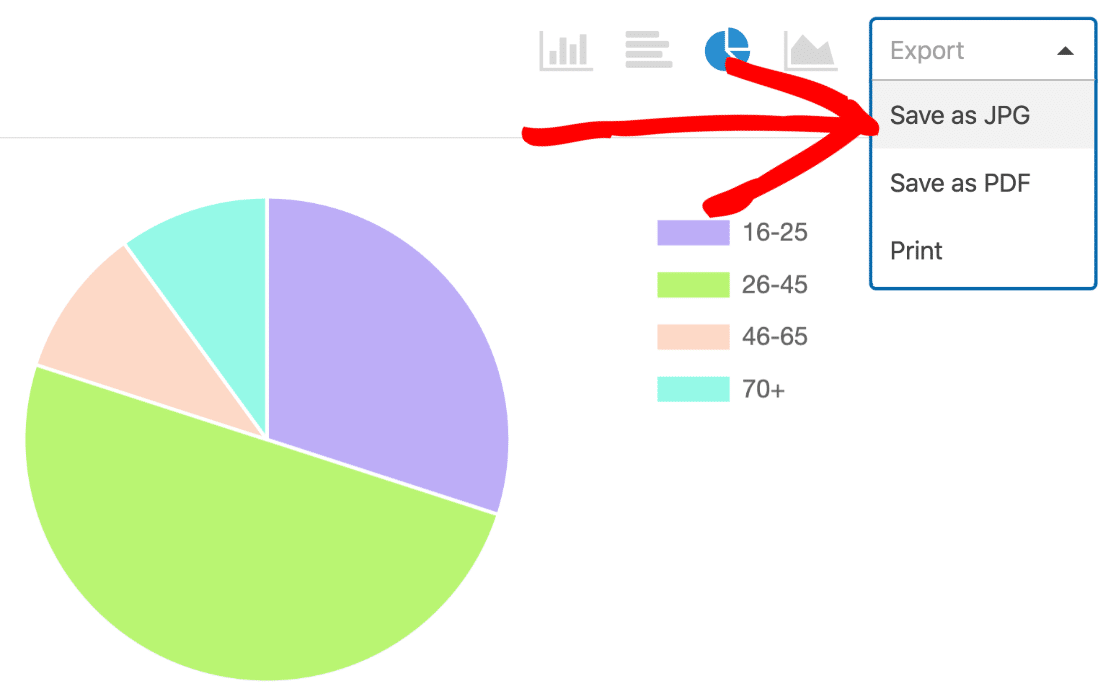 In fact, the surveys and polls tool makes the WPForms license well worth it. It has similar features to professional survey platforms.
We also want to show you the User Journey addon that you get with WPForms Pro. This is quickly becoming one of our most popular addons!
It lets you retrace your user's steps through your website right up to the point that they submitted your form.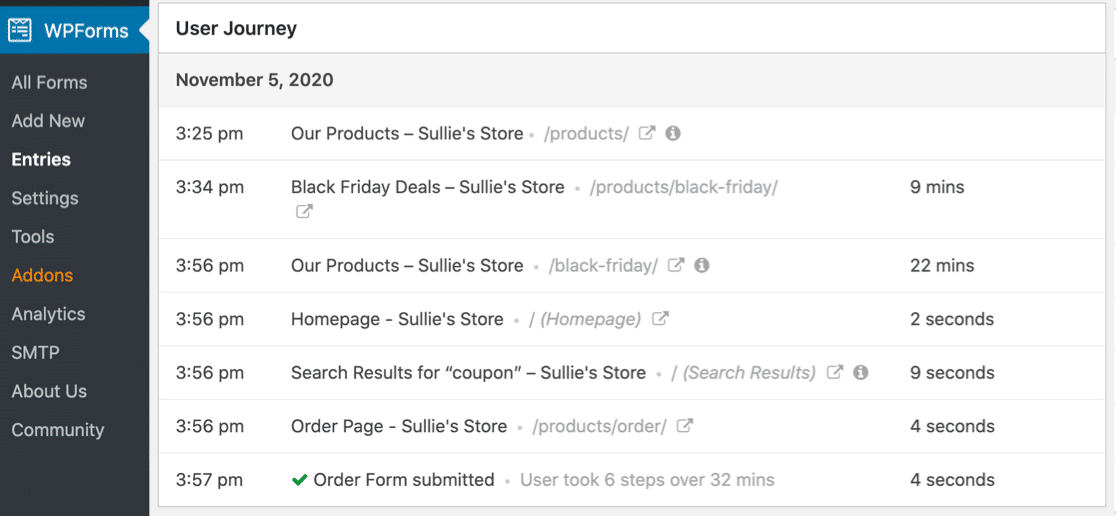 Our users love the insights they get from this addon. It can help you to easily see which pages on your site are leading to form conversions.
Form Templates in WPForms Lite vs Pro
Both WPForms Lite and WPForms Pro come with 1000+ WordPress form templates. You can access them right in the form builder.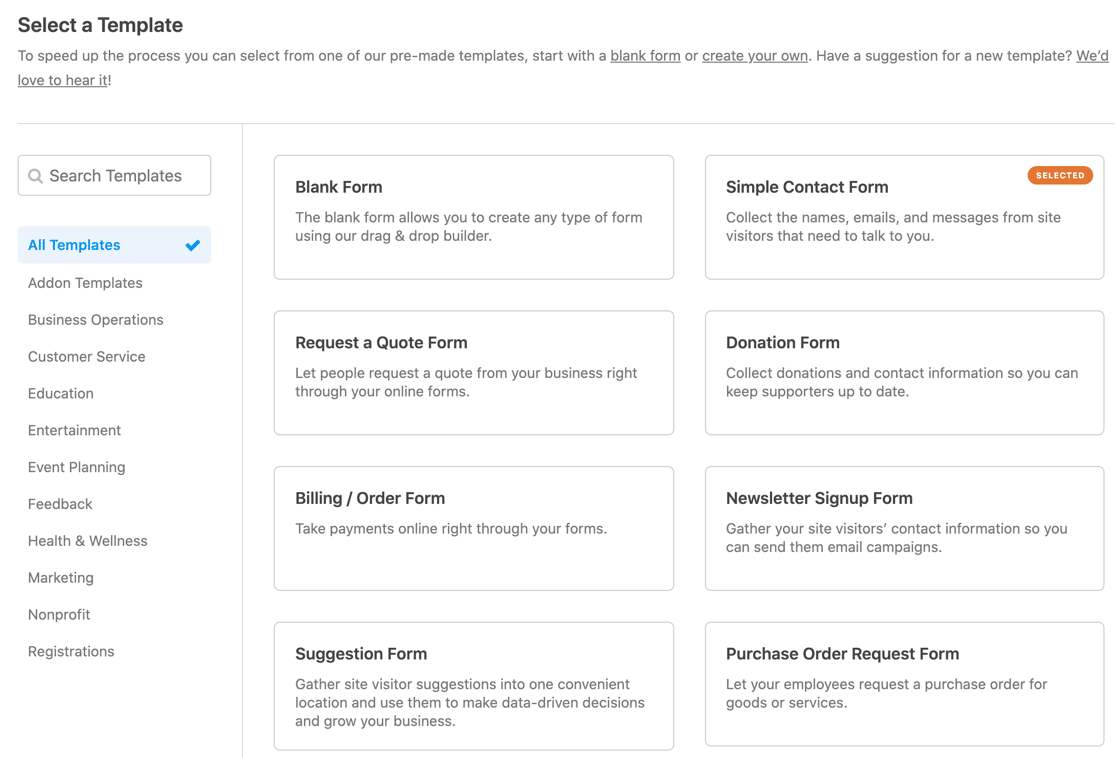 You can hover your mouse over any template to open up a preview or use it right away by clicking on Use Template.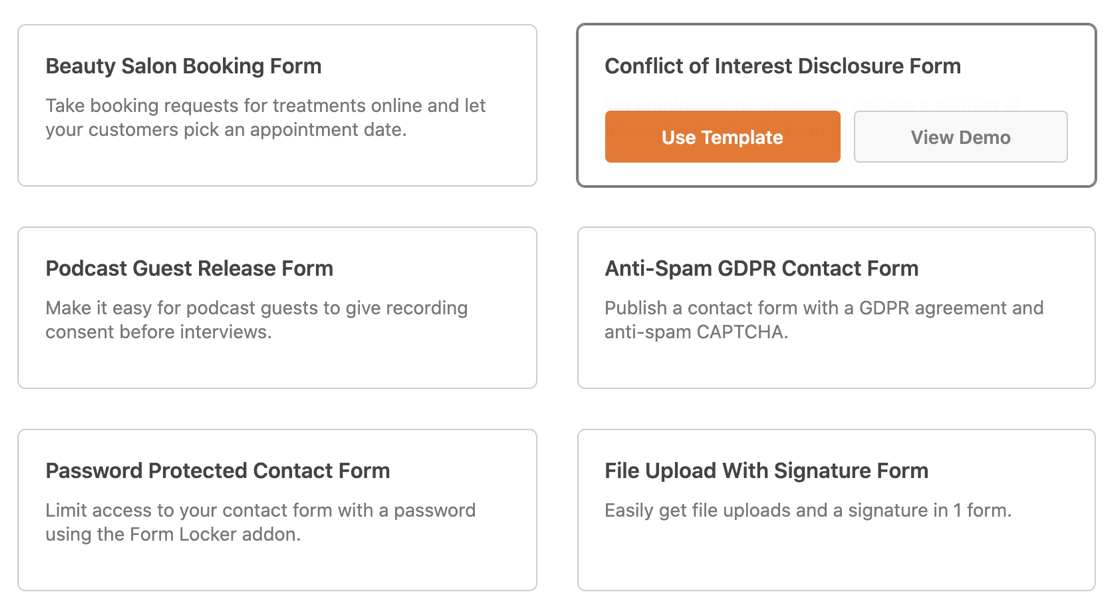 The form builder will automatically prompt you to install the addons needed for the form to work. And if you need to upgrade your WPForms license to use the selected template, a message will pop up to explain what you need to do.
When you combine our form templates and addons, you can easily make advanced forms like:
Blog post submission forms to get more user generated content for your site
Custom user registration and login forms
File upload forms
And more!
All of this extra functionality can help you:
Save time by reducing the amount of admin work you have to do
Simplify hiring using customized job application forms
Make more money from your site with additional payment gateways and more advanced options than Lite
Accept WordPress user submitted posts without creating WordPress logins for contributors
Take your marketing campaigns to the next level.
Payments in WPForms Lite vs Pro
All license levels of WPForms enable you to create order forms and accept credit card payments via Stripe.
| | WPForms Lite | WPForms Pro |
| --- | --- | --- |
| Stripe | ✓ | ✓ |
| PayPal | | ✓ |
| Square | | ✓ |
| Authorize.net | | ✓ |
We've partnered with Stripe to keep overall fees acceptably low so that all of our users enjoy taking credit card payments seamlessly. For Lite, Basic, and Plus users, there's a 3% fee per transaction on top of the regular Stripe fees.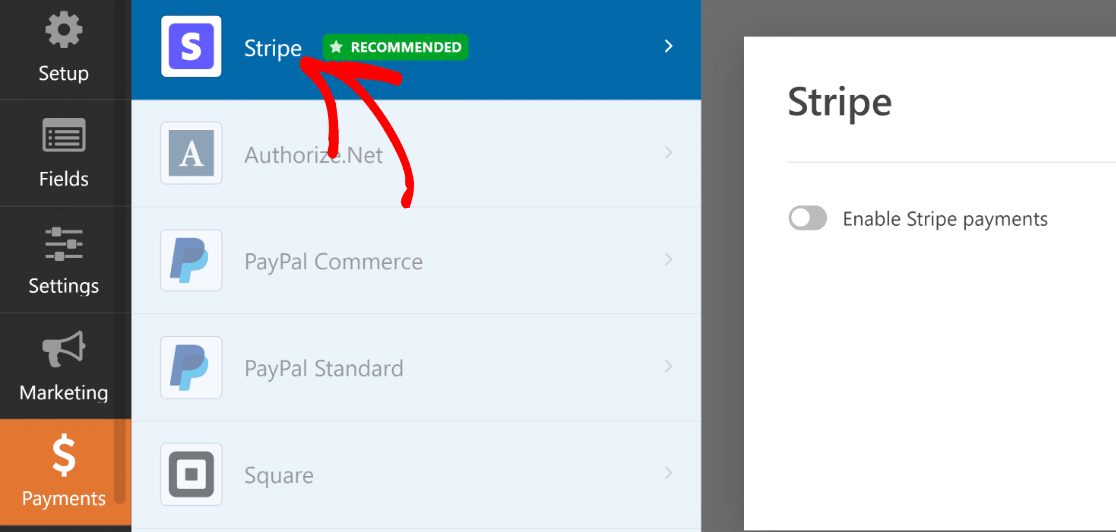 However, you can still avoid paying the 3% additional fee by upgrading to WPForms Pro or Elite.
Another benefit of WPForms Pro is that it unlocks the Stripe Pro addon, which gives you the ability to implement conditional logic for your Stripe payment processing. This is super useful when you want to let your customers choose between one-time payments or recurring payment options in your form.
In addition to that, Pro users get more payment gateways including PayPal, Square, and Authorize.net.
All versions of WPForms include a Payments screen that lets you track the payments you've collected via your forms.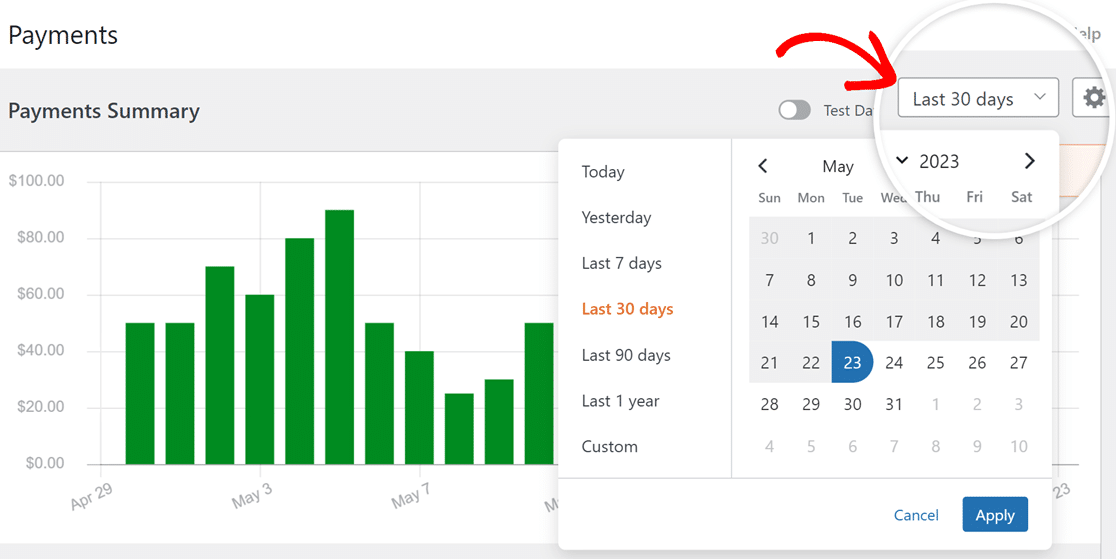 The Payments screen gives you the convenient to monitor your sales over time right within your WordPress dashboard.
Ways to Publish Your Forms
WPForms has an awesome drag and drop form editor that makes it easy to create your forms.
And you can publish forms anywhere on your WordPress site.
With Pro, you can also use 2 additional layouts to display your forms:
| | WPForms Lite | WPForms Pro |
| --- | --- | --- |
| Embed forms in WordPress pages and posts using a wizard | ✓ | ✓ |
| Classic editor, shortcodes, and block editor support | ✓ | ✓ |
| Conversational forms | | ✓ |
| Landing page forms | | ✓ |
Are you wondering what these extra layouts look like?
Conversational forms show questions one by one. When your visitor answers a question, the form automatically skips to the next one.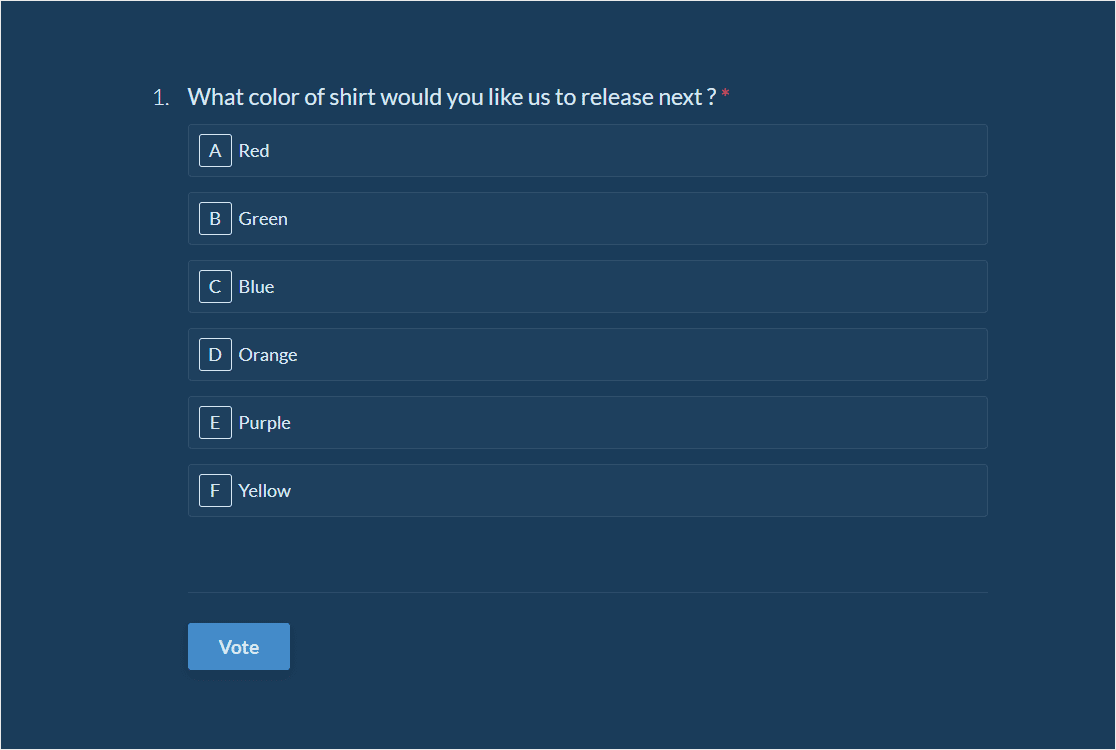 This addon makes WPForms Pro the perfect TypeForm alternative.
Additionally, you can easily publish any form on its own landing page.
Here's the awesome thing about the form pages addon: you don't need to write any code.
In fact, once you activate the addon, all the settings you need to create your page are right here in the form builder: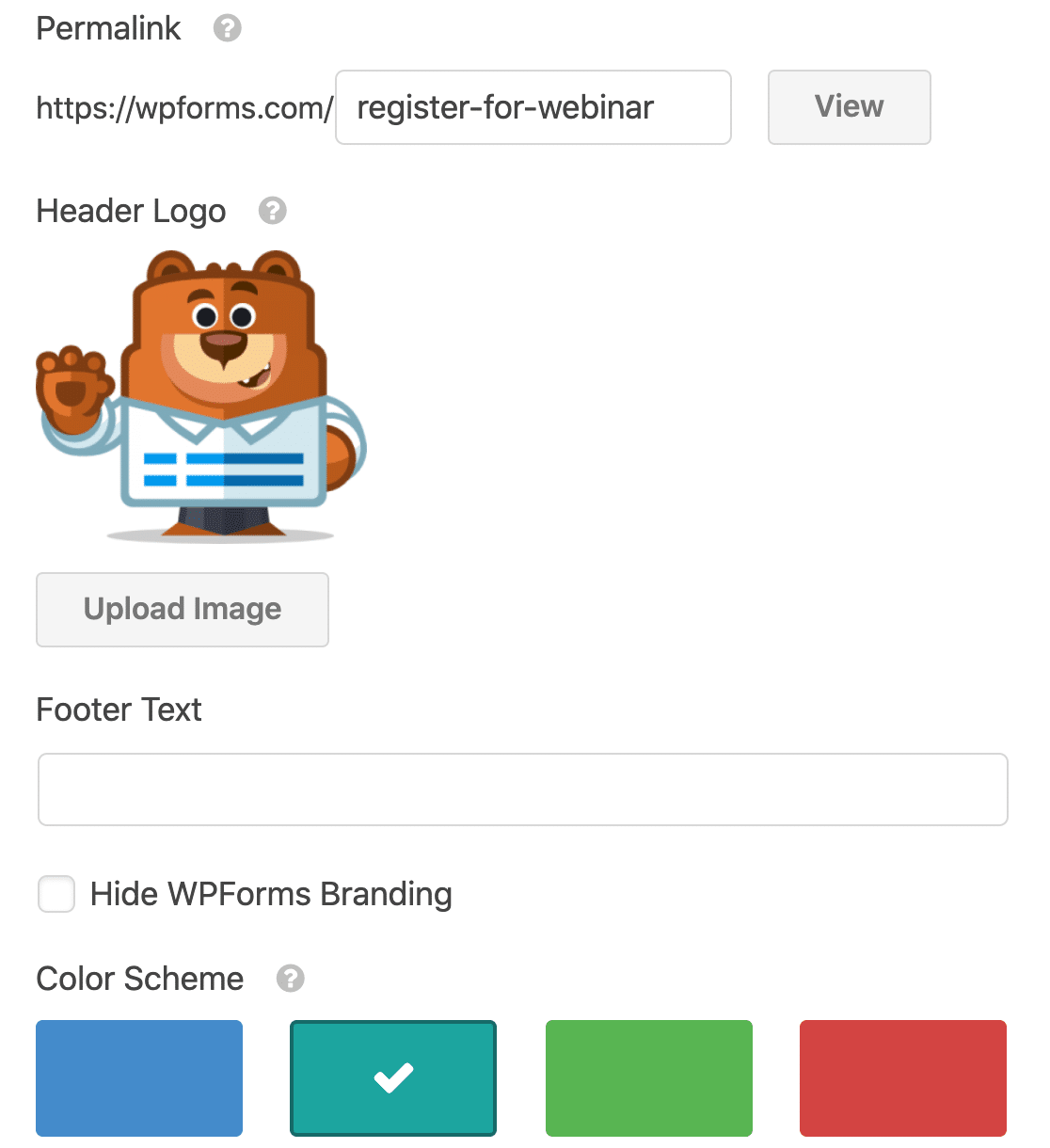 It's that easy! You can convert any form into a standalone landing page and convert it back whenever you want to.
Page Builder Integrations
If you're using a page builder to create your site, WPForms Lite and WPForms Pro will both work great for that.
For example, there's a native Elementor widget in both versions of the plugin. So WPForms is a great option if you want to make a free Elementor contact form!
The WPForms plugin also has integrations for Divi and SeedProd so you can easily embed your forms without shortcodes if you want to.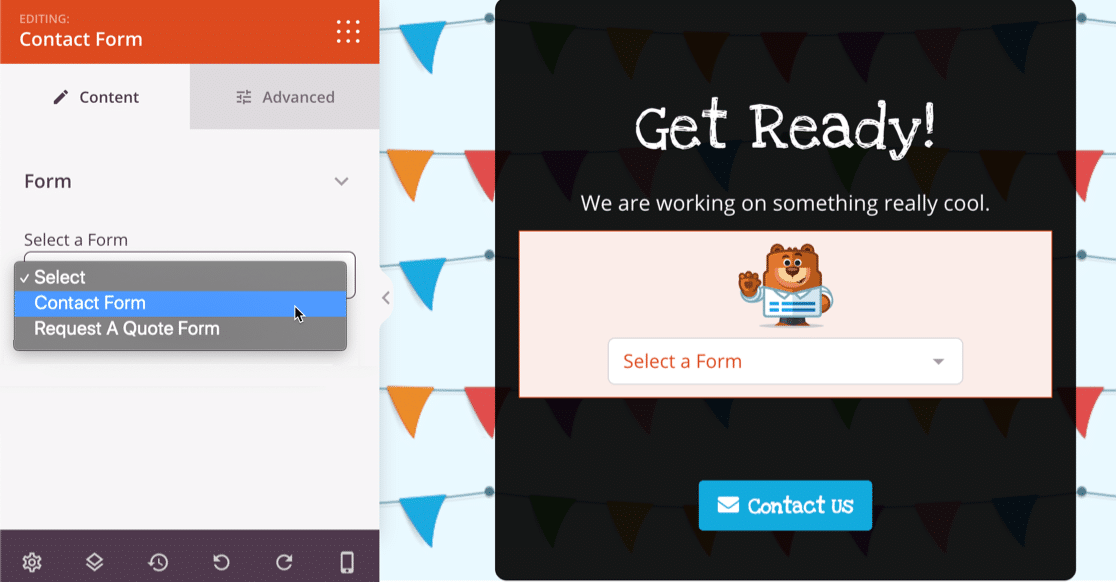 Popular Email Marketing Integrations
Email marketing is one of the most powerful ways to get more leads from your WordPress site.
After creating a basic contact form, you could also create a newsletter signup form and use any WordPress email subscription plugins so people can subscribe to your email marketing list.
The Lite version lets you easily make a Constant Contact email subscription form.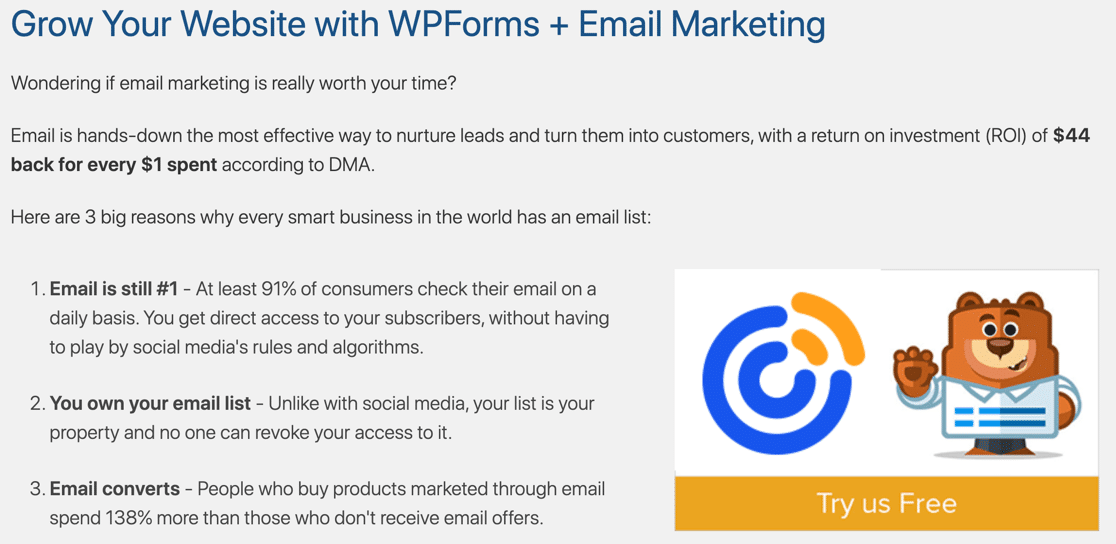 And WPForms Pro extends this with support for many popular email automation and marketing platforms:
| | WPForms Lite | WPForms Pro |
| --- | --- | --- |
| Constant Contact | ✓ | ✓ |
| Mailchimp | | ✓ |
| AWeber | | ✓ |
| GetResponse | | ✓ |
| Drip | | ✓ |
| Campaign Monitor | | ✓ |
| Sendinblue | | ✓ |
| MailerLite | | ✓ |
Don't forget: ActiveCampaign integration is also available with the Elite license!
Connecting your email marketing service is easy.
If you don't see your email marketing provider here, don't worry. You can easily integrate it using another integration method. We'll look at that next.
Bonus Integrations
Sometimes, you might want to connect your forms to services that don't have an addon.
If you're ready to do that, WPForms Pro is a great choice. There are 2 easy ways to make your own bonus integrations. Lite supports one of them, while Pro supports both:
| | WPForms Lite | WPForms Pro |
| --- | --- | --- |
| Uncanny Automator | ✓ | ✓ |
| Zapier | | ✓ |
Want to see how they work?
Uncanny Automator is one of our favorite WPForms integrations. It lets you easily send WPForms submissions to other plugins automatically.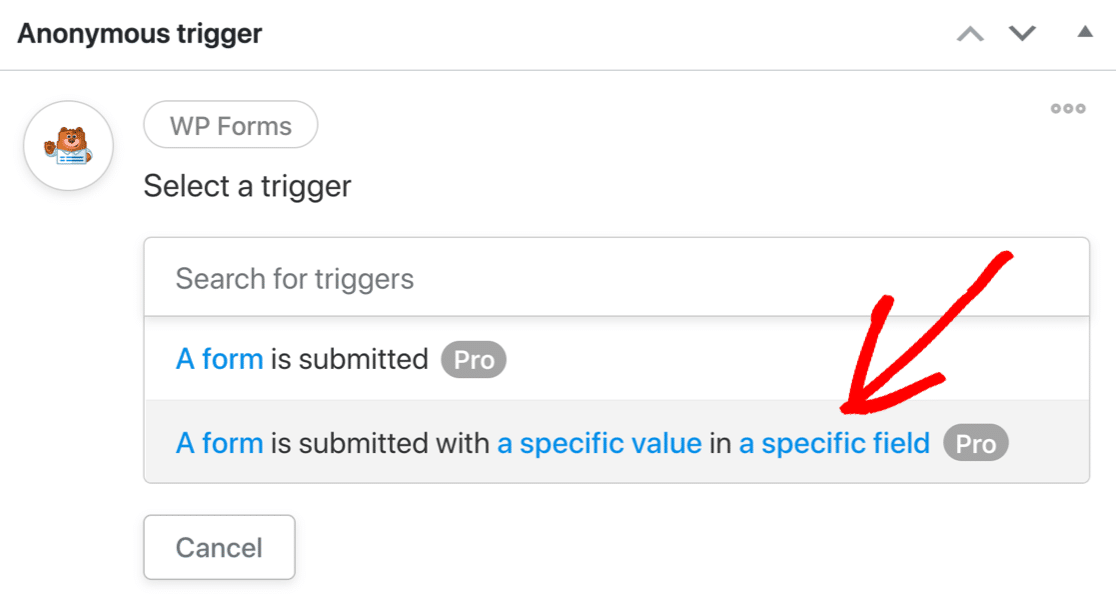 If you'd like to see Uncanny Automator and WPForms in action, check out this tutorial on how to integrate WPForms and MailPoet.
The Zapier addon also lets you create your own custom connections from WPForms Pro to 3,000+ 3rd party services.
With this Pro addon, you can:
And send your form entries to hundreds of other services that you already use.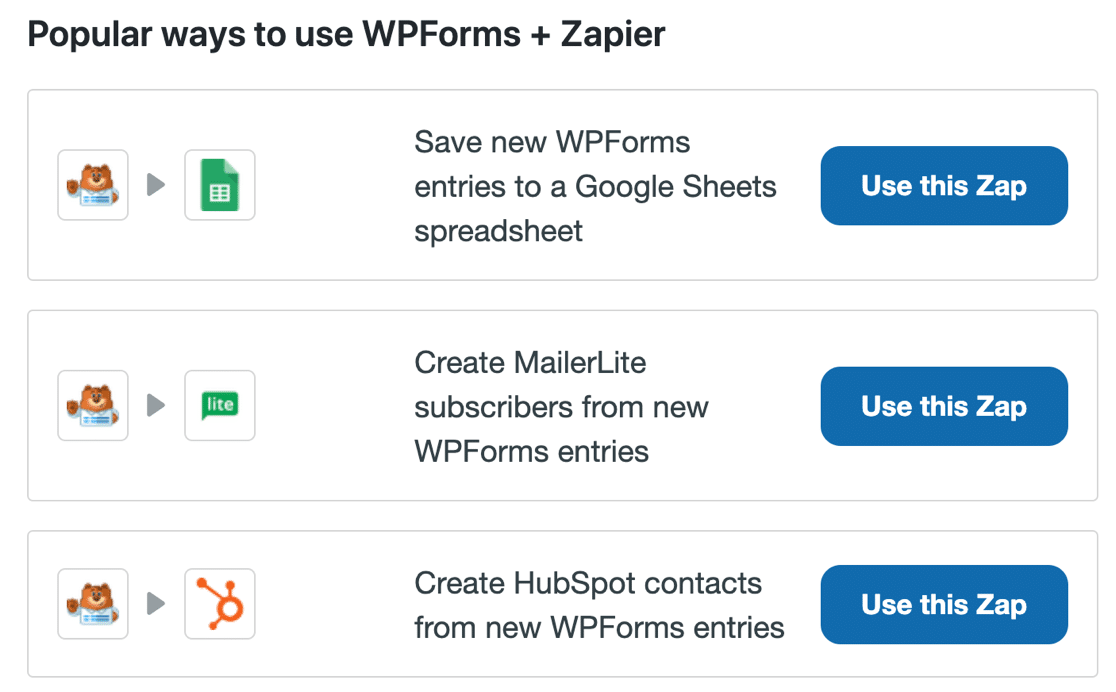 If you want even more control, keep in mind that Elite license holders get Salesforce integration, HubSpot CRM integration, and our powerful webhooks addon too.
Support in WPForms Lite vs Pro
Support is definitely one area where the Lite version and the Pro version are different. If you want the best possible experience, Pro is worth it.
| | WPForms Lite | WPForms Pro |
| --- | --- | --- |
| WordPress.org support | ✓ | |
| Ticket support | | ✓ |
| Typical response time | 1-3 business days | ~1 business day |
As a Lite customer, you'll always get support in the WordPress.org form for the WPForms Lite plugin.
But with Pro, you can get help even faster.
Once you're a Pro customer, you'll also be able to open a support ticket right from your WPForms account.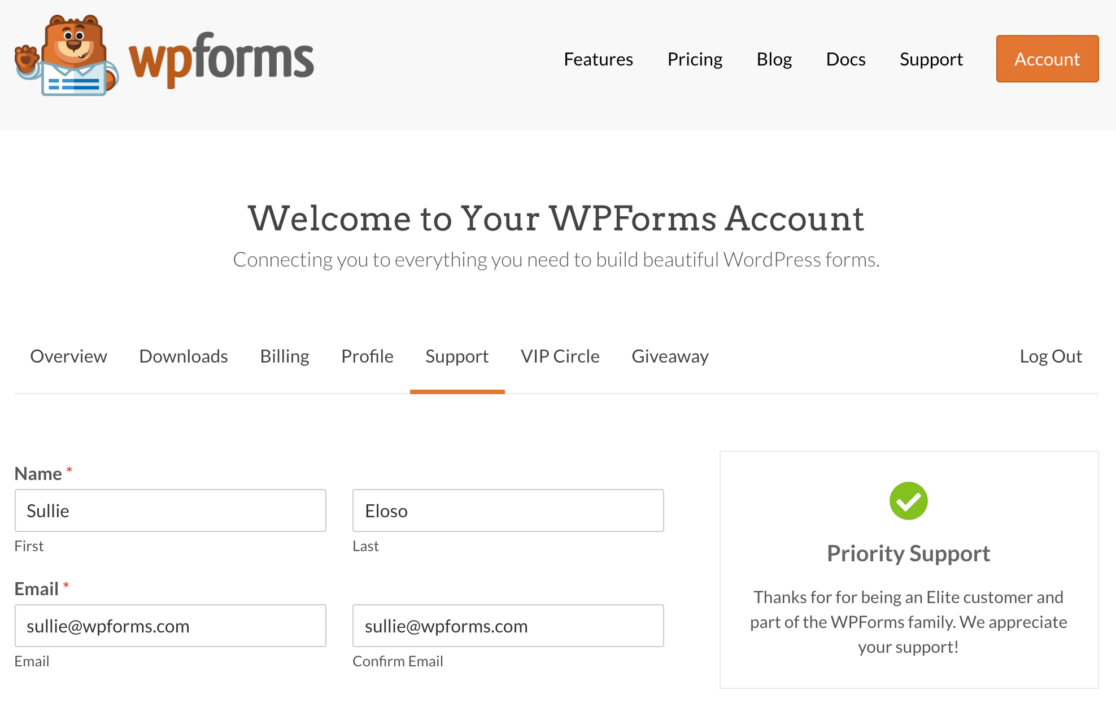 So Pro gives you access to a team of WPForms experts who are standing by to help from 9 am–5 pm EST every weekday.
Find out more about WPForms support resources in our detailed WPForms review.
FAQ on WPForms Pro vs. Lite
Here are some common questions regarding the two versions of the WPForms plugin.
How do I use WordPress WPForms Lite?
WPForms Lite provides much of the same functionality as WPForms Pro. To use it and create forms, simply click on WPForms » Add New. This will open the form builder view where you can select a template and edit it by adding or removing fields using simple drag and drop functionality.
What Is the Best Form Plugin for WordPress?
WPForms is the best WordPress form plugin for WordPress, having over 5 million active installations across WordPress sites on the web. What's more, many of the core features and functionalities are available for free if you use WPForms Lite. And if you want an upgrade to get some of WPForm's exclusive features, you can do so at reasonable pricing.
For these reasons, WPForms WordPress form plugin of choice for businesses both big and small.
Conclusion: Which Version of WPForms Is Best?
Now you have the full lowdown on WPForms Lite and WPForms Pro, you can see that WPForms Pro is definitely worth the investment and at very affordable pricing!
If you're creating different types of WordPress forms for a business, or you want to drive donations for your nonprofit, the Pro license unlocks all of the tools and addons you'll need.
Compared to Lite, Pro gives you:
All fields
1000+  templates
Almost all addons and integrations
Extra ways to publish and display your forms
Full survey functionality
Payment fields for one-off or recurring charges
Awesome visitor insights
And tons of ways to make forms smarter and easier to use!
Even better, WPForms Pro comes with a fuss-free 14-day money-back guarantee.
If it's not the right fit for your website, you can get a refund for any reason—or no reason! Our support team is here to help with any billing or technical query you have.

Ready to upgrade? Buy WPForms Pro today! In just a few minutes, you'll unlock access to almost every addon, field, and integration we've talked about in this review.
Create Your WordPress Form Now
Next, Check Out These Caldera Form Alternatives
Still undecided? We have tons more form builder reviews for you to check out. Start with these Caldera Forms alternatives.
If this article helped you out, please follow us on Facebook and Twitter for more free WordPress tutorials and guides.