Do you want a quick way to compare Typeform vs JotForm vs WPForms?
All of these 3 form builders have awesome features for businesses and nonprofits. And they all let you create conversational forms. But there are also some pretty huge differences in the features and entry storage.
In this article, we'll directly compare Typeform, JotForm, and WPForms so you can easily decide which 1 is best for your site.
Create Your Conversational Form Now
Typeform vs JotForm vs WPForms Comparison Chart
Here's a quick overview of the important features in these 3 form builder platforms.
Typeform Essentials
Jotform Silver
WPForms Pro
Pricing
$360/ yr
$348/ yr
$399/ yr
Conversational form layout
✓
✓
✓
Form landing page layout
✓
✓
WordPress Embed Wizard
✓
Elementor Embed Module
✓
Divi Embed Module
✓
Payment Fields
✓
✓
✓
Address autocomplete
Google Maps
Google Maps
Form Templates
✓
✓
✓
Form Limit
Unlimited
100
Unlimited
Response Limit
100 per month
10,000 per month
Unlimited
Storage Space
1 GB
100 GB
Unlimited*
Offline Forms
✓
✓
Anti-spam
–

reCAPTCHA v2
reCAPTCHA v2 invisible
JotCaptcha
Drawing Captcha

reCAPTCHA v2
reCAPTCHA v2 invisible
reCAPTCHA v3
hCaptcha
Cloudflare Turnstile
Custom CAPTCHA
Email denylist

Entry Storage
✓
✓
✓
Visual Survey Reporting
✓
*WPForms has no storage limits for file uploads, but the maximum space you can use is dependent on your hosting plan. If you need unlimited disk space, we recommend that you use WPForms with Bluehost's Plus hosting plan.
Typeform vs JotForm vs WPForms: Which Is the Best Form Builder?
If you're looking at Typeform vs JotForm vs WPForms, you're probably looking to make forms with a modern, conversational layout.
Conversational forms show 1 question at a time so that your visitor can easily focus without being overwhelmed by seeing the whole form at once.
You can make conversational forms in Typeform, JotForm, and WPForms Pro. We decided to put them head-to-head by making the exact same form in each form builder to see the differences.
Conversational Forms Compared
We're going to make a simple form in Typeform, JotForm, and WPForms with the following fields:
Name (text)
Country (dropdown)
Address
Phone number
Survey question (multiple choice)
GDPR agreement (legal terms checkbox)
Thank you page
To make this a fair comparison, we're starting each form with a blank template and the default layout.
We're going to use the Card Form layout in JotForm to replicate the Typeform look and feel.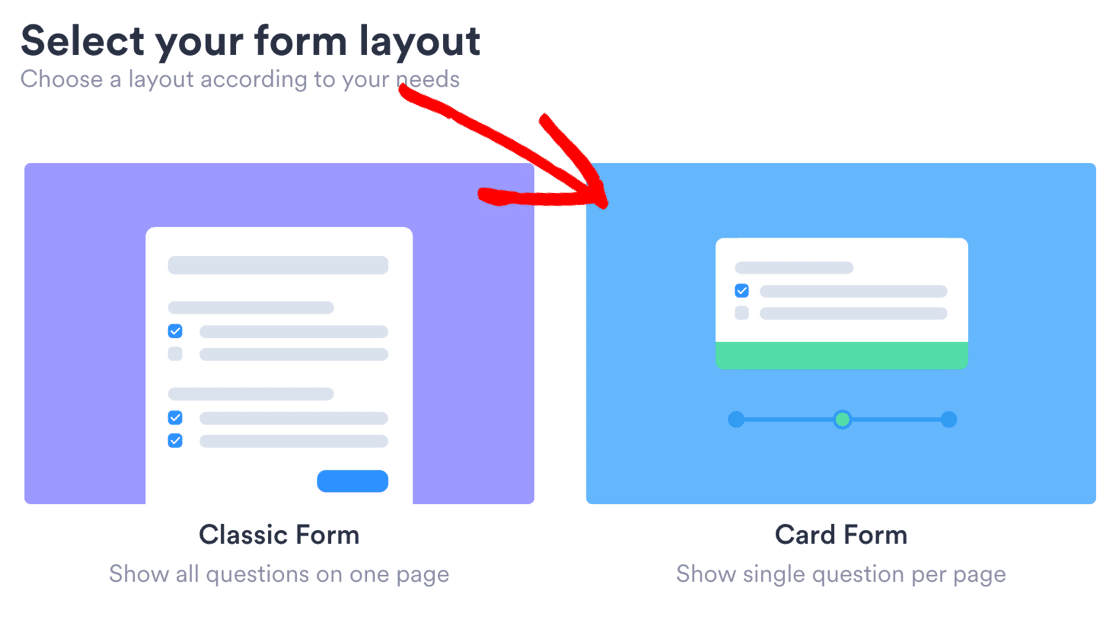 And the Conversational Forms addon in WPForms Pro.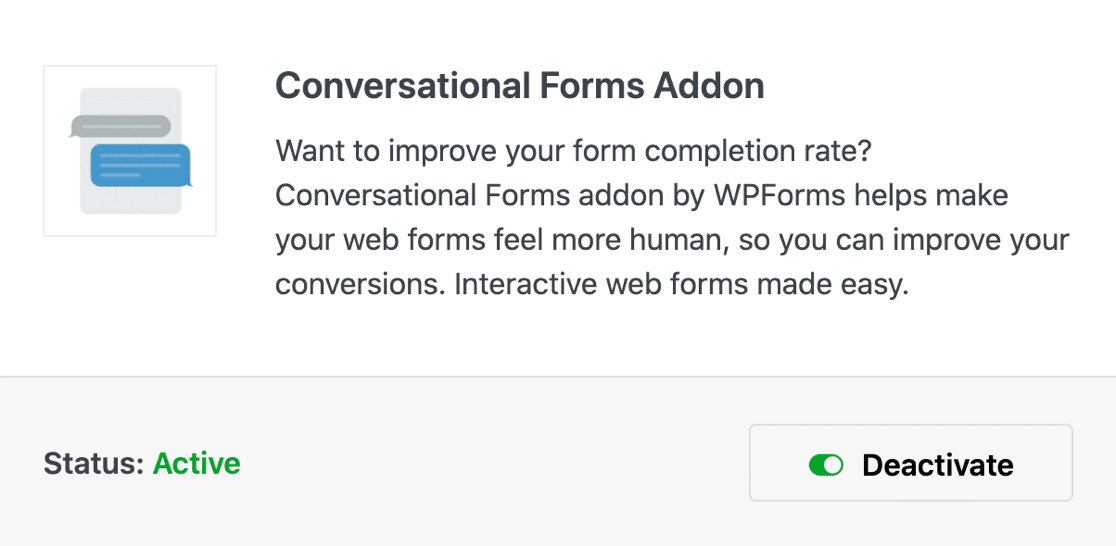 Now let's look at the main differences in the way these form builders work.
Adding a Name Field
First, we added a Name field to each form. Typeform definitely had the simplest approach here, and WPForms had the most flexible field controls.
On Typeform, it adds 1 field here for the name.

JotForm adds separate fields for the first and last name, and there's no way to merge them. You'll want to use a single line text field if you want to make this less formal.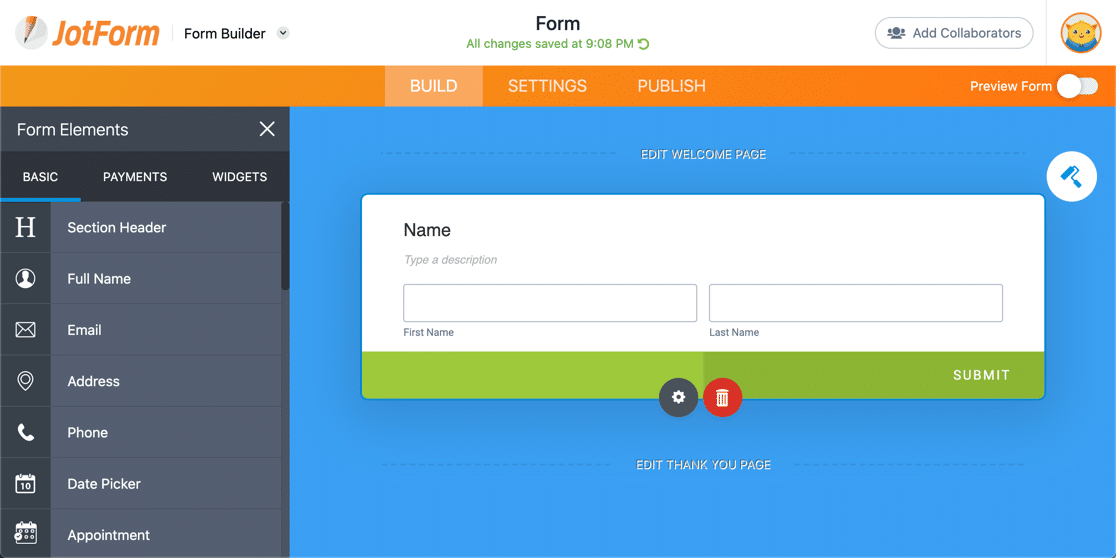 Adding a name field in WPForms was easy. We dragged it over onto the blank form and clicked on it to edit the settings. From there, you can choose Simple to have just 1 field for the name (like Typeform).

So in WPForms, the name field is more conversational and lets you use the format that works best. JotForm adds an extra field for the last name by default, although there's a workaround of using a text field if you don't want to have 2 fields.
Adding a Dropdown Field
The next major difference we ran into was the dropdown field.
All form builders make it easy to add the field, but adding a large number of choices was easier in JotForm and WPForms, and a trickier in Typeform.
In Typeform, there's no easy way to add bulk answer choices. So for the country field, we had to find a text list of countries on the web and then paste them all in as answers.
This is also a little awkward because the list isn't very compact, so you have to scroll past it to work on the next field underneath.
To add the dropdown in JotForm, we can use the Predefined Options list to add countries. This is much faster.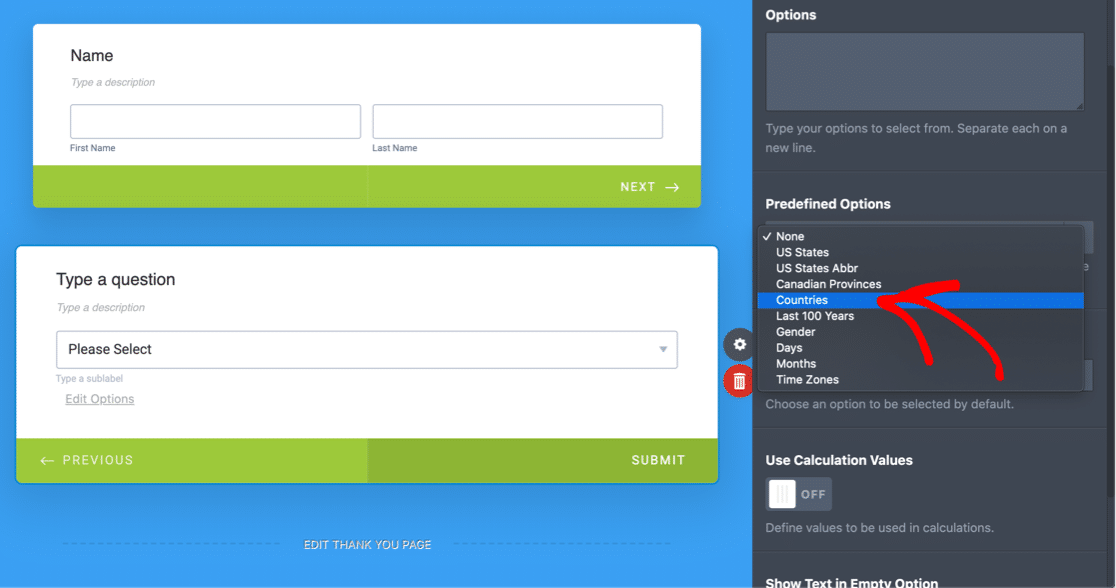 And we can use the same option in WPForms Pro as well. Here, it's called the Bulk Add Choices menu, and countries are one of the presets here too.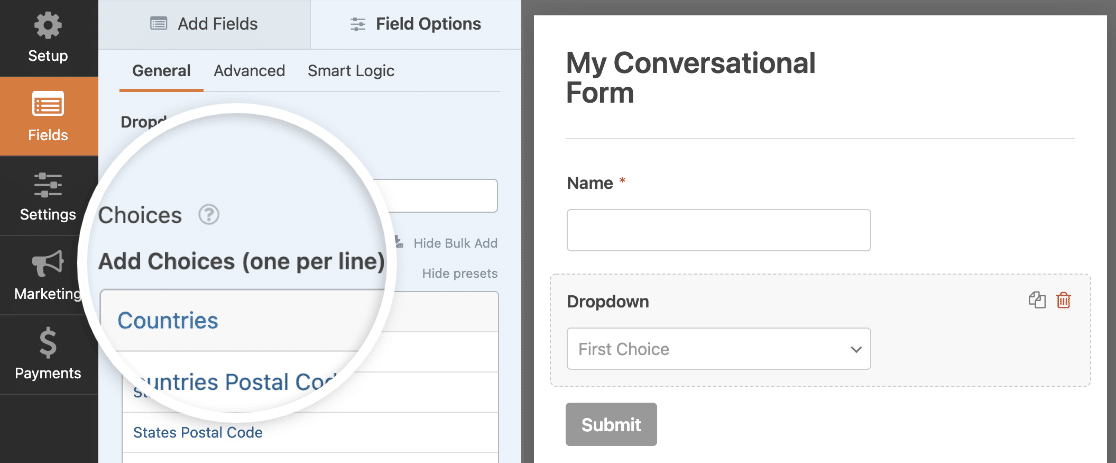 In WPForms, you can remove countries and tweak the wording if the presets aren't quite right. You can also move the countries up and down if there are some your visitors are likely to use most often.
Adding an Address Field
The address field is a major difference in these form builders.
Typeform doesn't have an address field in the way other form builders do.
You can use separate fields and group them if you want to associate them. For now, we just used a text field for the address.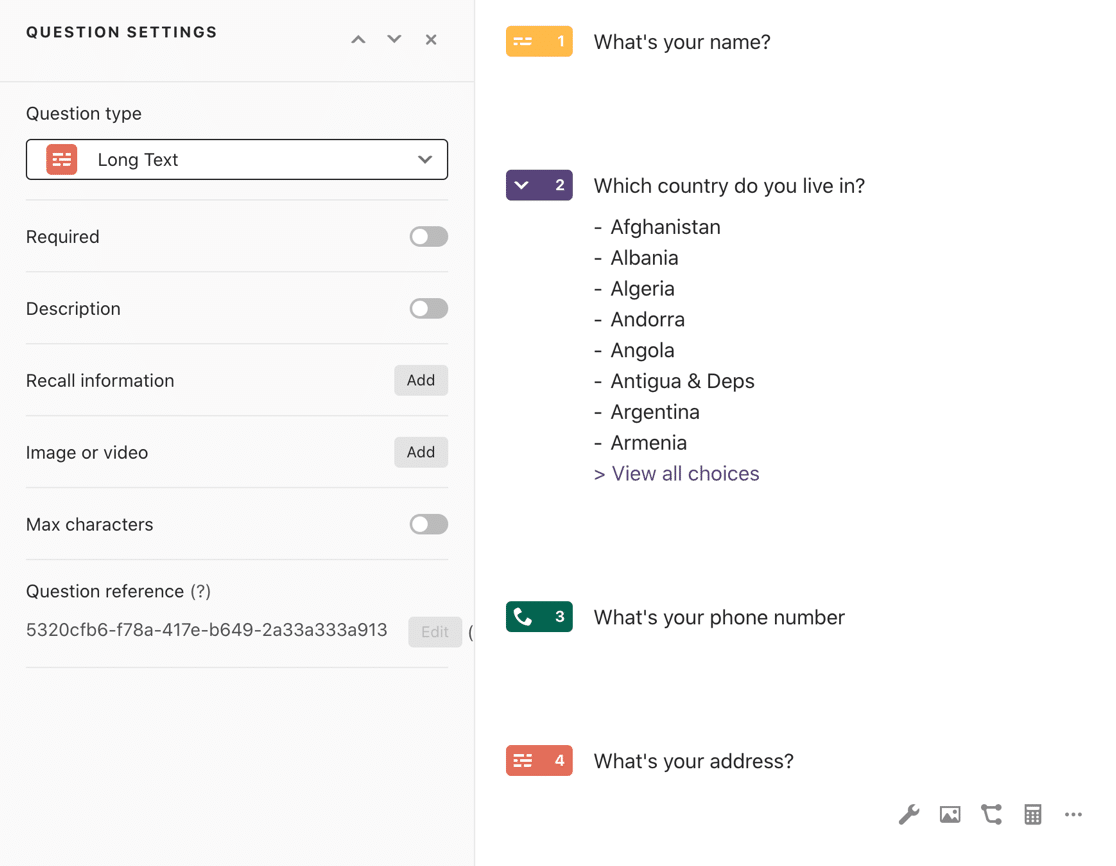 If you wanted to transfer the address data over to a CRM in the right format, you'd have to do a little more work in Typeform.
JotForm's address field looks like a traditional address field. It has a button to pop this out into fullscreen. In fact, the form looks a lot better in fullscreen, but it isn't an option on other fields.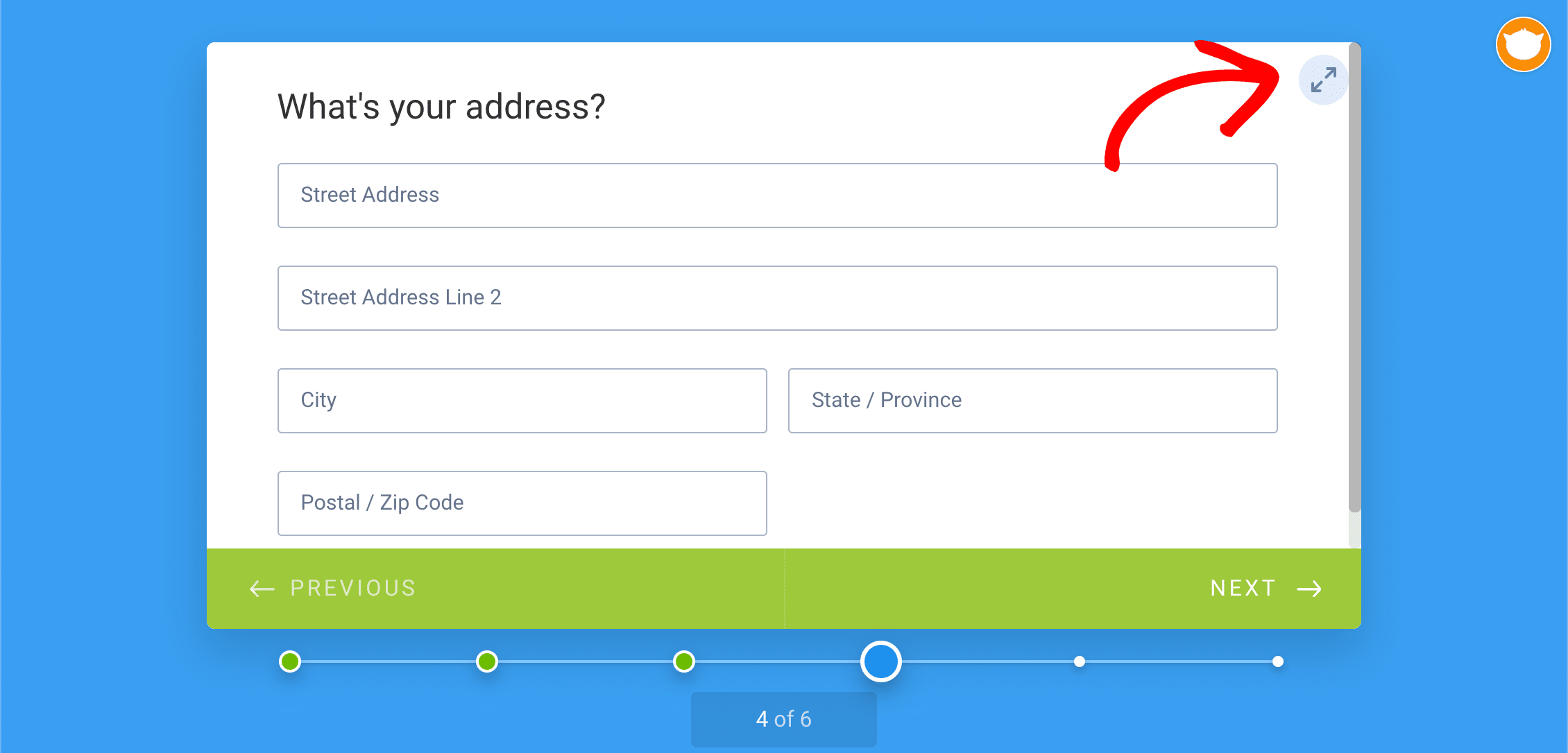 You can use a JotForm widget instead of the field if you want to use address autocomplete. This supports Google Maps.
WPForms Pro's address field is an alternative to JotForm. You can enable autocomplete if you install the Geolocation addon and connect it to either Google Places or Mapbox.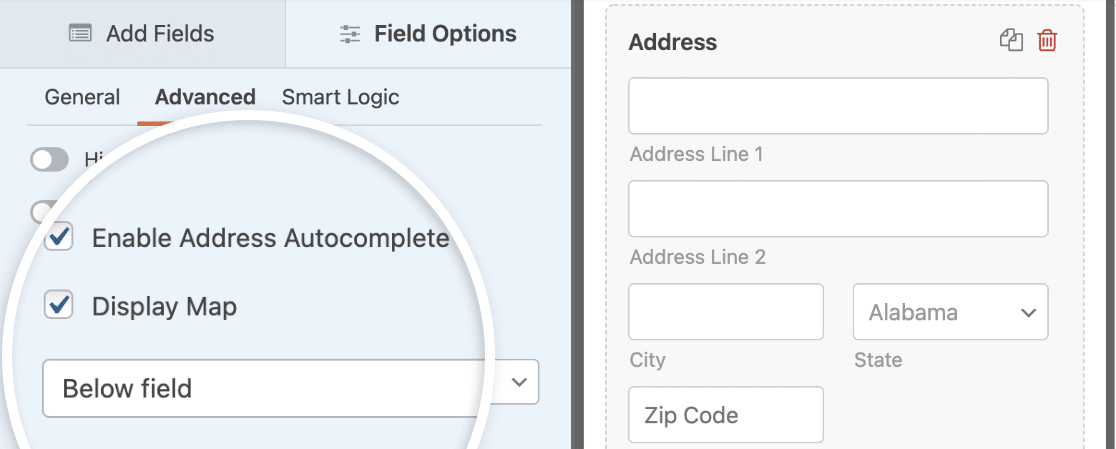 When the Geolocation addon is enabled, you also let your visitor choose their location from a map in your form.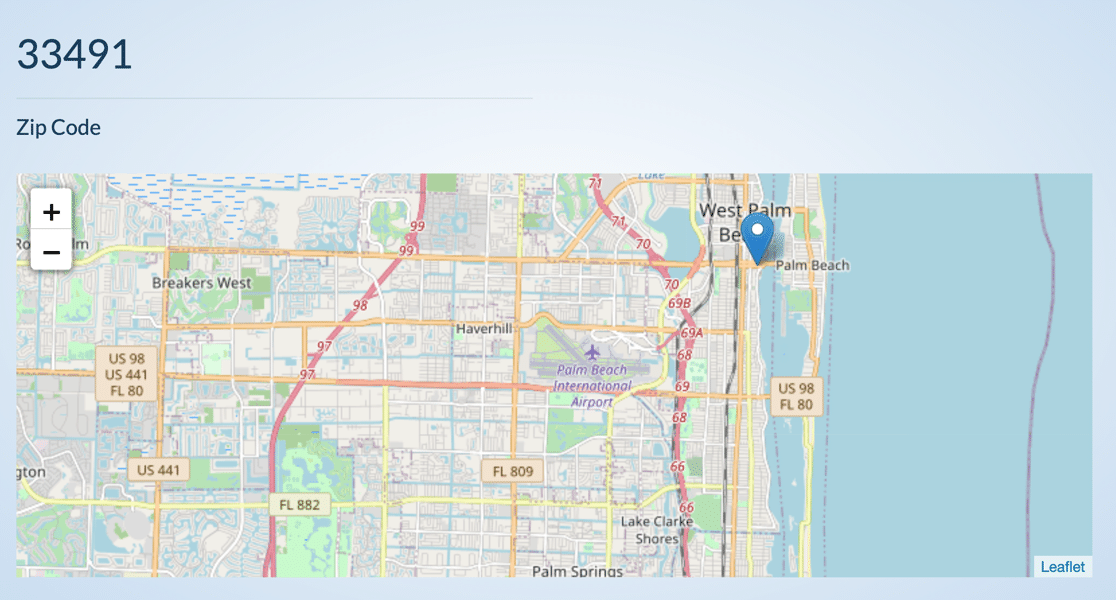 Adding a Phone Number Field
Next up, the phone number field. This is another field that works differently in each form builder.
You can set a default country in Typeform and the user can change it if they want to. But it doesn't detect the visitor's location and set the format automatically.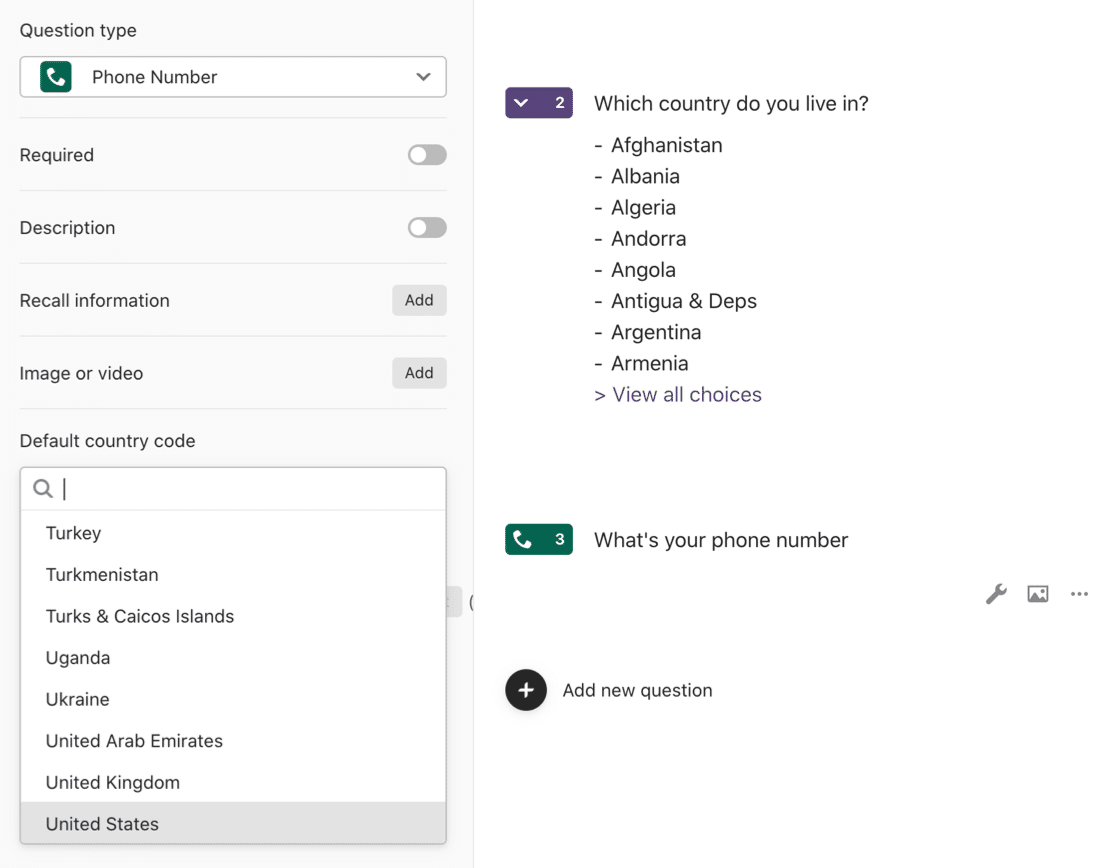 In JotForm, you can turn on Country Code. But like Typeform, there's no location detection on this field.
You can use an input mask if you want to use a set format, but this would create issues for visitors outside your 'default' country.

WPForms definitely has best phone number field out of all 3 form builders. The smart phone field in WPForms automatically detects the visitor's location and shows them a field in the right format for their location.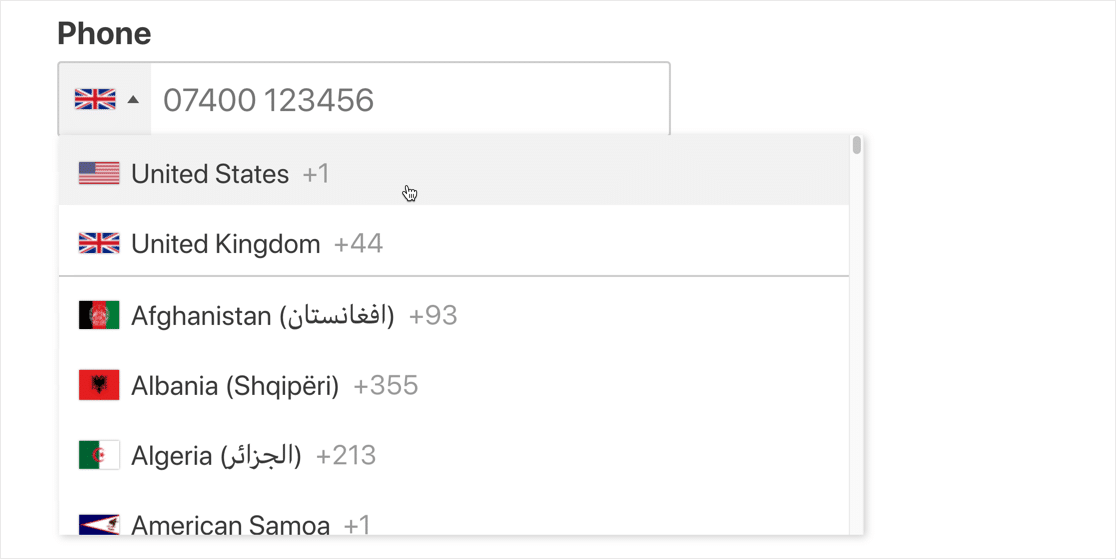 In WPForms, you can also override this and set the default format to US or International, or set an input mask in a similar way to JotForm.
Adding a Survey (Multiple Choice) Field
In Typeform, the multiple choice field works as you expect once you enable Multiple selection in the field options.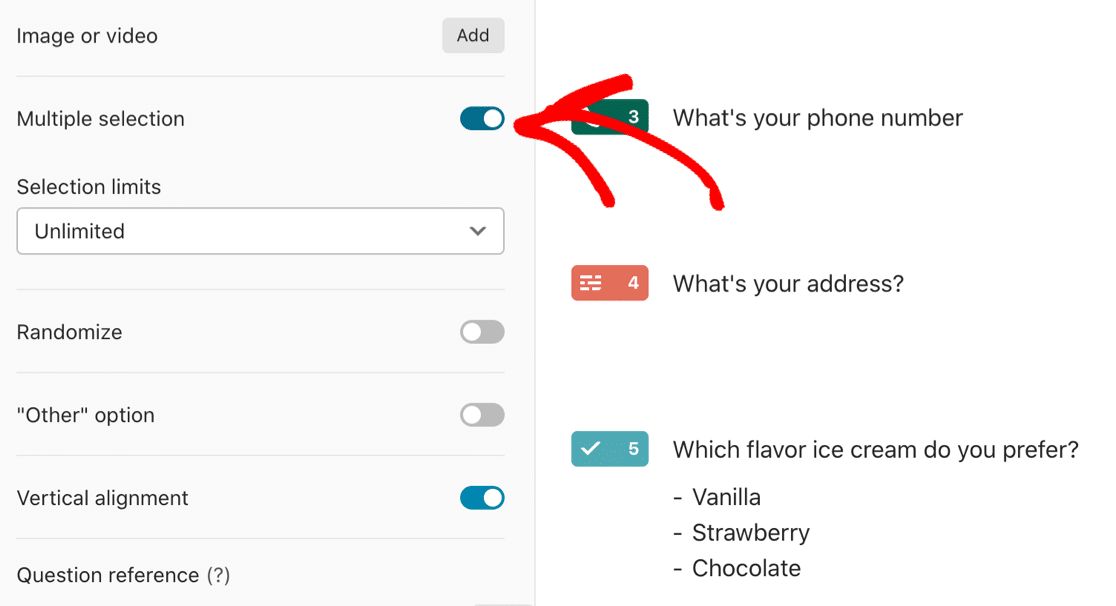 The vertical alignment option gives you that classic conversational layout for the field.
Next, we added the same multiple choice field in JotForm. The layout defaults to 2 columns here, and there isn't a setting to have all of the options display vertically.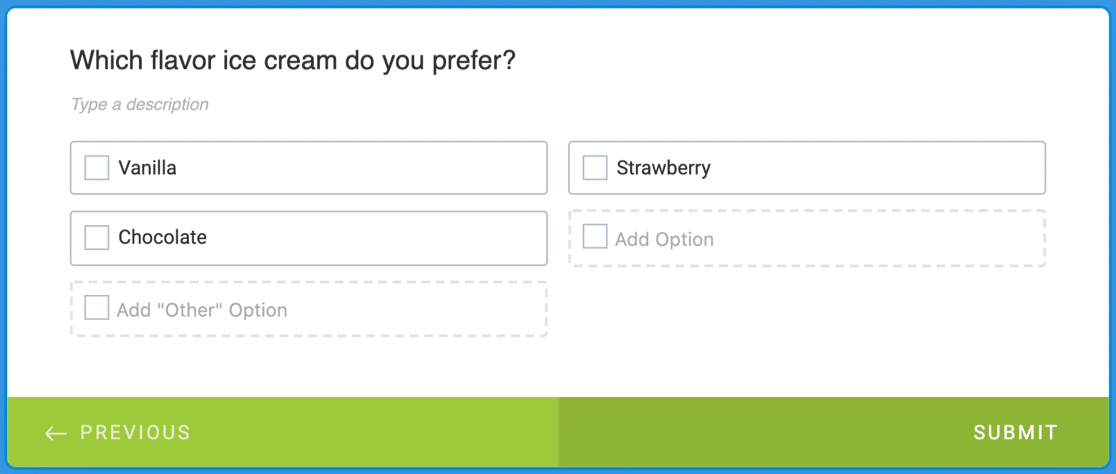 WPForms' multiple choice field works in much the same way, but you can also assign images to these options by turning on the Use image choices setting.

Let's make the conversational form more fun by adding an image for each choice.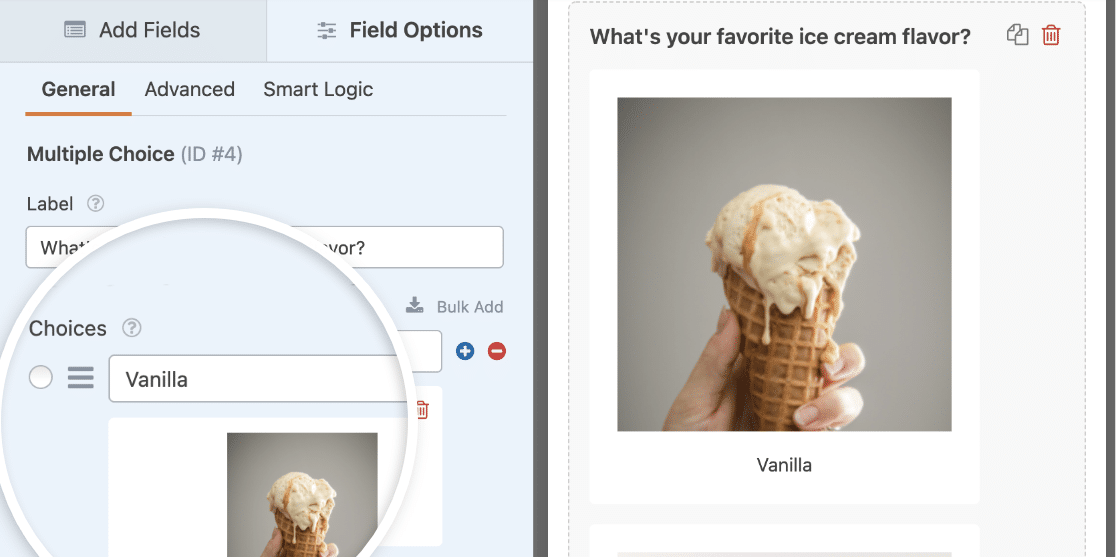 So all of these form builders have their benefits here, although JotForm's default layout is the least 'conversational' in the way it appears in the default layout.
Adding a GDPR Field
In Typeform and JotForm, we can use the terms and conditions field to add a GDPR agreement. There's no wording provided, so you'll want to type your own GDPR text.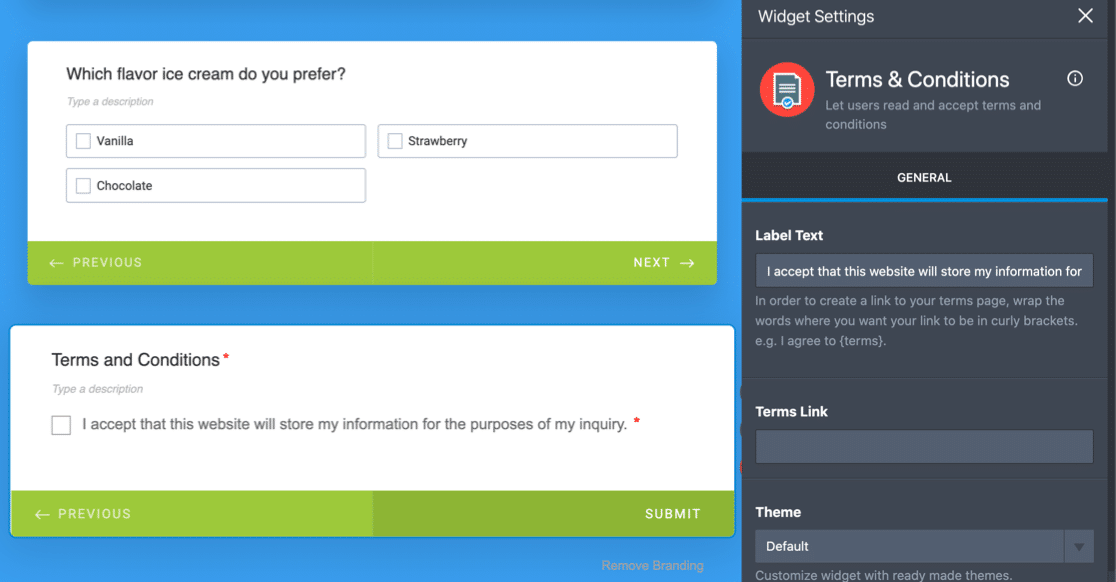 In WPForms, we can easily add a GDPR agreement using the special field. The wording is already provided, so this is a little faster than Typeform and JotForm.

WPForms also allows you to control GDPR compliance on your forms. If you want, you can turn off entry storage and disable the use of cookies.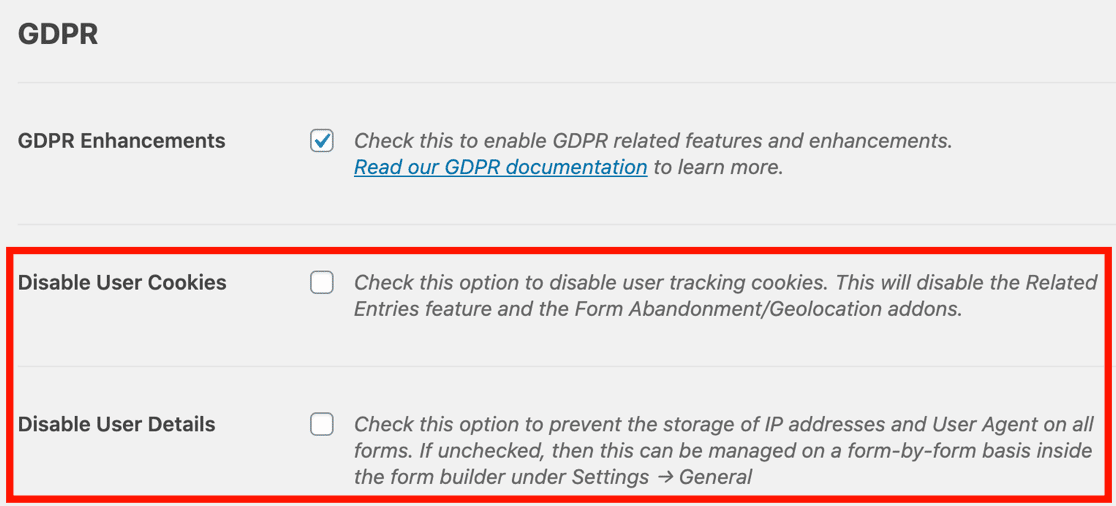 Adding a Name to the Thank You Page
Now we're going to use the visitor's name on the Thank You page to personalize it.
For the thank you page in Typeform, let's use the @ character to load the Name from the first entry.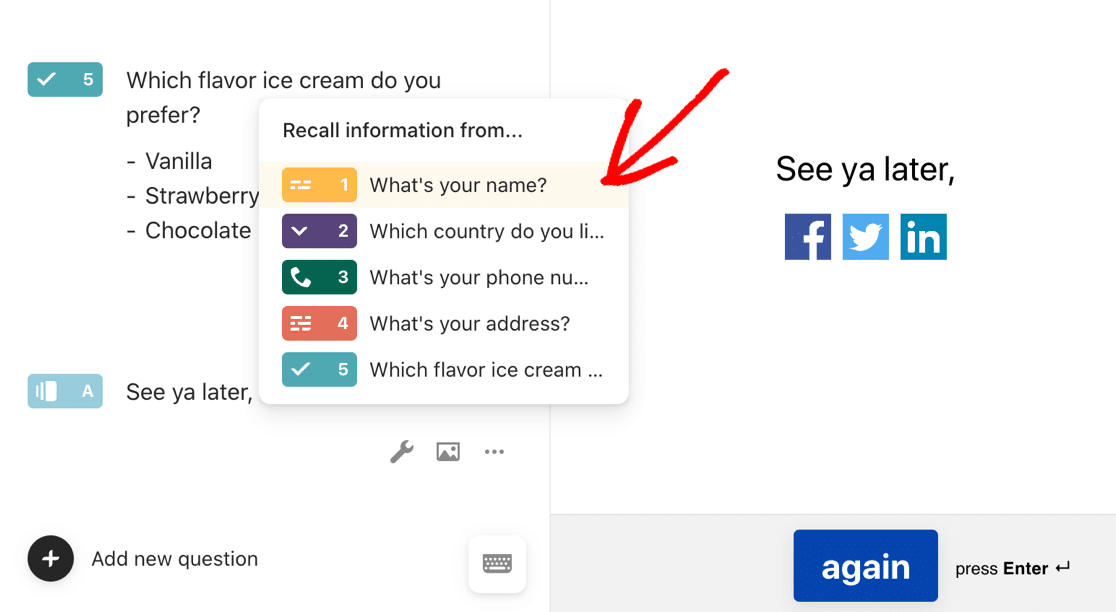 This feature is called Recall, and it's an awesome way to thank your visitor by name.
JotForm also makes this easy. We can use the Name tag to replicate the Recall feature in Typeform.

To add a personalize thank you message in WPForms, click on Settings » Confirmations in the form builder. Make sure the Message confirmation type is selected.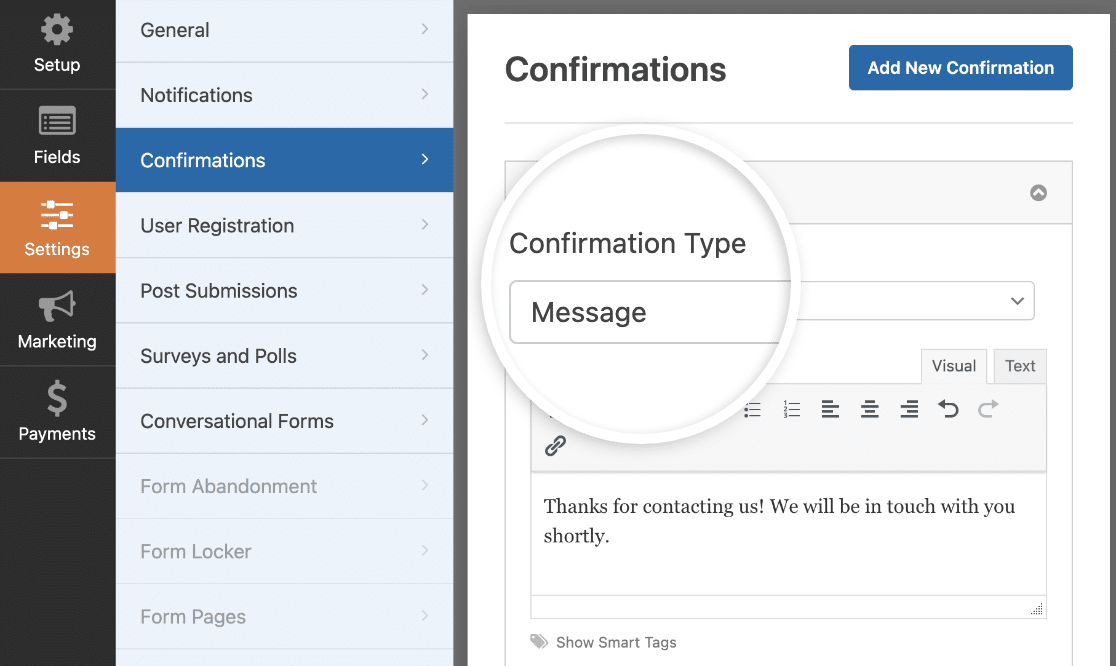 Next, you can customize the thank you message. To use the name of the person filling out the form, click on the Show Smart Tags link below the text editor. Then select the Name option.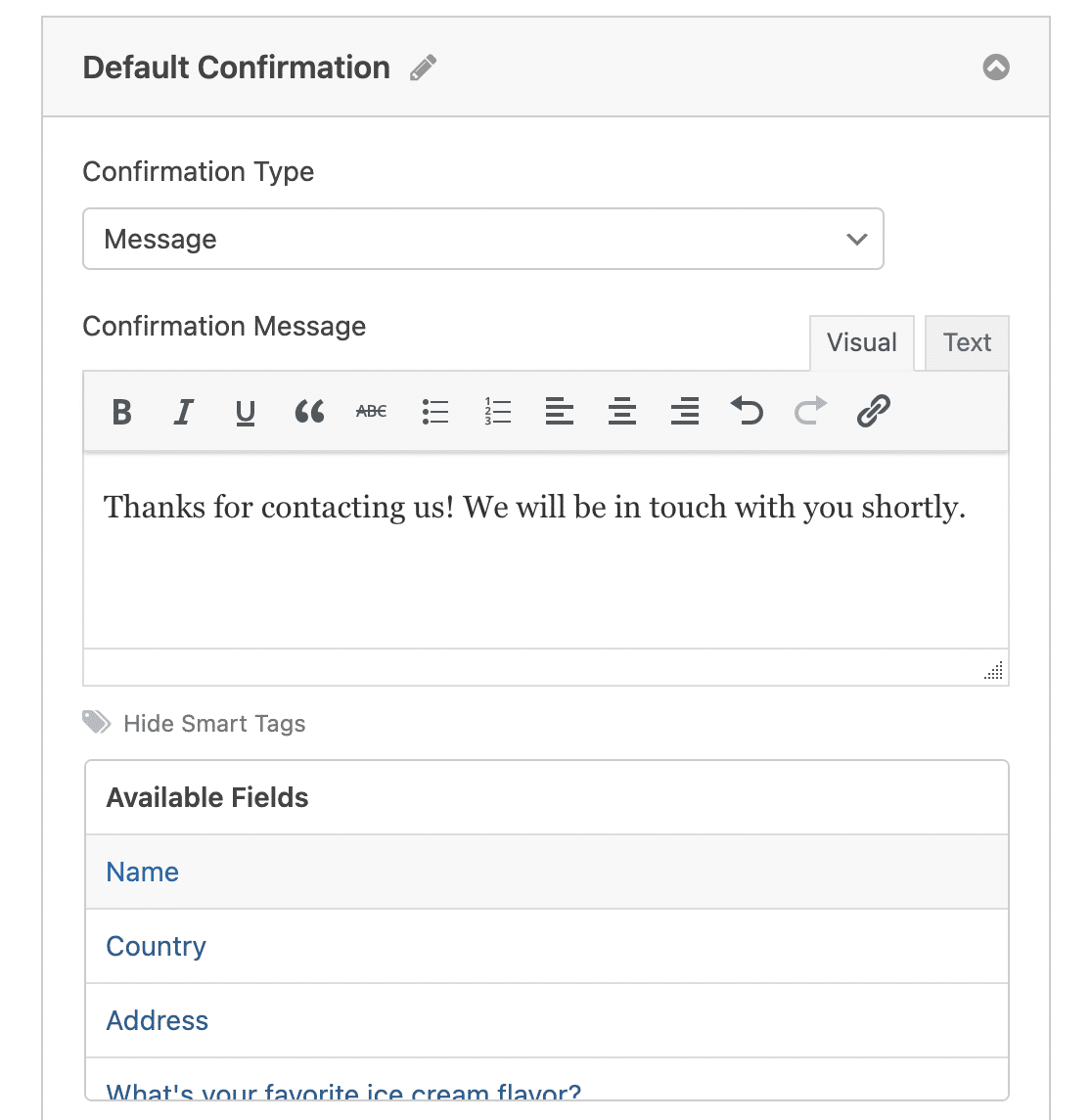 Now your message should look something like this.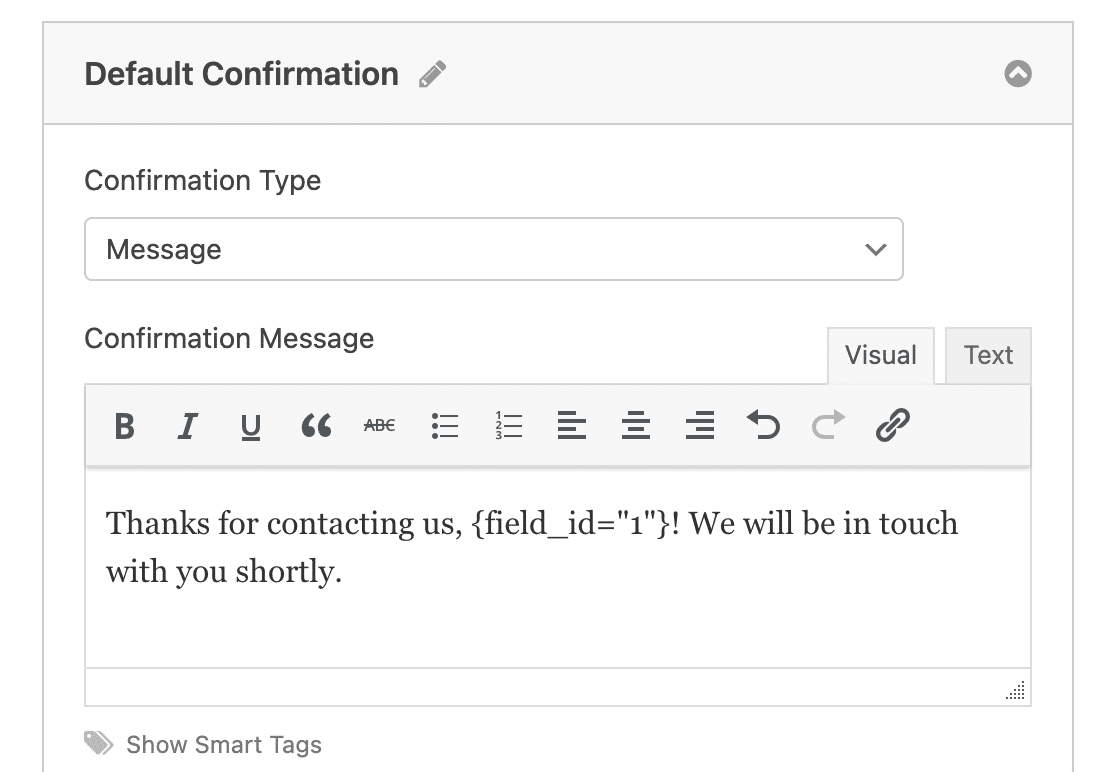 Once you publish your form, users' names will automatically be shown in your thank you message.
Publishing Forms
Let's look at ways to publish your finished forms. Sometimes it makes sense to show forms in a traditional layout or embed them in WordPress, so which form builder is most versatile?
Layout Options in Typeform
This is one area where Typeform can't compete with JotForm and WPForms. It doesn't give you any way to display a form in an old-school form layout.
So if you decide to go with Typeform, just know that you're limited to 1 style of display.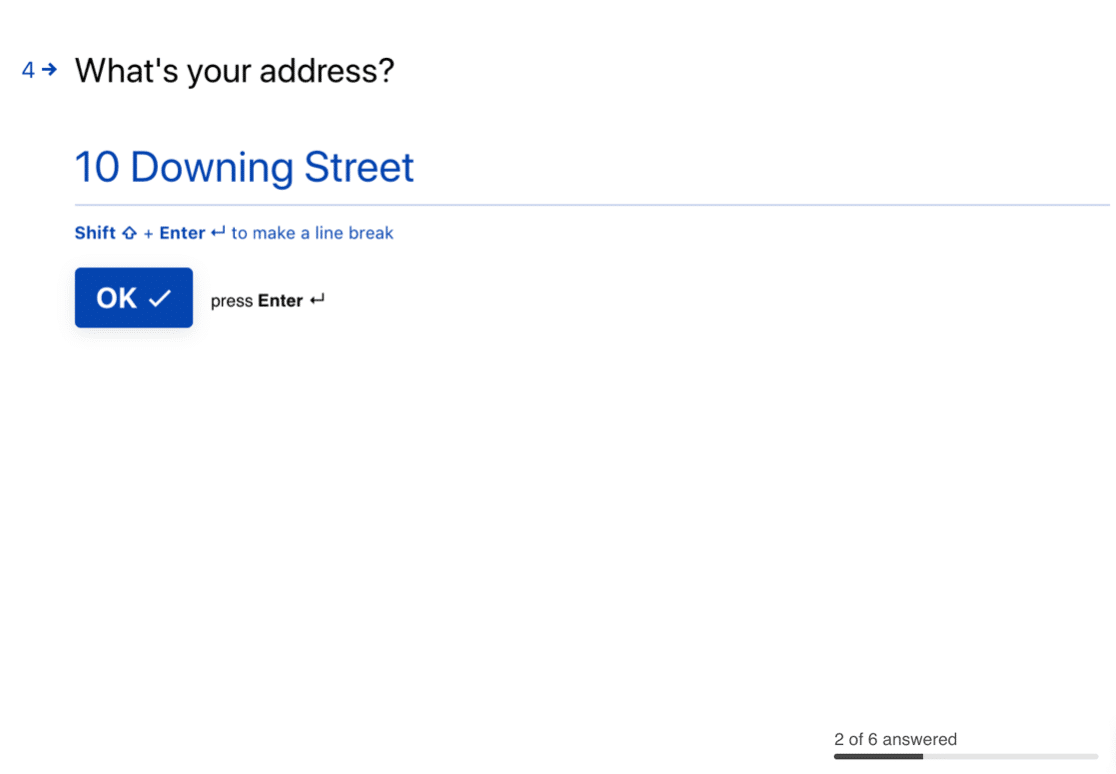 Embedding forms in WordPress is tricky. Typeform's WordPress plugin has mixed reviews, and there aren't many ratings, which suggests it isn't widely used at the moment.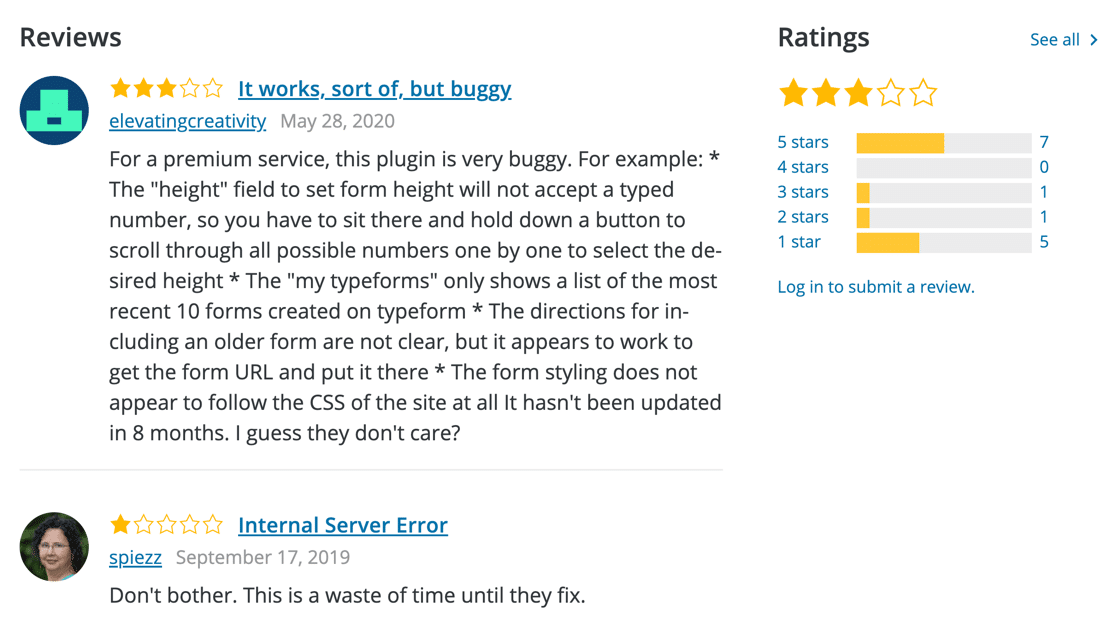 The Typeform plugin doesn't allow you to edit your forms in WordPress or see your entries outside the Typeform website.
Layout Options in JotForm
JotForm supports both conversational (Cards) layouts and traditional form layouts. You can switch between these modes in the form builder to convert from one style to the other.
This is how the Cards layout looks.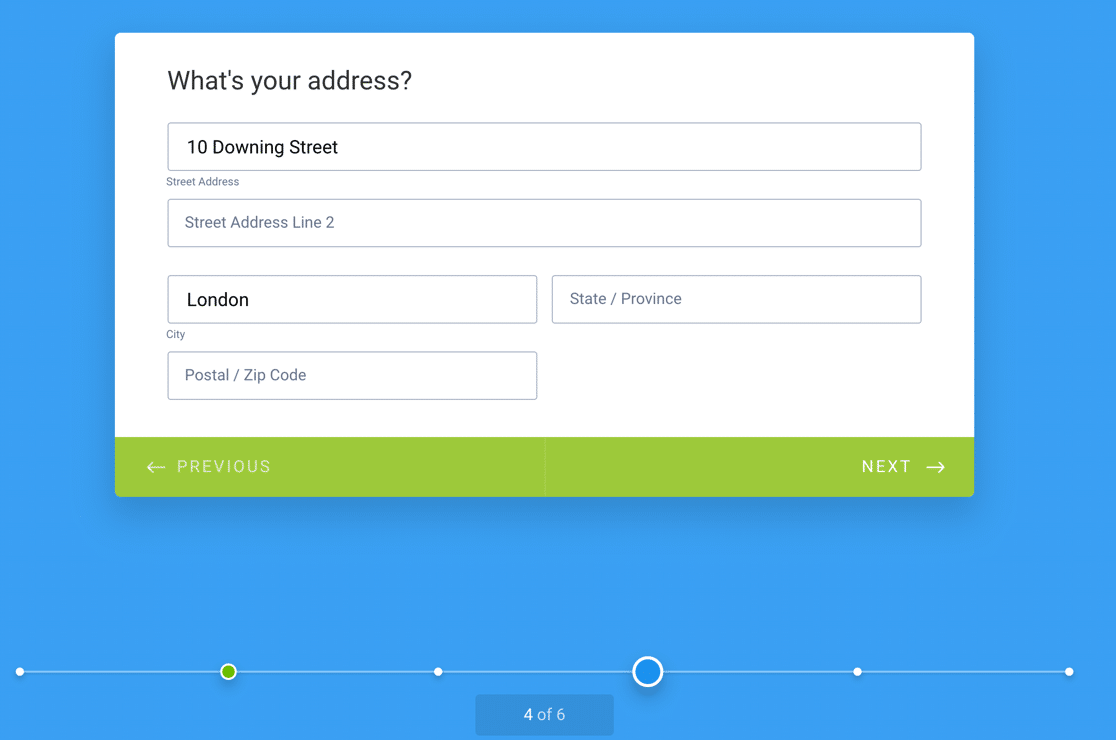 It's less minimal than Typeform, and looks more like a regular form.
If you want to embed a form in a CMS like WordPress, JotForm isn't great for that. It has 2 WordPress plugins: 1 is a basic form embed plugin (with a link), and the other one embeds a form using a Classic Editor block.
This is kinda clumsy, as you can see in the screenshot below.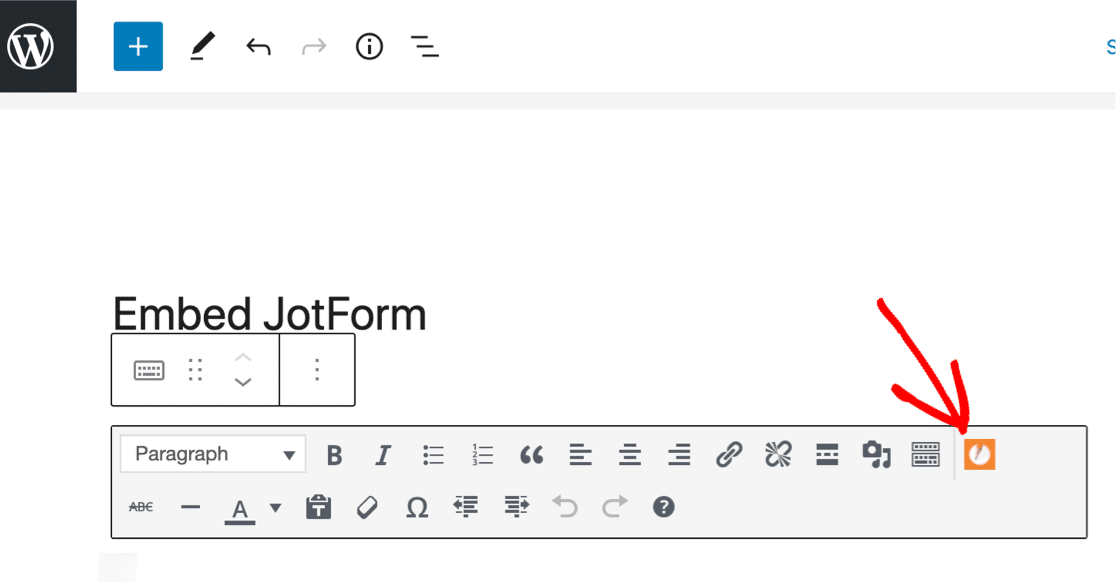 So JotForm isn't a great solution for WordPress users.
Layout Options in WPForms
WPForms has 3 layout options.
It has the Typeform-style conversational layout we already looked at. From the form builder, you can convert any form into a conversational layout by going to the Settings tab. Then click on Conversational Forms and select the checkbox to Enable Conversational Form Mode.

This is pretty similar to Typeform and JotForm, but your visitors can see their other field entries as they move up and down through the form. WPForms is the only form builder that does this.
When you publish a form in conversational mode, WPForms lets you pick:
Permalink (page slug)
Header logo
Color scheme
Progress bar style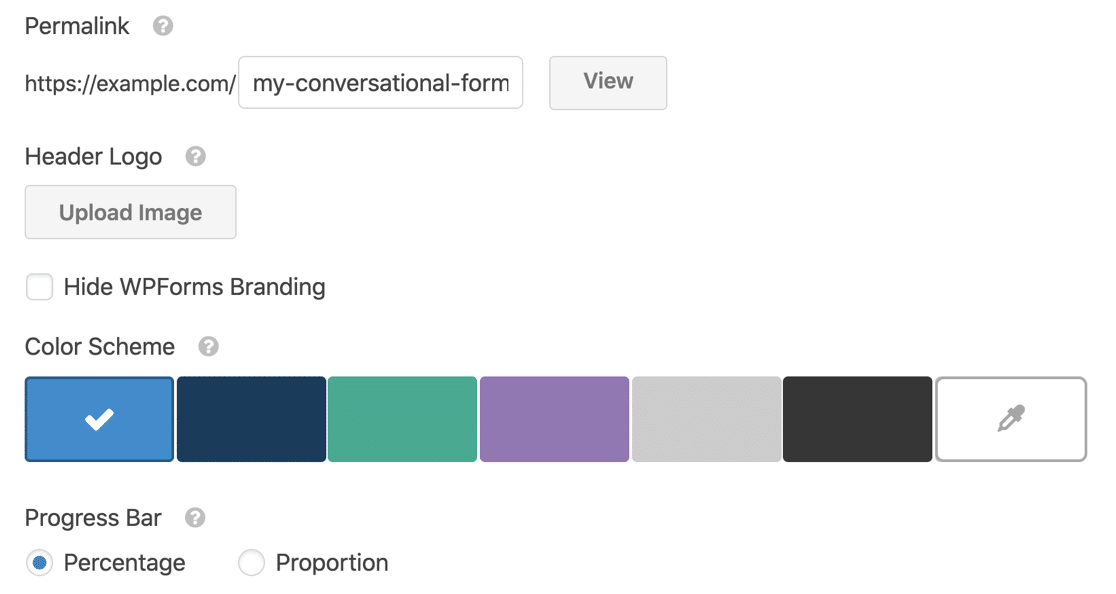 And you can also display forms in a regular, traditional layout at any time by unchecking the conversational form settings.
In WPForms Pro, you can also: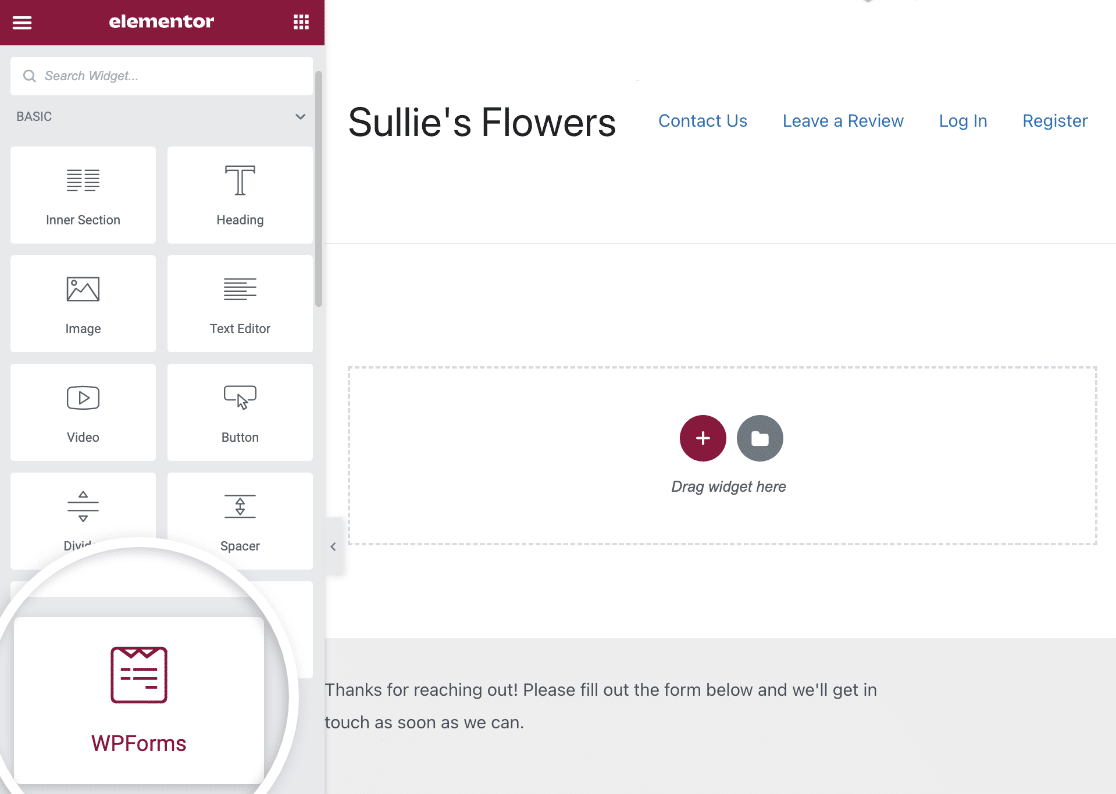 With all the publishing options available, you might be worried about finding your forms after embedding them. Luckily, WPForms includes a Form Locator feature that shows you all the places on your website where you've added forms.

So WPForms has by far the most options and makes publishing forms super easy! It's by far the most versatile, and if you use WordPress, WPForms is by far the best choice.
Viewing Entries
Now it's time to check out the form responses we received.
We submitted each conversational form 3 times so you can see exactly what the entry storage looks like. Let's see the results in Typeform vs JotForm vs WPForms.
Typeform Entry Storage
Typeform's entry storage is the most basic. You can:
Review each entry individually
Print an entry
Delete an entry
Export all entries as CSV or XLSX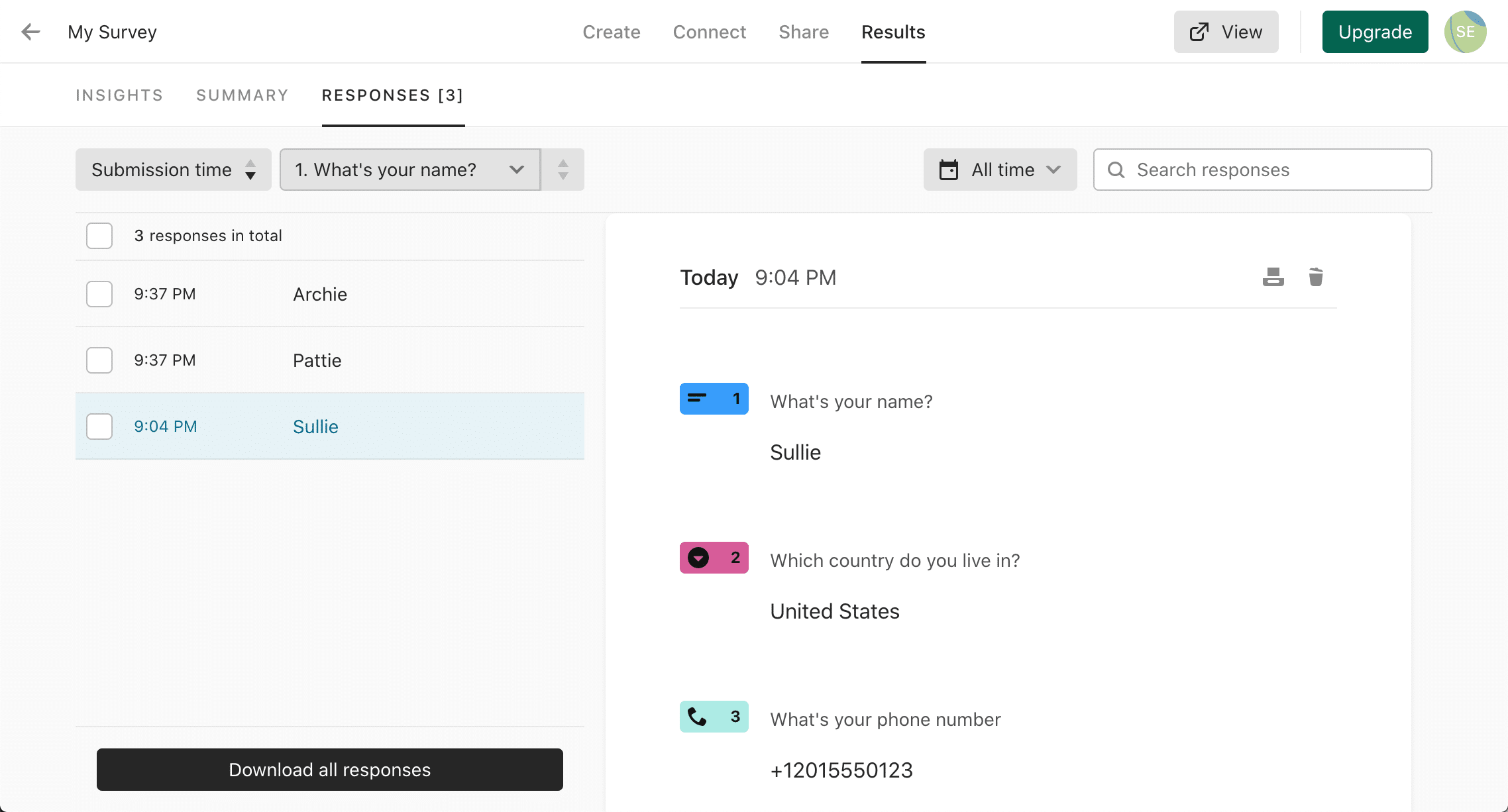 JotForm Entry Storage
Jotform entry storage has a spreadsheet view.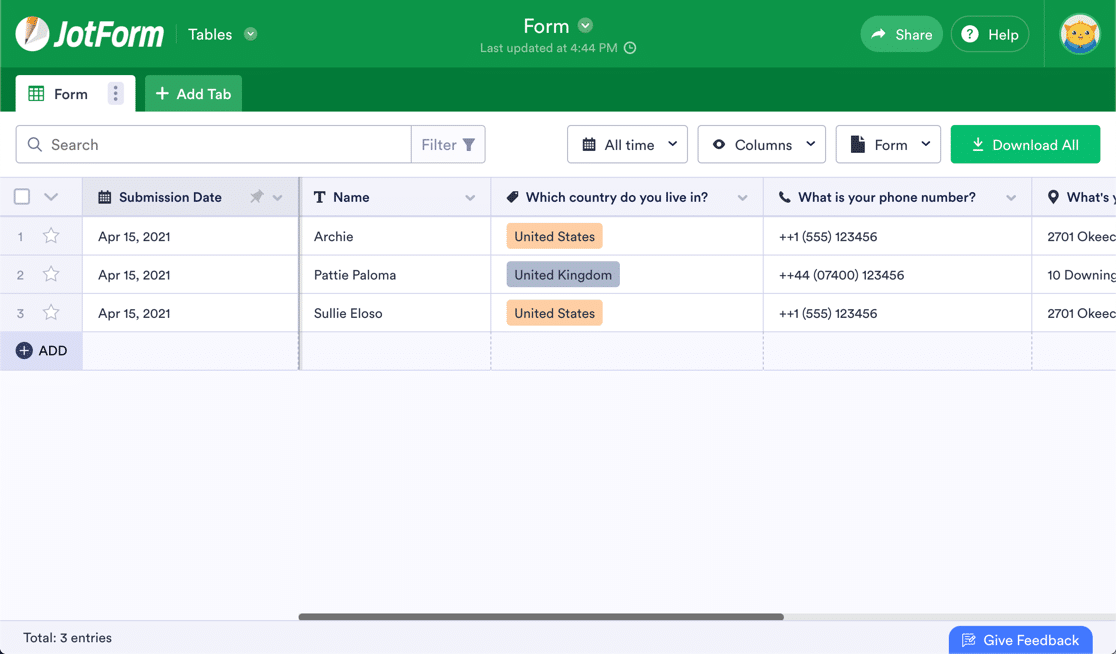 You can view each form entry individually in an Inbox view too. This lets you:
Reply to an entry or forward it via email
Comment
Star an entry
Mark as read/ unread
Edit the entry
Archive or delete the entry
Download or print the entry
Add a tag
WPForms Entry Storage
WPForms Pro shows you all of your entries in the WordPress dashboard.

From this screen, you can:
View, edit, or delete entries
Search for entries and use filters to modify your search criteria
Export entries
Mark as read/ unread
Star entries
When you click on an entry, you can see it in a more detailed layout.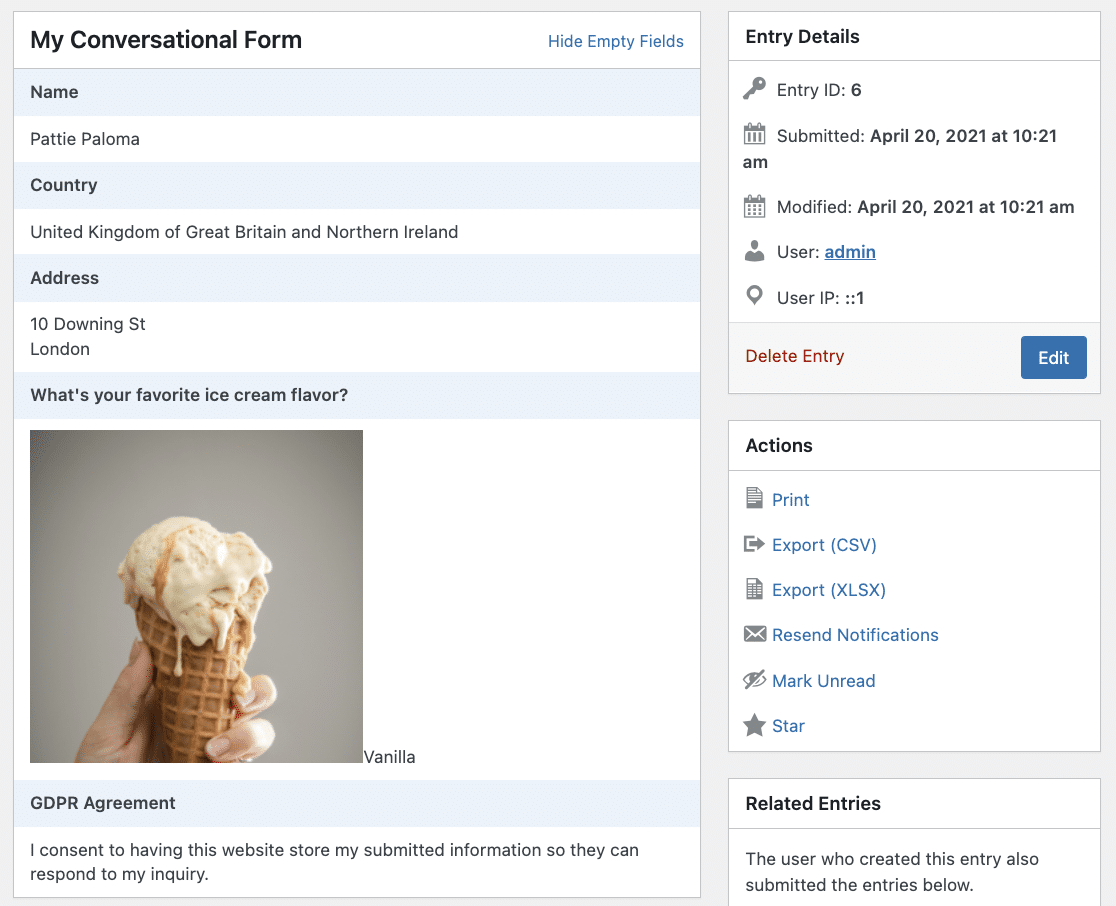 From this screen, you can:
Resend the notifications
Export your form entry to CSV or XLS
Print the entry to PDF
WPForms Pro also has an awesome User Journey addon. When this is active, you'll see the user's journey through your site before they submitted the form.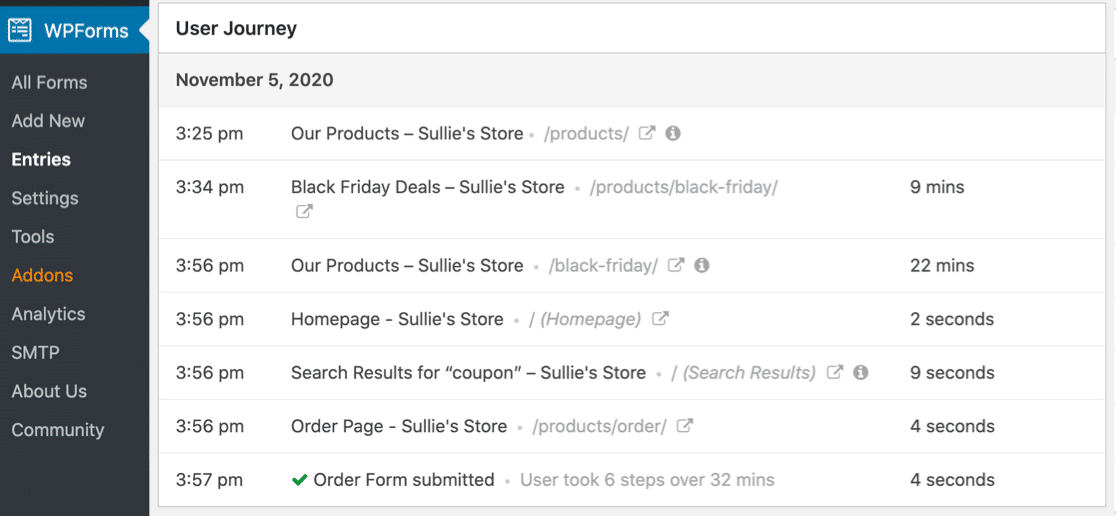 And there's just 1 more thing we want to mention.
Remember the multiple choice question we added? With the WPForms Surveys and Polls addon, you can easily produce reports based on the answers to your survey fields.
WPForms automatically generates pie charts and other types of survey reports. And you can easily export them in the formats you need.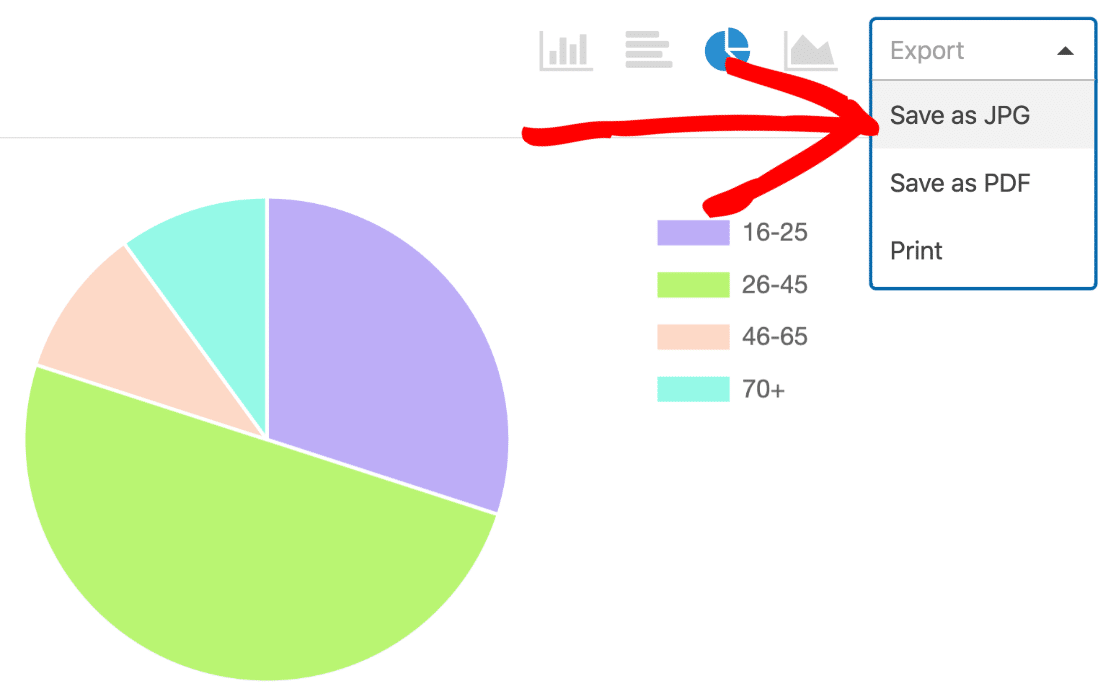 Entry managment is only available in the paid version of WPForms. However, if you want an unlimited free trial of WPForms before you purchase it, you can turn on the Lite Connect feature to store your entires remotely. This will let you unlock them once you upgrade.
Overall Winner: Typeform vs JotForm vs WPForms
Now you've seen these 3 form builders compete head-to-head, and we've laid out all of the similarities and differences.
Looking at the way they work, it's clear that WPForms is the best conversational form builder on the market!
WPForms has the edge over Typeform and JotForm by giving you more options for important fields, like:
Map pin search for the address
Automatic location detection for the phone field
Complete survey reporting for any questions in your form
Muliple publishing options so you can easily make dedicated conversational form pages or embed your form anywhere on your site
When we compare the completed forms, WPForms gives you an awesome finished form with minimal design tweaks. It just looks awesome right out of the box.
In fact, we created this conversational form and published it in WordPress in less than 5 minutes!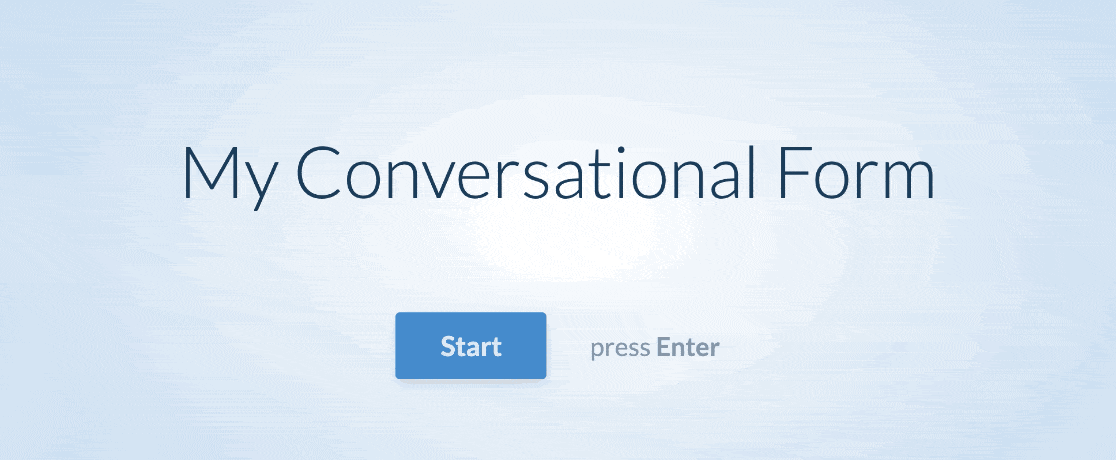 WPForms also lets you easily see the user's journey to form completion. It's an awesome way to see exactly which pages are driving conversions without diving into full analytics platforms.
And finally, WPForms is the most versatile form builder when it comes to publishing your forms. If you're using WordPress, Elementor, SeedProd, or Divi, no other form builder can compete!
Create Your Conversational Form Now
Next, Build Conversational Surveys With WPForms
There you have it! Now you can see why WPForms is a great option for creating conversational forms.
It's also perfect for making all kinds of surveys and polls. WPForms Pro includes the Surveys and Polls addon, which lets you see beautiful charts of your users' responses right in your WordPress dashboard.
Check out our posts on how to create a survey form and the best demographic questions for surveys to get started.
Also, you can see how WPForms compares with other major competitors in our detailed guide on Jotform vs Gravity Forms vs WPForms.
So, what are you waiting for? Get started today with the easiest WordPress form builder plugin. WPForms Pro includes conversational forms and geolocation! It also offers a 14-day money-back guarantee. You can also use it to collect payments through Square, Stripe, and, PayPal.
If this article helped you out, please follow us on Facebook and Twitter for more free WordPress tutorials and guides.