Are you having trouble deciding between chatbots vs forms for your website?
In order to grow your brand and provide a positive user experience, it's important to give users ways to interact with your site. Chatbots and forms are both popular tools for communication and lead generation.
But when is the right time to utilize a chatbot, and when should you use a form? Keep reading to find out.
Tl;dr: Chatbots create a better customer experience vs classic web forms by imitating a natural conversation. However, WPForms' Lead Forms boost conversions by giving users an interactive layout that's fully customizable along with superior data collection capabilities.
Create Interactive WordPress Forms Now
Chatbots vs. Forms: Quick Summary
Both chatbots and forms allow website visitors to interact with your site, and they each help to boost engagement and generate leads. In most cases, an interactive form can gather more information than a chatbot while still providing a conversational experience for users.
What's the Difference Between a Chatbot and a Form?
In a nutshell, a chatbot is a computer program designed to simulate conversation with human users on the internet.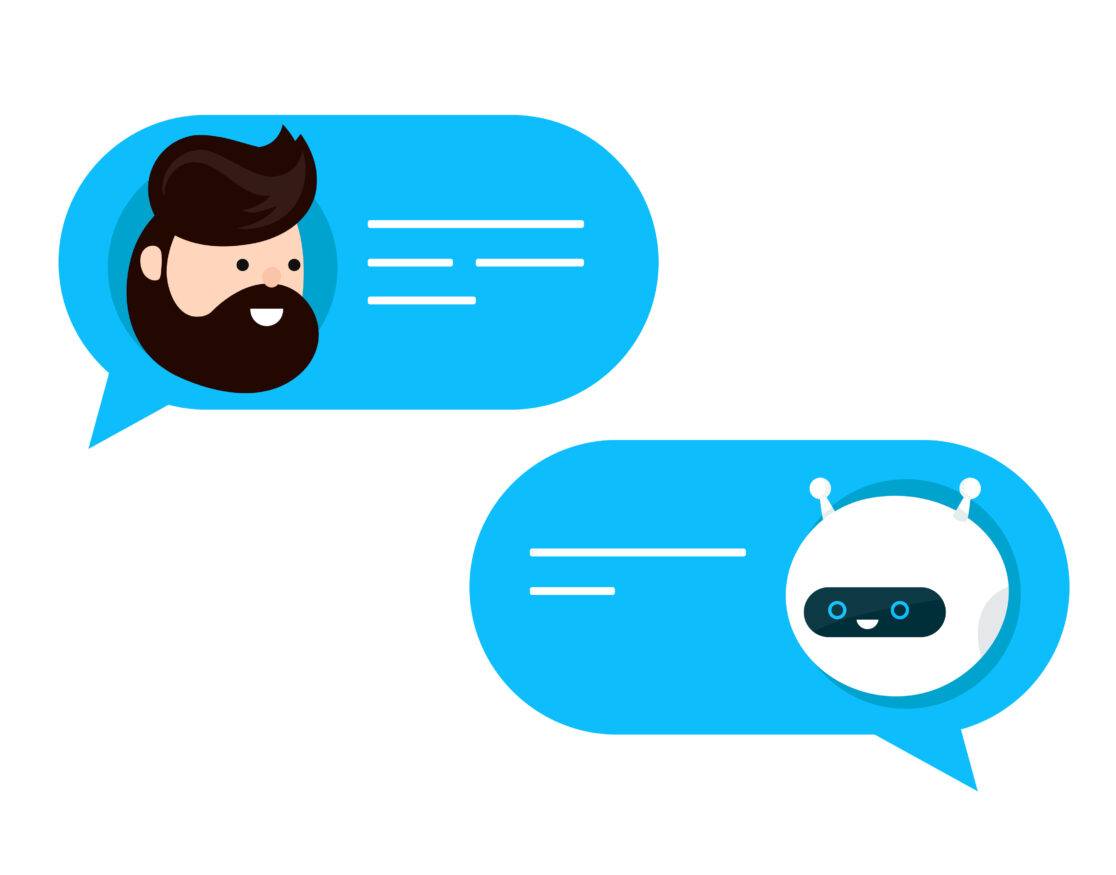 Chatbots are used as a customer service tool that will engage with website visitors and is usually there to help solve a problem. A chatbot also allows for a natural flow of communication with the website user, which can lead to higher conversion rates.
A form, on the other hand, is often thought of as being more static in nature. However, they still remain the go-to tool for online lead generation.
A form collects information from visitors when they submit responses to prompts on a website's page. The information provided on the form is then used to communicate with the site visitor, on or off the web.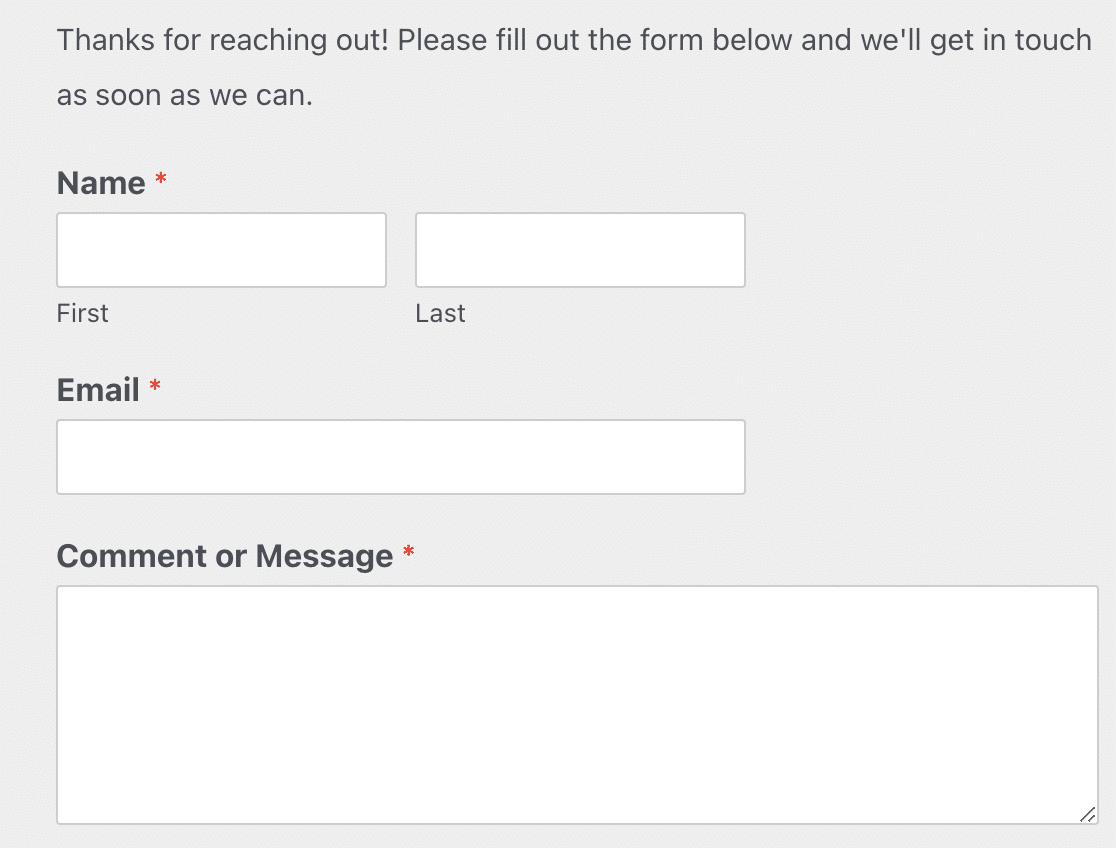 However, many online forms now have the ability to be interactive to create a better user experience. This allows modern forms to operate similarly to a chatbot.
The forms created with WPForms, for example, can be customized to progress onscreen with just one step at a time in a relaxed and conversational style.
With chatbots and forms being somewhat similar while also uniquely different, it can be difficult to know which one is preferable. In this post, we'll explain when to use a chatbot on your website, and which situations call for a form.
Create Your WordPress Form Now
Chatbots vs. Forms: Which Is Better?
1. Conducting Surveys & Polls
When it comes to conducting surveys and polls on your website, you should use a form.
A chatbot probably won't be able to provide the comparable data visualization like a survey can give you, which is a major consideration between the two.
With WPForms, you can start collecting data by creating your own surveys and polls, or select from the many survey templates available.
And with our Surveys and Polls addon, you can do even more with these forms, like explore your survey reports and add interactive polls to any page on your website.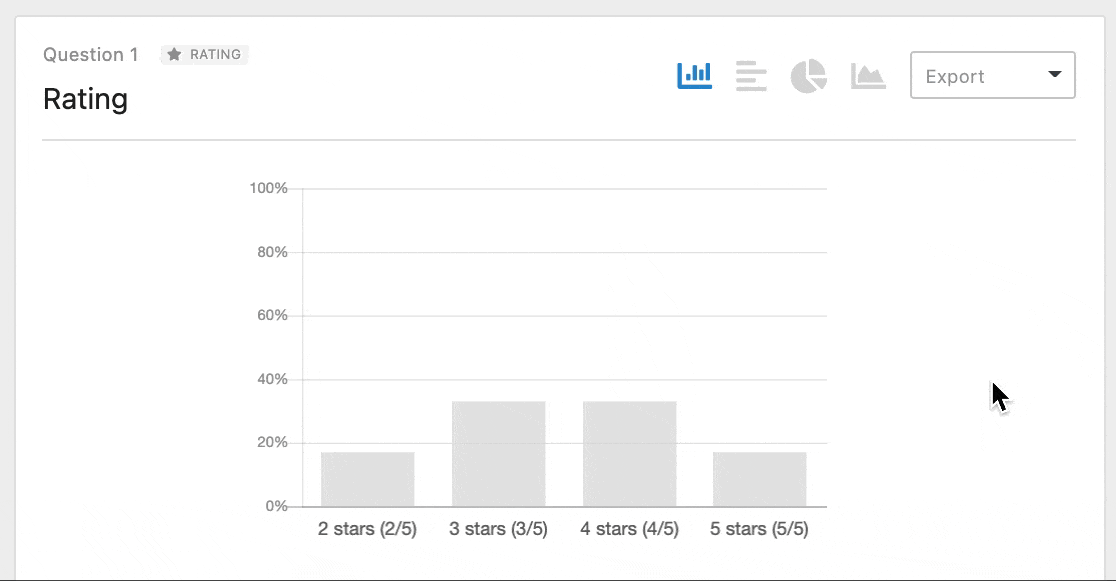 And, while perhaps you could utilize the interactive aspect of a chatbot to collect data like you would with a survey, a conversational or lead form would be the optimal choice.
A conversational form, like the lead forms we offer here at WPForms, will guide your website visitor exactly where you want them to go so that they're providing the type of feedback that you need.
So, you can still have all the interactive benefits of a chatbot, while you're also able to see your results in easy-to-read tables, charts, and graphs.
2. Greeting Visitors Like a Human
If you want to instantly greet your website visitors in a friendly manner, you might find that using a chatbot would be the best way to add that personal touch.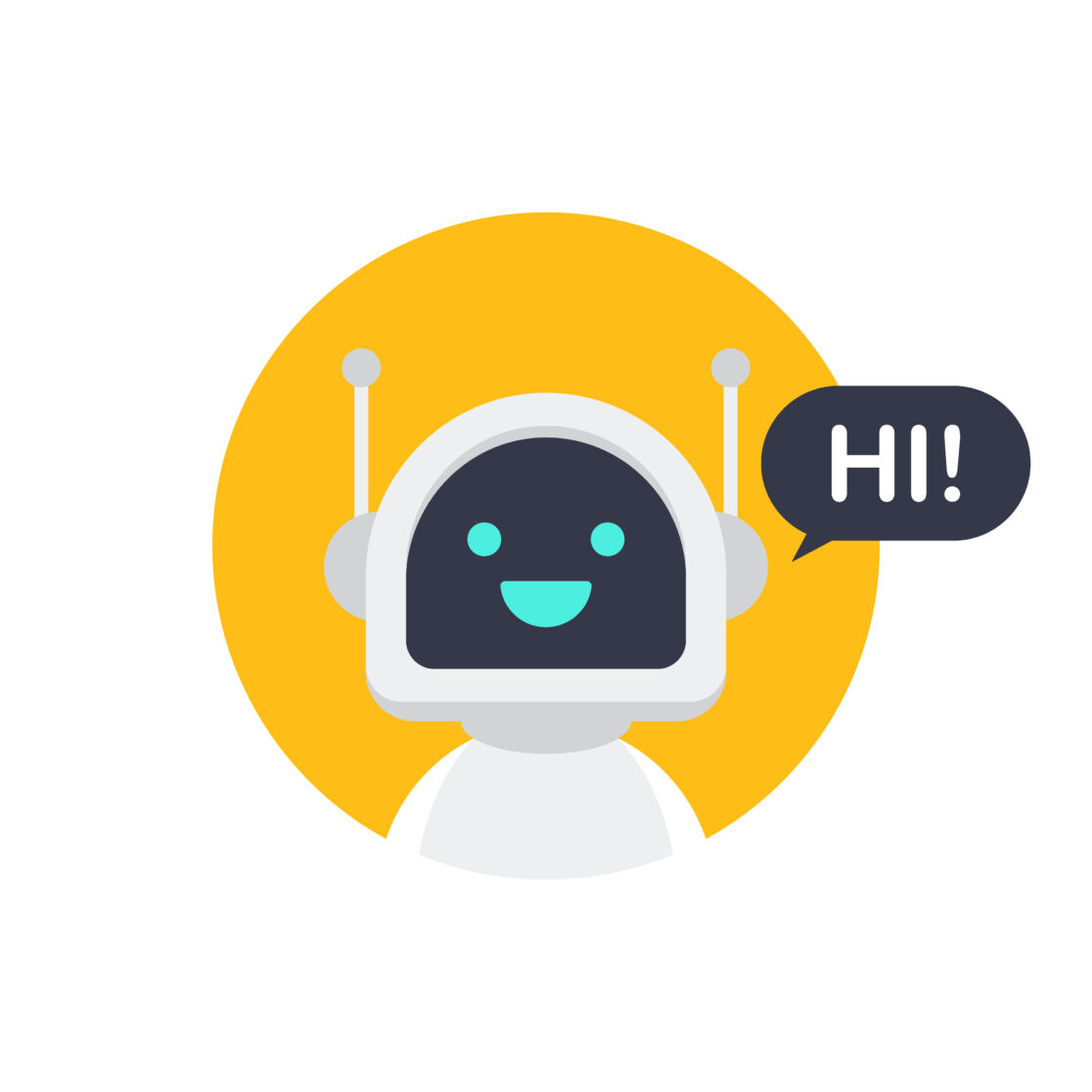 You could have a chatbot welcome visitors to your site while it collects information from them, serving as a human stand-in of sorts. Artificial intelligence helps the chatbot adapt answers, which allows for a seemingly natural flow of communication.
That said, be sure to keep in mind that the same effect is possible with conversational forms, but without potential errors or delays that can accompany an AI-dependent chatbot.
In fact, a conversational style form created with the Lead Forms addon could be used in place of a chatbot.

With the extensive customization options available with each form, you can style your forms to be both friendly and interactive in greeting your website visitors, much like a chatbot would.
You're once again able to get the interaction of a chatbot with the accuracy and security of a form.
Create Interactive Lead Forms Now
3. Simplifying Contact
When it comes to your website's contact page, either one — a chatbot or form — would be good for the job.
We mentioned earlier that a chatbot is great for offering a friendly, almost human-like touch when greeting site visitors and that it could collect contact information then, too.
But, as we've also mentioned, you can offer that relaxed and conversational effect with a form as well.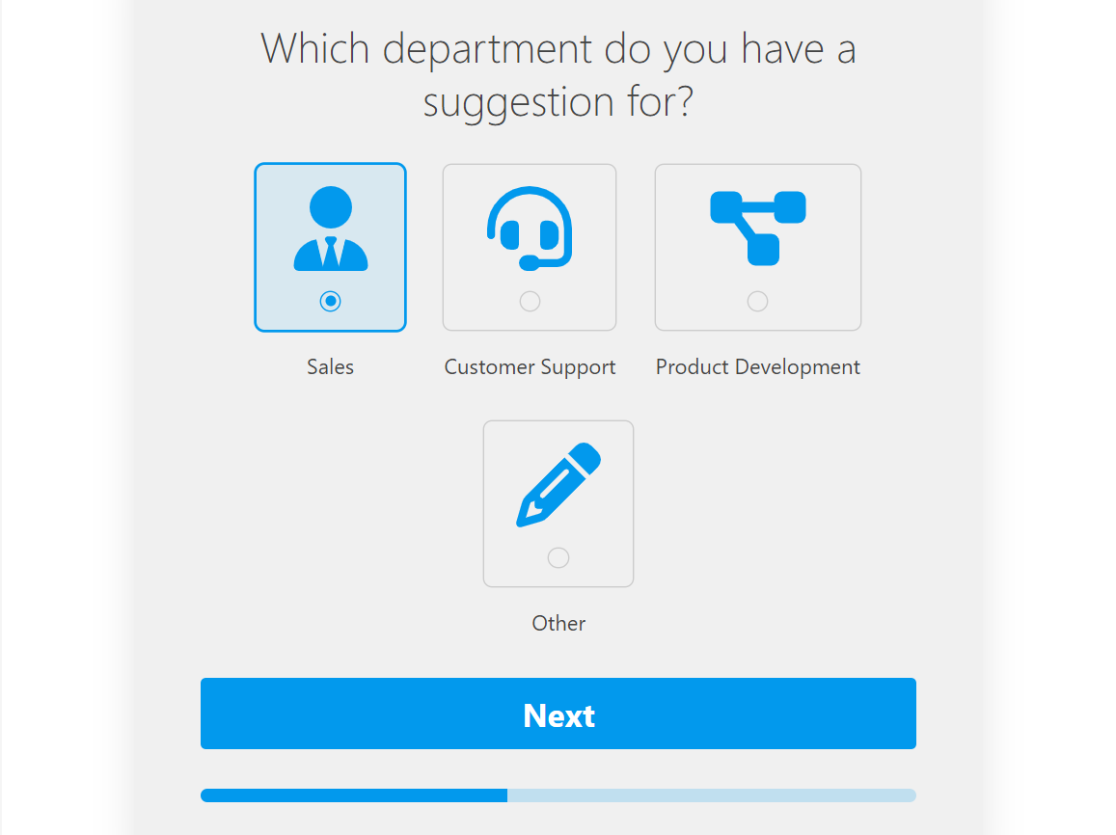 With the Lead Forms addon from WPForms, any form has the ability to be interactive, advancing one prompt at a time.
This slower, conversational style won't overwhelm the form user with multiple question fields at once, so it carries a tone similar to a chatbot.
And, of course, the form easily collects the contact information from the site visitor like a chatbot.
For even more tips, have a look at our ultimate conversational marketing guide and examples.
4. Collecting Feedback
To receive extensive feedback from your website visitors and users, opt for a form.
Remember how we said that AI helps chatbots keep the conversation going? Well, it's not exactly a perfect system yet. Conversational AI is still a fairly new tool, and chatbots don't always get it right.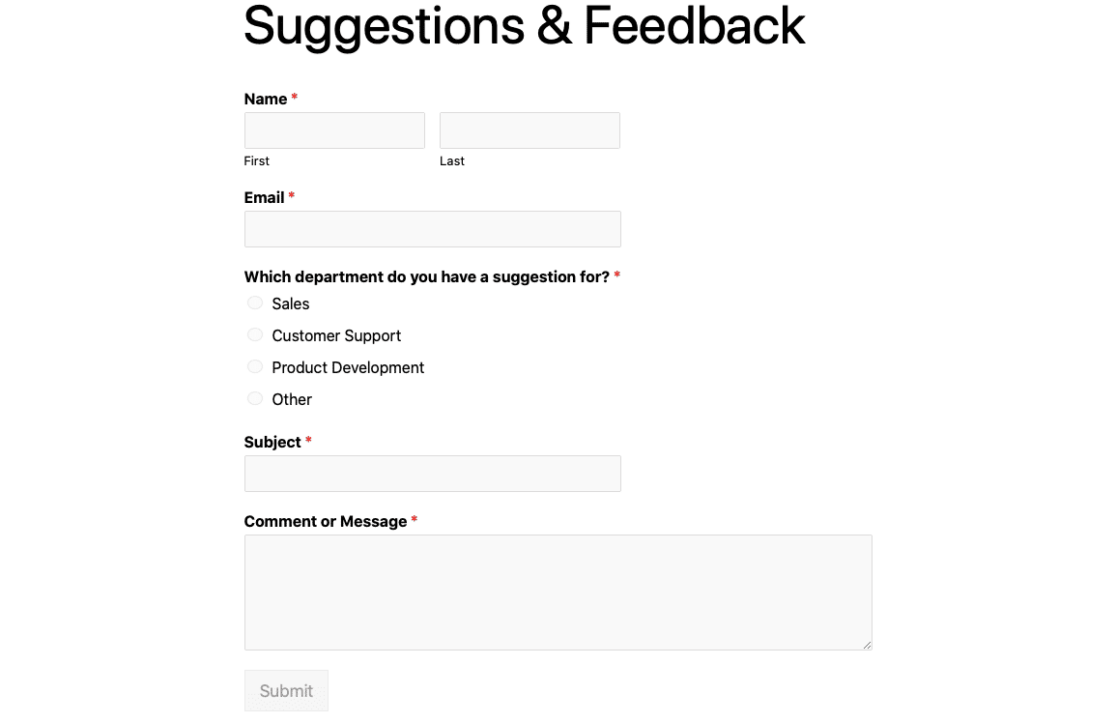 So when you're expecting or asking for detailed feedback from your website visitors and users, a form is best.
A form allows site visitors to write a direct message to you, and limits the errors from these responses. Plus, a chatbot will often direct a user to a form to have them provide feedback anyway, so you might as well start there.
To learn more about adding a feedback form to your WordPress site, check out our full post.
More on this in our next point.
5. Directing Users to the Correct Resource
If there's a chance that the information or feedback that your website visitor is providing could become unclear in anyway, play it safe with a form.
A chatbot could easily lead your website visitor to the wrong conclusion if there's any miscommunication on the visitor's side. Or, if the chatbot just can't answer the site visitor's question at all, it will refer the user to a form to reach out for support anyway.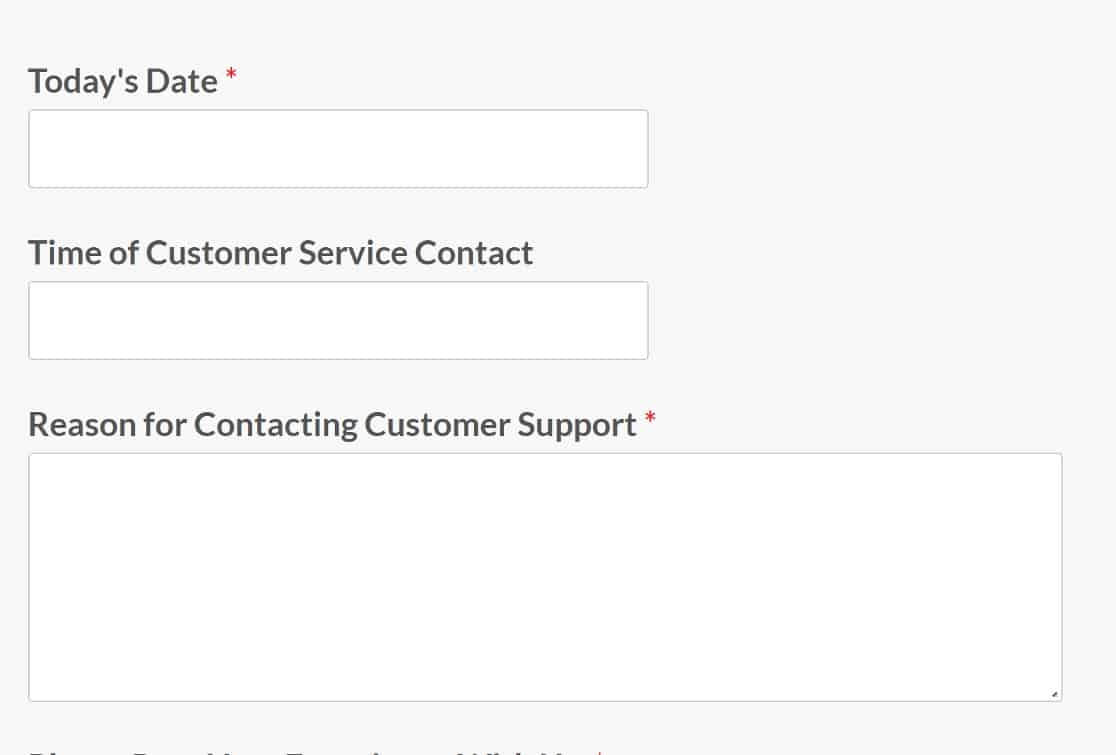 In providing customer service, for example, a chatbot can only accomplish so much before the customer needs a form. In that case, you might as well take your customers and visitors straight to your forms.
A form allows you, the website owner or operator, to decipher and respond to the information provided by your visitor, rather than leaving it up to the chatbot that may get it wrong.
6. Guiding & Searching
For offering specific guidance and to help site visitors quickly find what they need, we suggest using a chatbot. In fact, one of the perks of chatbots is how efficient they are.
Plus, having a chatbot guide your website users through a page in real time is incredibly engaging and may improve conversion rates.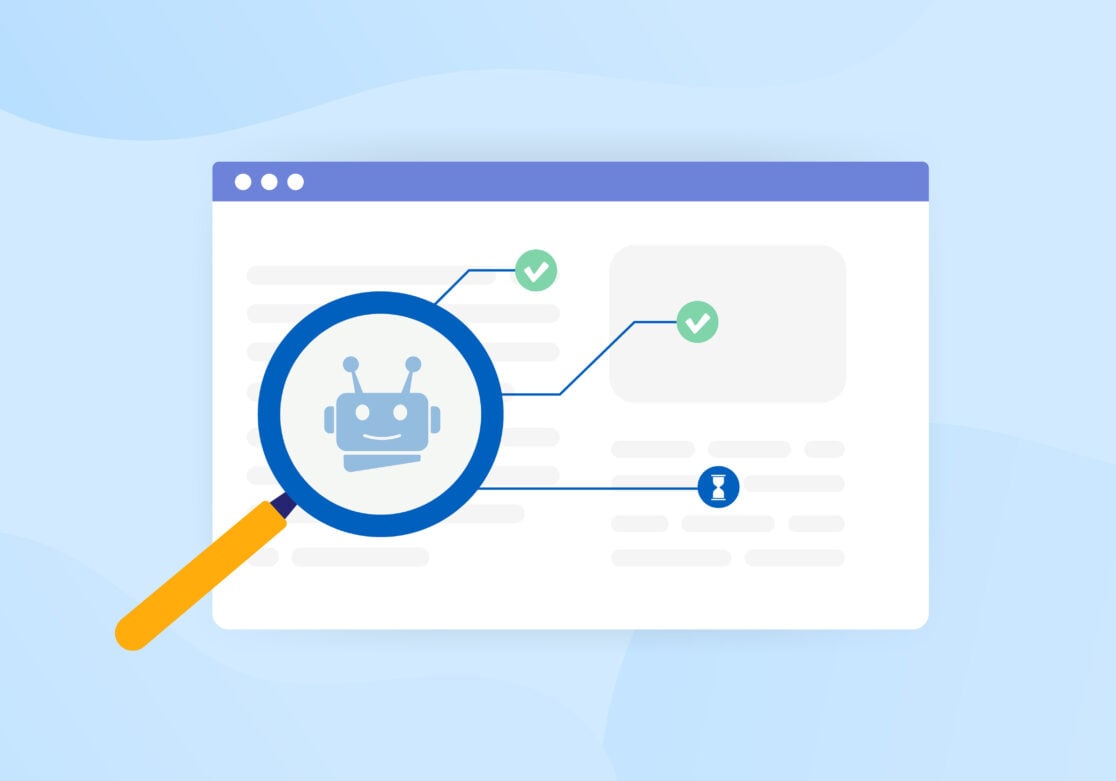 For example, a chatbot is a great tool for onboarding site users.
With a chatbot, a user is guided through their onboarding, training, etc. with pre-made responses that are set by you. And usually, this leads to higher completion rates by the site user.
If you're interested in what sort of chat software we suggest, check out our comprehensive list of the best live chat software for your website.
7. Placing an Online Order
To keep the process familiar for your website visitors, provide a form for them to place online orders.
Your eCommerce customers are already conditioned to filling out forms, so you should stick with what they know best. Placing an online order doesn't have to be made overly complicated by inserting a chatbot into the process.
Most times, a simple order form is all you need for your site.
And with WPForms, it's easier than ever to collect the information you need to fulfill eCommerce orders, all while providing your customers with an order form that's even simpler to use than it was to make.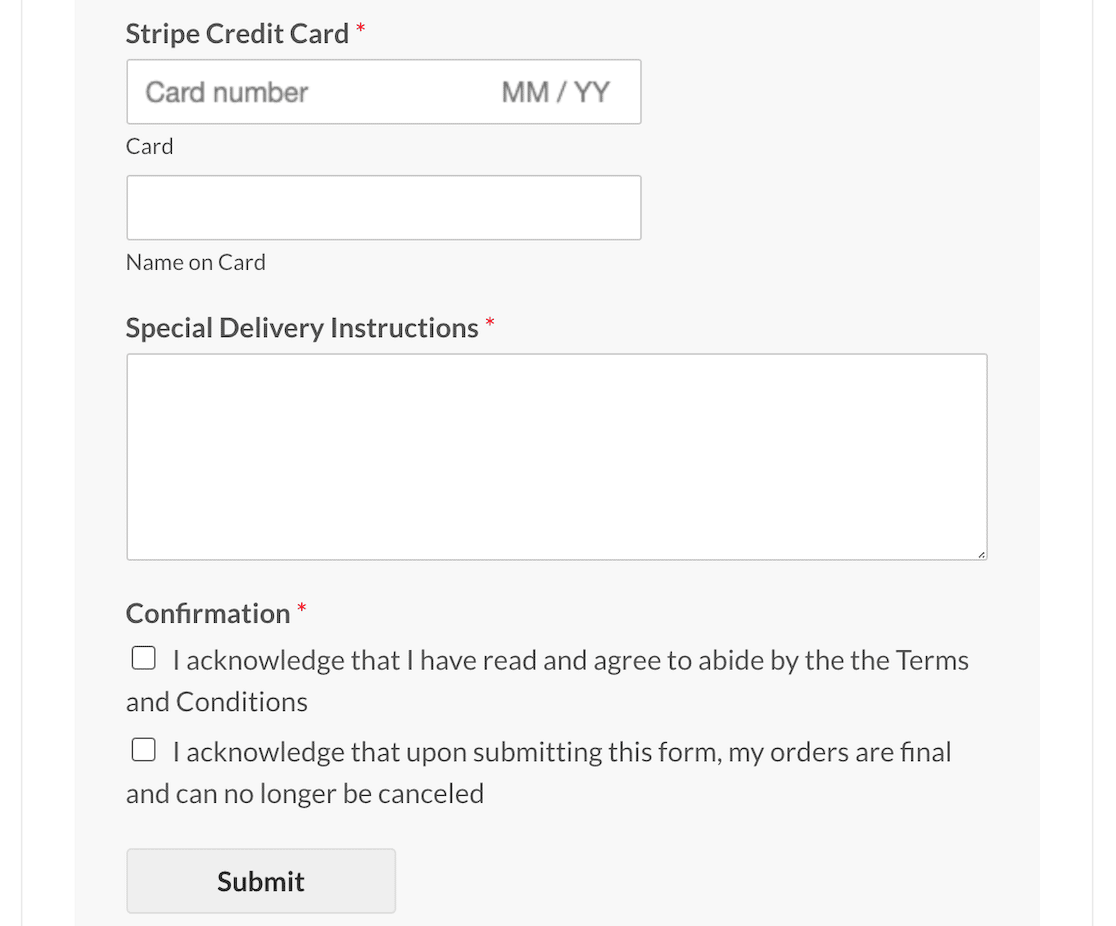 Our forms enable you to customize your order forms with the style you want and the functionality you need.
You can also easily collect payments directly on your forms with major payment systems like Stripe and PayPal.
Check out this blog post to start collecting orders on your website now.
Pros & Cons of Chatbots vs. Forms
Overall, there are pros and cons to using both chatbots and forms.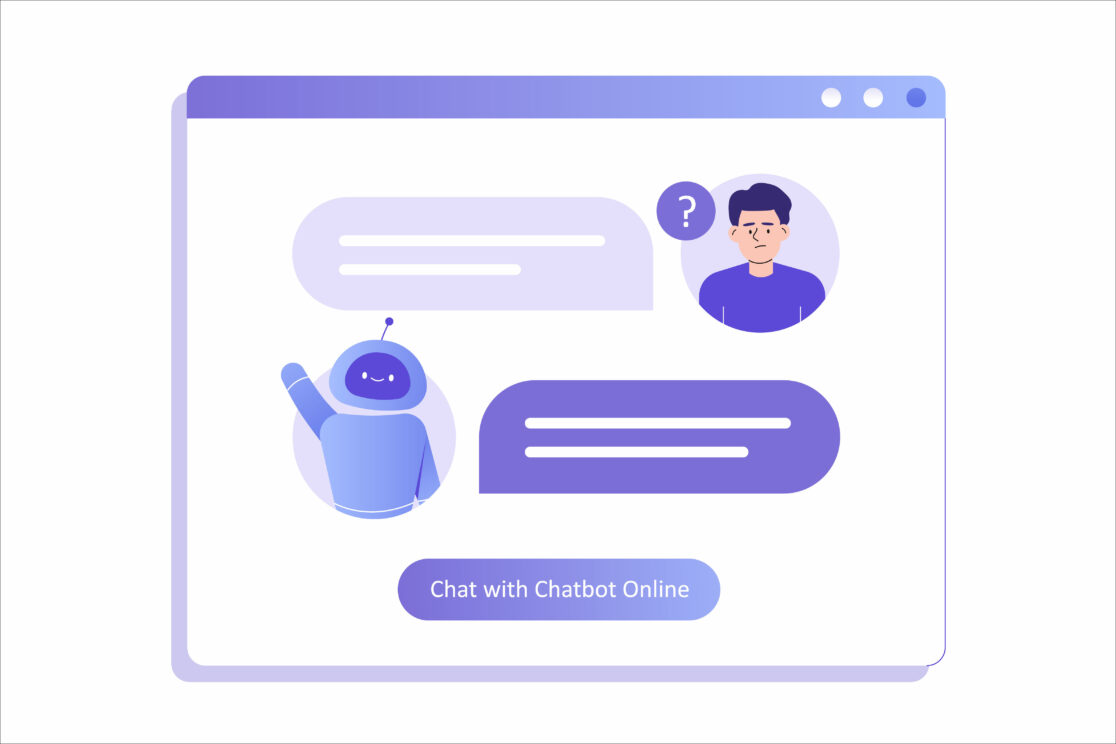 A chatbot can immediately greet website visitors, and it utilizes AI to be quick, efficient, and conversational.
However, the conversational AI required of chatbots is still pretty limited, so chatbots can end up leading users in the wrong direction. Plus, chatbots are often reliant on forms anyway.
Forms, on the other hand, are already familiar to website visitors, and their accuracy means fewer errors in communication based on user response.
You might assume, though, that forms are unable to interact with site visitors like a chatbot.
But thanks to the Lead Forms addon, that's no longer the case. In many instances, a form may even work in place of a chatbot.
Create Interactive WordPress Forms Now
Next, Sell on WordPress Without WooCommerce
We mentioned in this article that there are many ways to collect payments for orders on your website.
But if you're running a small business or nonprofit, you may be looking for simpler solutions. Check out our tips on how to sell on WordPress without WooCommerce.
Ready to build your form? Get started today with the easiest WordPress form builder plugin. WPForms Pro includes lots of free templates and offers a 14-day money-back guarantee.
If this article helped you out, please follow us on Facebook and Twitter for more free WordPress tutorials and guides.