Are you looking for Buy Me a Coffee alternatives? Buy Me a Coffee is a payment platform designed for content creators such as artists, YouTubers, podcasters, writers, and anyone with a following. It provides a simple way of taking donations and regular subscription payments.
But Buy Me a Coffee isn't the best option for everyone. If you want to put a donation button on your website, it's worth considering some alternatives before getting tied into one platform. In this article, we've rounded up some of the best options and summarized their features to help you choose.
How Does Buy Me a Coffee Make Money?
Buy Me a Coffee charges creators a 5% fee for each transaction. This may not sound like a lot, but it can add up to quite a lot of money over time, particularly if you have a large audience.
Creators can offer exclusive content to their supporters on Buy Me a Coffee. This content is hosted on the platform and unlocked when a user makes a small payment (the price of a coffee!) It's a popular way for users to support their favorite creators and makes content monetization easy.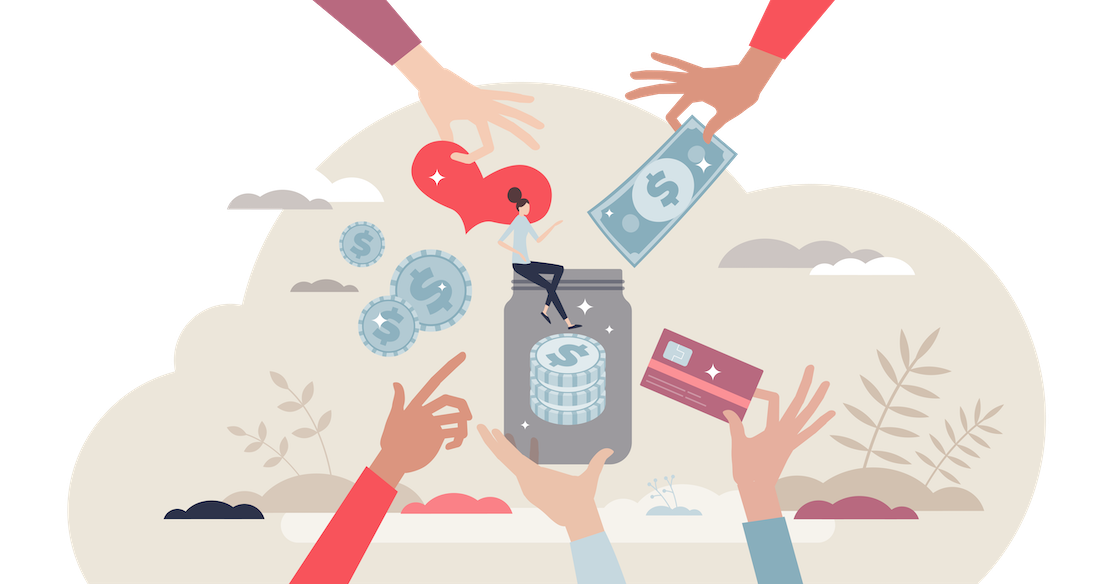 But if you'd rather keep more of your money, there are alternatives to Buy Me a Coffee. If you take micropayments directly on your WordPress site, you'll have more control over your payments and won't have to pay extra fees to a third-party service.
Create Your WordPress Payment Form Now
What Are the Disadvantages of Buy Me a Coffee?
Buy Me a Coffee's ease-of-use makes it popular, but as well as the fact it takes 5% of every payment you get, there are some other disadvantages you should be aware of.
Fees: Buy Me a Coffee takes a percentage of every payment you get.
Customer service: The platform has been known to block people without warning and has mixed reviews.
Payment limitations: Buy Me a Coffee doesn't accept PayPal payments.
Content limitations: Buy Me a Coffee does not permit some types of content. For example, this platform is not suitable for adult content creators.
Lack of control: As with any third-party service, you don't really have control of your content or data when you use Buy Me a Coffee. If the company goes out of business or they decide to close your account, you could lose all content you've created on there, along with important data like the details of your subscribers.
Best Buy Me a Coffee Alternatives
We've summarized the main features of each platform in the table below to make it easier for you to make your selection.
| Platform | One-off donations/tips | Subscriptions | Sell products | Fee |
| --- | --- | --- | --- | --- |
| WPForms | ✅ | ✅ | ✅ | 3% |
| Ko-Fi | ✅ | ✅ | ✅ | 0% – 5% |
| Patreon | ❌ | ✅ | ✅ | 8% – 12% |
| Gumroad | ❌ | ✅ | ✅ | 10% |
| Coindrop | ✅ | ❌ | ❌ | Free |
| Ghost | ❌ | ✅ | ❌ | $8/month |
| Tipeee | ✅ | ✅ | ❌ | 8% |
Use the links in the table of contents below to jump directly to a brief description of the platform you're interested in, or keep reading for an overview of them all.
We installed and tested all of these plugins so we can give you first-hand advice on their pros and cons. Ready for the details? Let's get started!
1. WPForms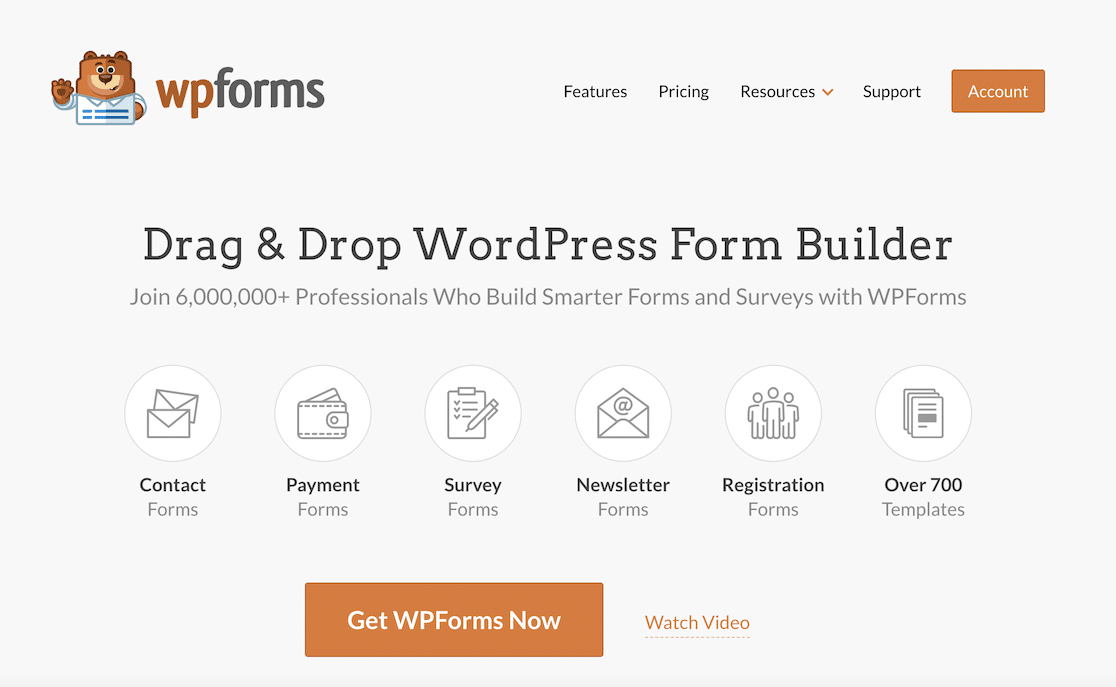 The best way to make sure you're in control of all your data and keep the fees of accepting payments and donations to a minimum is to set up a payment form on your website instead of using a third-party platform.
WPForms is the best payment form plugin for WordPress. The drag-and-drop form builder makes creating a custom form for crowdfunding, collecting donations, or taking regular subscription payments easy.
The Lite version of the plugin is free to use and even includes integration with Stripe for taking payments by credit card or debit card. There's no additional charge for taking payments with Stripe; you'll only pay a 3% fee for each transaction plus Stripe fees.
The plugin also comes with 1000+ WordPress form templates. There's even a Buy Me a Coffee form template you can use out of the box or customize.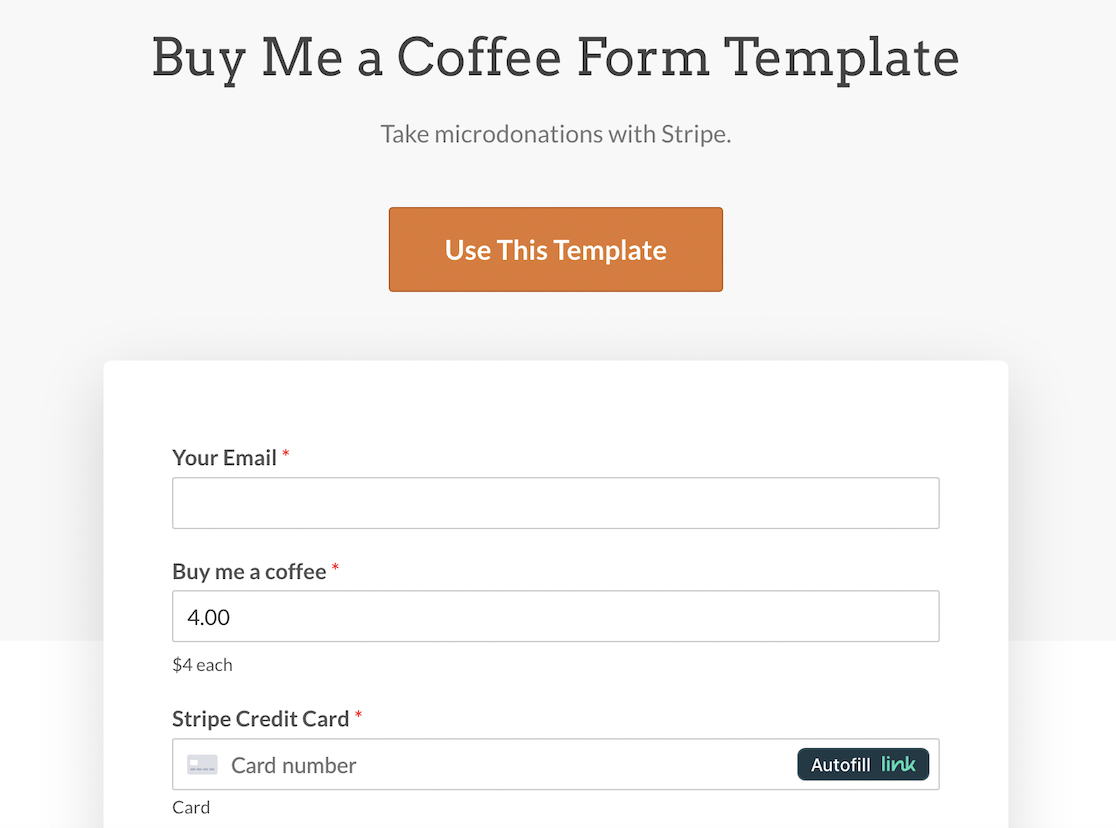 If you want to install the WPForms WordPress plugin and start taking tips from your followers, skip to the end of our list for a quick tutorial.
Features:
Accept one-off or recurring payments
Integration with Stripe for taking card payments
Drag-and-drop form builder
Hundreds of form templates available
Email confirmations and thank you screen after payments
Fees: 3% per transaction (or upgrade to WPForms Pro for 0% fees)
2. Ko-Fi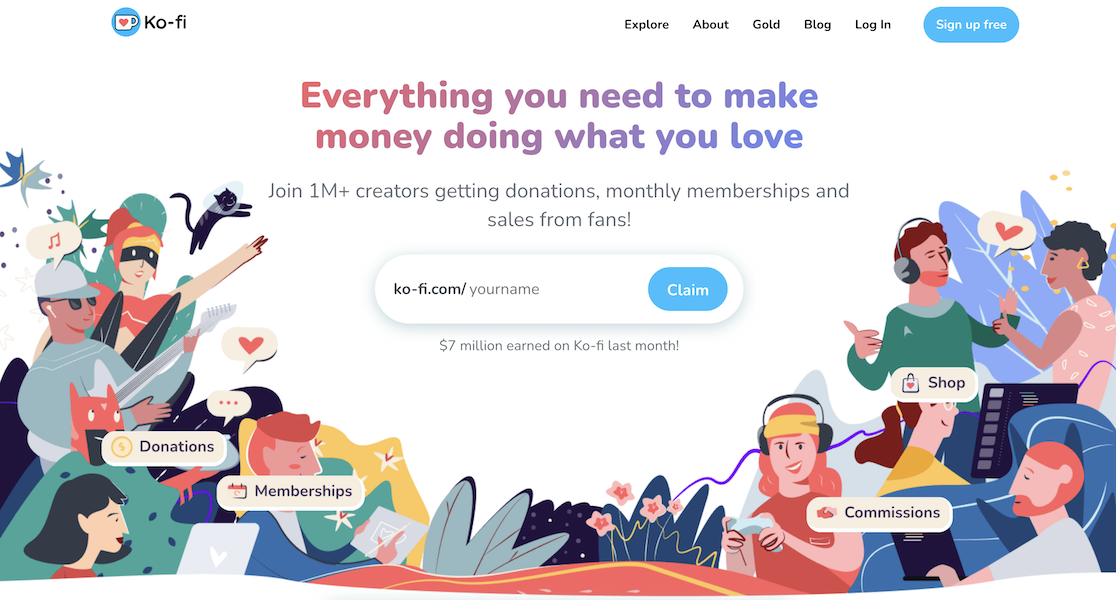 Ko-Fi is one of the most popular alternatives to Buy Me a Coffee and has similar functionality.
Creators and nonprofits can post content for their followers, set up an online tip jar, take donations for one-off fundraising goals, sell monthly memberships, take commissions for creative projects, and sell products from a built-in Ko-Fi shop.
The main advantage of choosing Ko-Fi over Buy Me a Coffee is that there are 0% platform fees on donations. However, you will be charged 5% on recurring donations, commissions, and shop sales.
Features:
Receive one-off or recurring tips and donations
Sell physical or digital products from an integrated store
Offer monthly memberships
Accept commissions
Set crowdfunding goals
Widget available to take donations directly on your website or blog
Fees: 0% on one-time donations, 5% per transaction on recurring donations and product sales.
3. Patreon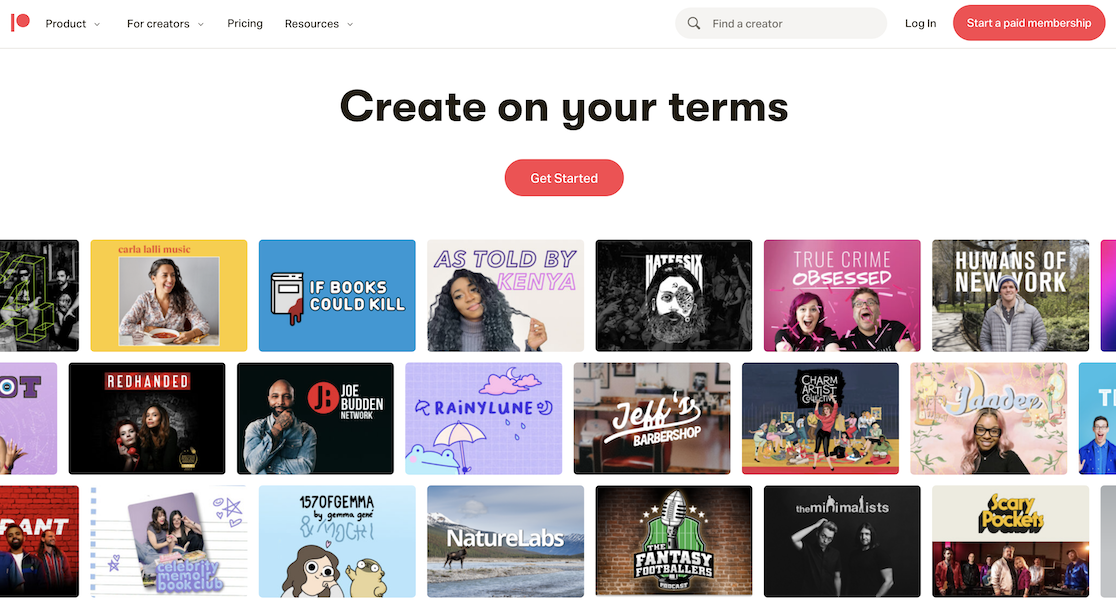 Patreon is one of the biggest platforms for creators to monetize their content and art, with over 8 million active users. Unlike Buy Me a Coffee and Ko-Fi, Patreon focuses on subscriptions and building a community of followers who want to support creators.
In general, Patreon is aimed at more serious creators who want to create a regular monthly income from their content rather than taking small one-off tips.
Features:
Set up memberships with different tiers
Offer free trials and freemium memberships
Integrations with Discord, Vimeo, MailChimp, and other third-party apps
Sell digital products
Also available as an app for Android and iOS
Fees: 8% per transaction for Pro accounts and 12% per transaction for Premium accounts.
4. Gumroad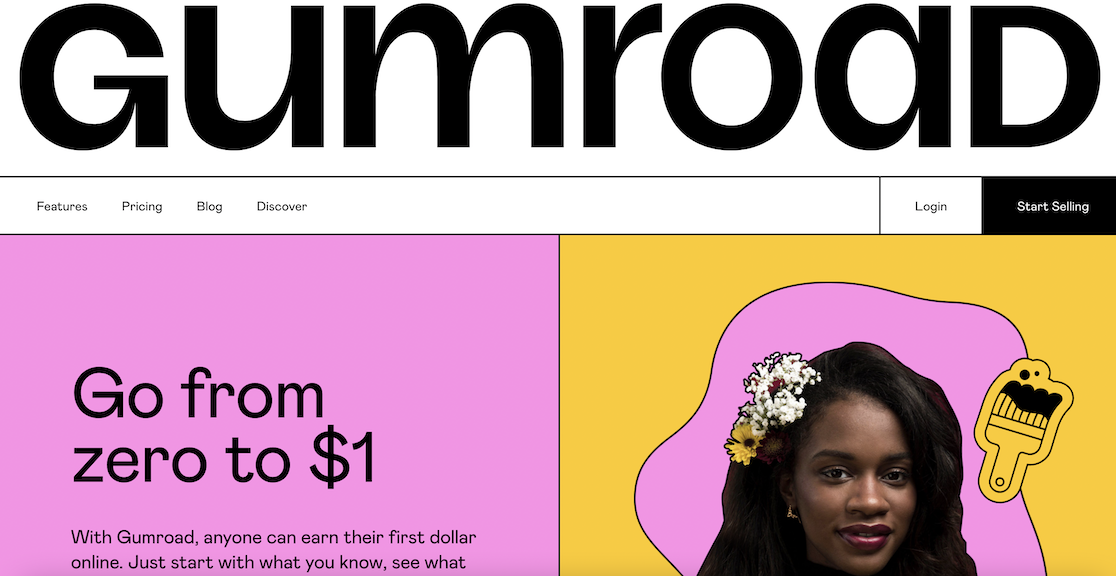 Gumroad is very much focused on selling, so it might not be your platform of choice if you want just to create an online tip jar. But it's a very popular e-commerce platform for selling digital products, online courses, and memberships, and you don't have to set your prices high, either. In fact, the platform's goal is to help creators make their first dollar online.
As well as selling physical or digital products, Gumroad lets you set up members-only subscriptions with multiple tier levels for users to sign up to. You can then use the membership management area to send them emails and upload exclusive content.
If you like the way Gumroad works but you're looking for a platform with lower fees, take a look at these Gumroad alternatives.
Features:
Sell digital products
Offer memberships and subscriptions
Integrated sales analytics
Embed your storefront in your website
Fees: 10% of every transaction.
5. Coindrop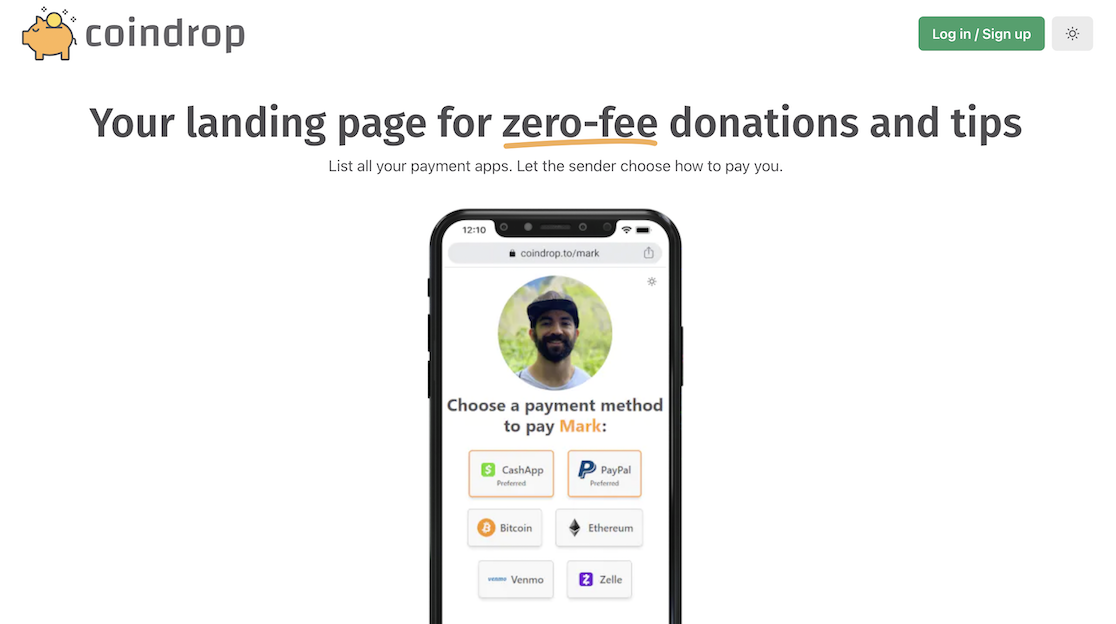 Coindrop is very simple compared to some of the alternatives on this list. There's no platform for uploading content, creating email newsletters, or setting up subscriptions. But it could be worth a look if you want a quick way for followers to send you tips or donations.
The open-source app integrates with several payment platforms, including PayPal, Venmo, Cash App, Apple Pay, and more. You can also offer the option to pay in crypto-currencies like Bitcoin. Interestingly, it also integrates with Buy Me a Coffee, Patreon, and other subscription platforms. Later, you can request a payout to your bank account.
To get started, create a name for your donation page and choose your payment options, and a page will be created for you with a unique URL and link buttons that you can put on social media or your website.
Features:
Dozens of payment options
Integrates with several subscription platforms
Accept cryptocurrency payments
QR code and button links to your payment page
Fees: Free
6. Ghost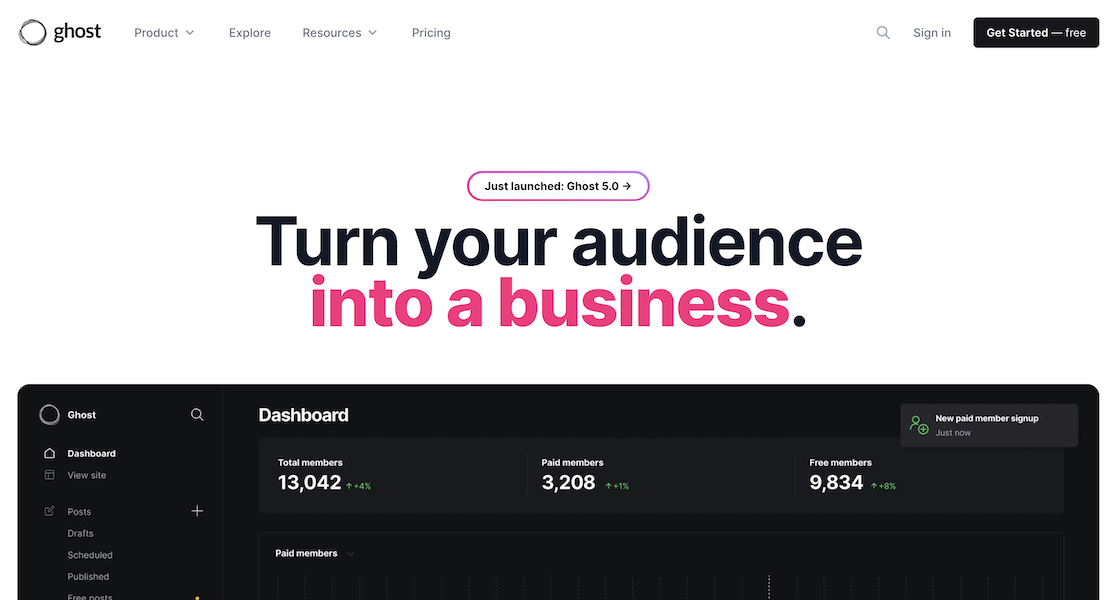 Ghost is more than just a micropayments service. It's an all-in-one membership platform where creators can build a website, publish content, sign up followers, send email newsletters, and collect payments.
If you don't already have a website, Ghost may be an appealing option as a Patreon alternative. However, customizations are limited, and you'll need to choose a pre-built design from the theme library. There are a few themes available, but most are priced from around $80 to $150. The Ghost API also gives you a way to publish content you create on the platform to another website or app.
However, you can't sell any products with Ghost or take one-off donations. Like Patreon, it's designed for creators who want to create subscriptions and build their following.
Features:
Website builder with premium templates
Collect user signups and send email newsletters
Built-in content editor for text, images, audio, and video
Detailed analytics dashboard
Fees: 0% transaction fees; however, Ghost charges from $8 a month for memberships.
7. Tipeee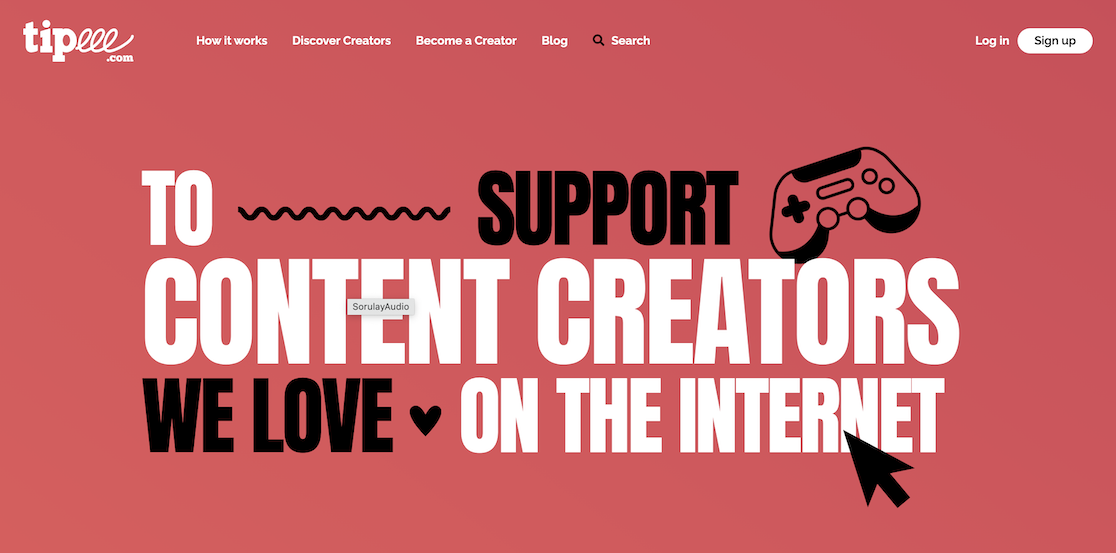 Tipeee is a European crowdfunding platform originally designed for Twitch and YouTube streamers to accept tips from their followers. It's now used by thousands of creators, bloggers, and artists.
Anyone can create a supporter page and take one-off or recurring donations of an amount set by the donator. Creators can also offer rewards to tippers, such as access to a private Discord channel.
Note: Tipee is currently only available to residents of European countries.
Features:
Accept one-off or recurring tips and donations
Offer rewards to followers
Create a crowdfunding page with a goal
Fee: 8% on all transactions
Which Is the Best Alternative to Buy Me a Coffee?
While all of the plugins on this list are great, if you want complete control over your content, data, and payments, we recommend WPForms as the best Buy Me a Coffee alternative.
The WPForms Lite plugin is free, and with transaction fees of only 3%, WPForms works out cheaper than most of the other options on this list. If you're getting a lot of payments, you can even eliminate the transaction fees by upgrading to WPForms Pro.
With the pre-built Buy Me a Coffee form template, your followers can start sending you payments in just a few minutes. Follow the steps below to get it set up:
Install WPForms
First, install the WPForms Lite plugin on your WordPress site. You can follow the video in this guide or use the step-by-step directions below.
Go to Plugins » Add New in your WordPress dashboard.

Search for "WPForms" in the search bar and click the Install Now button next to the plugin.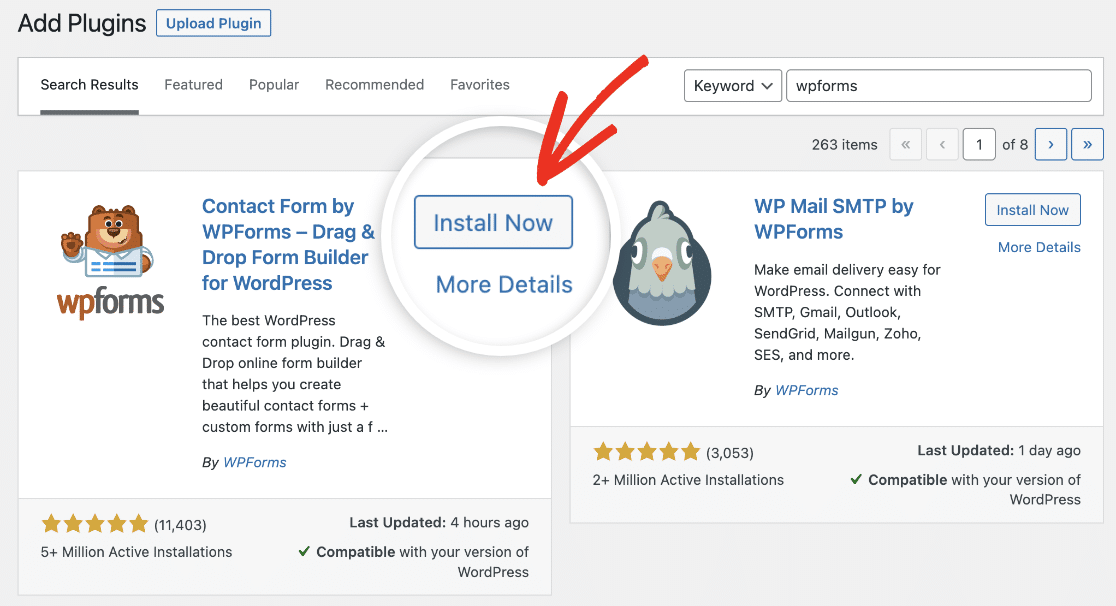 Wait a few moments for the plugin to install, and click the Activate button.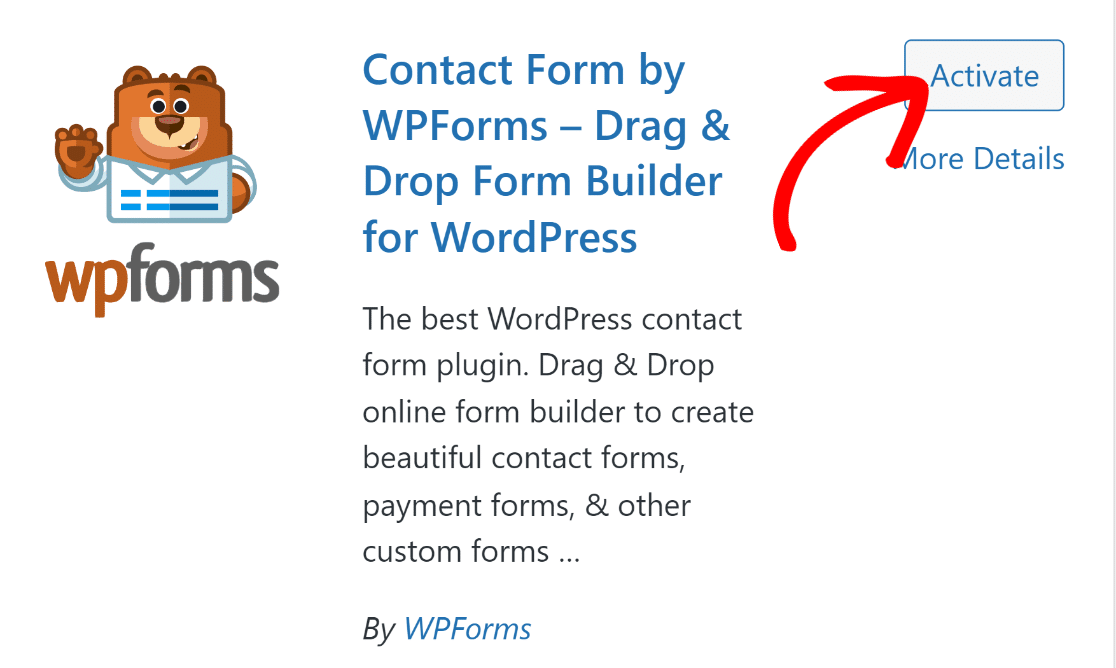 WPForms is now installed on your WordPress site, and you can go ahead and create a payment form for taking donations.
Import the Buy Me a Coffee Form Template
WPForms comes with a ready-to-use Buy Me a Coffee form template. You can use this form right out of the box or customize it as you wish.
To import the template, go to WPForms » Add New.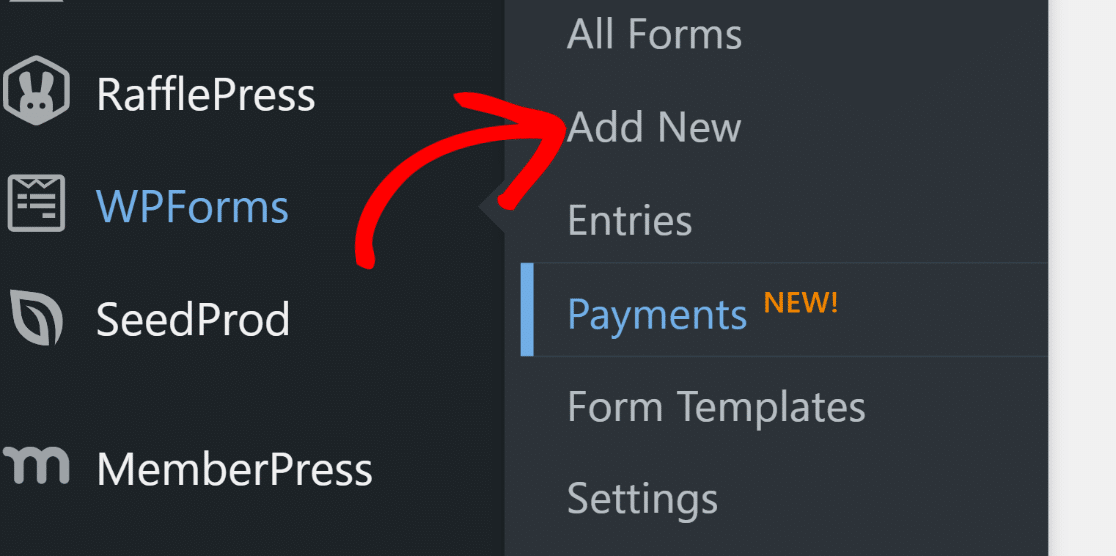 Enter a name for your form and search for "Buy Me a Coffee" in the search bar.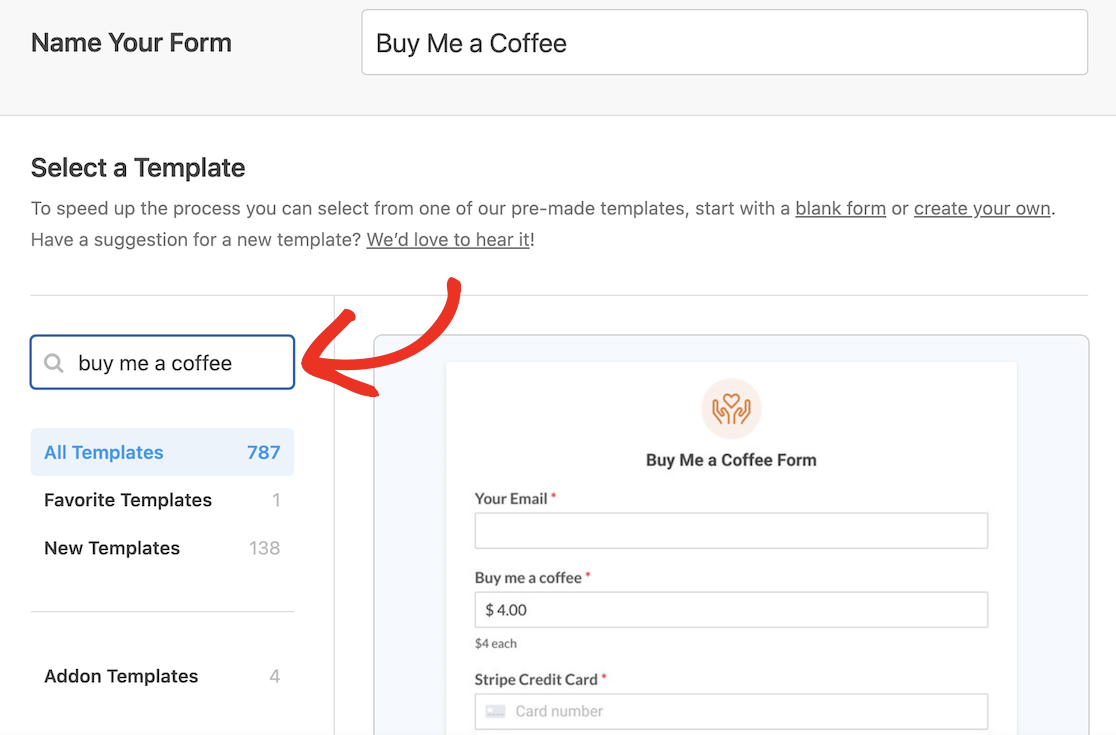 Click the Use Template button to import the form template to your WordPress site.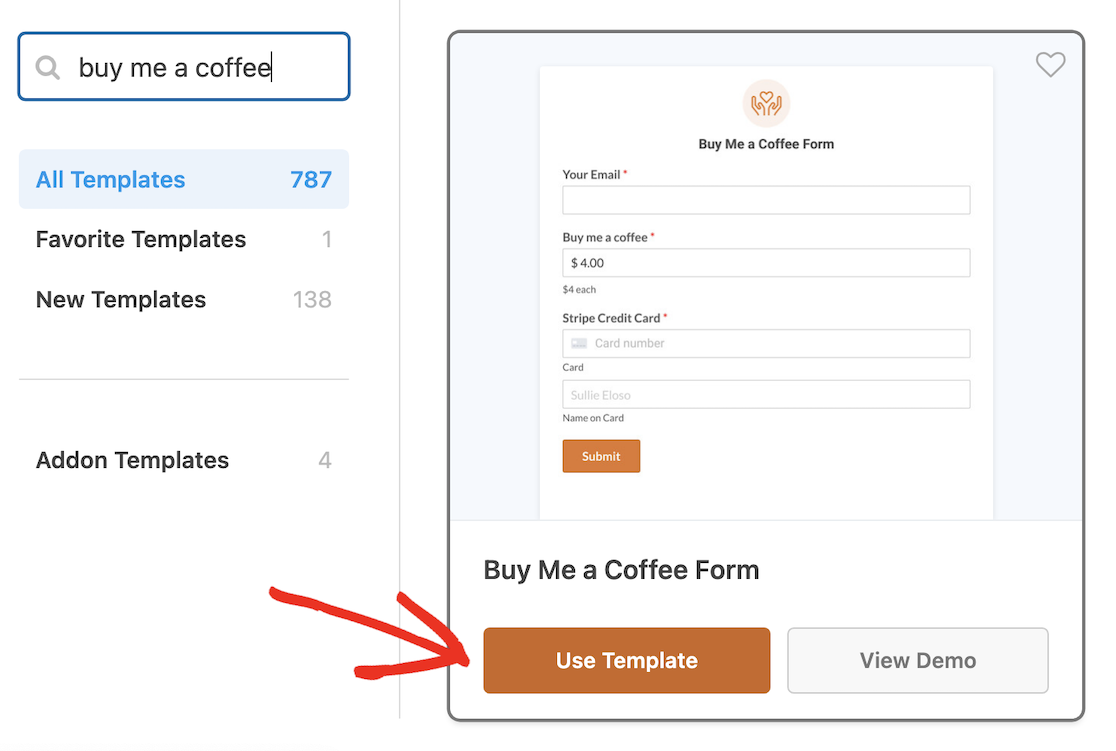 After a few minutes, you'll see the form builder. The Buy Me a Coffee form template already includes fields for the user email, the price of a coffee (this is set to $4, but the user can enter a different amount if they wish), and the Stripe payment fields.
If you want to add additional fields to your form, you can drag them in from the panel on the left and customize them as you wish. Otherwise, click Save and then exit (x) to close the form builder.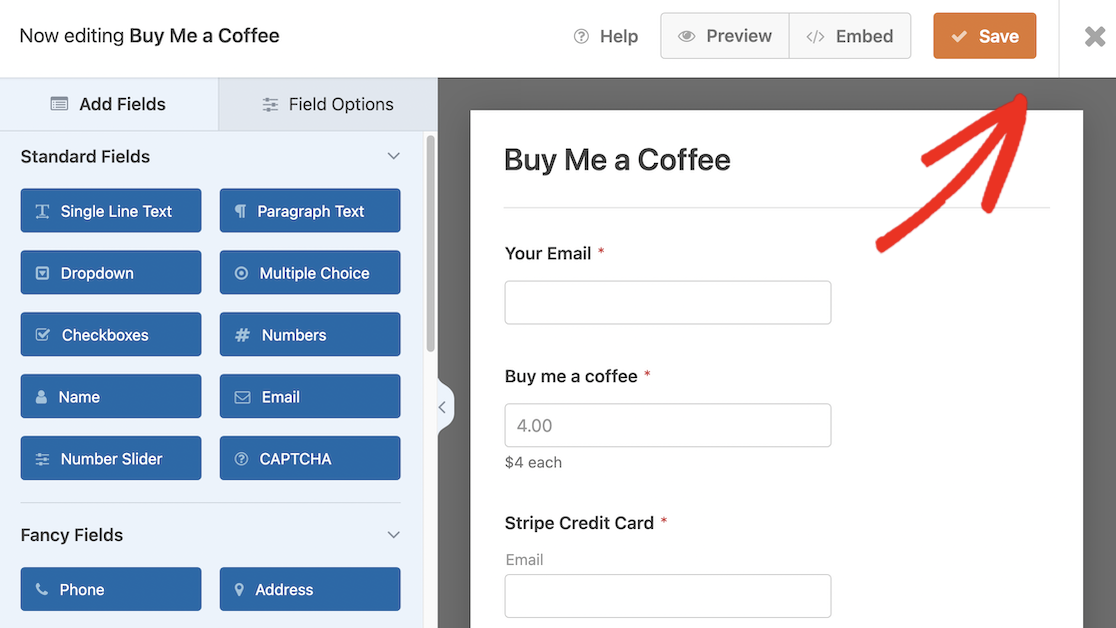 Now you just have to link WPForms with your Stripe account and publish your form on your site.
Set Up Stripe Payments
In your WordPress dashboard, go to WPForms » Settings and click on the Payments tab to access the settings page for your payment methods.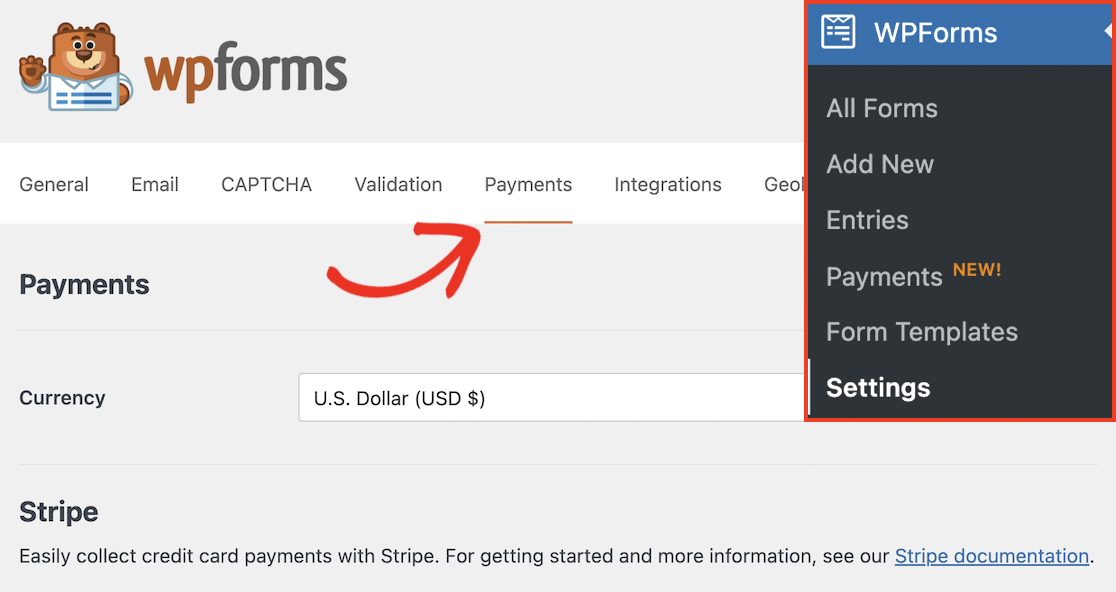 Scroll down and click the Connect with Stripe button.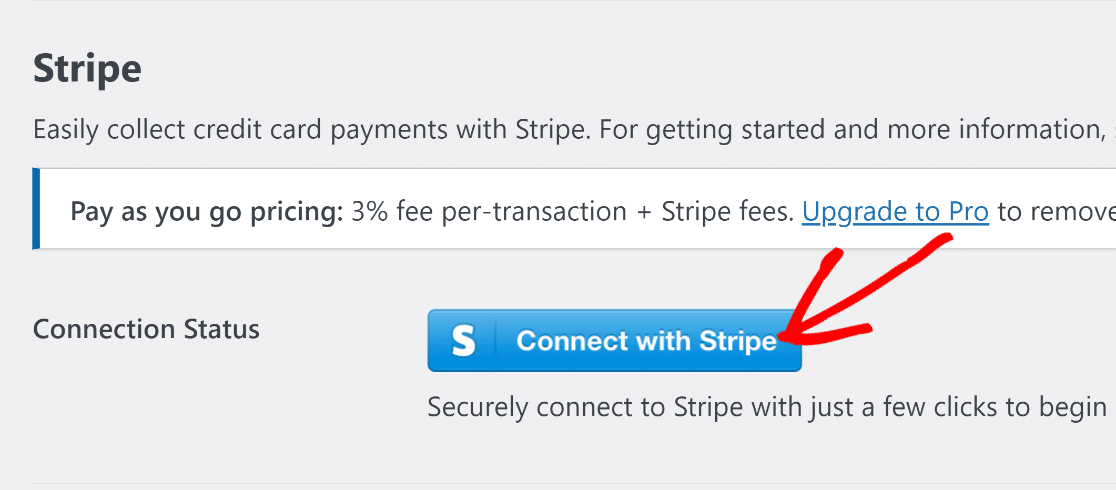 On the Stripe login page, either create a new account or, if you already have a Stripe account, enter your registered email.
When you've finished, return to your WordPress dashboard. The Connection Status in the Payments settings should state that WPForms is now connected to your Stripe account.

It's a good idea to test your Stripe payments setup before making your form live. Once you're sure everything is working correctly, you can go ahead and publish your form.
Publish Your Buy Me a Coffee Form
You're now ready to start taking micropayments and donations on your WordPress website. Just embed your form in a page or post and wait for that coffee money to roll in!
Create Your WordPress Payment Form Now
Next, Accept Recurring Payments in WordPress
Did you know that you can use WPForms to take subscription payments too? After you've created an option for followers to send you a one-off tip or donation, you can follow our guide on how to accept recurring payments in WordPress to offer monthly subscriptions.
You can also check out our tutorial on how to create a membership site in WordPress so you can offer exclusive content to your loyal followers.
Ready to build your form? Get started today with the easiest WordPress form builder plugin. WPForms Pro includes lots of free templates and offers a 14-day money-back guarantee.
If this article helped you out, please follow us on Facebook and Twitter for more free WordPress tutorials and guides.