Looking for the best file upload plugin for WordPress?
Accepting file uploads is a great way to get attachments like PDFs, spreadsheets, images, and signed documents.
We're going to list the best file upload plugins in this post, along with some handy tips on accepting files from visitors.
Does WordPress Allow File Uploads?
Yes, WordPress allows users to upload files. The easiest way to do this is to publish a form on your website with a file upload field.
By default, the file types that can be uploaded are limited. But if you're seeing an error message, you can use a plugin to let visitors upload additional file types than WordPress allows by default.
Now, let's dive into our list of the best WordPress file upload plugins.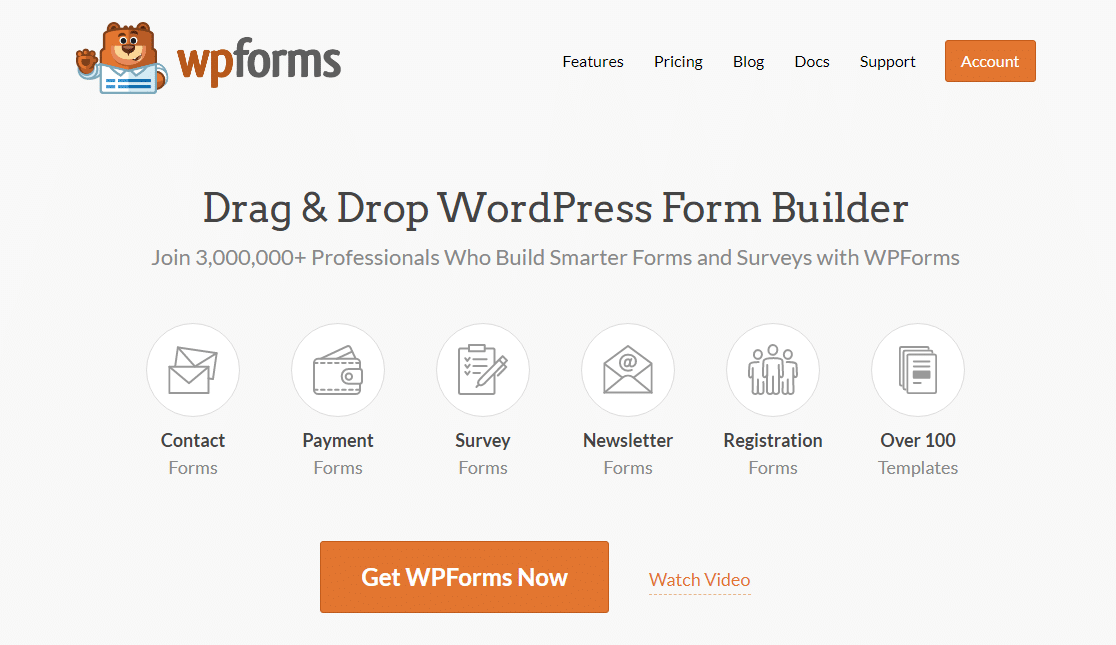 WPForms is the best contact form plugin and WordPress file upload form plugin on the market. It lets you easily create a file upload form in WordPress.
WPForms Pro lets you accept one or even multiple file uploads on your forms. You don't need to paste any HTML to display the form on your site, and you can choose to store the uploads in the Media Library.
WPForms has 2 different WordPress file upload fields. The Modern style field is really neat. It lets your visitors drag and drop multiple files onto the form.
Here's a GIF showing how that works: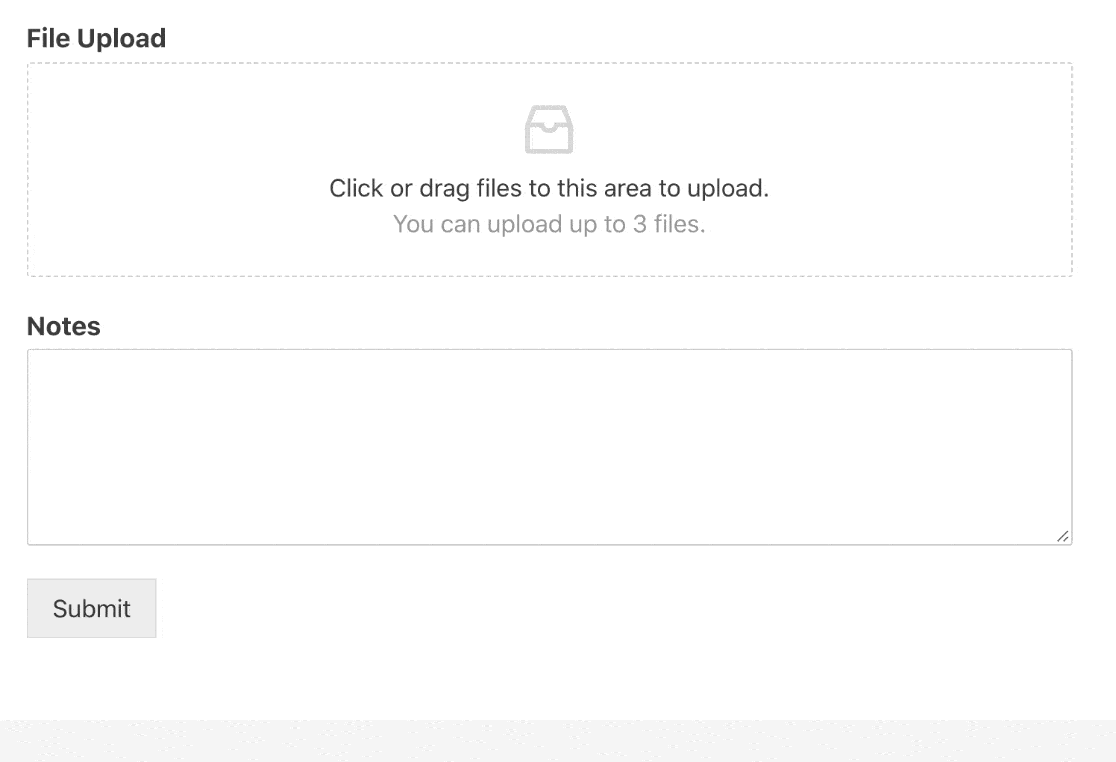 When a file is uploaded, WPForms will display a link to the file in the email notification. To avoid harming your email deliverability, the actual file isn't attached. That helps to avoid filling up your mailbox with attachments.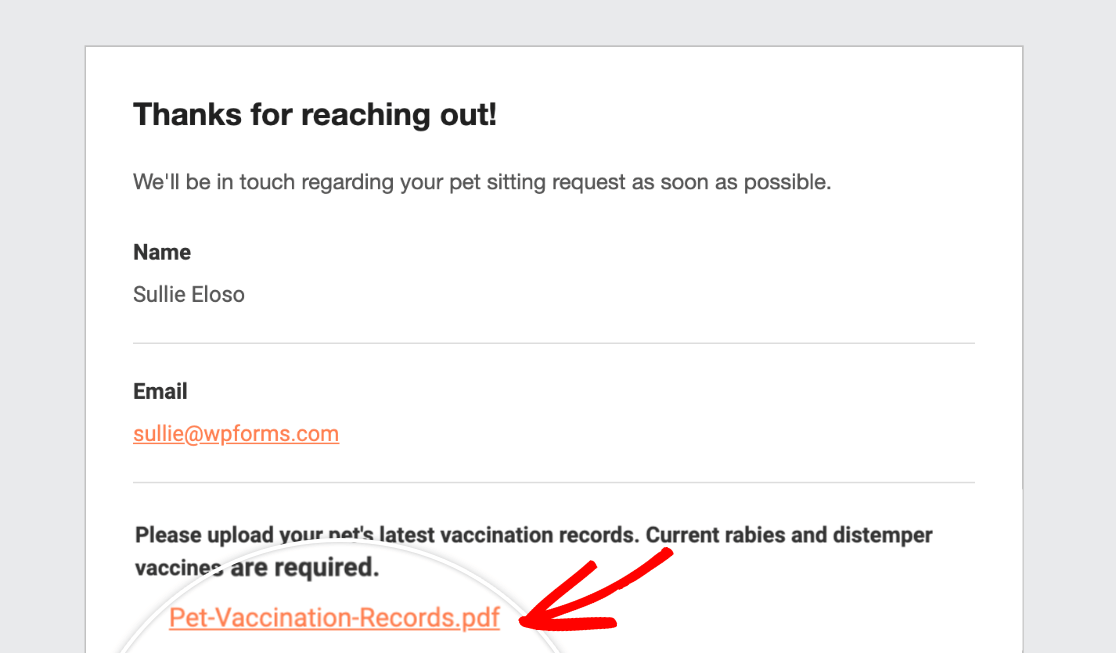 If you want to allow people to add an image to their entry, you can also use the Rich Text field on your forms. This is a great option if you'd like to accept embedded images, rather than getting the entry and the content separately.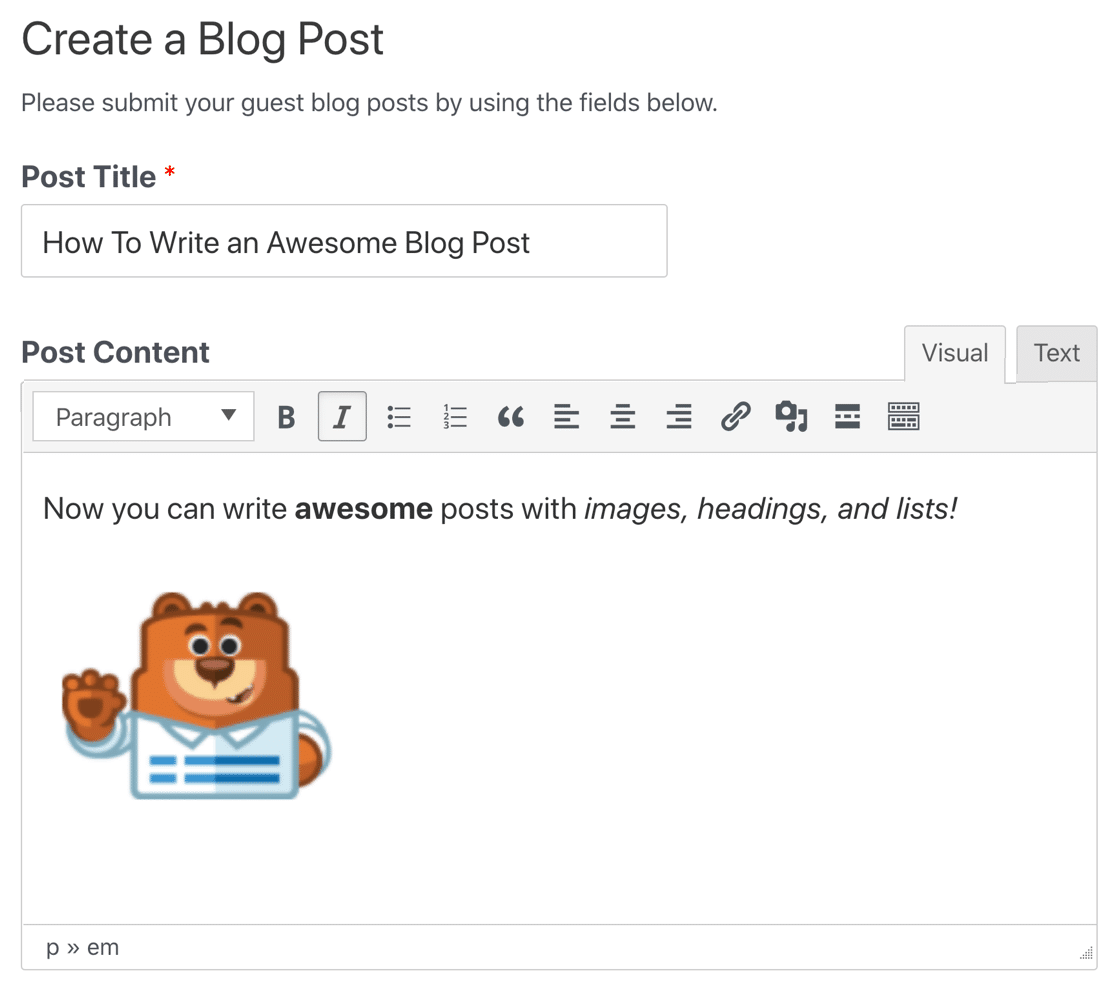 Features:
Drag and Drop File Upload — The plugin is easy to use for both you and your visitors. They can can simply drag their files (yep, multiple files) into the upload field.
Easy to Use — The interface is simple, allowing for a great user experience. Just easily drag the file upload field onto your form, save it, and then use a widget to insert your form into your pages, posts, or even sidebars.
File Size Adjustment — You can set the maximum file size you'll accept on any new form.
File Limits — Set a limit on the number of files with each submission to prevent your visitors from uploading too many files.
AJAX Forms — Lets you accept file uploads with AJAX and no page reload.
Multipurpose — You'll want a contact form plugin on your website to build basic and custom forms. This plugin has tons of functionality, so you can create any kind of form with additional fields.
File Type Adjustment — Choose which file types you want your visitors to be able to load into the form.
Conditional Logic — Show or hide different fields based on previous selections. This is great if you want to keep your forms clutter-free and automatically hide the file upload field unless someone needs it.
Links to Files — Email notifications send you a link to the file, instead of the file itself, a great WordPress security practice so you can avoid emails going to spam.
Organization — Lets you store files in the WordPress Media Library for easy organization.
GDPR features — Easily add a GDPR agreement to your file upload forms.
Well Known — WPForms is widely used and known as one of the best WordPress plugins available.
And here's the best part: you can even send uploaded files directly to Dropbox or Google Drive with the Zapier addon.
Click here to start using WPForms Pro now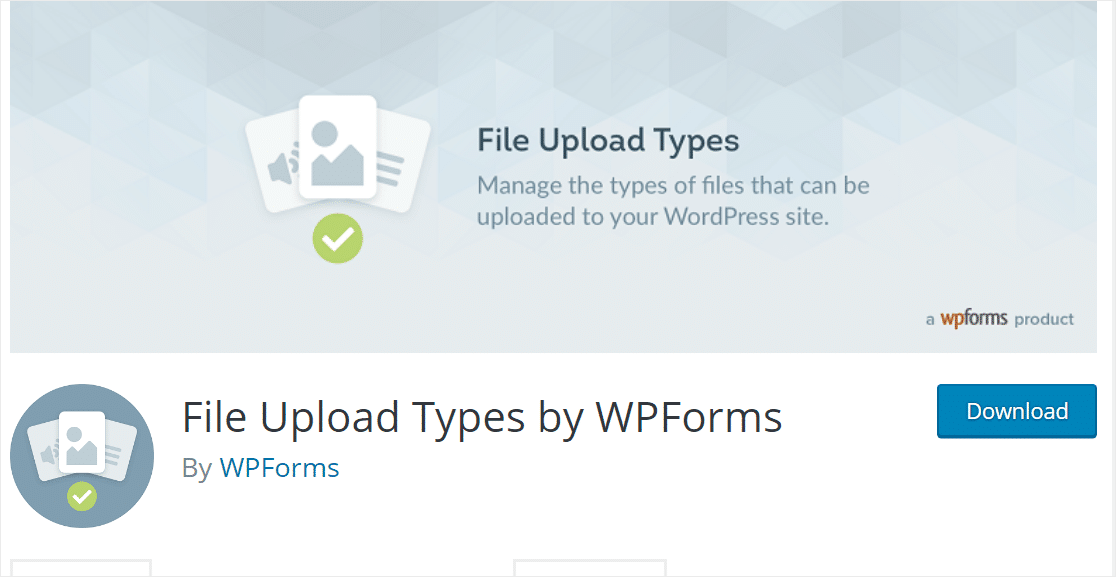 Looking to let your WordPress website accept uploads from your users for more file types or expand the capabilities of your WPForms plugin?
File Upload Types by WPForms lets you do that easily in the WordPress dashboard. It's a free and open-source WordPress file upload plugin developed by the people behind WPForms that lets you easily add support for any file type with any extension or MIME type.
You can see easy it is in the screenshot below.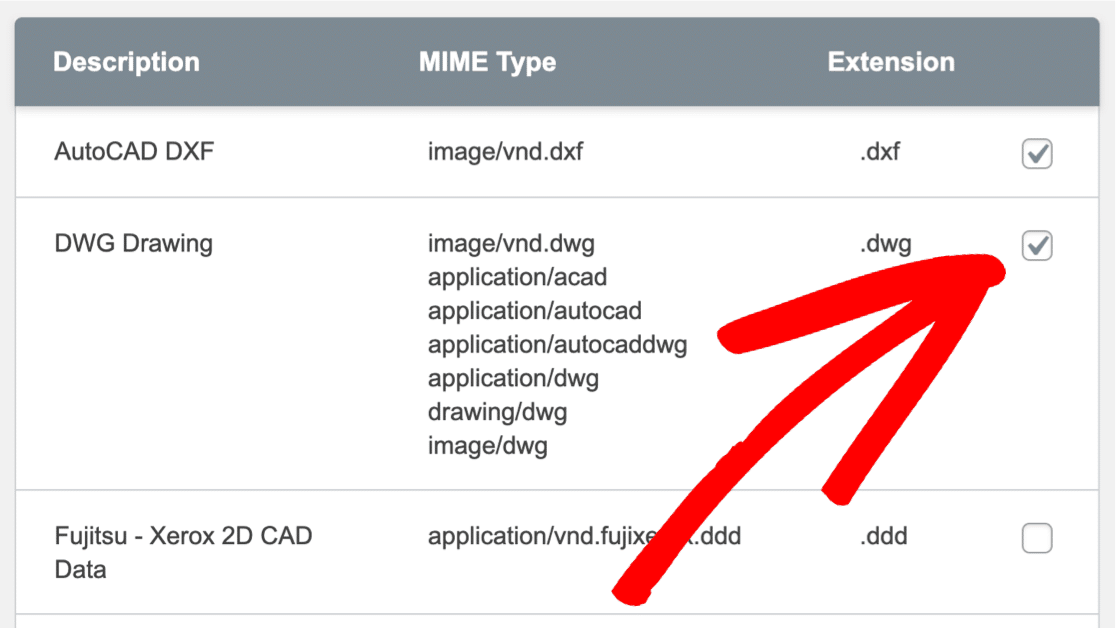 To add support for different types of files, just check the box and save. Once you've done this, your visitors won't see the 'file type is not permitted' error.
We have a tutorial on uploading AI files to WordPress if you want to see how easy it is to add new file types or create custom ones.
Features:
WPForms compatible — Built to work perfectly with WPForms, expanding its capabilities even further
Tons of file types — Upload more file types beyond the limited file extension types that WordPress allows by default
Internal controls — Adjust and control the internal file whitelist in WordPress
Easy to use — Simply click the checkbox next to the extensions you want to allow and unclick the checkbox to remove them
Custom file types — Add your own file types with the corresponding comma separated MIME types
Cost — File Upload Types by WPForms is a free and open-source software
Cost: File Upload Types by WPForms is free to download and use.

The simple and straightforward WP Extra File Types plugin lets you accept a file type upload that might be outside of the default of what WordPress lets you accept (WordPress does this for security reasons).
So if you want to configure your website to accept additional file types, you can install this WordPress file upload plugin and do just that.
Features:
Cost — This is a free, open-source plugin.
Custom File Types — If you want to include a file format or file type that you want to allow on your upload forms, but it's not on the preset list, you can add a custom file type.
Works with WPForms — This plugin lets you expand the file types that your visitors can upload with WPForms.
Cost: WP Extra File Types is free to download and use.
MIME, which refers to "Multipurpose Internet Mail Extensions", is a form of file identification on the web. For more details on MIME and for a list of MIME types, you can view information on MIME on this site.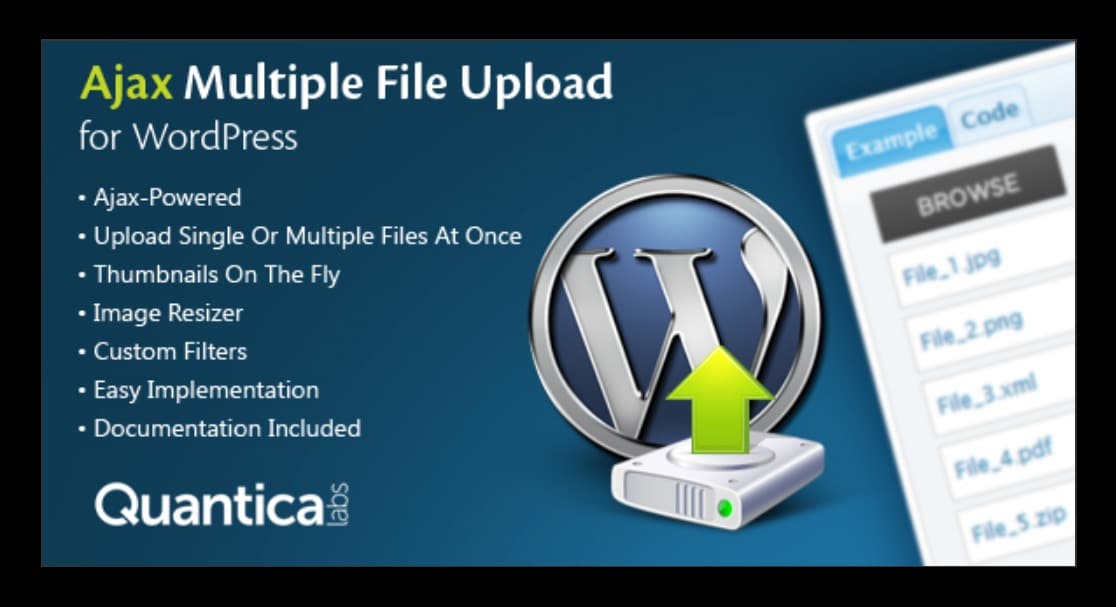 Ajax Multi Upload for WordPress, like WPForms, lets you add file uploads without needing to reload the page. So it provides a smooth user experience.
This file upload plugin is based on jQuery and implemented with a shortcode.
Features:
Low Cost — The cost of this plugin is very low. But it lacks a lot of features and isn't as easy to use as others are.
AJAX Support — Will allow files to be uploaded without needing to refresh the page.
Multiple File Uploads — Lets your users upload just one or even multiple files at the same time.
Image Editing — Includes an image resizer to change the sizes of the uploaded images.
Documentation — Can be a little tricky to install, so documentation on how to do things is included.
Browser Compatibility — The plugin is cross-browser compatible and works on multiple browsers.
Plugin Installation — If you aren't very technical, you may want to pay extra for the plugin installation and set up.
Upload Statistics — View how many files have been uploaded to keep track of things.
Cost: Ajax Multi Upload is $14. You can pay $50 extra to have someone install the plugin since it's not very beginner friendly.

WP User Frontend is a great WordPress file upload plugin if you're accepting guest posts and want to allow user registration on your site. Then, those users will have the ability to upload files, and do other frontend activities on your site.
Features:
Upload Attachments — Registered users can upload attachments from the frontend of your website, keeping the backend admin stuff safe.
Featured Images — Lets users upload featured images for posts, great for accepting guest posts.
Cost: WP User Frontend has a free version and a premium version that starts at $49/year.

Frontend Uploader, similar to WP User Frontend, is more about letting users submit content to your site (good for guest posting). But it does have a file upload feature.
Features:
Multiple File Types — Will handle multiple kinds of file types.
Customizable — If you know how to use shortcode, you can customize it and display it in multiple places on your WordPress site.
Cost: Frontend Uploader is free.

The WP File Upload plugin is a straightforward file upload plugin that will allow your website visitors to upload files. It uses shortcode, and you can take that and add it to pages or posts on your website.
Features:
Shortcode — If you know how to use shortcode, you can place this in different areas of your site.
Multiple Storage Locations — You can decide where you want to send the uploaded files to, like the WordPress Media Library.
Email Notifications — Set up WordPress emails to send out when a file is uploaded.
Page Redirect — Choose to redirect users to another page after their submission.
Cost: WordPress File Upload has a free version and a premium version starting at around $20.
Winner — Best WordPress File Upload Plugin
After a lot of research and searching the internet, we're confident telling you that WPForms is the best WordPress file upload plugin. Here's why:
Because it's also a form builder plugin, you're going to get a ton of miles out of this tool. And having a good form plugin can help skyrocket your conversions and get you more leads and customers. Then, you'll be able to put your file upload forms to work.
On top of online surveys, conversational forms, payment fields, and more, WPForms has an awesome looking drag and drop file upload form field that accepts multiple file uploads, too.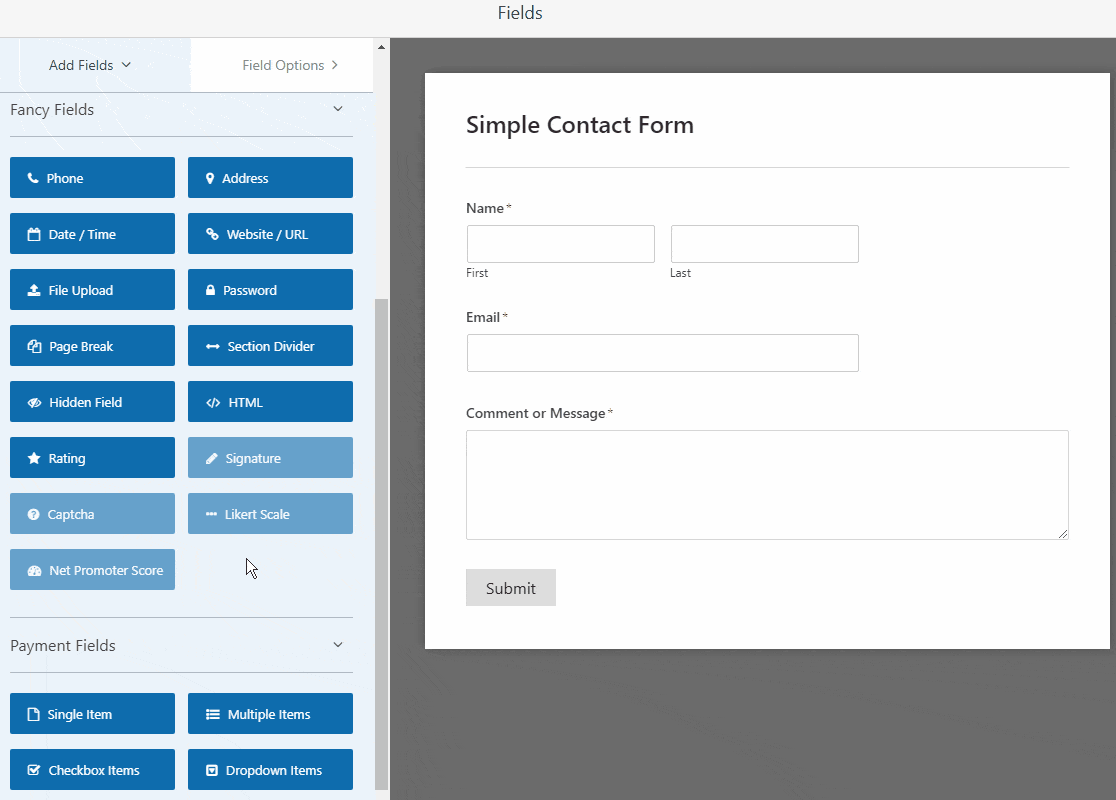 When your form is done, there's an easy embed wizard so you can quickly publish your form to a new WordPress page.
There aren't many file upload plugins out there in general. And the ones that do exist, are hard to install and use, plus most exist for other purposes like guest posting and frontend submissions. So they may not be what you're looking for.
But everyone who runs a website needs easy-to-use contact forms — they are key to growing your email list and small business from your website.
And there you have it! Hopefully, this post helped you find the best WordPress file upload plugin for your individual needs.
Next, Automatically Backup Upload Form Files on Google Drive
Do you want to have your files automatically uploaded to Google Drive? You can! Check out our post on how to create a WordPress Google Drive upload form.
You might also want to learn how to make WordPress registration forms from a template to quickly create login, password reset, and registration forms.
So what are you waiting for? Get started with the most powerful WordPress forms plugin today. WPForms Pro includes a free WordPress file upload form template and offers a 14-day money-back guarantee.
Create Your WordPress Form Now
And if you like this article, then please follow us on Facebook and Twitter for more updates from our blog.