How to Securely Send WordPress Emails Using Gmail SMTP
by Shahzad Saeed on Mar 27, 2017
Looking for a secure SMTP plugin that helps you receive email notifications from your WordPress contact forms? You can use the Gmail SMTP plugin to send WordPress email notifications to your Gmail account, while keeping your login credentials safe. In this post, we'll show you how to set up Gmail SMTP for sending WordPress emails.
Why You're Not Receiving Notifications
By default, WordPress uses the PHP mail function to send emails generated by WordPress or any contact plugin like WPForms.  The most common reason for not getting emails is that your WordPress hosting server is not configured to use PHP mail function.
You can fix this by using SMTP instead of the PHP mail function. SMTP (Simple Mail Transfer Protocol) is the industry standard for sending emails reliably.
Why Use the Gmail SMTP Plugin?
The main benefit of using the Gmail SMTP plugin is that it lets you send WordPress emails securely using your Gmail account without you having to enable less secure apps in your account.
In addition, unlike other SMTP plugins, you won't need to enter your Gmail username and password in your WordPress dashboard where other site users can see them. By using this method, you'll keep your WordPress site secure.
Let's take a look at how to set up Gmail SMTP for sending WordPress emails.
Step 1: Install the Gmail SMTP Plugin
The first thing you need to do is to install and activate the Gmail SMTP plugin. You can see this guide on how to install a WordPress plugin for step-by-step instructions.
Step 2: Create a Web Application
Upon activation, you'll need to visit the Settings » Gmail SMTP page to configure the plugin settings. You'll now be asked to create a new Gmail web application and enter the details in the settings page.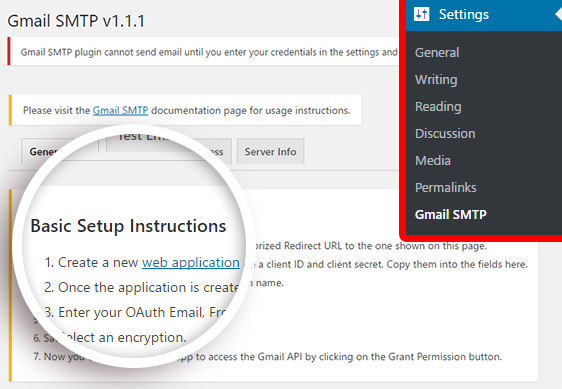 To create an application, go to this page and sign in to your Google account. You can choose to subscribe to the newsletter if you wish. You'll need to agree to the terms of conditions by selecting the Yes option and then, click Agree and continue.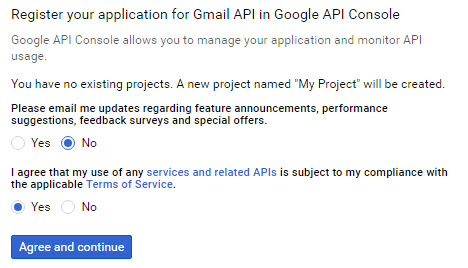 Then, click Go to credentials.

In the next page, you'll be prompted to determine the credentials you need. Select Gmail API from the dropdown menu.
In the field Where will you be calling the API from?, select Web server. In the radio button below, select user data, then click the button What credentials do I need?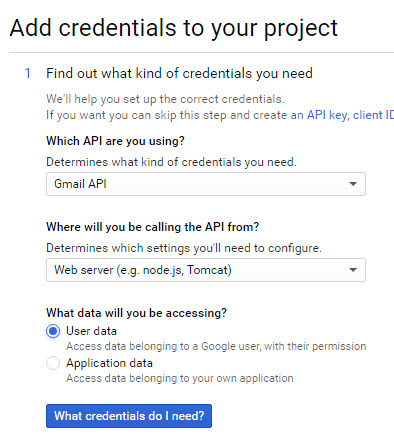 Now you need to enter a name for OAuth client. The name is just for your reference, so you can enter any name you like.
Under Authorized JavaScript origins, enter your website URL.
Now go back to your Gmail SMTP settings page in your WordPress dashboard and copy Authorized Redirect URI. Insert it into Authorized redirect URIs in your Google Developers Console page. Then, click Create client ID.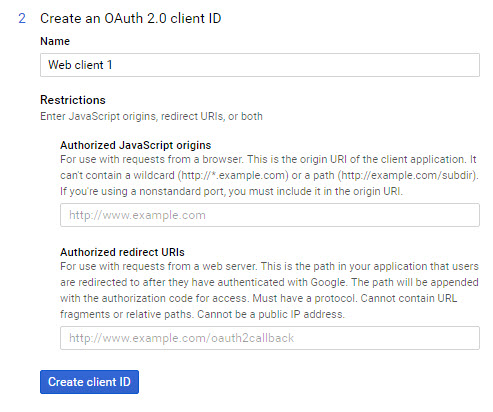 In the add credentials step, you'll be shown your email address and will be asked to specify a preferred product name. Then, click Continue.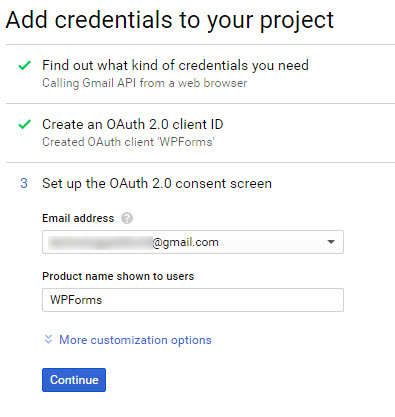 You've now successfully created the web application. Then, click I'll do this later.
Step 3: Configure the Gmail SMTP Plugin
In the Credentials page, you can now see the details of the web application you just created. To view Client ID and Client Secret, click the edit icon.

Now copy Client ID and Secret and insert it into the Gmail SMTP settings page.
To enter other details, just follow the instructions below.
OAuth Email Address: Enter the email address you used to create the web application.
From Email Address: Use the same email address you used in the above field. Bear in mind that you'll need to use the same email in the Send From setting in your form notifications.
From Name: Enter the from name you would like to display in your email.
Type of Encryption: Select TLS from the dropdown menu.
SMTP Port: 587
You may disable the SSL certificate verification by selecting the checkbox.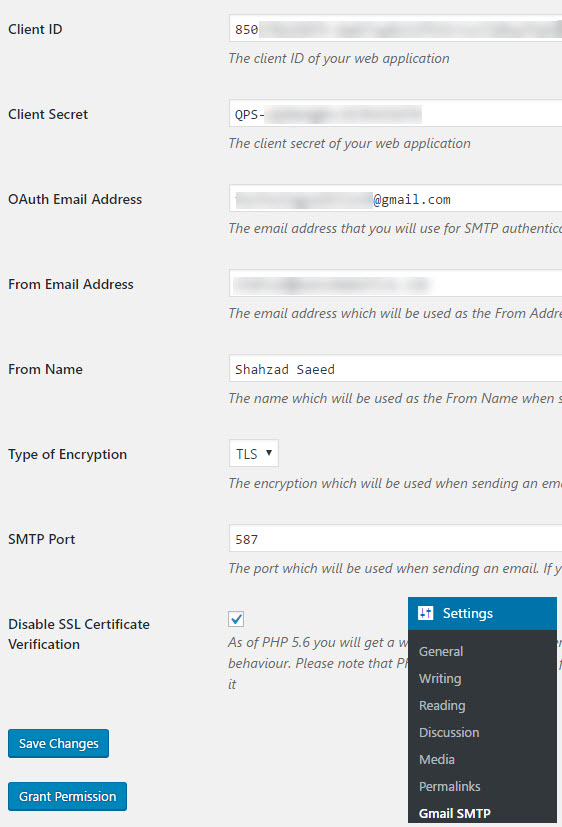 Then, select Save Changes.
Now scroll down the settings page. Just below the Save Changes button, you'll now see a Grant Permission button. Click on it.
You'll now be redirected to a page where you'll be asked to allow the web application you just created to read, send, delete and manage emails. Click Allow.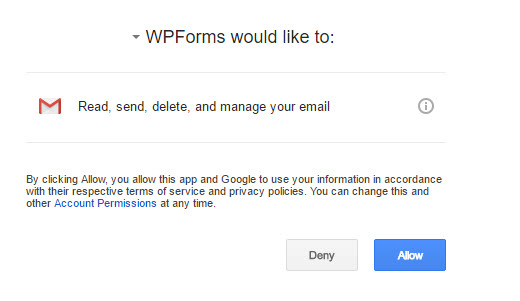 Now go back to the plugin settings page. You can now see the SMTP status as connected.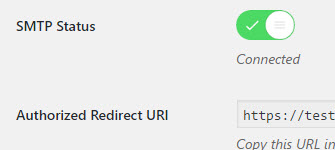 Step 4: Send a Test Email
Now that we've configured the plugin, let's send a test email and check if you're receiving it in your Gmail inbox.
To send a test email, click the Test Email tab, specify the To, Subject and Message fields. Click the Send Email button.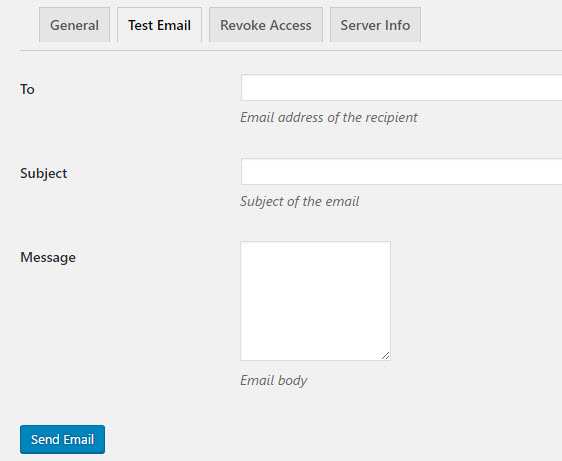 If everything was done right, you'll now see the test email in your Gmail inbox.
That's it! You've successfully configured SMTP on your WordPress site. You'll now start getting notifications from your WordPress forms.
There are lots of different ways to configure SMTP on your WordPress site to get the form notifications. You can take a look at a few more ways to configure SMTP on your site.
What are you waiting for? Get started with the most powerful WordPress forms plugin today.
If you like this article, then please follow us on Facebook and Twitter for more free WordPress tutorials.