Are you looking for the best WordPress eCommerce plugins to build and grow your online store?
Picking the right eCommerce plugins is crucial if you want to add all the functionalities of a top online store to your site.
We've compiled a list of the best eCommerce plugins for WordPress that can help you increase sales and grow your business.
WordPress eCommerce: What to Look For In A Plugin
It's super important to have the right tools and plugins for your site. If you make a mistake in choosing your WordPress eCommerce plugin, it can be frustrating to research your options again and switch to a different one.
So, when you're looking for a good eCommerce plugin, you should make sure that it has the following features:
Ease of Use: Make sure your eCommerce plugin has an easy setup and functionalities that beginners and non-technical users can easily understand.
Offers Payment Solutions: You'll want plugins that allow popular payment gateways so you can enable your customers to easily purchase from your store.
Integrations: Look out for other apps that your plugin can integrate with such as email marketing services, social media, customer chat tools, etc. to seamlessly manage your online store. For eCommerce, you might be particularly interested in plugins that integrate well with PayPal.
Customizations: It's very important that your eCommerce plugin has enough customization options to allow quick changes to your store's design and functionalities without working through code.
Solid Customer Support: If you're spending money on a plugin, don't accept one that doesn't offer exceptional customer service.
Best WordPress eCommerce Plugins
Let's jump right into our list of the best tools to use for your eCommerce store.
Remember that you may only need one of these because using multiple eCommerce plugins can cause functionality problems across your site.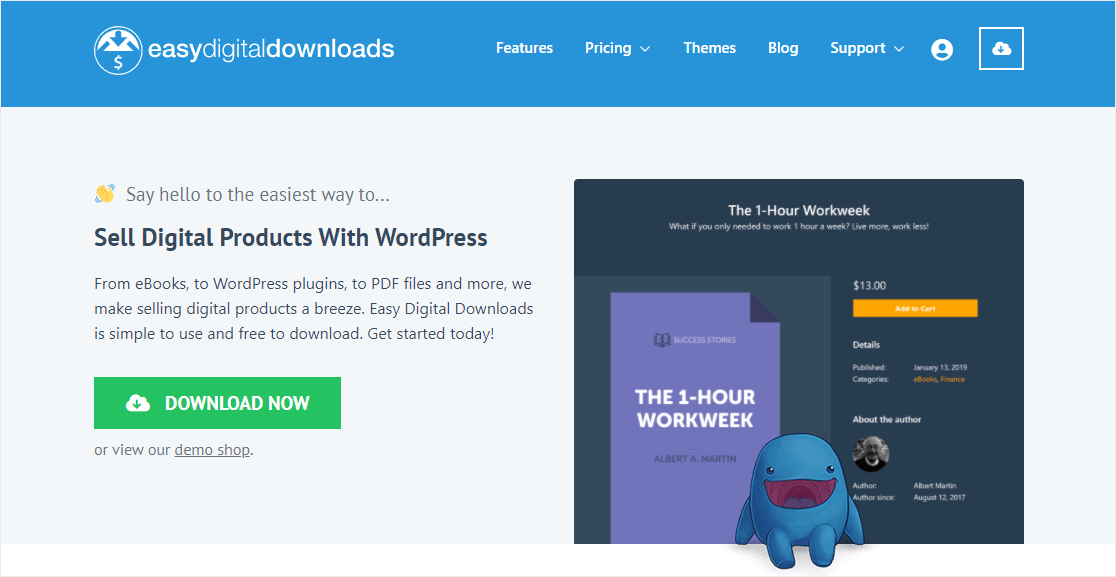 Easy Digital Downloads (EDD) is the simplest yet the most powerful WordPress plugin for eCommerce stores selling digital products. For instance, if your store is selling digital products like eBooks, video games, programs, and apps, then EDD is the best eCommerce plugin for WordPress that you can have.
EDD is very lightweight so it doesn't slow your site down at all. Despite its small size, it has all the core features that enable you to sell your digital product without any hassle. EDD has tons of built-in themes that let you design and customize your eCommerce store as per your preference.
In addition, EDD provides various options for picking payment gateways of your choice. It is also one of the few WordPress eCommerce plugins that include a full shopping cart, so you can manage your sales without needing any extra add-ons.
Besides, EDD has a simple but super helpful activity tracking feature. With this tool, you can monitor sales and downloads in detail. For every file downloaded from your online store, EDD keeps a record of date, time, and IP addresses.
Plus, it provides detailed data reporting which includes downloads and sales statistics to help you track how well your online store is performing.
Features:
Designed specifically for digital products, so it has no confusing physical product options
Generates in-depth data reports so you can sales statistics at a glance
Provides many built-in themes and works well with most standard WordPress themes
Beginner-friendly with simple setup and settings
Great support options include forums and premium support for paid users.
Pricing: Easy Digital Downloads starts at $99/year for a paid plan.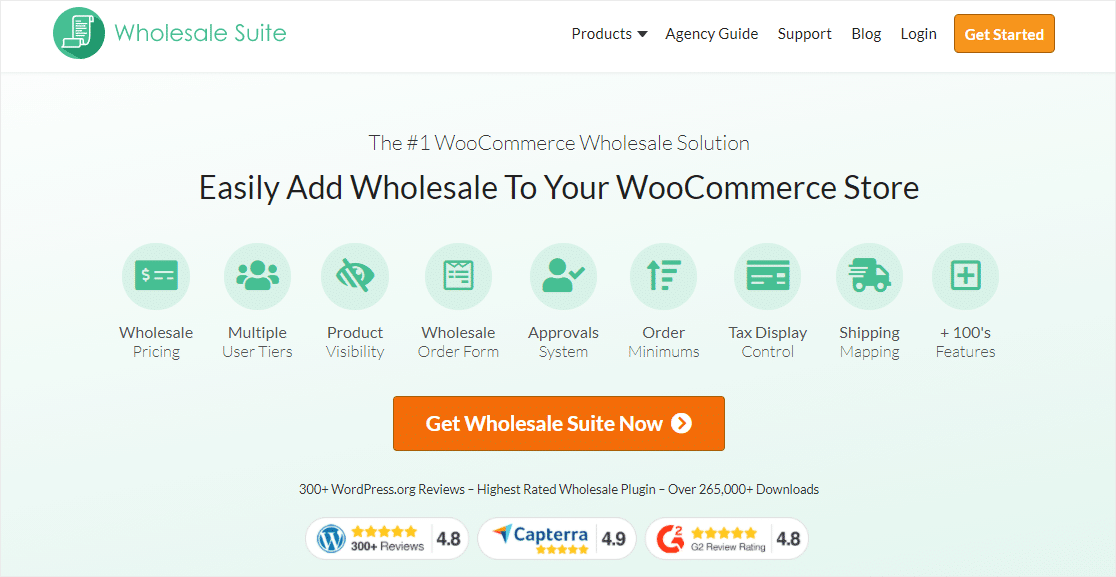 Wholesale Suite actually includes 3 plugins: Wholesale Prices, Wholesale Order Form, and Wholesale Lead Capture. All of them integrate with WooCommerce and include features that make it easy for you to sell products both directly to consumers and to businesses that will then re-sell the items to end users.
Wholesale Prices lets you add reduced prices to your products for customers who buy in bulk. It also adds a special user role to your site so that only wholesale customers can see this lower pricing option. Customers are charged the retail price or the wholesale price based on the type of account they have.
Wholesale Order Form helps you create a catalog of all your wholesale products. This lets customers easily find the items they need to purchase. Plus, returning customers can quickly reorder products they've purchased in the past, making the process super smooth and simple.
With Wholesale Lead Capture, B2B customers can sign up for the special wholesale buyer accounts they need to access the lowered prices you set using Wholesale Prices. You can manually approve these accounts to make sure only legitimate wholesalers can access your discounted prices.
The entire suite of plugins really simplifies all the work it takes to manage an online wholesaling business, so it's a must-have if you're going to break into this niche.
Features:
Set separate wholesale and retail prices for your products
Create wholesale customer accounts so buyers can easily log in and access your discounted prices for bulk purchases
Make a wholesale products catalog with easy reordering for returning buyers
Let users sign up for wholesale customer accounts and approve or reject them to prevent people from taking advantage of your discounts.
Pricing: Wholesale Suite starts at $148.50 for your first year.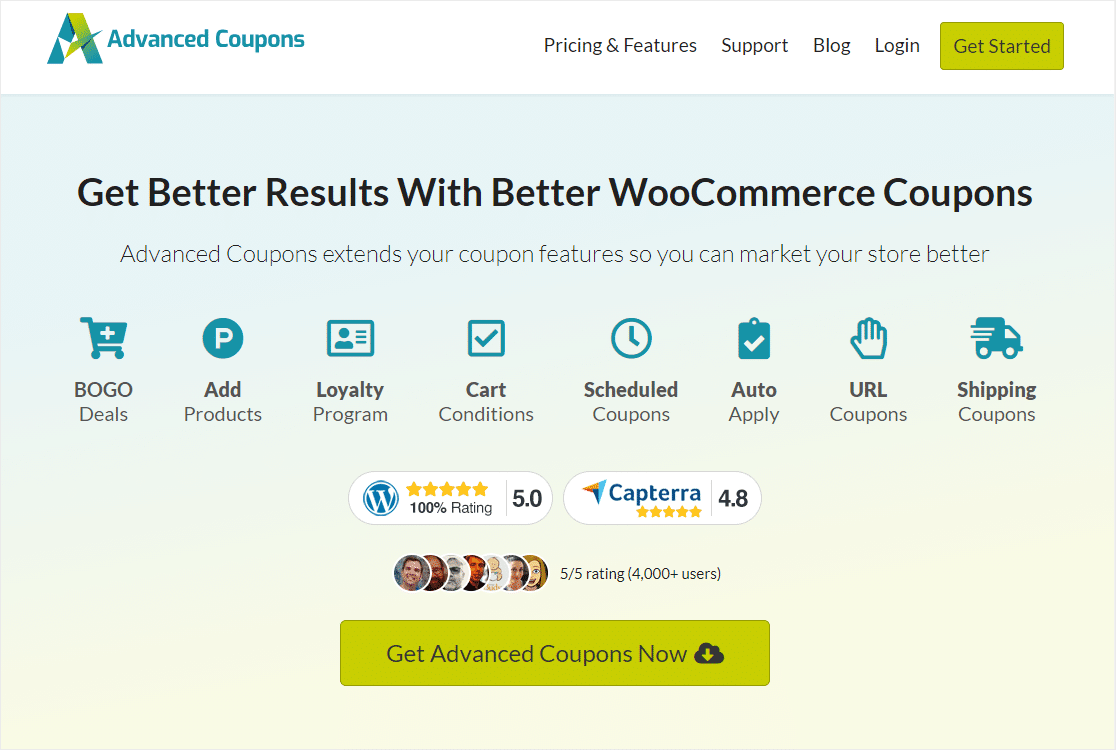 Lots of eCommerce plugins let you offer coupons. Even WPForms lets you add a coupon code to your order form without having to install a separate eCommerce plugin! But if you have a large online store that runs lots of different types of sales, Advanced Coupons can make your life a lot easier.
Most notably, Advanced Coupons integrates with WooCommerce to help you set up BOGO (Buy One, Get One) coupons super easily. You can also set expiration dates on your discounts, create your own loyalty program, or require customers to have certain items in their carts to use a discount code.
Features:
Set up BOGO coupons and other complex discounts with specific conditions
Create a loyalty program for your eCommerce site and give returning customers special deals
Automatically end your coupon campaigns with set expiration dates
Use cart conditions to require customers to have certain products in their carts or to reach a minimum subtotal in order to use a discount code.
Pricing: Advanced Coupons starts at $59 for your first year.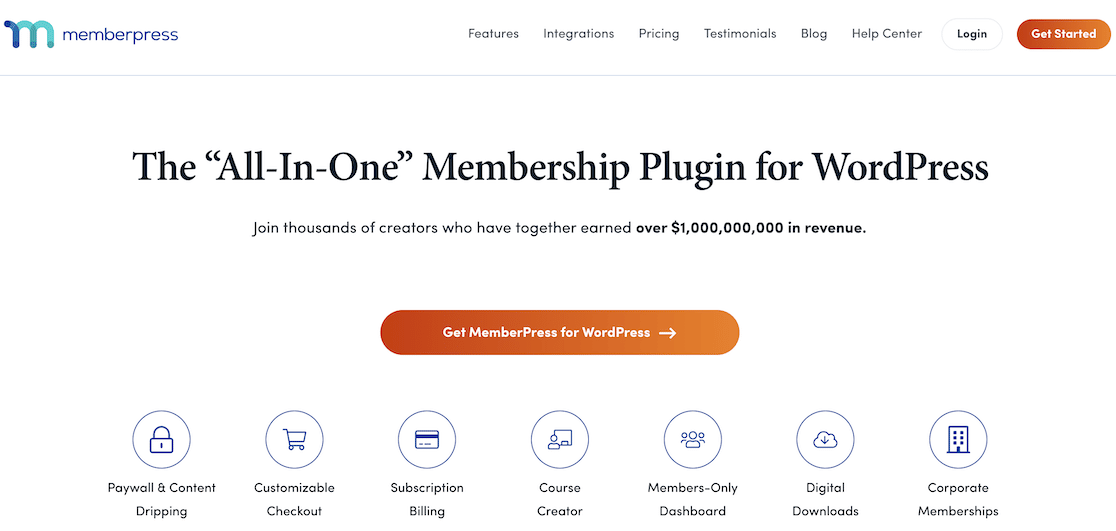 MemberPress is an excellent plugin for eCommerce sites selling digital subscriptions for products and services. It provides an easy selling solution to websites offering products like educational courses, paywalled content, membership plans, and so on.
MemberPress also integrates with WooCommerce and integrates with third-party services like LearnDash LMS.
Features:
Includes a course builder so you can make and sell your courses and build an online learning platform right through the plugin
Provides content dripping feature to release members-only content in episodes over a selected period of time
Access controls allow you to set content restrictions and paywall content that is accessible only to paying members.
Pricing: MemberPress starts at $179/year.
Alternative: MemberMouse.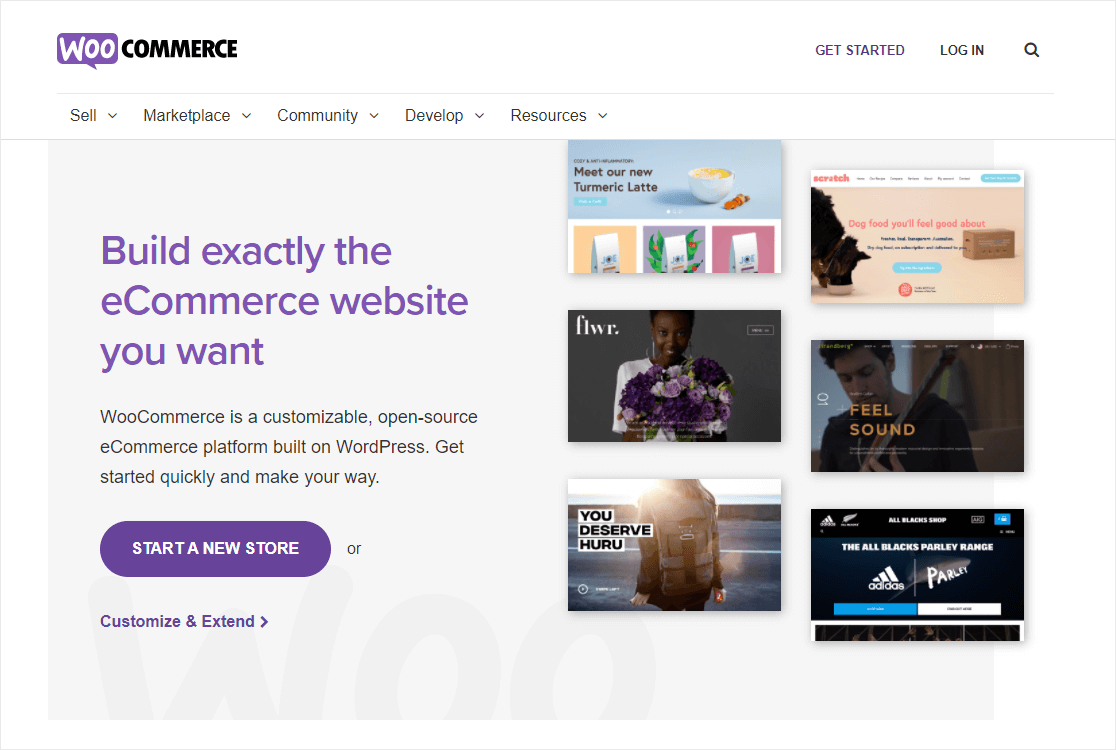 WooCommerce is the most popular WordPress eCommerce plugin available. It has tons of excellent features that help you grow your online store and make your customers' journey smooth and satisfactory.
WooCommerce provides a lot of flexibility to WordPress store owners. You can use it to sell physical and digital products. However, since it has so many features, it's not the best solution for digital-product-only stores.
WooCommerce has an excellent community of developers that keep the plugin fresh and updated with cool new features. This is why it supports a huge range of add-ons, themes, and other integrations.
For instance, WooCommerce comes with built-in support for all the top payment gateways and allows you to add even more options with third-party extensions. Also, it has a powerful inventory management tool for efficient management of your entire product range online.
Features:
Provides built-in support for major payment gateways
One of the best support communities among all eCommerce WordPress plugins
Excellent flexibility so it supports both physical and digital products
A huge collection of supported themes and customization options.
Pricing: The WooCommerce plugin is free, but you can add paid extensions and WooCommerce plugins to unlock extra features.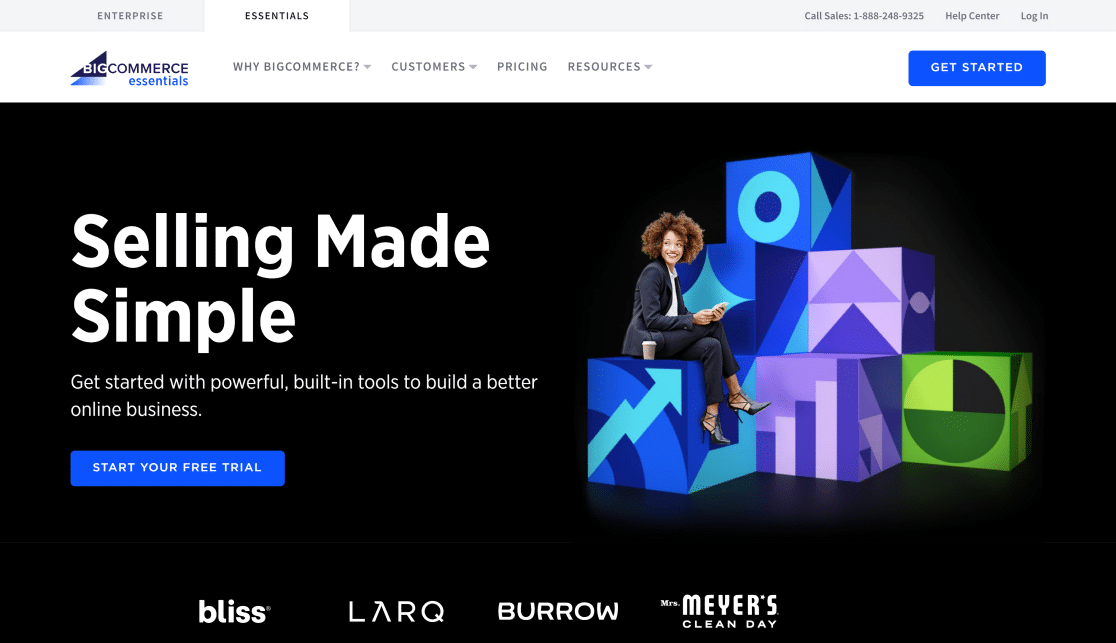 BigCommerce is a fully hosted eCommerce platform but it also integrates seamlessly with WordPress with its plugin.
The plugin provides all the powerful features of the BigCommerce stand-alone platform while also taking advantage of WordPress's super-flexible content management system.
It supports over 65 payment gateways, including popular ones as well as some lesser-known options. BigCommerce works with any WordPress theme and is built for large online stores having complex inventory and catalogs. So you get excellent scalability with BigCommerce.
Features:
Provides dozens of popular payment gateways for no additional charges
Comes with excellent customization options for your eCommerce store
Allows you to also sell and promote products on Amazon, Instagram, and Facebook
Automatically makes important pages like sign-in, shopping cart, account, and more.
Pricing: BigCommerce starts at $29.95/month.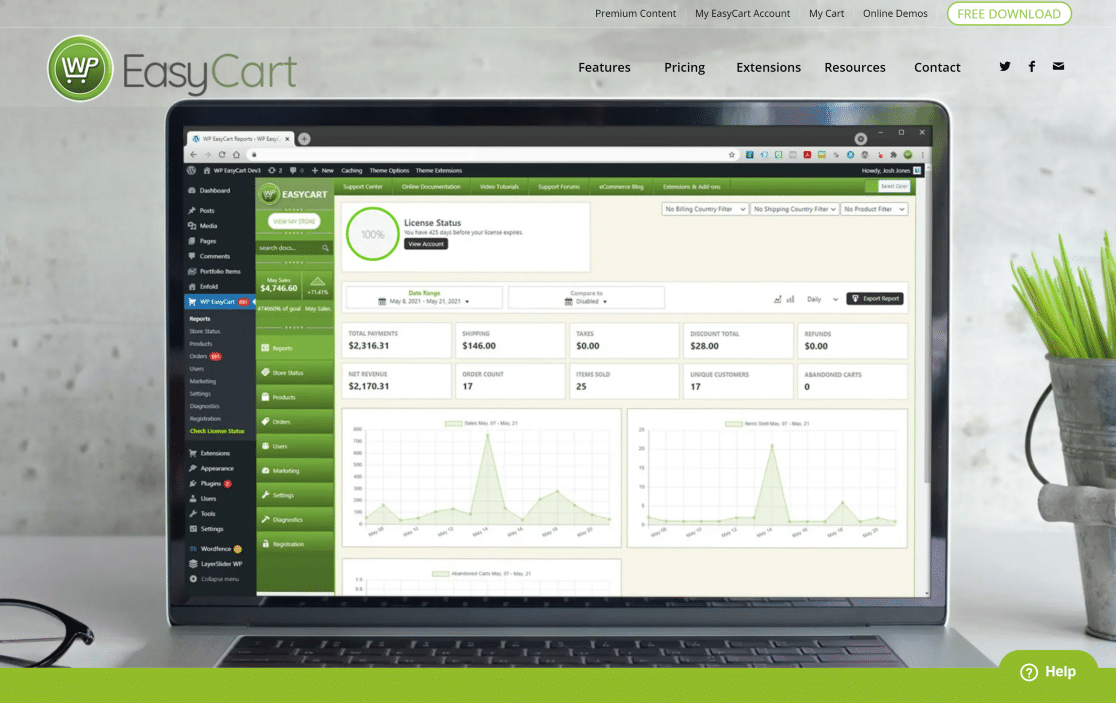 WP EasyCart is a very user-friendly WordPress eCommerce plugin that expects zero development knowledge from you to use it effectively.
The best thing about WP EasyCart is that it is geared towards small business owners who are just starting out. It has a quick setup process and integrates seamlessly with third-party services like MailChimp and ShipStation.
Features:
Very good customer support is available for free with active forums and video tutorials
Supports physical products as well as digital products like eBooks and video content.
Very simple to use for non-technical users.
Pricing: WP Easy Cart is a freemium plugin. The premium account starts from $99/year.
Which Is The Best eCommerce Plugin for WordPress?
There are tons of options to choose from when it comes to WordPress eCommerce plugins. But if you're a store that sells digital products, then the best plugin is Easy Digital Downloads (EDD).
EDD makes digital selling extremely simple for both small and large websites. It is extremely lightweight so it allows your website to load fast and provides tons of customization options.
Moreover, it comes with:
A variety of built-in themes of its own and also integrates seamlessly with most WordPress themes
Detailed data reports to access sales summary and statistics at a glance
Excellent support via forums and online community of users and developers
Core features are available for free.
However, if you're primarily selling physical products, then we strongly recommend WooCommerce. It is free and comes with an excellent range of add-ons, extras, and integrations to help grow your eCommerce store.
And that's it! We hope this list of the best WordPress eCommerce plugins helps you expand and take your online store to the next level of consistent sales and lead acquisitions.
Next, Skyrocket Your Lead Generation
Do you want to capture more leads and grow your email list? Check out our list of best WordPress lead generation plugins and start acquiring more leads than ever before.
And if you want to accept payments via Stripe for your eCommerce store, check out our post on Stripe for WordPress.
Also, if you're looking for free tools, have a look at our list of free form builder plugins you can use to create visually appealing forms!
Create Your WordPress Form Now
Ready to build your form? Get started today with the easiest WordPress form builder plugin. WPForms Pro includes lots of free templates and offers a 14-day money-back guarantee.
If this article helped you out, please follow us on Facebook and Twitter for more free WordPress tutorials and guides.