Custom Interactive Calculators
Effortlessly build custom calculators with our intuitive drag-and-drop editor. Give your forms the number-crunching power to compute totals, discounts, taxes, and shipping costs using customizable formulas and logic.
Create Powerful, Custom Calculation Forms, No Code Needed
Drag-and-Drop Calculator Builder

Effortlessly create simple or complex custom calculators with our user-friendly visual builder.

Dynamic Calculation Fields

View instant results that dynamically change on user input.

Pre-Built Calculator Templates

Get started with dozens of pre-built calculators for business, health, finance, and more.

Advanced Order Forms

Automatically calculate shipping, tax and discounts for your eCommerce store, in any currency.

Conditional Formulas

Use logical operators and if-then statements to create custom quotes or smart calculators.

Built-in Functions

Use integrated mathematical functions to round numbers, calculate time range, average, and more.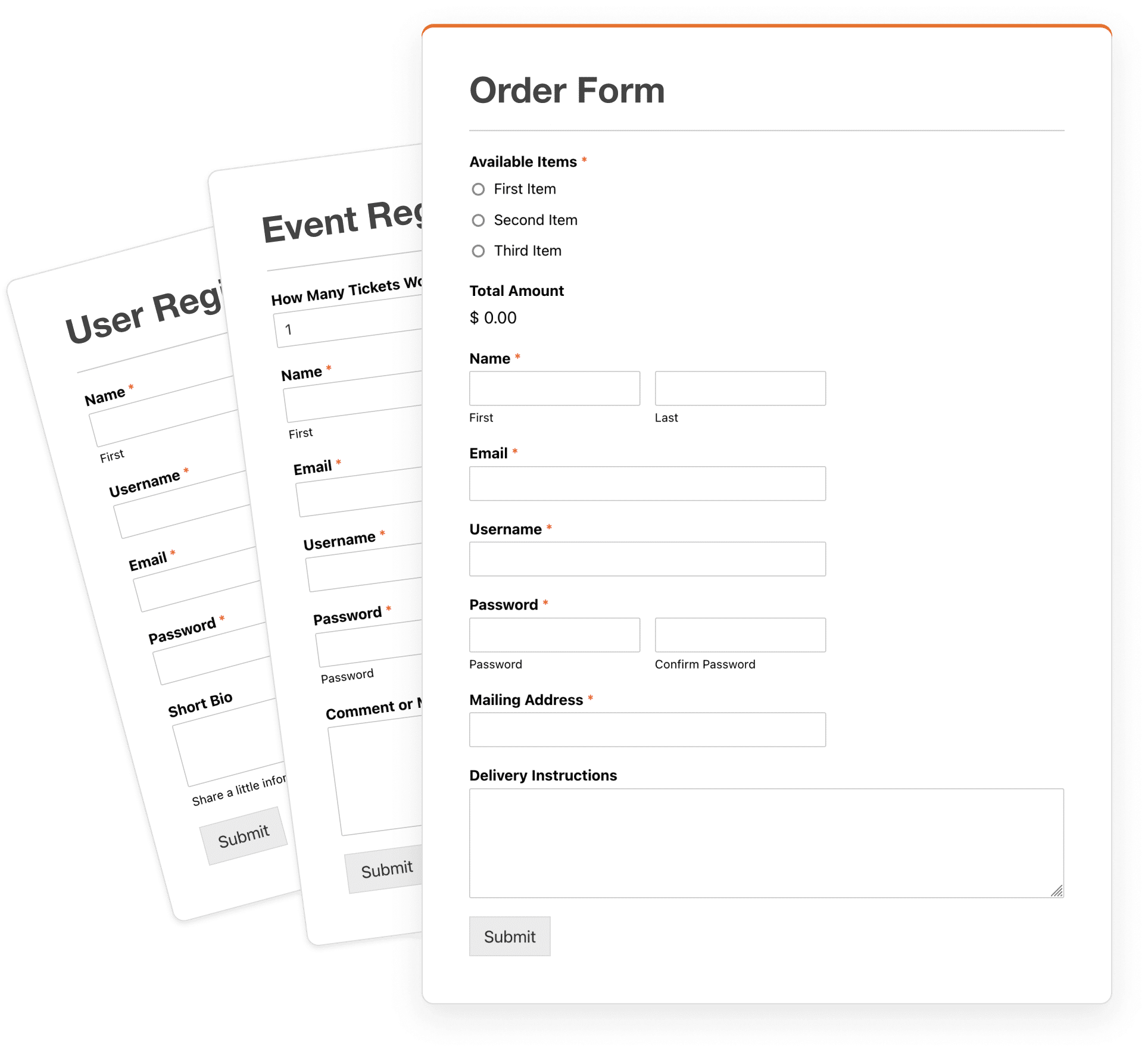 Add Calculations to Any Form
Create custom interactive calculators for any industry or enable calculations in standard form fields.
Mortgage and loan calculators
BMI, ideal weight, and health calculators
Compound interest and financial calculators
Order and quote forms
Travel planning and booking forms
Random number generators
Self-scoring quizzes
…and many more!
Is the Math Starting To Add Up Yet?
Looking for a WordPress calculator plugin that's user-friendly and powerful? WPForms does the hard work for you.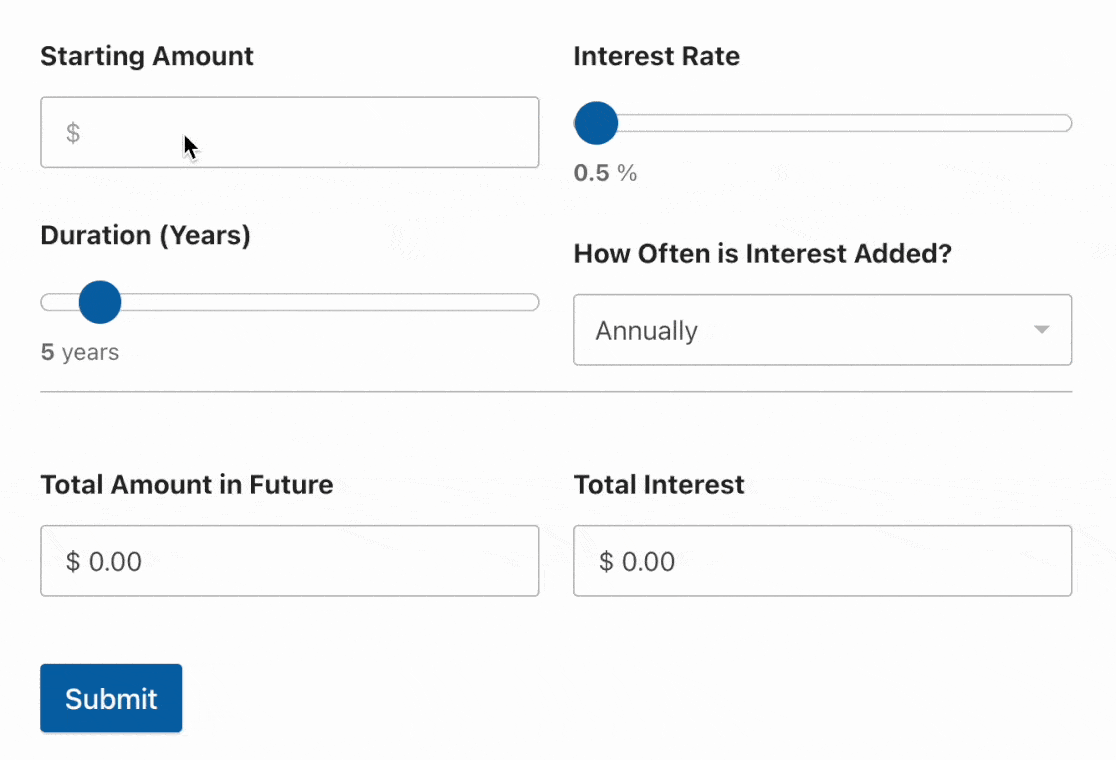 Multiply Your Business Success
Whatever industry you're in, creating custom, interactive calculators for your users could be your secret weapon for capturing valuable leads.
With niche-specific calculators customized to your users' needs, you can attract targeted search traffic.
Add a simple email field to your calculator, and users will willingly sign up to receive their personalized results.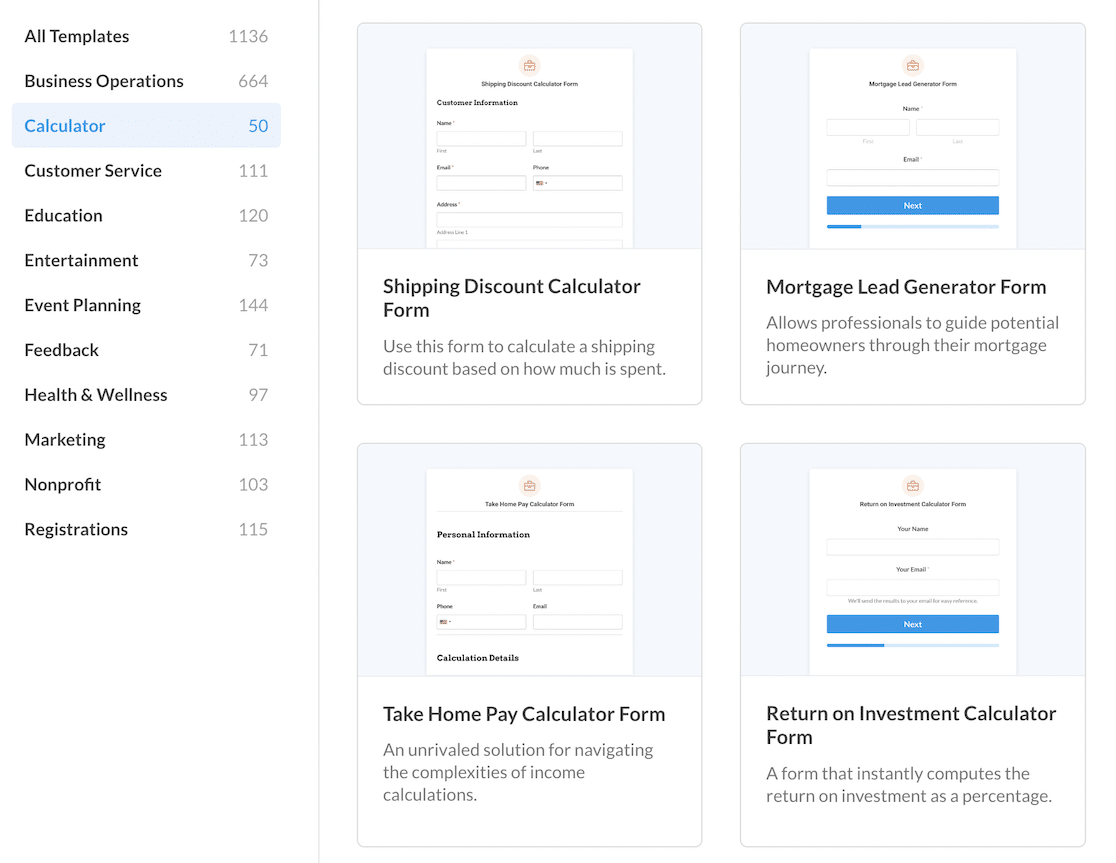 Calculator Template Library
Don't want to spend time creating a form from scratch? No problem!
WPForms users get access to a selection of ready-to-use calculator forms with clever formulas built right in.
You can use them as they are or customize them to your needs. And when you're ready to experiment with your own forms, our handy cheatsheet and formula examples will guide you along the way.
Do More With Your Calculation Forms
WPForms is packed with features that seamlessly integrate together to create the most powerful forms on WordPress.
Calculate Payments and Taxes

Automatically calculate totals, discounts, taxes, and shipping, and take payments via built-in integration with Stripe, Paypal, and other payment gateways.

Control Calculator Access

Restrict access to your calculators with the Form Locker addon.

Customized Results Emails

Automatically send users the results of their calculations in personalized notification messages.

Smart Conditional Logic

Show or hide form and calculation fields based on previous input from the user.

Enable File Uploads

Allow users to upload media files in a custom quote or order form.

Google Sheets Integration

Automatically save calculation form entries to a Google sheet.

Conversational Forms

Walk users step-by-step through completing a custom quote form or other calculation to boost form completion rate.

Capture Leads

Automatically save user details and integrate the data with your CRM or marketing platform.

Segment Users

Integrate with popular email marketing platforms and add users to segmented lists based on their interactions with your calculator forms.

Connect With 6,000+ Apps

Use the WPForms Zapier addon to send data from calculation forms directly to other web apps.
"The user interface is very smooth, and quite quick. It does open a separate screen for form creation and editing, but I suspect it does this to improve flow and speed."

"I've used this plugin on several sites Ive built and its perfect easty to use, and just works. Very grateful that this plugin exists."

"I don't know why the existing form plugins never thought of templates. 99% of people installing this plugin want a simple contact form. Instead of you having to build it, you click the Simple Contact Form template and its built for you!"

"This plugin has helped me a great deal when building websites in WordPress. Its ease of use as a new site designer is very much appreciated. "

"I was very impressed with the ease of use and functionality for the robust form I needed to create. I hadnt done one in awhile and it was easy to figure out and follow instructions. Thanks!! I really appreciate your product."

"I love this plugin. Its compatible with my theme and VERY easy to use. It is also a nice clean looking form."
Frequently Asked Questions and Resources
Do you have a question about WPForms or the Calculations addon? See the list below for our most frequently asked questions. If your question is not listed here, then
please contact us
.
To create a calculator in WordPress, first download the WPForms plugin if you haven't already, and install it along with the Calculations addon. WPForms comes with 1,200+ customizable form templates, including 50+ calculator forms, to get you started.

No coding experience is required to add calculations to the forms you create with WPForms. Our drag-and-drop builder is designed to be intuitive and user-friendly, enabling even those with no technical background to create interactive calculators effortlessly. And there are even pre-built calculation form templates available and ready for you to customize or use right out of the box.

You can create a wide range of calculators with WPForms, including financial calculators, health calculators, pricing calculators, mortgage calculators, and more. You can also add calculations functionality to order forms, payment forms, and other types of forms. The possibilities are virtually limitless, and you can tailor them to your specific needs.

Yes, you can fully customize the appearance of the calculators you create with WPForms. You can change colors, borders, button styles, and layouts to ensure they match your brand's aesthetics seamlessly. Or add custom CSS to have full control over how your calculator forms look.

Integrating your WPForms calculation forms is simple. When you publish your form, you have the option to create a new page for your form or to embed it in an existing page. You can also embed forms manually as a WordPress block or with a shortcode.

Yes, you can collect user data by adding input fields to your calculators. Users can enter information like their email addresses or other details, allowing you to capture leads and personalize follow-up communication.

Yes, we offer a variety of pre-designed templates for common calculator types. You can use these templates as a starting point and customize them to meet your specific requirements.

Yes, you can export the data collected from your calculators and other forms as CSV or XLSX file for further analysis or integration into your business processes.
Sneak Peek Under the Hood
Here are screenshots of exactly what the Calculations addon looks like within the plugin.