PayPal Commerce
Need an easy way to take PayPal payments and credit cards on your WordPress site? The WPForms PayPal Commerce addon makes it easy. Quickly set it up with a few clicks.
Grow Your Business With One-Time or Recurring Payments
Take PayPal Payments in WordPress

Easily accept PayPal payments anywhere on your site.

Accept Credit Cards Easily

Securely accept payments via PayPal's customizable credit card fields.

No Hidden
Fees

Process payments on your site without worrying about additional fees. We don't charge you per transaction.

Set Up Recurring Payments

Easily set up automatic subscriptions for recurring service contracts, donations, and more.

On-Page Modal Support

Prevent users from leaving your site to go to PayPal. They can pay within a modal on your site.

Incredibly Helpful Support

No matter how easy something can be, it doesn't hurt to have a little help. Our team is available if and when you need it.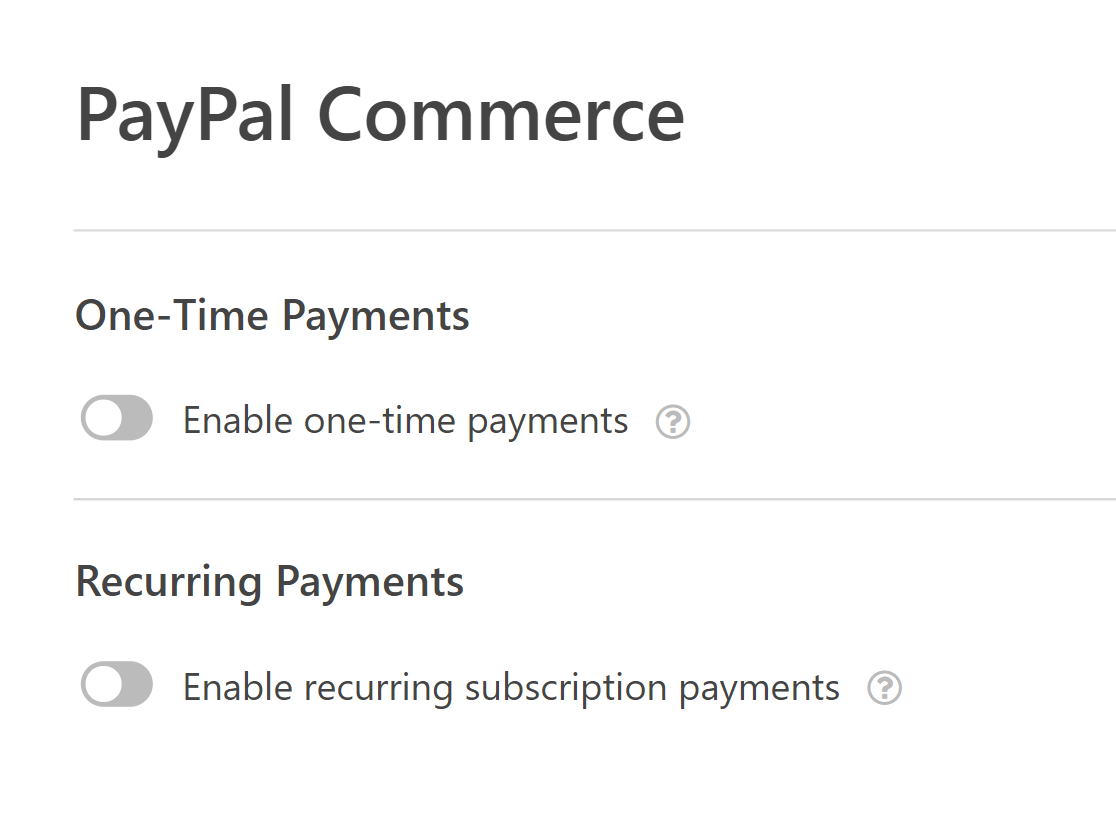 It's Never Been Easier to Take Payments
Take PayPal payments through any WordPress form.
Add credit card fields and process orders through PayPal.
Combine PayPal and credit card options on one form.
Automate recurring payments and subscriptions through PayPal.
Use powerful conditional logic to control how your payment forms work.
Do More With Your Payment Forms
WPForms is packed with features that seamlessly integrate with each other to create the most powerful WordPress forms.
Customize Payment Notifications

Easily edit notification messages that users receive after making a payment or donation.

Register Users on Payment Forms

Take payments on a form and register a user account for the customer at the same time.

Accept Paid Post Submissions

Allow users to submit posts to be published on your site and accept payment for the inclusion.

Recover Form Abandoners

With advanced form abandonment detection, follow up with users and save potentially lost sales.
Still scrolling? You're a researcher, that's great!
Here's more helpful information that showcases why WPForms is the solution you need.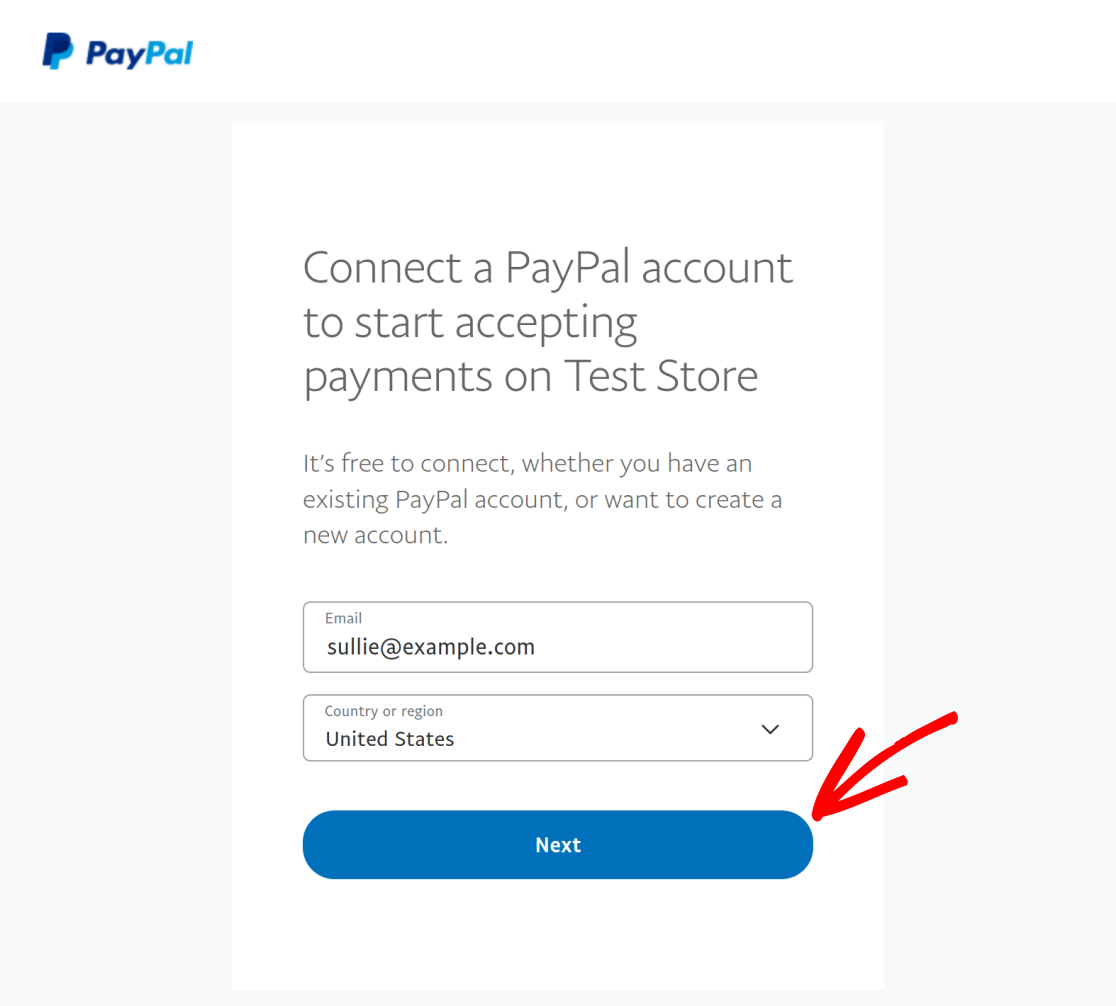 Connect to PayPal in Minutes
Our PayPal Commerce addon makes it easy to connect your account.
Secure connection to PayPal
Easily add payment options to any form
Control the behavior of your form with powerful smart logic
Test payment forms before accepting real payments
"The user interface is very smooth, and quite quick. It does open a separate screen for form creation and editing, but I suspect it does this to improve flow and speed."

"I've used this plugin on several sites Ive built and its perfect easty to use, and just works. Very grateful that this plugin exists."

"I don't know why the existing form plugins never thought of templates. 99% of people installing this plugin want a simple contact form. Instead of you having to build it, you click the Simple Contact Form template and its built for you!"

"This plugin has helped me a great deal when building websites in WordPress. Its ease of use as a new site designer is very much appreciated. "

"I was very impressed with the ease of use and functionality for the robust form I needed to create. I hadnt done one in awhile and it was easy to figure out and follow instructions. Thanks!! I really appreciate your product."

"I love this plugin. Its compatible with my theme and VERY easy to use. It is also a nice clean looking form."
Frequently Asked Questions and Resources
Do you have a question about WPForms? See the list below for our most frequently asked questions. If your question is not listed here, then
please contact us
.
The WPForms PayPal Commerce addon makes it easy to connect your WordPress forms to your PayPal account. Just install the addon and use our simple set-up procecss to sign in to your account and start getting paid.

Yes! We added support for recurring subscriptions. Customize the name of your plan and the time interval between billing dates.

That's simple. We made it easy to turn credit card types on and off with the flick of a switch.

WPForms does not charge you per transaction for using PayPal in your forms. However, PayPal's seller fees do apply to transactions made through your forms.

Payment details are sent straight to PayPal to protect both you and your users from the risks of storing credit card details on your website. For credit card purchases, entries will only show the last 4 of the credit card.

Absolutely not. You can create and manage payment forms without any coding knowledge. WPForms is the most beginner-friendly form solution on the market.
Sneak Peek Under the Hood
Here are screenshots of exactly what the PayPal Commerce addon looks like within the plugin.