Are you searching for the best WhatsApp plugin for your WordPress site?
Millions of people use WhatsApp to send and receive video calls, text messages, voice chats, and more. When connected to WordPress, WhatsApp acts as an online chat tool that visitors can use to communicate with your website.
With the right plugin, you can easily integrate WhatsApp with WordPress and take full advantage of its features, such as sending personalized messages, answering questions, providing support, and more.
In this post, we'll go over the best WordPress WhatsApp plugins you can use to enhance communication with site visitors.
How Do I Add WhatsApp to My WordPress Site?
The easiest way to add WhatsApp to WordPress is to use a plugin. This will minimize the amount of work you need to do to connect the two platforms.
WhatsApp plugins also come with different customization features that allow you to personalize your interactions with visitors. This can help boost your conversions and encourage website visitors to take action on your site. The more they feel like your brand understands them, the likelier they are to convert.
Let's take a look at what we believe are the best WhatsApp plugins for WordPress currently on the market.
The Best WhatsApp Plugins for WordPress
Here are the tools we consider the best for users to integrate WhatsApp with WordPress.
Let's go over each of these items to give you a more detailed look.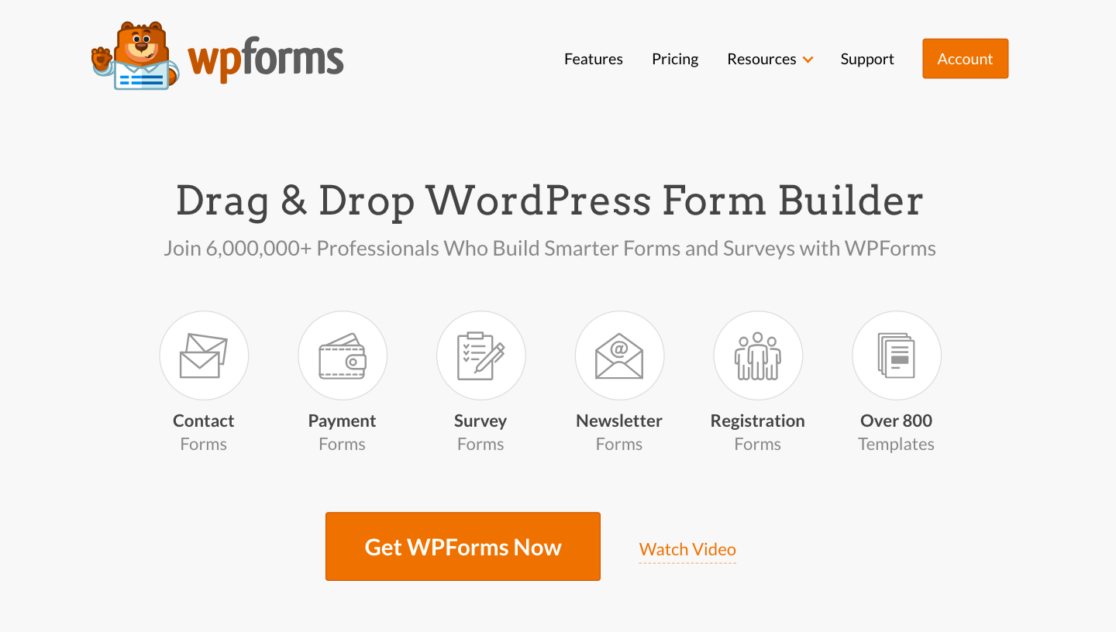 WPForms is a popular, beginner-friendly drag-and-drop form builder for WordPress. It's used by 6+ million website owners around the world to create simple, easy contact forms for their websites.
With WPForms, all it takes is a few steps to create a WhatsApp form on your WordPress site. When used with Uncanny Automator, you can send notifications to a WhatsApp number every time you receive a new form entry.
After setting it up, users will receive a WhatsApp notification that might look something like this:
From there, they can respond straight from WhatsApp either on mobile or desktop, making it convenient to communicate with your site.
Whether your goal is to grow your email list or improve site rankings, offering speedy customer support is an easy way to connect with and impress your visitors.
Create Your WhatsApp WordPress Form Now
Pricing: You can use WPForms with Uncanny Automator for free. To access more features and addons, upgrade to a paid plan starting at $49.50 per year.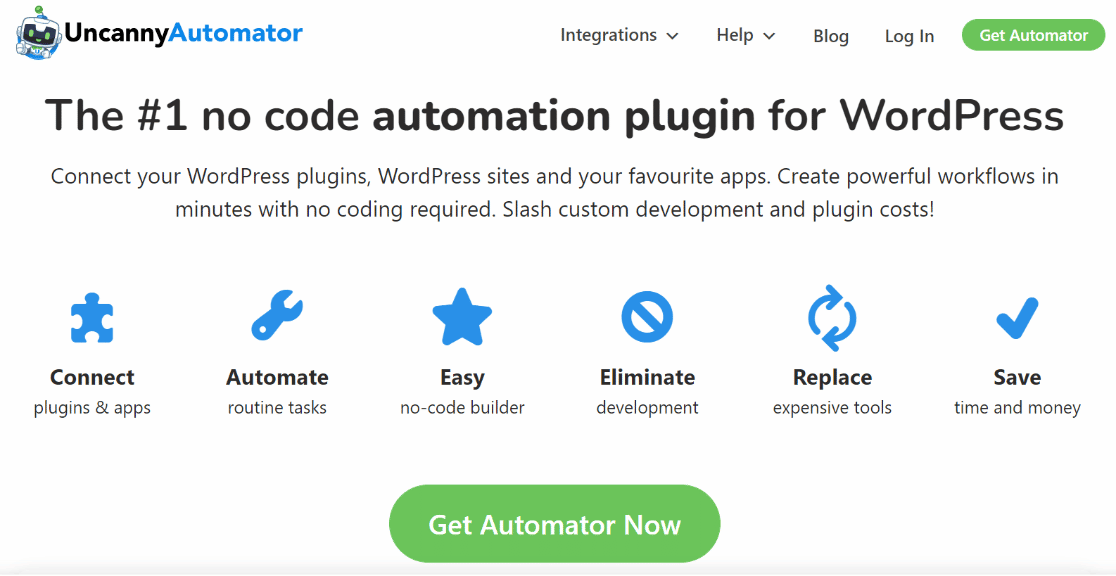 Uncanny Automator allows you to automate workflows on your WordPress site using "triggers" and "actions." You can use it to send direct messages to users based on the actions they take on your site.
As we already demonstrated above, Uncanny Automator works with WPForms to send WhatsApp notifications when you receive a form entry. However, it also integrates with lots of other plugins and tools, too.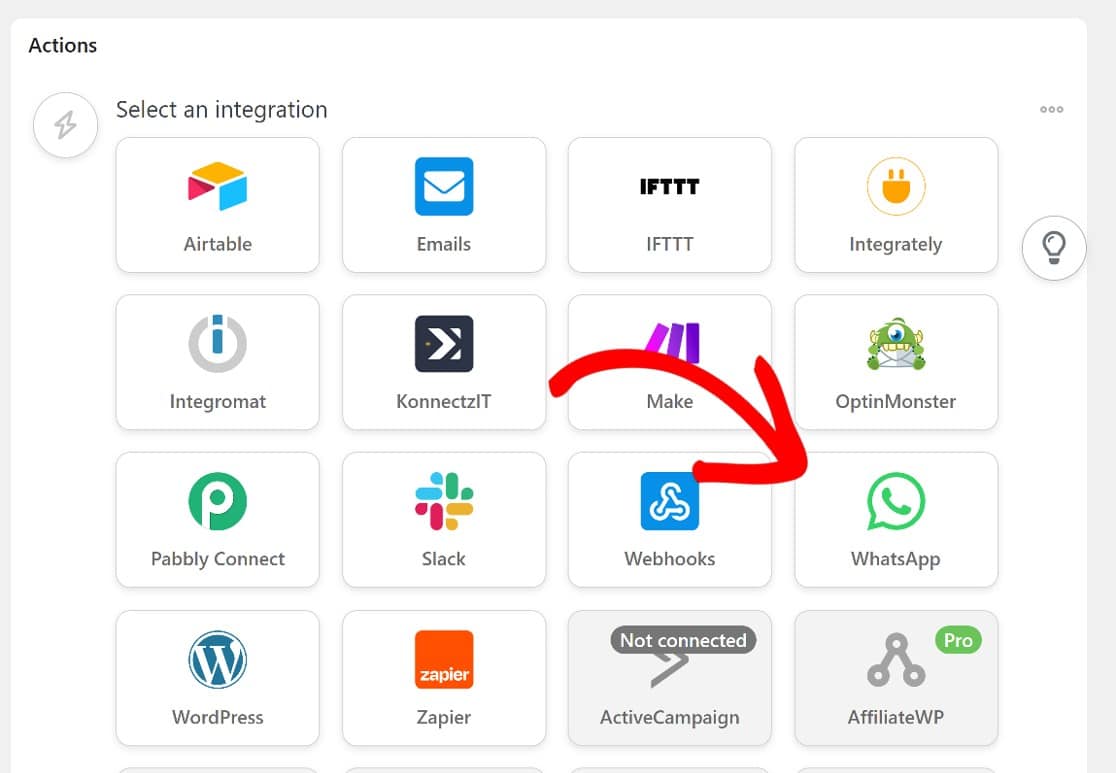 For example, you can create a workflow to message users automatically any time they make a purchase. You can even use message templates to make the process easier.
With Uncanny Automator, you can send messages to users when they:
Make a purchase
Register for an event
Complete a course
Join a group
And more.
Unlike other WhatsApp plugins that work as a basic chat app, Uncanny Automator lets you set up notifications and transactional messages. It takes only minutes to create "recipes" that automate your WhatsApp workflows and set up corresponding "triggers" and "actions."
This plugin gives users open access to the WhatsApp Cloud API. Unlike other WhatsApp chat plugins, you don't have to wait for visitors to initiate messages so you can manually reply. Instead, you can automatically send direct messages to users based on the actions they take on your site.
Pricing: You can connect Uncanny Automator and WhatsApp for free. Upgrade to a paid plan to access more actions, triggers, and apps. Pricing starts at $149 per year.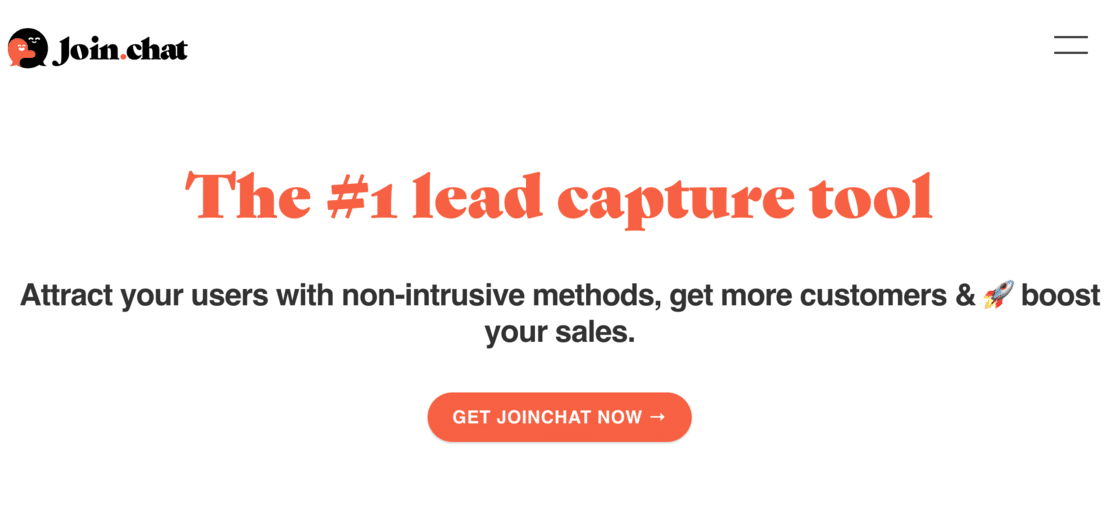 Joinchat is a popular WhatsApp plugin for WordPress with more than 600,000+ active installs. It allows visitors to send queries and messages to your WhatsApp account where you can reply instantly.
Getting started with this plugin is super simple with its easy-to-use setup wizard.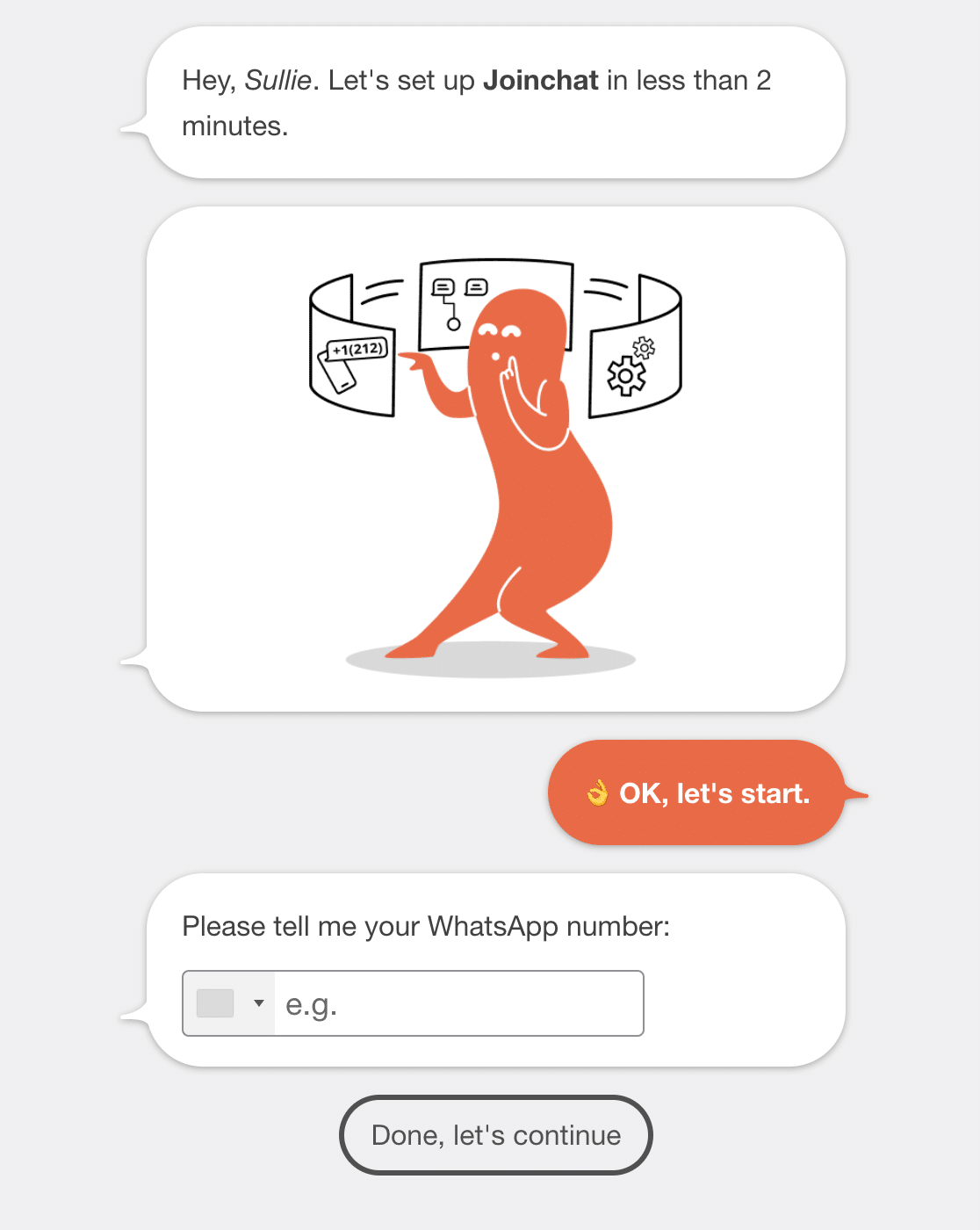 Joinchat is used to offer customer support and send personalized messages directly through WhatsApp as well as other popular channels.
You can send text messages, notification balloons, images, videos, GIFs, or QR codes to engage your audience through chat. You can even add links to your messages to direct your visitors anywhere you'd like, such as a contact page or landing page.
Without any coding required, you can add more support agents or channels to the chat, making it easy to help visitors and boost engagement on your site. You can also set up dynamic CTAs based on custom triggers that will direct visitors to any page you'd like for higher conversions.
Pricing: There is a free version available that will enable you to connect as many sites as you want to WhatsApp. Upgrading to the paid version gives you access to additional channels, support agents, and chat funnels. Pricing starts at €49 per year.
WhatsApp Chat (also called Social Chat) is a WhatsApp plugin that lets site visitors message you directly at your WhatsApp phone number.
This plugin displays a social button on your website where you can create a pre-set message for any visitor to see. Choose from 2 different layouts as well as where to position the button on your WordPress site.
You can also use its chatbox functionality to let users submit their contact information as well as show a personalized message.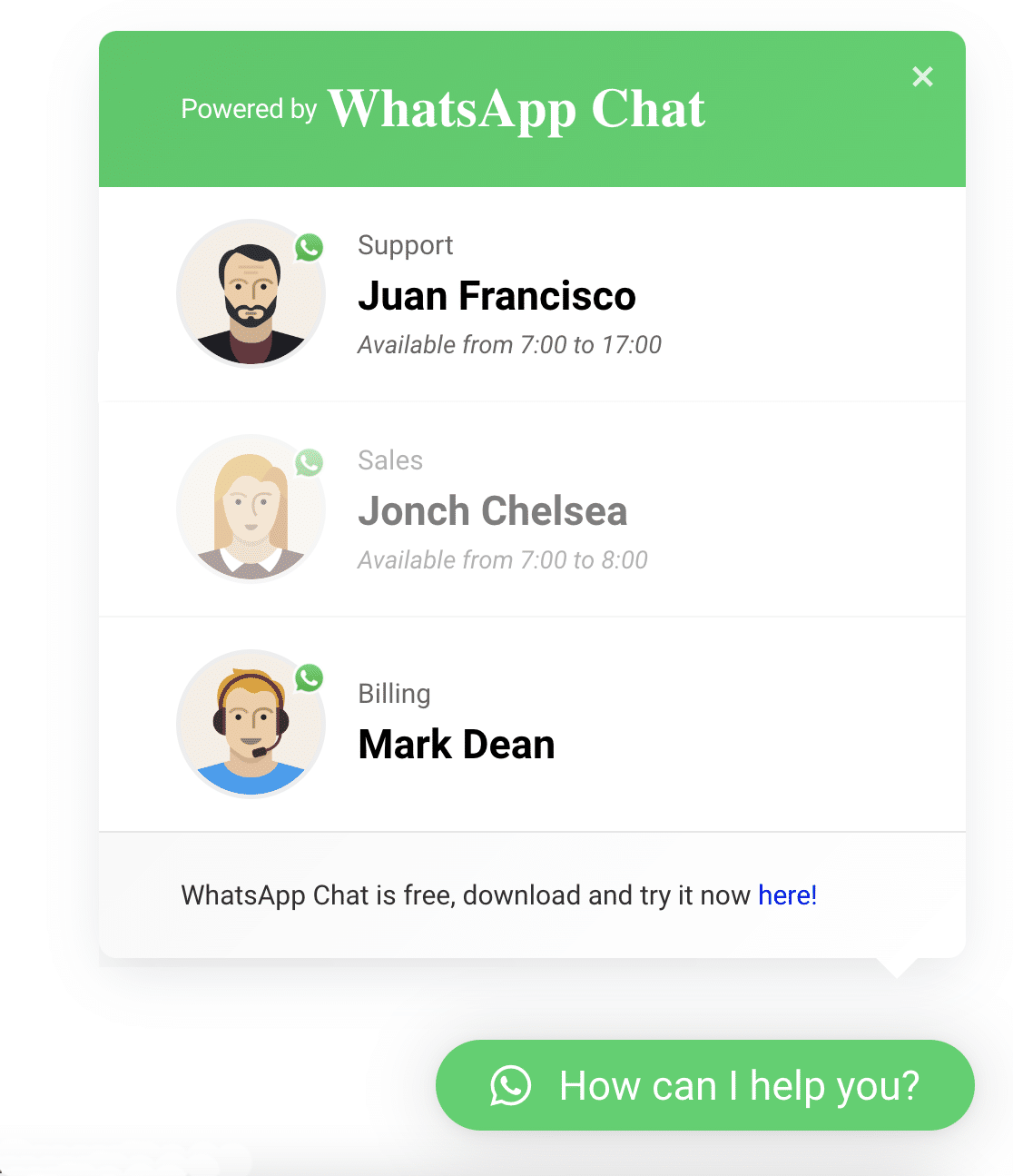 Other options you can include are a header and footer message, phone number, and avatar.
WhatsApp Chat supports shortcodes so it's easy to add a WhatsApp chat button or box inside any widget or post you'd like. You can also edit the shortcode attributes to customize your WhatsApp number and welcome message.
Pricing: WhatsApp Chat offers a free version called Click To Chat in the WordPress plugin repository. To add a chatbox, access professional support, and allow multiple agents to respond to users, upgrade to a paid plan starting at $39.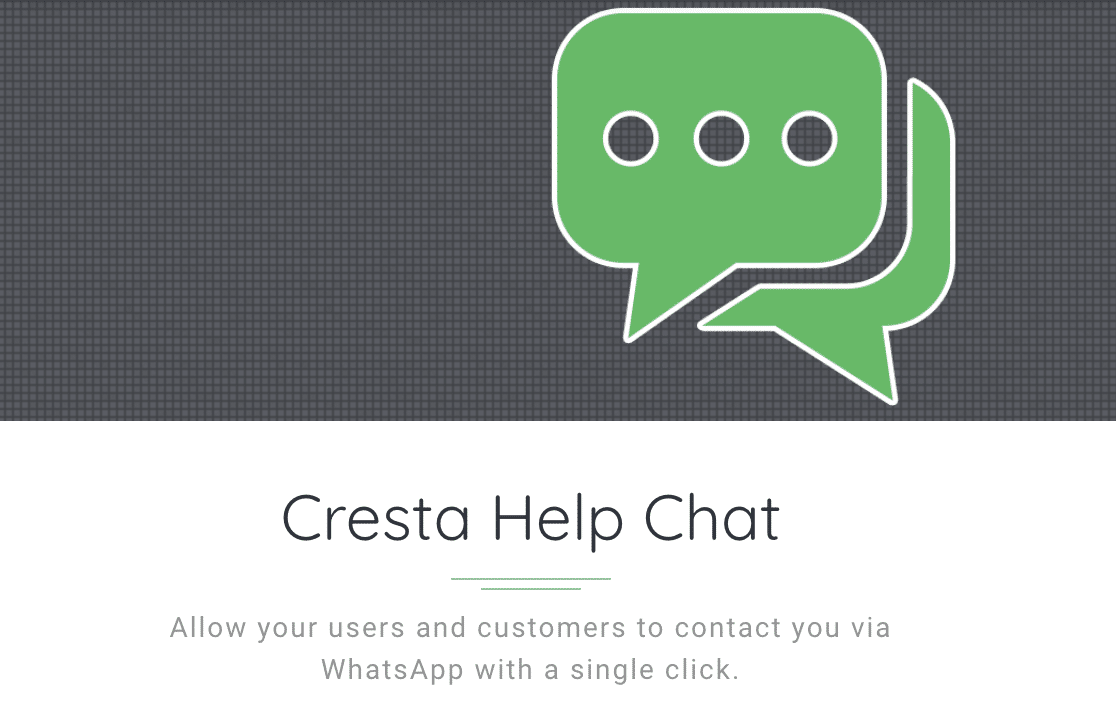 Cresta Help Chat is a WordPress plugin that lets your customers contact you through a WhatsApp button on your site. Once they click the button, they can message your WhatsApp number and seek support through the WhatsApp web or mobile applications.
Choose any post or page to place your WhatsApp widget button using its shortcode.
Cresta Help Chat gives you all sorts of customization options to create a floating widget that works for your WordPress site. Choose the text, the box positioning, whether or not to display the WhatsApp icon, and more.
Pricing: You can use the free version of Cresta Help Chat to create a simple WhatsApp chatbox. Upgrade to the premium version to access more customization options starting at €12.99.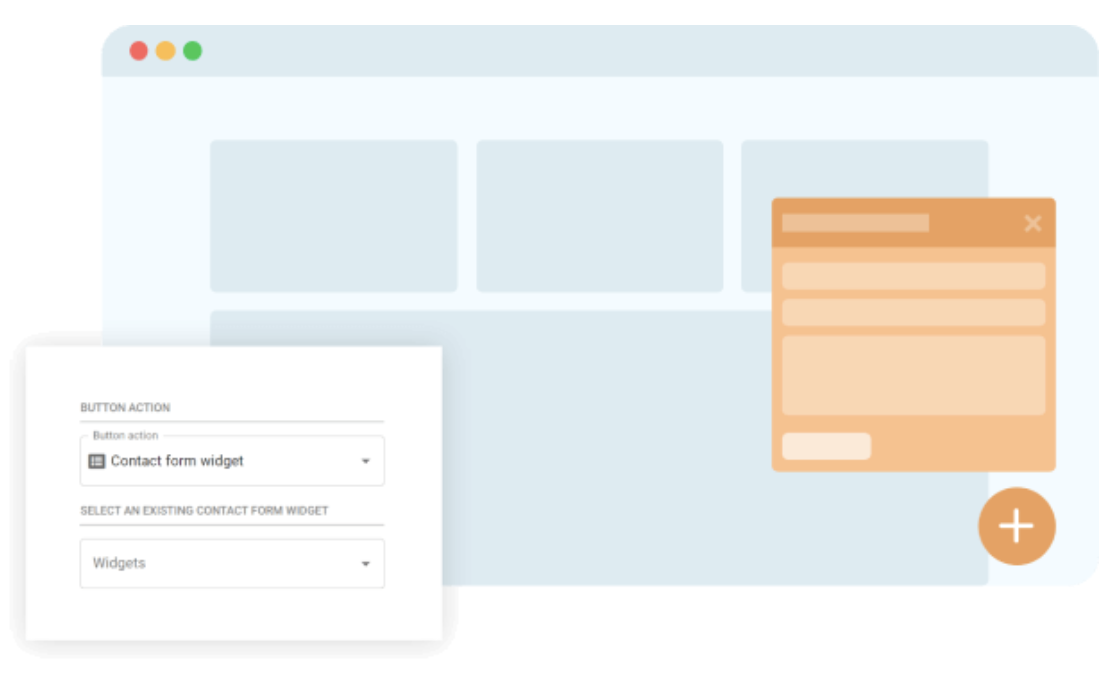 Buttonizer is a plugin that allows you to place a smart floating WhatsApp button on your WordPress site in minutes. From there, visitors can start a conversation that sends straight to your WhatsApp account so you can connect from mobile or web.
With no coding required on your part, you can customize your button in several ways. This includes choosing from 40+ chat buttons, pre-made templates, and various styling options. Changing your button's appearance makes it easy for your WhatsApp chat to stand out and convert more visitors on your website.
You can also personalize your Buttonizer chat by adding an agent name, avatar, and a custom welcome message. Customize your button color, background image, and much more.
With Buttonizer, you can also:
Use different floating buttons for mobile vs. desktop
Add a Click to Call button so visitors can call your WhatsApp number
Display different action buttons for different pages
And more.
Pricing: The free version of Buttonizer shows your WhatsApp chat button for up to 5,000 page views per month. To increase the limit, upgrade to the Pro version starting at $100 per year.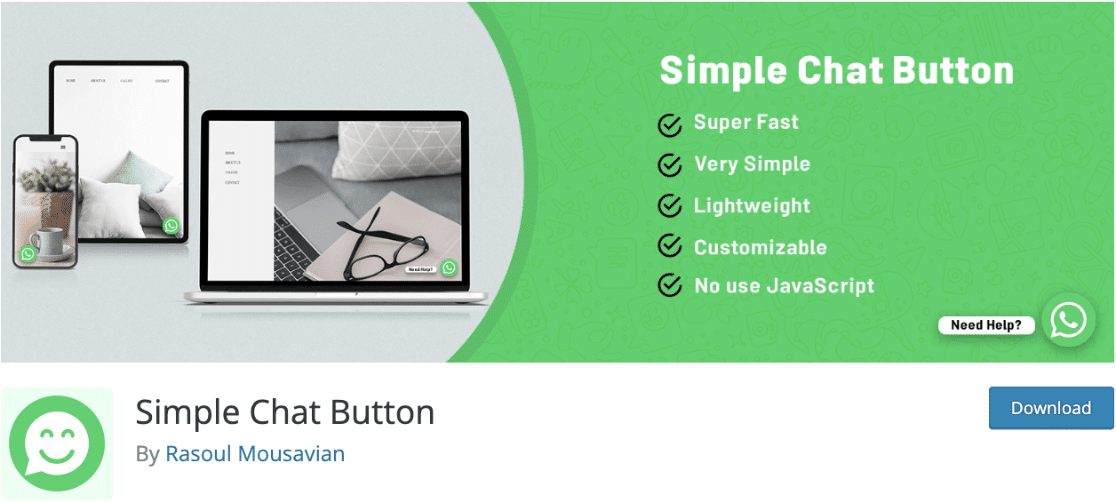 Simple Chat Button is exactly what the name states: a simple, no-frills chat plugin. Once users click the WhatsApp sticky button on your site, they'll be able to start a chat with you via the mobile or desktop app.
This chat plugin is lightweight and easy to set up so you don't have to worry about a complicated installation process. You can customize the text and position of your WhatsApp button to personalize your message to visitors and encourage them to engage with your site.
Simple Chat Button requires no coding or Javascript knowledge, making it extra easy to set up for beginners. In minutes, you can set up a WhatsApp sticky button on your WordPress site that attracts visitors and offers them speedy support.
Pricing: Simple Chat Button is a free WhatsApp plugin.
What Is the Best WhatsApp WordPress Plugin?
After testing and careful consideration, we've come to the conclusion that WPForms is the best WhatsApp plugin for WordPress if you want to use WhatsApp to collect leads.
By connecting WhatsApp to your high-converting forms, you can keep in touch with leads and turn them into paying customers.
Additionally, you can choose from over 1,200 pre-made form templates to create the perfect WhatsApp form for your WordPress website.
Create Your WhatsApp WordPress Form Now
If you want to connect WhatsApp to your site without using forms, Uncanny Automator offers the most options at an affordable price.
WhatsApp WordPress Plugins Frequently Asked Questions
Here are the answers to some of the top questions about using WhatsApp with WordPress.
How do I send form data to WhatsApp in WordPress?
The best way to send form data to WhatsApp in WordPress is by using WPForms. With its Uncanny Automator integration, you can easily connect WhatsApp to your contact form or any other type of form you create.
Check out our full tutorial on how to create a WhatsApp form with WPForms.
How do I add a floating WhatsApp icon to my WordPress site?
There are many plugins that will add a floating WhatsApp icon to your WordPress site. Our favorite is WhatsApp Chat because it includes lots of customization features and flexibility, as well as the option to add a WhatsApp chat window to your website.
How do I add a WhatsApp button to WordPress without a plugin?
If you prefer, you can add a WhatsApp button to your WordPress site using the Social Icons block. However, this method is not as user-friendly as using a WhatsApp plugin because you will need to use custom CSS if you want to customize the WhatsApp button.
Additionally, this method will make your WhatsApp phone number visible to anyone who visits your site, potentially inviting lots of spam or other unwanted messages.
You can add the Social Icons block to any post, page, or widget area on your WordPress site. First, add a new block and select Social Icons.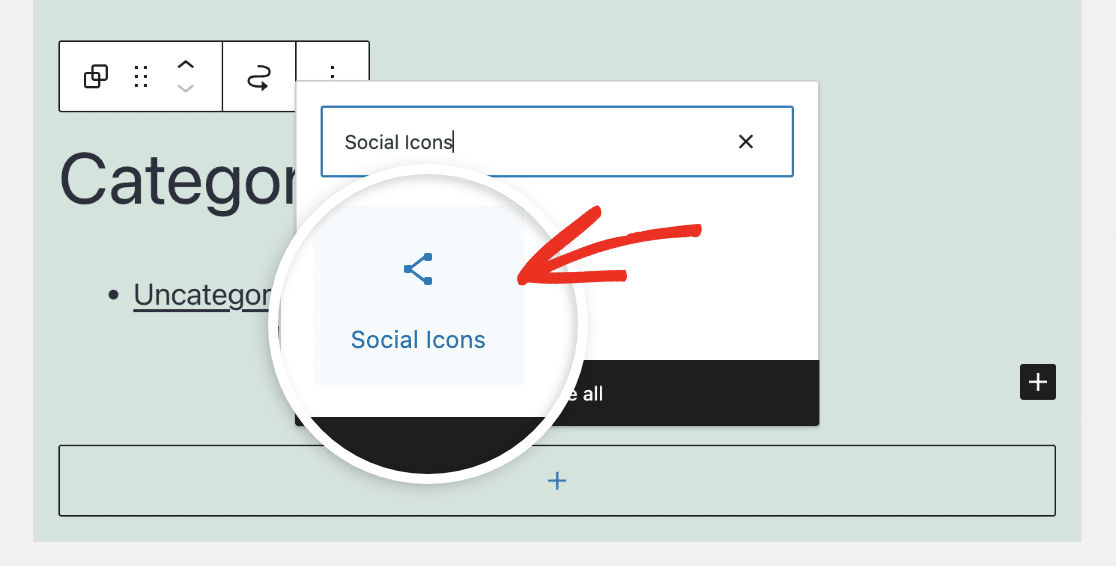 Then, click on the plus (+) button in the Social Icons block to select your platform. Choose the WhatsApp option.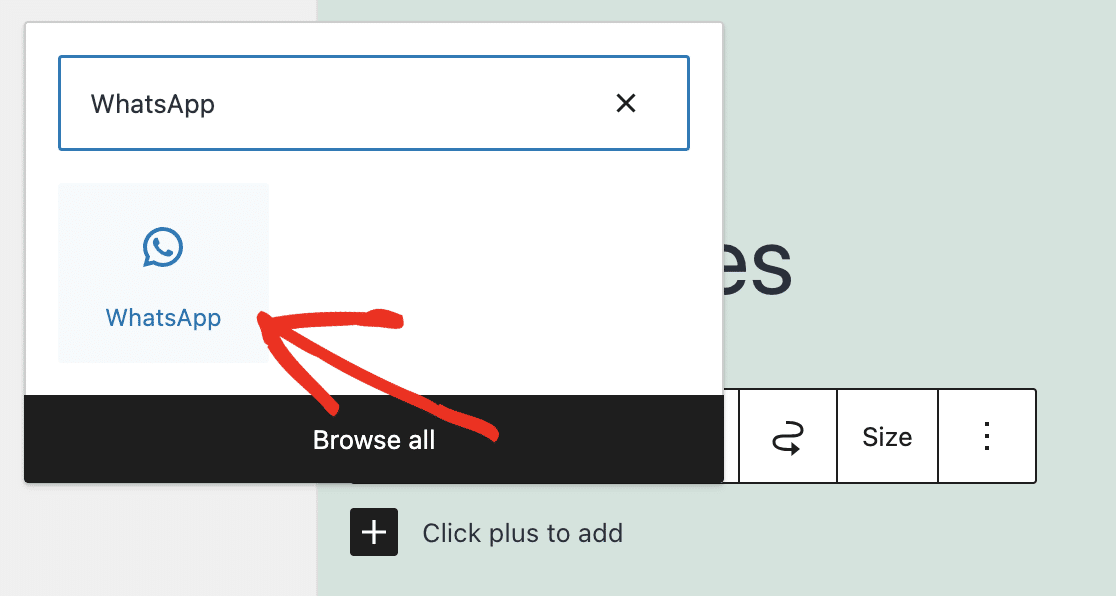 This will add the WhatsApp button to your WordPress site. Now you need to click on the WhatsApp icon and add the following URL in the field provided: https://api.whatsapp.com/send?phone=12123456789.

The number at the end of the URL should be the phone number associated with your WhatsApp account, including the country code.
Save your changes. You'll now have a WhatsApp icon on your WordPress site that users can click to message you.
Next, Enhance Your WordPress Site With AI Integrations
Looking for more ways to automate workflows on your WordPress site? Check out our post on how to add AI to WordPress for ideas on enhancing your site's capabilities.
Or, if you're looking for more ways to integrate your WordPress site with social media, you might be interested learning how to track form submissions with Facebook Pixel.
Ready to build your form? Get started today with the easiest WordPress form builder plugin. WPForms Pro includes lots of free templates and offers a 14-day money-back guarantee.
If this article helped you out, please follow us on Facebook and Twitter for more free WordPress tutorials and guides.