Are you looking for ways on how to add AI to your website to increase its functionality and reduce human effort for site management?
These days, businesses of all sizes are investing in AI tools to improve work efficiency and make managing their sites more straightforward.
The good news is that the unique powers of AI to automate business operations are now available to WordPress site owners as well.
In this article, we'll show you how to integrate artificial intelligence (AI) to automate normal business processes on your WordPress website.
Why Should You Incorporate AI into Your Website?
ChatGPT (by OpenAI), Midjourney, DALL-E — you've probably heard about these terms for a while now! With AI making waves in various sectors, its application in website functionality cannot be overlooked. It can help with:
Personalized User Experience: Gone are the days when a one-size-fits-all website design was enough. Today's users expect a tailored experience. AI helps in analyzing users' behavior and preferences, enabling sites to offer content and product recommendations aligned explicitly to individual tastes.
Efficiency in Operations: AI-powered tools streamline site operations. They handle routine tasks, answer customer queries in real-time, and ensure the site runs smoothly, reducing the manual workload and offering users an uninterrupted experience.
Enhanced Security: AI algorithms can predict and identify potential threats faster than traditional methods. By analyzing patterns and behaviors, AI-enhanced security features safeguard your website from cyberattacks and unauthorized access, ensuring user data remains uncompromised.
Data-Driven Insights: Understanding your audience is crucial for any website's success. AI tools provide actionable insights by analyzing vast amounts of user data, helping website owners make informed decisions about content, marketing strategies, and more.
Staying Ahead in the Competition: As more websites integrate AI functionalities, not incorporating them might leave you trailing behind. AI features, from chatbots to predictive analysis, provide an edge, ensuring your website is not only current but also future-ready.
As we navigate the intricate world of AI in web development, remember that the aim isn't just to follow a trend. It's about leveraging technology to offer value to your users, enhancing their experience while optimizing your site's functionality.
If you're wondering how to embed this powerful technology into your website, you're in the right place. Below we'll offer actionable steps and advice to help you harness the potential of AI for your WordPress site.
How to Add AI to Your Website
Here is a list of 10 creative ways to use AI on your website. Use the links below to jump down to a specific section.
1. AI-Generated Notifications and Alerts
WPForms is a highly popular form builder for WordPress. It allows novice and experienced users alike to create forms with one-time use coupons, file upload fields, and more, thanks to its simple drag-and-drop builder and advanced features.
WPForms' compatibility with ChatGPT is only one of its many impressive features. You can now create even more intelligent forms with this robust integration. For instance, You can send AI-generated notifications to visitors when they submit a form.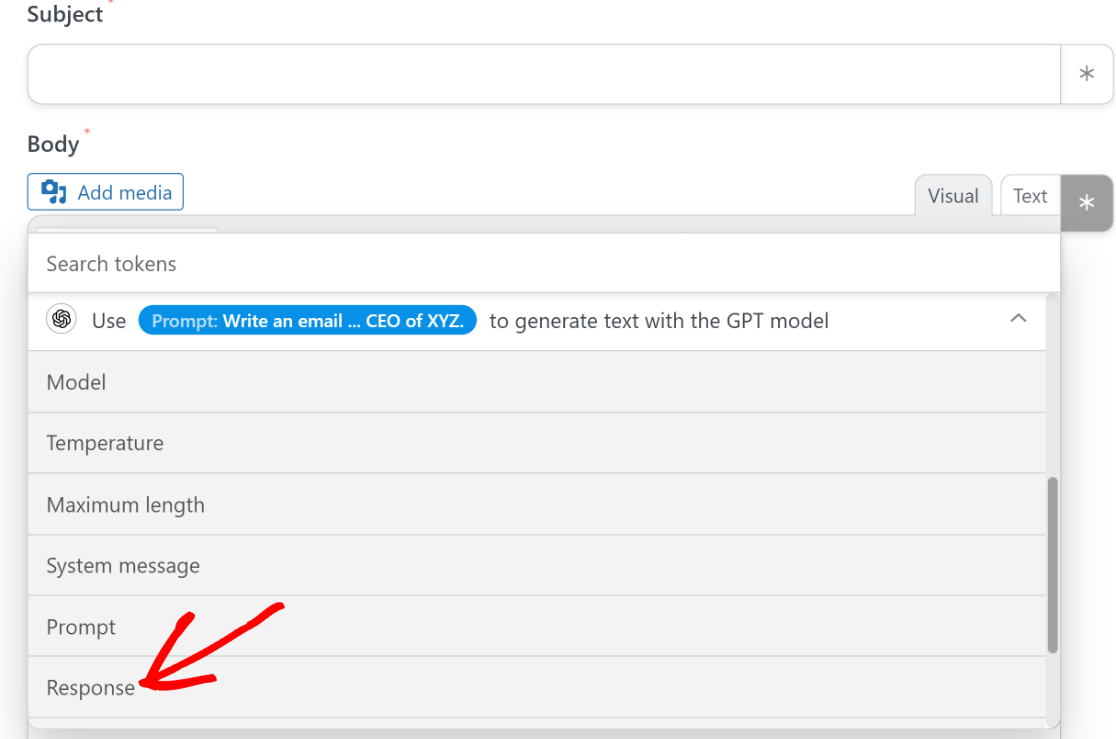 ChatGPT can design more intelligent notifications for your forms instead of traditional notifications, which utilize the same template for everyone. Here's the notification we made by taking a form submission and utilizing it in a prompt: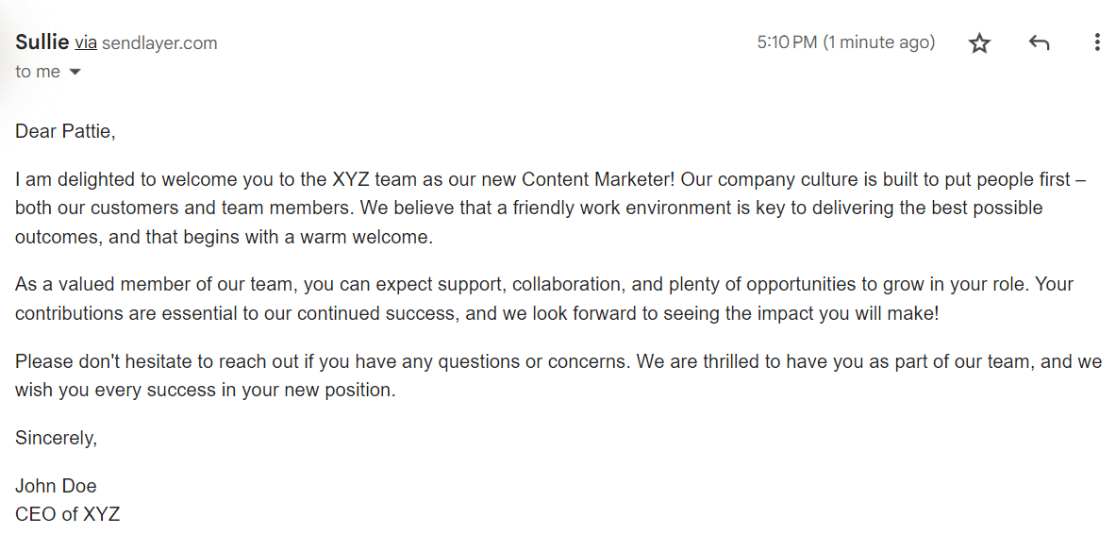 How Much Does WPForms Cost?
WPForms Lite is free of cost. WPForms PRO starts at only $49.50 and offers excellent value for money with a 14-day money-back guarantee.
In addition to the awesome templates and addons, it's one of the best coupon code plugins for WordPress.
2. Filtering Spam and Automating Moderation
To collect user feedback, your website must have a comment area. If not, you must have a contact form to facilitate communication with your visitors. These parts are constantly vulnerable to spam even though they are essential for client interaction.
Your SEO score may suffer due to these communications since crawlers label such texts as spam. However, Akismet can assist you in preventing such spammers from breaking into your website, as it uses AI to filter spam comments.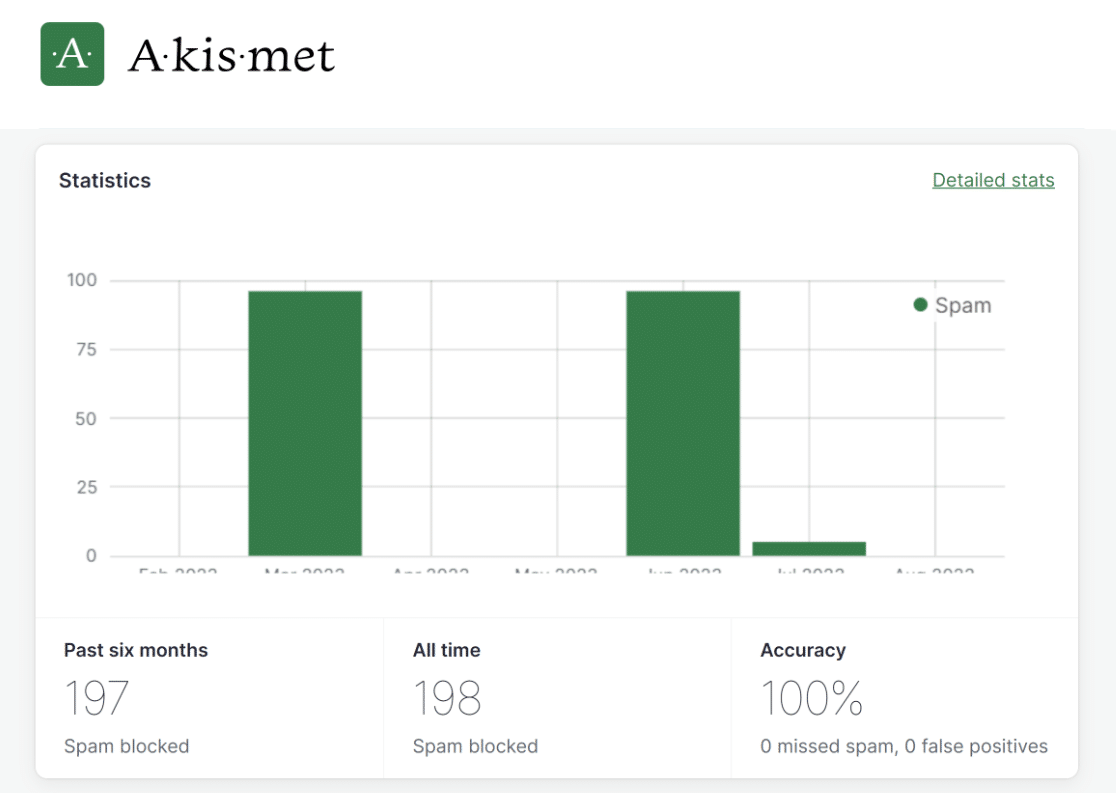 Malware, spam comments, and other malicious code are always trying to get into your website. So it's essential to protect your WordPress website from them with a tool like Akismet for protection against such attacks.
How Much Does Akismet Cost?
Akismet's Personal plan for non-commercial sites offers a unique pricing structure in which you pay what you feel the service is worth.
Paid plans begin with the Plus plan, which has a monthly cost of $8.33 but is invoiced yearly. The monthly cap for this plan is 10,000 API calls.
3. AI-Powered Search Engine Optimization (SEO)
Without prior knowledge, diving into the specifics of search engine optimization (SEO) may seem challenging. However, since it is a long-term investment in your site's success, it makes sense to use SEO plugins to help you gain valuable insights.
AIOSEO makes enhancing SEO for a WordPress site ridiculously simple for amateurs.  This plugin has a lot of high-quality features, but the AI-generated ideas for post titles and descriptions really stand out.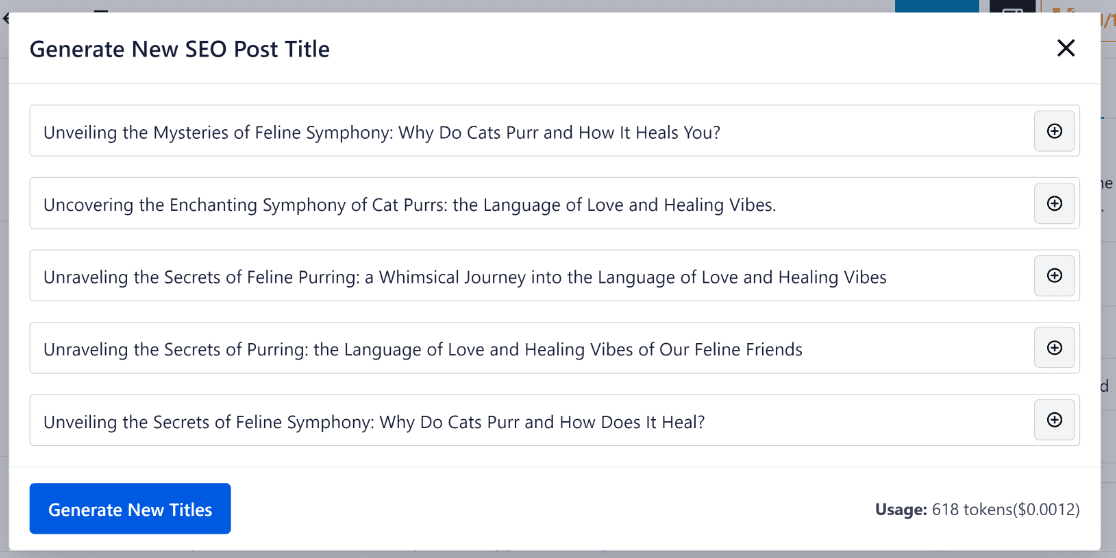 AIOSEO's built-in title generator uses ChatGPT to provide interesting and relevant titles for your posts. The nice thing is that these recommendations will appear right in your WordPress editor.
How Much Does AIOSEO Cost?
Starts at $49.60 per year for use on a single site with all the essential tools you may require to improve your SEO rankings!
4. Dynamic Pricing and Discounts with AI
Looking for ways to increase your WooCommerce store sales? Offering dynamic pricing and discounts is a sure-shot way to impress customers and urge them into buying a product from your WordPress site.
WooCommerce Dynamic Pricing and Discount with AI is one such plugin that offers many advanced features for setting prices and applying discounts. Rules for price reductions can be individually configured for each product or category.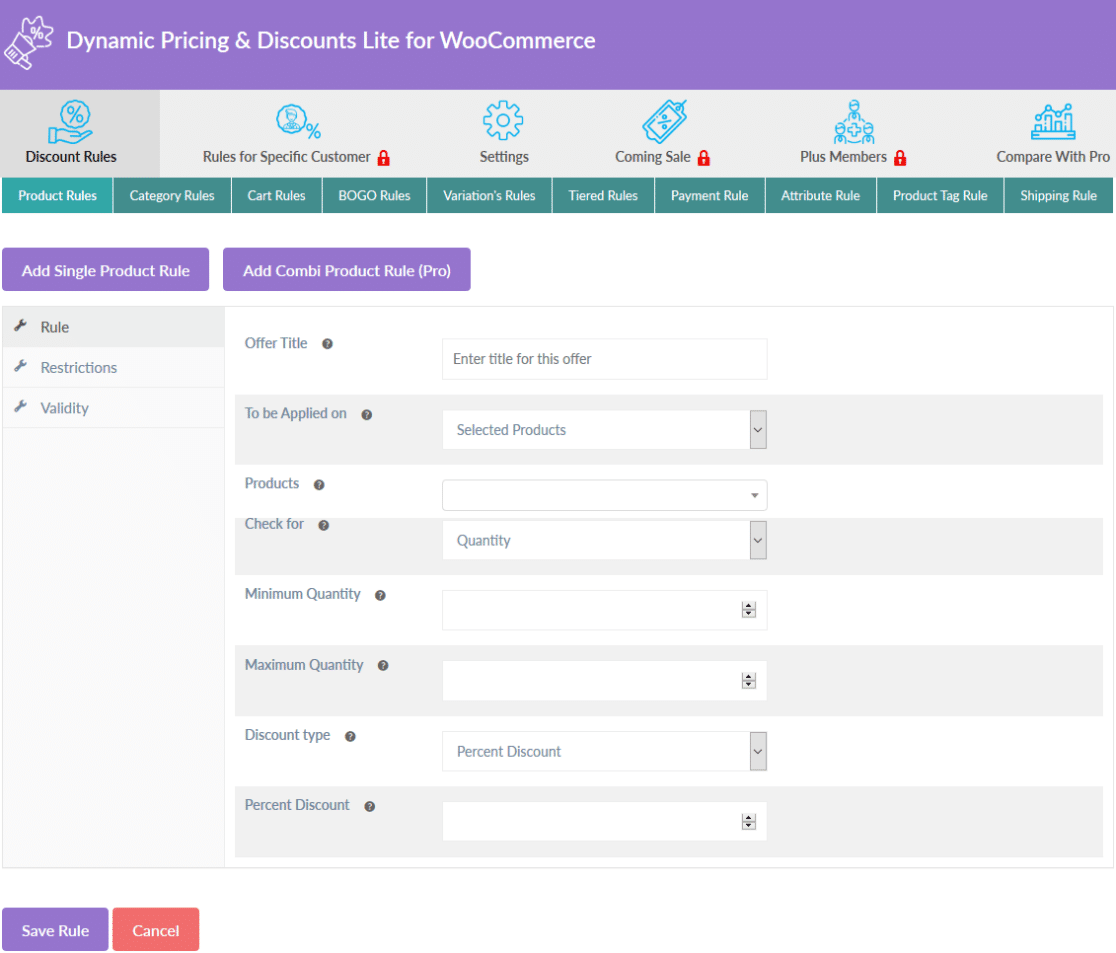 You can use it to create custom rules for discounts in different categories and enable/disable these rules anytime you want. Once you apply a discount rule, it will automatically set the pricing and discount for all associated products.
How Much Does It Cost?
TheWooCommerce Dynamic Pricing and Discount with AI has a lite version which you can download from the WordPress plugin repository. Meanwhile, the Regular License (the paid version) has a one-time cost of $39.
5. Automated Customer Service on WordPress
Utilizing AI technology is a great idea if you want to automate your customer care processes to provide fantastic user experiences. The Chatbot plugin uses AI to automate interaction with customers through chat.
This AI technology may be easily integrated into WordPress websites without causing any problems. Your marketing efforts will be given a boost thanks to Chatbot since it will optimize your support responses.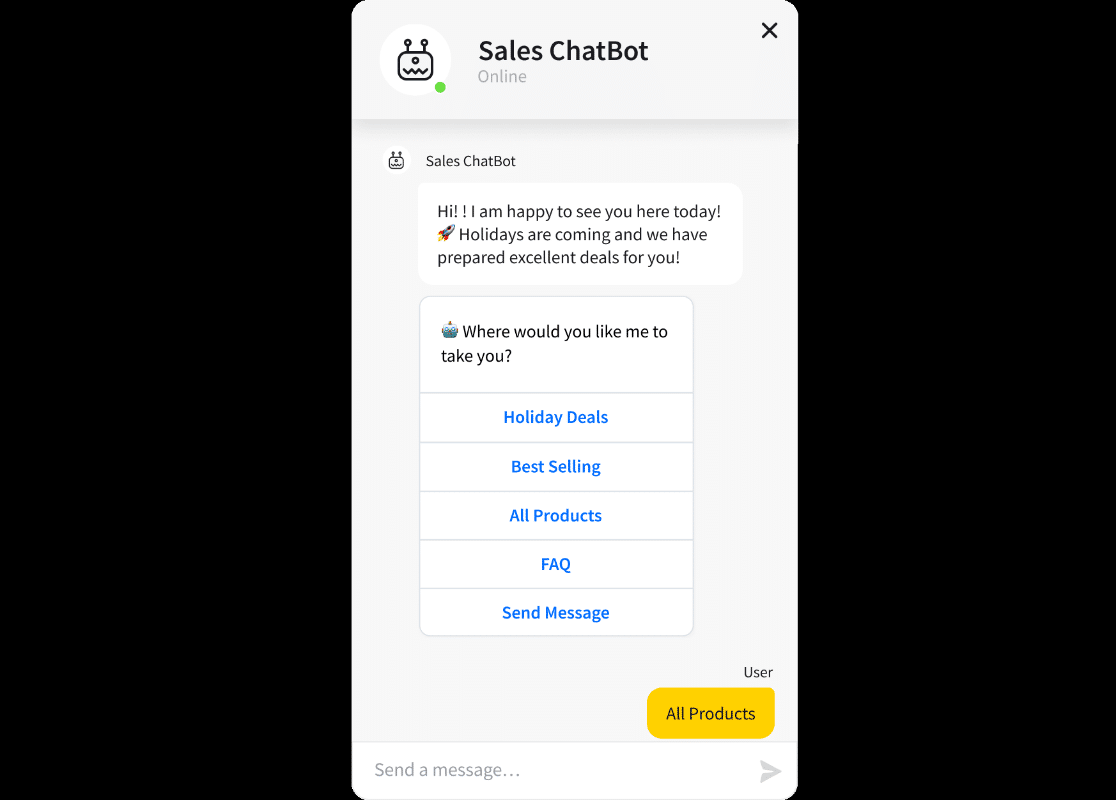 The time required to bring a chatbot template to life is significantly less than a few minutes. In addition, you will have the opportunity to link WordPress with other platforms, such as Facebook Messenger, Slack, Shopify, and so on.
How Much Does ChatBot Cost?
The ChatBot plugin offers a free trial for users to test their service. As far as paid plans are concerned, pricing starts at $52/month (billed annually) and goes all the way up to $424/month (billed annually) for more advanced features!
6. Generate Automated Course Outlines
When expanding your company and earning more money online, choosing the ideal plugin to create your membership site is crucial. A very well-known and widely used membership plugin for WordPress is called MemberPress.
To rapidly create course outlines, use ChatGPT with the MemberPress Courses addon. We developed an automation that uses ChatGPT to generate a course overview and then uses the answer from ChatGPT to generate a new course post automatically.

To replicate the process we undertook, ensure you have WPForms, MemberPress (with the Courses addon activated), Uncanny Automator, and a ChatGPT integration configured within Uncanny Automator.
How Much Does MemberPress Cost?
Although MemberPress doesn't provide a free trial or membership, the Basic plan's annual price is $179.50. Taking into account the plugin's numerous advanced features, the price is quite reasonable.
7. Automate Your WordPress Site and Apps
If you're looking for a plugin that effortlessly connects your WordPress site with ChatGPT and other apps, you can utilize the Uncanny Automator plugin.
Create a "recipe" containing a trigger and an action event to connect a plugin to ChatGPT. ChatGPT will take care of the action element of automation when a trigger occurs in a WordPress plugin.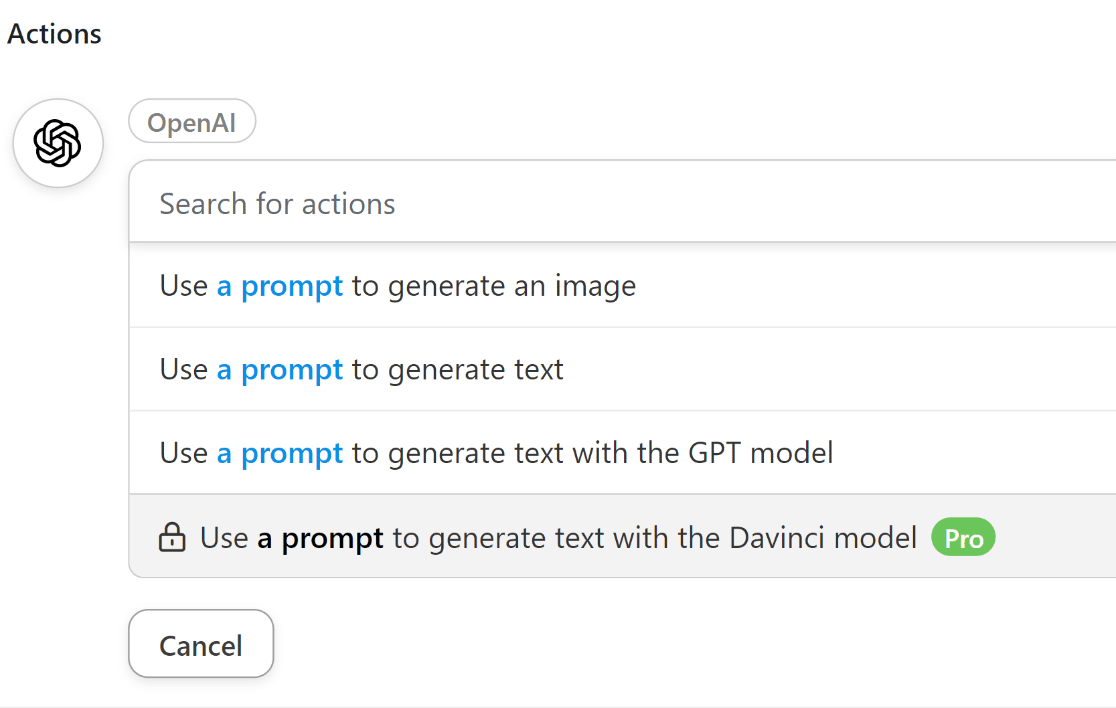 This plugin helps you manage WordPress tasks by combining two or more apps and plugins, such as WPForms, MemberPress, ChatGPT, and hundreds of others, to automate tasks on your website.
How Much Does Uncanny Automator Cost?
The Uncanny Automator plugin starts at $149/year for use on a single site with all the essential tools you may require for creating useful automation, thanks to unlimited recipes, triggers, actions, and app integrations.
8. AI Sentiment Analysis for Testimonials
When it comes to building trust and credibility as a brand, displaying testimonials from existing customers on a WordPress site is one of the best practices. It helps provide an unbiased view of the products/services of a business.
Thrive Ovation is a helpful plugin that streamlines collecting, organizing, and showcasing testimonials on your site. It can also be integrated with ChatGPT via Uncanny Automator to perform sentiment analysis on new testimonials submitted.

This removes the manual effort of reviewing each testimonial before approving them to be visible on your website and social media handles. You can use Uncanny Automator to connect Thrive Ovation with ChatGPT.
How Much Does Thrive Ovation Cost?
The Thrive Ovation plugin is available as part of the Thrive Suite bundle that costs around $299/year and comes equipped with many other plugins. However, if you want access to the standalone plugin, you can set it up for a minimum of $49/year.
9. Artificial Intelligence for Malware Detection
It has never been more essential to secure your online presence in the changing digital environment of today. By incorporating AI into website security, these self-evolving systems offer a sophisticated defense against possible attacks.
In this area, the Quttera Web Malware Scanner plugin is a noteworthy tool. Along with continually looking for dangerous components, it also learns and adapts, keeping your site protected from new threats.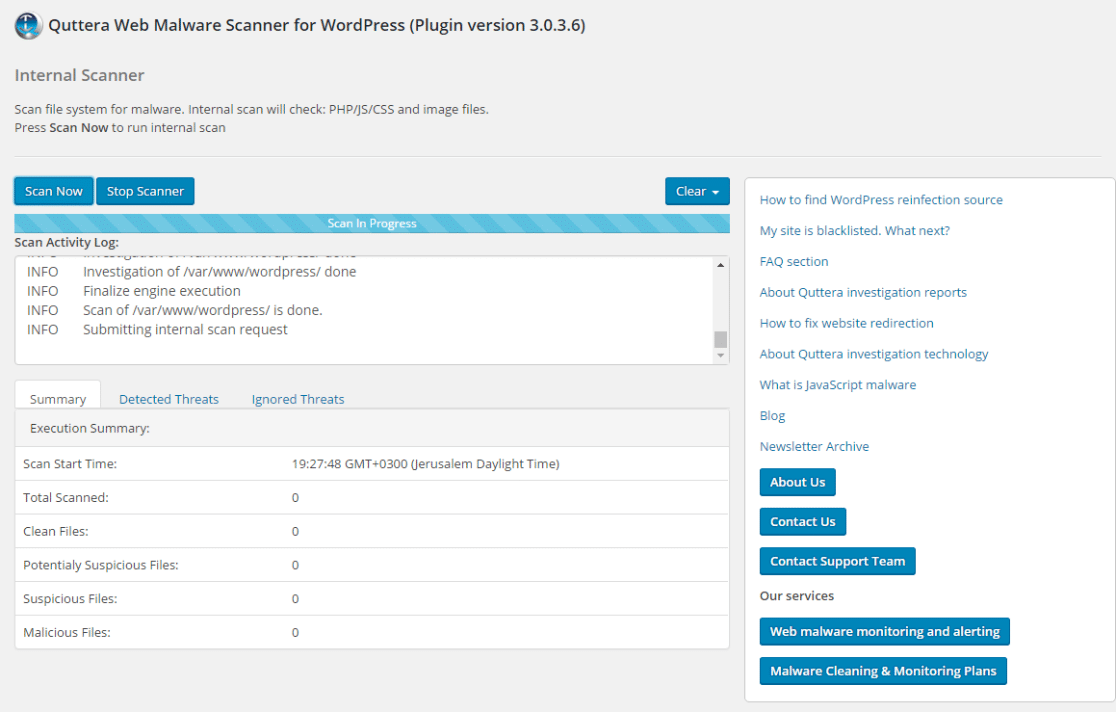 Adopting AI-enhanced solutions like Quttera is a smart move for anybody looking to improve their site's defensive systems. This plugin uses artificial intelligence to identify and eliminate web-based dangers quickly.
How Much Does Quttera Cost?
Quttera has a free version you can download from the WordPress plugin repository. For more advanced features like DDoS Protection, Virtual Patching, External Malware scanning, etc., you can get the premium plan that costs $10/month.
10. AI and Machine Learning Translation Engine
When it comes to reaching a diverse audience, websites need to focus on an effective lead-generation and communication strategy that transcends borders. AI-driven translation engines are incredibly useful tools in this domain.
By using the Google Language Translator plugin, websites can leverage the advanced capabilities of Google's machine learning (ML) and AI to deliver accurate translations without creating a multilingual website.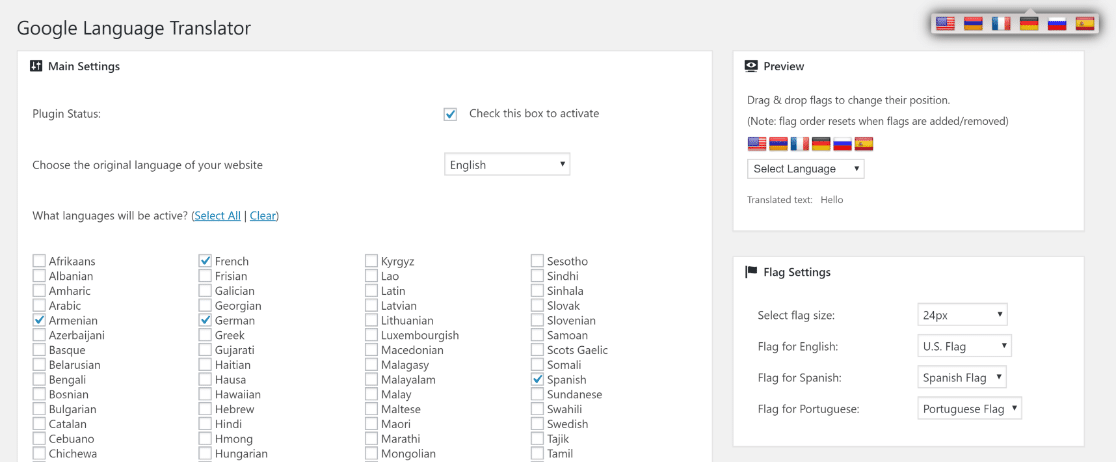 The plugin seamlessly integrates with WordPress, helping you break language barriers and ensuring that your website content resonates with audiences worldwide. This makes it easier for everyone to use the site and helps it reach more people.
How Much Does Google Language Translator Cost?
Google Language Translator operates on a freemium pricing model. You can use their free version for basic machine translation services. For more advanced features, you can opt for their premium plans that start at $9.99/month.
FAQs about Adding AI to Websites
Artificial Intelligence (AI) is a popular topic of interest among our readers. Here are some quick answers to a few of the most commonly asked questions:
How do I integrate an AI chatbot on my website?
Many chatbot plugins like ChatBot and AI Engine make it easy to embed an AI chatbot via code snippets on WordPress. You'll need to choose a platform, build your chatbot, and integrate it with code on your site.
How much does it cost to add AI to a website?
Costs vary widely based on the AI provider and features. Simple chatbots can be free to low cost, while more advanced NLPs usually start around $50/month. Shop around to find the best value for your needs.
What skills are required to implement AI on a website?
Basic HTML, JavaScript, and API skills are needed to integrate AI technically. You'll also need knowledge of conversational design and NLP, which is why it's better to rely on plugins like the ones in this guide for non-technical users.
How can AI improve my website user experience?
AI plugins can respond to customer questions, provide recommendations, automate tasks like reservations, and deliver personalized content. This creates a seamless, intuitive experience that saves users time.
Can I use AI content on my website?
AI-generated website content may be a fantastic tool for creating informative and engaging material, but it must be used carefully. This entails making sure the information is accurate, relevant, and authentic.
Next, Explore These Related Articles on AI
And there it is! Hopefully, this list helped you understand how you can add AI to your website for a number of use-cases. Make sure to check out other posts about using AI and related WordPress plugins for different tasks:
After that, consider incorporating a form for referring friends to increase traffic to your website. Referrals inspire more trust than a simple sales pitch and have a high conversion rate compared to other forms of lead generation.
Create Your WordPress Form Now
Ready to build your form? Get started today with the easiest WordPress form builder plugin. WPForms Pro includes lots of free templates and offers a 14-day money-back guarantee.
If this article helped you out, please follow us on Facebook and Twitter for more free WordPress tutorials and guides.