On the search for a good WordPress coupon plugin?  Coupon plugins let you easily offer deals to your site visitors. Offering deals and discounts can help you build brand loyalty and gain new customers. Everybody wins!
We tested several of the best WordPress coupon code plugins to help you determine which is best for your WordPress site. In this post, we'll review those so you can find the best fit.
Let's jump right into it!
How Do Coupons Work in WordPress?
The easiest way to add coupons to your WordPress website is to install a coupon code plugin. Different plugins have different features. For example, some might allow you to customize popups for users to take advantage of deals. Others might make it easier to add coupon codes to your order form or checkout page.
The best coupon creator for you depends on what you want to achieve with it.
Best Coupon Code Plugins for WordPress
Here are the best coupon code plugins for WordPress.
1. WPForms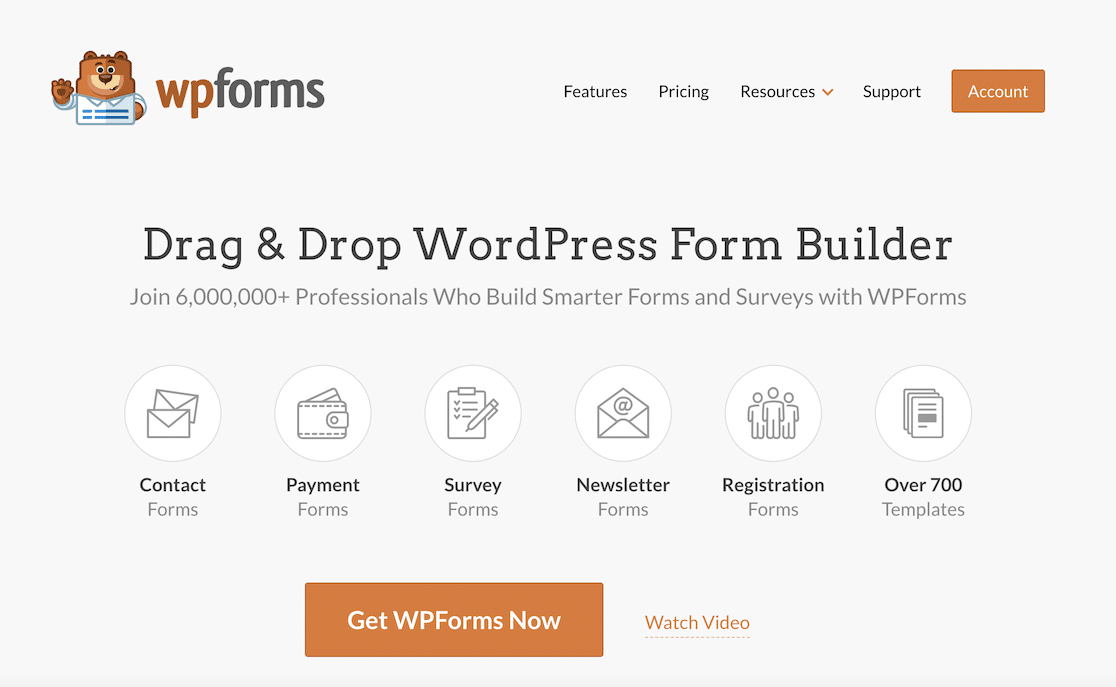 You know and love WPForms as the best form-building plugin for WordPress with its rave Trustpilot rating of 4.8/5. But did you know you can also use it to add coupons to your eCommerce forms?
Let's say you have items to sell but no need for an online store.  You can use WPForms to create an order form and embed it on your WordPress site. Then, the WPForms Coupons addon lets you add coupon codes.
After installing WPForms and the Coupons addon, access your coupons dashboard by navigating to WPForms » Payments » Coupons.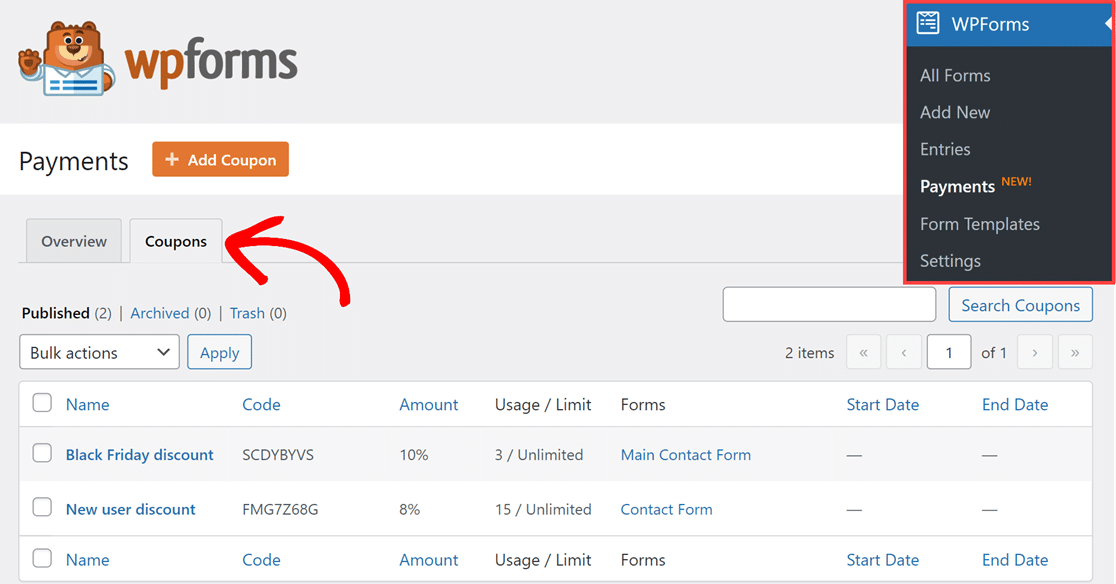 Click Add Coupon to create your discount. You'll see a form where you can enter your coupon information. There are a few ways you can customize the coupon, as well.
First,  you can decide whether you want to create your own code or generate one at random.
You can also choose whether you want the coupon to give a percentage off, or if it should offer a flat rate discount. Configure these settings right in WPForms.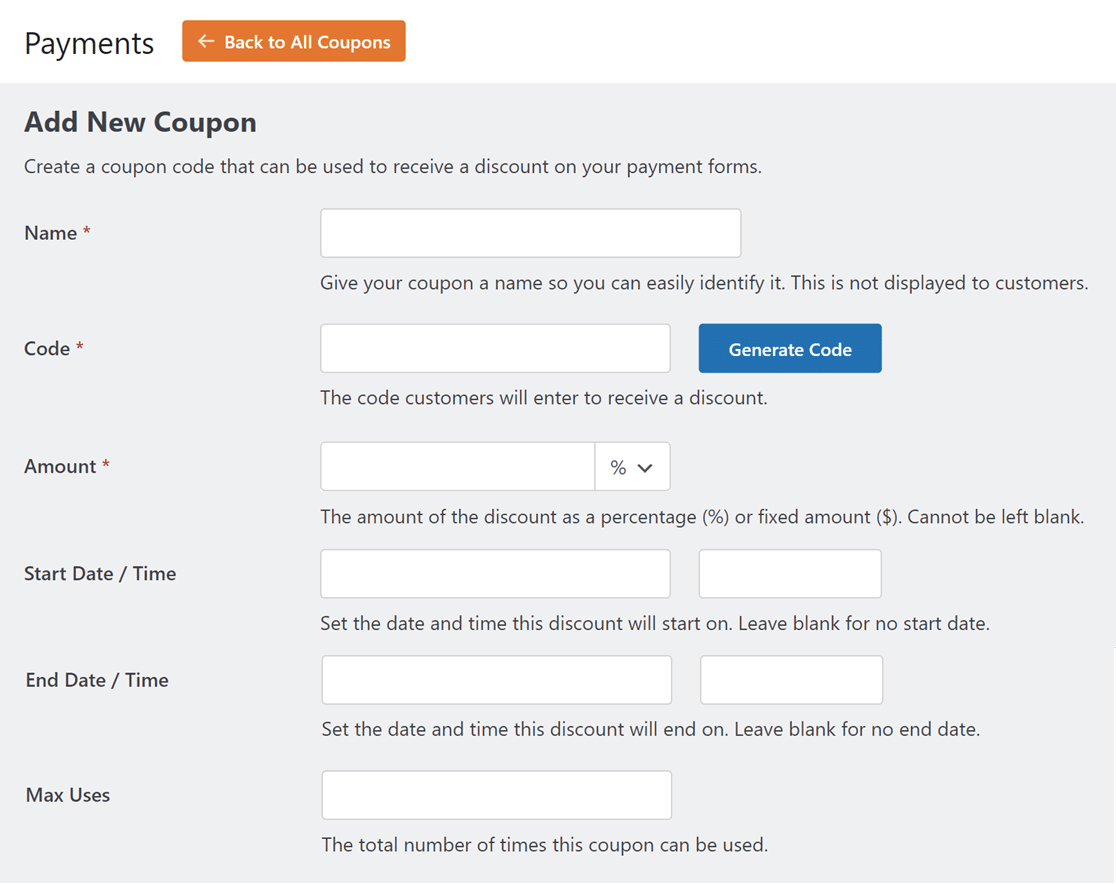 Finally, you can specify start and end dates and times, as well as the maximum number of times the coupon can be redeemed. You can display these coupon terms and conditions right on your payment form if you wish.
Once you've created the coupon, you can connect it to as many of your payment forms as you'd like. Delete them at any time.
And the Payments tab in WPForms will give you a way to monitor all of your sales across forms, including coupon redemption.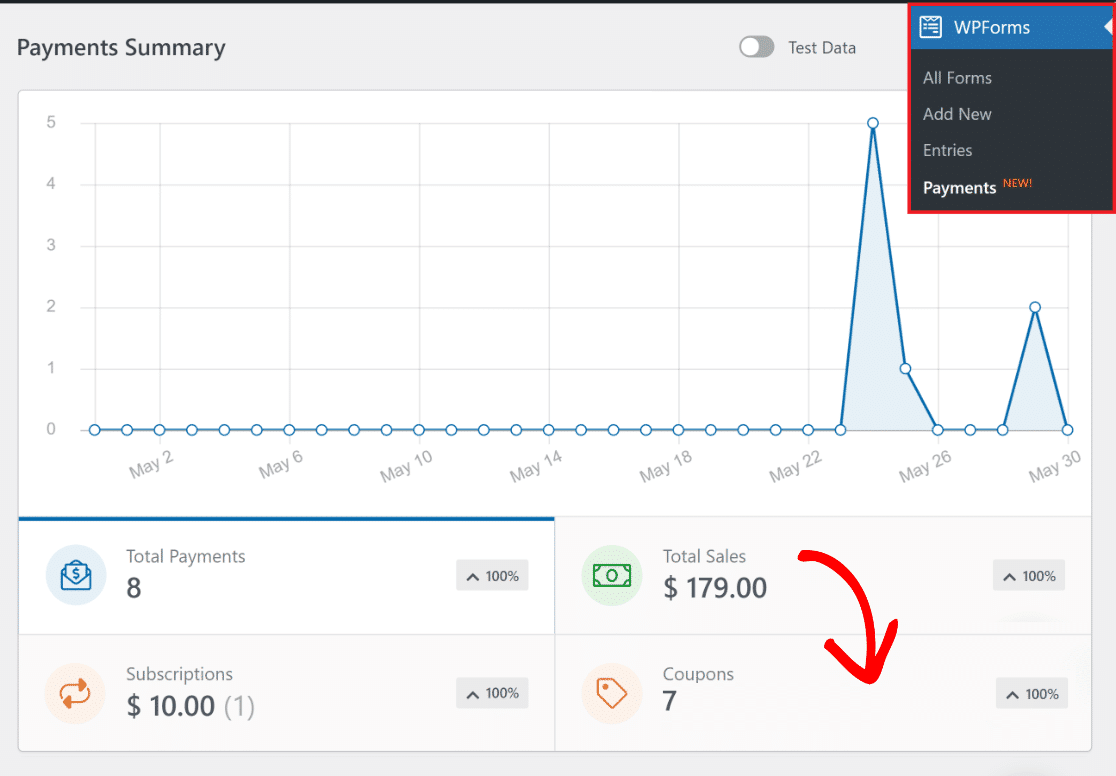 Cost
There is a free version of WPForms, but to access the Coupons addon, you'll need at least a Pro license. Pricing for the Pro version starts at $199.50/year.
2. OptinMonster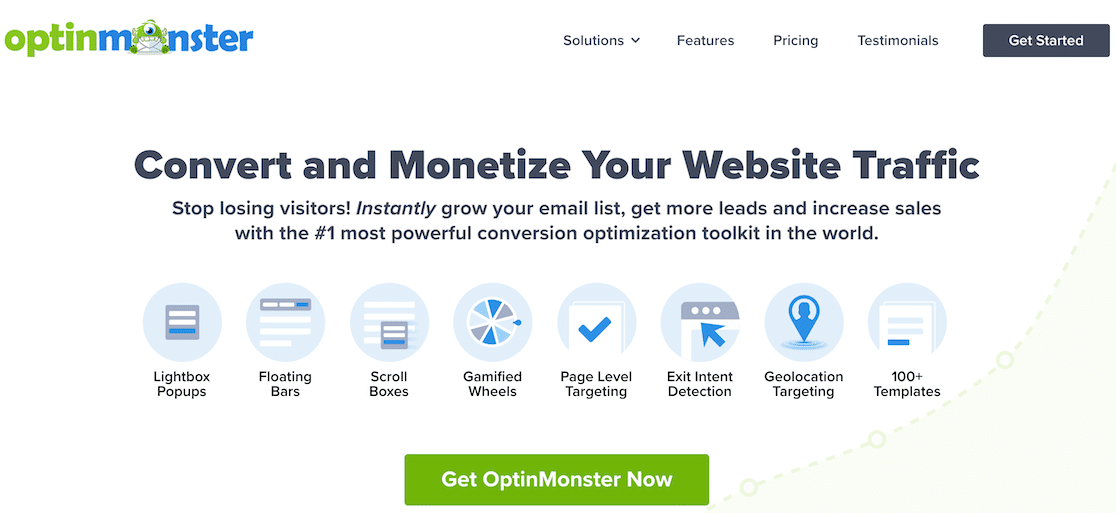 OptinMonster gives you a ton of ways to increase and optimize your conversions. Create an offer, select a template, and watch sales convert. It's super simple.
We love that you can choose where you want the offer to display on your site. You're not limited to a floating bar or a popup. OptinMonster gives you more options to create eye-catching deals.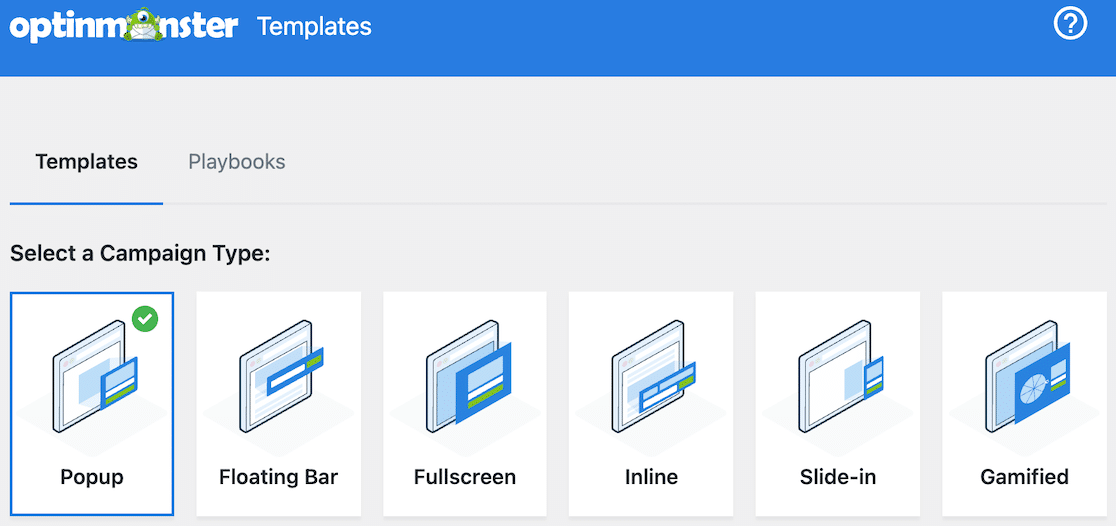 When you've selected a template for your campaign, you can then begin designing your offer.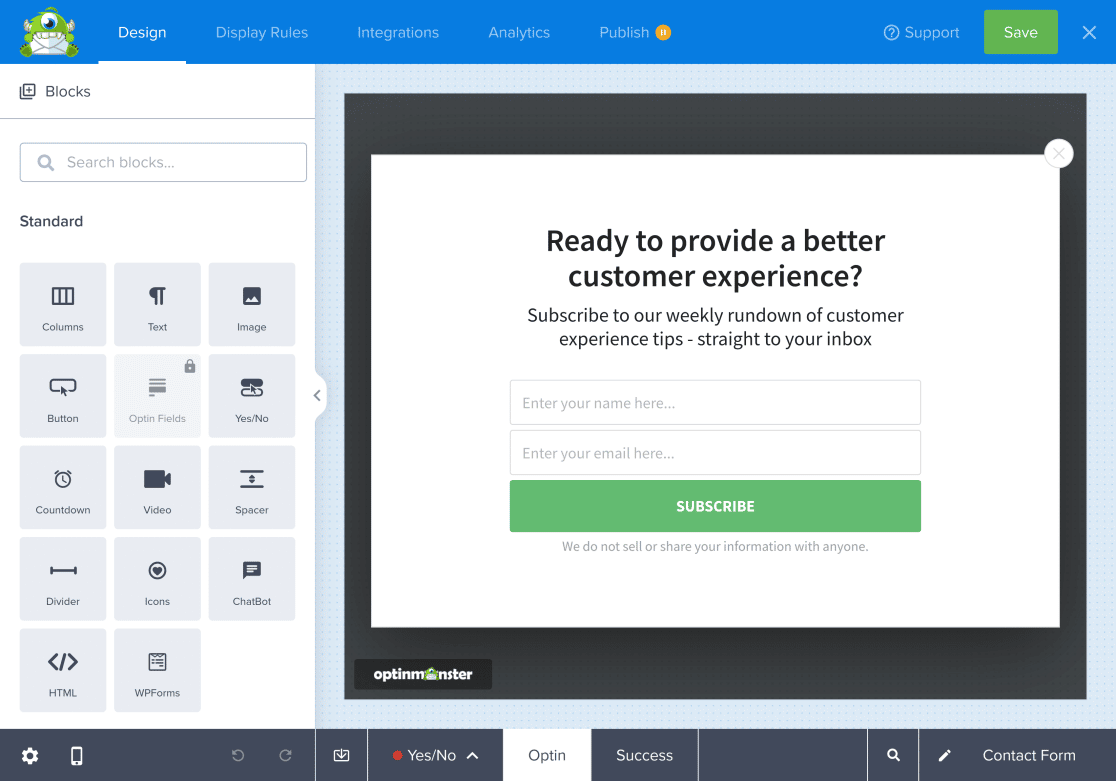 The user interface is clean and simple. It's all drag-and-drop, so you don't need to know any code to create your offers.
If you choose to create a form-based offer, you can integrate your OptinMonster account with WPForms and create outstanding popups using your forms. It's also possible to combine styles, so you might use your form templates to create a popup and still have a floating bar that stays on the page while the deal is active.
When you're happy with your offer, it's time to publish it on your site and start converting sales.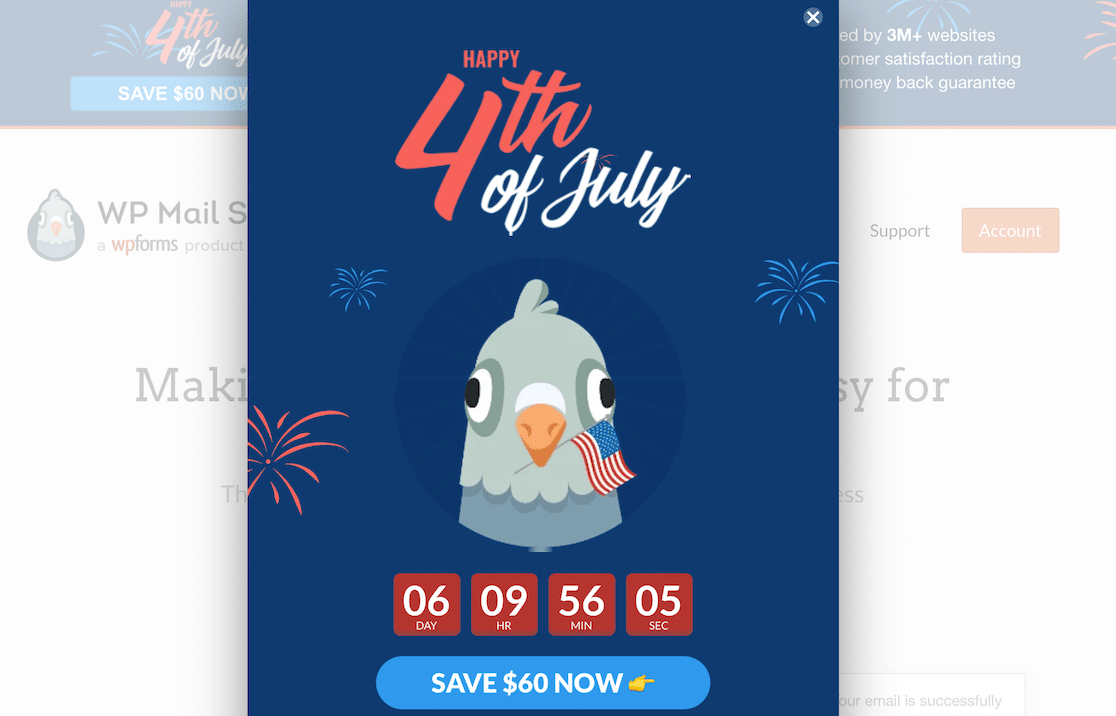 We found that OptinMonster is simple enough for beginners to use, with even more advanced features being accessible. Some other features we loved were the ability to split test, as well as the access to real-time analytics that you can use to make adjustments.
Cost
There is a limited free version of OptinMonster available. When you're ready for more features and campaigns, you can upgrade for as little as $9/month (billed annually).
3. AffiliateWP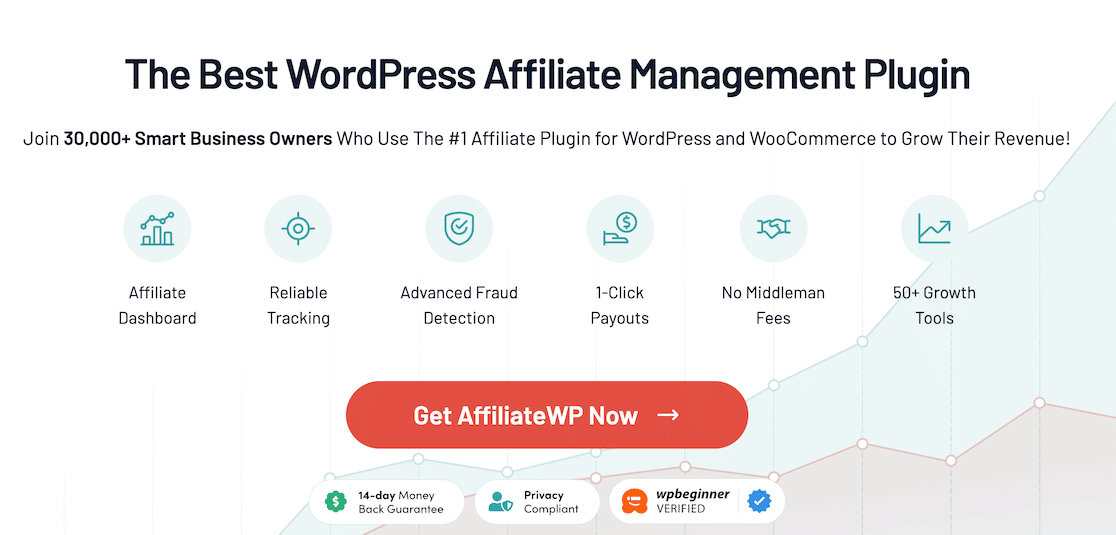 If you run an affiliate program on your site, AffiliateWP allows you to create affiliate coupon codes. It's an especially great plugin for WooCommerce store owners.
One of the great features that we love is the Dynamic Coupons. If you've created WooCommerce coupons in your account, you can select them in AffiliateWP and create dynamic codes for your affiliates. When you do that, you have a few customization options, including choosing a coupon format.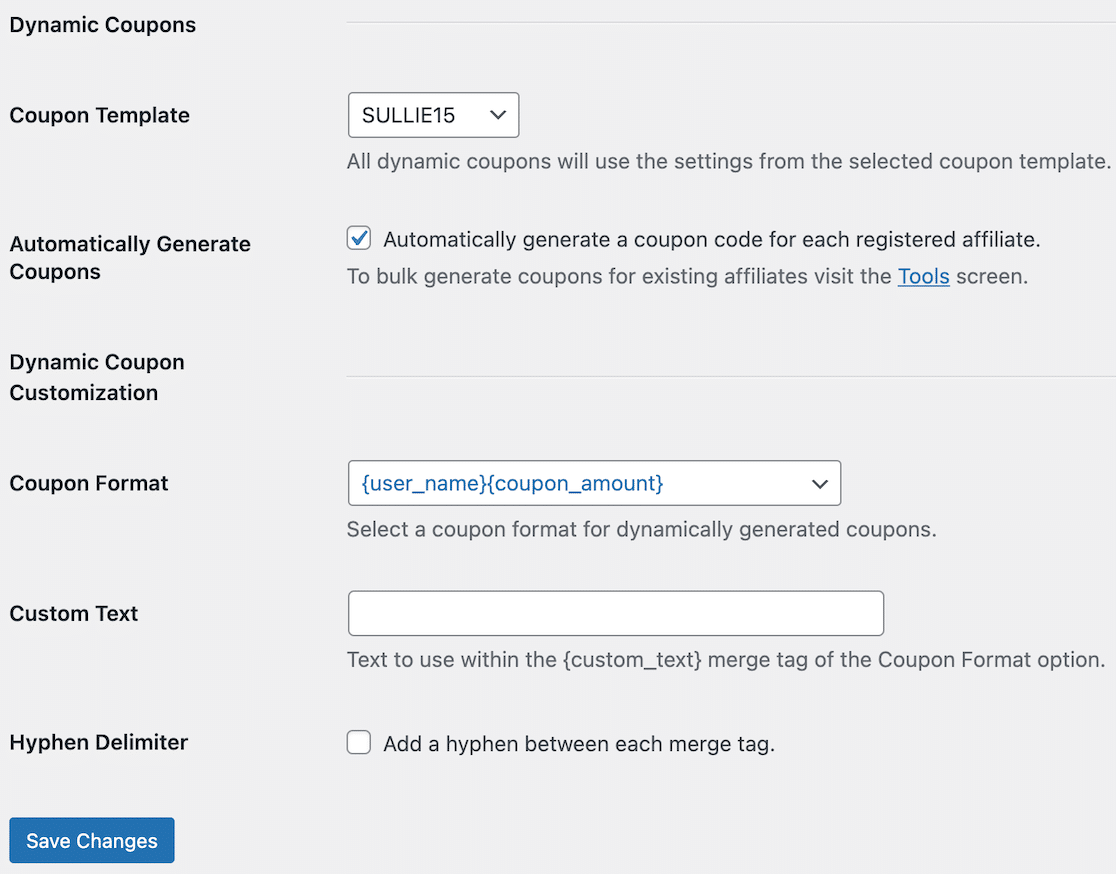 When you select the box to automatically generate discount codes for each registered affiliate, that coupon code will appear in every affiliate account, even when you register new ones.
You can also determine the commission rate during affiliate setup.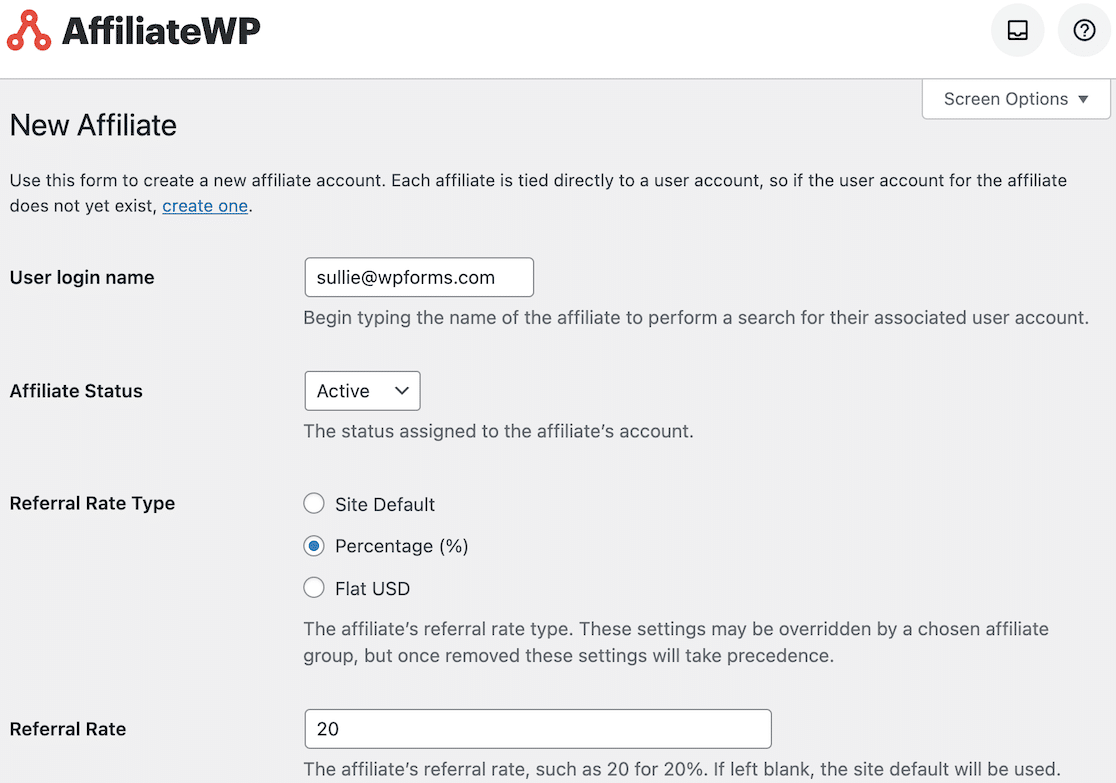 After that, the affiliate can access their dynamic coupon code to add it to their content.

The way this works is that the affiliate copies this coupon code and includes it in their content. When a reader uses that code to make a purchase, they'll receive the specified discount, and the affiliate will receive the specified commission. This is an affiliate sale.
In our examples above, the reader would receive a 15% discount using the code SULLIEWPF15. And the affiliate, Sullie, would earn a 20% commission.
As noted before, AffiliateWP works great with WooCommerce. If you want to create coupons and offer commissions to affiliates, definitely check out AffiliateWP.
Cost
AffiliateWP starts at $149.50/year.
4. PushEngage
PushEngage is a push notification plugin.  It lets you publish notifications that pop up automatically on your visitor's phone or computer.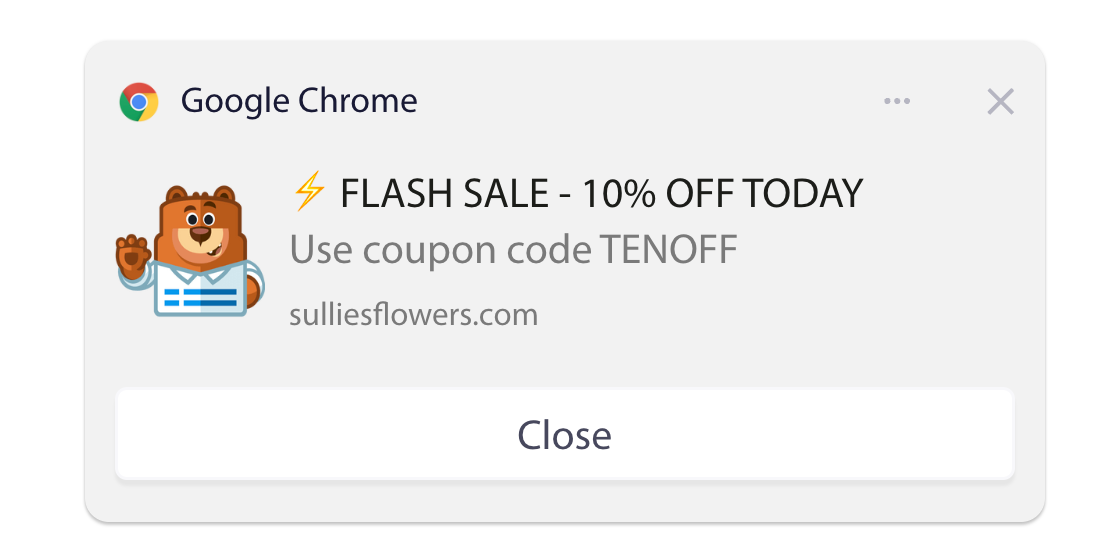 If you install PushEngage, you can create a coupon code in WPForms and advertise it in a push notification popup. Even better, you can add your coupon code to the end of the URL as a query string and the coupon will be automatically applied.
One of our favorite things about PushEngage is how easy it is to customize your notifications. For example, you can use the Attributes API to personalize notifications based on your subscribers' details.
You can also use geotargeting to send offers within specific areas.
To go along with that, PushEngage makes it possible to send your notifications in subscribers' time zones and local languages.
We found that the UI was easy to navigate. Even better, you don't need any coding knowledge. You can truly get started in minutes.
Cost
There's a free plan you can use to get started and get a feel for the plugin. When you're ready to upgrade for more features, prices start at $8/month, billed annually. If you want to automatically apply coupons on your payment forms, you'll need WPForms Pro as well.
5. Advanced Coupons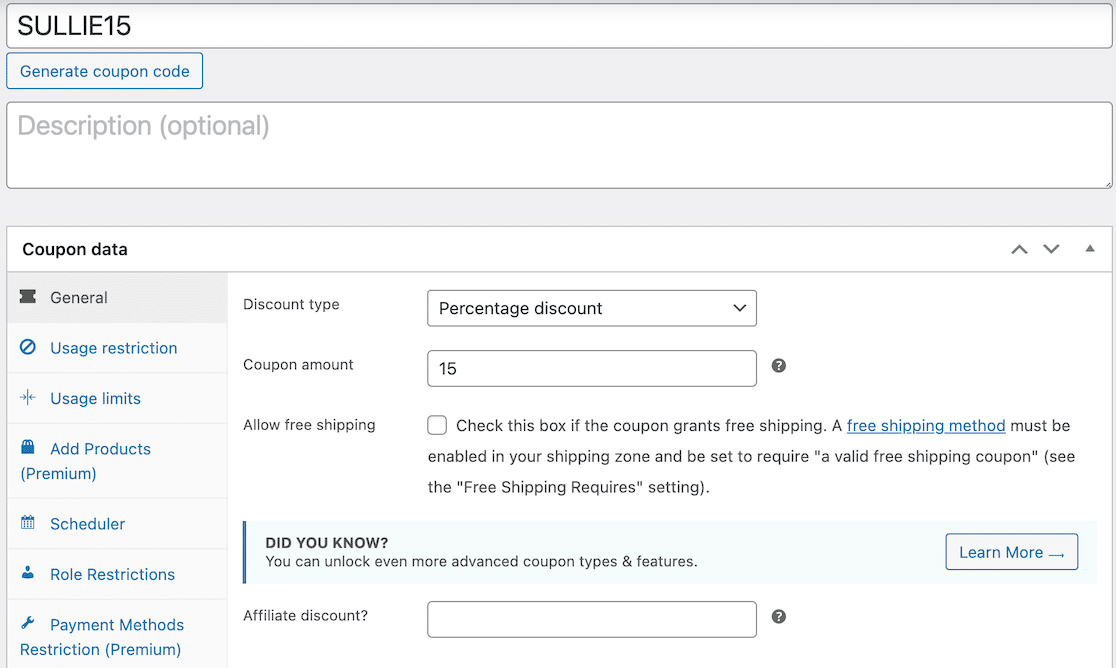 Advanced Coupons has a ton of great features for you to use when setting up and promoting your coupons. For starters, it's easy to create a basic coupon using either your own chosen code or one created by the automatic coupon generator.
There are lots of ways to customize those coupons, too, including different restrictions and limits.
This plugin is comprehensive in that you can go beyond a regular discount coupon. For example, you can offer BOGO deals, free shipping, and URL coupon codes.
You can even auto-add coupons when conditions match so customers get a deal without having to do anything at all. The plugin also makes it easy to create gift cards and a loyalty program, giving you a full range of options to boost conversions.
Cost
A free version of Advanced Coupons is available. To access more features, you can upgrade to a premium version starting at $59.50/year.
6. FunnelKit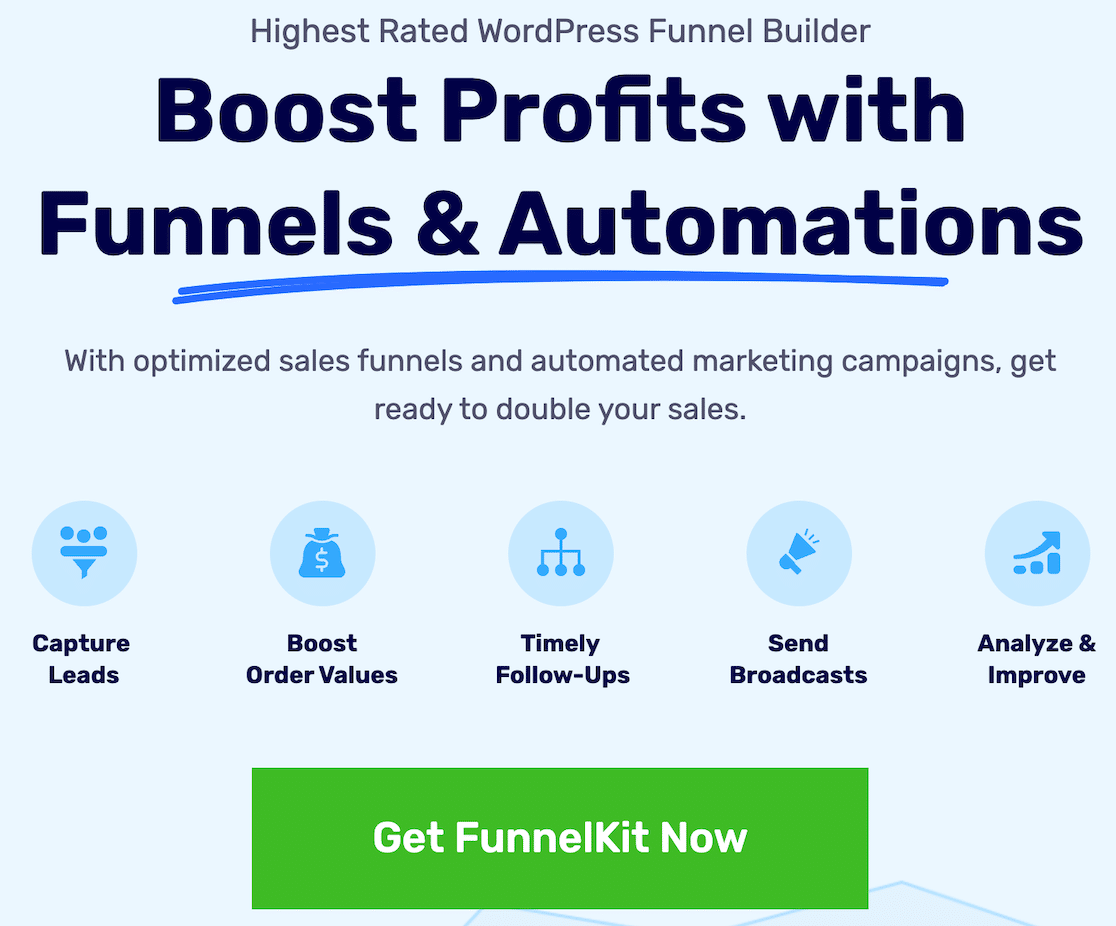 You have many options for WooCommerce coupon plugins, but FunnelKit makes your sales funnels and marketing automation a breeze.
We liked how easy it was to set up automatic coupon redemption from the checkout page. In your checkout page settings, you only need to check a box and enter a code to apply.
Another useful feature is the ability to offer coupons to those who abandoned their carts. When you set up a new automation, you can select an abandoned cart as the trigger event in WooCommerce.
From there, you can set up the coupon details and set it to email the shopper who abandoned the cart, offering them a certain percentage off to complete the purchase.
Cost
FunnelKit starts at $99.50/year.
7. WP Coupons and Deals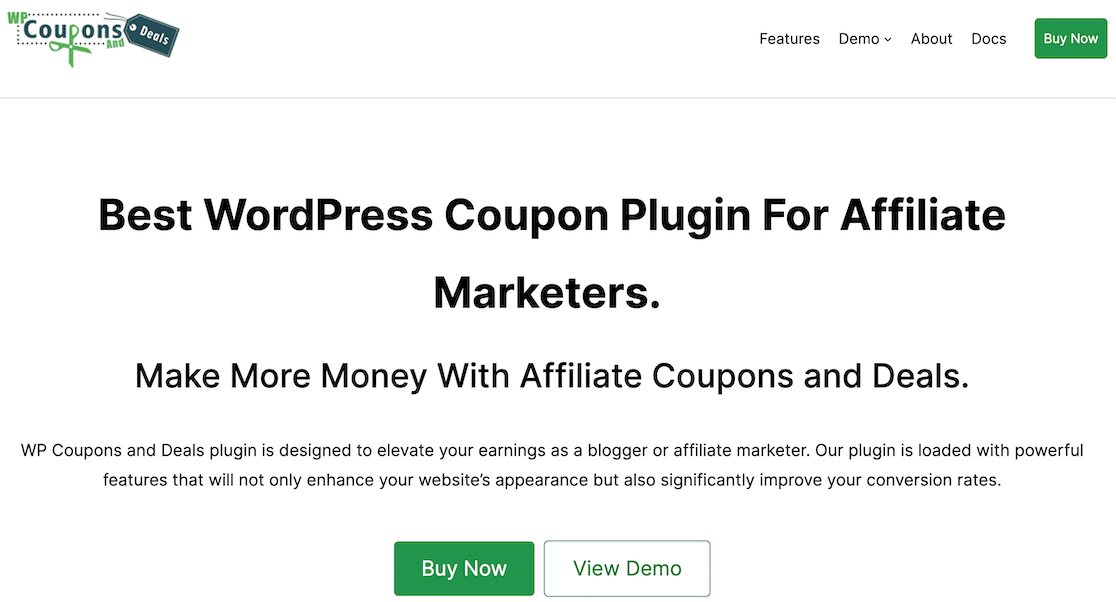 WP Coupons and Deals lets you easily create coupons and deals. The UI is intuitive and looks a lot like WordPress, so it's familiar to navigate.
Use shortcodes to add your coupons wherever you want on your site, including sidebars, widgets, and footers. You can even opt to hide coupons after their expiration date so that you don't have to go back looking for old discount codes to remove manually.
You can also use this plugin for affiliate marketing.
What we really loved about this plugin is the ability to preview your coupon as you create it. You can choose from several coupon templates so that the style fits with your site's WordPress theme. You can customize colors to make sure it matches, as well.
Cost
Pricing for WP Coupons and Deals starts at $39/year.
FAQs
Can I Customize a Coupon's Appearance Using a WordPress Coupon Plugin?
Yes, most WordPress coupon plugins include the functionality to customize your coupon's appearance. Some have templates that you can use, but most plugins let you customize the color scheme so your coupon matches your site.
How Can My Site Benefit From Using a WordPress Coupon Plugin?
Having a coupon plugin on your WordPress site has several benefits. First, it helps you to attract customers. People love a good deal, and if you give them a way to save a little money, that can help boost your conversions.
Offering a deal with coupons doesn't just help attract new customers. It also helps build loyalty once they've found you. Building loyalty is a crucial step in boosting conversion rates.
If you don't have a coupon plugin and never offer your customers discounts and deals, you could see a significant dip in loyalty and sales as they move towards brands that do offer them.
Next, Check Out Other WordPress Plugins and Tools to Boost Your Site's Functionality
Ready to build your form? Get started today with the easiest WordPress form builder plugin. WPForms Pro includes lots of free templates and offers a 14-day money-back guarantee.
If this article helped you out, please follow us on Facebook and Twitter for more free WordPress tutorials and guides.