Are you looking for the best affiliate plugins for WooCommerce? While there's no shortage of affiliate plugins in WordPress, not all of them integrate with WooCommerce.
We tested several affiliate plugins for WooCommerce to find out which are the best. In this post, we'll share our reviews to help you make a decision about which plugin is right for you.
Create Your WordPress Form Now
Best Affiliate Plugins For WooCommerce: Overview
In a hurry? Here's an overview of the plugins we cover in this post.
| Plugin | Free Version? | Price Starts At… |
| --- | --- | --- |
| AffiliateWP | ❌ | $149.50/year |
| Easy Affiliate | ❌ | $99.50/year |
| WP Affiliate Manager | ✅ | $39 purchase |
| SliceWP | ✅ limited | $169/year |
| Coupon Affiliates | ✅ 7-day trial and free demo | $9.99/month billed annually |
| YITH WooCommerce Affiliates | ✅ limited | $179.99/year |
| Affiliates WooCommerce | ✅ | $49.50 purchase |
Read on below for complete reviews, or use the table of contents to jump directly to any of the tools that catch your eye.
What Is Affiliate Marketing?
Affiliate marketing is when you earn a commission from selling third-party products through special affiliate or referral links. Its popularity has increased in recent years because if you can get good at it, you can earn a decent amount of passive income.
In fact, some affiliate marketers open eCommerce stores using platforms like WooCommerce just to sell affiliate products. It means they never have to manage products and inventory, but they can still earn all the commission from the sale.
Best Affiliate Plugins For WooCommerce
Here are our picks for best affiliate plugins for WooCommerce based on our tests. We'll go into our top 3 in a bit more detail, but don't sleep on the others! These are all fantastic plugins for your affiliate marketing campaign.
1. AffiliateWP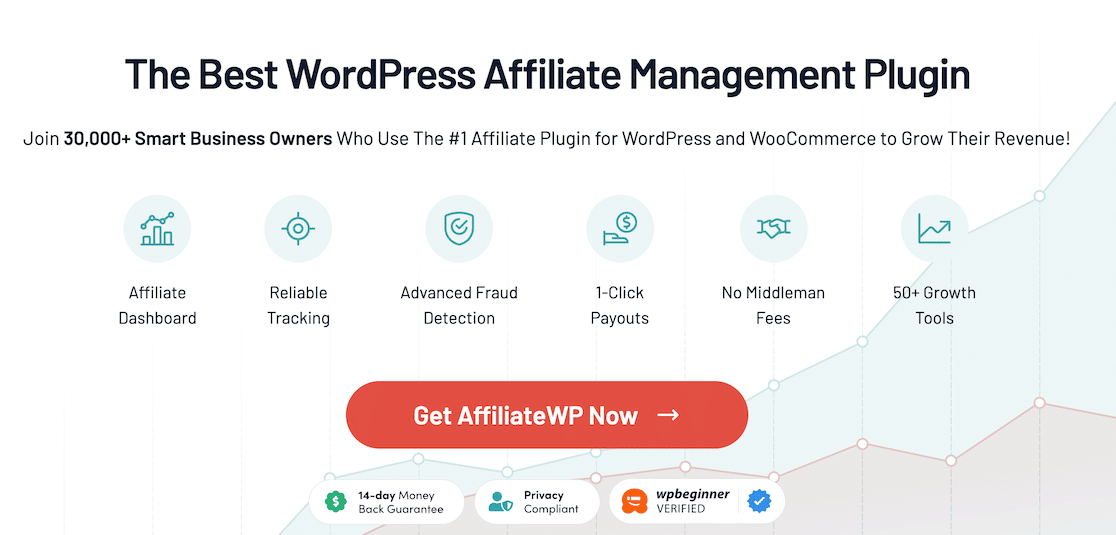 AffiliateWP lets online businesses and individuals with WooCommerce stores create their own affiliate marketing programs. It's primarily for use with WordPress.org sites, but you can also use it on a WordPress.com site if you have a business or eCommerce account.
Cost
AffiliateWP starts at $149.50/year.
There's no free trial, but there is a money-back guarantee if you aren't satisfied with your purchase.
Installation & Setup
The first thing you'll need to do is purchase a license on AffiliateWP's website and download the plugin.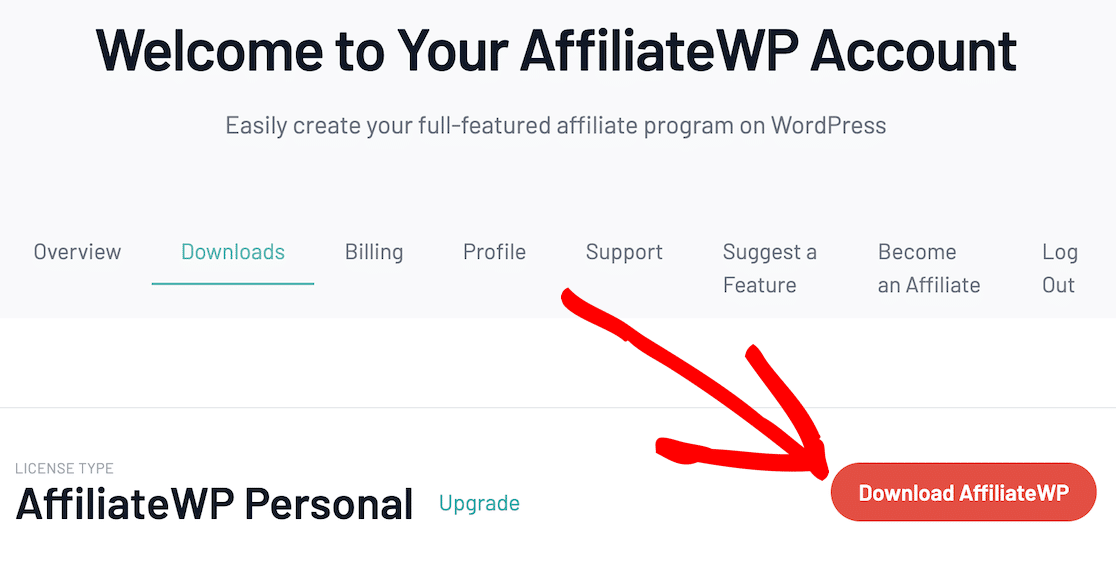 After downloading the .zip file from your account page, install and activate it in WordPress. If you need help with that step, check out this guide to installing WordPress plugins.
Setup is a breeze, thanks to the setup wizard. That's where you'll enter your license key, select integrations, configure specific affiliate payouts, and determine affiliate commissions and growth tools.
As it walks you through the quick process, one of the options is 1-click integration. This is where you can select WooCommerce.
Note that it will only let you integrate with plugins that it detects on your WordPress site, so make sure you have WooCommerce already installed and activated first.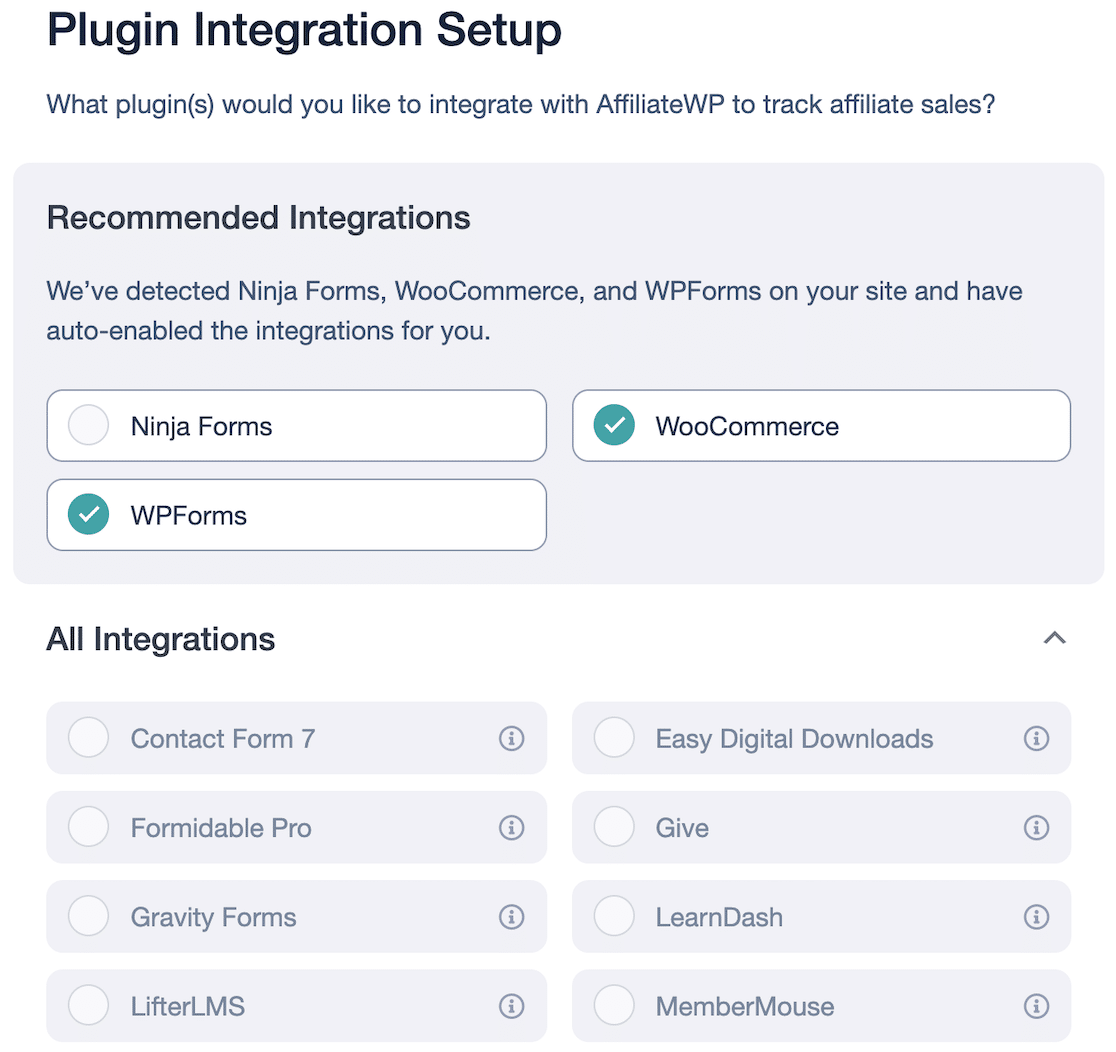 It only takes a couple of minutes to complete the setup wizard and get AffiliateWP up and running on your site.
Check out our full review of AffiliateWP.
Configuring AffiliateWP
There are a lot of options when it comes to configuring AffiliateWP. While this may seem time-consuming, it allows you to be precise in setting up your affiliate marketing program.
When you click on AffiliatesWP » Settings in the left sidebar menu in WordPress, you'll see 7 tabs across the top:
General
Integrations
Optin Form
Emails
Miscellaneous
Payouts Service
Coupons
You can spend as much or as little time as you want in these tabs but spend some time there, particularly in the General tab. That's where you'll be able to configure the settings for your Affiliate Area page, which is where your affiliates will go to get their referral links and access their accounts.
Adding Affiliates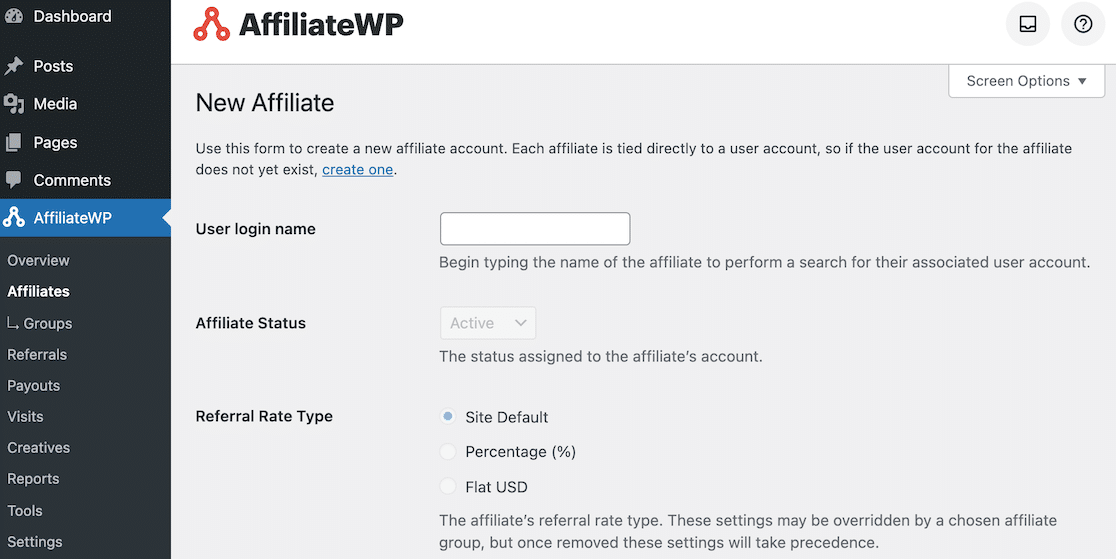 Affiliates are tied to user accounts, so be sure to create those first. AffiliateWP provides an easy link that helps you with that.
Affiliate setup is pretty straightforward. After selecting a user to add as an affiliate, you can add details such referral rate, rate type, payment email, and more.
Using the Affiliate Area to Generate Referrals
You can create referral links, as can your affiliates when they visit their affiliate area page. This is an easy way for them to choose the products they want to promote and generate the links they need, thus keeping it neat and organized.
When you install AffiliateWP, it lets you add the affiliate area to any page you want and share that with your affiliates to access. When they do, they'll be able to grab any referral links you've set up, and use the link generator from that same affiliate dashboard to create their own links.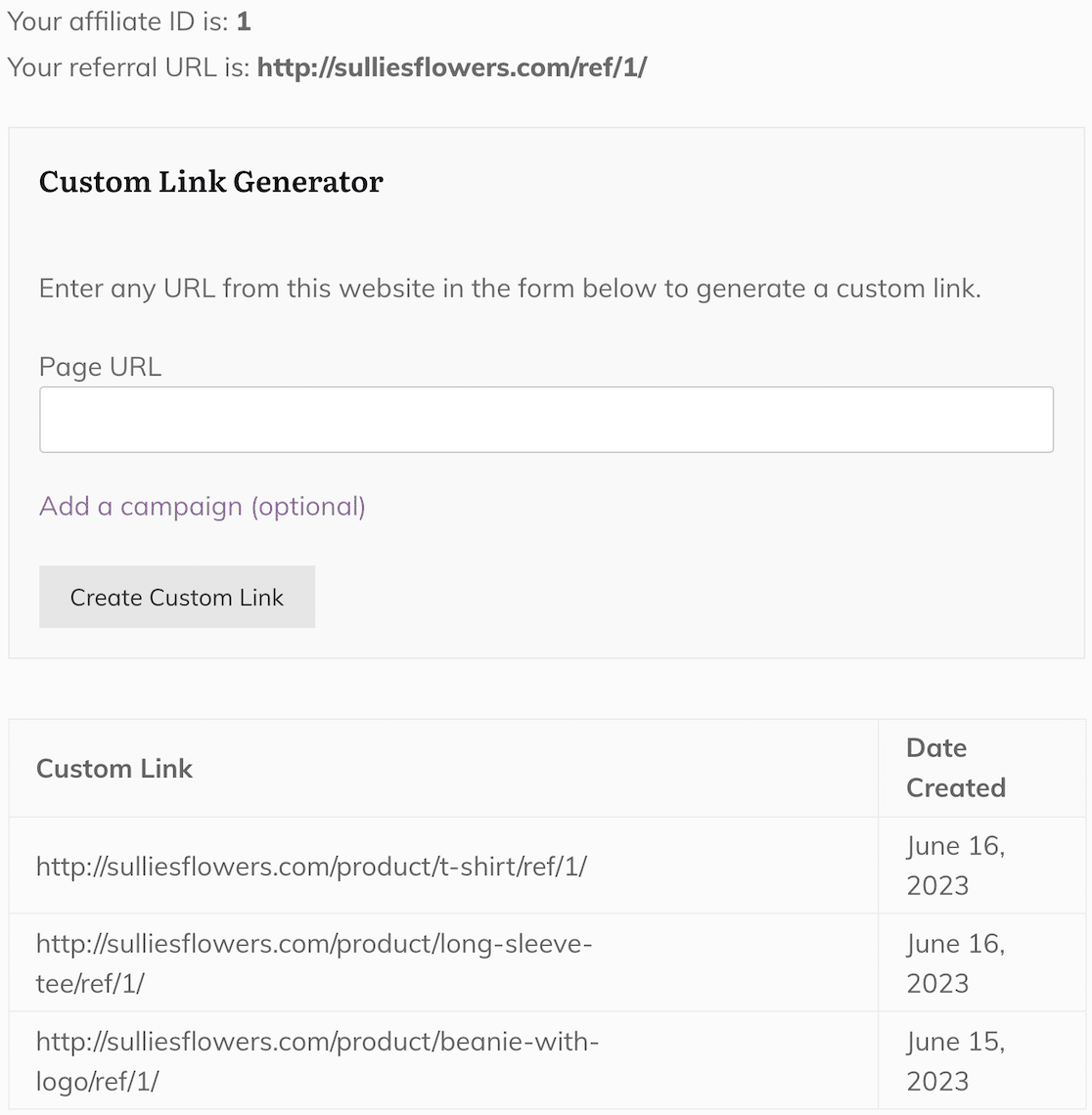 From there, affiliates can grab the links they need to add to their content.
It's worth noting that when you add creatives, you have the choice of adding them as an image or text link that affiliates can use.
Payouts
There are 2 ways to pay your affiliates in AffiliatesWP. The best way is to connect your account to Payouts Service. It allows you to pay affiliates directly to their bank accounts from a debit or credit card.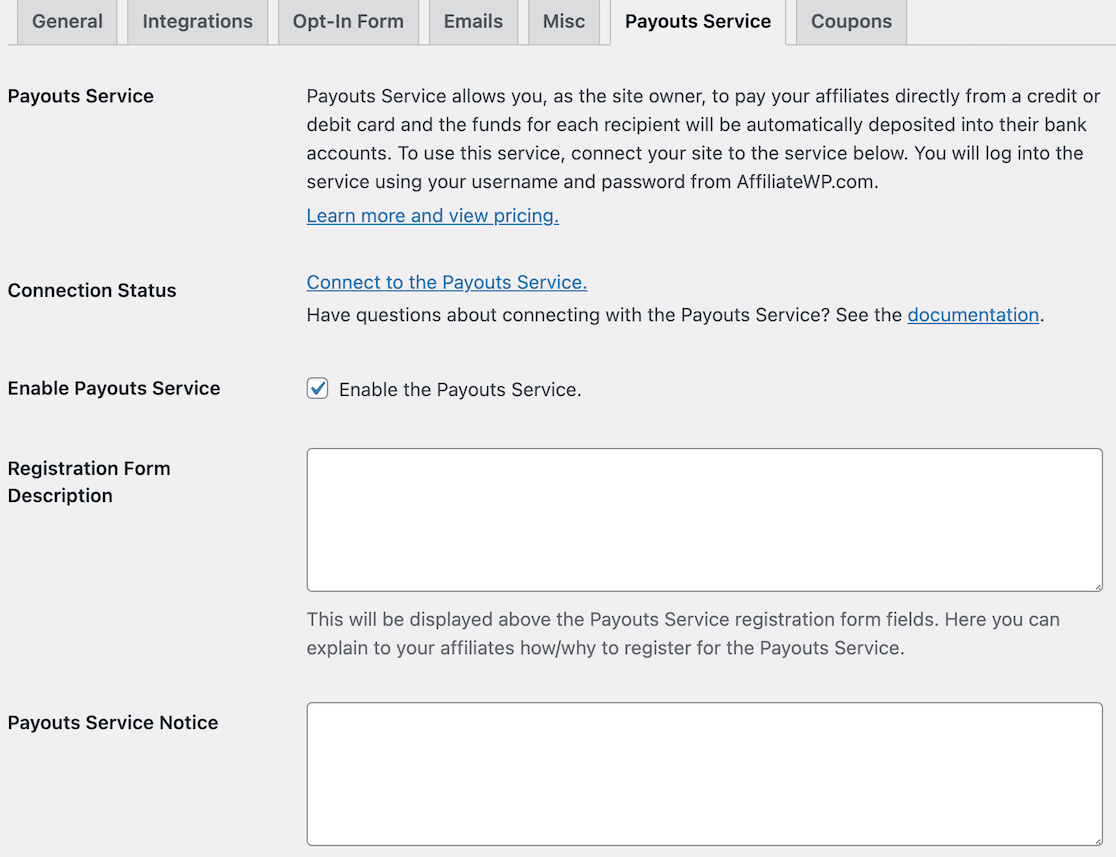 Alternatively, you can pay your affiliates manually through other means not connected to the plugin.
Overall Impression
AffiliateWP is top-tier when it comes to creating your own affiliate program. The easy 1-click integration with WooCommerce means that the two work together seamlessly.
As with any plugin, there's a little bit of a learning curve involved, especially if you're brand new to setting up affiliate programs. But it's intuitive and easy to figure out, and support is available if you need it.
2. Easy Affiliate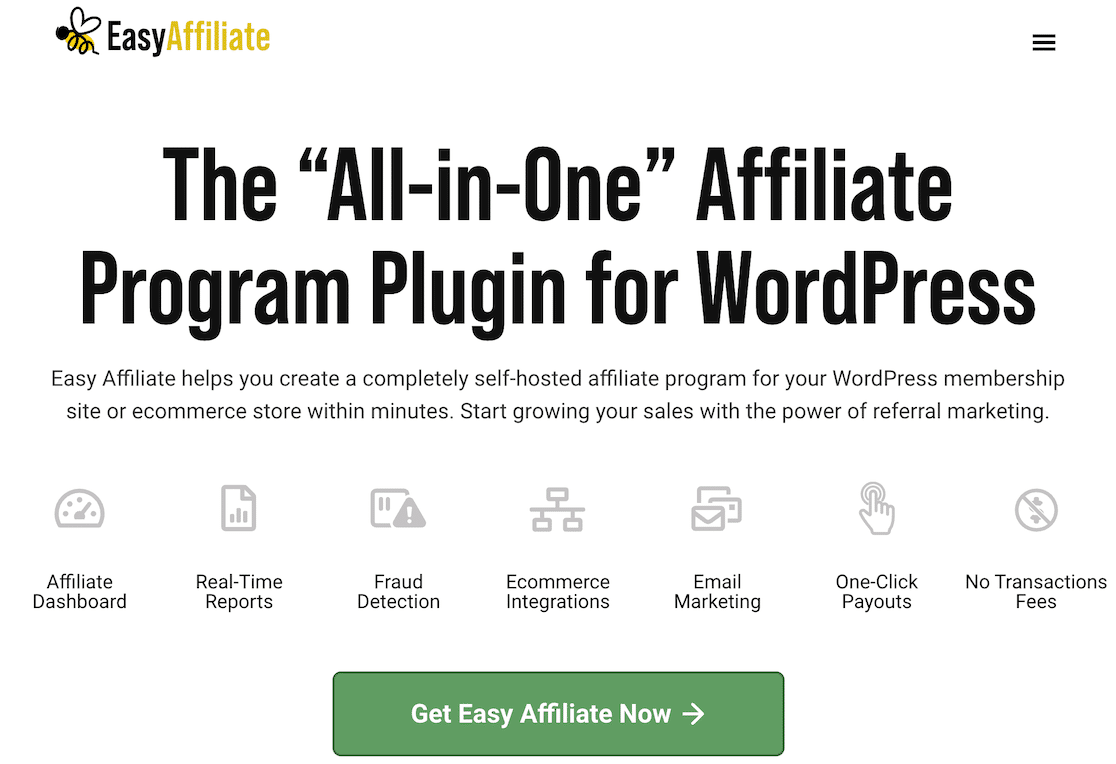 If you're looking to create your own affiliate program, Easy Affiliate is another great option. It easily integrates with popular tools like ConvertKit, PayPal, GetResponse, Easy Digital Downloads, and more. You can even integrate it with your WPForms account!
Cost
Easy Affiliate starts at $99.50/year. Although they don't offer a free trial, they do offer a 14-day no-risk guarantee so you can get your money back if you aren't satisfied.
Installation & Setup
To start, select and purchase an Easy Affiliate license. Once you do, you can download the .zip file from your account page.

Once you have the file and upload it in WordPress, a setup wizard takes you through all the necessary steps. Those include:
License key
Migrate affiliate recognizes if you have Affiliate Royale or AffiliateWP installed and offers to help you migrate data, settings, and links
Integrations
Business Info
Affiliate registration process
Commissions and payouts
Add creatives
Configuring Easy Affiliate
After setup, you can configure additional settings by clicking on Easy Affiliate » Settings.
There are a few neat features worth calling out here. The first is that you can enable UTM parameters for tracking purposes.

When you enable this feature, Easy Affiliate will take care of setting up UTM parameters on your affiliate links so you can track them in Google Analytics.
You can also add a customized, automated affiliate agreement to the affiliate form, and it only takes a minute.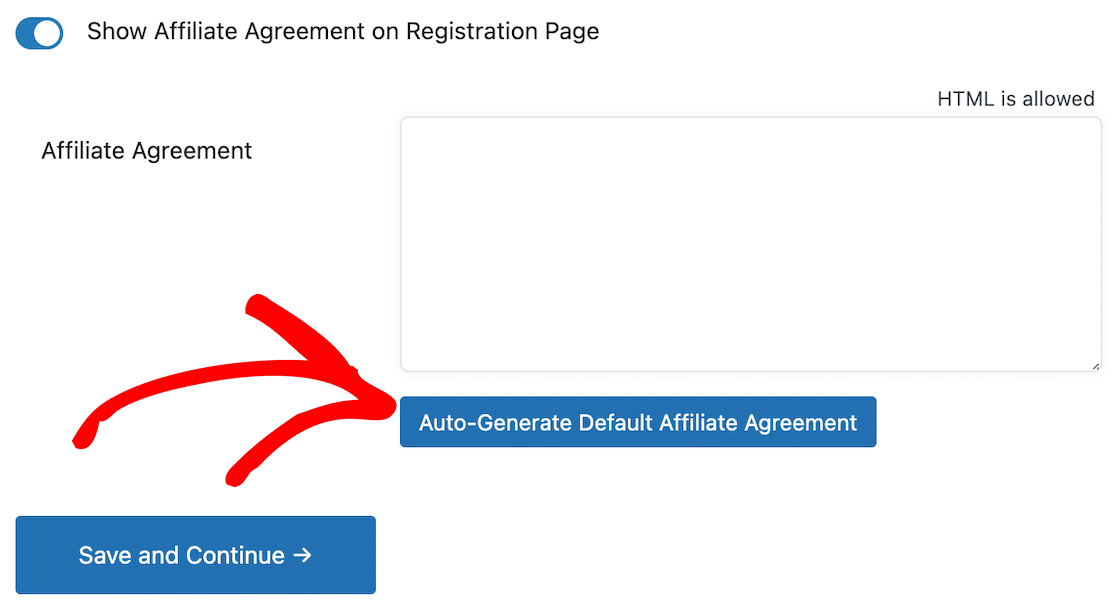 When you click to auto-generate a default agreement, you have to provide a few details about your business.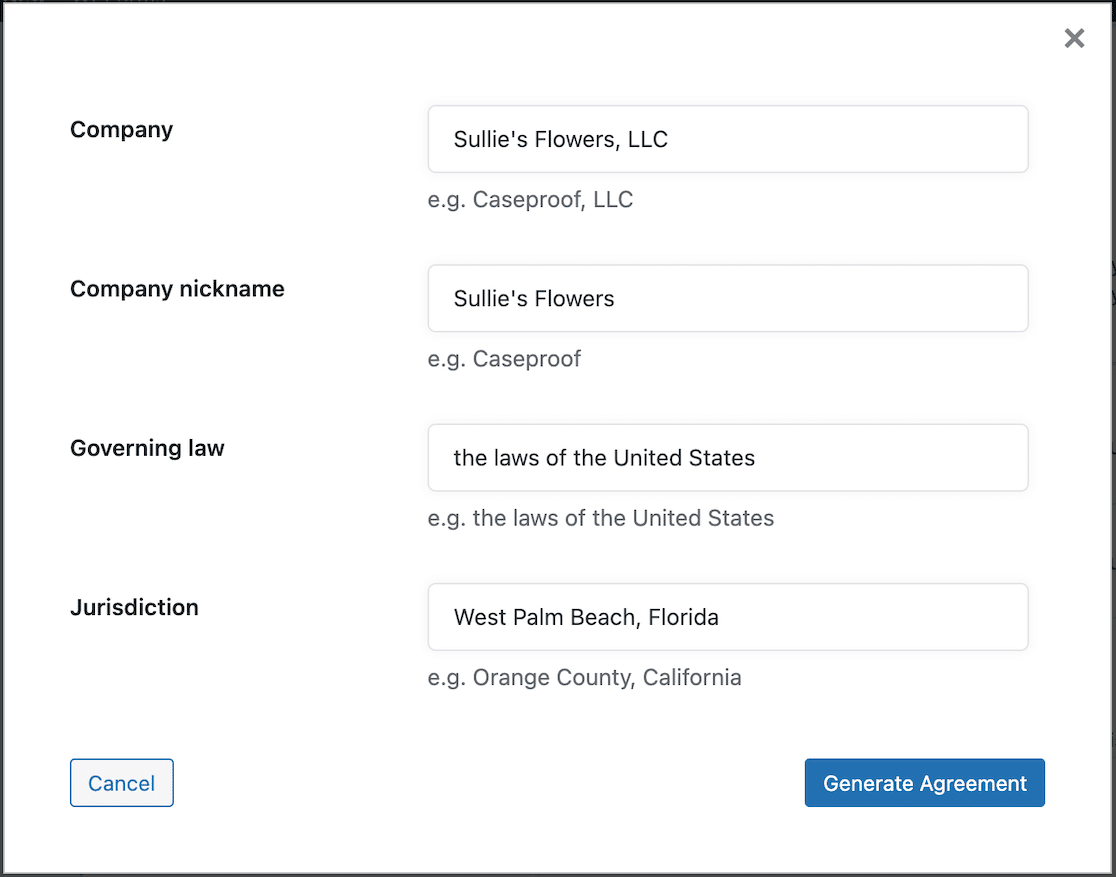 Click Generate Agreement and it's done. Super easy. Now this agreement will automatically show on all affiliate forms.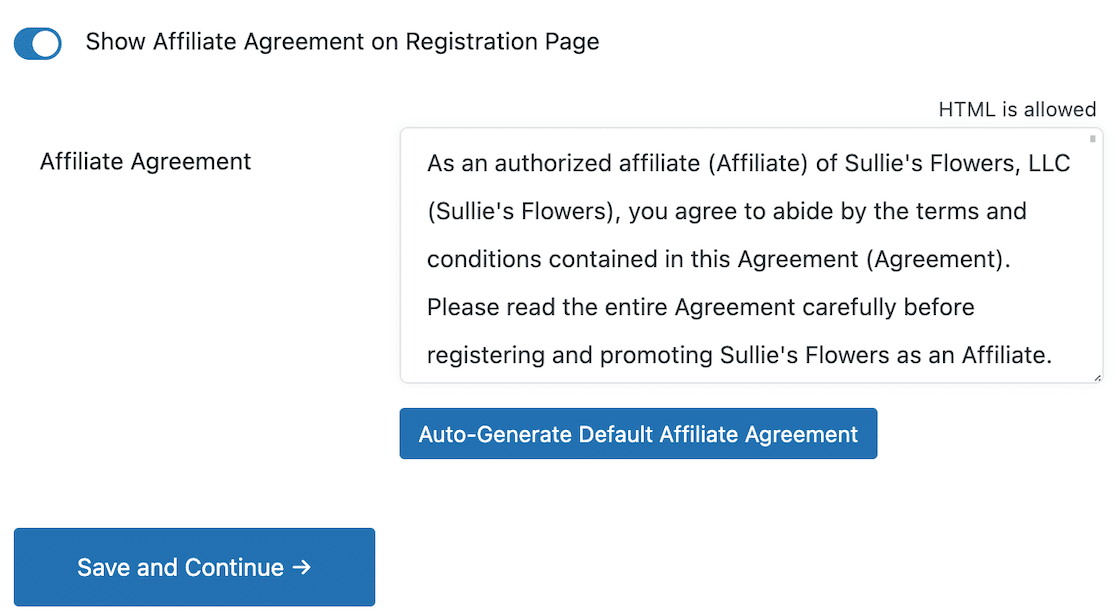 Adding Affiliates
You can add affiliates in 3 ways. First, you can let them register on your site. If you choose this option, anyone who registers will be admitted to your affiliate program.
You can also have them submit an application. This way, you can review it and decide whether to add them.
Finally, you can add new affiliates manually.
Using the Affiliate Area & Generating Referrals
Generating links in Easy Affiliate is easy. If you've used other affiliate tools in the past, you'll find it a similar process. If you're brand new, it won't take you long.
View and add creatives by clicking on Easy Affiliate » Creatives. Creatives can be text links or banners.
Affiliates can view links and banners in your WordPress site's Affiliate Area.
They can manage their accounts in that area, as well.
Payouts
Though both are strong platforms, there are more payouts options available to you in Easy Affiliate than with AffilateWP.
Easy Affiliate lets you set up payouts using PayPal Mass Payment or PayPal 1-Click.

PayPal is a trusted payment processor, so it's one that your affiliates will recognize and likely have.
You can also opt to pay your affiliates through some other means outside of the plugin.
Overall Impressions
Easy Affiliate is a solid platform that offers a ton of features, even on its Basic plan. It was easy to set up, easy to learn, and everything was intuitive.
We liked all the options available for customizing your program, as well as the real-time reports. Not only does Easy Affiliate create a good user experience for you, but it helps you create a good user experience for your affiliates.
3. WP Affiliate Manager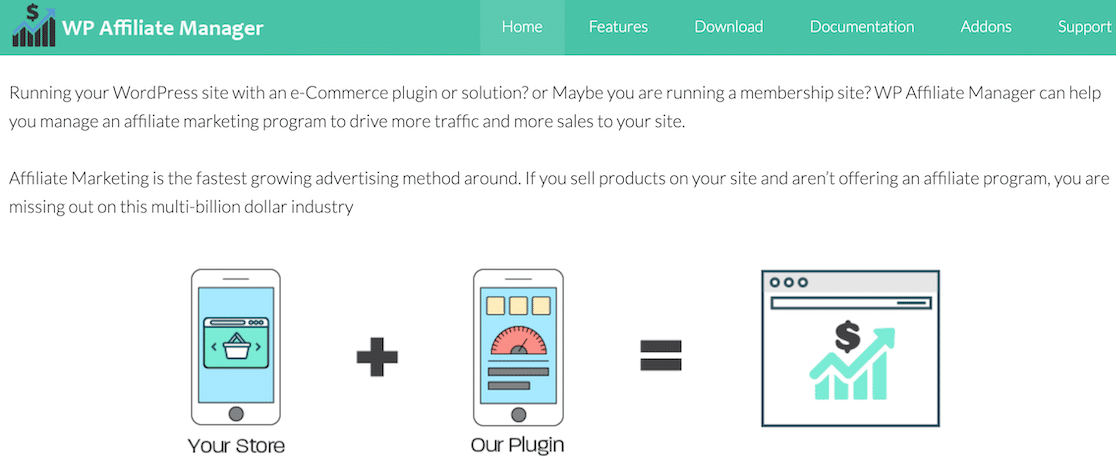 Among WP Affiliate Manager's 25 addons are 5 that are specific to WooCommerce. 2 of those 5 are free. This is a platform that really leans into its WooCommerce integration.
Cost
There is a free version of WP Affiliate Manager. Paid licenses begin at $39.
Installation & Setup
If you're using the free version, you can install and activate it directly from the plugins area in WordPress. You can also purchase a license on the WP Affiliate Manager website and upload it to WordPress.
Configuring WP Affiliate Manager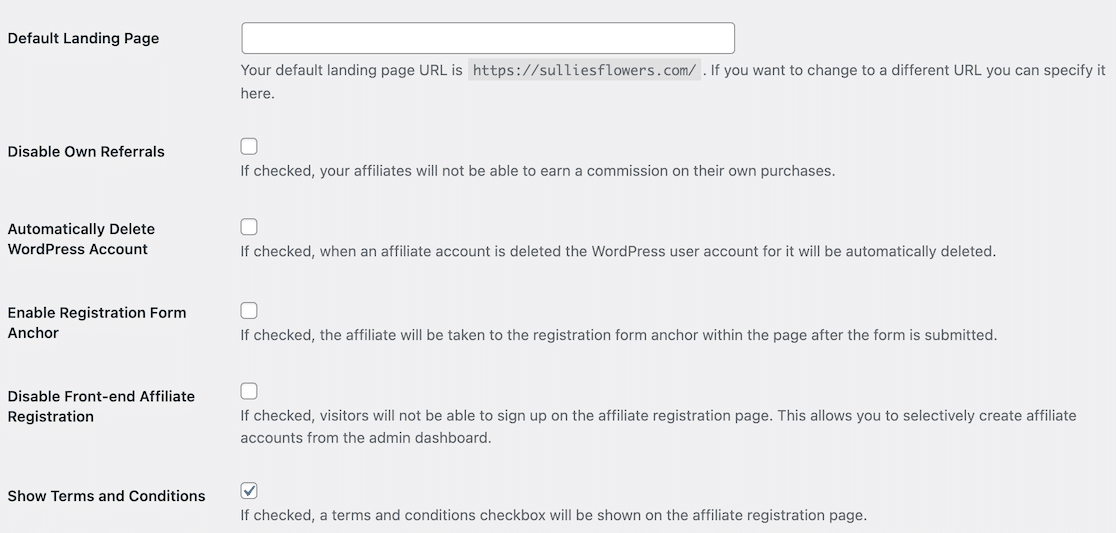 Once you've activated the plugin, go through all the setting options – and there are many! This screenshot only shows a few of them. Spend some time deciding how you want to customize every aspect of your affiliate program.
The settings menu contains tabs for General, Affiliate Registration, Messaging, Payment, Pages/Forms, and Advanced Settings so you can configure everything to your liking.
And don't forget the addons! Free and paid addons offer more functionality.
Adding Affiliates
This process is pretty standard with the others on this list. You can let affiliates register through your site's affiliate area, or you can manually add them on the backend of the plugin.
You can also set different bounty types and commission rates by affiliate.
WP Affiliate Manager gives you unlimited affiliates.
Payouts
WP Affiliate Manager uses PayPal Mass Pay, and you can manage mass payments by outstanding amount or by date range. To set this up, you need to register for an account with your PayPal Premier or Business account and get an API username and password.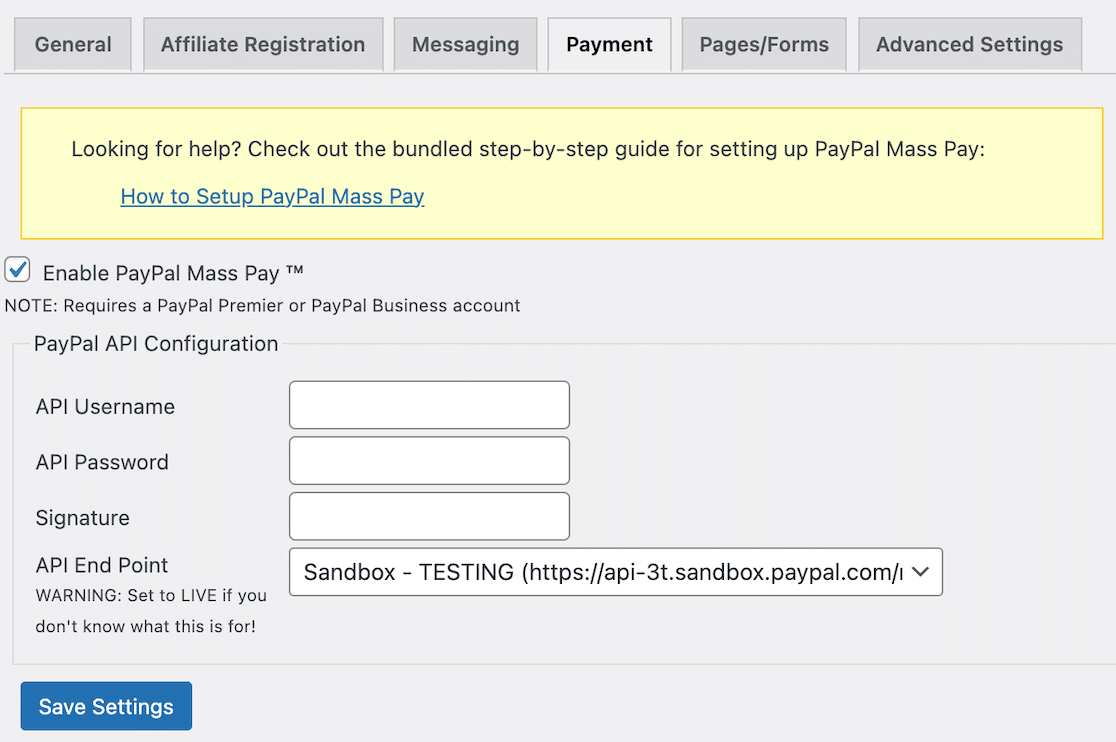 You can also manage manual payouts from within the plugin, which is a nice feature. It lets you keep track of everything all in one place. Start by viewing the affiliate's details.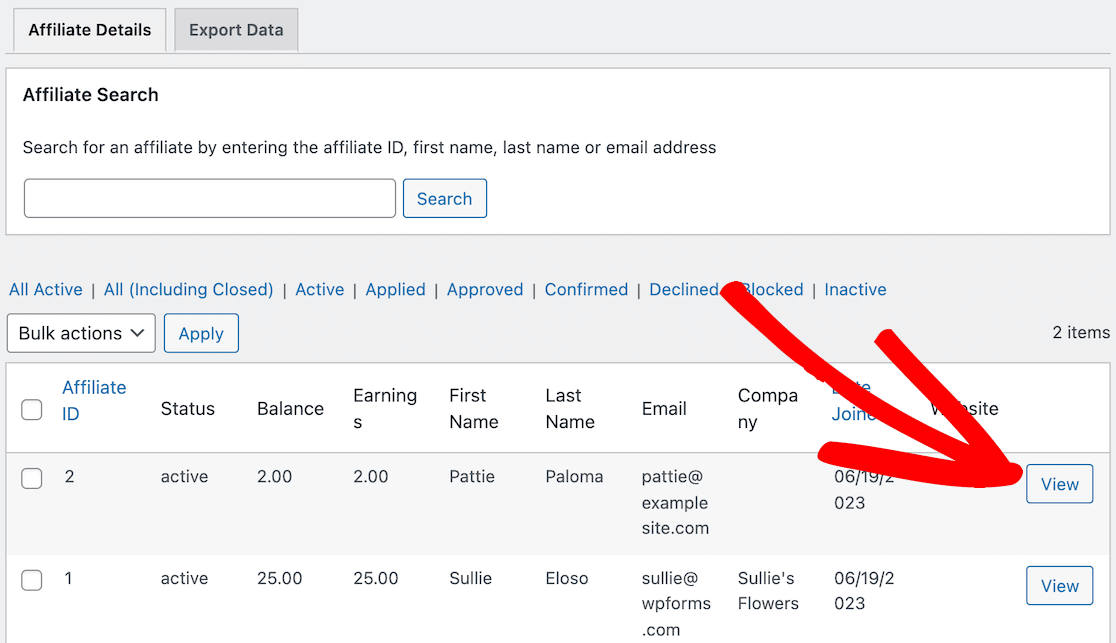 Then you click Apply Payout.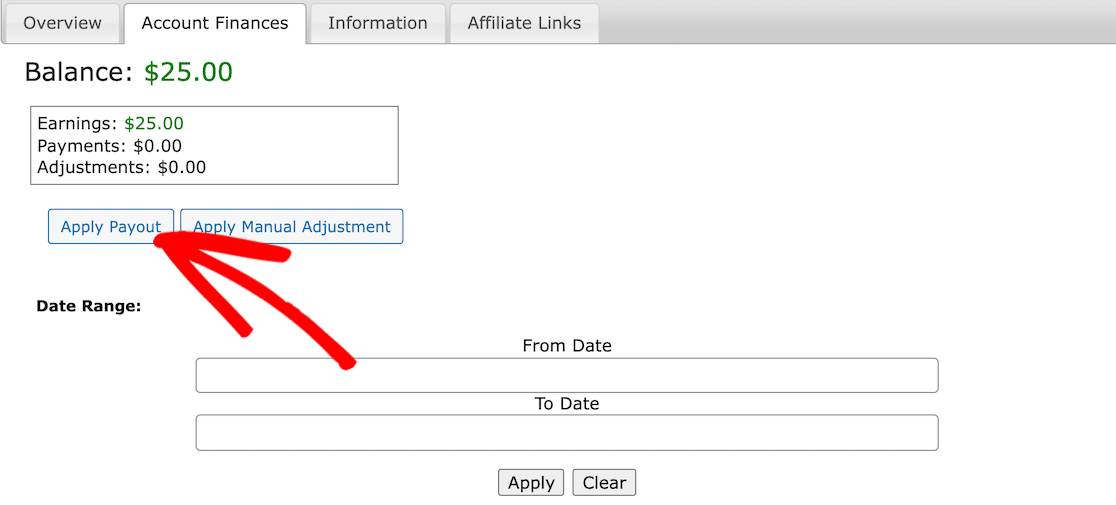 We like this feature because it's convenient to manage manual payments right in the plugin with any PayPal payments you make, as well.
Overall Impressions
While the price is right for the premium versions of WP Affiliate Manager, and they're loaded with features, there's really a ton of functionality in the free version, as well. Plus, you have the option of purchasing addons.
We love that there are shortcodes you can use to set your affiliate area up anywhere on your WordPress website. It doesn't need to be its own page. You can place it in a sidebar or footer, or anywhere you want.
4. SliceWP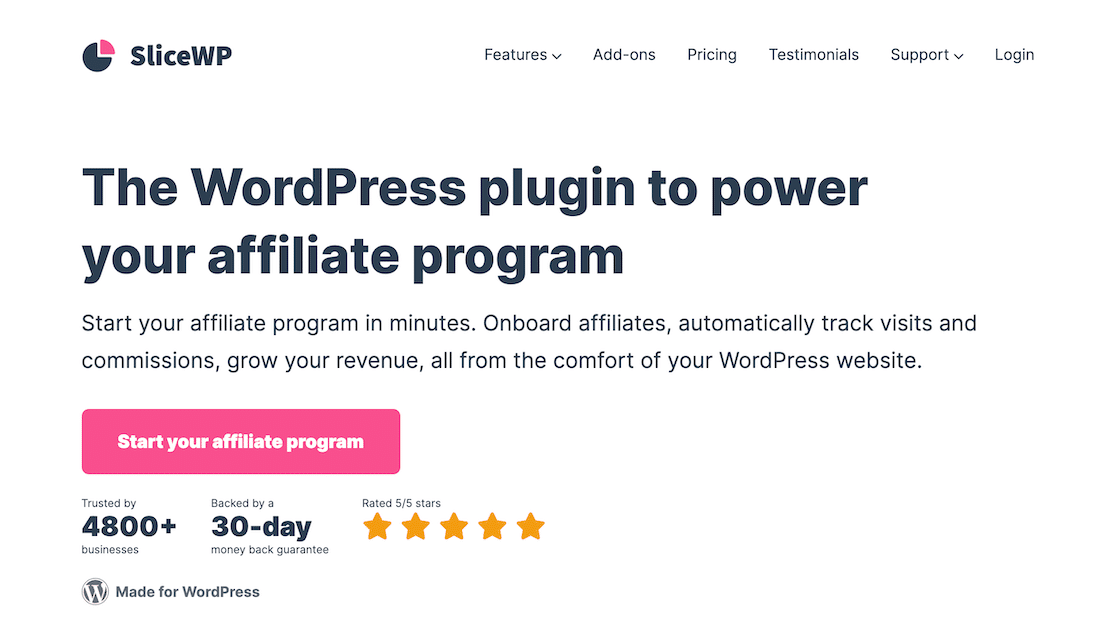 SliceWP is another sleek option for creating your affiliate program. It has easy 1-click integration with WooCommerce so you'll be up and running in no time.
There's a limited free version, but if you want to access most of the key features, paid plans start at $169/year. You can also purchase a lifetime license, starting at $429.
Like many of the others on this list, there's a setup wizard that helps you configure your affiliate program.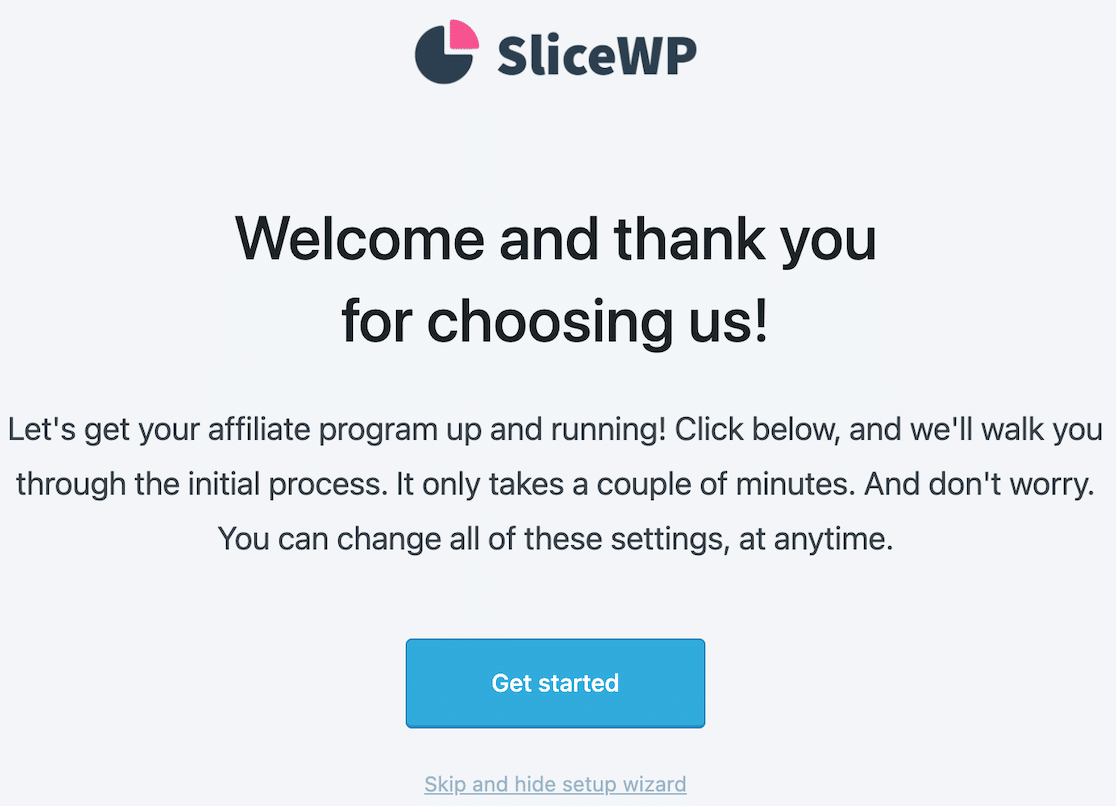 We thought it was a nice touch that, at the end of setup, SliceWP invites you to get involved with its community. This includes showing you where and how to access docs and answer questions. You'll also be prompted to sign up for their emails and join their Facebook group where users help each other.
Another great feature is the customizable email notifications so that you can keep your affiliates up-to-date on everything they need to know.
In terms of payments, it's worth noting that you need to upgrade to a premium license to connect your PayPal account and use the PayPal Payouts addon. If that's not a concern, you can also make and manage payouts outside the plugin.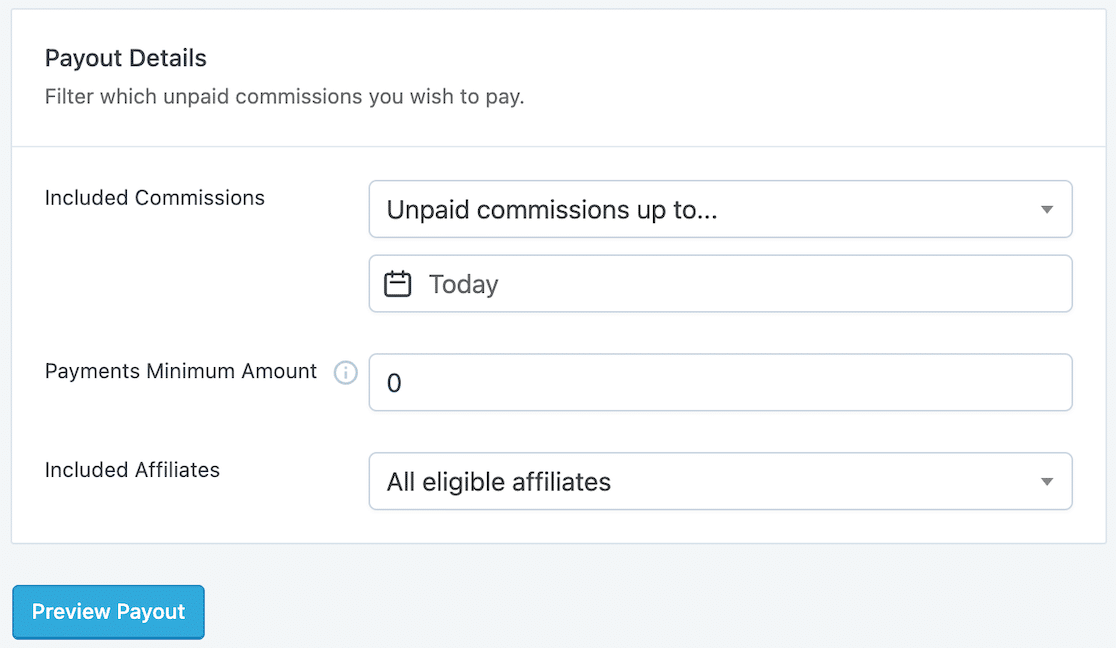 Overall, SliceWP is user-friendly from both the user and admin sides. The user interface is clean and modern, and the plugin has a lot of functionality. Beyond what comes with the plugin, you can also install addons that make it an even more powerful platform to host your affiliate program.
5. Coupon Affiliates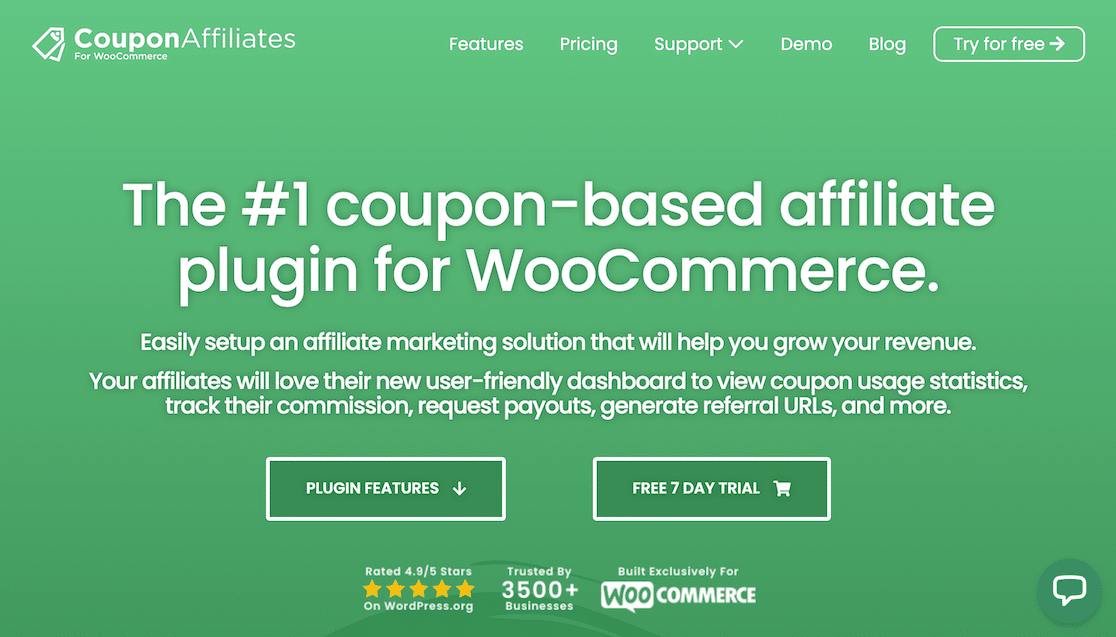 What makes Coupon Affiliates stand out is that you use it to create a coupon-based affiliate program. While others on this list have multiple integrations that include WooCommerce, Coupon Affiliates is created specifically for WooCommerce.
You can try Coupon Affiliates free for 7 days. There's also a demo that you can access for a few hours to see how it works. After that, the Pro version starts at $14.99 per month, or if you sign up for a yearly plan, it comes out to be $9.99 per month.
As we tested Coupon Affiliates, we really liked all the fraud prevention options.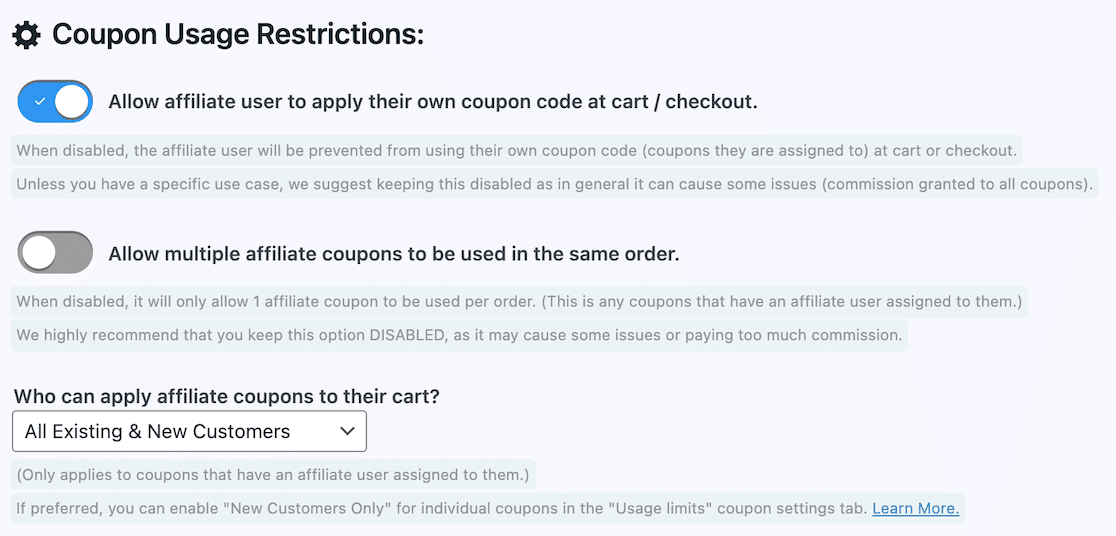 In addition to coupon usage restrictions, you can create a visitors blacklist, a domain blacklist, and direct link tracking restrictions.
You can set up usage restrictions when you create the affiliate coupon code.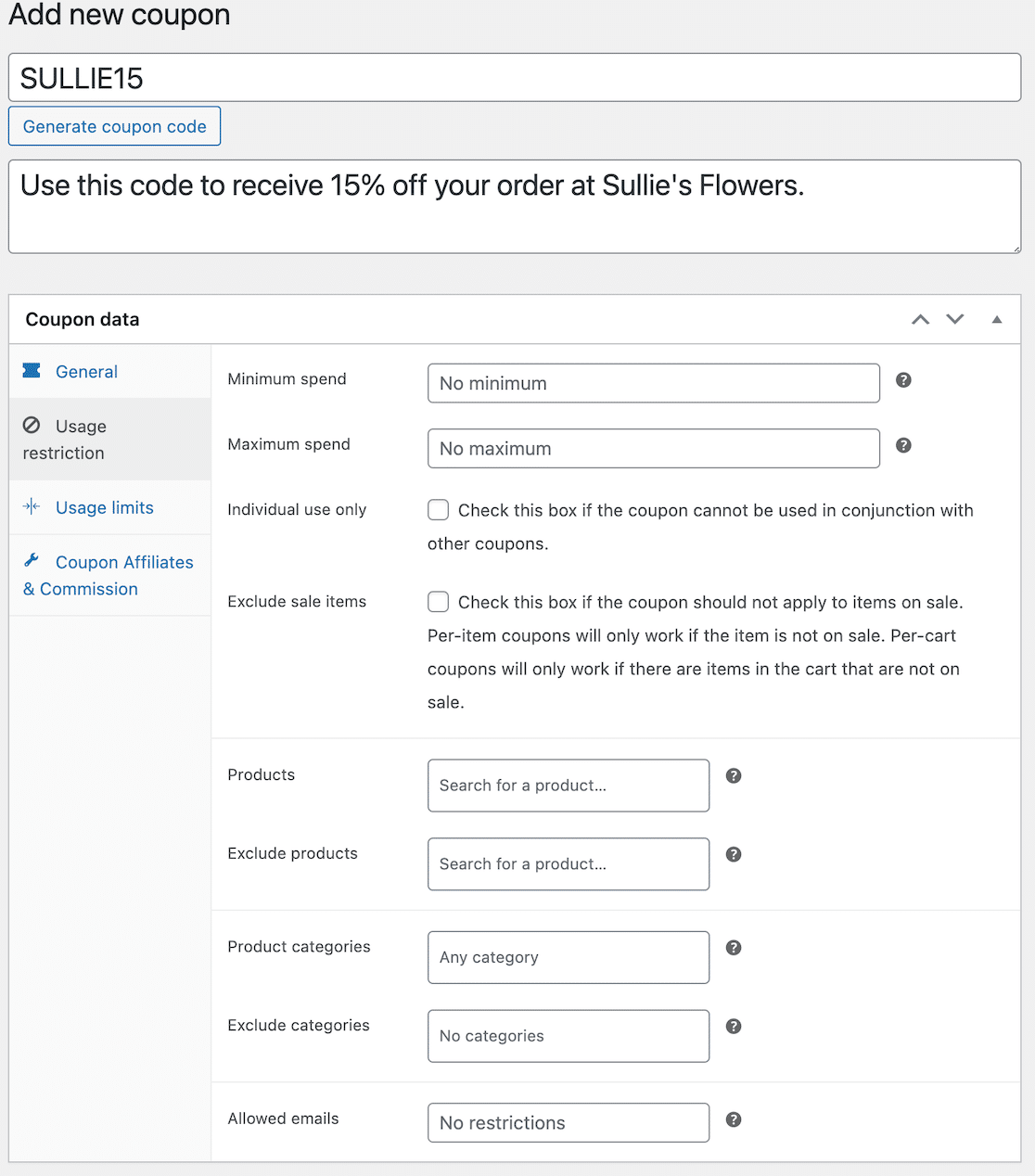 You also have several options when it comes to paying affiliates. These include manual payments, bank transfers, PayPal, Stripe, and online store credit. You can use one of these methods or some combination of them.
Our overall impression of Coupon Affiliates is that it's quite a powerful platform. It's easy to set up. There are a lot of features, but the price is affordable if you're on a budget. It's a solid option.
6. YITH WooCommerce Affiliates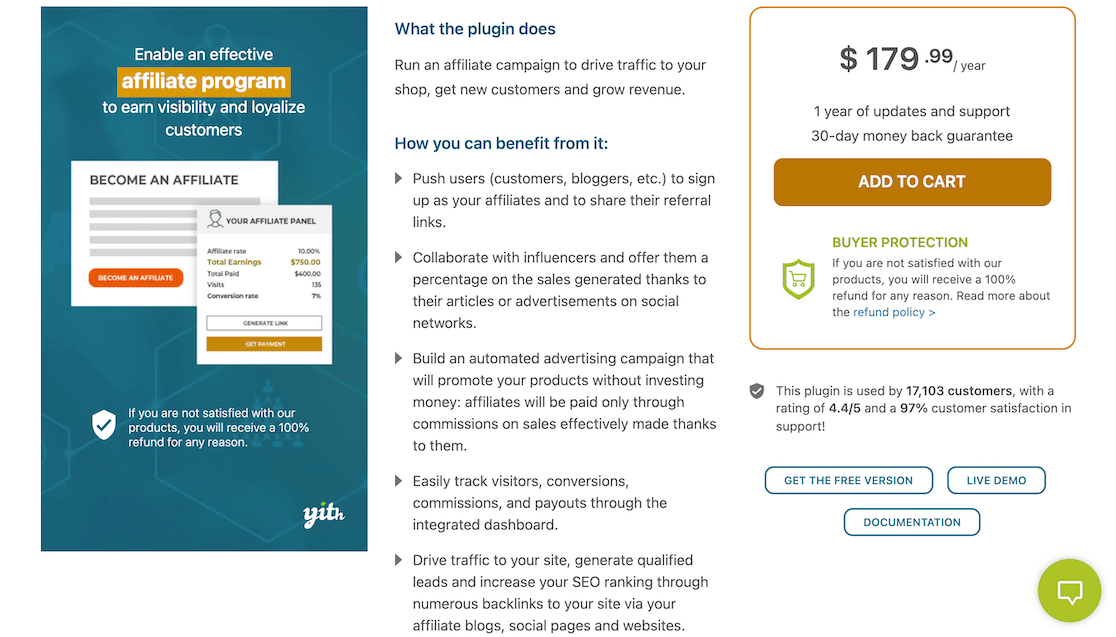 YITH is an independent company that specializes in WooCommerce plugin development. As with the others on this list, YITH WooCommerce Affiliates helps you create an referral program for your WordPress website.
There's a limited free version of WooCommerce Affiliates. You can try the premium features in a free demo. If you decide to purchase the premium version, it costs $179.99/year.
The free version is pretty bare-bones. You can create your referral program, but you'll be missing a lot of the functionality you probably want. For example, you need to upgrade to access payment options. Otherwise, you'll have to pay manually outside of the plugin.
If you upgrade, you'll have access to some different payment gateway options, including direct transfer and PayPal MassPay. You can also use account funds or PayPal Payouts, but it'll require you to purchase additional plugins.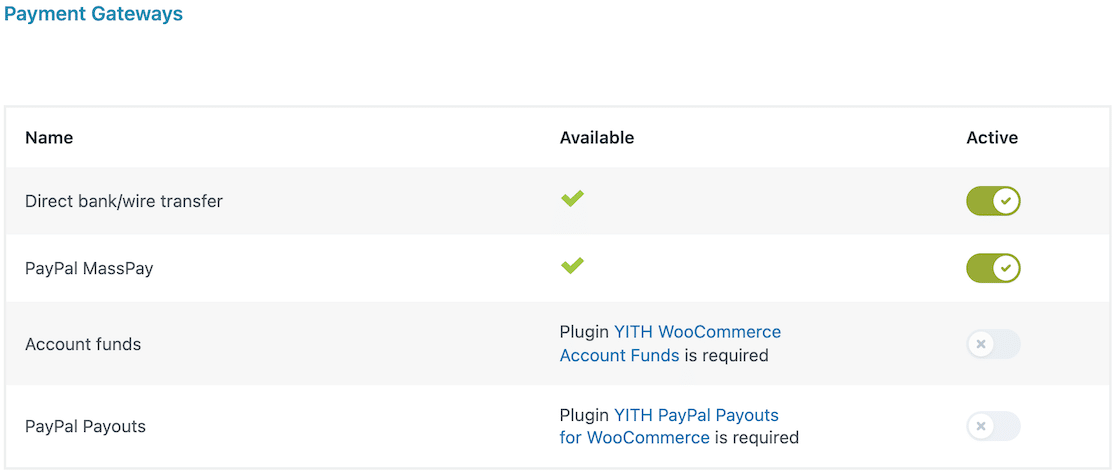 One drawback is that you might need to purchase several different plugins to get all the total functionality you want. This can add up in cost pretty quickly, so be sure to do your research.
Overall, YITH WooCommerce Affiliates is best as a premium plugin. While there are a decent amount of features in the free version, the basic features you'll likely want the most, including admin features, are only available to premium users. The plugin is neatly organized with a simple layout that's easy to navigate.
7. Affiliates WooCommerce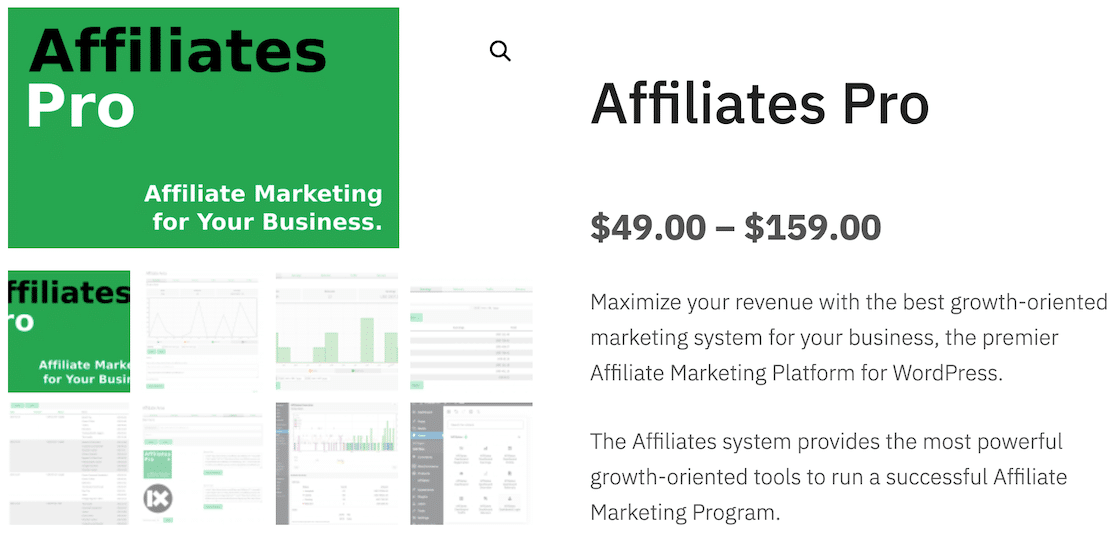 Although there is a Light version of the Affiliates plugin, we found that Affiliates Pro was more customizable and worth the upgrade to help create your affiliate program.
Installation takes less than a minute. When it's all set up, you'll see that Pro uses blocks, shortcodes, and API functions, creating greater ease of use and better opportunities for customization.
Our overall impression of Affiliates Pro is that, while it's not difficult to use, it's still a little more involved than some of the others. Some parts of it feel more modern than others. Some of the charts, for example, feel quite dated.
Still, if you value function over UI, Affiliates Pro has many powerful features to help you create and maintain your affiliate program.
FAQs
Here are a few questions we frequently get about affiliate plugins, as well as our responses.
Can You Sell Affiliate Products Directly On WooCommerce?
Yes, it's possible to sell affiliate products on WooCommerce. In your WordPress dashboard, navigate to Products » Add New in the left sidebar menu.
Below the Product Description box is a Product Data box. Using the dropdown in the Product Data box, change the default Simple Product to External/Affiliate Product.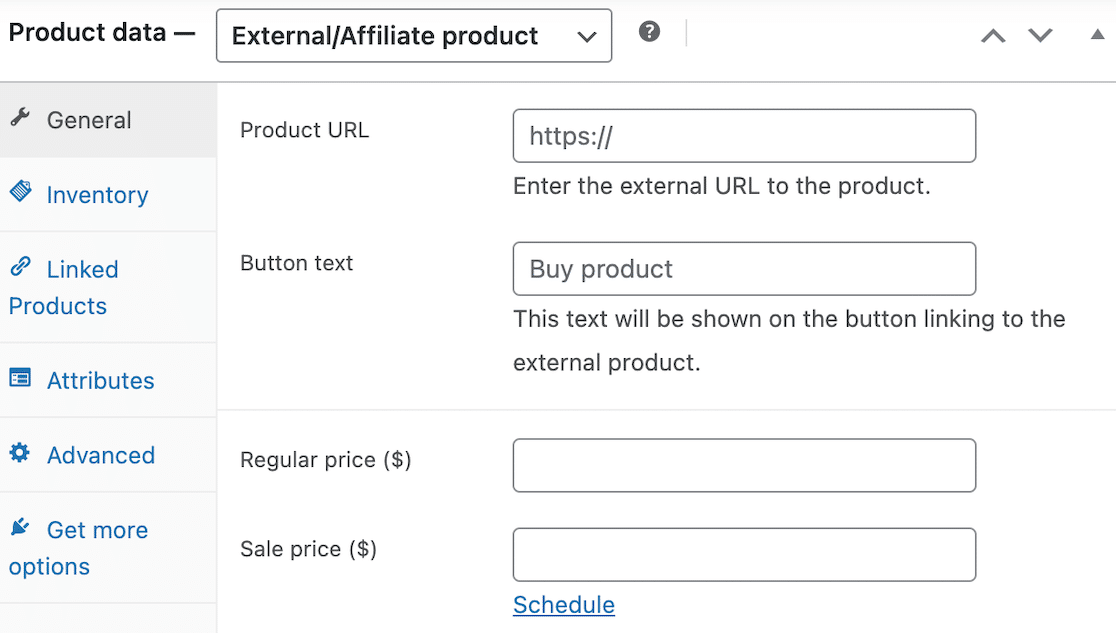 Now you can finish setting up your affiliate product. This is an option for setting up Amazon affiliate links to sell from your store.
How Do Affiliate Plugins Track Sales and Referrals?
When someone registers for an affiliate program, they're typically assigned some kind of referral or affiliate ID number. These numbers appear in their unique referral codes.
When a customer clicks a link that includes that referral ID and makes a purchase, the plugin can track referrals and conversions, which it then attributes to the corresponding affiliate account for credit.
What Are the Benefits of Affiliate Marketing?
Whether you're an online business or an affiliate, there are definite benefits to affiliate marketing.
Affiliate partners are attractive to store owners and for good reason. You build brand awareness, reach new customers, and generate leads through your affiliate network. And while you do pay affiliate commission on sales, you save on costs by paying a commission versus CPC ads, where you pay even if those clicks don't result in sales.
Affiliates benefit because, whether they're bloggers or simply have a strong social media presence, they can monetize their web presence. This helps them earn passive income on something they'd be doing anyway by promoting products they believe in.
What Commission Structures Can You Use With Affiliate Programs?
You can use flexible commission structures with most affiliate plugins. This includes fixed rates, percentages, and tiered commissions. You can set the rates when you register the affiliate.
How Are Affiliate Links Tracked On Social Media or Offline?
Your affiliate plugin uses unique tokenized affiliate links and generally supports link tracking across online and offline channels. In this way, they can detect sales regardless of how they're promoted.
Next, Check Out Other WordPress Plugins and Tools to Boost Your Site's Functionality
Create Your WordPress Form Now
Ready to build your form? Get started today with the easiest WordPress form builder plugin. WPForms Pro includes lots of free templates and offers a 14-day money-back guarantee.
If this article helped you out, please follow us on Facebook and Twitter for more free WordPress tutorials and guides.