Do you want to increase the number of new, high-quality leads generated on your website?
New leads gained through your site help you to increase your web traffic, grow your target audience, and convert your visitors to customers.
There are a handful of different ways to generate these leads, such as utilizing an affiliate program with bloggers, entrepreneurs, and social media influencers, and displaying high-quality forms on your website.
In this post, we'll walk you through the easiest way to improve your marketing strategy and increase your affiliate leads with lead forms created using WPForms.
Why Should I Use Lead Forms to Generate Affiliate Leads?
Sure, you could probably try a regular form to generate affiliate leads, but it won't be nearly as effective as a lead form.
Lead forms are much better at boosting conversion rates, thanks to their one-field-at-a-time format. By progressing at a slower pace for form users, lead forms maximize form submissions because they don't overwhelm the user.
The form user is able to focus on one question or prompt at a time, easily moving through the form until they're converted to a lead. So, when you have affiliates sending visitors your way, these visitors are more likely to complete the form on your site if it's a lead form.
How to Boost Affiliate Lead Generation With Lead Forms
1. Install WPForms
The first step is to install WPForms on your website so that you can create the ever-important lead forms to start generating leads.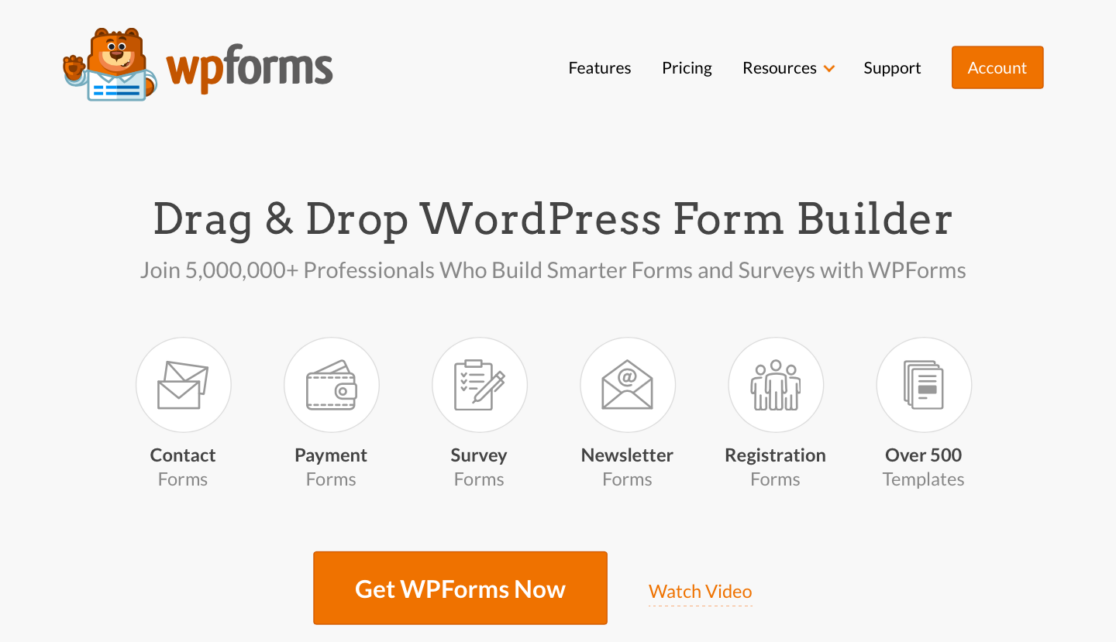 To access all of the options provided with a lead form, you'll need the Pro License, which will also allow you to do so much more with the WPForms plugin.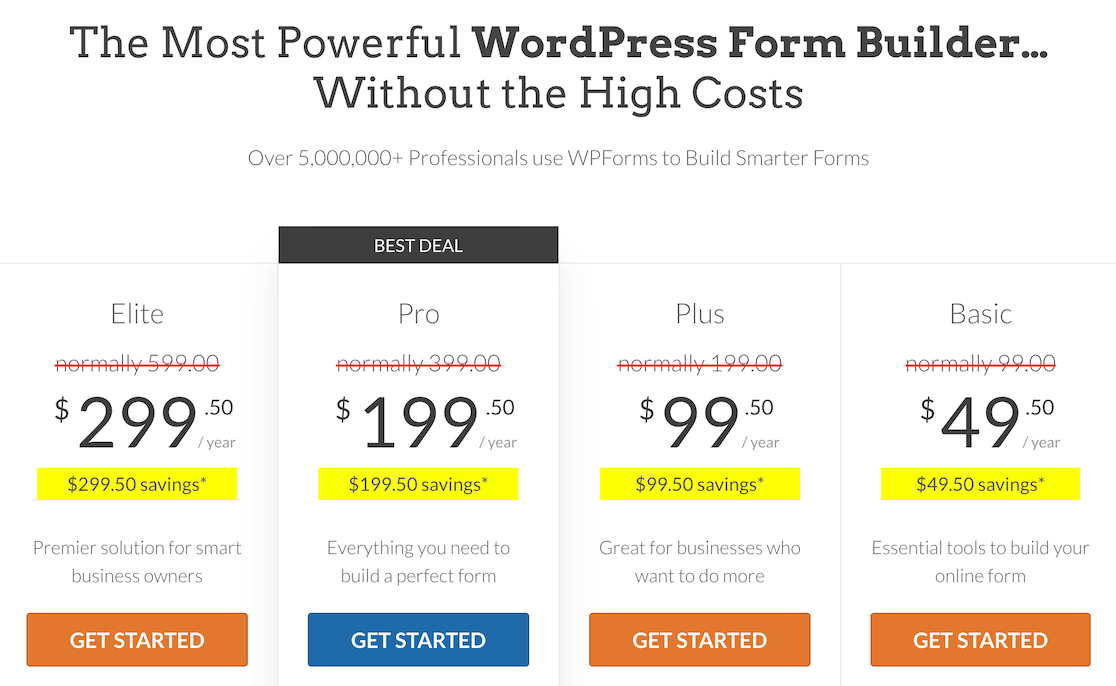 Give our handy documentation a read for more information about installing and activating the WPForms plugin.
2. Install the Lead Forms Addon
With WPForms installed and ready in your WordPress dashboard, you'll need to grab the Lead Forms addon next.
Head over to WPForms » Addons to find and install the Lead Forms addon.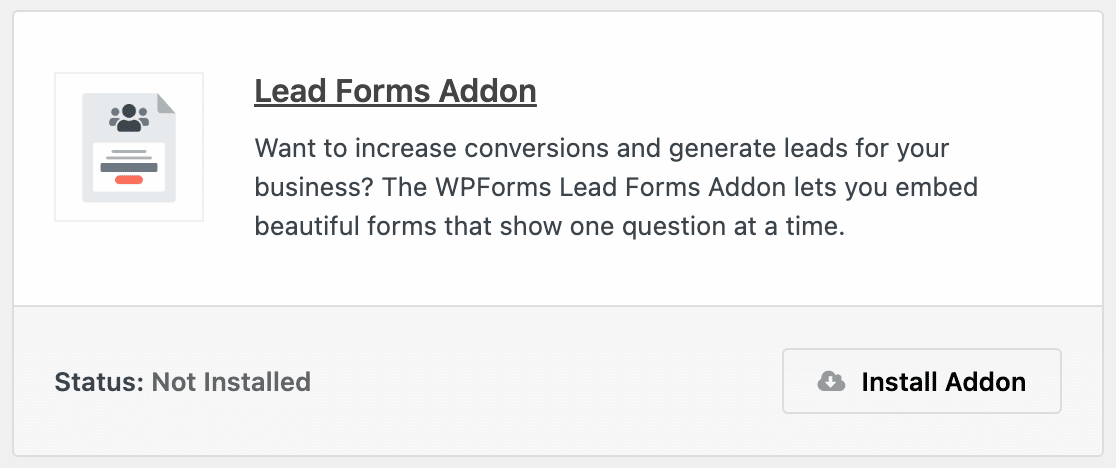 With the WPForms plugin you're able to create all kinds of creative forms — either from scratch with the easy-to-use form builder, or by selecting one of our 600+ form templates.
But the Lead Forms addon is really the bread and butter of affiliate lead generation. Like we mentioned, the options provided with a lead form are perfect for generating and converting leads.
3. Install & Configure AffiliateWP
Next, you'll want to get the AffiliateWP plugin and use it in conjunction with WPForms to really get the most out of your lead forms.
AffiliateWP is an affiliate marketing plugin that works brilliantly as a lead generation tool through referrals.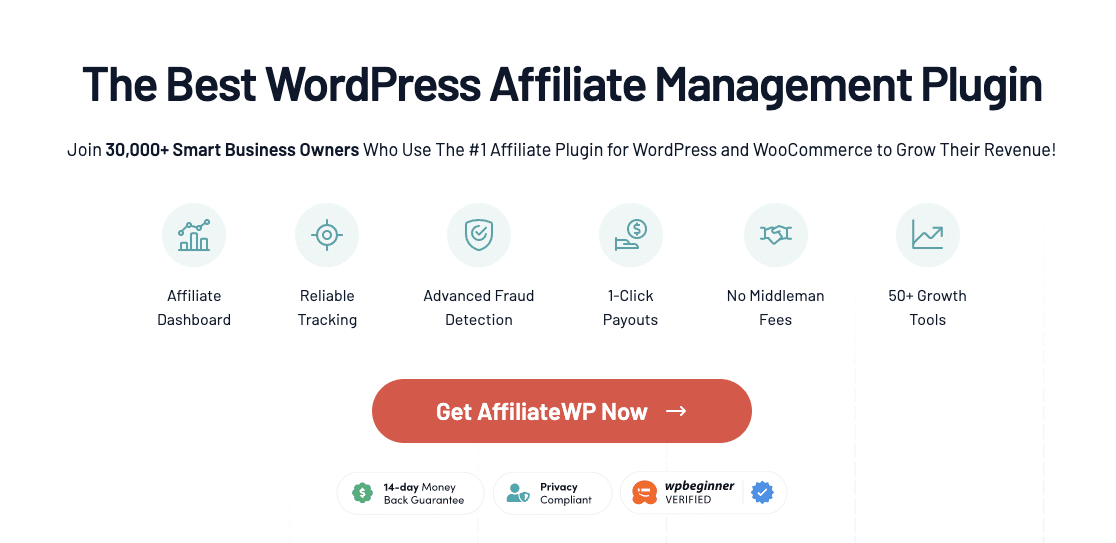 Like WPForms, you'll select the licensing plan that best suits your needs. Then, once you've purchased the plugin, you'll be prompted to set up your AffiliateWP account.
First, you'll copy and paste in your AffiliateWP License Key, which is provided to you in your AffiliateWP account.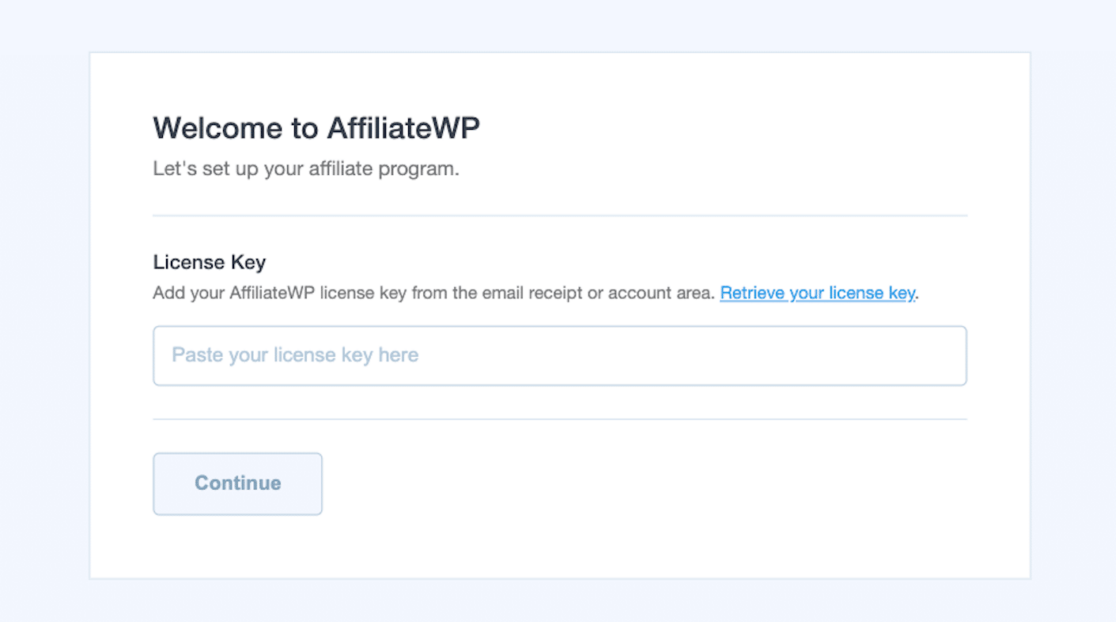 Next, you'll be prompted to select the integrations you want to generate referrals. By checking the WPForms option, AffiliateWP will automatically integrate with your forms.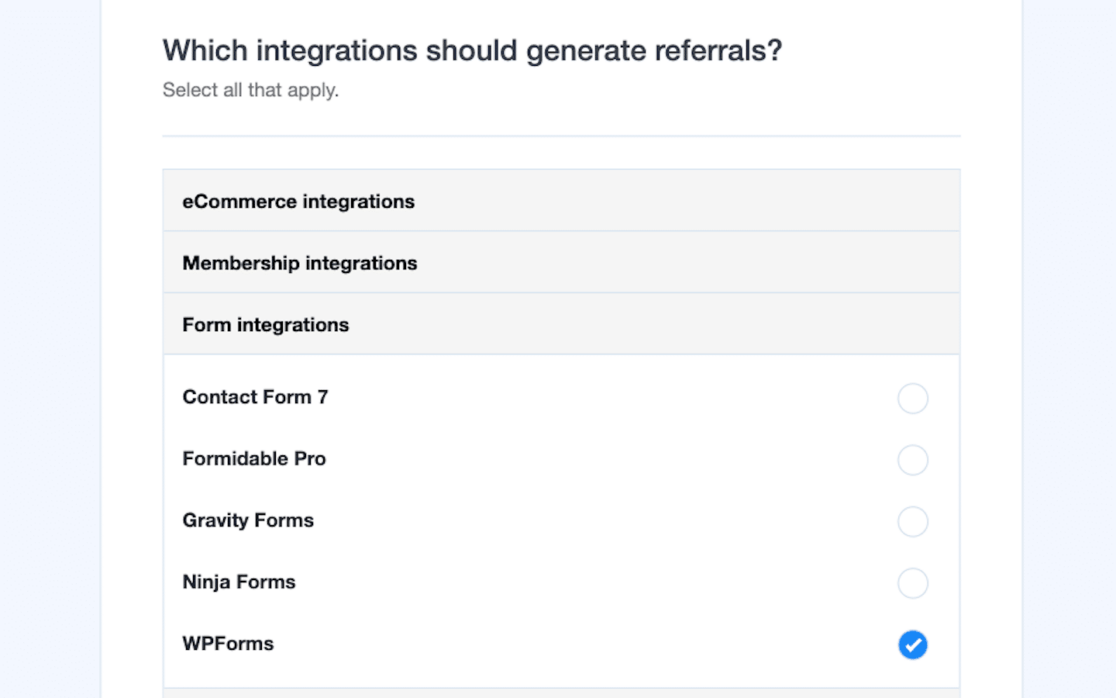 Now that the plugins are integrated, you'll need to configure your commission structure. Choose your currency and the amount you want to pay out to each lead.
But don't worry if you're unsure of this amount yet, you can always change this page in your AffiliateWP settings.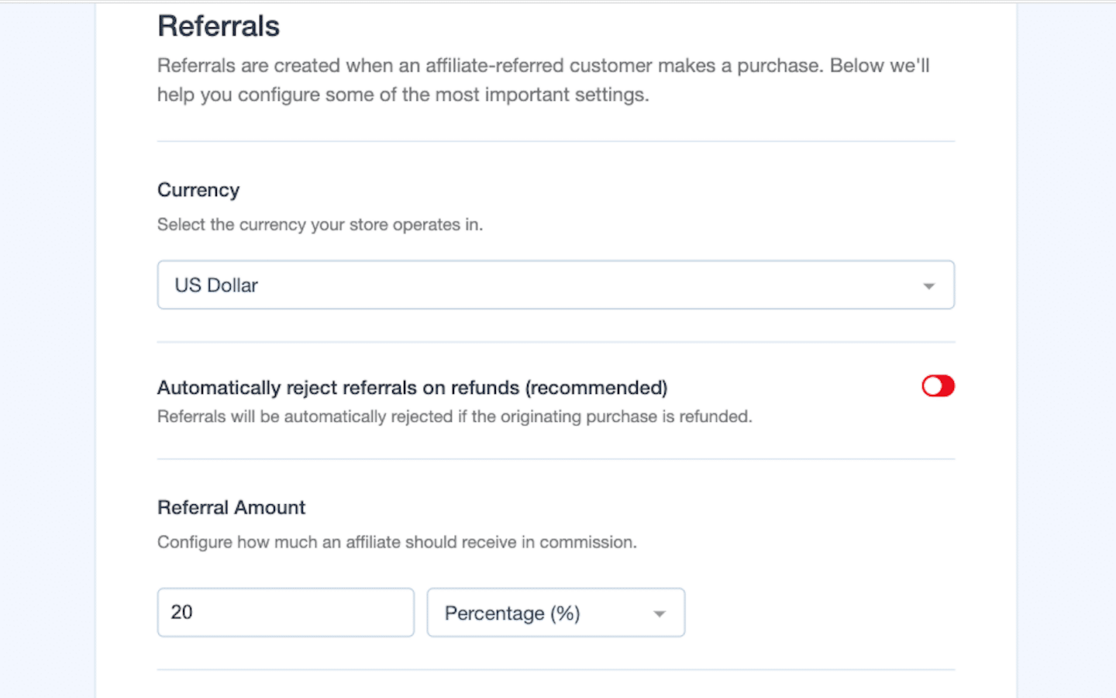 Be sure to click Save and continue when you are finished with each page.

Next, you'll decide how long you want your referral cookies to last. This setting will control the length of time a user has to submit a form after clicking an affiliate link in order to receive their commission.
Usually, 30 days are provided for this time frame, but you can choose any length of time you'd like.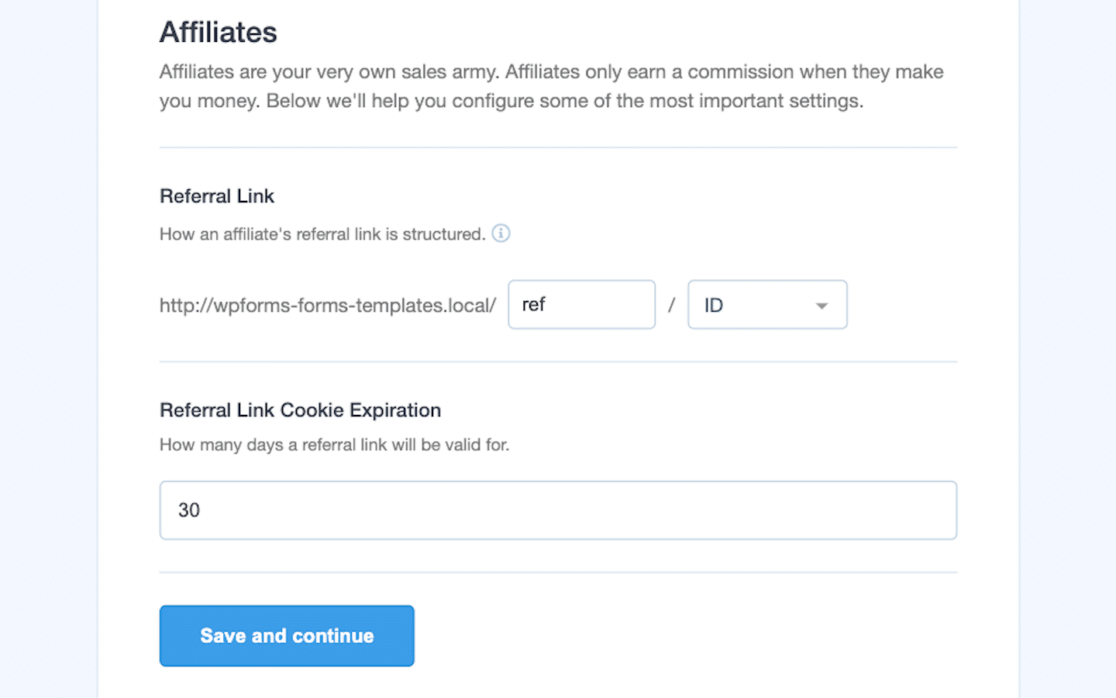 After you've saved these settings, you're good to go! Click Finish the setup and exit the wizard.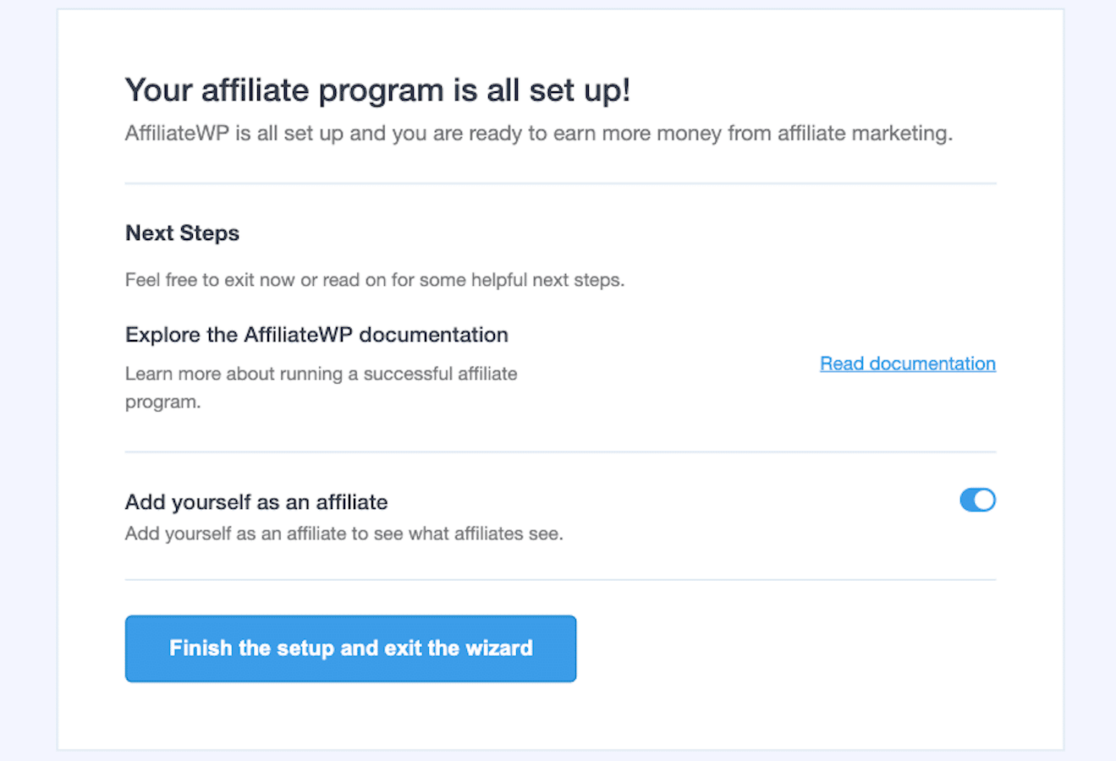 AffiliateWP is now ready to track referrals via WPForms and will assign commissions to your affiliates.
4. Create a Lead Form
You're all set with AffiliateWP, so now it's time to head over to WPForms to create a Lead Form.
Navigate to WPForms » Form Templates. Then, by using the Search Templates feature or scrolling through the Marketing Category, you'll find the Affiliate Signup Form.
Go ahead and select this form template by clicking Create Form.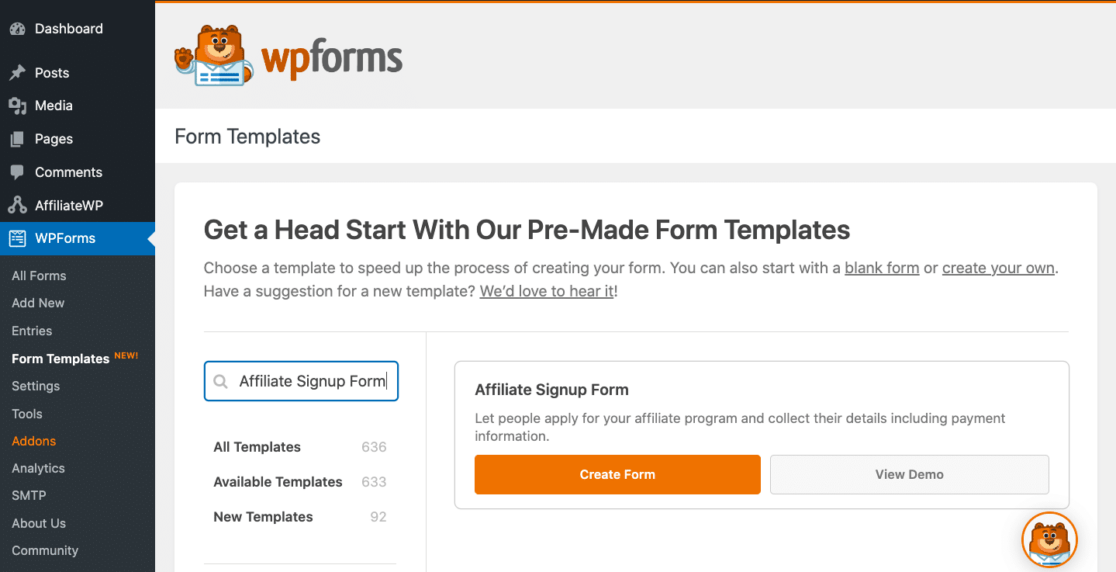 Now, your Affiliate Signup Form is ready to edit with the form builder, which is where you'll turn it into a lead form.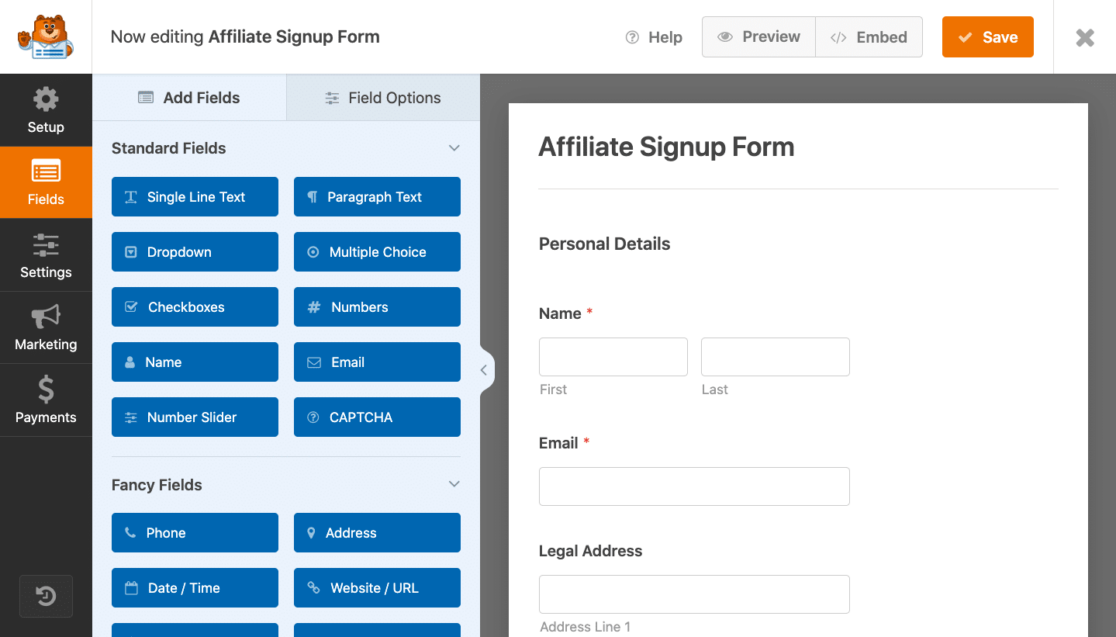 To make your form a lead form, go to Settings » Lead Forms and toggle Enable Lead Form Mode.

You'll see a popup message informing you that Lead Form Mode will change the structure of your form by adding page breaks between each field, which is exactly what you want it to do.
Go ahead and click on Enable Lead Forms.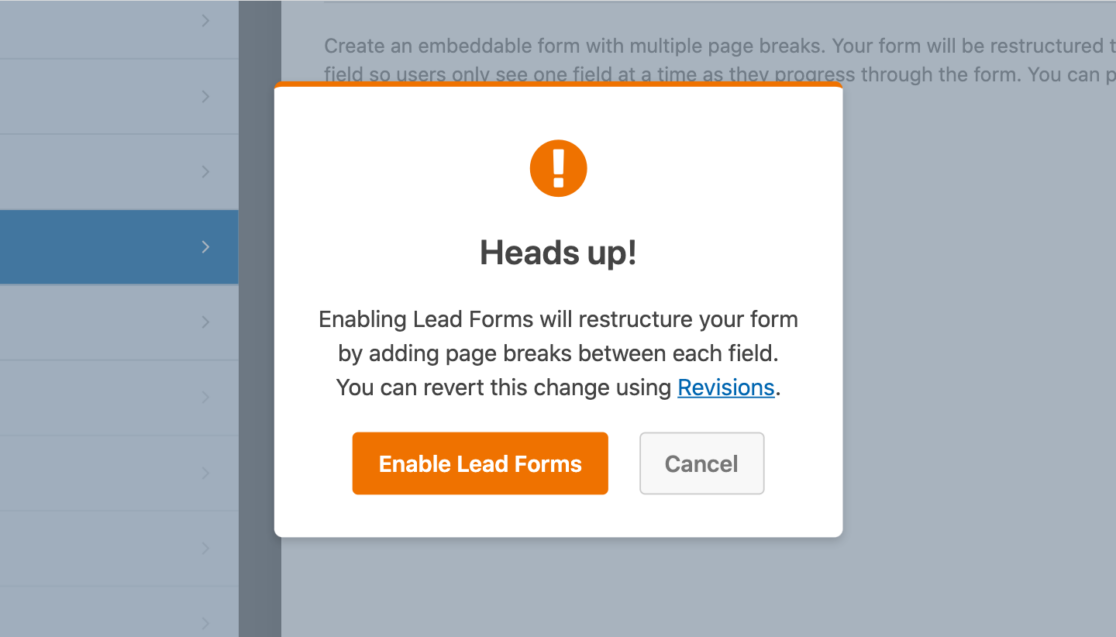 Now that you have lead forms enabled, even more settings open up to you for further customization of your form.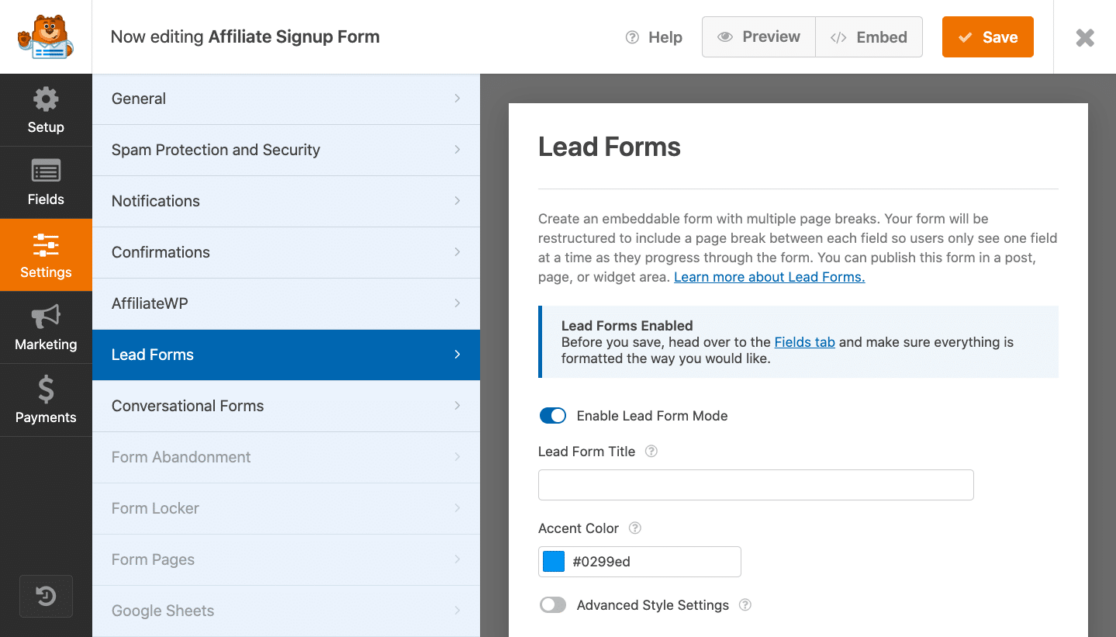 Then, back in the Fields tab of the form builder, you can see how each field on your form will progress, one page at a time.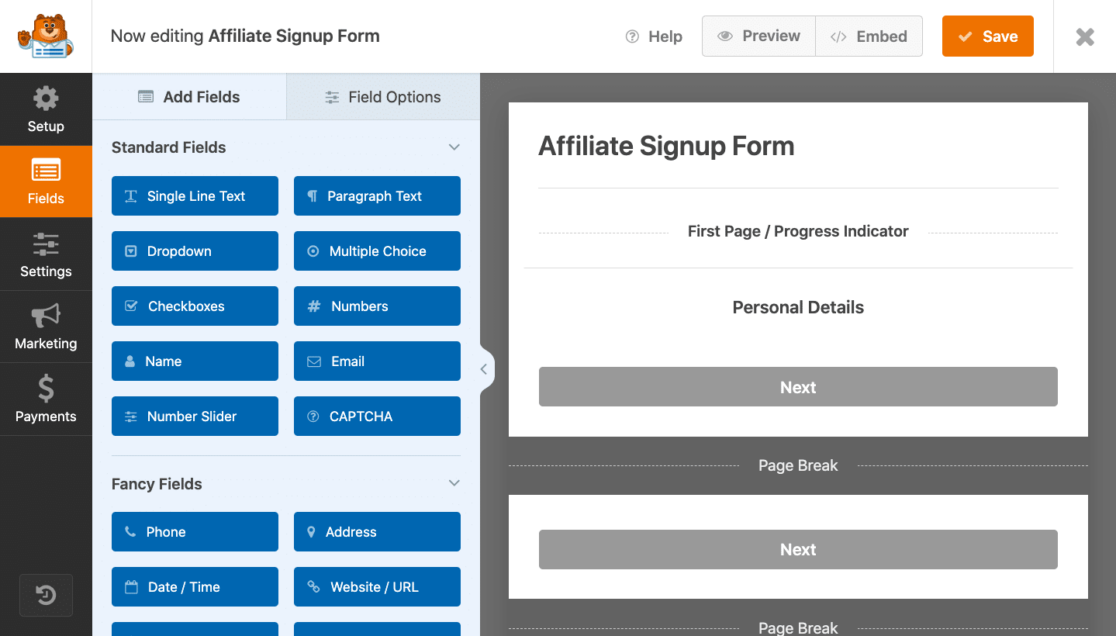 And, like all forms created in the form builder, simply clicking on the field will allow you to customize the field to your liking.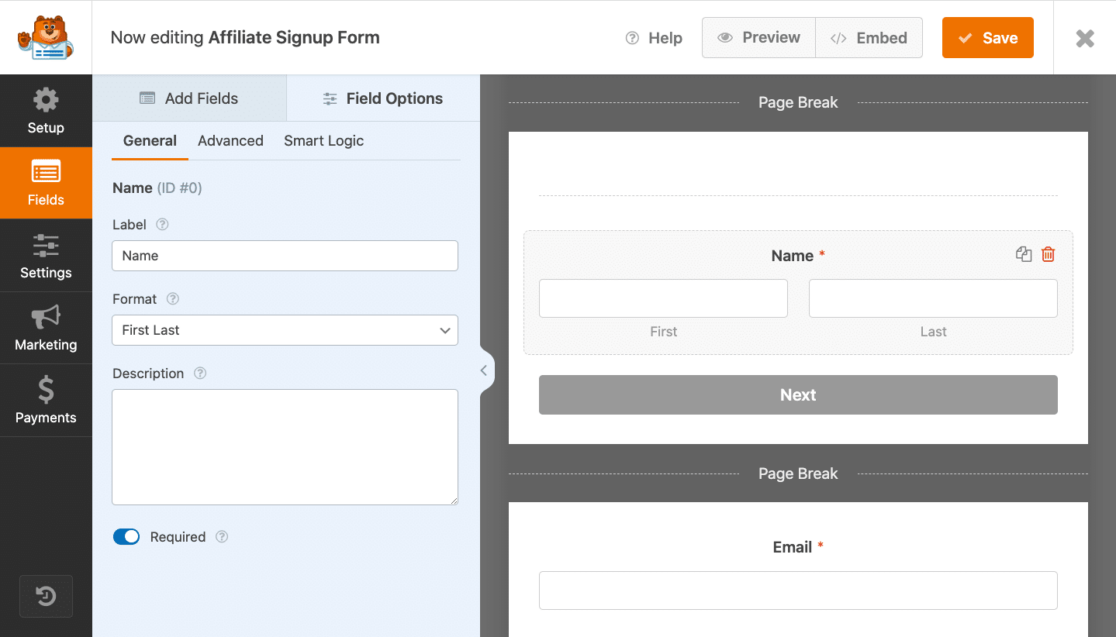 Feel free to come back to editing and customizing these fields later.
5. Enable Referral Tracking
Now, head back over to your form builder's settings to enable AffiliateWP referral tracking on this form.
Go to Settings » AffiliateWP and toggle Enable Referrals. Then, select Lead as your Referral type.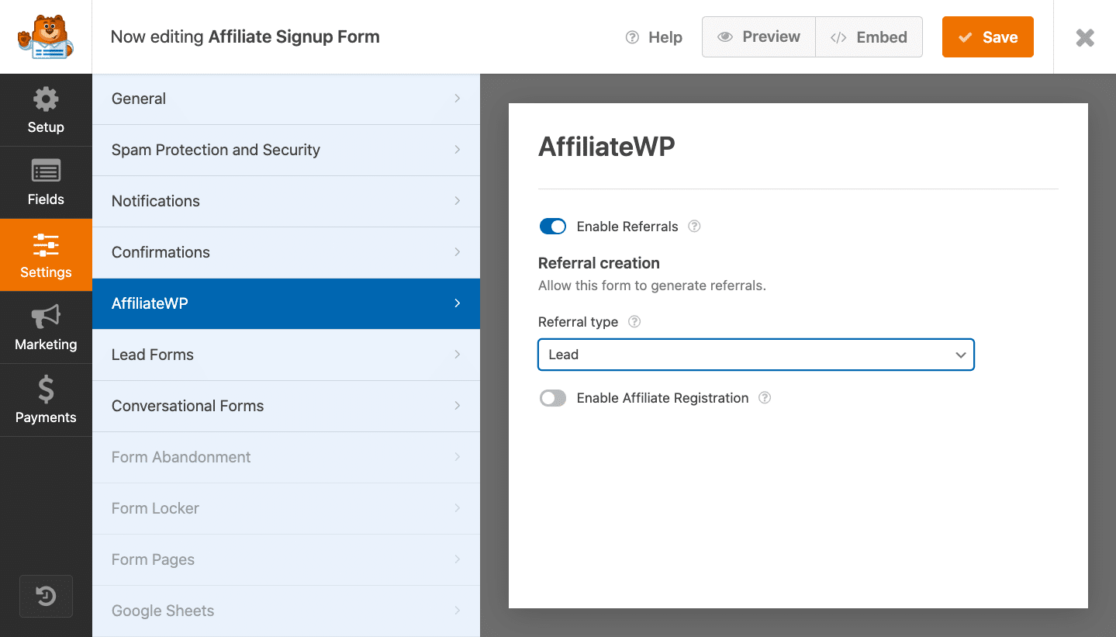 AffiliateWP will now start tracking referrals on this form. AffiliateWP in conjunction with your lead form will also be able to track when affiliates send visitors to this form, and will log which of them generate a lead.
In the AffiliateWP settings on this page, you can also toggle Enable Affiliate Registration.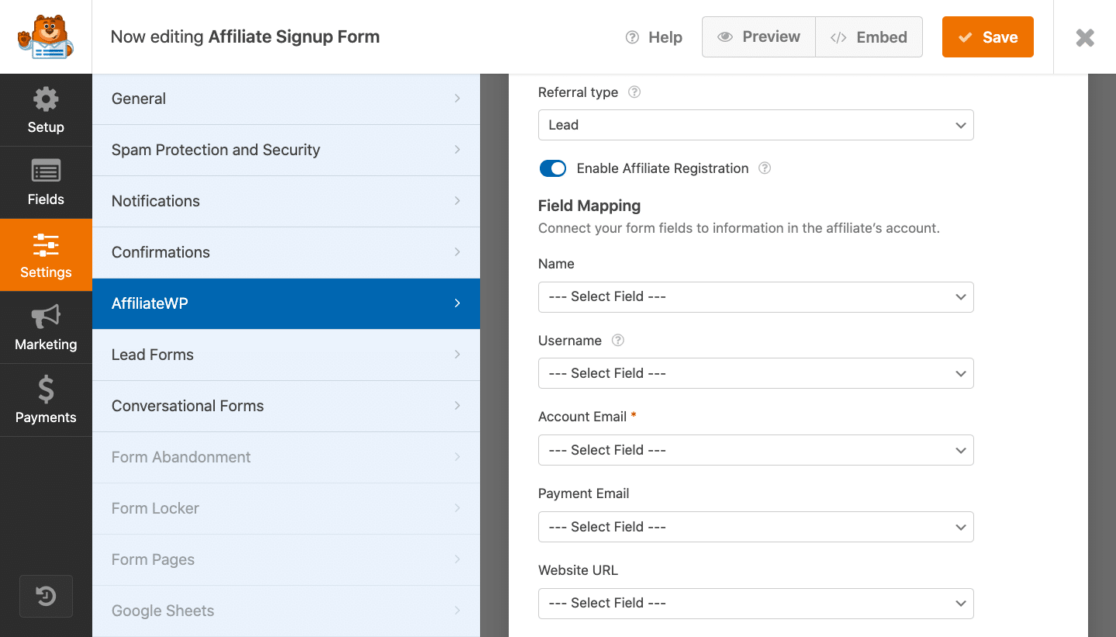 This is an additional syncing option with AffiliateWP, which allows new affiliates to sign up for your program through your form.
And keep in mind that, while we covered these steps on an Affiliate Signup Form, you can enable both the AffiliateWP and Lead Forms settings on any of your forms created with WPForms and start generating affiliate leads anywhere.
6. Publish Your Form
When you're happy with your form, all that's left to do is save it, embed it, publish and use it!
From the form builder, you have the option to embed your lead form on a page you already have published, or create a new page with the form.
Keep in mind that this is just one of a few ways to embed a form on your page, from different places. Check out this guide on how to embed a form on a page.
Go ahead and place your form on a new page from here to see how it looks.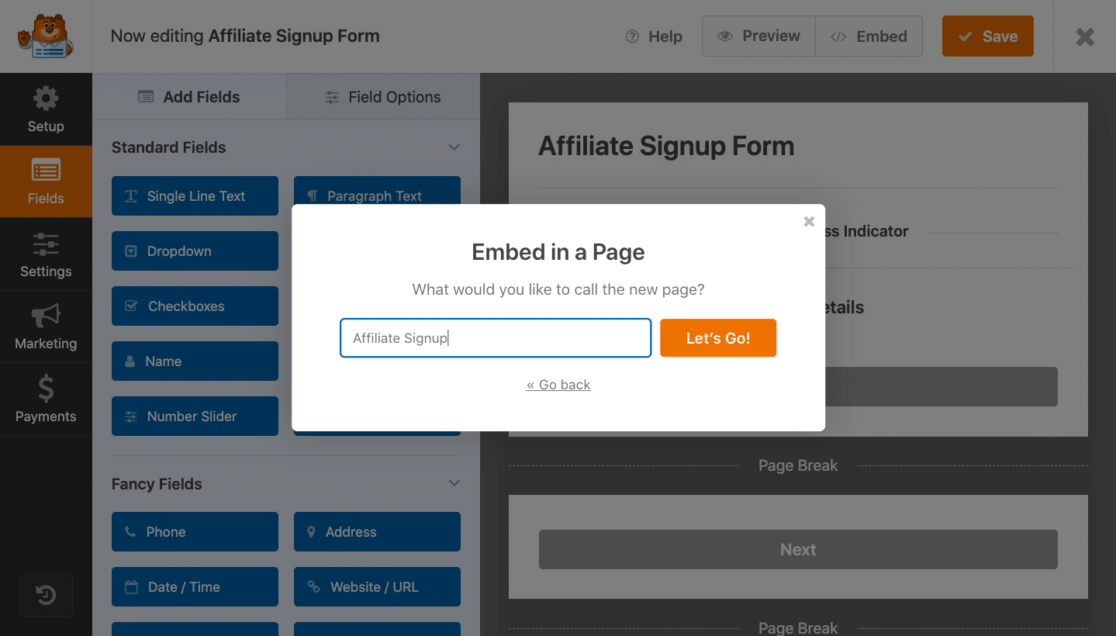 Then, you can edit and customize this Affiliate Signup page like any other page on your website.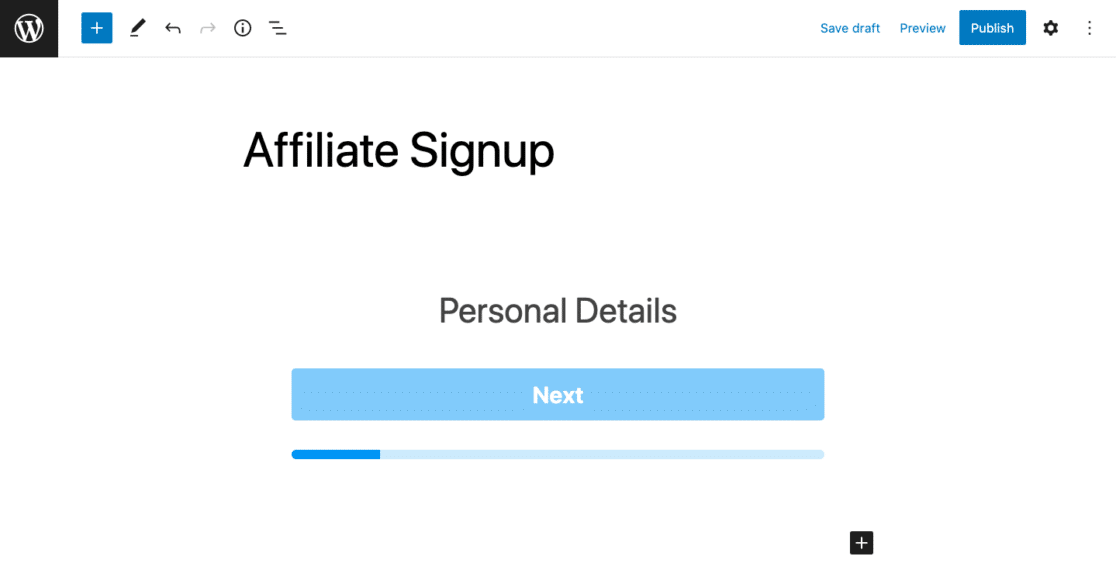 Don't forget that many of the customization settings from the form builder in WPForms will determine how your lead form will appear and operate on your website. Colors, fonts, branding, and styling seen here all come from your form's settings.
When you're ready, go ahead and publish your page.
7. Review Your Referrals
When you installed AffiliateWP, it automatically created an Affiliate Area page where  potential affiliates can sign up for your program, log in to their accounts, and generate links to place on their sites.
Be sure to visit AffiliateWP for guidance on setting up your Affiliate Area.
Then, you can review the referrals you're receiving from these affiliates, right in your WordPress dashboard. Navigate to AffiliateWP » Referrals to check the progress of leads generated by your Lead Forms.

What's more is that you can also track your referrals by adding referral tracking directly to your form. We'll show you how to do it with our helpful tutorial.
And that's it! You're now harnessing the power of both AffiliateWP and WPForms to increase your brand awareness, boost your affiliate lead generation, and gain potential customers.
Next, Get Inspired With Lead Forms Examples
Now that you know how to improve your lead generation strategy, it's time to create your own lead form. These forms are an easy way to gather a visitor's contact information and look great on a website's landing page.
But, if you're not sure where to start, check out our incredibly helpful post full of lead generation form examples that convert.
Ready to build your form? Get started today with the easiest WordPress form builder plugin. WPForms Pro includes lots of free templates and offers a 14-day money-back guarantee.
If this article helped you out, please follow us on Facebook and Twitter for more free WordPress tutorials and guides.