Are you in need of reliable invoicing software for your WordPress order forms? WPForms makes collecting payments from customers through your WordPress forms easy, but being able to easily invoice customers that owe you money is a necessary part of business.
In this article, we'll share with you some of the best invoicing software for your WordPress order forms.
What Is Invoicing Software?
Invoicing software is used to perform your business' accounting and financial tasks. It can automatically generate invoices for payment, and often uses ready-made templates, making your life easier.
Here are some of the top features of a reliable invoicing software solution:
The ability to create new invoices automatically or manually
Record keeping capability of all invoices created and processed
Credit card processing so customers can make payments
Pre-made templates that have all necessary information
Centralized database where all invoicing and accounting activity can be seen
Internal tax reporting so you don't have to use other software come tax time
With the right invoicing software, you can minimize the number of missed and late payments you receive, maintain a professional image, and stay organized.
So, let's take a look at the top invoicing software for your WordPress order forms.
After all, just because you can create a simple order form using WPForms and collect payment right away for your products or services, doesn't mean you have to.

WP-Invoice gives you a chance to create simple invoices in the WordPress dashboard and send them to customers that owe you for your products or services. This invoicing software solution integrates with the WordPress management database so you can easily keep track of all your customers and their information.
The invoice that is sent to customers will include a brief description and a unique link that they can click on to make a payment. This free WordPress invoicing plugin accepts credit card payments using Auhtorize.net, PayPal, Stripe, and 2Checkout. You can also accept recurring payments.
Other features include:
Partial payment collection with pre-defined minimums
Discount line items
Customizable invoice and receipt templates
Improved search and filtering for easy accounting management

Sliced Invoices is a flexible invoicing software that lets you create professional looking invoices for your customers. Though it does have the capability for you to create quotes, don't forget that you can create a request a quote form using WPForms so anyone looking for your services can find out how much you'll charge for their project.
That said, with Sliced Invoices, you can customize your invoices to match your brand, Bcc yourself on all invoices sent out, and clone existing templates to speed up the invoicing process.
Additional features include:
Online and offline payment methods including PayPal, bank withdrawal, check, or money order
Invoice reporting for easy accounting management
Custom email from name and email address
Flexible tax settings
Automatic payment reminders to customers

Sighted is a free invoicing system that lets you send invoices, track time and expenses, manage clients, and accept online payments. It supports every major currency which is great if you've translated your WordPress forms in order to build a global brand. In fact, your customers can pay using a credit or debit card, and even PayPal.
When an invoice is delivered to your customer, all they have to do is click a link to see the invoice and pay using the methods you've set up. Once paid, the invoice will be automatically marked as paid in your dashboard.
Other features include:
Easy to read reports so you can check your finances at all times
Add additional client contact information so you always have appoint of contact
Include your products and services in the database, complete with their prices and tax information
Print and send PDF invoices and receipts if you want
Use this service across multiple devices so you can access your invoicing software at all times

Invoicing is a lightweight WordPress plugin that can help you with all your invoicing needs. Create and send invoices and receive a single or recurring payment for your products or services.
In addition, accept payment via PayPal Standard, Authorize.net, WorldPay, and Pre Bank Transfer. Lastly, export payments and any other data you want through the built-in reporting system and keep your finances organized and under control.
Additional features include:
VAT MOSS compliant
Premium add-ons available for additional payment gateways
Detailed tax settings
Customizable emails for a professional look
Easy to enter client information and management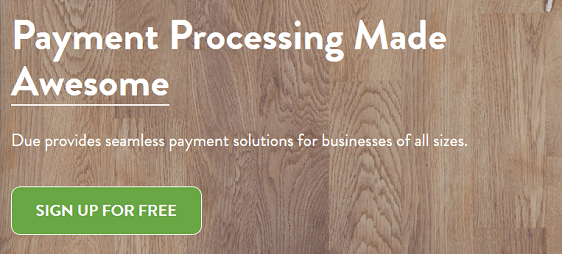 Due is an exceptional invoicing software that boasts speed and low cost invoicing. It generates customized invoices for your customers and has an sleek dashboard so you can manage your accounting and finances. Check and see which invoices are paid and which are due, and even customize your individual tax settings.
This invoicing software solution offers a selection of international payment options and currencies. In addition, it's fully secured with 256-bit SSL encryption, has available cloud storage, and even includes time tracking with speed invoice development.
Other features include:
Unlimited invoices and clients
100% mobile friendly for you and your customers
Integrates with PayPal and Stripe
Add personalized messages to all invoices
Apply discounts and collect tips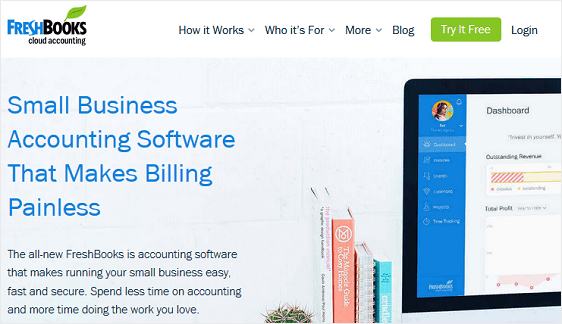 Freshbooks is a user-friendly invoicing software used by millions of small businesses. It lives in the cloud so you can securely access all your accounting information from multiple devices including your desktop, mobile phone, and tablet. In addition, you can connect to many leading apps such as Stripe, Gusto, and Fundbox to make running your business more seamless than ever.
Create professional looking invoices in seconds, add your business logo and customize each with a special thank you to your customers for that added personal touch.
Additional features include:
Collect payment via credit card and get paid faster
Automate things like payment reminders so you are always on track
Request deposits so you can start major projects with ease
Add tracked time and expenses so customers always know what they're paying for
Offer discounts, automatically calculate taxes, and preview invoices before clicking send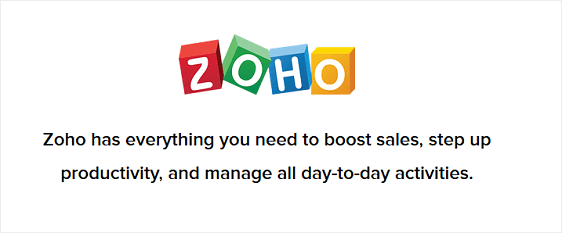 Zoho is more than just an invoicing software. In fact, it's a multichannel CRM software that lets you engage with leads, automate your sales process, and close more deals than you ever thought possible.
And, one of the main reasons we're adding this to our list of best invoicing software for your WordPress order forms, is that using our Zapier addon, you can easily create a contact in Zoho from your WordPress forms bringing the entire process full circle.
Features include:
Automate your pre-made but fully customizable and branded invoices
Access real-time reports to monitor your finances
Collaborate with team members to help manage invoicing of customers
Track your time and expenses and add them to your invoices
Accept multi-currency and even send multi-lingual invoices
PRICE: FREE
And here you have it! 7 of the very best invoicing software for your WordPress order forms.
If you're looking for a unique way to boost order form submissions, check out this tutorial on how to add an image next to radio buttons in WordPress. And don't forget the importance of email marketing when it comes to driving traffic to your site and encouraging people to make purchases from your order forms.
So, what are you waiting for? Get started with the most powerful WordPress forms plugin today.
And don't forget, if you like this article, then please follow us on Facebook and Twitter.