Documentation, Reference Materials and Tutorials for WPForms
How to Install and Use Zapier Addon with WPForms
WPForms makes it super easy to integrate your WordPress forms to Zapier. In this article, we will show you how to install and use the Zapier addon for WPForms.
Based on the license you purchase, you will have access to specific addons that will help you extend the functionality of WPForms. If you do not have access to the Zapier addon for WPForms, then please see our guide on how to upgrade your WPForms license.
We are assuming that you have already installed WPForms on your WordPress site and have also created the form you wish to connect to Zapier.
Go ahead and install / activate the Zapier addon on your site. For more details, see our step by step guide on how to install addons in WPForms.
WPForms Zapier API Key
After the Zapier addon is activated, you need to locate and write down your WPForms Zapier API key.
You can find that going to the WPForms Settings page (WPForms » Settings) and clicking the Integrations tab. Under this tab, you will see a section with the Zapier icon.
Clicking on this section will expand it to display additional information including your WPForms Zapier API key. You need to copy this key to your clipboard because you will need it shortly.
Connecting Zapier to WPForms
Start by logging in to Zapier website. If you do not have an account yet, then you can sign up and create an account for free.
After you login, you will arrive at the Zapier dashboard. At the top of the page, click MAKE A ZAP.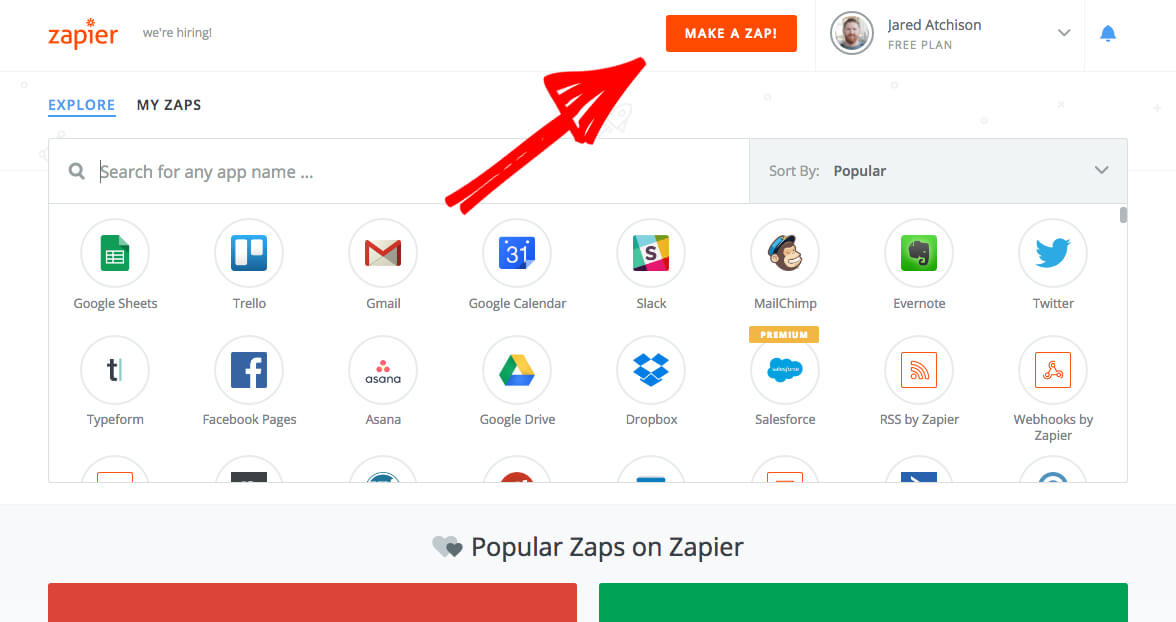 You will then begin to configure your new Zap. The first step is to select WPForms as the Zap Trigger. Under the Choose a Trigger App title is a search box. Type in WPForms and then click on WPForms item in the search results.

Once you have selected WPForms, Zapier will display the available trigger, which is New Form Entry. Click Save + Continue to proceed.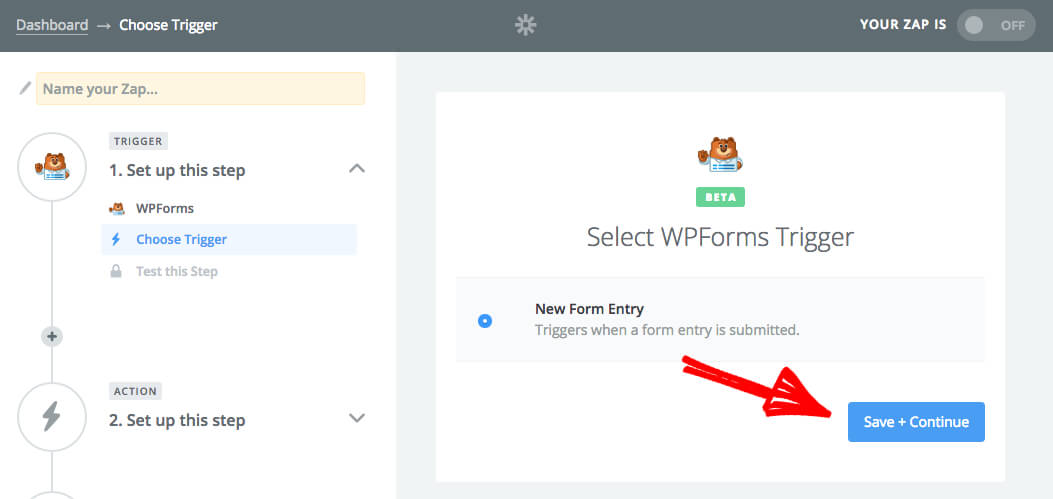 Next, you must connect Zapier to WPForms on your website. You need to click Connect A New Account, and Zapier will prompt for additional information needed to connect.
In the Website field, enter the full URL of your website and include the trailing slash (eg http://example.com/). In the API Key field, enter the WPForms Zapier API key found previously and then click Yes, Continue.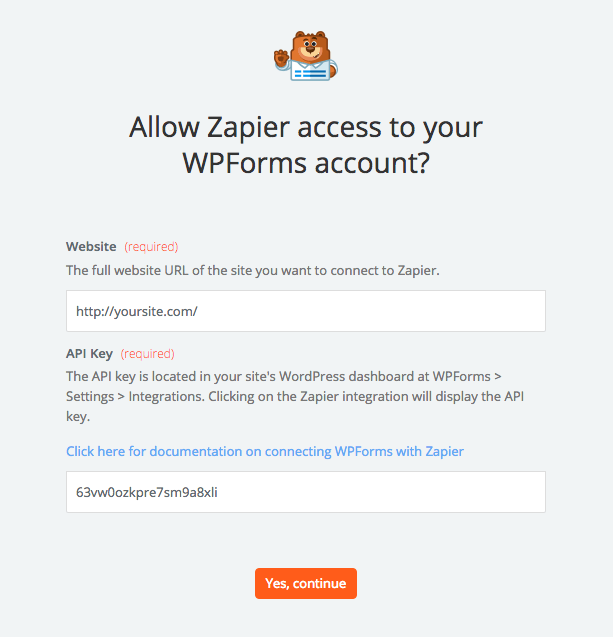 Zapier has now connected to your website and has created an account. It will be auto selected. Click Save + Continue.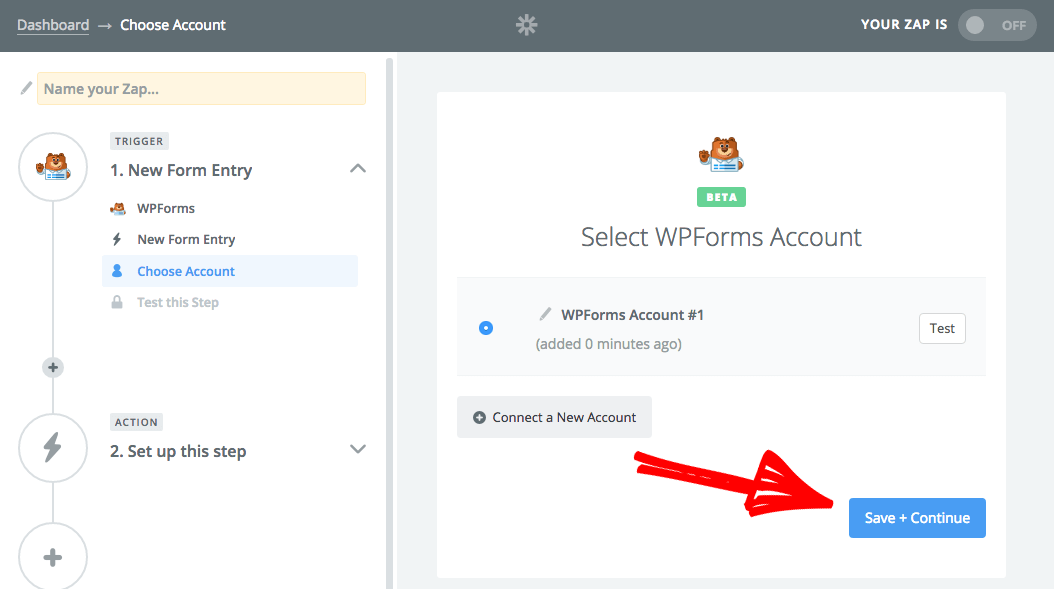 Now that Zapier is connected, you must select the form on your website for Zapier to use. Clicking the Select Form… dropdown will display all the available forms on your site. Select the form you would like to connect and click Continue.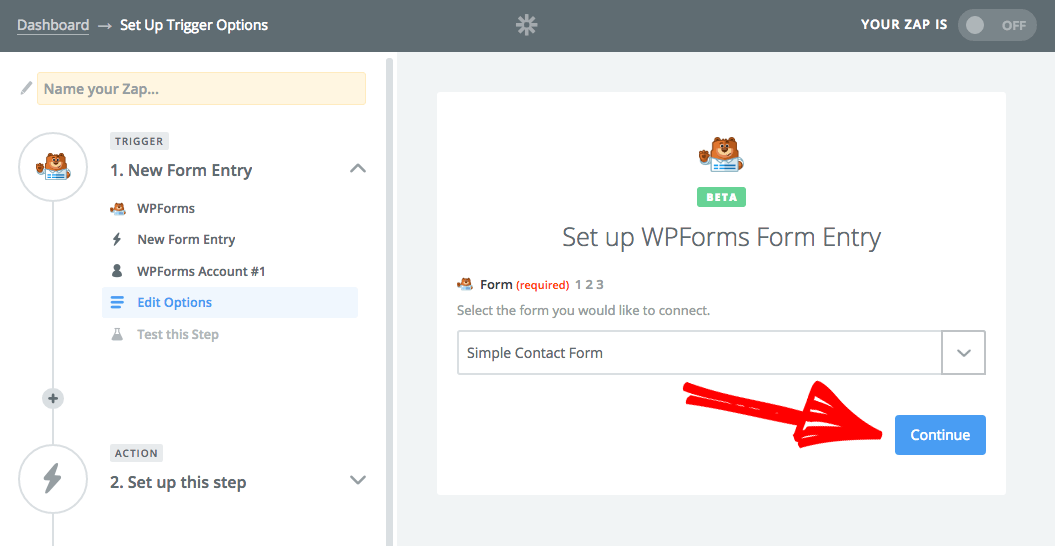 After the form is selected, Zapier will ask to test the connection. Click Connect & Continue.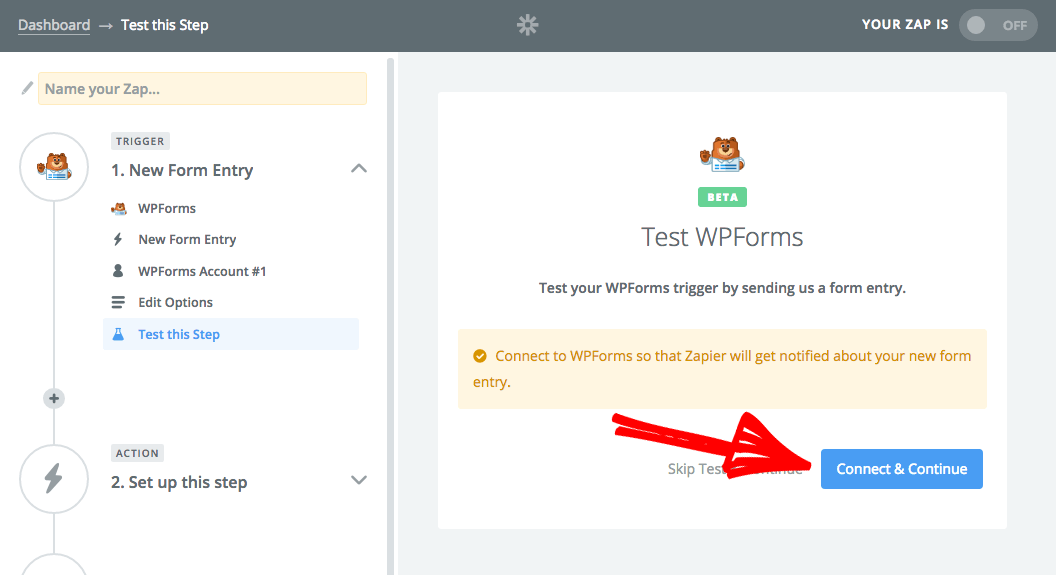 Now Zapier is ready and waiting to confirm the connection. This is done by submitting a test form entry. Go back to your website and submit an entry to your form. If you have not embedded the form in a page, you can perform the test entry from the WPForms preview page for that form.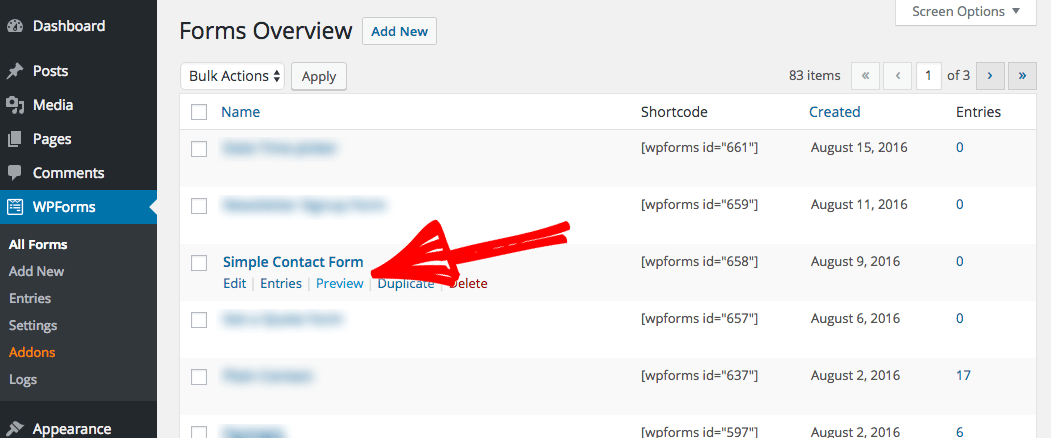 After submitting a form entry it will send details to Zapier to confirm the connection. Zapier will display a Test Successful! message. Click Continue.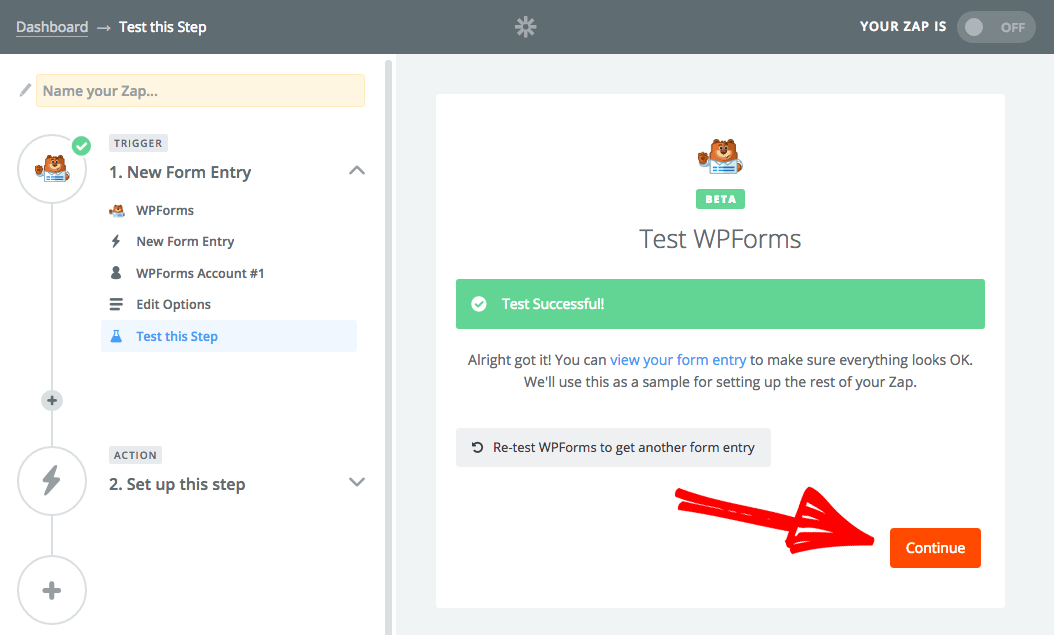 Zapier has WPForms connected and is ready to accept an Action App!
The Action App is the service you wish to send your form entry details to. There are over 500+ apps/services available so the possibilities are almost limitless. A few examples:
Send support form entry details to your private Slack channel
Subscribe a user to an newsletter service provider
Add donations from your form to a Google Sheets spreadsheet
Create a new user inside your CRM platform
Send a text message when a user completes your contact form
Next you can select your desired app/service. During this process you will be able to select any of the form fields available in your form and pass that data to your chosen service. The steps remaining will depends on the service you integrate with.
Changelog
1.0.5 (2017-10-25)
Fixed: "Live" Zap status setting not updating correctly
Fixed: "Edit this Zap" link incorrect/broken
1.0.4 (2017-09-27)
Changed: All HTTP requests now validate target sites SSL certificates with WP bundled certificates (since 3.7)
Fixed: Properly decode forms name before sending them to Zapier to display
Fixed: Update function incorrectly named which could cause conflicts with MailChimp addon
Fixed: Visual display of connected forms on Settings > Integrations page
1.0.3 (2017-03-09)
Changed: Adjust display order so that the providers show in alphabetical order
1.0.2 (2016-12-08)
Added: Support for Dropdown Items payment field
1.0.1 (2016-09-02)
Fixed: Error with Zapier custom field polling
1.0.0 (2016-08-30)