How to Create a Custom Support Ticket Form on WordPress With Zendesk
Last updated on May 3, 2017 by Shahzad Saeed
Looking to create a customized Zendesk support ticket form on WordPress? With the WPForms plugin, you can easily allow your users to request assistance on your site, and ask for whatever information you need. Let's take a look at how to create a Zendesk support ticket form on WordPress.
Why Use WPForms With Zendesk?
Zendesk is the most popular support ticket system that allows you to track, prioritize and solve customer support tickets. You can manage all your customer information in one place to make the communication with your customers easy and efficient.
If you want to allow your customers to submit a Zendesk ticket from your site, you can embed a simple contact form.
But what if you want to customize the form to request more information, add images to your form or other custom HTML, or send additional form notifications when it's submitted?
With WPForms, you can easily create a custom support ticket form on WordPress and connect it with Zendesk. No need to learn any code!
Here's how it works.
1. Create a Custom Support Ticket Form
The first thing you need to do is to install and activate the WPForms plugin. Here's a step by step guide on how to install a WordPress plugin.
Also, you'll need to have a form created. See our tutorial on how to create a contact form in WordPress as an example to get started. Let's rename the form as Support Ticket for the sake of this example.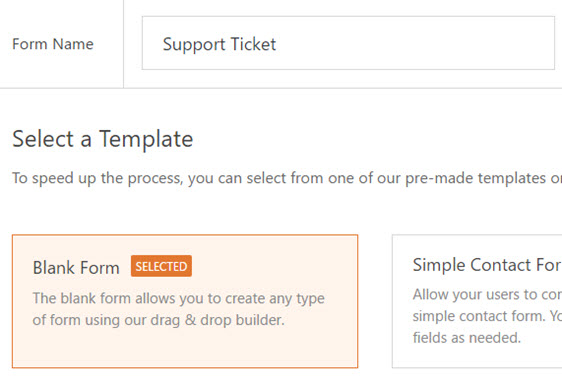 To make our form simple, we used the following form fields.
Name
Email
What can we help you with today (Dropdown)
Message
You can see the form below: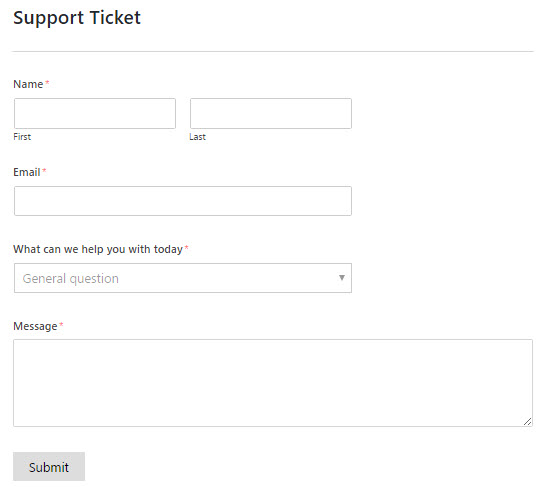 Now let's connect this form with Zendesk using our Zapier addon.
2. Connect Your Form to Zapier
We'll be using the Zapier addon to integrate your WPForms plugin with Zendesk.
The Zapier addon lets you connect your WordPress forms to over 500+ web apps, including Zendesk app.
Now let's take a look at how to connect WordPress forms to Zendesk app.
Log in to your Zapier account and click the Make a Zap button in the top navigation.
Then, follow Zapier's step by step guide to create a Zap. To see screenshots of every step, you can refer to our tutorial on using Zapier with WPForms.
Make sure to choose the Support Ticket form you just created, when you're asked to setup Edit Options.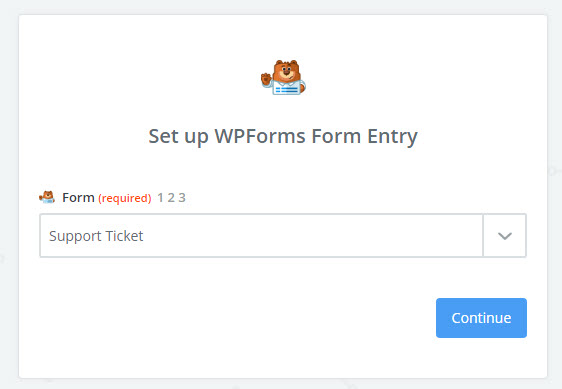 You must have at least one test entry on your form before fetching existing entries.
You should then see a successful confirmation message.
3. Set up Zendesk Integration
Now that you've connected Zapier to the WPForms plugin, it's the time to connect WPForms to Zendesk.
The first step is to choose Zendesk as the action app. Use the search bar to find the Zendesk app, and click on it.

Then, you'll be asked to select Zendesk action. As we are looking to create a new support ticket in Zendesk from WordPress, let's choose Create Ticket and click Continue.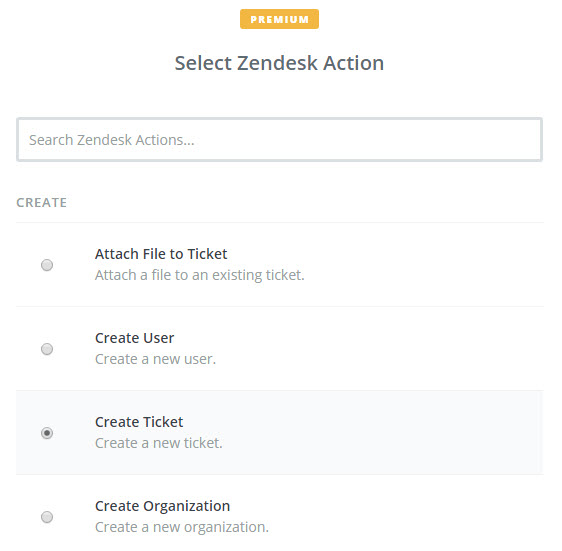 Now you need to connect your Zendesk account to Zapier. To do this, you'll need to authorize Zapier to access your Zendesk account by entering your Zendesk account name, agent email and API Token. You can find the API token by going to Admin » Channels » API in your Zendesk account.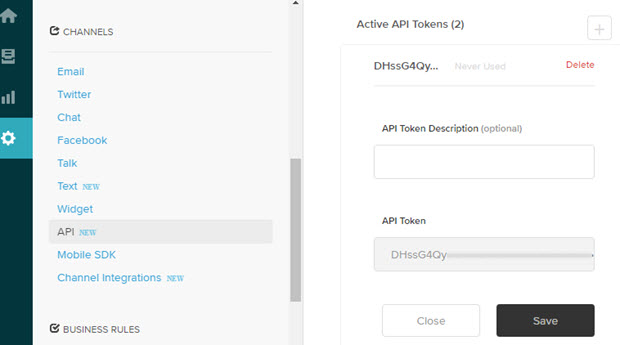 After entering the details, click Yes, Continue.
Then, click Save + Continue in your Zapier account to proceed to the next step.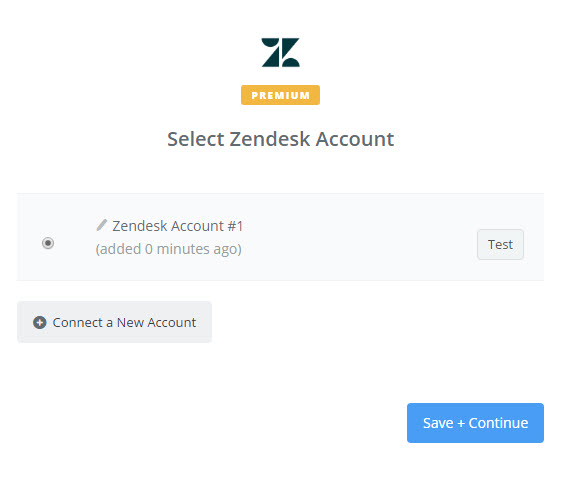 Now you'll be prompted to set up Zendesk Ticket.
In this step, you'll have to configure the correct WPForms fields in its corresponding Zendesk fields. You can select the right WPForms field by clicking the + icon on each field in Zapier. See the screenshot below.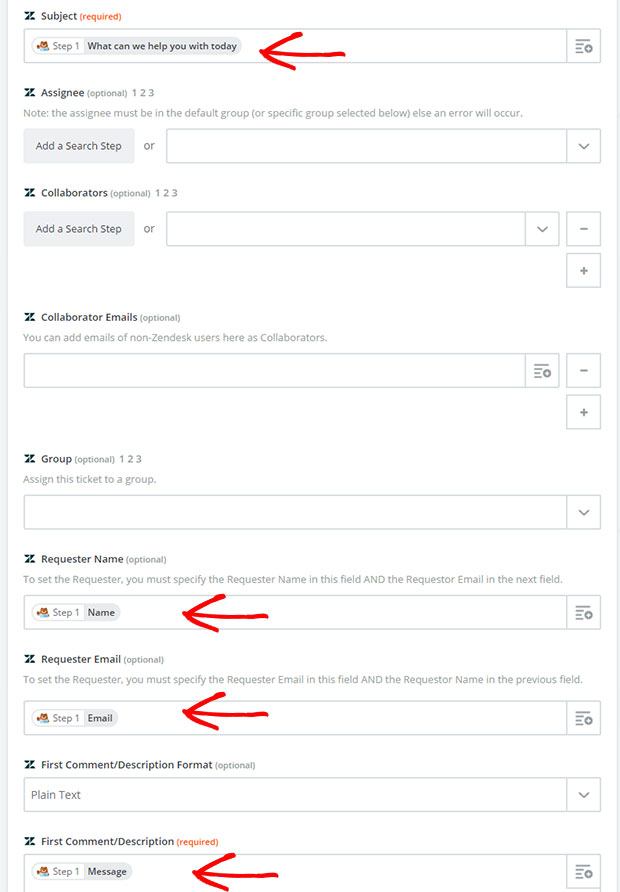 To test the Zendesk ticket you just configured, click on Test. You can now see what data is being updated in Zendesk ticket. Click Create & Continue.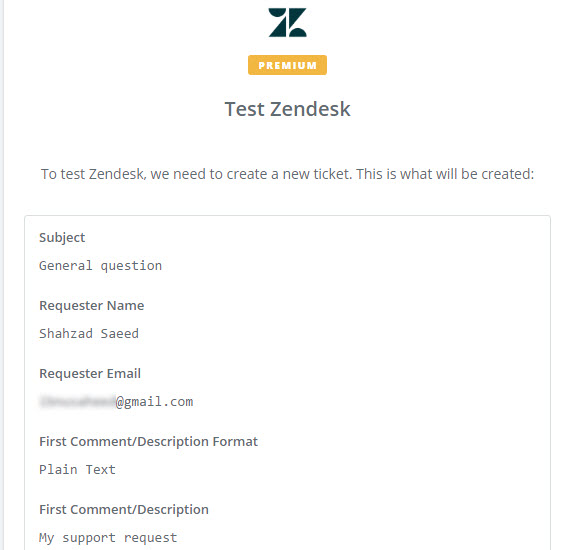 You've just tested Zendesk app on Zapier successfully.
You may login to your Zendesk account to view the newly added ticket.

In the final step, make sure to turn on your Zap. You can also give your Zap an appropriate name.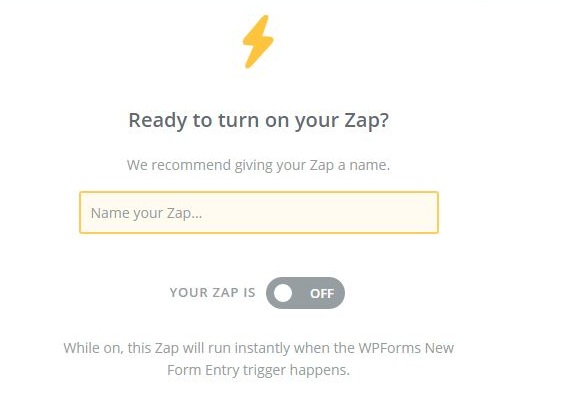 By turning on Zap, you can automatically send contacts to Zendesk CRM whenever your visitors submit the form on your site.
Make Your Support System More Efficient
You can follow the below tips to speed up your response time and resolution time. These simple things can make your support system more efficient.
Ask detailed questions in your support ticket form. This can help you better understand the issues of your customers and resolve them quickly.
If you have extensive documentation published on your site, you might want to encourage your users to read it before submitting a support ticket.
Tell your customers how long it usually takes to get a response from an agent. This can help your customers to set an expectation on turnaround time.
We hope this guide helped you to create a custom support ticket form on WordPress with Zendesk.
If you enjoyed this article, you might also want to check out 3 Form Success Message Ideas to Boost Customer Happiness.
What are you waiting for? Get started with the most powerful WordPress forms plugin today.
If you like this article, then please follow us on Facebook and Twitter for more free WordPress tutorials.