Are you looking for the best VoIP for small business? A VoIP or Voice over Internet Protocol is a cost-effective solution for small businesses. And unlike the traditional phone solutions, an internet business phone system comes with a number of useful features at no additional cost.
In this article, we'll compare the best business phone services (VoIP) and internet telephone systems to help you decide the best one for your business needs.
Before we jump in, let's take a look at what a VoIP solution is and the benefits of using it for your business.
What Is VoIP?
VoIP (Voice over Internet Protocol) technology allows you to make or receive calls using the internet, instead of traditional phone lines. VoIP, also known as an internet phone system, converts the sound of your voice into a digital signal that can be sent over the internet much like any other data.
Why Is VoIP Useful for Your Business?
Many small businesses, entrepreneurs, and startups use VoIP services for their businesses because it typically comes with extra features and can cost less than a traditional business phone service.
Internet business phone systems are the best business phones because they offer features beyond just calling. These services can come with features like caller ID, call forwarding, call management, voicemail, call waiting, conferencing, video calls, and more. And you don't need to pay anything for these features, unlike the traditional phone system.
But VoIP technology isn't perfect – let's take a look at some pros and cons before you decide on a service.
VoIP Advantages and Disadvantages
Some of the benefits of using a business VoIP system are:
Flexibility: You can make or receive phone calls using your computer, mobile apps, and VoIP devices (great for remote companies or traveling entrepreneurs)
Scalability: Internet business phone systems are scalable without having to buy more phone lines or hardware
Data: You can track and analyze the business calls to improve your workflow
Price: They're cost-effective for small businesses and startups
If internet phone systems are so great, what's the downside?
VoIP isn't the best business phone system for everyone – here are a few possible disadvantages to consider:
You need a good internet connection to make calls. If your connection is always cutting out or going down, VoIP may not be a good choice.
No location tracking for emergency calls. Traditional phone systems will give your location to emergency services automatically, but VoIP can't do that.
What Is the Best VoIP for Small Business?
With the above pros and cons in mind, let's take a look at the best VoIP service for small business phone systems.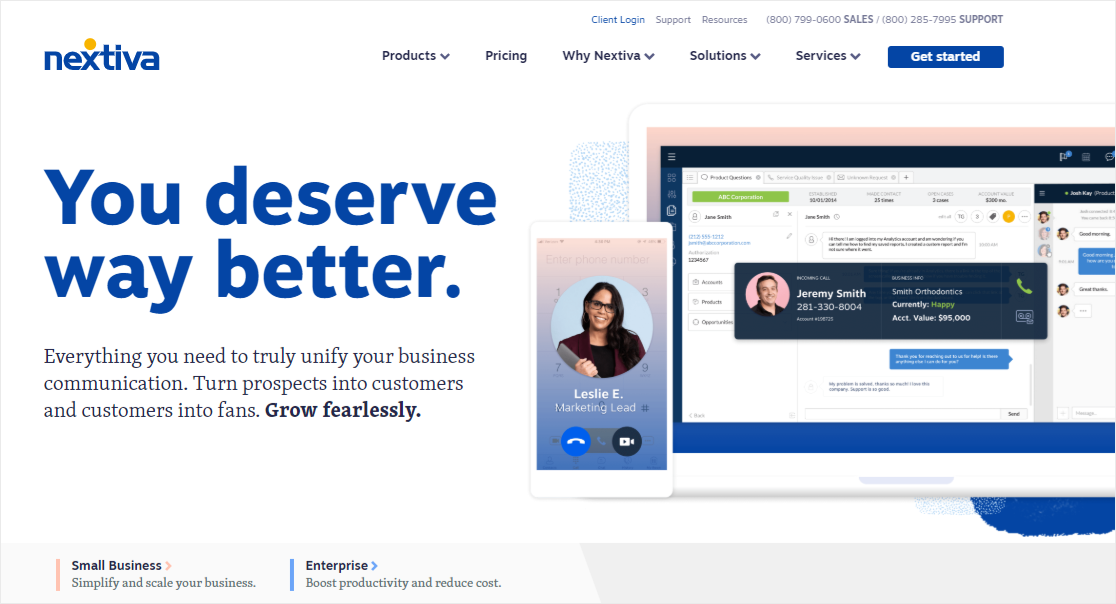 Nextiva is one of the best and most reliable business VoIP services in the market. And you don't need an annual contract to use their service.
They offer many powerful features like unlimited calling, auto-attendant, unlimited internet faxing, advanced call management, and more. You'll also get a toll-free number for free with all their plans.
It comes with some automation features as well. For example, you can set up an action to occur at a specific time, or get automatic notifications when a new sale is made.
The support team of Nextiva is extremely knowledgeable and helpful. You can always reach out to them in case you face any problems.
Does your business need an on-premise office phone system that works on existing handsets? Contact centers and enterprise companies often use Nextiva to transition their Avaya private branch exchange (PBX system) into a SIP trunking cloud phone system.
Overall, Nextiva is suitable for startups, small businesses, and even mid-level to enterprise businesses. We can also vouch for them as we use their business phone service for our own business.
Features:
Complete unified communication system with voice, video, text messages, mobile, and web connectivity
Easy setup
Reliable and trustworthy service with HD voice call quality
Fast and knowledgeable customer support
Unlimited calling (no per-minute charges)
Instant conference calls (including real-time video conference calls)
Manage voicemails from your email
Keep your local number
Share business phone numbers with remote teams or add extensions
Dedicated Nextiva app to manage calls from your mobile devices, tablets, cell phone, or laptop computers
Price: Their Essential plan starts from $18.95/month for per user.
Overall, we believe Nextiva is the best business phone service provider in the market, that's why we use them for our business.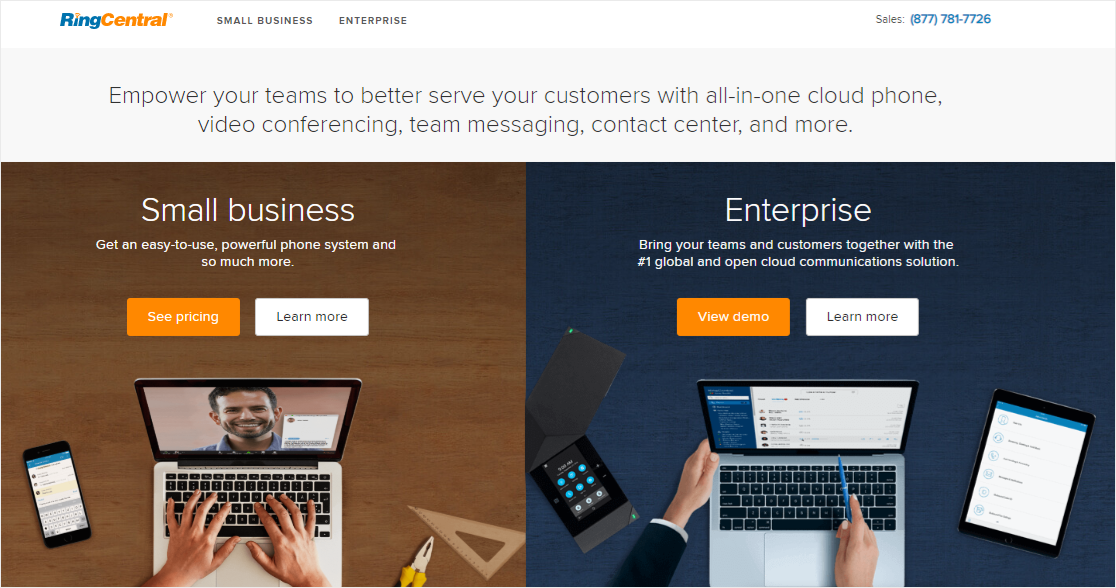 RingCentral is a powerful yet easy-to-use VoIP service provider. Whether you're planning to start your business or managing large businesses, you can use their reliable, secure, and hassle-free internet phone service.
You can easily set up and activate their service within a few minutes. And you can always contact their team members for help as they offer high-quality customer service.
RingCentral comes with useful features including call monitoring, call forwarding, call routing, automatic call recording, call logs, video meetings conferencing, and screen sharing.
You can also integrate it with 3rd party apps and services like Dropbox, Google Drive, Zapier, Salesforce, Office 365, and more.
Just like Nextiva, we can recommend you to use RingCentral for your business. The only concern is their pricing is on the higher side. However, you can use their annual plan to reduce your expenses. They also offer cloud PBX.
Features:
Unlimited inbound and outbound phone calls in the US and CA
Choose a toll-free or local number
Voicemail to text feature
Reliable cloud based phone system
Automatic call recording
Unlimited audio and video conferencing
Robust API and third-party integration ecosystem
Glip Pro team messaging is included for free which makes it easy for teams to collaborate
Price: Starting from $19.99 on a monthly basis depending on the number of users. You can also pay annually and save up to 33%. You get unlimited calls in US and Canada, but international and toll-free minutes vary based on plan.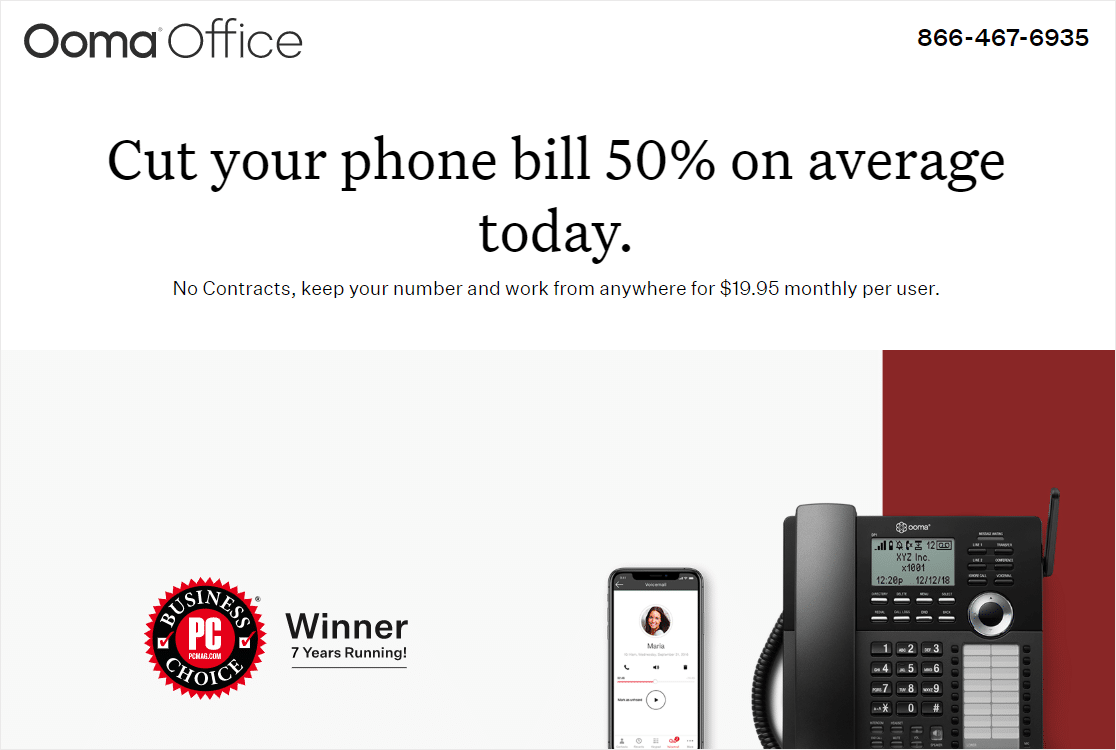 Ooma Office Phone is a popular small business VOIP phone provider that has affordable 1-800 toll free phone numbers. When you sign up, they'll pre-select a toll-free phone number for you, but you always have the option to choose a new one. It's great because you can add a  free number to any of their plans.
It's well-loved because of its ease of use. Plus, you can get some great features with Ooma like on-hold music for call queues, a virtual receptionist, extension dialing, mobile phone apps, and more.
Price: Ooma has plans starting at $19.95/month. Their Office Pro plan costs $24.95 per month and comes with additional features like video conferencing, call recording, and more.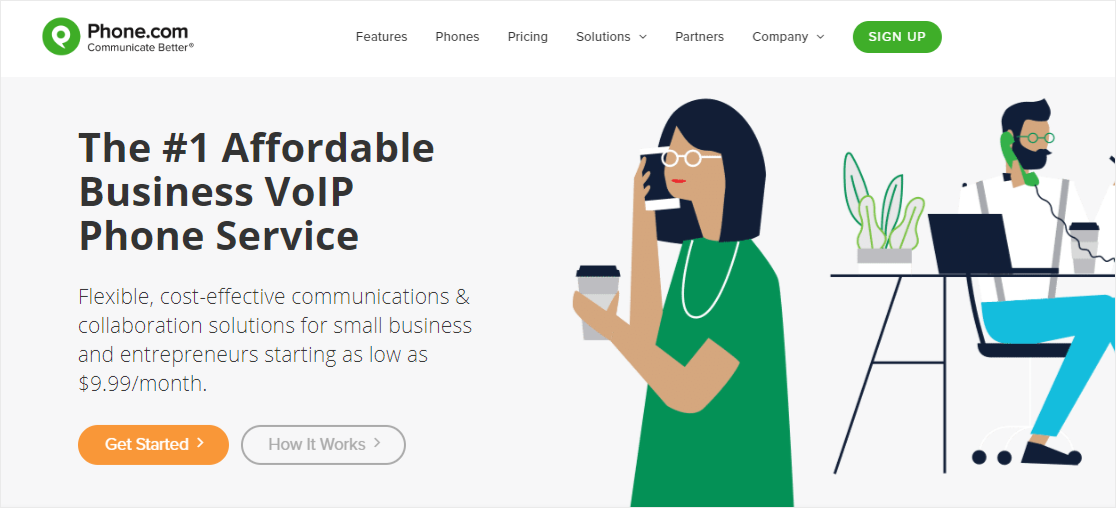 Asking yourself which is the cheapest VoIP provider?
Phone.com is one of the most affordable VoIP services for small businesses and one of the all-around best VoIP phone service. It offers different features like call forwarding, call waiting service, caller ID, voicemail, text messaging, and more.
You'll also get at least one local or toll-free number with all their plans. This is very useful for your business as customers can contact you at no cost to them.
Do you want to learn about the demographics, social profile, etc of your customers? You can easily do that by taking a look at the caller analytics.
Phone.com is a cost-effective service with their plans starting from $11.99 per month. However, there is a limit of 300 minutes and 3000 SMS with their basic plan. You need to upgrade to a higher plan to increase that limit.
Price: Starting from $11.99 per month and comes with a 30-day money back guarantee.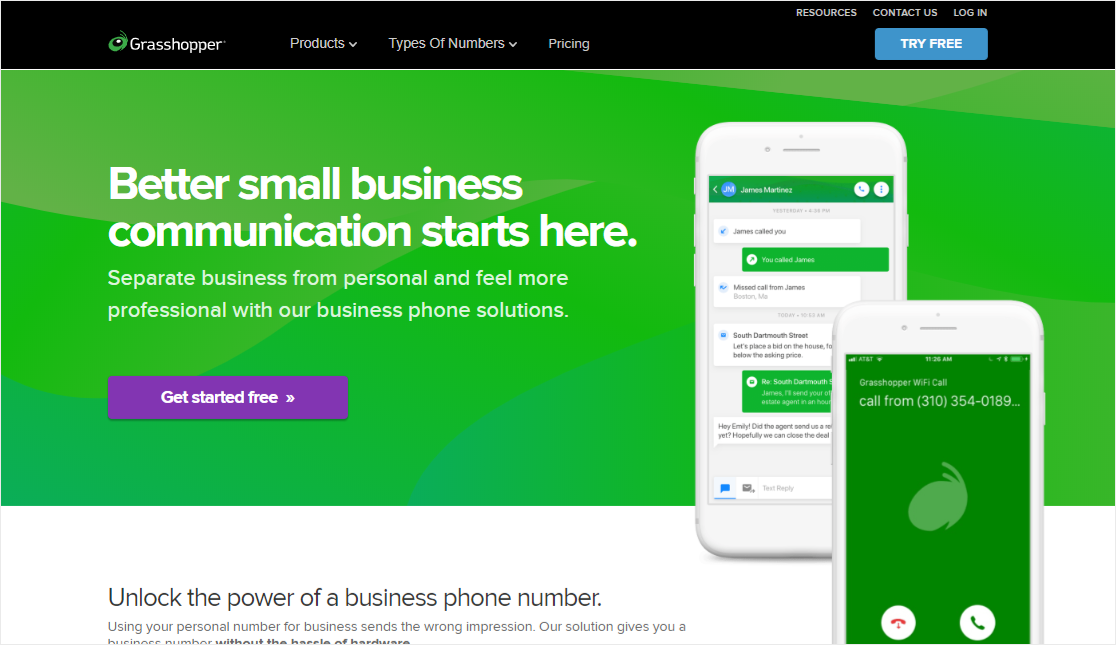 Grasshopper is one of the best VoIP phone service and virtual phone systems in the market. And you can use their service if you're an established small business owner or just starting out.
It comes with the most essential calling features including incoming call control, call transfers, custom greeting, simultaneous call handling, VoIP calling, and voicemail with all their plans.
To make outgoing calls, you can use their mobile or desktop apps. And there is no restriction on the number of minutes that you can use, unlike Phone.com.
Price: Starting from $26 per month. It also offers a free trial to test its service.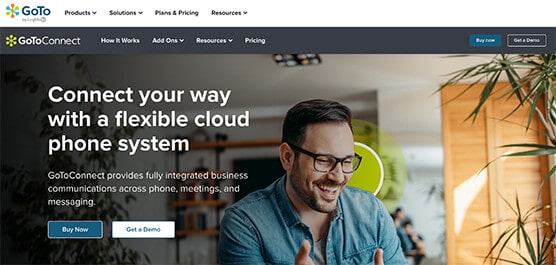 GoToConnect, formerly Jive, is a popular business VoIP provider for small businesses. They offer unlimited calls, unlimited extensions, and a free local or toll-free business phone number.
Their business phone service comes with over 100 powerful features including conference calling, voicemail transcription, international calling, team messaging, auto attendant, call forwarding, audio conferencing, call analytics, music on hold, unlimited call queues, and more.
Since GoToConnect is part of the larger GoTo family brands, they also have seamless integrations with their webinar software, GoToWebinar along with hundreds of other integrations like G Suite, Microsoft Outlook, Salesforce, and more.
Price: Starting from $24 per month. You can also add-on additional phone numbers for $5 per month.
Vonage is a plug and play VoIP service for small businesses. You just need a high-speed internet connection to start using their service.
It offers unlimited calling and SMS service in the US and Canada. Plus, you can easily link your business phone number to your mobile device with the help of their Android or iOS app. There's also a Microsoft Teams integration.
Vonage also comes with 40+ standard VoIP features including call screening, do not disturb, caller ID, call forwarding, voicemail to email, call blocking, and file sharing. They even have call center support.
However, you should note that their basic plan comes with limited features. So you need to upgrade to a higher plan to get all the advanced phone features.
Price: Starting from $19.99 per month, excluding taxes and other fees.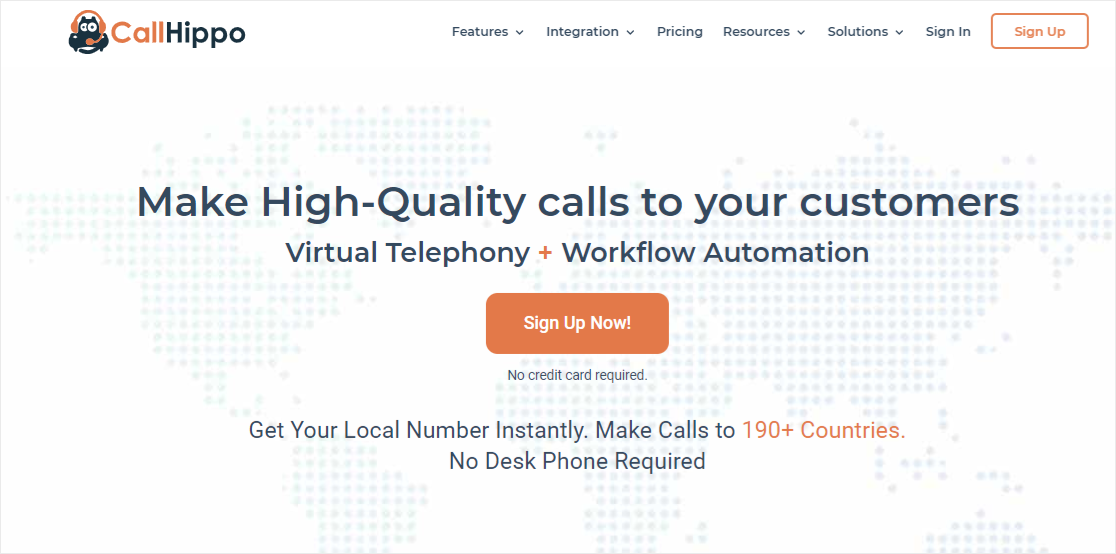 CallHippo is another great virtual phone system on our list. It comes with standard features like call hold, contact management, welcome message, call reminder, and more.
It comes with a free plan with limited features and is suitable for entrepreneurs and startups. However, you can always upgrade to their higher plan to use the premium features.
You can also integrate CallHippo to different services including Pipedrive, Slack, Zoho CRM, Hubspot, Zapier, and Zendesk to enhance its functionality with a CRM integration or other web apps.
Price: Pricing starts at $16 per month.
Best VoIP Solutions for Small Business Compared
Here's a side-by-side comparison of the VoIP systems we've covered in this post:
Price
Free Trials
Features
Nextiva
$18.95+/month per user
30 days

Voice, video, text message, mobile, and web connectivity
HD voice call quality
Unlimited calling

RingCentral
$19.99+/month
30 days

Unlimited calling in the USA and Canada
Automatic call recording
Voicemail to text

Ooma Office Phone
$19.95+/month
30 day money-back guarantee

Choice of toll free phone number
Virtual receptionist
Extension dialing

Phone.com
$11.99+/month per user
30 day money-back guarantee

Call forwarding
Voicemail
Text messaging

Grasshopper
$26+/month
7 days

Unlimited calling
Simultaneous call handling
Voicemail

GoToConnect
$24+/month
14 days

International calling
Voicemail transcription
Call analytics

Vonage
$19.99+/month
30 day money-back guarantee

Unlimited calling and SMS in the USA and Canada
Call forwarding
Voicemail to email

CallHippo
$16+/month
10 days

Contact management
Call reminders
CRM integrations
Which Is the Best VoIP and Internet Phone System for You?
After comparing the above services, we can conclude that Nextiva is the best VoIP phone service for small businesses and startups. They offer amazing features that are useful for most businesses.
Also, you don't need any annual contracts for using their service.
RingCentral is another internet phone system that we can highly recommend. However, Nextiva has a slight edge over RingCentral, thanks to its cheaper pricing plans.
Not quite ready to get VoIP for your small business yet? Before we wrap up, let's take a look at some of the most commonly asked questions about VoIP for small businesses.
VoIP Frequently Asked Questions (FAQs)
Before you get started with VoIP, you may have a few questions about how it all works.
Is VoIP Worth It for Small Businesses?
VoIP is a great option for small businesses because unlike with traditional business phone systems, you don't have to set up complicated equipment or have an IT staff to manage it. This makes it a lot more accessible for businesses on a budget.
To set up VoIP business phone service, all you need is a reliable internet connection with good bandwidth.
How Do I Choose a Good VoIP Provider?
The 3 main things to consider when choosing a VoIP provider are features, your budget, and reliability.
If you need features like video conferencing or SMS messaging, you'll want to make sure the provider you choose supports those options. It's also important to consider if you can afford the provider you want to use.
And lastly, you'll want to make sure your calls will actually go through and that you won't miss calls from clients or customers. Checking 3rd party reviews for the VoIP provider you're considering is a smart move.
How Much Is VoIP Monthly?
Typically, VoIP plans start at around $20 per month per user for basic plans. Pricing can go up to about $50/month if you're looking at plans with a lot of advanced features.
Both Nextiva and RingCentral actually offers free trial, so you can try it out before you buy.
Is VoIP Cheaper Than a Landline?
Yes, usually VoIP business phone services are much cheaper than desk phones with landlines. Business landlines often charge setup fees of around $100, and monthly fees can be as high as $100 per line. Extra features like intercom, call transfer, and more can all cost extra. Plus, you don't get VoIP-only features like call analytics, voicemail to text, video conferencing, and more.
What Is Needed to Set up VoIP?
You'll need to have a reliable high-speed broadband Internet connection in order to use the business communications power of VoIP. If you prefer, you can connect your VoIP devices via Ethernet for a better connection.
You'll also need a VoIP phone, or an app if you want to use it on your smartphone. Not all VoIP providers offer an app, so make sure the service you choose is compatible with your existing phone if you don't want to buy a new one.
Can I Keep My Landline Number with VoIP?
Yes, you can keep your local landline phone number with VoIP. Nextiva, for example, allows you to port your numbers into their service so you can keep the same phone number.
Can VoIP Providers Be Hacked?
Yes, like any cloud technology, it's possible for VoIP to be hacked. That's one reason why it's so important to go with a reliable, reputable provider. Watch out for signs like irregular phone bills, suspicious internet redirects or antivirus messages, or automatically activated microphones and webcams.
The business phone services that we mentioned in our list go above and beyond to ensure their platform is 100% secure.
How Reliable Is VoIP as a Business Phone System?
Reliable VoIP phone systems have over 99.99% uptime, including the services listed above. Keep in mind that VoIP relies on your internet connection, so if your internet unstable, then your phone lines will be too.
Although most cloud-based business phone services have improved their technology to require very low internet bandwidth speed.
Which Is the Best Business Phone Service in the Market?
Our pick for the top 3 best business phone services and VoIP provider would be Nextiva, RingCentral, and Ooma.
Next, Make a Request a Call Back Form
After you've signed up for a VoIP service, it's a good idea to allow your customers to easily make a call back request. With WPForms, you can make a request a call back form so your customers can easily get in touch with you.
If you are wondering how you can create a free professional email address for your business, then you may want to check out our step-by-step guide on how to set up a free business email address in 5 minutes.
You might also want to check out our article on the best WordPress automation plugins, which can assist you in managing your WordPress site more efficiently.
Create Your WordPress Form Now
Ready to build your form? Get started today with the easiest WordPress form builder plugin. WPForms Pro includes lots of free templates and offers a 14-day money-back guarantee.
If this article helped you out, please follow us on Facebook and Twitter for more free WordPress tutorials and guides.