Want to save your form submissions in your WordPress database? With WPForms, all your entries are stored in two database tables, and you can easily manage your entries from your WordPress dashboard. In this post, we'll show you how to save your contact form data in your WordPress database, and how to manage your entries from the dashboard.
How Entries are Stored in the Database
WPForms store all form data in two tables within the native WordPress database. They are:
wp_wpforms_entries: In this table, the field values for entries are stored.
wp_wpforms_entry_meta: This table contains meta information about your entries such as IDs associated and the date that entries were submitted.
Most web hosting providers offer easy to use web applications like phpMyAdmin to manage databases. It allows users to manage their database using a web-based graphical interface.
Let's take a look at how to view form entries in your WordPress database using phpMyAdmin.
In phpMyAdmin, select your WordPress database and then, click on the table, wp_wpforms_entries.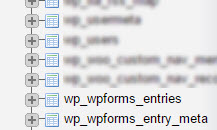 You can find the form entries in the fields column.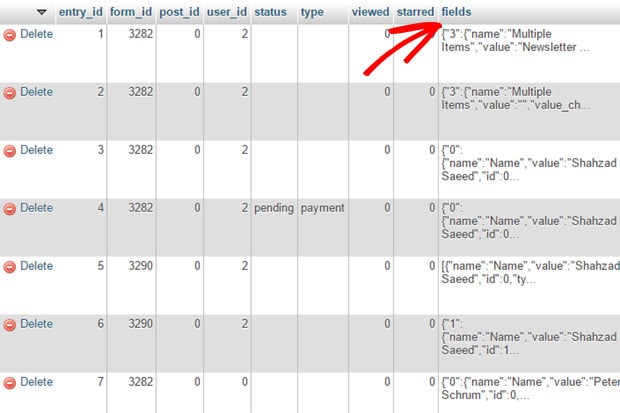 For more reference, you can read this beginner's guide to WordPress database management with phpMyAdmin.
How to Manage Entries in WordPress
WPForms allows you to easily access your form entries and manages them inside your WordPress dashboard.
Let's take a look at how to manage your form entries.
Before we get started, let's create a simple contact form with WPForms. If you need help, you can refer to this article on how to create a simple contact form with WPForms.
After publishing the form, make sure to add a form entry, so we can access the entry from your WordPress dashboard. Additionally, in your form builder, go to Settings » General and make sure that entry storing in WordPress is not disabled.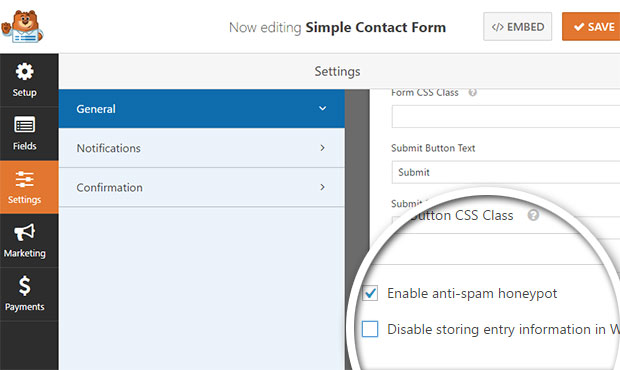 Once an entry is added, you can navigate to WPForms » Entries in your WordPress dashboard to access it.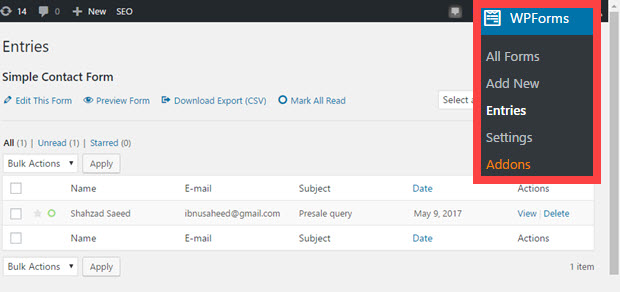 WPForms allows you to favorite your entries, mark them as read, and even delete the ones you don't want.
Under the Actions column, click on the View link to view your form entry.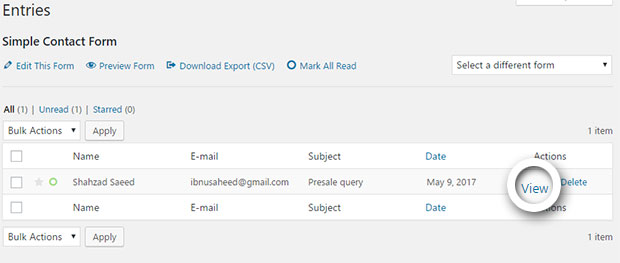 Here's how an individual entry will look like. See the screenshot below.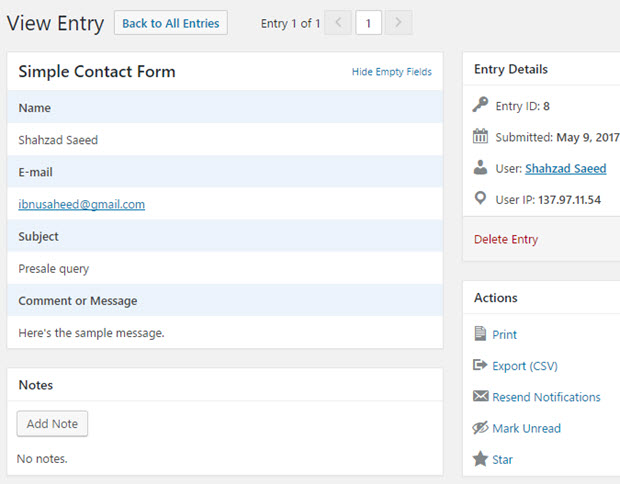 If you enjoyed this article, you might also want to read our article on how to export WordPress form entries to CSV.
What are you waiting for? Get started with the most powerful WordPress forms plugin today.
If you like this article, then please follow us on Facebook and Twitter for more free WordPress tutorials.