If you're looking for the best free WordPress forms plugin, this is the post for you. A contact form is one of the most important elements you need on your website. And using a good free form builder can skyrocket your website's growth.
In this post, we've rounded up the best free form plugins for WordPress to help you to choose the right one for you.
Create Your WordPress Form Now
How Do I Create a Contact Form in WordPress?
Creating a contact form in WordPress is super easy with the right plugin. For example, if you have WPForms Lite, you can create forms for free right from you WordPress dashboard.
Just install WPForms, then go to WPForms »  Add New. Once that's done, just pick the Simple Contact Form template and use the drag and drop form builder to edit the form as you see fit. You can then embed the form directly to any page of your WordPress site using the smart embed tool without any code!
Best FREE Form Builder Plugins for WordPress
Let's take a deeper look into our top picks for free WordPress form plugins: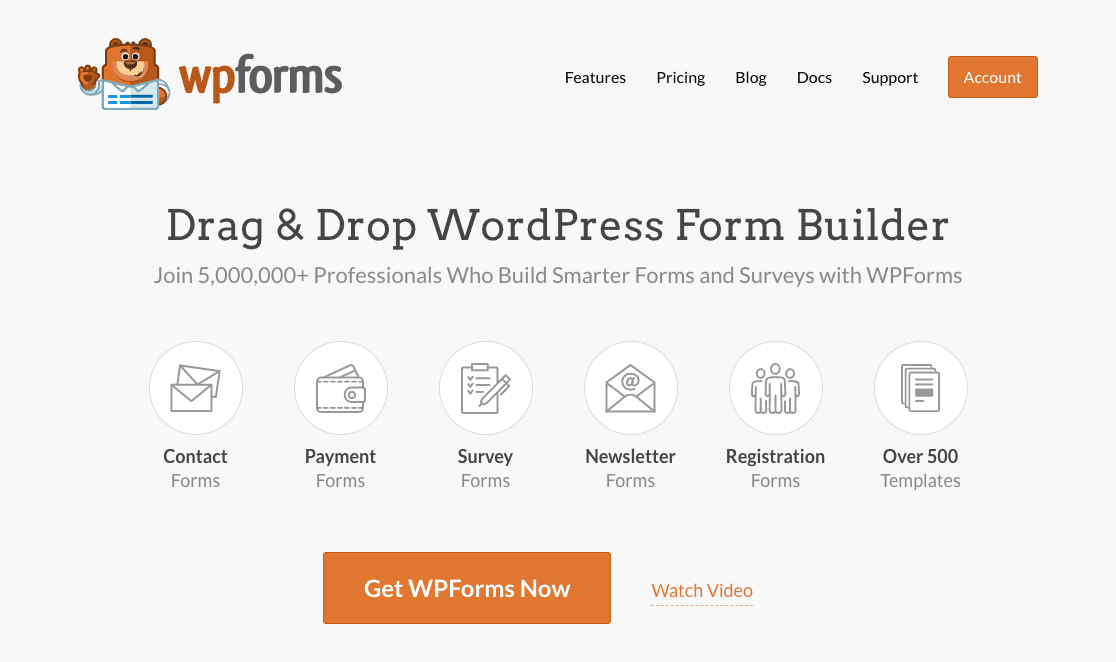 WPForms is the best free form builder plugin for WordPress for a lot of reasons. It's a beginner-friendly contact form plugin that's easy to use yet very powerful.
WPForms is also the most popular form builder for WordPress with 5+ million active installations and 12,000+ 5-star reviews.
It comes with an easy-to-use drag-and-drop form builder that can build a simple form or a complex one with custom field types and edit it in real-time directly from your WordPress dashboard. WPForms also allows you to embed forms easily, using 3 simple methods.
The free version called WPForms Lite offers all the essential features required to create a contact form and offers some unique functionalities like form revisions and form locations.
And if you want to upgrade to the Pro version, you get 500+ ready-made WordPress form templates. There are still over a dozen of free templates available for Lite users.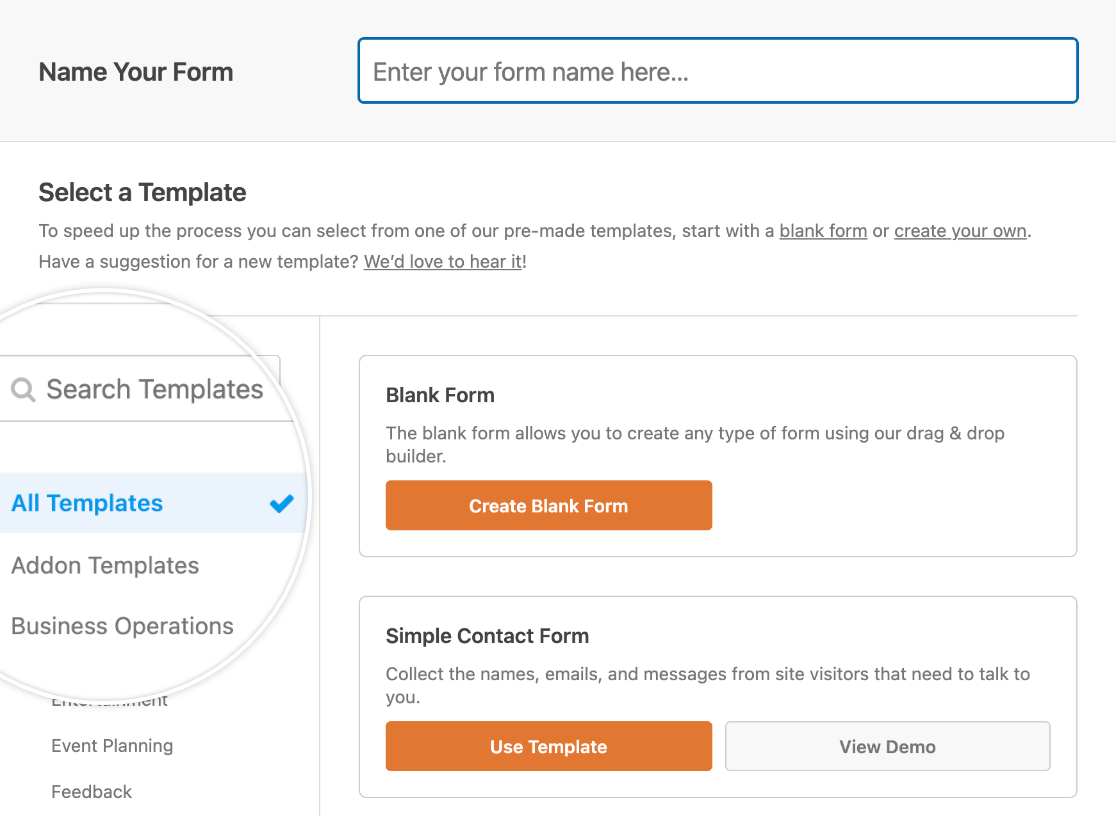 You can build custom newsletter signup forms with branded styling. Building your email list with WPForms is incredibly easy, especially since you can embed the same form in multiple locations on your site (sidebar, footer, custom widgets, pages, and more).
Sites with lots of forms can use tags to organize them, view form locations, and track changes with form revisions. You'll also be able to protect your forms with multiple anti-spam features, including Google reCAPTCHA and Akismet integration.
Plus, it integrates seamlessly with Mailchimp, Campaign Monitor, MailerLite, and tons of other email marketing services.
That's not all. WPForms also lets you set up automatic email notifications when people filled out your form. And you can easily view your form entries right from the WordPress dashboard!
There are tons of specialized forms that you can create within a few minutes using WPForms. For instance, there are numerous business form templates such as these evaluation form examples. And if you're a membership site and want to allow users to sign up, you can launch custom registration forms.
Other than that, WPForms also gives you the following.
Improved Form Conversions
With WPForms, you can capture emails even when people don't finish filling out forms and reduce your form abandonment rate
WPForms also includes useful features designed to improve your conversions. One technique that's very effective in encouraging people to submit their entries without quitting midway is to split a long form into multiple pages. For this, WPForms allows multi-step forms for WordPress,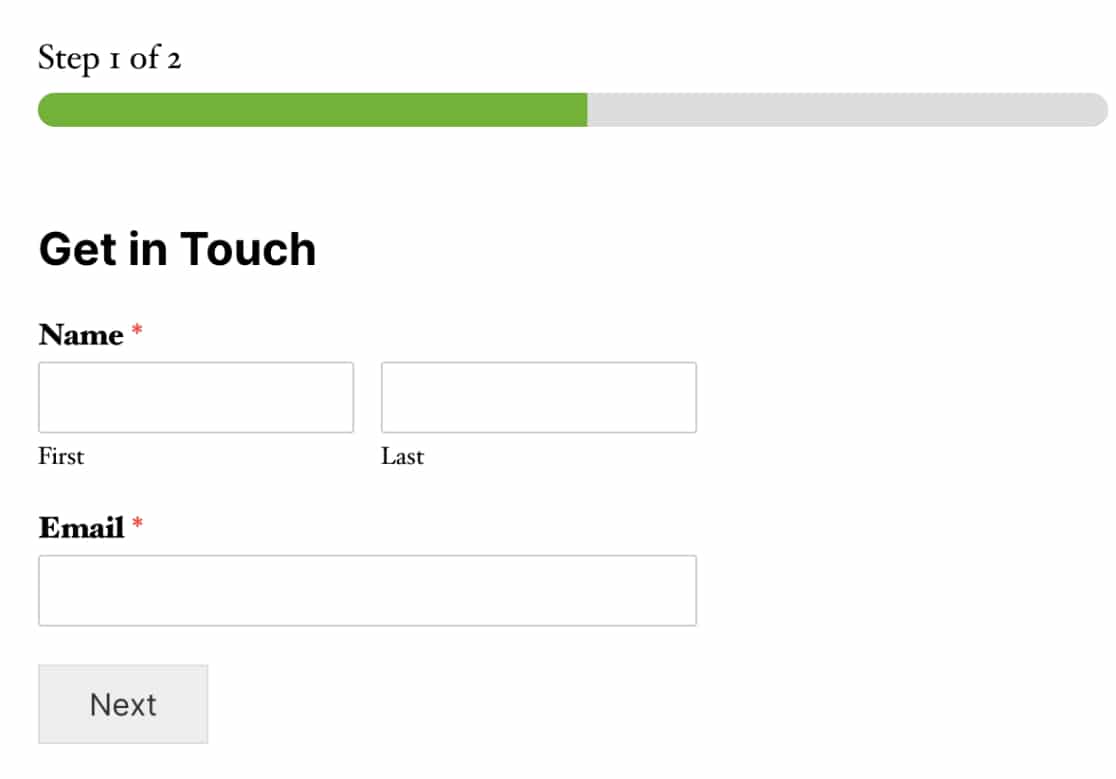 You can also create distraction-free form landing pages to improve the chances of conversions by providing a seamless user experience to visitors.
User Submitted Events and Posts
WPForms is one of the best tools for creating more community engagement among your members and followers. One way you can do that is by letting visitors add user-submitted events to a calendar and display it on your site.
In addition, if you're a website that accepts guest posts from authors outside of your team, you can put WPForms to good use here too. It's really easy to accept WordPress user submitted posts from guest authors with WPForms since it has a rich-text field that allows authors to draft a complete post from the frontend without hassle.
Collect Online Payments
WPForms supports major payment gateways and allows easy integration with forms. Quick and easy payment processing is essential to maintaining a good user experience, especially if you're a membership site or eCommerce business.
With WPForms, you can collect online payments using Stripe, Authorize.Net, Square, and PayPal with easy-to-build payment and order forms.
If you need to look up a customer's past order, you can search the receipt number on the Entries page to easily find the order form submissions you're looking for.
Surveys and Polls
Survey questionnaires and polls are extremely valuable because they let you collect detailed feedback from users while making it easy for them to participate in the survey.
WPForms not only enables you to create survey forms, but it provides powerful visual reports that facilitate easy analysis of survey responses.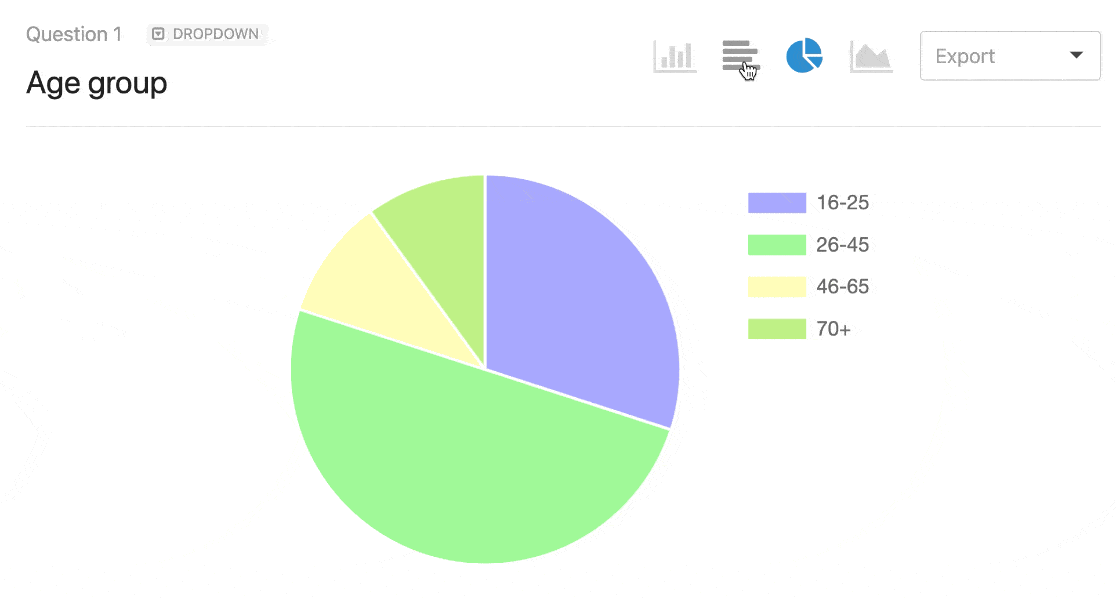 You can even use Likert scales and star rating fields to create powerful surveys and polls using the Surveys and Polls addon.
Conditional Logic
Another way to shorten the length of your forms and only display the most relevant fields to each user is to use WPForms' smart logic. This feature allows the form to show specific fields only if the previous responses make the next field relevant to the user.
For example, you can use the conditional logic feature to personalize your survey questions based on respondents' answers
Secure and GDPR Compliant Data Storage
All entries submitted by users are securely stored in your WordPress database. Due to this, WPForms is an excellent WordPress data collection tool as well.
Besides, WPForms gives you full control over user collected data. For example, you can disable cookie tracking while a user is filling out a form. You can even disable entry form storage if you'd like to for extra privacy. This is why WPForms is rated as one of the best GDPR plugins.
App Integrations
Speaking of automation, you can connect your forms to Uncanny Automator or Zapier to integrate with plugins like WooCommerce, Elementor, Sendfox, MailPoet, and hundreds of other third-party platforms.
Using these integrations means fewer administrative tasks on your shoulders and more efficient workflows.
Based on the above, WPForms is easily the best WordPress contact forms plugin, especially since you can use it as a free form builder indefinitely.
Pricing:  WPForms Pro starts at only $199.50/year and comes with a 14-day money-back guarantee. If you're looking for free online forms, you can use WPForms Lite to try it out before upgrading to the premium version. Compare WPForms Lite vs Pro, then get started with WPForms today!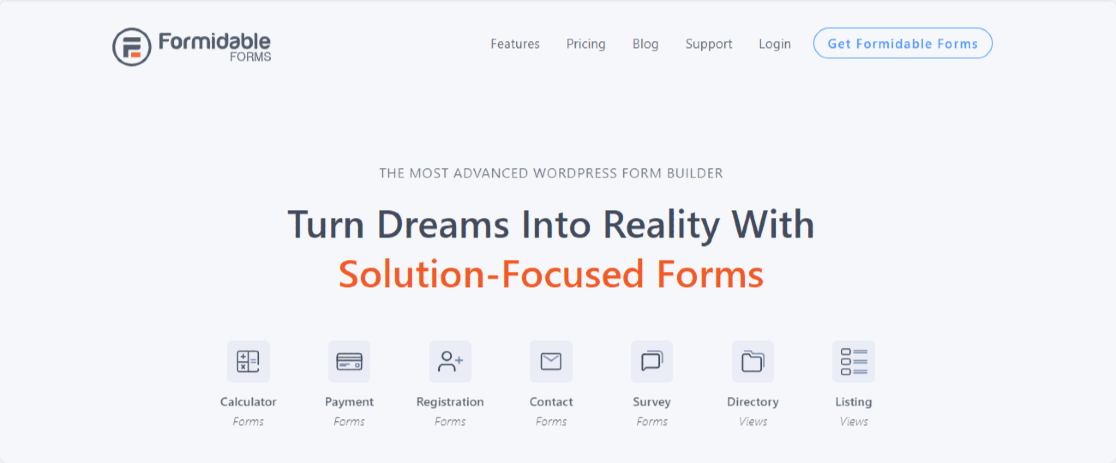 Formidable Forms is an advanced online form builder plugin that lets you create complex forms for various business needs.
You can use it to create fully responsive forms so they look perfect on every device (especially if you're using one of the top responsive themes for WordPress).
Features:
Comes with a free lite version with a free sign up form for WordPress but limited functionality and a premium version with extra features
Provides a drag-and-drop builder to create simple and complex forms
A good Wufoo forms alternative
You can change colors, borders, and more without any coding skills
Use features like conditional logic and spam protection to create advanced forms for your website
Formidable Forms can be used to create GDPR compliant forms. You can either add a checkbox asking for the user's consent, or you can stop saving IP addresses and form submissions.
Apart from the above features, you can also use the powerful calculation fields to create complex calculations required for building auto, loan, or mortgage application forms and more. Although it can also be used to create simple WordPress contact forms, WPForms is a better alternative for forms that don't require complex fields.
If you're having difficulty with Formidable Forms notifications, check out our checklist to help you to solve Formidable Forms not sending email. And if you're wondering which is the best email marketing service to build your email list, then check out our roundup of the best email marketing service providers.
Pricing: $49+/year + a 14-day money-back guarantee.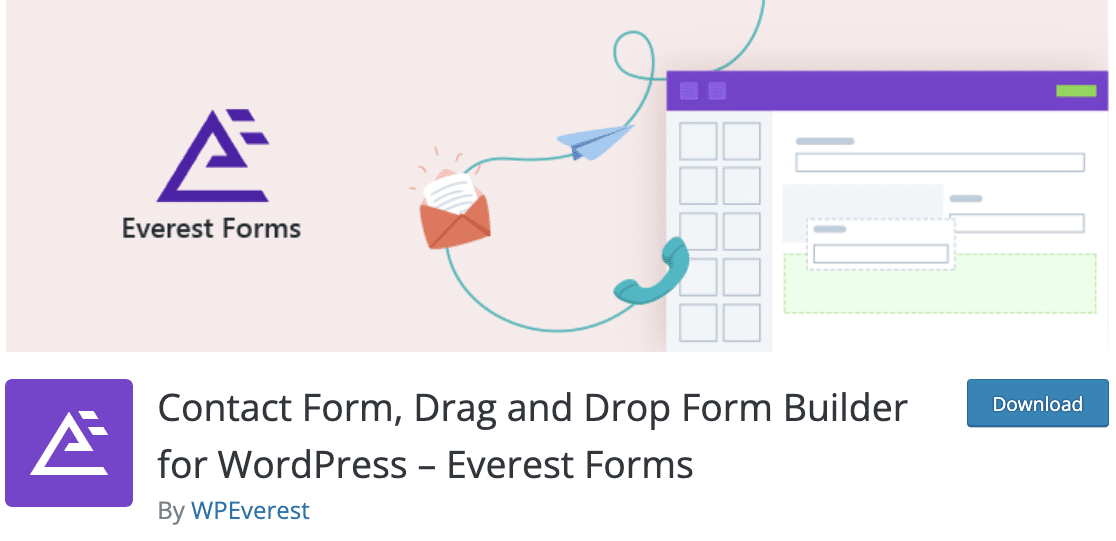 Everest Forms is another simple drag and drop WordPress contact form builder. It includes several form templates and lets you accept unlimited form submissions through your WordPress site. You can also manage entries from your dashboard and send email notifications to users when they fill out your forms.
Features:
Drag and drop form builder
Pre-built templates to help you get started quickly
Entry management in your WordPress dashboard
Form submission email notifications
Pricing: Free. Paid plans are available starting at $48.30/year.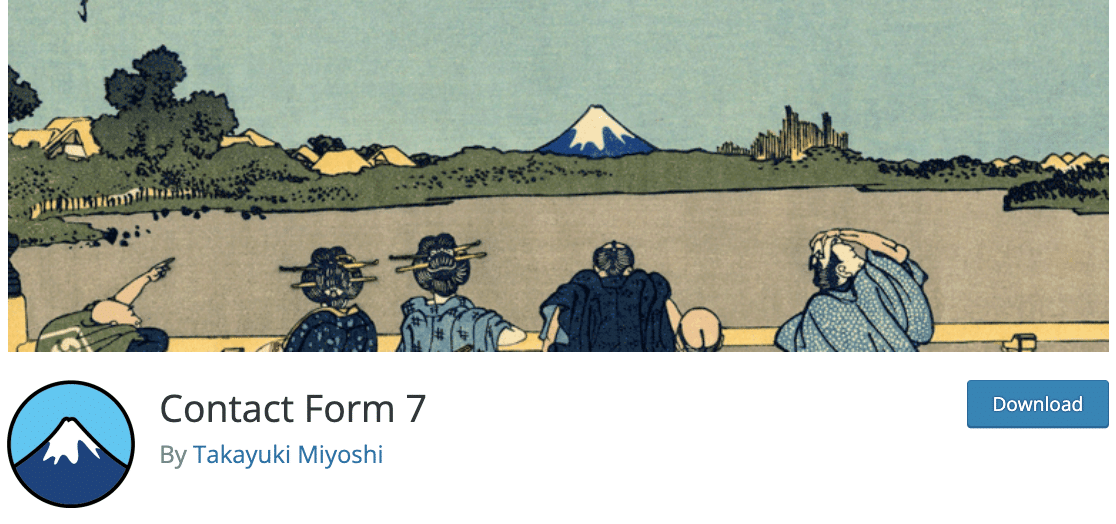 Contact Form 7 is one of the most popular free WordPress contact form plugins on the market. It's an incredibly simple plugin, but it lacks a visual form builder interface. To build forms, you'll need to learn the special code syntax in Contact Form 7.
Features:
You must know basic HTML to create or customize your contact forms (no drag-and-drop builder)
Create simple contact forms and add form fields like text boxes, radio buttons, checkboxes, dropdown menus, dates, and more
Contact Form 7 can also be integrated with Google reCaptcha to prevent spam
There are a lot of free addons available in the WordPress plugin directory to enhance the functionality of this basic plugin. However, due to the lack of an addons directory, it can be hard to find the right solution for your needs. And due to its complex nature, many users have trouble with Contact Form 7 not sending email.
Overall, Contact Form 7 is good for making WordPress custom contact forms but it's not very user-friendly.
Pricing: Free.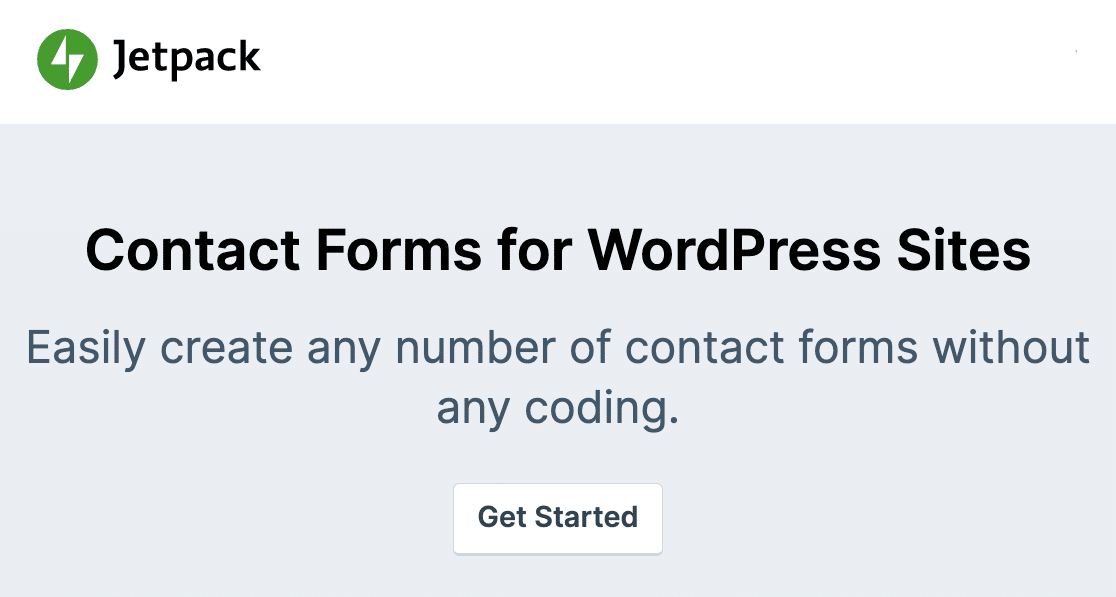 Jetpack is a popular WordPress plugin suite and free form builder that's been built by the team behind WordPress.com.
Features:
Includes various performance, site management, and security modules, both free and premium
Has a free utility tool called contact form module
Create simple forms on both the Classic and the block editor
To add your form to the sidebar of your website, you've got to create a form in a page or post, copy the generated code, and then add that code to the Text widget (which can be a little complicated).
Overall, this plugin has limited functionality and doesn't provide a visual form builder, just like Contact Form 7. And because it relies on Akismet, aggressive spam filtering can cause issues with Jetpack contact forms not sending email.
Pricing: Contact forms are included in the free version of Jetpack. However, you'll need to add anti-spam protection for $4.95 per month to connect it to Akismet.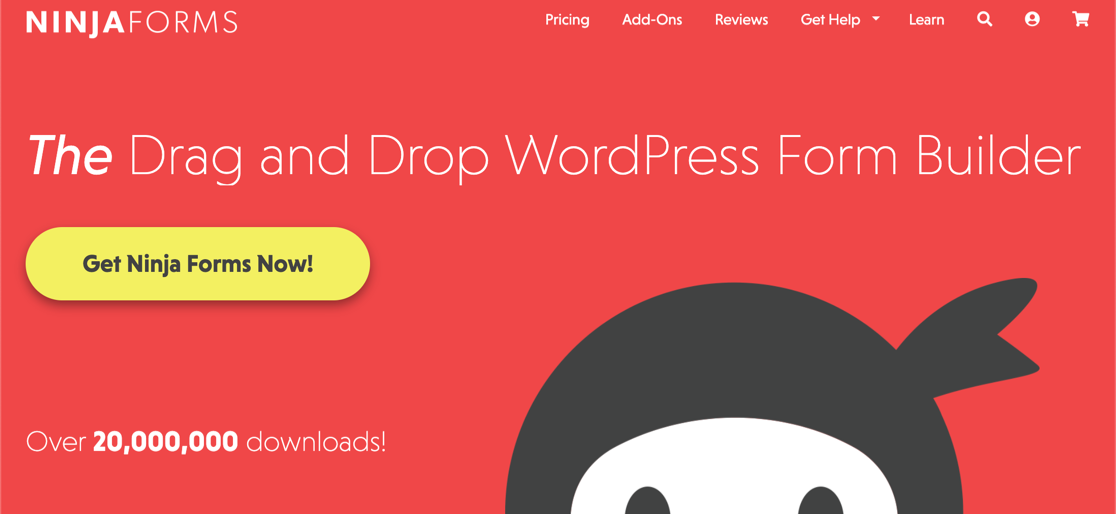 Ninja Forms is a flexible and free WordPress contact form plugin that also has a user-friendly visual form building interface. Unfortunately, even its premium form maker lacks an embed option like WPForms, so you're limited in where you can place your forms on your site.
Features:
Developer-friendly options for advanced users wanting a custom form
Add custom CSS to your WordPress forms
Create web forms and add different fields for email address, date, phone number, and more
Ability to manage and export your form submissions
Provides 40 premium addons like conditional logic, multi-page forms, user analytics, and frontend post submissions
Ninja Forms also integrates your forms with some popular email marketing services and CRM tools including Mailchimp, Zoho CRM, Aweber, Constant Contact, Capsule CRM, and Campaign Monitor.
Pricing: Free version + premium version that starts at $99/year. You'll find detailed pricing in our Ninja Forms vs WPForms review.
Which Is the Best FREE Form Plugin for WordPress?
You should use the WPForms Lite plugin if you're looking for a free and user-friendly WordPress form plugin.
With WPForms Lite, you benefit from the exact same form builder interface that's in the Pro version. That means you can easily create forms using drag and drop and access form templates to help you get started.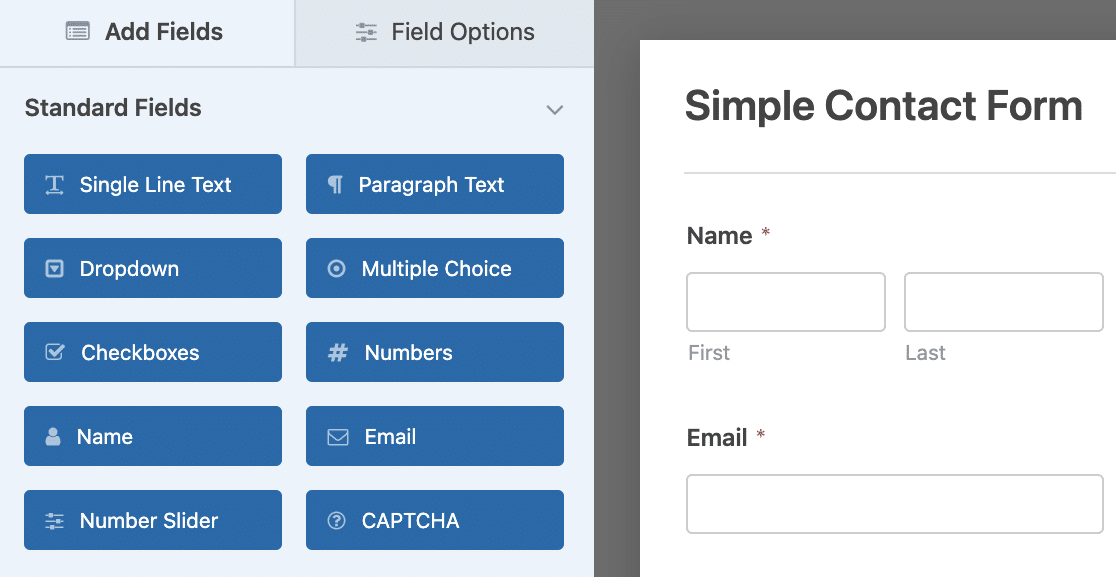 And later you can upgrade to the WPForms Pro, to get all the powerful features and addons. If you turn on the Lite Connect feature, you'll even be able to store entries from the free version and unlock them once you purchase a paid license.
It's the best WordPress contact form plugin on the market.
Create Your WordPress Form Now
We hope this article helped you to find the best free form builder plugin for WordPress.
Next, Read More Form Builder Comparisons
Don't forget to integrate WPForms with email marketing services or CRM software if you're aiming to build your subscriber list and take your customer relationships to the next level.
WPForms integrates with top CRM platforms like Salesforce and HubSpot to automate many repetitive customer management tasks.
We've got a great comparison if you'd like to check out the differences in WPForms vs Typeform as well. Also, see our in-depth comparison for Zoho Forms vs Jotform vs WPForms.
And if you're using Caldera Forms, don't forget that it retired in April 2022 and no longer offers support or updates. Check out our comparison on Caldera Forms vs WPForms to see the features in these 2 plugins side by side.
If this article helped you out, please follow us on Facebook and Twitter for more free WordPress tutorials and guides.