Looking for a FREE form builder for WordPress?
A contact form is one of the most important elements you need on your website… and it's easy to build one using a plugin. But which one will suit you best?
Here's a quick summary of the best FREE form plugins and what they have to offer:
Does WordPress Have a Form Builder?
WordPress doesn't have a built-in form builder, but it's easy to install a plugin to do the job for you. We'll look at the best options in the list below.
Best FREE Form Builder Plugins for WordPress
Here's a list of the free plugins we'll be diving into:
Let's get started!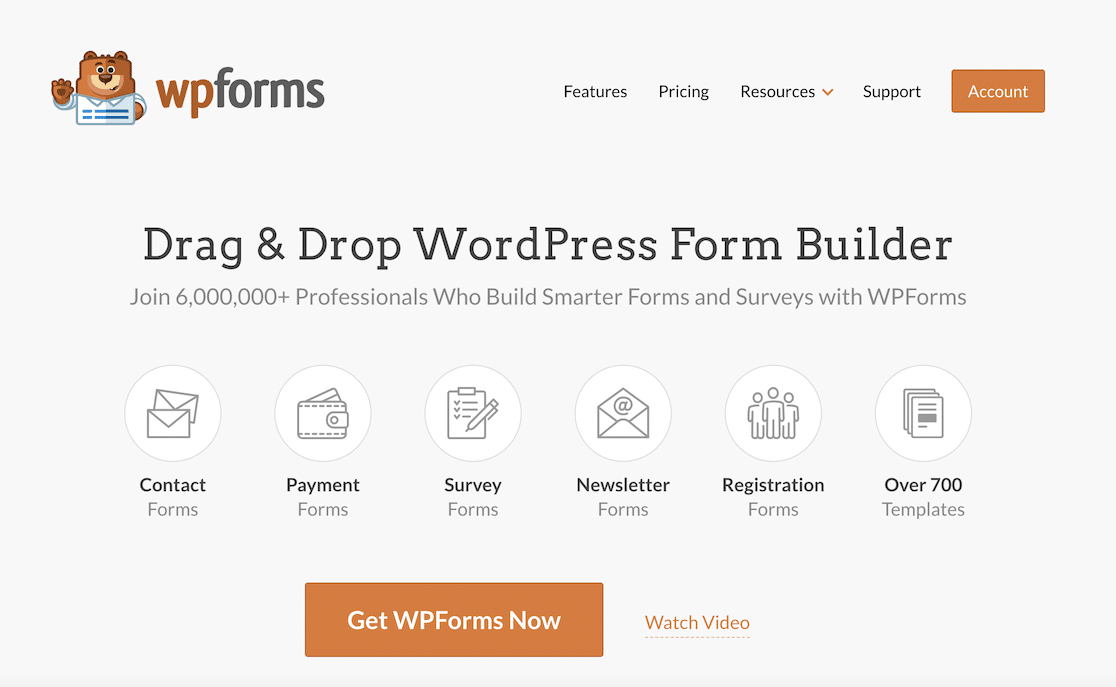 WPForms is the best free form builder plugin for WordPress. It's a beginner-friendly contact form plugin that's easy to use, even if you're completely new to WordPress.
Millions of people already use WPForms for their contact forms. It has 6+ million active installations and 12+ thousand 5-star reviews.
The free version, WPForms Lite, offers all the essential features required to create a basic contact form. You can start with a simple contact form template and drag and drop extra fields onto your form in seconds.
WPForms Lite also lets you accept credit card payments for free using Stripe.
There's no need to pay for the Pro version of WPForms to add a credit card field to your forms! You'll just pay a small fee on each payment you collect.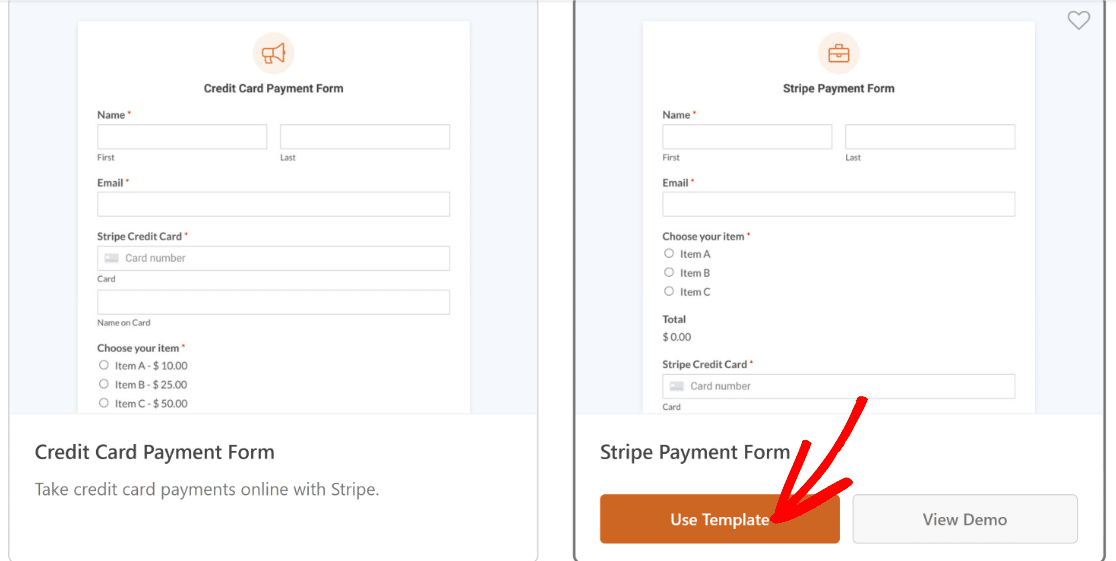 In WPForms Lite, you can even track your payments within your WordPress using the Payments screen. Here, you'll find a summary of all the payments you've collected on different types of forms.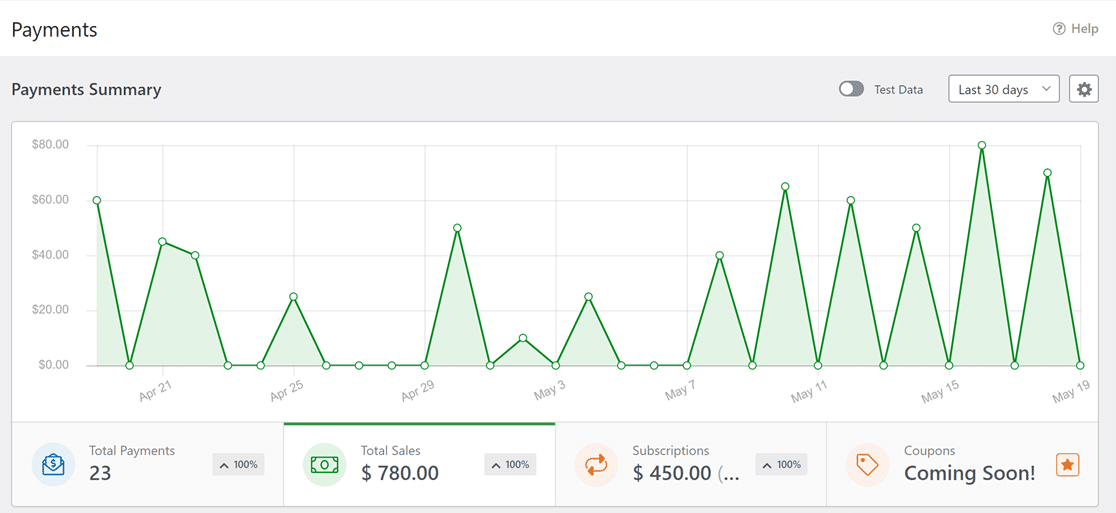 There's even more to discover in the free version of WPForms.
For example, WPForms lets you easily roll back forms to a previous version if you make a mistake.
And with its customization options, it's easy to change your form fonts and colors without writing code.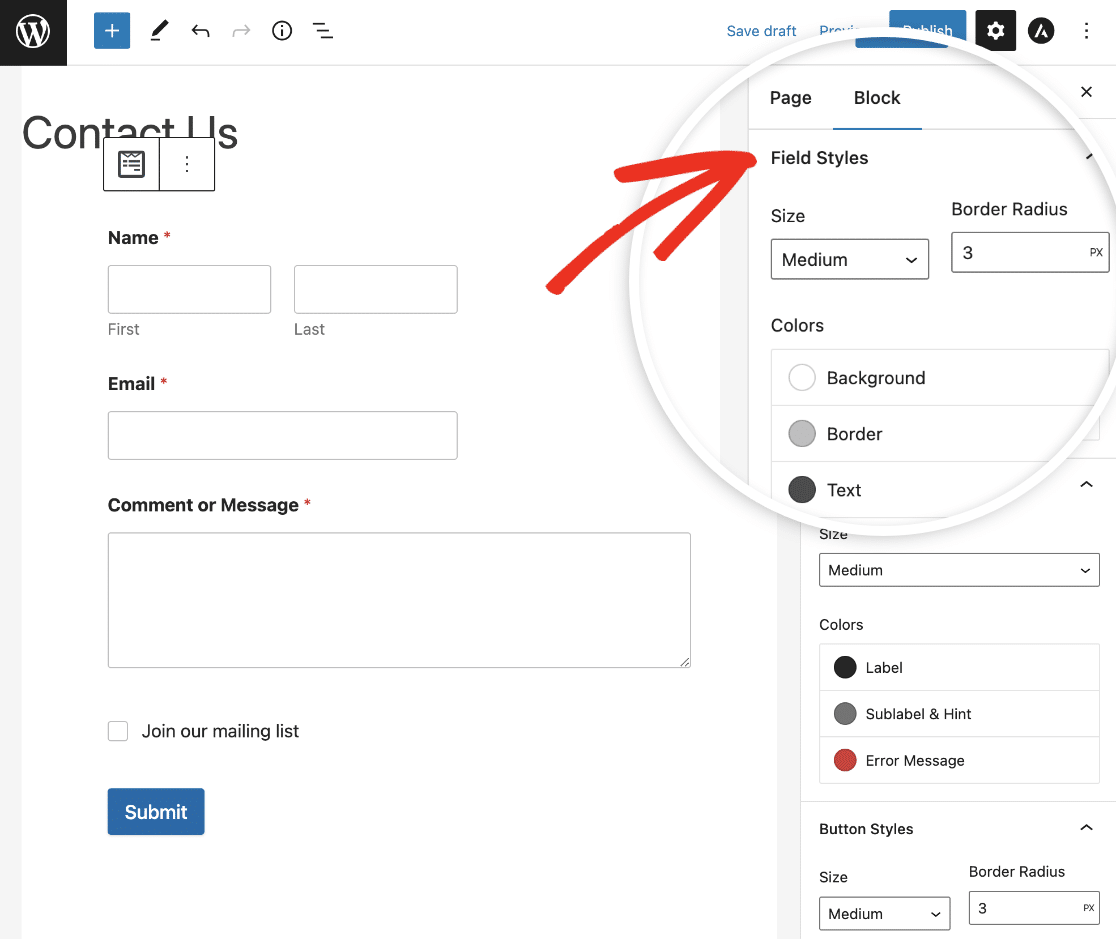 That's not all!
You can use tags to organize forms and view all of the places you've used them with form locations
You can easily build layouts with columns and rows
You can add different types of spam filtering to any form, including Google reCAPTCHA
You can add GDPR checkboxes
You can access a library of 1000+ pre-built form templates right from the plugin
You can back up your form entries and restore them when you upgrade to Pro.
As your business or nonprofit grows, we recommend upgrading to WPForms Pro. It allows you to use more addons and fields, including:
All form fields, allowing you to create advanced forms easily
File uploads, including Modern and Classic field types
HTML and Rich Text fields
Survey forms, including star ratings and other survey fields
User registration forms
PayPal order forms
Automation via 5,000 apps supported by Zapier.
The Elite license also supports Hubspot integration.
Pricing:  WPForms Lite is completely FREE. WPForms Pro starts at only $199.50/year and has a 14-day money-back guarantee. If you're looking for free online forms, you can use WPForms Lite to try it out before upgrading to the premium version.
Create Your WordPress Form Now

Formidable Forms is one of the best WordPress form builder plugins. It lets you create complex forms for various purposes and best suits experienced WordPress users.
You can use it to create fully responsive forms so they look perfect on every device (especially if you're using one of the top responsive themes for WordPress).
The free version is designed for basic forms that don't have advanced features. You can store entries and export them to CSV. However, the free version doesn't include features like Views, charts, quizzes, or form styles.
Features in the Lite version:
Provides a drag-and-drop builder to create simple and complex forms
A good Wufoo forms alternative
You can change colors, borders, and more without any coding skills.
If you're struggling with Formidable Forms notifications, check out our solution if Formidable Forms is not sending email.
Pricing: Formidable Lite is Free. The Pro version starts at $49+/year  and has a 14-day money-back guarantee.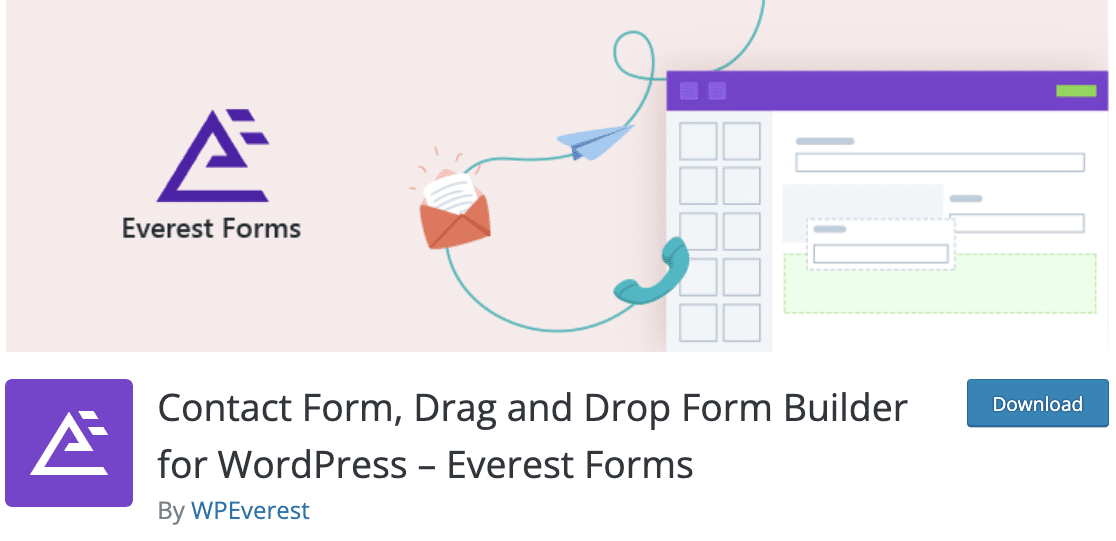 Everest Forms is another simple drag and drop contact form builder for WordPress websites.
It includes 9 form templates, so if building forms quickly is important to you, it's worth noting that WPForms includes 1000+ templates.
Everest Forms lets you accept unlimited form submissions through your WordPress site. You can also manage entries from your dashboard and send email notifications to users when they fill out your forms.
Form styling is not free in Everest Forms, which could be an issue for you if you're a beginner. To check out the other similarities and differences, we included a full rundown in our WPForms vs Everest Forms comparison.
Features:
Drag and drop form builder
Pre-built templates to help you get started quickly
Entry management in your WordPress dashboard
Form submission email notifications
Pricing: Free. Paid plans are available starting at $48.30/year.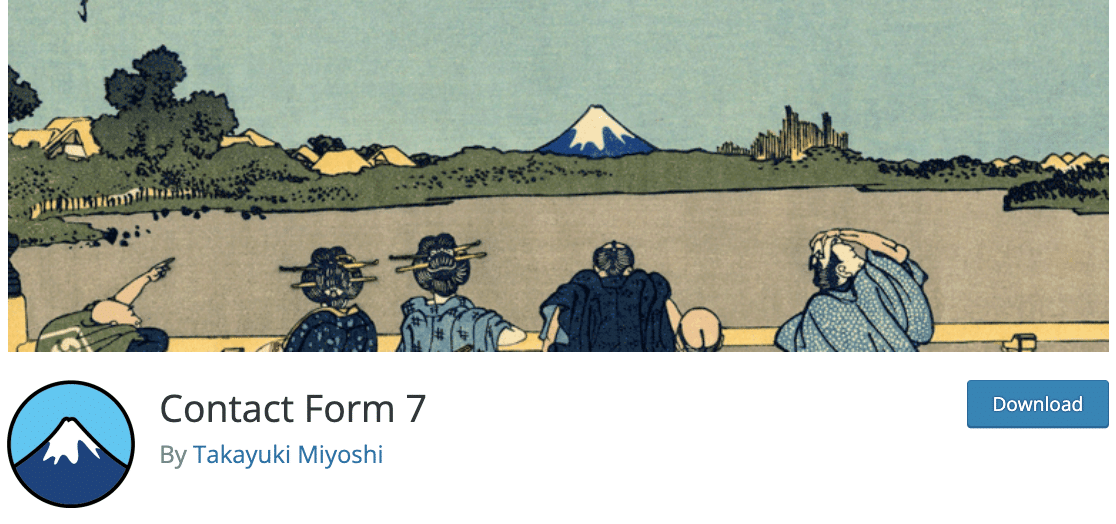 Contact Form 7 is one of the oldest form builder plugins and remains one of the most popular.
It's a simple plugin, so it lacks a visual form builder interface. For a simple contact form, this may be all you need.
However, when you start building more complex forms, Contact Form 7 becomes hard to use. You'll need to learn the special code syntax in Contact Form 7 to build your own forms, so if you don't like writing code, this may not be the right choice for you.
There are a lot of free addons available in the WordPress plugin directory to enhance the functionality of this form builder plugin. However, finding the right solution for your needs can be hard. And due to its complex nature, many users have trouble with Contact Form 7 not sending email.
Overall, Contact Form 7 is good for making WordPress custom contact forms but it's not very user-friendly.
Features:
Create simple contact forms and add form fields like text boxes, radio buttons, checkboxes, dropdown menus, dates, and more
Contact Form 7 can also be integrated with a CAPTCHA service to prevent contact form spam
No drag-and-drop builder.
Pricing: Free.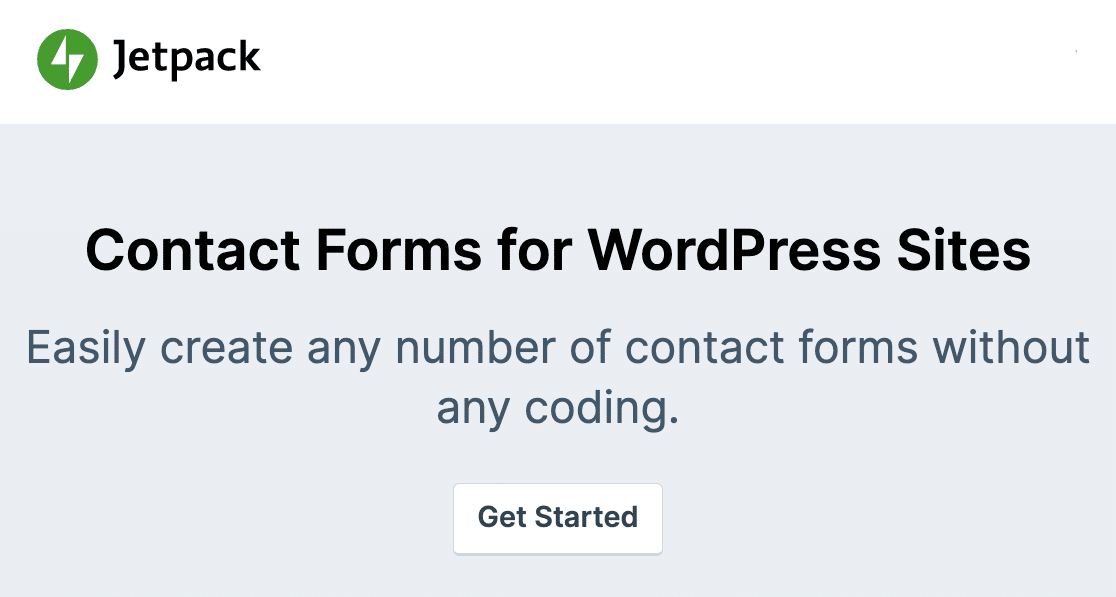 Jetpack is a popular WordPress plugin suite and free form builder that's been built by the team behind WordPress.com.
To add your form to the sidebar of your website, you've got to create a form in a page or post, copy the generated code, and then add that code to the Text widget (which can be a little complicated).
Overall, this plugin has limited functionality and doesn't provide a visual form builder, just like Contact Form 7.
Features:
Includes various performance, site management, and security modules, both free and premium
Has a free utility tool called contact form module
Create simple forms on both the Classic and the block editor
Pricing: Contact forms are included in the free version of Jetpack. However, you'll need to add anti-spam protection for $4.95 per month to connect it to Akismet.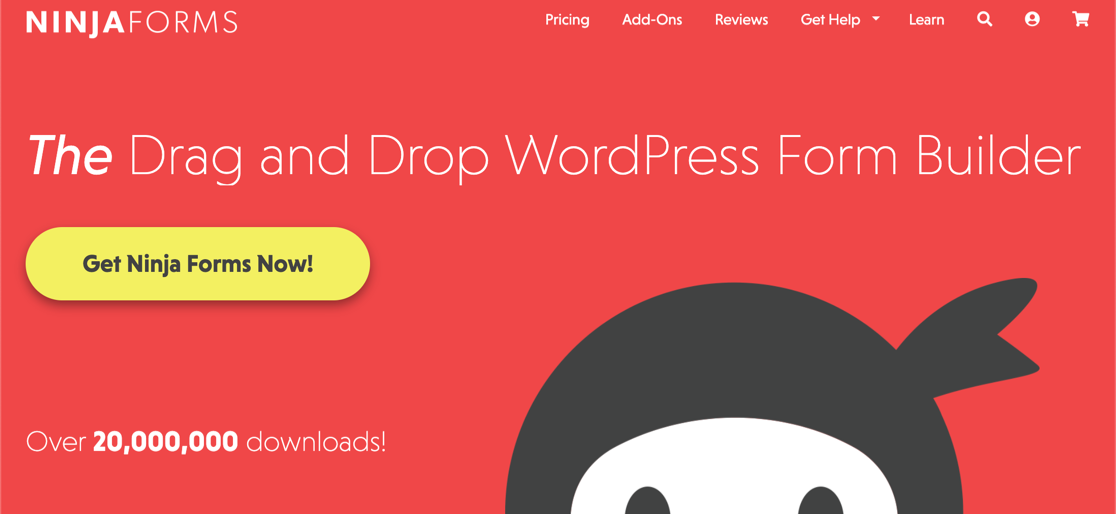 Ninja Forms is a flexible and free WordPress contact form plugin that also has a user-friendly visual form building interface.
Unfortunately, even its premium form maker lacks an embed option like WPForms, so you're limited in where you can place your forms on your site.
The Pro version of Ninja Forms also integrates your forms with some popular email marketing services and CRM tools including Mailchimp, Zoho CRM, Aweber, Constant Contact, Capsule CRM, and Campaign Monitor.
Pricing: Free version + premium version that starts at $99/year. You'll find detailed pricing in our Ninja Forms vs WPForms review.
Features:
Developer-friendly options for advanced users wanting a custom form
Add custom CSS to your WordPress forms
Create web forms and add different fields for email address, date, phone number, and more
Ability to manage and export your form submissions
Provides 40 premium addons like conditional logic, multi-page forms, user analytics, and frontend post submissions
Which Is the Best FREE Form Plugin for WordPress?
We've used all of these plugins regularly, and we have a clear winner: WPForms Lite.
Why?
It lets you create contact forms from templates without writing code
It's easy to adjust your forms using the drag and drop builder
It's the only FREE form builder that lets you create payment forms!
With WPForms Lite, you benefit from the exact same form builder interface that's in the Pro version. That means you can easily create forms for free now and upgrade later as your business grows.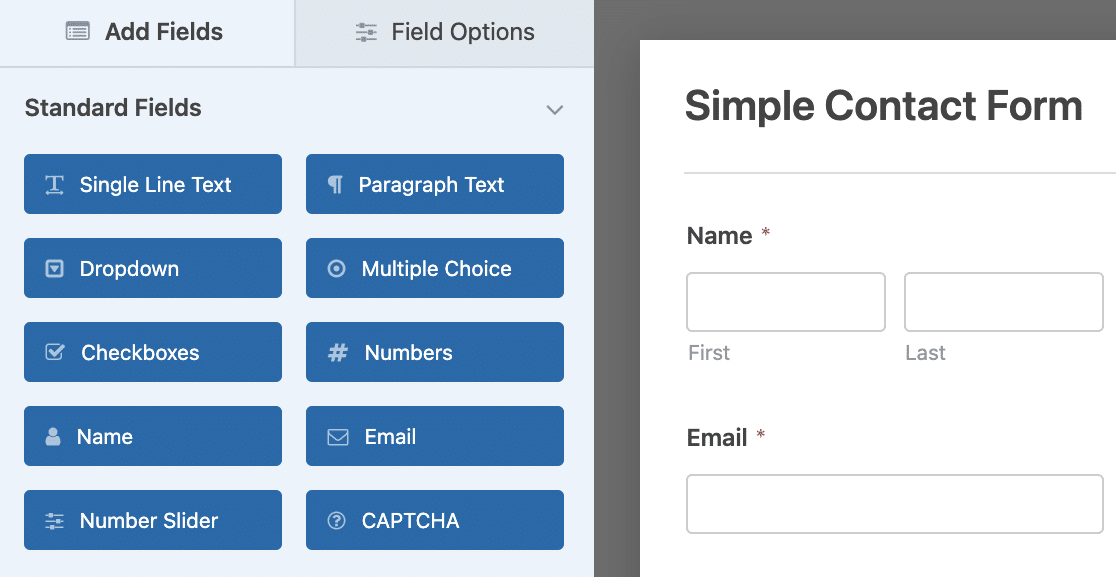 Ready to get started? You can have your WordPress contact form published and ready in less than 5 minutes with WPForms!
FAQs on Free WordPress Form Plugins
Here are a few common questions from people trying to learn about free form builders for WordPress.
Can You Create a Form in WordPress Without a Plugin?
In theory yes, but it's complicated. It's much easier and faster to create forms using a no-code contact form plugin like WPForms. Even developers prefer using plugins for their day-to-day tasks because it's faster than writing code from scratch.
Can You Embed a Form in WordPress?
Yes, you can embed a form in WordPress in a few different ways. In our experience, WPForms gives you the most flexibility.
Most form contact form plugins and tools give you a shortcode for each form. You can copy and paste this shortcode into your WordPress editor to embed the form.
More powerful form builders especially designed to work natively with WordPress give you even easier embedding options.
WPForms has a block for the Gutenberg editor that lets you directly embed any form within a post or page while you're editing it. In fact, WPForms can even create a new page with your form embedded in it or add your form to an existing page directly from its embed tool available within the form builder interface.
You can also publish your form as a conversational form or a form landing page.
Can I Publish a Contact Form Using a Page Builder?
Yes! WPForms Lite works with SeedProd, the best page builder for WordPress. You can also use WPForms Lite to create an Elementor contact form for free.
Can I Publish a Contact Form in a Popup?
Yes, it's easy to achieve this in WordPress. We recommend using OptinMonster to create a popup form.
Does Gravity Forms Have a Free Version?
No, there's no free version of Gravity Forms. If you're not ready to purchase a form builder plugin, we recommend getting started with WPForms Lite, which is free.
Next, Get More Awesome Plugins For Your Site
We hope this article helped you to find the best free form builder plugin for WordPress.
Ready to check out some more? Take a look at these roundups:
If this article helped you out, please follow us on Facebook and Twitter for more free WordPress tutorials and guides.