Are you stuck between choosing Everest Forms vs WPForms to build forms on your WordPress site?
It can be hard to decide which option to choose when you're comparing two of the most highly-rated WordPress form plugins.
We tested and reviewed both WPForms and Everest Forms side-by-side in order to highlight their key differences, strengths, and weaknesses.
In this comparison, we'll share the results of our review so you can pick the form builder that better suits your needs.
Quick Summary – Everest Forms vs WPForms
Everest Forms and WPForms are both top-rated WordPress form plugins. WPForms offers 600+ form templates compared to Everest Forms' 9+ templates. Plus, WPForms gives form styling options for free, whereas Everest requires a paid subscription for the same. WPForms also supports more payment gateways and spam protection options versus Everest.
Everest Forms
WPForms
Free version?
Yes
Yes
From templates
9+
600+
No-code form styles
Yes
Yes
Content field
No
Yes
Spam protection
reCAPTCHA,
hCaptcha,
honeypot,
Custom Captcha
Domain whitelisting
reCAPTCHA,
hCaptcha,
Akismet,
Cloudflare Turnstile,
Anti-spam tokens,
Keyword fitler,
Country filter,
Email allowlist/denylist
Embed wizard
No
Yes
The table above will give you a basic idea of the differences between Everest Forms and WPForms. But make sure to continue reading for an in-depth comparison of these two form builders.
Full Comparison – Everest Forms vs WPForms
We're now going to explore some of the main features of these form builders and see how they compare in detail.
Overview of Everest Forms and WPForms
Let's start with a brief overview of the two plugins.
Everest Forms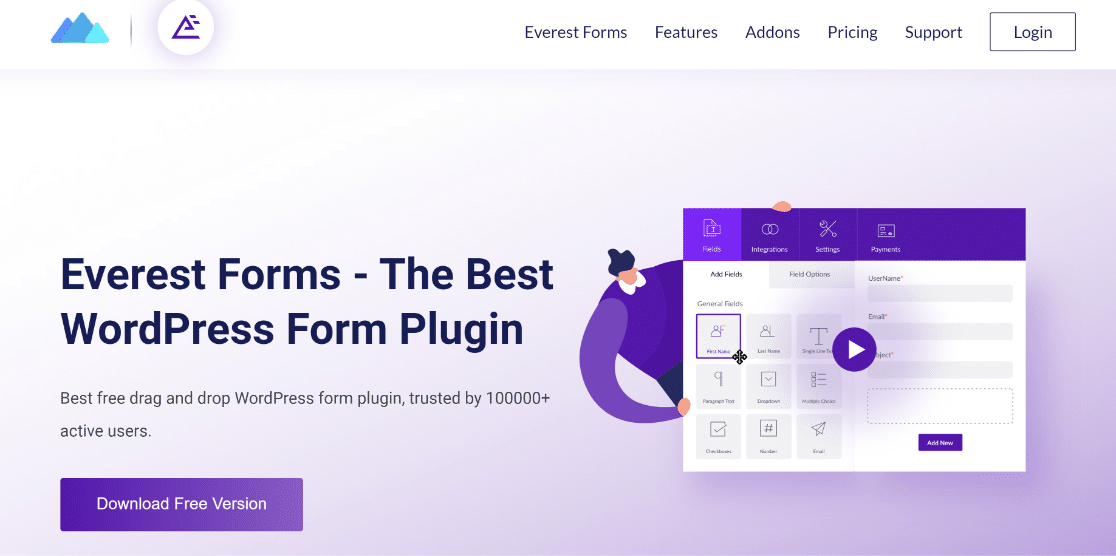 Everest Forms is a well-regarded form plugin for WordPress. Unlike most form builders, Everest Forms has an excellent free version that includes enough functionality for building basic kinds of forms quickly.
The Pro version of the form adds various advanced features and addons, allowing you to create survey forms, user registration forms, file upload forms, and more.
It's easy to set up and very beginner-friendly to use.
WPForms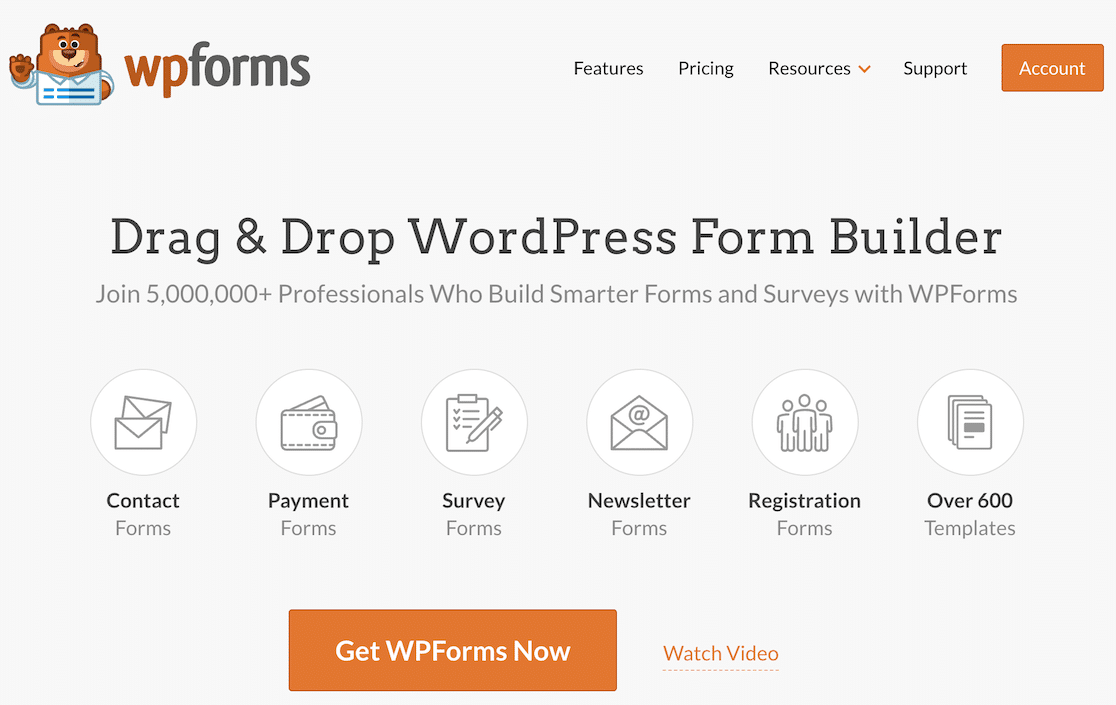 WPForms is the top-rated form builder for WordPress. Having over 12 5-star reviews, WPForms is trusted by many businesses thanks to its user-friendly interface and a powerful set of features.
Like Everest, WPForms has a free version that offers tons of useful features usually only available in the paid versions of other plugins.
You can create and customize forms for any purpose using WPForms. Whether you need a simple contact form, an advanced NPS rating survey form, or a high-converting lead form, WPForms has got it all.
Our User Experience With Everest Forms vs WPForms
Both Everest and WPForms are beginner-friendly plugins that don't require you to have any coding skills.
Everest Forms User Interface
Everest Forms features a drag and drop user interface. The interface window is split into two parts: the left-hand pane houses the available fields and their options, and the right-hand area is where you build your form by adding fields to it.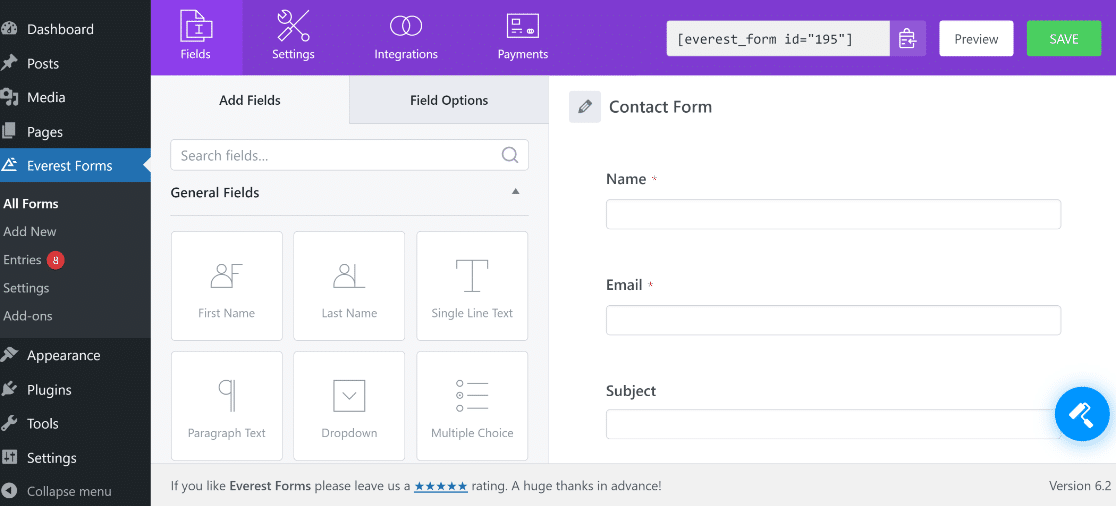 You can access options for each field by clicking on it once it's been added to your form. Need to change labels and placeholder text or add a description for each field? All of these settings can be easily changed in the field options.
Everest Forms also lets you change your general form settings from the same form builder interface. You can use the Settings tab at the top to access general options.
In addition, you can configure your email notification settings, success message and redirections, submit button text, anti-spam options, as well as any addons that you may have installed.
Preview and Embed
There's a preview button at the top that enables you to see how your form will actually look on the frontend once it's live. This is a great way to test your form and make any changes before publishing.
When you're ready to launch your form, you can use the shortcode displayed at the top of the form builder. You can also use the Everest Forms block from the WordPress editor to directly embed any form to your page or post.

It's safe to say that Everest Forms is a plugin that's clearly designed with usability in mind. The form builder is easy for beginners but also gives an outstanding range of customization. CSS is also supported for advanced users if you want to make additional customizations.
That said, the Everest Forms interface slightly hurts the user experience because it doesn't occupy the whole screen. Because the WordPress sidebar menu remains visible, there's less space for you to work with when editing your forms in Everest.
But this is a minor complaint from an otherwise very easy to use form builder interface.
WPForms User Interface
WPForms has a drag and drop user interface very similar to Everest Forms.
When you want to create a form, you have the option to get started quickly with a pre-made form template or build your form from a blank template.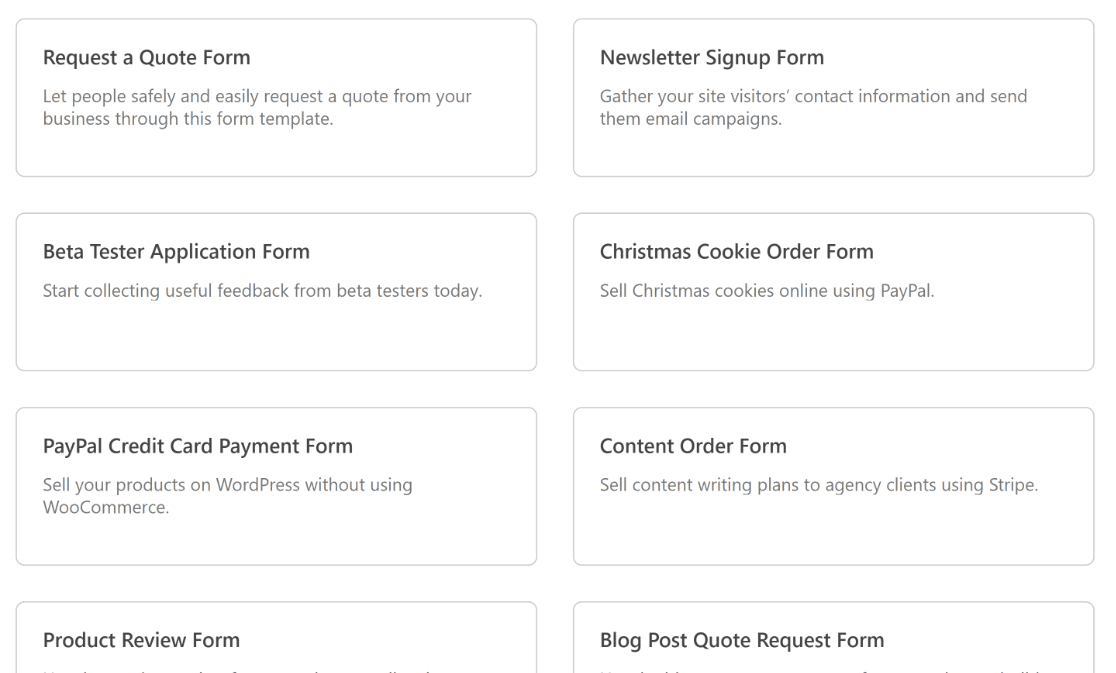 One cool little detail in WPForms is that you can change templates any time while editing a form. In Everest, you'll have to create a separate form if you want to change your template, which is a bit inconvenient.
Like Everest Forms, the form builder screen in WPForms is split into two sections: one where the settings and fields and the other where you can add fields in order to create your form.
However, there's a small but crucial difference. WPForms gives you a bigger area to work with because its form builder occupies your complete screen. This way, the user interface never gets cluttered even on smaller screens, allowing you to create forms comfortably.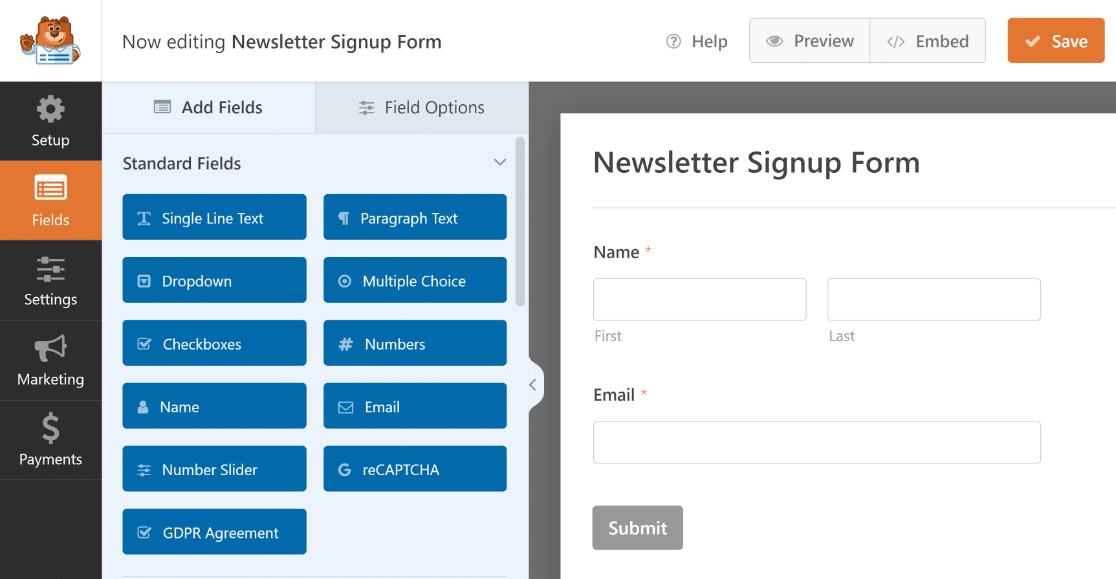 You can add fields and customize their options in much the same way as in Everest Forms. The settings for each form field can be customized directly from the form builder.
The general settings are accessible from the Settings tab on the left-hand sidebar. Opening the Settings tab shows various other options organized into separate categories.
For instance, the general settings enable you to change the form name and description, edit submit button text, add form tags, and access other miscellaneous options.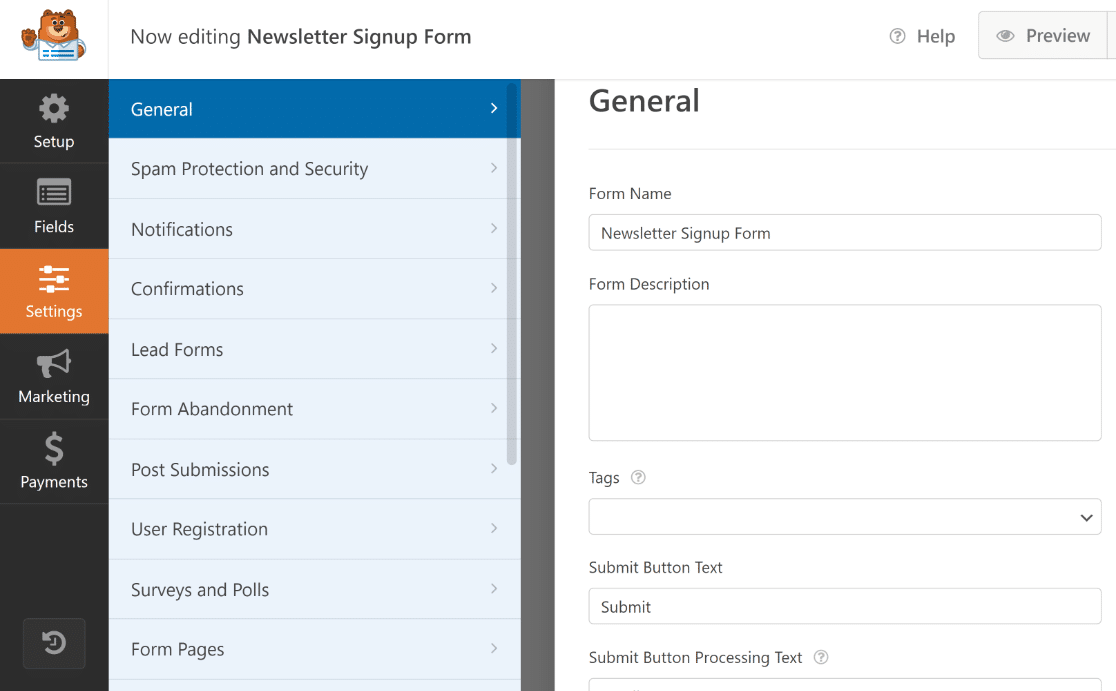 In Everest Forms, the options for success message and spam filters are all lumped together inside general settings. As a result, the settings become a bit too cluttered and overwhelming to navigate through.
WPForms makes things a lot more manageable by giving separate tabs for success message (called confirmations), notifications, and spam filter settings.
Preview and Embed
As with Everest, you can check a preview of your form from the frontend by pressing the Preview button at the top of the WPForms form builder.
WPForms offers the most straightforward embedding system out of all WordPress plugins. There's no need to copy-paste shortcodes or create a new page separately.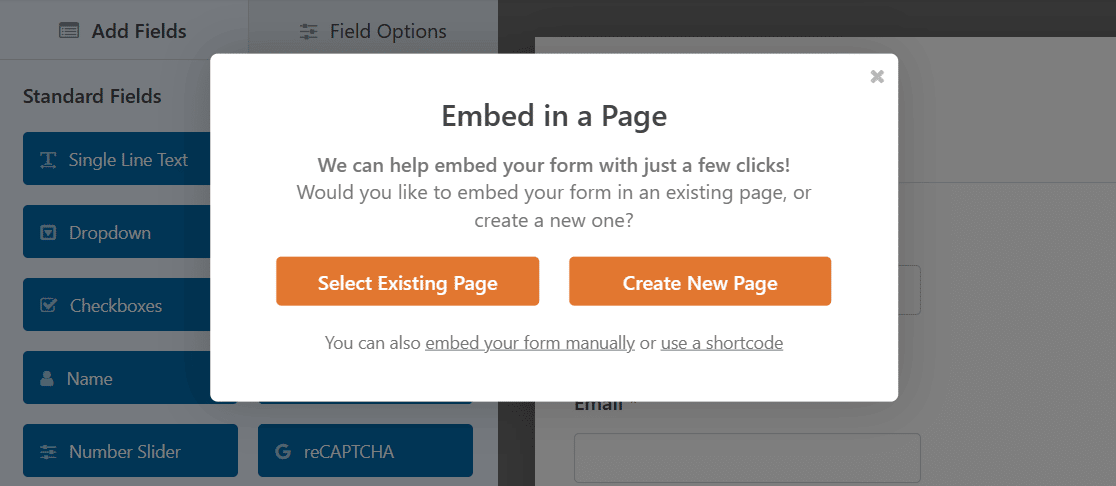 Instead, you can simply press the Embed button at the top, and WPForms will directly take you to your WordPress editor with the form already embedded in it.
It's the small conveniences like these where WPForms really stands out from its competitors.
What We Liked About the Features in Everest vs WPForms
Both WPForms and Everest Forms share many similarities in their features and addons. But there are severable notable differences as well.
Form Templates
WPForms is one of the few WordPress form plugins that focus on offering a huge variety of templates. Currently, there are over 600 unique form templates to choose from in the Pro version of WPForms.
In fact, WPForms stands out for having over 45 form templates for free in the Lite version.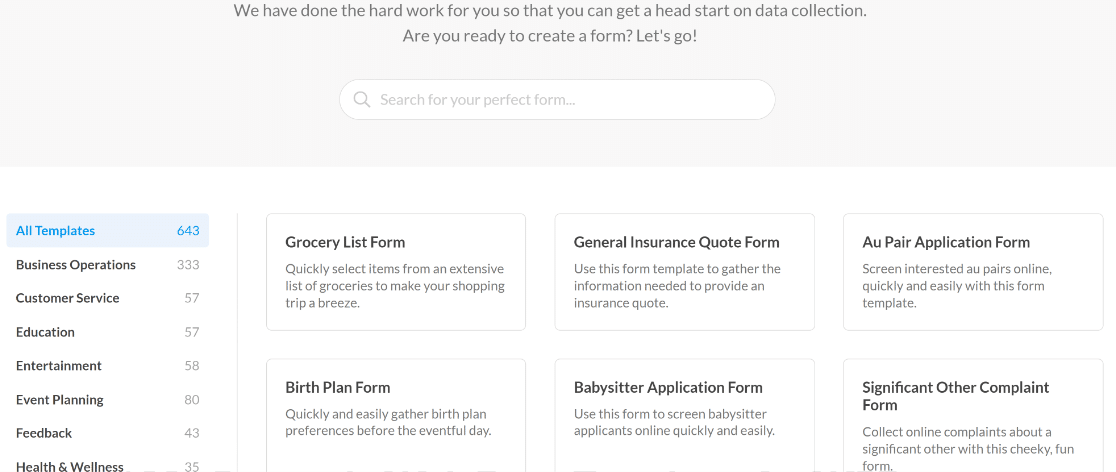 There are multiple categories of form templates including business operations, customer service, registrations, nonprofits, and more. There's something for everyone.
In contrast, Everest Forms only has 9+ templates in its highest tier plan and 5+ templates in the free version.
As a result, WPForms' templates serve a much wider range of purposes for businesses, individuals, and nonprofits than Everest Form templates.
Form Styles and Design
Everest Forms and WPForms are two of the best form builders on the market when it comes to their form styling features.
WPForms enables you to customize the appearance of your forms without touching a single line of CSS code. This means that even if you're a beginner, you can design visually appealing forms in no time.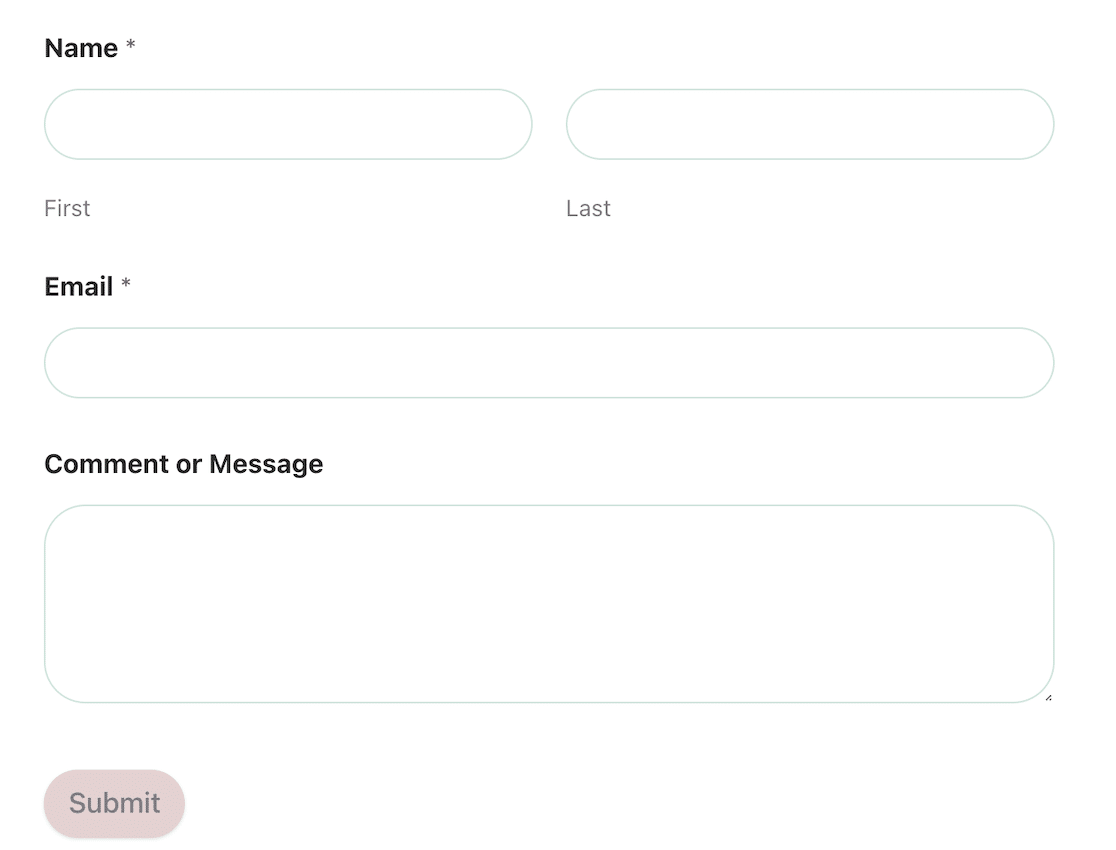 The form styling options are accessible from the WPForms block in the WordPress editor. You can customize styles for your form fields, labels, and buttons using these options in just a few clicks. This is dramatically easier and faster than customizing styles with complicated CSS.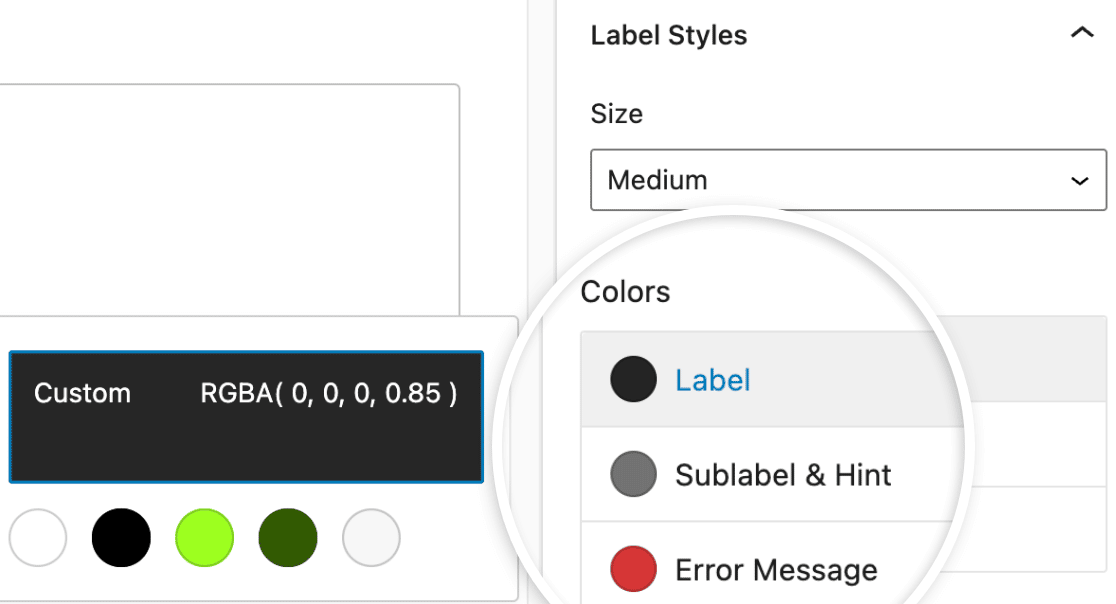 Everest Form also includes impressive form styling features. But unlike WPForms, you need the paid plan to access this feature, and then you'll have to activate the Style Customizer addon to use form styling options.
The Everest Forms Style Customizer uses the default WordPress theme customizer tool, allowing you to edit styles directly from the frontend.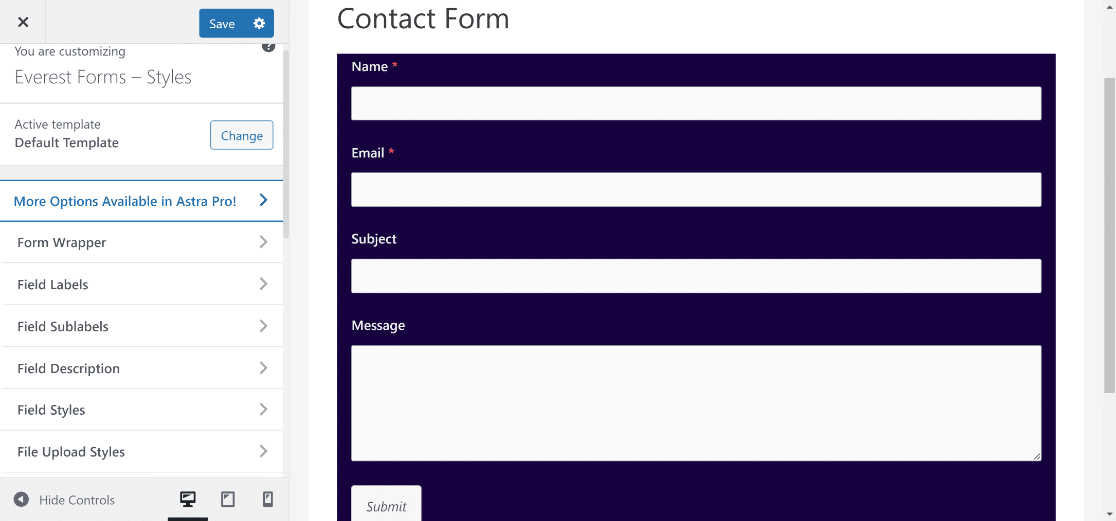 You can change the color of the background, fields, and buttons, and even the alignment of different form elements without any code.
That said, Everest Form's form design capabilities have a couple of drawbacks.
First, it's only available for paid users, whereas WPForms's form styles are available for both free and paid users right out of the box.
Secondly, even though Everest's Style Customizer is very flexible, there are still some limitations.
WPForms covers this limitation superbly with its Content field. And this is the focus of our next section.
Adding Media and Text in Forms
Customizing colors and styles is an important component of form design. But what if you also want to add instructional details or provide added context to your form using visuals and text?
In Everest Forms, the only way to add textual and media content to your forms is by using the HTML field. In fact, this is the supported method in most form builders for WordPress.
But WPForms has a faster and simpler way. The Pro version of WPForms includes the Content field that lets you insert text and images using a WYSIWG editor.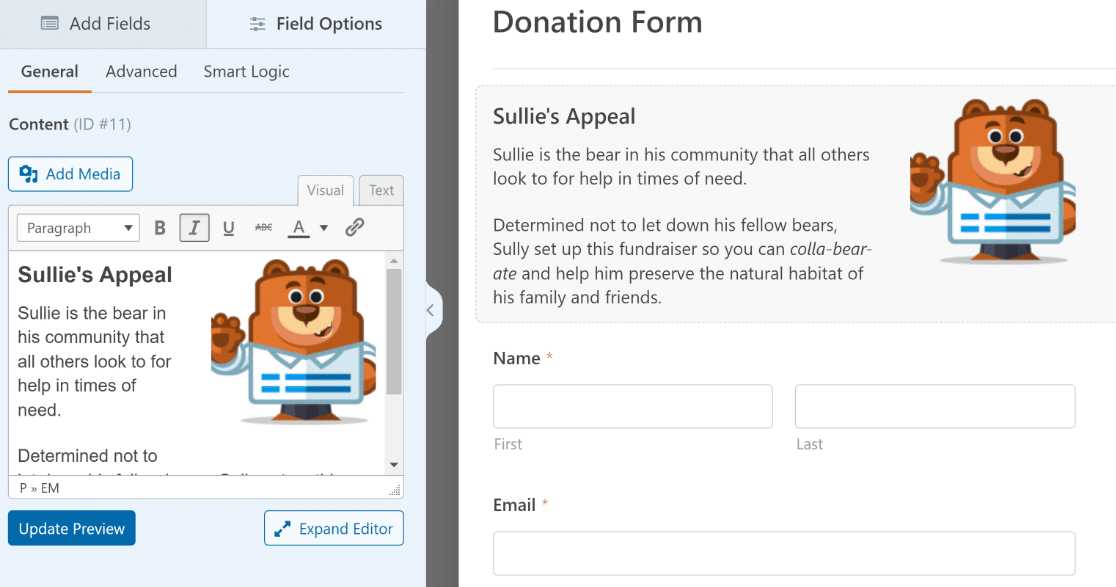 You're not limited to just entering text either. The editor attached to the Content field also gives you formatting options, so you have full control over how your written text and uploaded media appear within your form.
Together with form styles, the Content field can make your forms highly visual. And it takes zero coding knowledge to achieve this.
Multi-Step Forms
Everest Forms and WPForms both enable you to break up longer forms into multiple steps or parts.
This is an effective strategy for improving conversions, especially for lead forms.
WPForms includes the functionality to build multi-step forms by adding page breaks manually.
But if you want to take your multi-step forms to the next level with visually striking styles, then you'll love the Lead Forms addon.
Enabling the Lead Forms mode automatically adds a page break after every field in your form. But that's not all. The Lead Forms addon also unlocks additional styling options, including the ability to add and style a container to make your form stand out even more.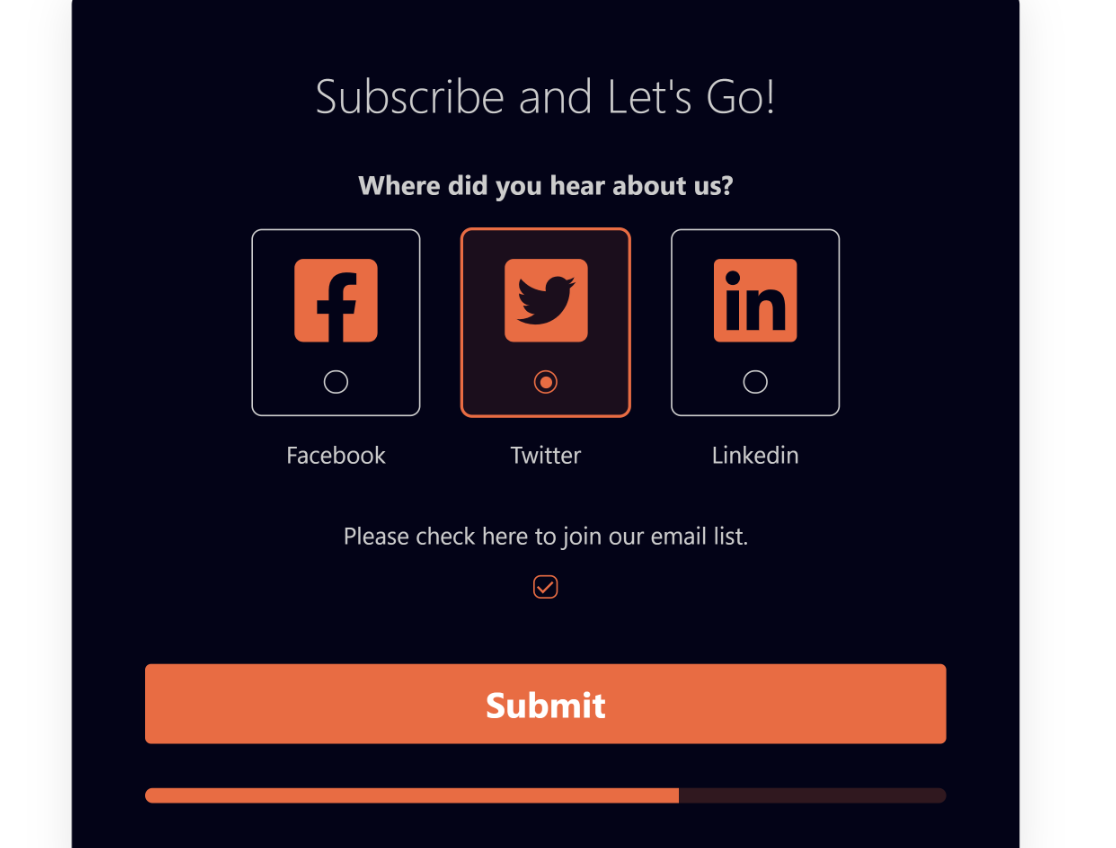 It's only a matter of pressing toggle switches to add cool container effects like drop shadows, rounded corners, and change colors for the background, buttons, labels, and other elements.
These styling options are available from the Lead Forms settings in the form builder and are completely code-free.
Everest Form users can use the Multi Part Forms addon to create forms with multiple pages.

You can customize the container and other elements of your multi part form from the Everest's frontend Style Customizer tool.
Form Layouts
Breaking apart your form into multiple steps is one way of reducing form fatigue and boost conversions.
But it's not the only way.
You can also make your forms more compact by organizing fields into multiple columns.
WPForms has a Layout field designed exactly for this purpose. You can choose from various layout presets.
For instance, you're not only limited to creating 2 equal-sized columns. You can also pick a preset that makes one column wider than the other or go as high as 4 columns to create more advanced form layouts.

Everest Forms includes different field layout options as well. You can create 2, 3, or 4 columns to arrange your fields into. But Everest Form only supports basic layout types.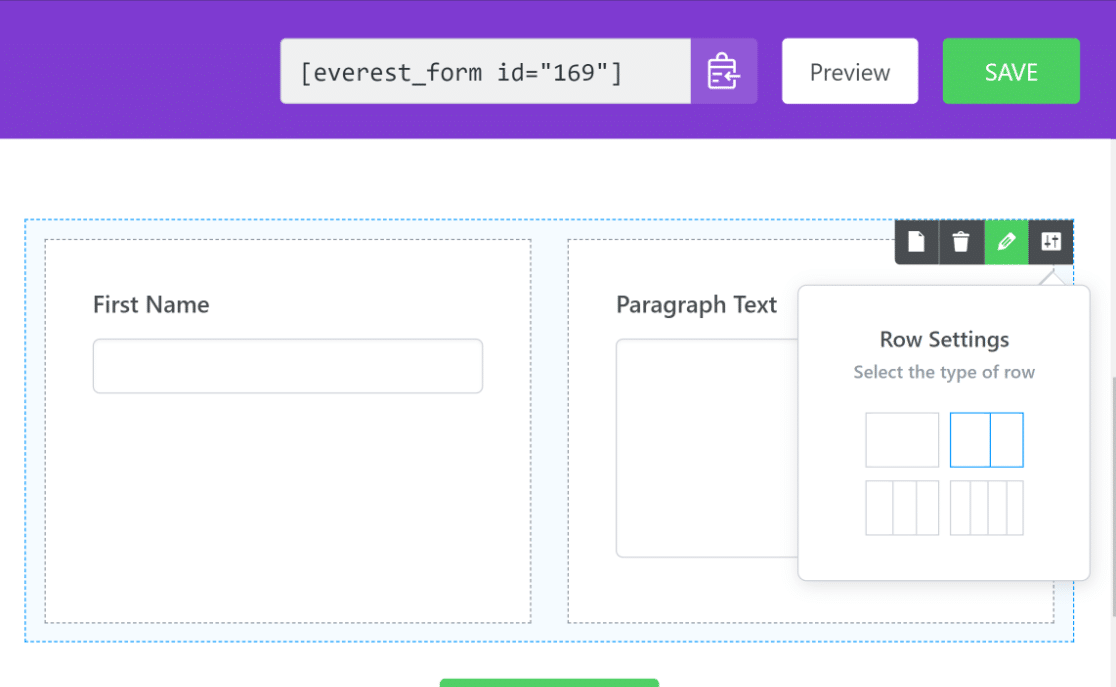 Unlike WPForms, you can't choose columns of unequal widths (which can be helpful when you want to add bigger fields like paragraph fields next to smaller fields like email). This is another limitation in Everest Forms.
Spam Protection
Contact form spam is a huge problem for almost every website that uses forms. This is why it's imperative for a good form builder to have strong spam filter options.
Everest Forms supports integrations with major anti-spam captcha services like reCAPTCA and hCaptcha. Its built-in anti-spam features include an email domain whitelist, anti-spam honeypot field, and a Custom Captcha addon.
While these spam protection options are adequate, they're a bit limited when compared to WPForms.
This is because WPForms integrates not only with reCAPTCHA and hCaptcha, but also supports popular tools like Akismet and even the newer Cloudfare Turnstile (both of which offer a superior user experience to reCAPTCHA and hCaptcha).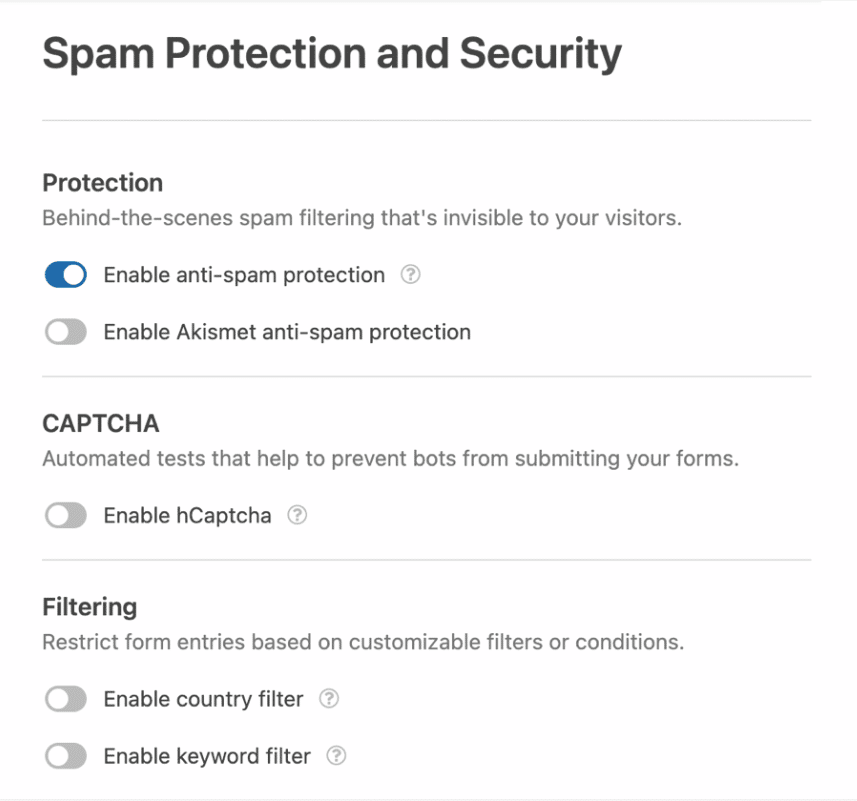 On top of that, WPForms comes with built-in spam protection features such as anti-spam tokens, keyword filters, country filters, and email allowlist/denylist. And if you want to design your custom captcha questions with math sums or other questions of your choice, you can use the Custom Captcha addon.
Payment Fields
If you're selling products or running a nonprofit fundraiser online, you need forms with top-notch payment processing capabilities.
WPForms supports top payment gateways including PayPal, Stripe, Square, and Authorize.net.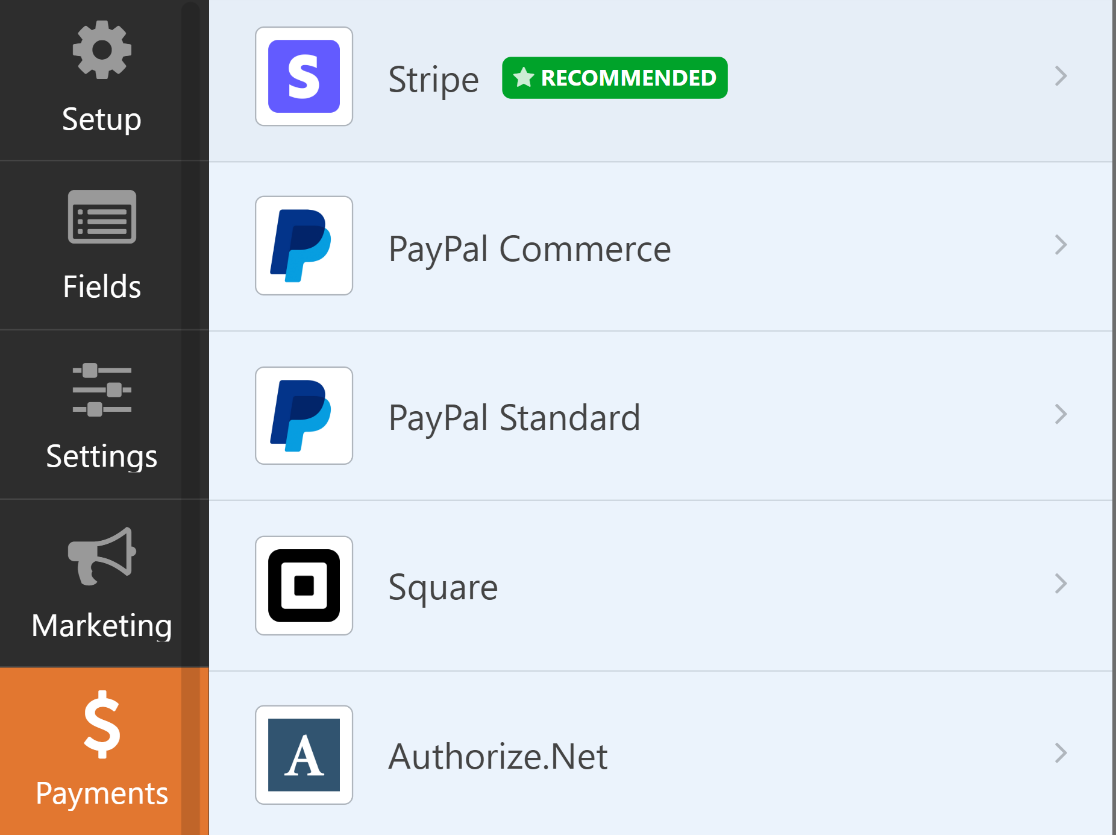 WPForms is one of the only few form builders that provides the Stripe integration for both free and paid users. That means every WPForms user can create Stripe payment forms on their site to collect online payments.
However, the Lite, Basic, and Plus users are charged a 3% processing fee in addition to Stripe's fixed fee per transaction. But when you upgrade to Pro, the 3% charge is removed for all transactions, so you only pay Stripe's regular fees.
The best thing about Stripe is that it enables you to take payments from over 25 different options, including Apple Pay and Google Pay. The flexibility with Stripe is simply enormous.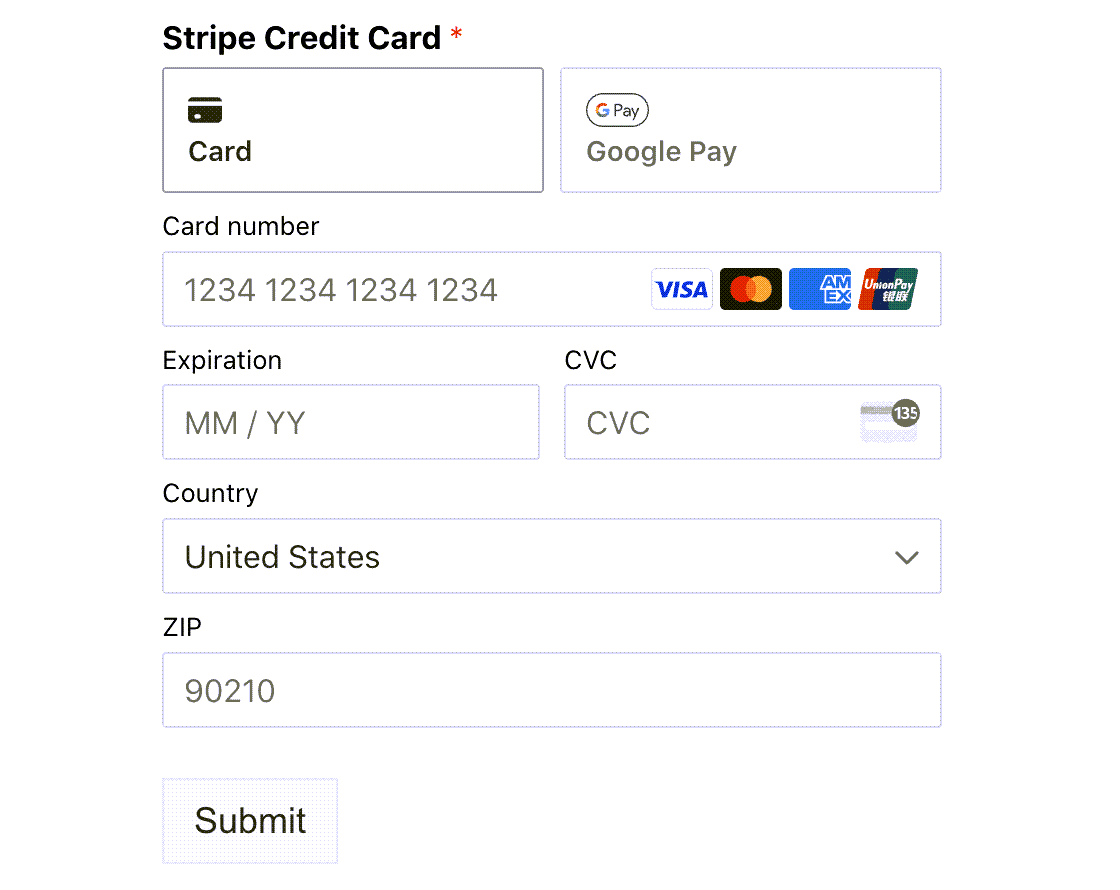 Most other form plugins only support the basic PayPal Standard addon, which is fairly limited. But WPForms also supports the more powerful PayPal Commerce addon.
The PayPal Commerce addon allows you to give your customers the ability to check out via PayPal or pay using their credit card. You can even choose which credit card options you'd like to add to your form for the convenience of your customers.
Plus, the addon also lets you change the PayPal checkout button styles and accept one-time payments, recurring subscription payments, or give your customers both options too.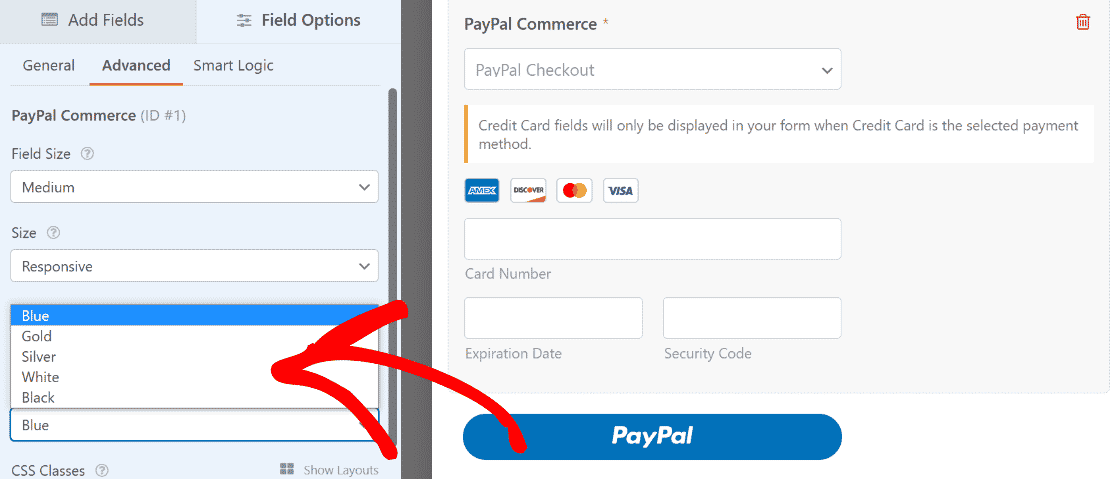 That's not all. PayPal Commerce supports on-page payments, so customers aren't redirected off your page to complete their payments.
In contrast, Everest Forms only supports PayPal standard, Stripe, and Razorpay (for Indian customers) integrations.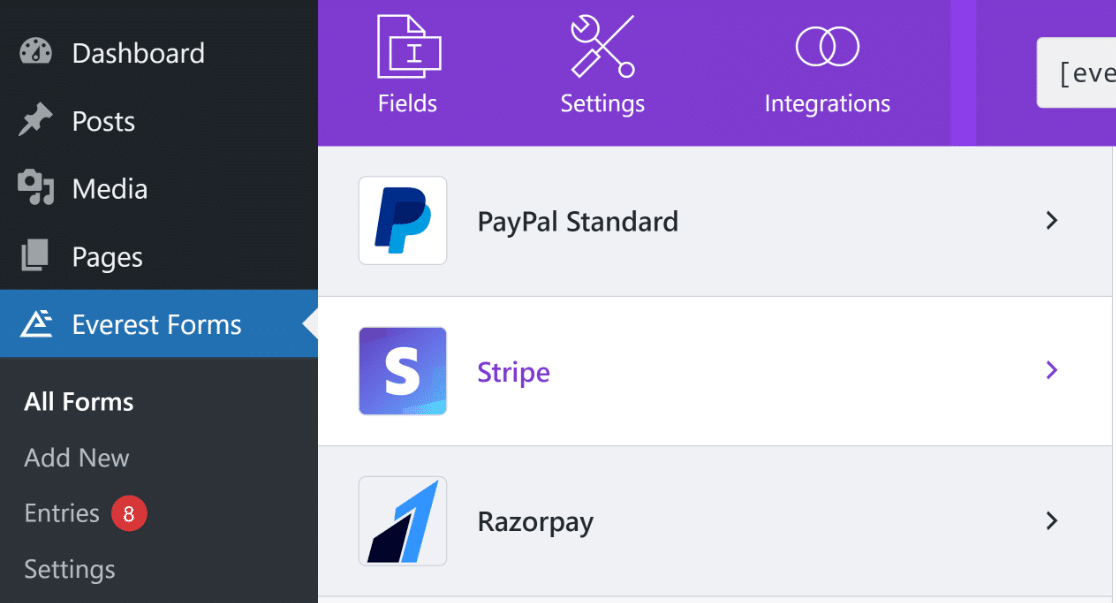 While these will work just fine for your payment needs, they don't offer the flexibility of WPForms' payment addons.
Marketing Integrations and Automation
Integrations with other marketing platforms and productivity apps are massively helpful for improving your efficiency.
Everest Forms supports native integrations with various popular marketing platforms and CRMs, including Mailchimp, HubSpot, Constant Contact, Campaign Monitor, and more.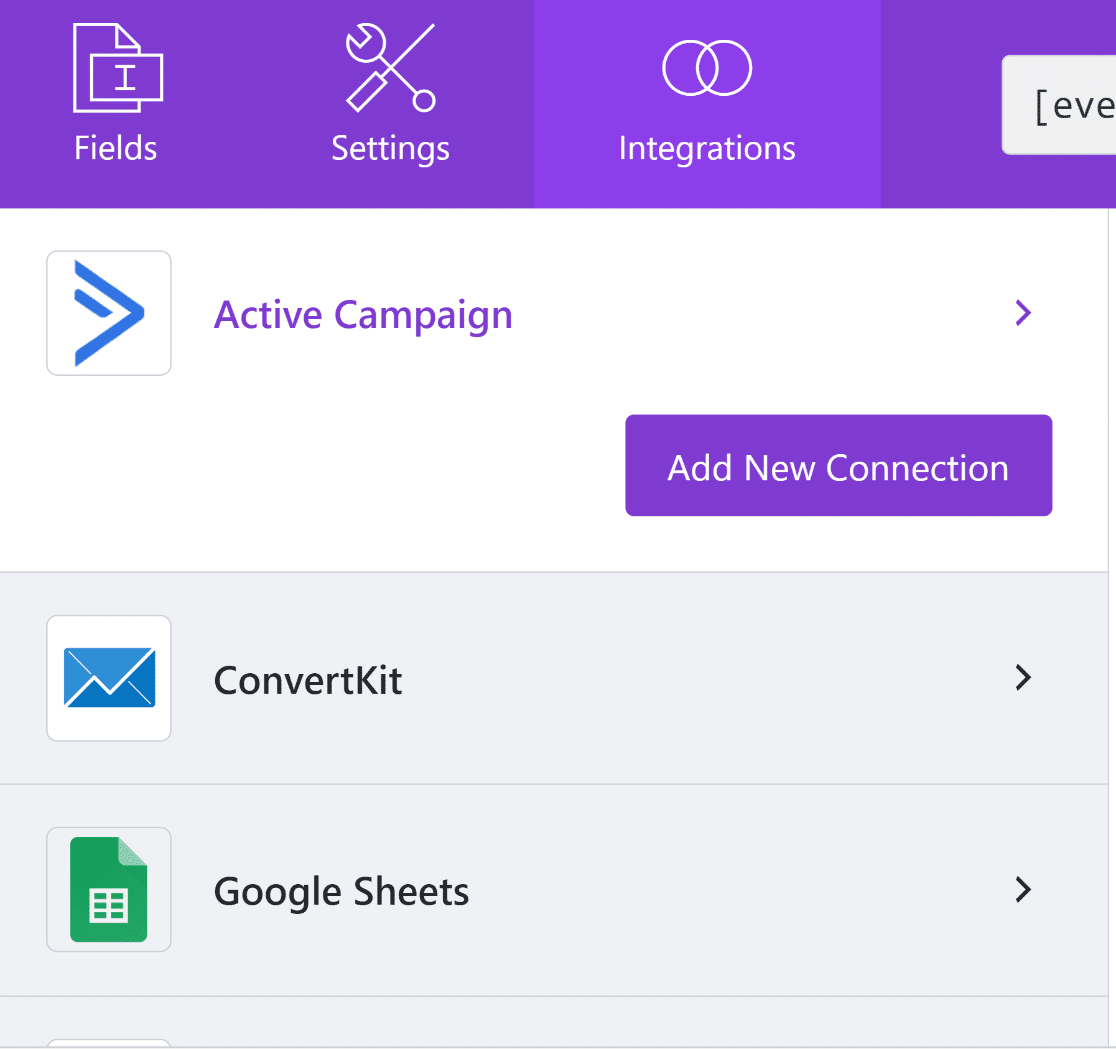 WPForms supports integrations with all popular CRMs and marketing services. With both plugins, you can even set up an integration with Google Sheets and send your entries automatically to a spreadsheet.
However, WPForms goes even further. Because it integrates with Uncanny Automator, you can expand your automation possibilities to a greater extent with WPForms as compared to Everest Forms.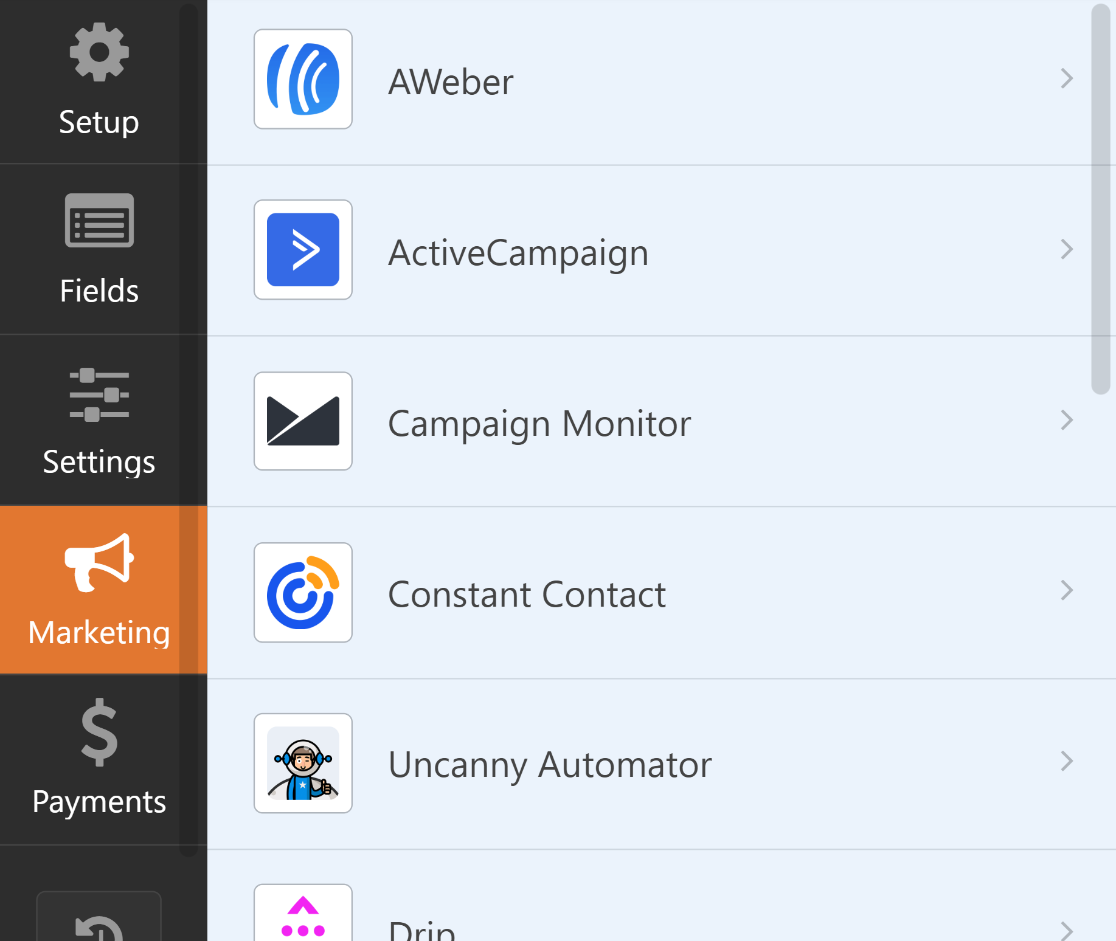 For instance, WPForms can be connected with ChatGPT using Uncanny Automator. You can create smart, autogenerated form notifications with ChatGPT.
While Everest Forms has a Zapier addon that lets you automate tasks between different apps, it requires you to use webhooks. As such, the process is slightly more complicated.
WPForms is available as a ready-to-use app for triggers and action events in Zapier, so the process is still super easy if you want to use Zapier instead of Uncanny Automator.
Other Features and Addons
WPForms and Everest Forms are both feature-rich form builders. Some of their other features are as follows.
Everest Forms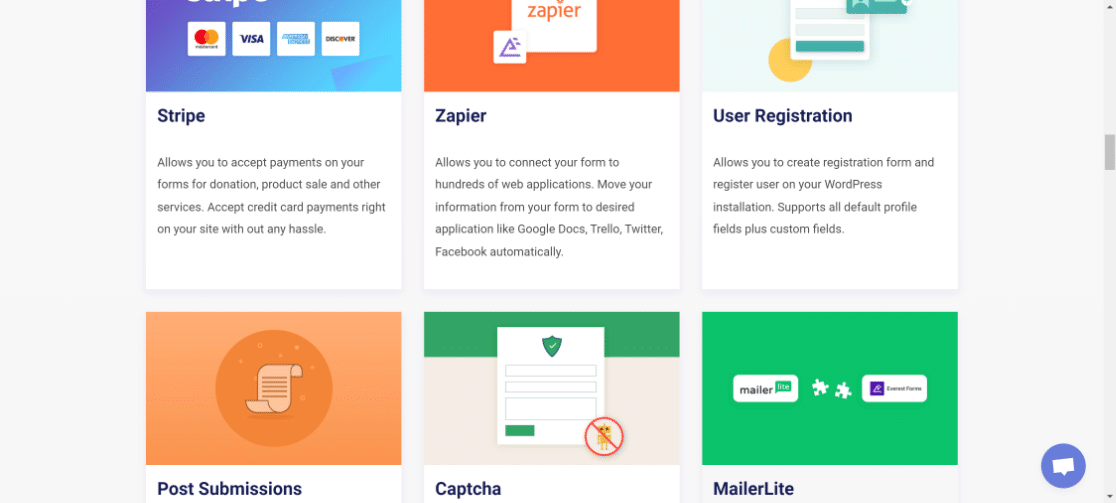 Frontend post submissions
User registration forms
Conversational forms
Coupon fields
Calculator fields
… and more
WPForms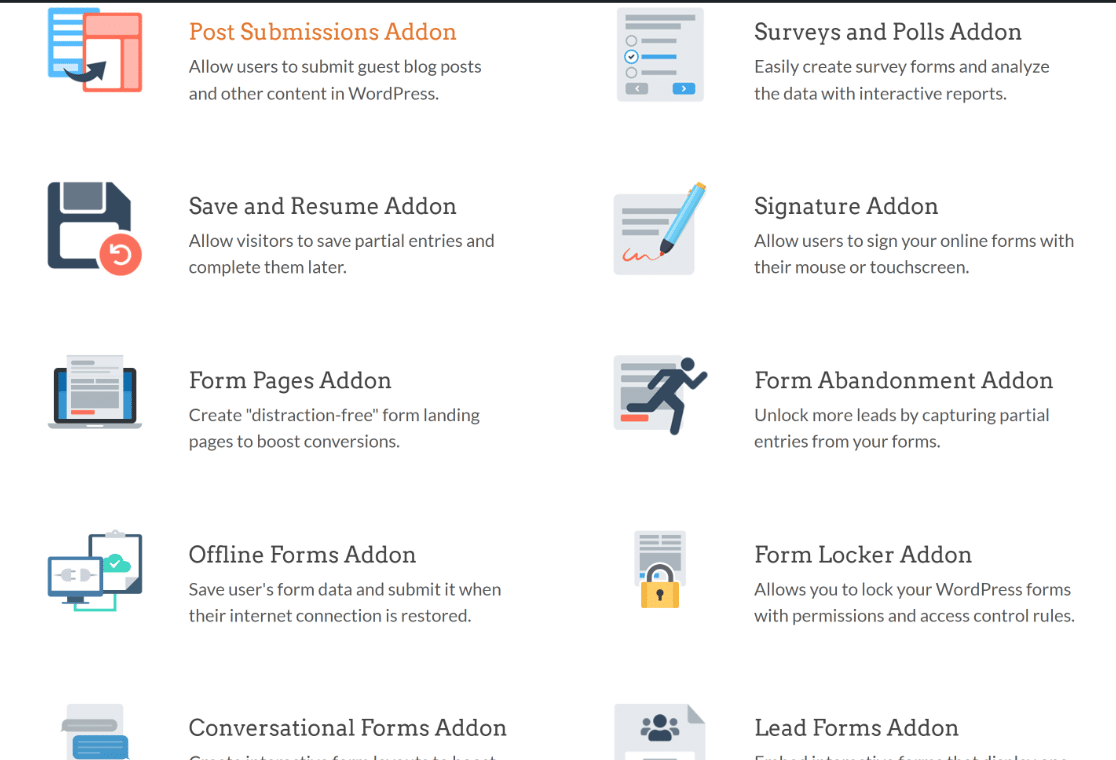 Frontend post submissions
User registration forms
Conversational forms
User Journey addon
Form Abandonment addon
Radio field icons
Form revisions
… and more
Both form builders share many similarities. However, they each have some extra features that the other lacks.
Pricing: Everest Forms vs WPForms
WPForms and Everest Forms both have paid plans available at competitive pricing.
Everest Forms
Everest Forms offers 4 different pricing plans:

Personal ($49): Adds Style Customizer, Multi Part Forms, conditional logic, and additional form fields.
Plus ($99): Includes survey forms, user registration, PayPal Standard, marketing integrations, and conversational forms.
Professional ($149): Supports form restrictions, post submissions, and all paid features.
Agency ($199): All premium features for unlimited sites.
Apart from that, Everest Forms also has a free version that enables you to build basic forms without paying a single penny.
WPForms
WPForms also has 4 pricing plans: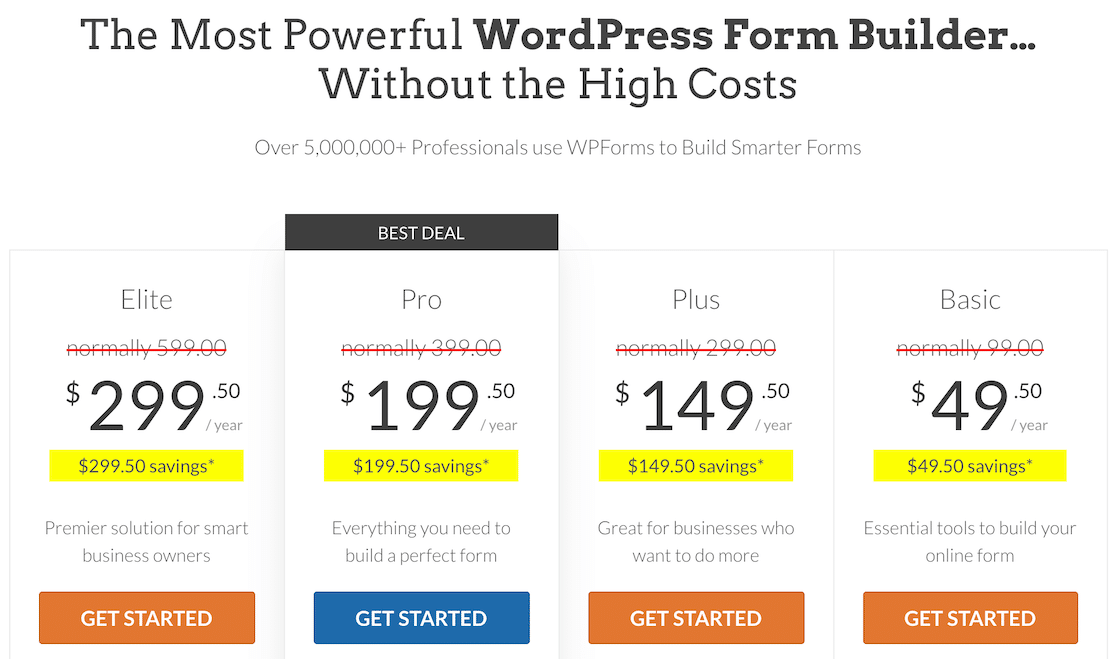 Basic ($49.50): Includes hundreds of form templates, conditional logic, multi-page forms, form layouts, Stripe payments, entry management, and advanced spam protection.
Plus ($149.50): Adds marketing integrations.
Pro ($199.50): Supports PayPal, Stripe addon (with conditional logic support), and Square integrations, Lead Forms addon, conversational forms, user journey addon, and bonus form templates
Elite ($299.50): Adds HubSpot, Salesforce, Authorize.net, and webhooks support.
The free version of WPForms doesn't give you entry management, though all your entries are safely stored in the cloud. So you can easily recover all entries with a single click if you decide to upgrade.
But the free version has a lot more features than Everest Forms. For instance, you get 45+ form templates, form styles for customizing the appearance of each form without code, form revisions to undo mistakes with a single click, and various other free features.
Our Experience With Support: Everest Forms vs WPForms
Everest Forms offers two main channels of support: tickets and doc guides.
They have a knowledgeable support team with an impressive response rate to queries and technical questions.
And if you need to learn more about using different Everest Forms features, you can check out their doc guides. Currently, Everest Forms has over 120 documentation articles, which is quite impressive.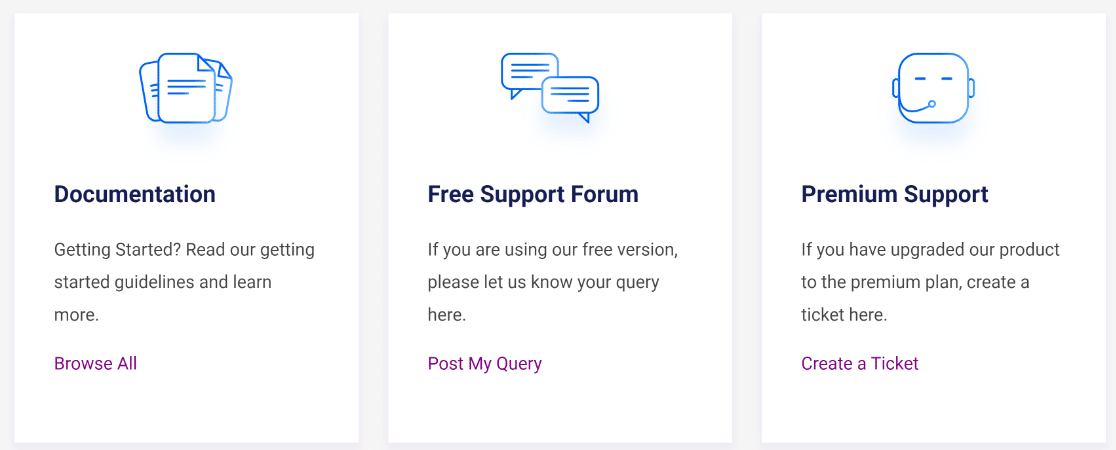 WPForms offers three channels of support: tickets, doc guides, and a Facebook group with over 20k active members.
The support team strives hard to maintain time-to-first-response under 60 minutes. The quality and timeliness of support ticket responses is one of the reasons behind the high ratings of satisfied WPForms customers.
The doc guides contain detailed information on every feature and aspect of WPForms. Currently, there are over 200 doc guides offering in-depth product knowledge for both new as well as existing customers.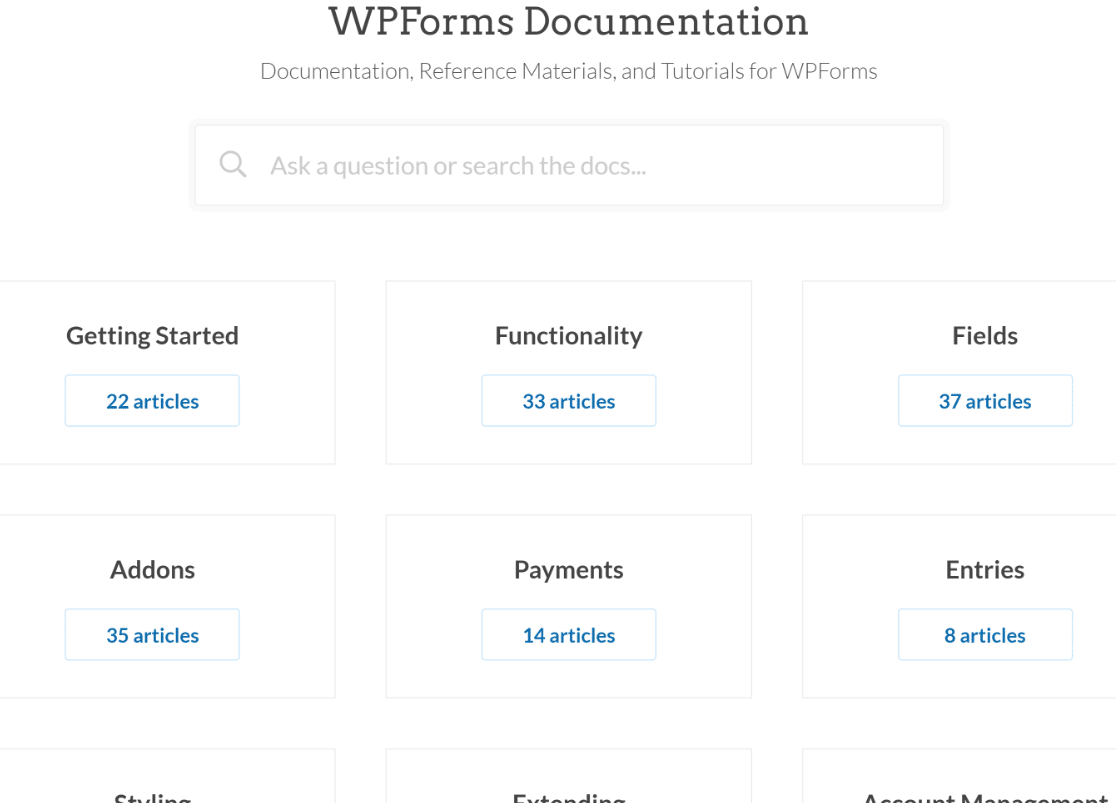 Finally, the WPForms VIP Circle on Facebook is an excellent place where both customers and team members contribute to discuss issues and provide helpful suggestions and solutions.
Everest Forms vs WPForms: Which Option Suits You Better?
WPFroms and Everest Forms are two of the best-rated form plugins on WordPress. But you can only choose one.
While Everest Forms has great form style customization features, WPForms has super user-friendly form style options of its own. Considering that Everest Forms' style customization is a paid feature whereas WPForms offers it for free, we think most customers will find greater value with WPForms.
Additionally, Everest Forms has no equivalent of the Content field included in WPForms. This means using HTML is the only way you can add text and media to your forms. But with the WPForms Content field, you can do that with a rich text editor and take your form design to the next level.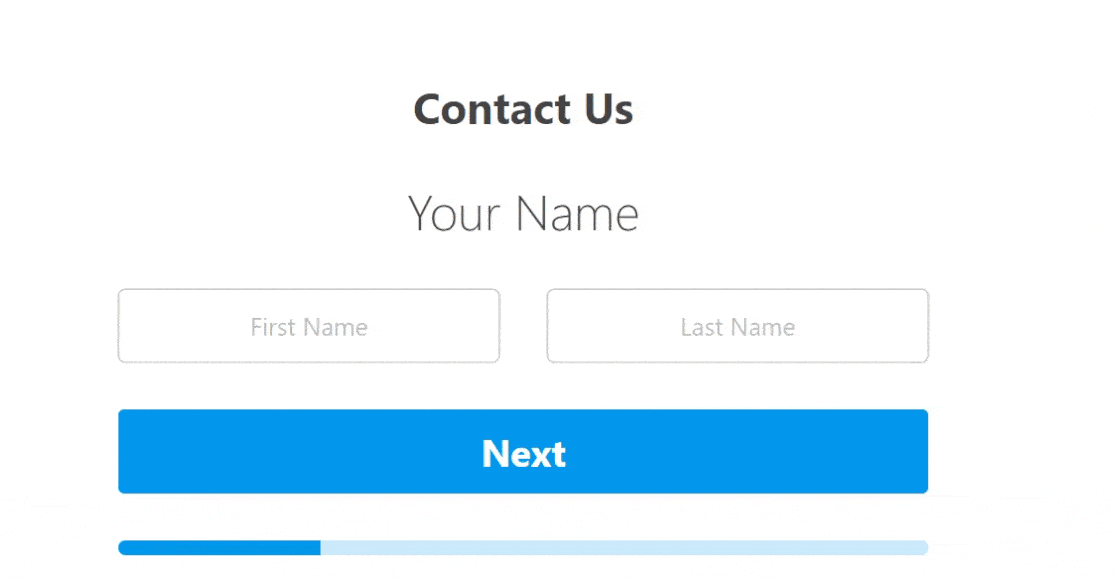 Another unique feature in WPForms is the Lead Forms addon. While in the Lead Forms mode, WPForms automatically creates embeddable multi-part forms with stylish containers that can be customized. It's possible to achieve the same effects in Everest Forms, but the WPForms' Lead Forms mode makes it much faster and easier.
In terms of ease of use, both form builders are excellent. But WPForms has a neater user interface that covers your whole screen for easier usage.
Finally, WPForms gives you over 600 templates to help you add forms even faster. Everest Forms only has 9+ form templates, so that's a big limitation.
Overall, you can't go wrong with either of these forms, But if you want the best possible ease of use with templates, from styling features, and do advanced customization with zero code, WPForms is the best form builder plugin you can get.
Next, Capture More Email Addresses With Forms
Now that you're ready to get a form builder for your site, you may want to learn about ways to utilize your forms to grow your email list. One technique is to offer free downloads of resources in exchange for email addresses that you can collect with your forms.
Also, if you want to run smart landing page experiments to improve conversions, check out our list of Google Optimize alternatives (remember that Google Optimize is sunsetting in September 2023).
Create Your WordPress Form Now
Ready to build your form? Get started today with the easiest WordPress form builder plugin. WPForms Pro includes lots of free templates and offers a 14-day money-back guarantee.
If this article helped you out, please follow us on Facebook and Twitter for more free WordPress tutorials and guides.