Are you looking for the best social media plugins for your WordPress site?
In today's age, having a strong social media presence plays an important role in the success of online businesses.
This is why more and more businesses are linking their WordPress sites with social media in different ways to grow traffic and followers at the same time.
In this post, we're going to recommend the best social media plugins that we've personally enjoyed using in our testing.
How Do I Add Social Media Plugins to WordPress?
Asking yourself, how do I add social media plugins to WordPress? It's super simple and explained very well in this article on how to install a WordPress plugin.
Once you know how easy it is to add a WordPress plugin to your website, let's jump right into the very best social media plugins out there.
What's the Best Social Media Plugin for WordPress?
There are a lot of WordPress plugins out there, so we narrowed down our favorite social media tools in this list.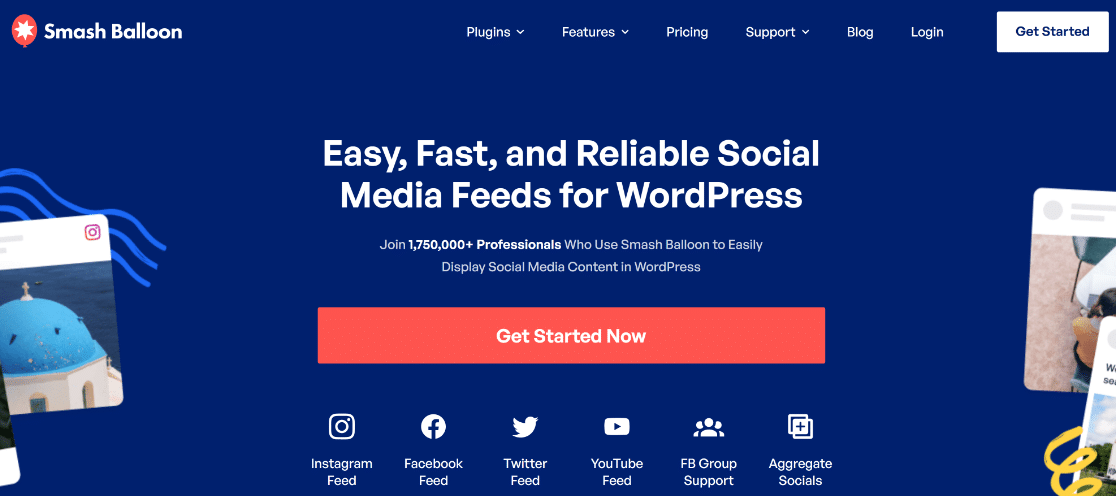 Smash Balloon is the most powerful social media plugin for WordPress. It's a suite of multiple individual plugins, each of which handles feeds for popular social networks (Facebook, Twitter, YouTube, and Instagram). The best part is that these plugins give you lots of features for free.
Once you've set it up, Smash Balloon will conveniently display posts, photos, and videos from your social handles on your website.
This is great for allowing your visitors to stay in touch with updates from your Instagram, Facebook, Twitter, and YouTube profiles and boost your following.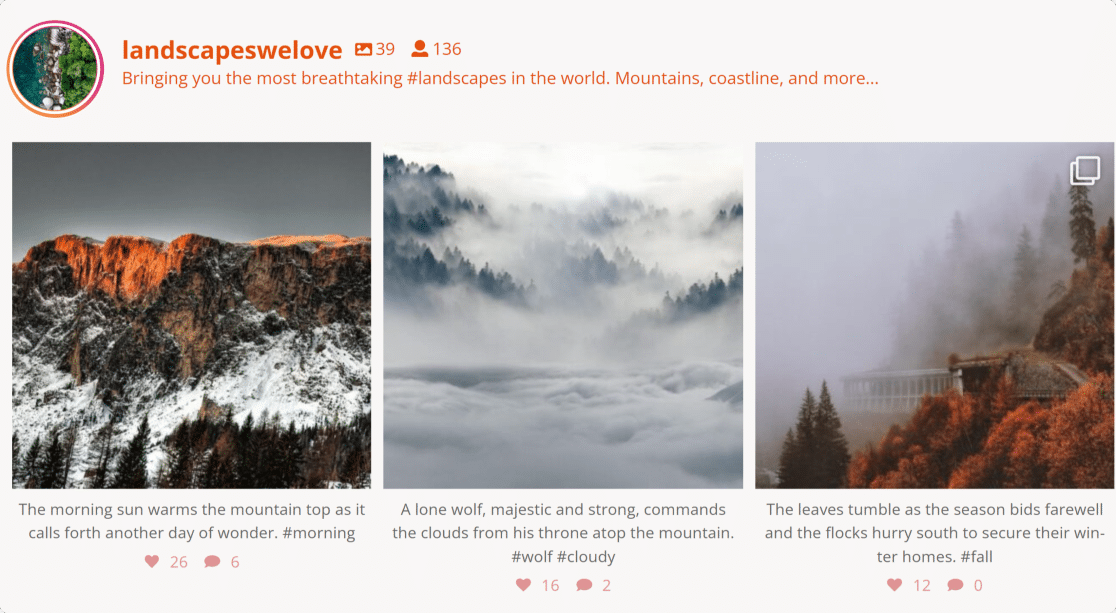 When you upgrade to Pro, Smash Balloon gives you the freedom to choose your social media sources, so you can generate a feed based on your own timeline or based on public posts matching specific hashtags from Twitter or Instagram.
We also enjoyed the excellent customizability of this plugin. And this customizability comes with a well-designed and user-friendly interface.
All the changes we wanted to make during our testing were easily doable using the visual editor without touching any code.
You can choose from different layouts to show off your feeds and change color themes and individual feed elements as you desire. Much to our delight, we found that we could even use dark mode styles for our feeds without upgrading to Pro. And it looks beautiful.

We were wowed to see the ease with which Smash Balloon enabled us to display mixed social media feeds from different platforms into a single curated wall.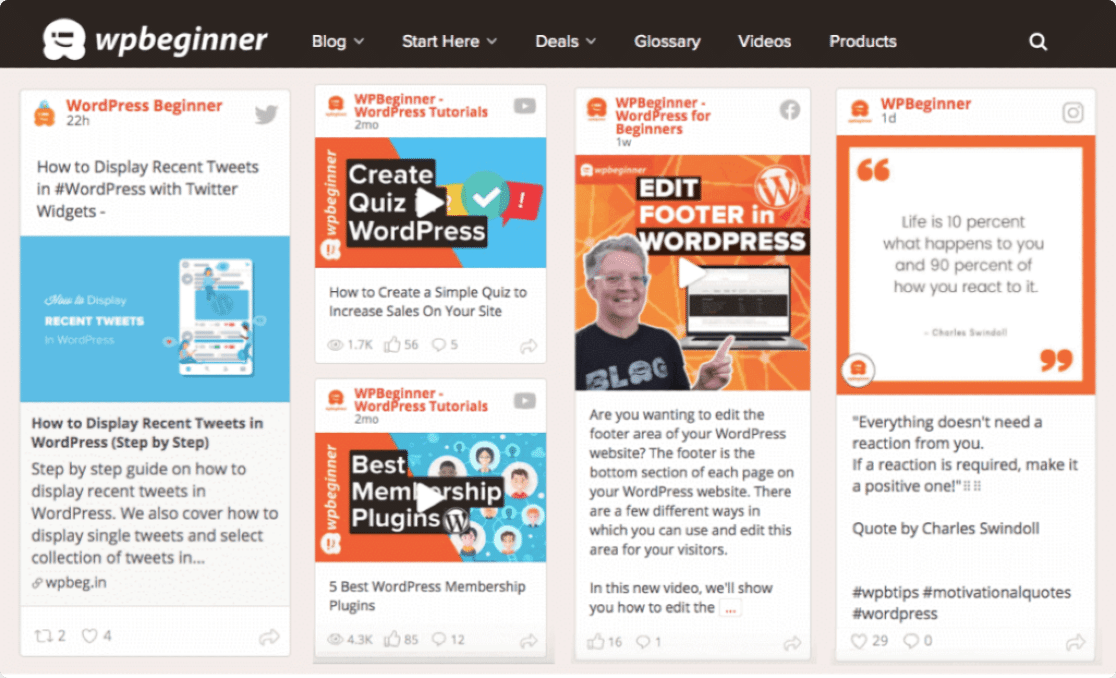 This is a great way to combine social media content from your individual profiles and show it off on your site.
Smash Balloon is SEO-friendly too, because it doesn't use iframes which can hurt your load times.
Lastly, Smash Balloon's oEmbed functionality takes the pain out of embedding social media posts. You can simply paste your Facebook or Instagram post link and Smash Balloon will embed it for you.
Overall, Smash Balloon is the most user-friendly and versatile social feeds plugin we've tested for WordPress. It works equally well for personal blogs and professional websites, allowing them to boost engagement and traffic with a beautifully curated social feed.
Features:
Social Wall – Combine your social feeds from Facebook, Twitter, Instagram, and YouTube into a single powerful wall
Instagram Feed – Link photos and stories right to your WordPress website and let people discover your Instagram profile from your site
Custom Twitter Feed – Display Twitter cards, show tweets that mention you (perfect for testimonials), and more.
Custom Facebook Feed – Add Facebook posts, photos, videos, and broadcast live videos from your WordPress site
YouTube Feed – Create feeds of videos from your favorites list, embed a YouTube playlist on your website, show linked thumbnails to your videos, customize the layout, and more.
User Reviews – Show testimonials and reviews from TripAdvisor, Google, Facebook, and Yelp to leverage social proof.
Check out this Smash Balloon review to see more info and screenshots.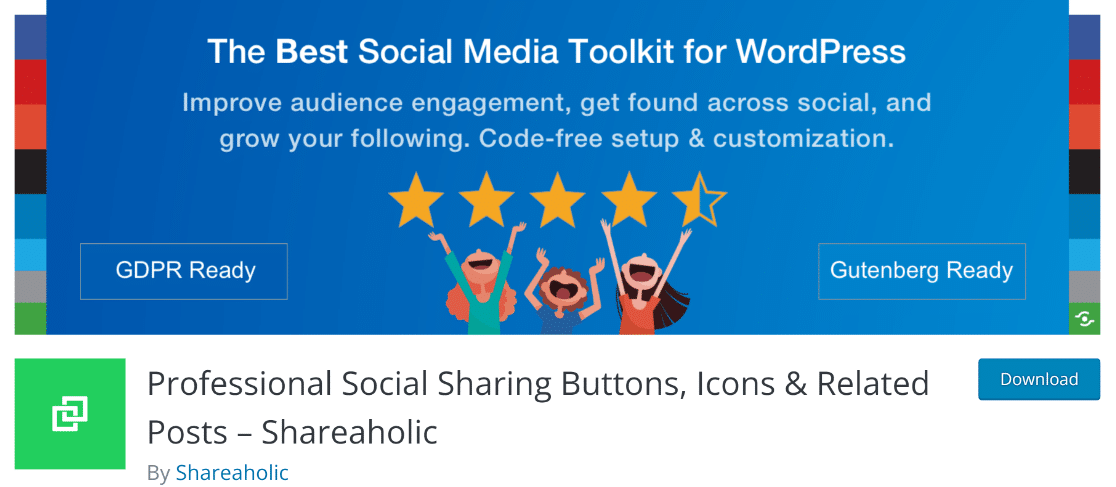 Shareaholic is a highly configurable plugin for adding social media icons to your posts and pages.
At the core of Shareaholic is its visual editor, which enables you to customize the design and style of your social media buttons. We were extremely impressed with the flexibility you get in terms of customization.
You can change the layout of the buttons, choose different pre-built button themes, vary the size and alignment of the buttons, and toggle on or off the share count display.
And if that's not enough, you're free to use custom colors for the buttons and even add an arrow pointing to your social media icons to make them more visible.
It was a pleasure to use the visual editor to play around with different button styles while we were testing the plugin.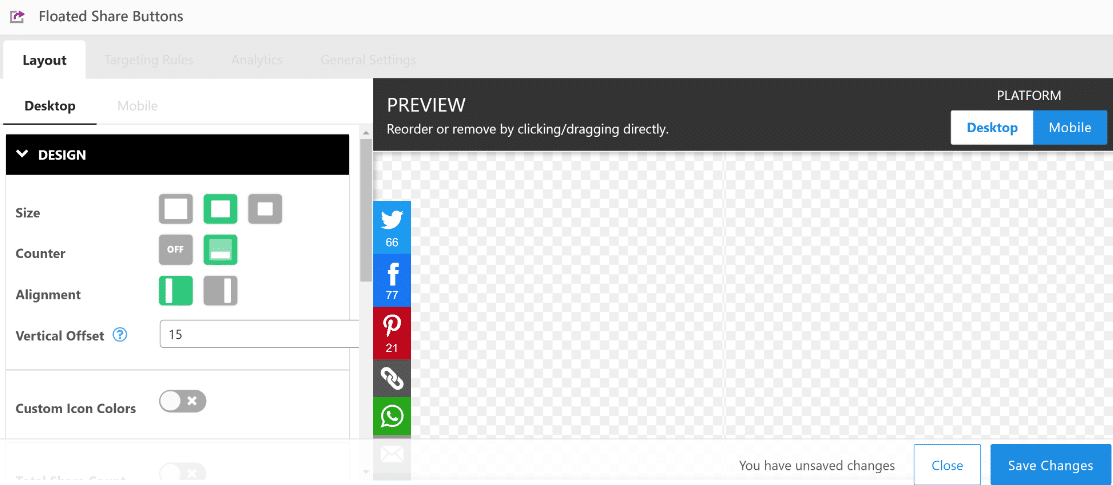 Aside from the remarkable range of customizations, we're huge fans of the no-code targeting options you get with Shareholic.
You can easily set display rules so that the icons appear only on specific pages or to users of specific device types (desktop or mobile).
You can even control the specific at which you'd like the social media buttons to appear (after scrolling a certain amount, waiting a certain duration, and so on).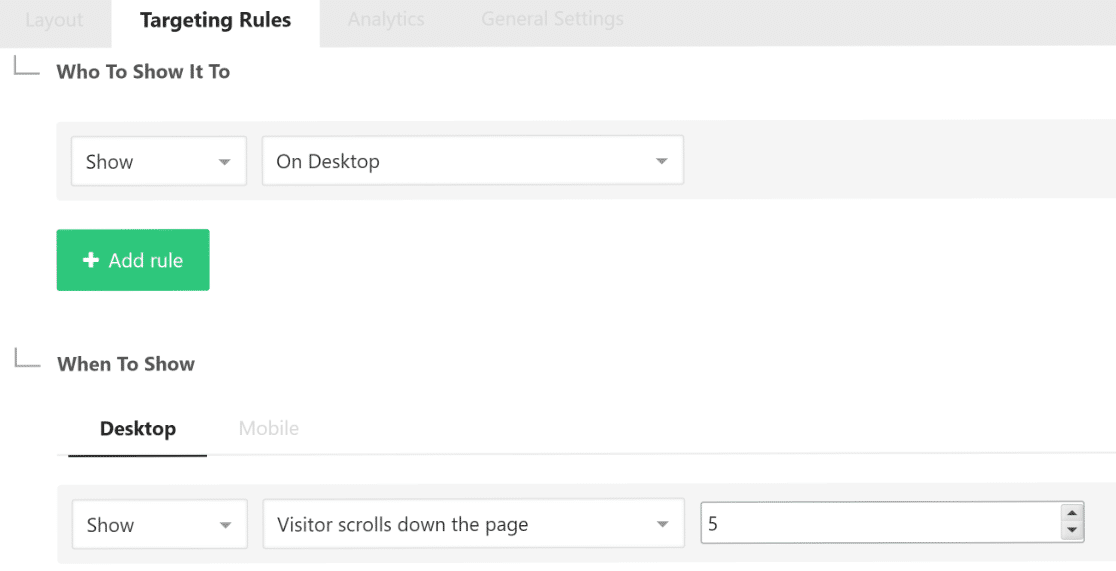 Besides social sharing, Shareaholic also gives you tons of extra features like monetizing shares with banners, displaying related posts and products to boost engagement, and more.
The plugin comes with decent analytics options too. You can connect your Google Analytics account with Shareholic to enable easy UTM tracking for your campaigns.
We found no major drawbacks after testing this plugin for hours. This is why Shareholic is one of our top recommended social media plugins for WordPress.
Features:
Easy customization – Edit your social media button styles and placement with a visual editor
Targeting rules – Control which pages should display your social media buttons and when they should appear during a visitor's session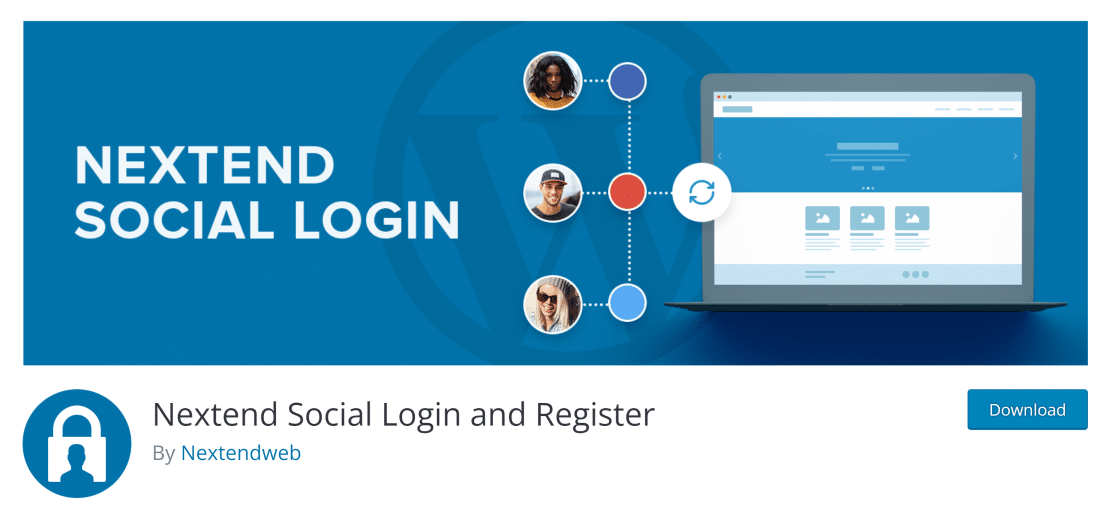 Nextend Social Login makes your WordPress login and registration process faster by letting your users log in through social media apps.
This social media plugin is ideal if you run a community or membership website that requires users to log in to access the site.
Users prefer faster registration and login options, and Nextend Social makes it easy to add social logins as an alternative to the default WordPress login.
What we like the most about Nextend Social is its clear and well-designed interface. The main screen shows you all the different social media networks you can add to your site as separate login methods.

Once you've selected an option, the plugin leads you through the setup process, which requires you to create an app with Facebook, Google, Twitter, and other supported providers.
Although this process is a bit time-consuming, this is not the plugin's fault. It's just how social media apps work.
It's great that Nextend Social enables you to choose different button themes for each provider and customize the button labels as well.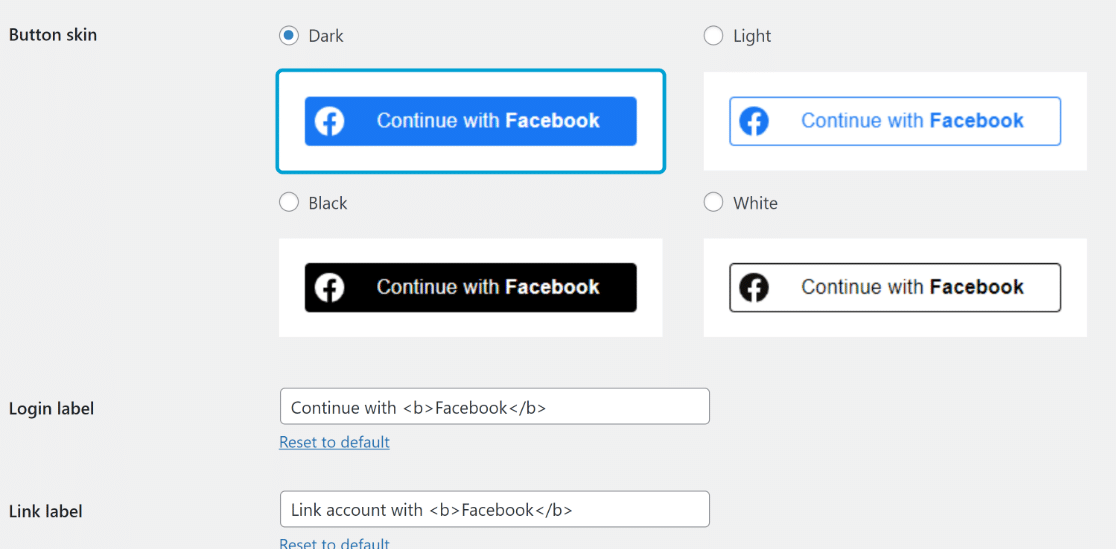 If you're looking to add additional login methods to your site, Nextend is a fantastic social media plugin for WordPress.
Features:
Excellent provider support – The plugin supports 15+ social media providers for login and registration
User-friendly interface – Great usability with a simple, well-designed interface
Customization – Choose from different button skins and edit button labels as you desire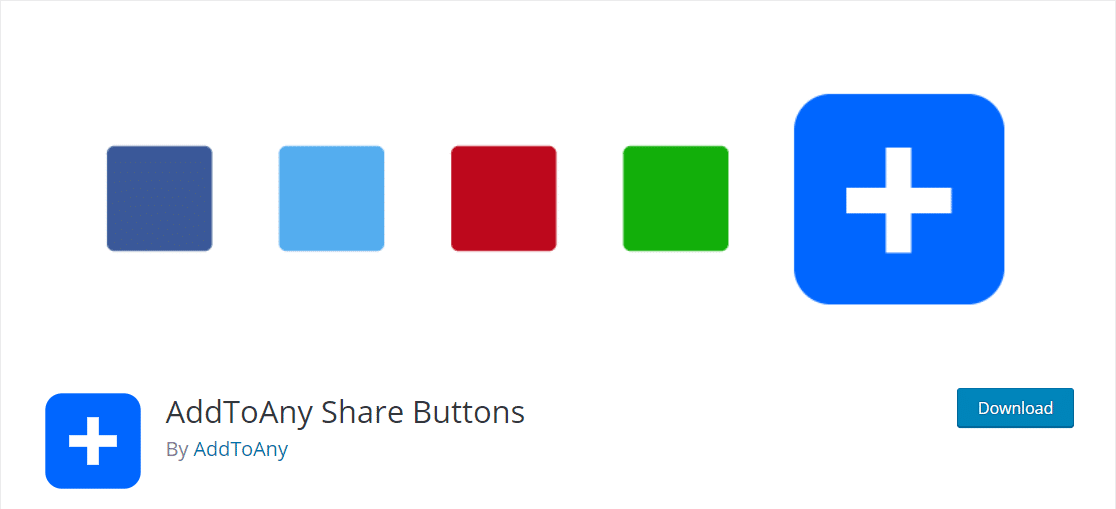 AddToAny Share Buttons is one of the simplest social sharing plugins we've used for adding share buttons to WordPress posts.
The plugin supports buttons for dozens of social media networks, giving you complete control over which buttons you'd like to add to your posts.
Unlike some other plugins, AddToAny makes it really easy to select the buttons you want to include in your post and even gives you decent configuration options.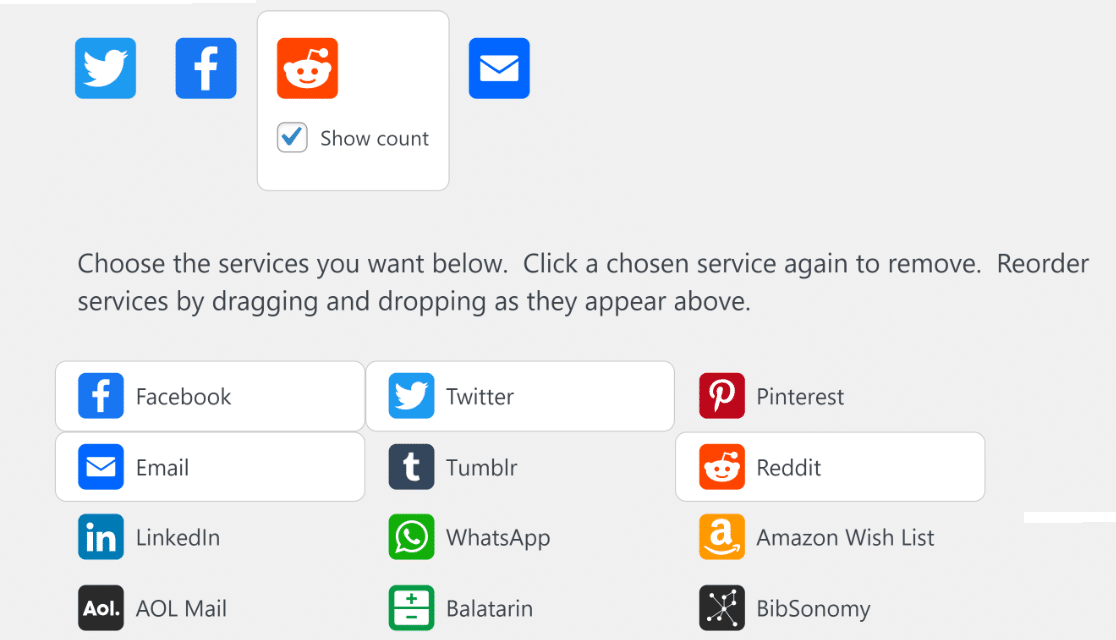 For example, AddToAny supports tons of placement options. You can place your social media buttons at the top or bottom (or both) of your blog posts.
Not only that, the plugin also enables you to place social media buttons on your frontpage, excerpts, and even custom post types like courses and videos.
To select placements, you just have to click on the appropriate checkbox. It's a simple, convenient solution that really impressed us during testing.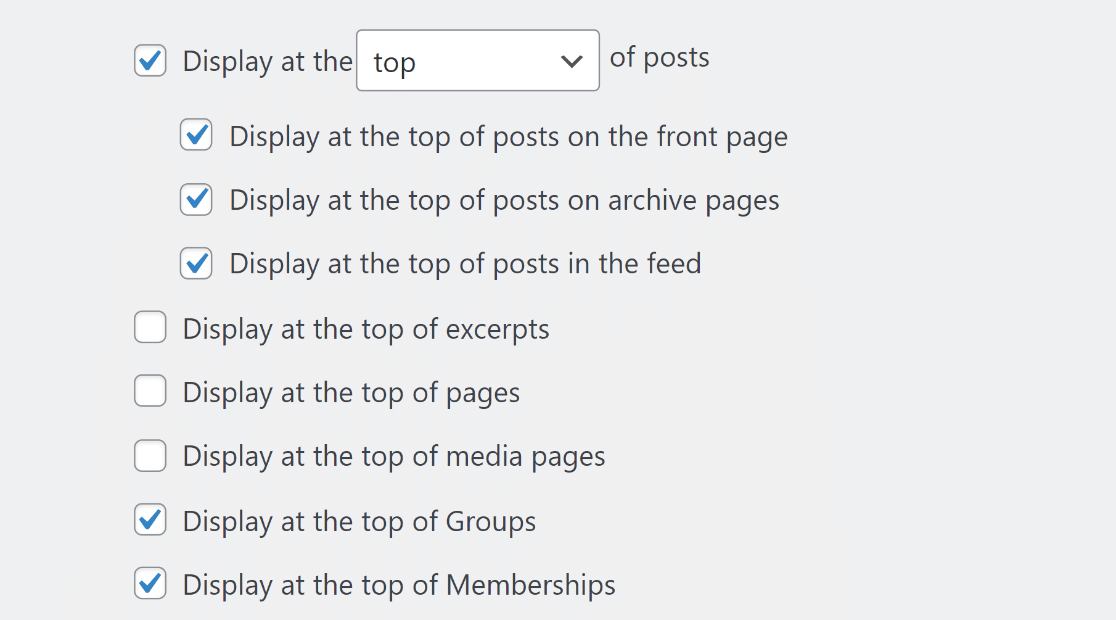 We were delighted to see this level of flexibility in a free and lightweight plugin. So if you want to bring your posts in front of your social audiences by adding share buttons, AddToAny is a very useful plugin to have.
Features: 
Social media share buttons – They offer tons of social media platforms.
Social sharing bars – Floating and standard social sharing bars
Universal sharing menu – Makes it so easy to keep track.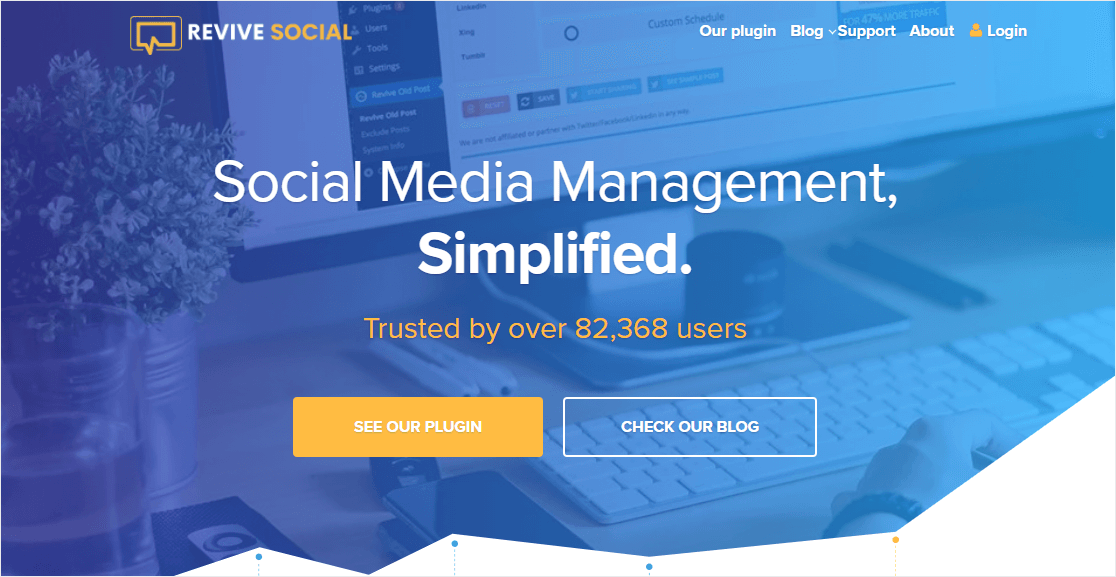 The Revive Old Posts allows you to share your WordPress posts on social media for free.
The free version of this plugin lets you connect your Facebook and Twitter profiles, with the option to automatically share posts on your social media.
Revive Old Posts will automatically create a schedule for you with a queue of posts ready to be shared on your social platforms. Unfortunately, you can't edit the schedule yourself or create a custom schedule without upgrading the Pro plan of the plugin.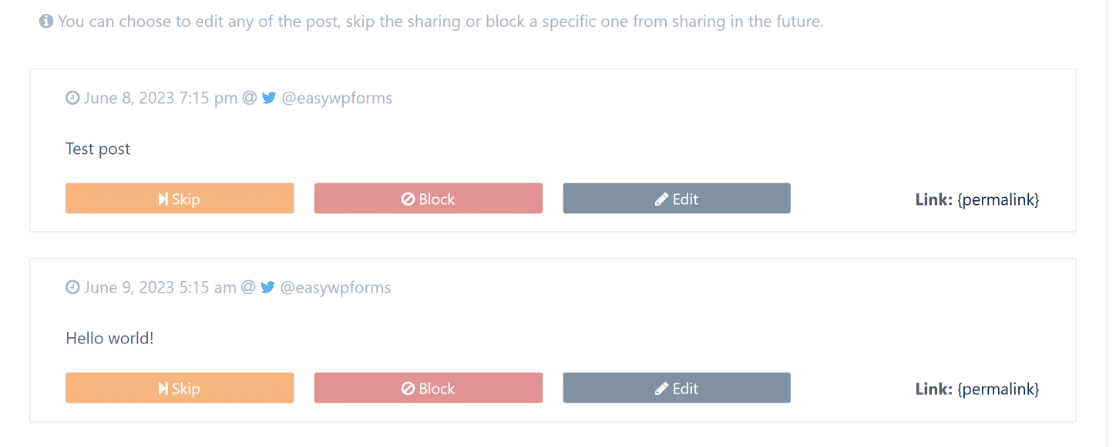 The good news is that you can still use the free version of the plugin to auto-share content on social media as soon as you publish a new post on your WordPress.
This way, you can make sure you're getting your latest posts in front of your social audience immediately upon publication.
We didn't encounter any bugs or issues while using the plugin. It makes it very easy to link your social accounts with the plugin and start auto-sharing with minimal configuration needed.
Overall, Revive Old Posts is a incredibly handy plugin to have for small businesses that want to save valuable time by auto cross-promote their WordPress content on social media,
Features:
Scheduler – Automatically set a schedule for sharing your content on social media
Hour timer -Decide many hours you want between posts, which is great if you're sharing a lot of backdated content.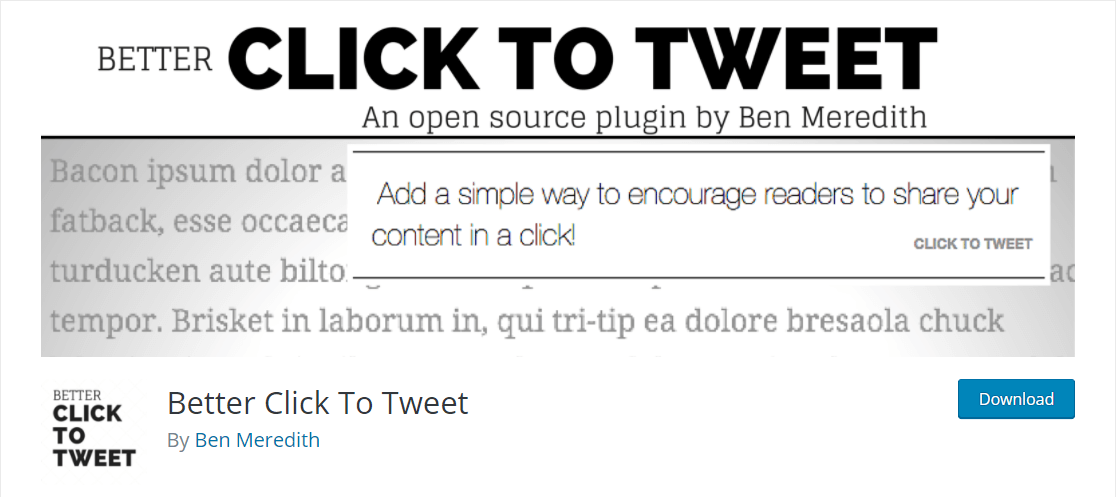 Better Click to Tweet is the perfect social media plugin for WordPress if you want to add quote boxes for Twitter within your posts.
Using conventional share buttons for your posts is only one of the ways you can push your content to a social media audience.
Better Click to Tweet gives an interesting twist to the same idea by adding allowing you to add quotable text that visitors can instantly tweet with a single click.

In the premium version of this plugin, you can also customize the styles of the tweet box with easy, no-code styling options.
We think Better Click to Tweet is an excellent WordPress social media plugin for attracting Twitter traffic to your site, especially for bloggers that regularly write insightful posts geared toward Twitter audiences.
Features:
Easy embed option – Add a click to tweet box using a content block in the WordPress editor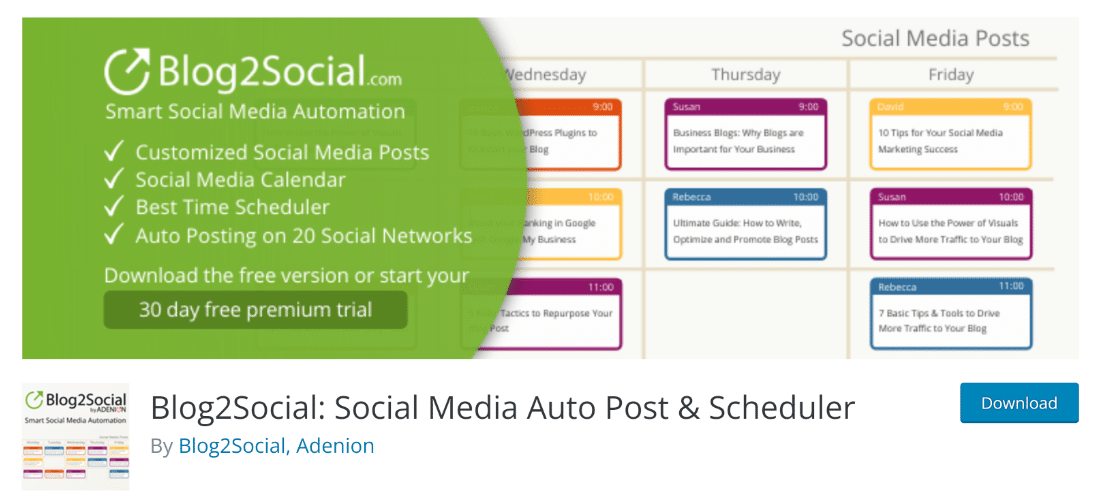 If you need to manage a social media calendar within your WordPress, Blog2Social is a very useful plugin to have.
Blog2Social allows you to share your WordPress posts to your connected social media sites in a managed calendar. The plugin supports all major social media platforms including Instagram, Twitter, Facebook, LinkedIn and more.
You can simply drag and drop scheduled posts to different slots in the calendar to reschedule them, which helps you be more efficient with your social media management tasks. The drawback is that you need the premium version to use the calendar feature.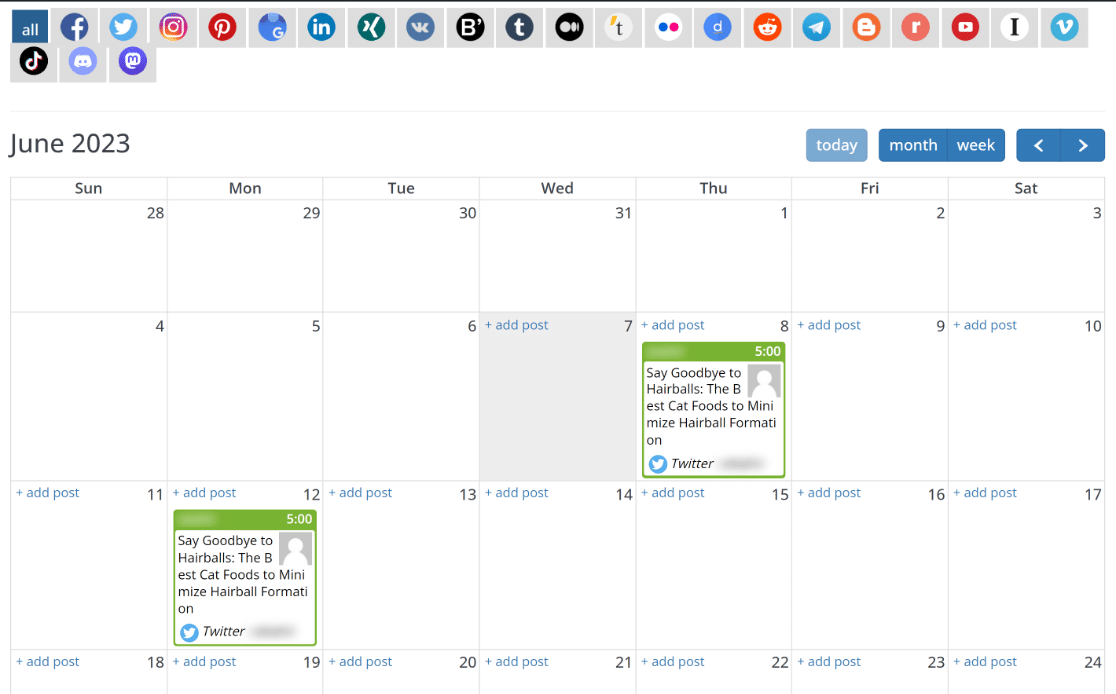 The Auto Poster feature makes it really easy to share your posts the moment you press publish on your WordPress site.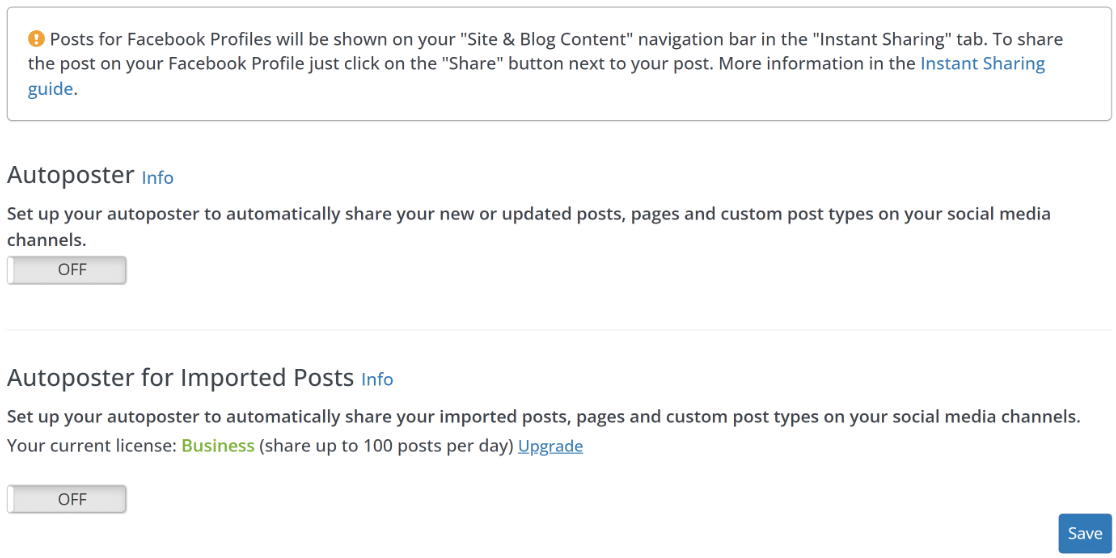 For added convenience, Blog2Social automatically uses the appropriate format for the specific social media site you're sharing to.
When found this feature really easy to use, considering that the plugin also turns your WordPress post tags into hashtags automatically for increased social media visibility.
The only complaint we have with Blog2Social is that its user interface looks very outdated and it's pricier than more powerful SaaS tools for social media.
Features: 
Manage social media calendar in WordPress – Add and schedule posts to your social media calendar from your WordPress backend
Auto-share posts – With the auto-posting feature, you don't have to manually cross-promote every new post you create in WordPress.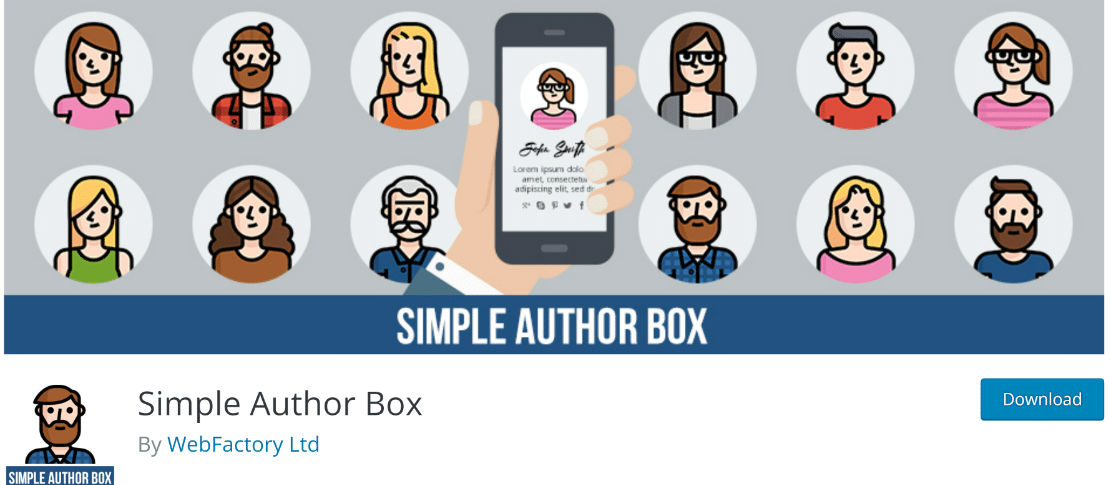 As the name suggests, Simple Author Box is a plugin that adds an author box to your blog posts with details of the writer.
The author box shows your name, headshot, and biography as you've set up in your WordPress backend or Gravatar. The cool part is that you can add links to your social media accounts within your author box.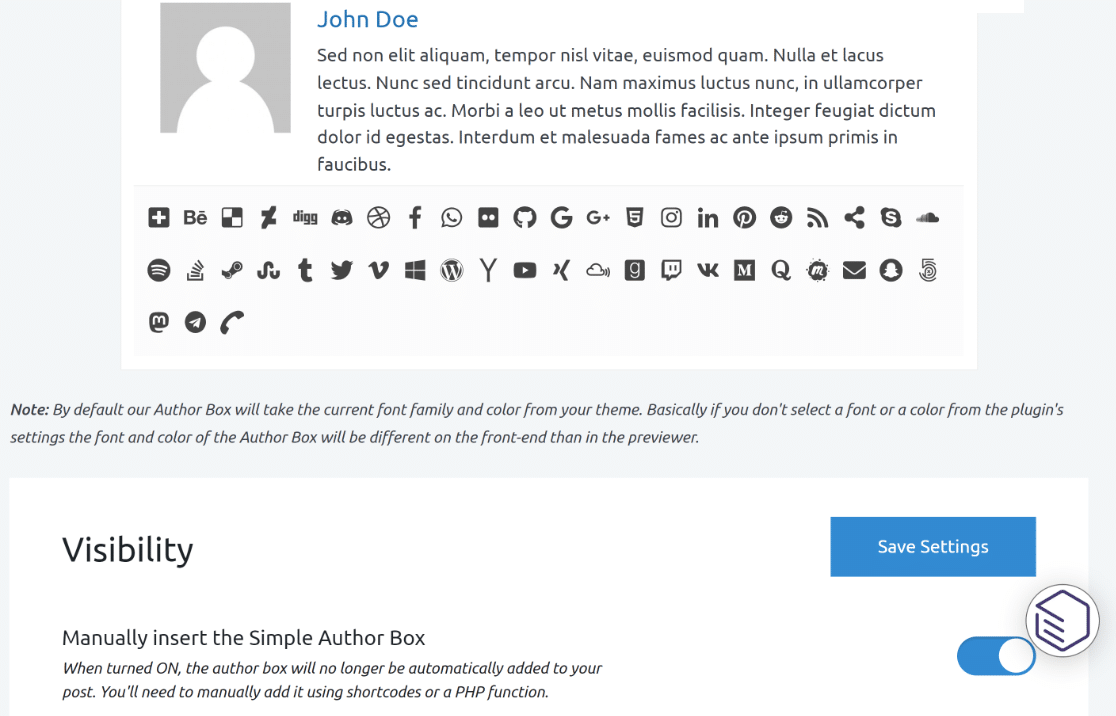 While the free version is fairly restricted and only lets you add a plain author box with a few social media profile links, you can unlock more advanced options in the paid version.
We particularly liked having the top authors widget in the paid version. This widget can be added to your sidebar and display a list of authors whose posts have gathered the most comments.
Overall, Simple Author Box is a worthwhile plugin to have if you want to make your writers stand out more and include links to their social media profiles to add more authenticity.
Features:
Easy author box customization – In the paid version, you can change fonts of the title and biography of your author box and customize social icons.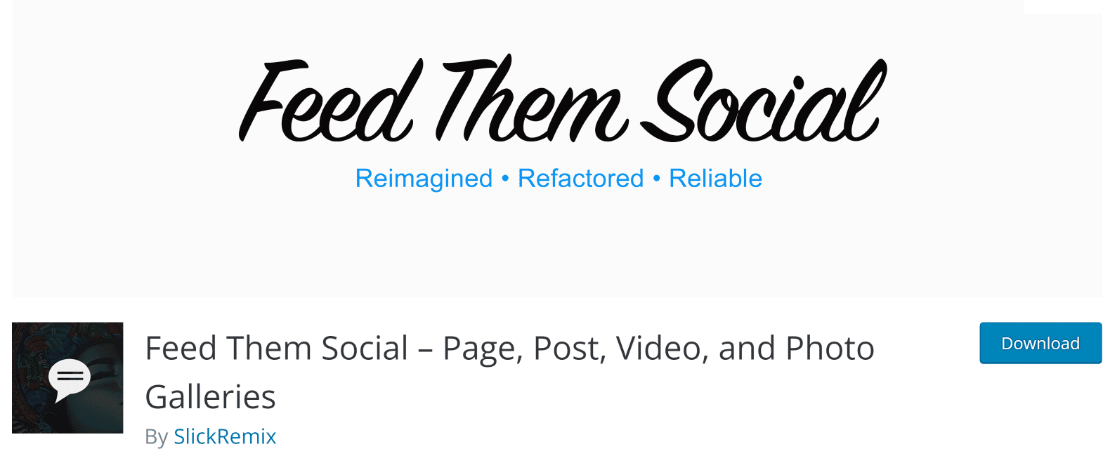 Feed Them Social is an alternative to Smash Balloon. It offers many of the same features as Smash Balloon, allowing you to display social feeds on your WordPress site.
Feed Them Social is pretty easy to use. We encountered no problems while setting it up or during feed creation. The customization options are also really good, giving you enough controls to design your feed the way you want to display on your site.

At the same time, there are a few limitations in Feed Them Social. For one, adding your feed to a post is a bit more complicated because you need to use shortcodes for embedding.
In Smash Balloon, this is a much easier process because it comes with content blocks for embedding your feed.
In addition, Feed Them Social doesn't support oEmbeds, which means you won't be able to embed individual Facebook and Instagram posts by simply posting their URLs.
Features:
Multi-platform support –Link feeds from popular social media platforms to grow your following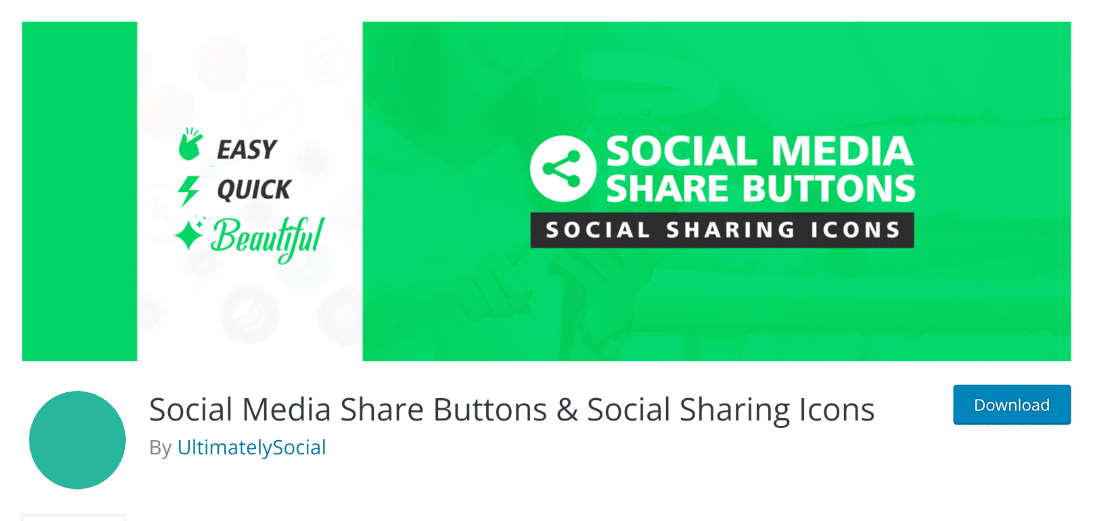 Social Media Share Buttons has a similar function to other plugins that let you add buttons to your site.
This plugin has many of the same features as its alternatives but offers additional ways to customize your social sharing buttons. For example, you can add animations to your buttons.
Our favorite feature of this plugin is that it lets you customize the action of your social media buttons.
The buttons can be used to allow visitors to follow your social profiles, share your blog, or visit your social media handle. So if you want to just add follow buttons instead of sharing, you can achieve that easily.

While this plugin has great customizability, we're not big fans of its user interface. Many of its settings are scattered through different sections of the main settings page.
In contrast, Shareaholic gives you a visual editor where you can customize everything about your button in a single place.
Features:
Advanced customization options – The plugin allows you to add animation and other cool effects to your social media buttons
Configurable button actions – Have your social media icons perform different actions depending on your settings
Simple Social Icons is another popular social media plugin for WordPress. Unlike some other plugins on our list, this one only gives you a single simple functionality: adding social media buttons in your sidebar widget.
You can use this plugin to link to different social platforms from your sidebar. You also get options for basic alignment and color changes to the buttons.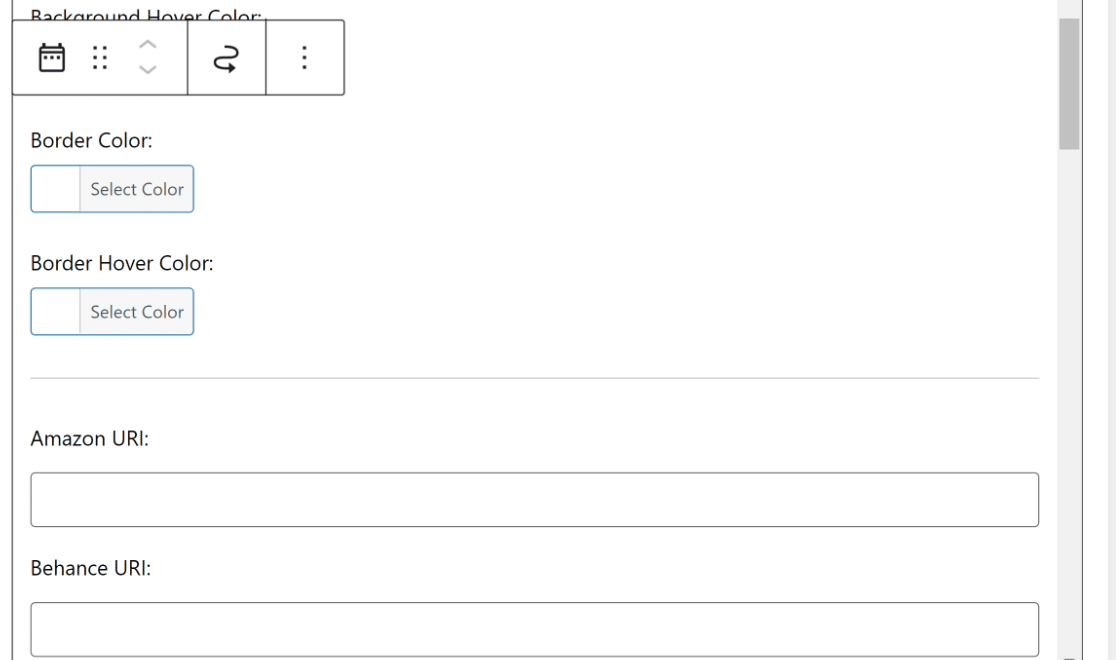 Beyond that, there aren't a lot of features in this plugin. So if you want a simple way to include social media links to your sidebar, this plugin gets the job done.
Features:
Customizable button styles – Simple ability to choose your own colors.
Lightweight – Won't slow down your site and runs very fast.
Bonus: Other Social Media Plugins You Can Consider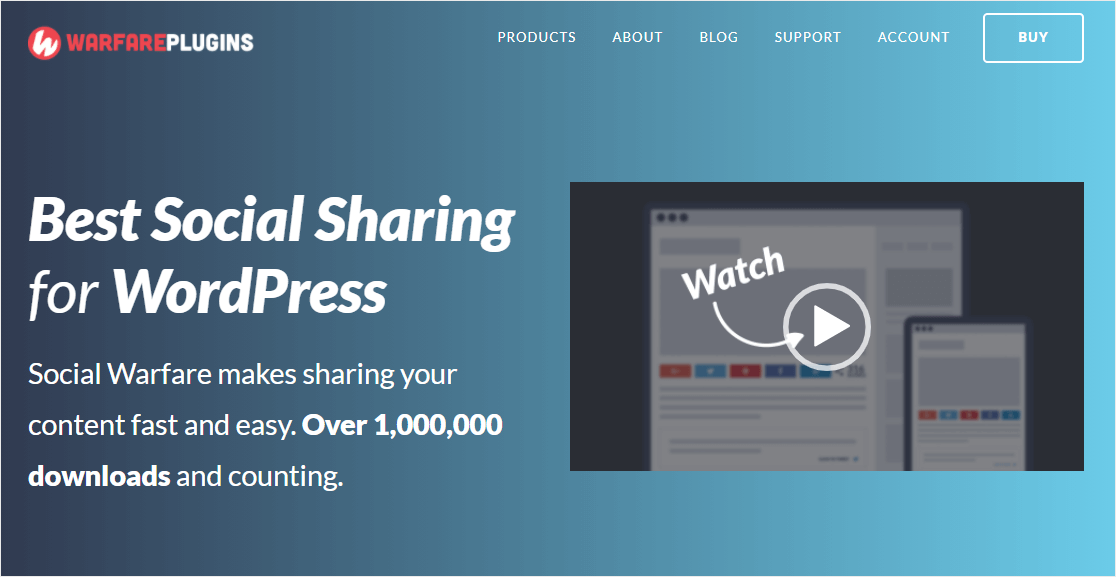 Another one of the best social media plugins on our list is the feature-heavy Social Warfare. This lets you control what people share on social media (and how they share it).
Features:
Customizations – Add custom titles, images, and descriptions to your posts that get more clicks and traffic.
Analytics – Track how your social shares are doing with Google Analytics.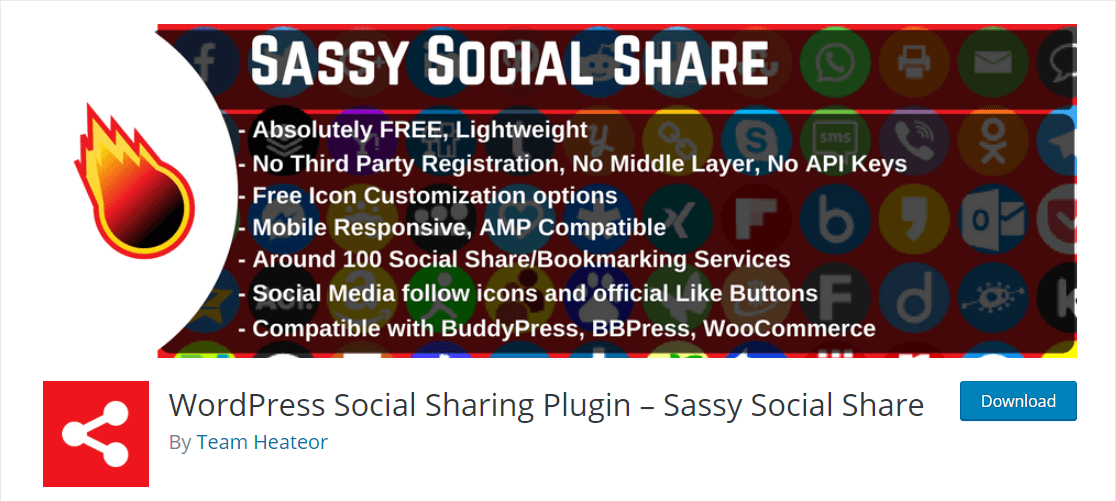 More than just a fun name, Sassy Social Share helps your visitors share your content on their favorite social media platforms easily. This plugin supports a ton of different sites.
Features:
Great compatibility – Will work with BuddyPress and WooCommerce.
Featherlight – Won't take up a bunch of your website speed to run as it's optimized for blazingly fast performance.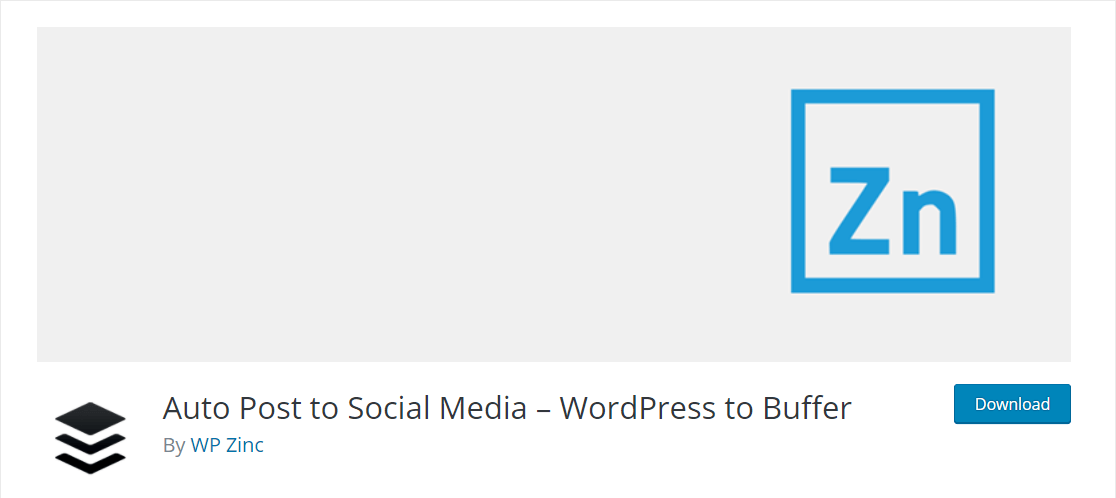 WordPress to Buffer is a great social media tool to use if you're using the popular social media management software Buffer. This plugin sends updates to your Buffer account when you're doing scheduled publishing.
Official Buffer partner – Selected by the social media management platform itself for continued access to Buffer's API.
Smart WordPress automation –  Will auto-post your WordPress content to your Buffer account's queue.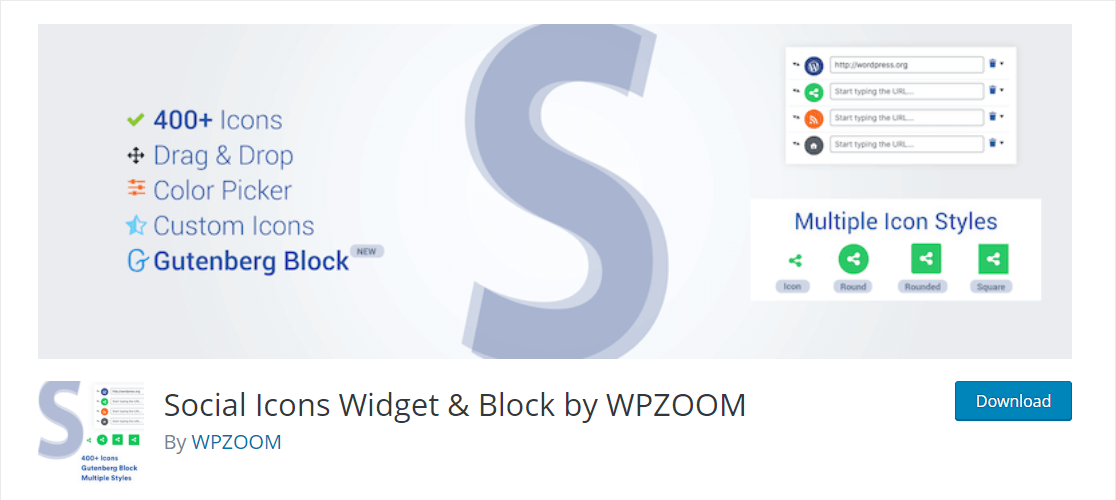 WPZoom has another one of the best social media plugins for WordPress with the helpful tool known as Social Icons Widget.
It lets you quickly add social media icons to your website's sidebar with a widget. You can then link them to your social media profiles right in your sidebar.
Features:
Easy to use – Quickly add social media icons with links to your profiles to your WordPress website with a widget.
Unlimited icons – Add as many social icons as you need.
And there you have it! We hope this post helped you find the best WordPress social media plugin for WordPress.
FAQs
When it comes to WordPress social media plugins, there are a few common questions we regularly receive from many readers. Here are our quick answers to these:
How Do I Automatically Share My WordPress Posts to Social Media for Free?
You can automatically share your WordPress posts to social media for free using the Revive Old Posts plugin.
While the free version has some limitations, you can still use it to auto-share posts on social media as you publish on your WordPress site.
The plugin also creates a calendar of your posts to share on social networks, but you can't edit the calendar or change the schedule in the free version.
If you'd like to have that feature, you can upgrade to the premium version of the plugin.
How Do I Embed Instagram in WordPress for Free?
You can embed your Instagram feed in WordPress for free using Smash Balloon Social Photo Feed. This plugin allows you to link your Instagram profile with your WordPress site.
The feed updates automatically every time you add new photos to your Instagram site too, which means you don't have to manually edit your feed every time you make a change.
If you want advanced features like adding a lightbox for your feed or displaying your Instagram stories, you can upgrade to the Pro version.
How Do I Add Floating Social Media Buttons to WordPress?
You can add floating social media buttons to WordPress using the Professional Sharing Social Buttons plugin. This plugin allows you to choose the icons you want to display and customize their appearance and layout for free.
You can also use to AddtoAny Share Buttons to create floating social media buttons, but its user interface is a bit old-fashioned.
Next,  Arm Yourself With the Best WordPress Plugins
Now that you have the social media plugins for growing your following and website traffic, it's time to start looking into other plugins that can help improve different areas of your business. Here are some of our guides for helping you choose the right plugin for your needs:
Create Your WordPress Form Now
Ready to build your form? Get started today with the easiest WordPress form builder plugin. WPForms Pro includes lots of free templates and offers a 14-day money-back guarantee.
If this article helped you out, please follow us on Facebook and Twitter for more free WordPress tutorials and guides.