Looking for the best WooCommerce plugins to boost your online sales?
Maintaining a thriving online store is a lot easier when you're using the right tools. In this article, we'll share the best WooCommerce plugins that tons of successful eCommerce store owners use and love.
We've created a handy table of contents so you can skip ahead to any of the eCommerce plugins you're interested in:
Is WooCommerce a Free Plugin?
The WooCommerce plugin itself is free, open source, and includes many great features. It's also insanely flexible via additional premium WooCommerce extensions and plugins like the ones on this list.
It works wonders with WordPress sites to help you sell digital or physical products online.
Let's check out our list of the best WooCommerce plugins to increase sales by adding useful functions to your online store.
Best WooCommerce Plugins for WordPress
WooCommerce is the most popular eCommerce platform available. It's used by almost 39% of all online stores in 2023.
But if you're not using the right WooCommerce WordPress plugins, you could be missing out on a lot of additional revenue.
So, here's our handpicked list of the best WooCommerce plugins out there: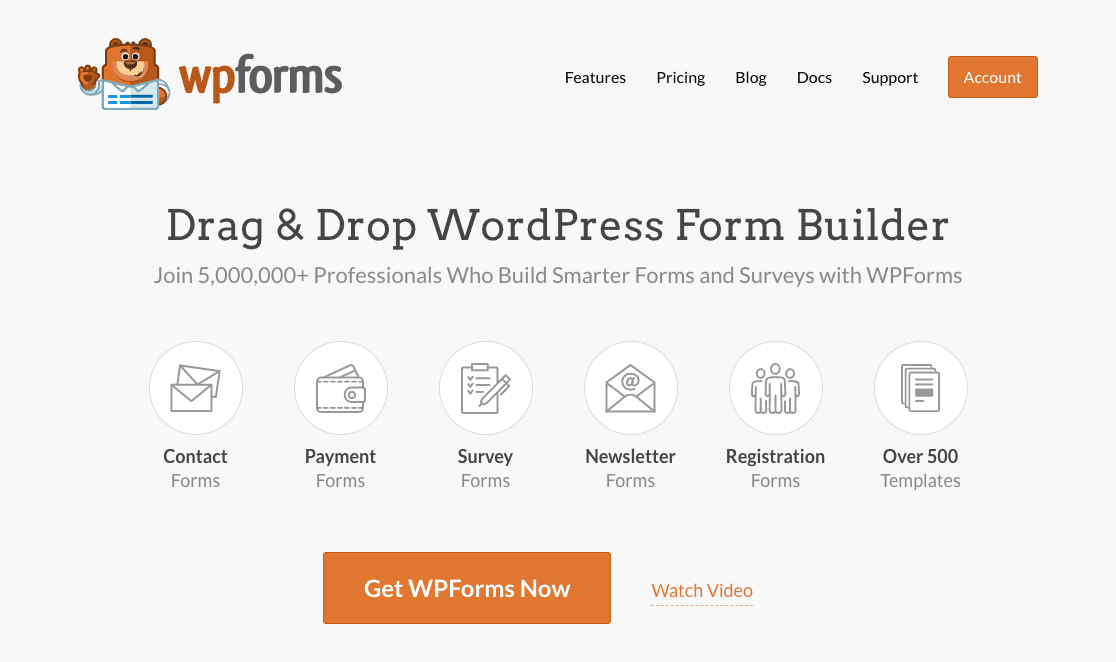 WPForms is the best contact form plugin that you can use for any type of WordPress site, including a WooCommerce store.
Running a successful online store takes a lot more than just having all your eCommerce functionalities in place. To ensure the best experience for your visitors, you'll need a contact page to keep your customers happy, answer their questions, and resolve their complaints.
WPForms allows you to build fully customized contact forms. You have the option to build your form from scratch or use one of the 1000+ pre-built form templates to make this process even easier.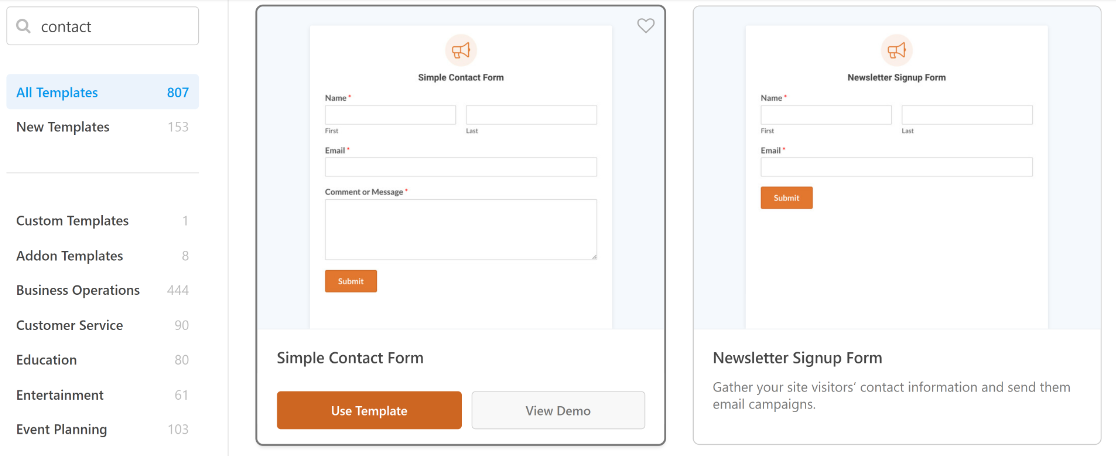 The drag and drop form builder takes your convenience to the next level by allowing you to edit your form without using any code. At all times, you can see a live preview of your form so you know exactly what you're building.
WPForms also comes with easy form styles. If you want to give your forms a visually stunning appearance, you'll love using these styling options.
You can change the color of different components of your form with a color picker or change your border field in just a few clicks.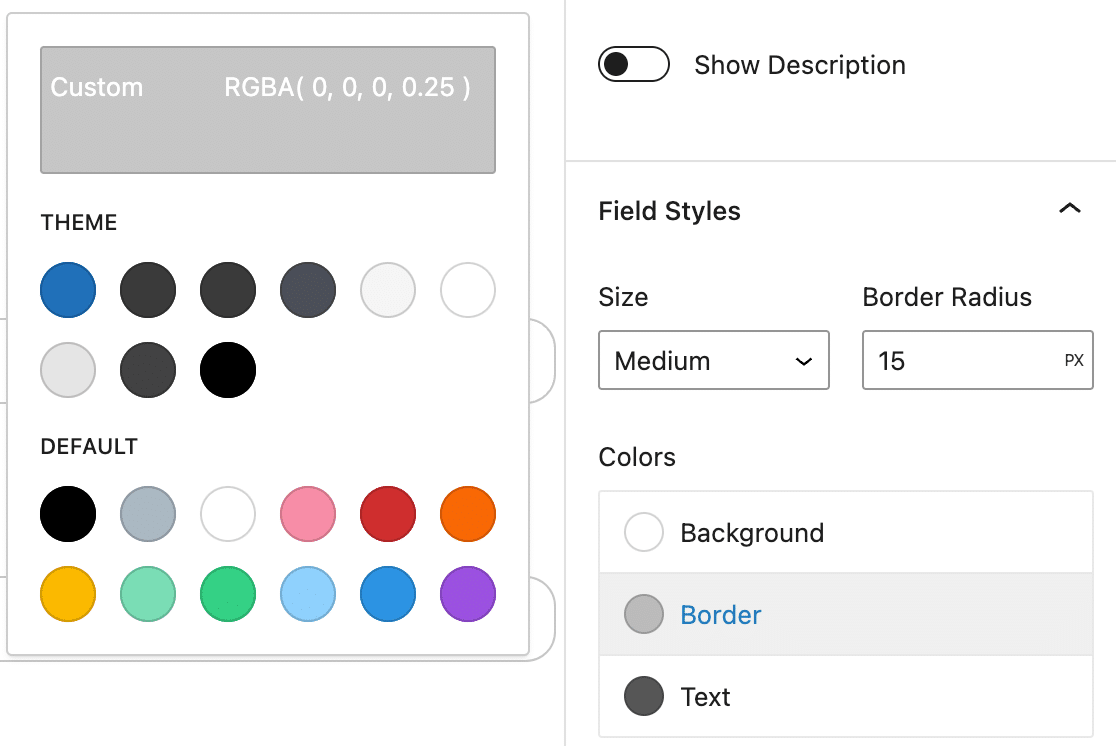 Contact forms isn't the only thing that WPForms is good for. You can also design online surveys using WPForms and learn more about your audience to provide the ideal customer experience.
Apart from that, WPForms lets you create:
WPForms also integrates with popular payment gateways. You can accept Stripe payments in all versions of the plugin (including Lite), and access additional gateways like PayPal and Square payments when you upgrade to Pro.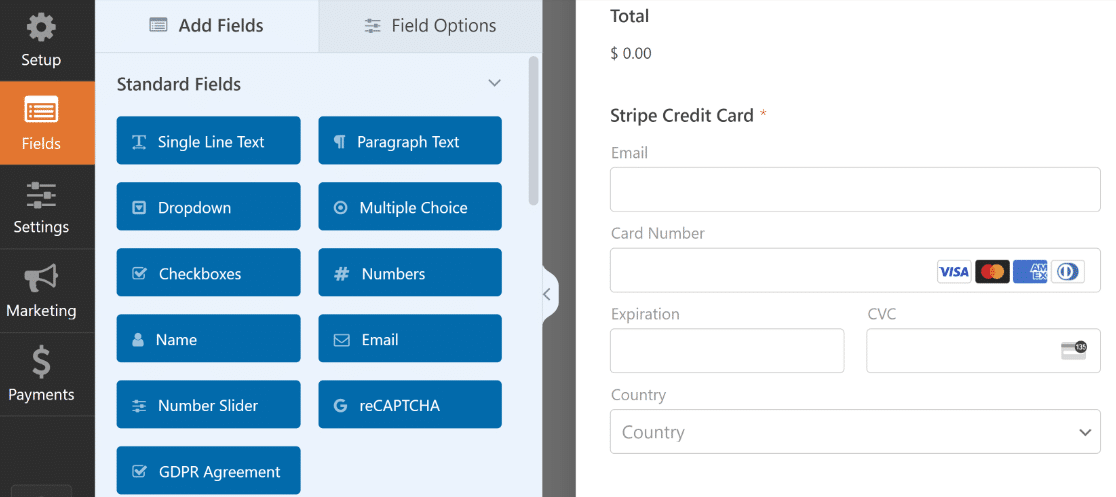 It's also one of the best GDPR plugins for WordPress because it gives you full control over the way visitor data is collected.
Plus, there are tons of useful form management features like form locations, form tags, and more. You'll also be able to see entries in your WordPress dashboard.
Overall, a contact form plugin like WPForms is essential to have on your WooCommerce store.
And what's more, you can connect WPForms to WooCommerce to send data between the plugins and automate processes.
How Much Does WPForms Cost?
Pricing for paid plans starts at $49.50 per year.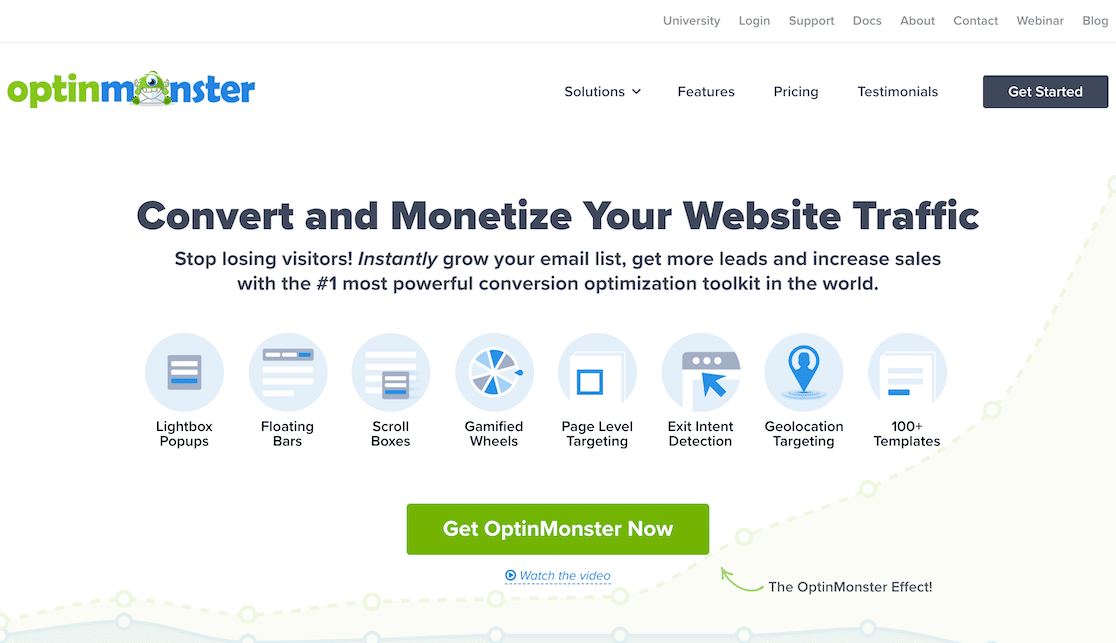 OptinMonster is one of the most well-known and effective WordPress plugins for WooCommerce stores.
It's a powerful conversion, optimization, and lead generation software that helps you convert your site visitors into subscribers and customers.
You can build all kinds of smart campaigns, including exit-intent popups, spin the wheel games, and more.

Using its robust customization options on your eCommerce website, you can reduce cart abandonment, increase sales, grow your email list, and more.
OptinMonster is equipped with a campaign editor that lets you design high-converting promotions. Without using any code, you can simply drag and drop blocks to edit your campaign's design. You can even see a preview for your campaign for both mobile and desktop devices.

One of our favorite features of OptinMonster is the display rules. This is an incredibly powerful feature that enables you to target campaigns for audiences that meet specific criteria, such as the time spent on your page, the type of device used, and so on.
Overall, OptinMonster can skyrocket your conversions and take your WooCommerce store to its full potential in terms of lead capture and sales
How Much Does OptinMonster Cost?
Pricing starts at $9 per month (billed annually).
Alternative: Thrive Leads.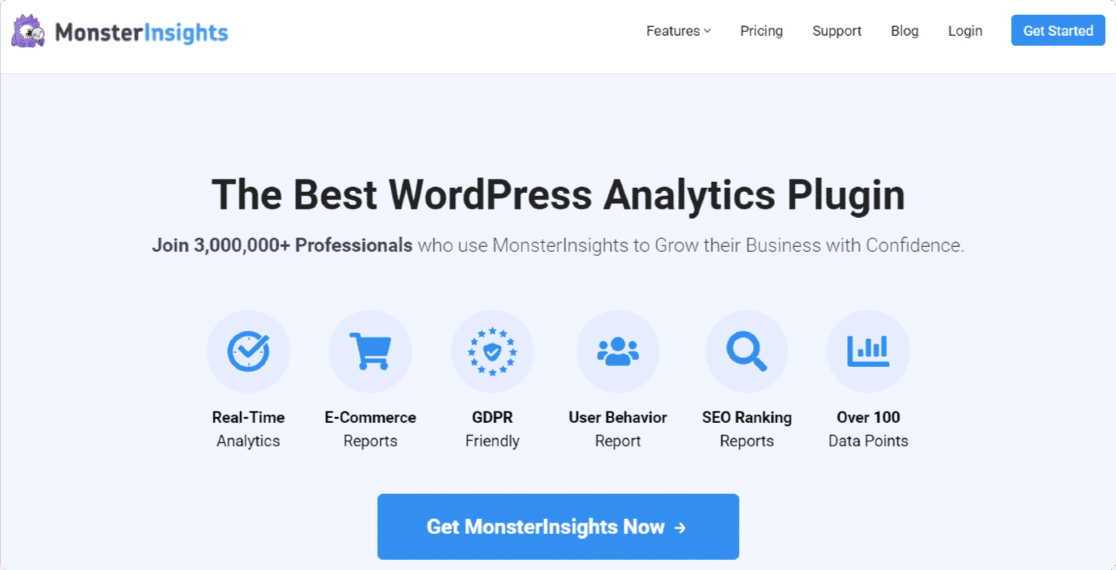 MonsterInsights is hands down the best real-time WooCommerce analytics plugin on the market.
It tracks and displays all the critical eCommerce data you need, like conversion rates, transactions, revenue, referral sources, and more.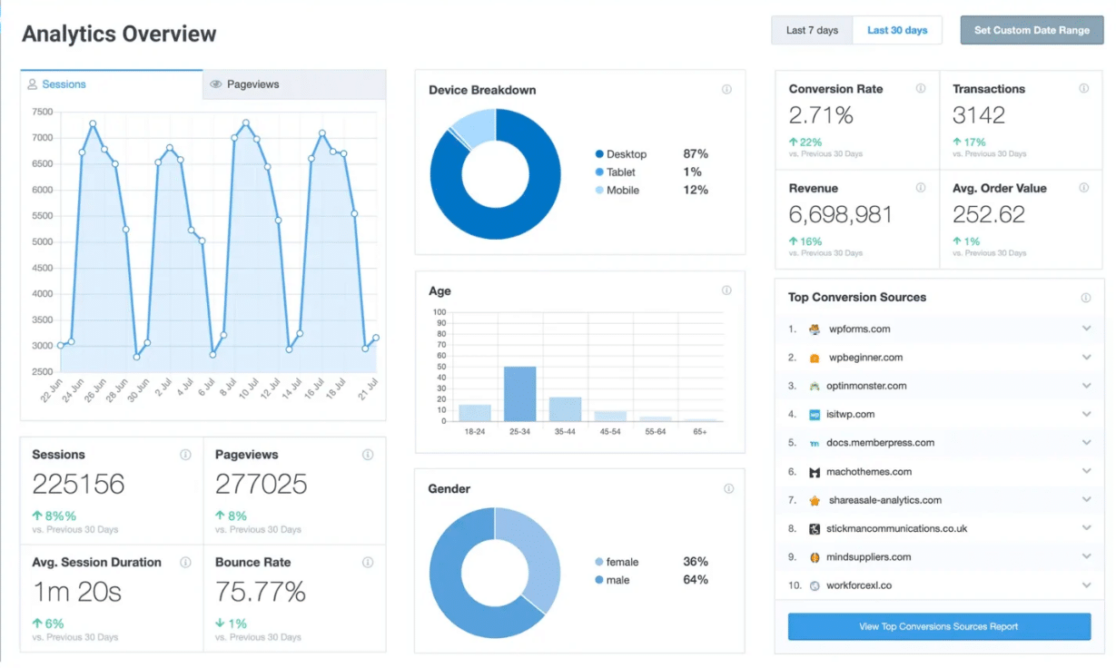 This powerful Google Analytics plugin helps you uncover how your site visitors find and use your website, so you can make informed business decisions and increase your sales.
MonsterInsights takes the pain out of finding meaningful data for your eCommerce store. We routinely use MonsterInsights to see web analytics data on our site, learn about our top performing pages and pricing plans, and make better decisions for optimizing conversions.
On top of that, MonsterInsights lets you add annotations to your analytics data to further improve your ability to track changes. This is incredibly helpful when you've made a change to your site and want to see its impact on your traffic and other key metrics.
That's why we strongly recommend using MonsterInsights to measure and ana
How Much Does MonsterInsights Cost?
Pricing for paid plans starts at $99.50 per year.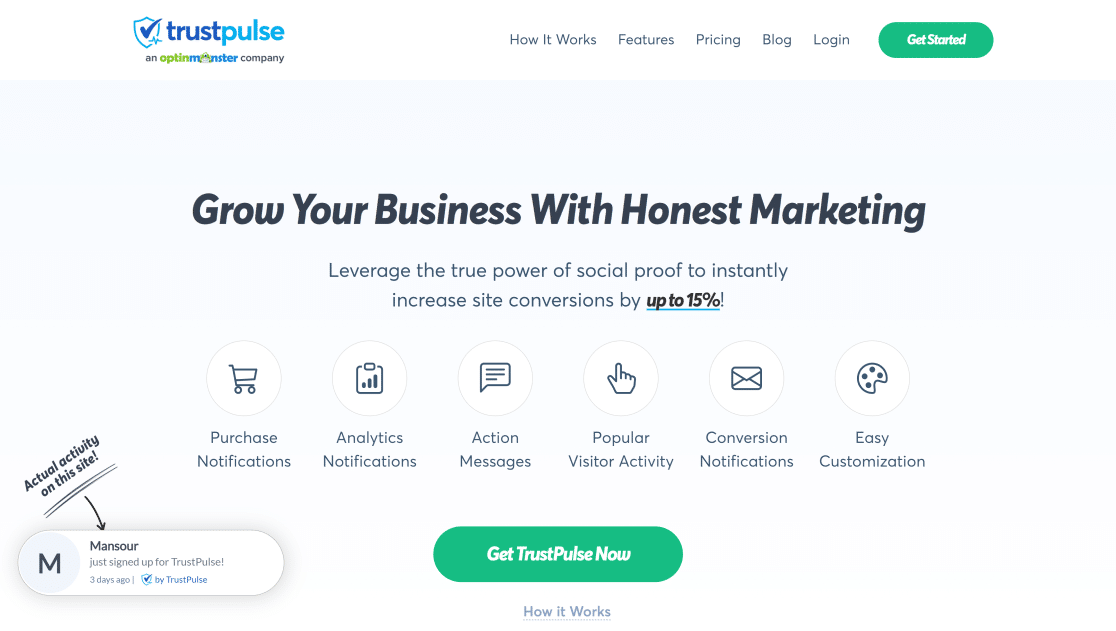 Making online purchases can be scary for some people. TrustPulse is the perfect social proof solution that lets you build trust with your site visitors by displaying real-time activity of sales purchased being completed on your site by other visitors.
You can check out our post on how to add live sales notifications for WooCommerce to learn more about how it works.
TrustPulse also offers detailed analytics reports to help you optimize your campaigns.
Although TrustPulse isn't technically a plugin, it's a vital tool for online store owners to have since customers are 92% more likely to trust recommendations from other shoppers over advertising.
Read our in-depth TrustPulse review to find out exactly how it works.
How Much Does TrustPulse Cost?
Pricing for paid plans starts at $5 per month (billed annually).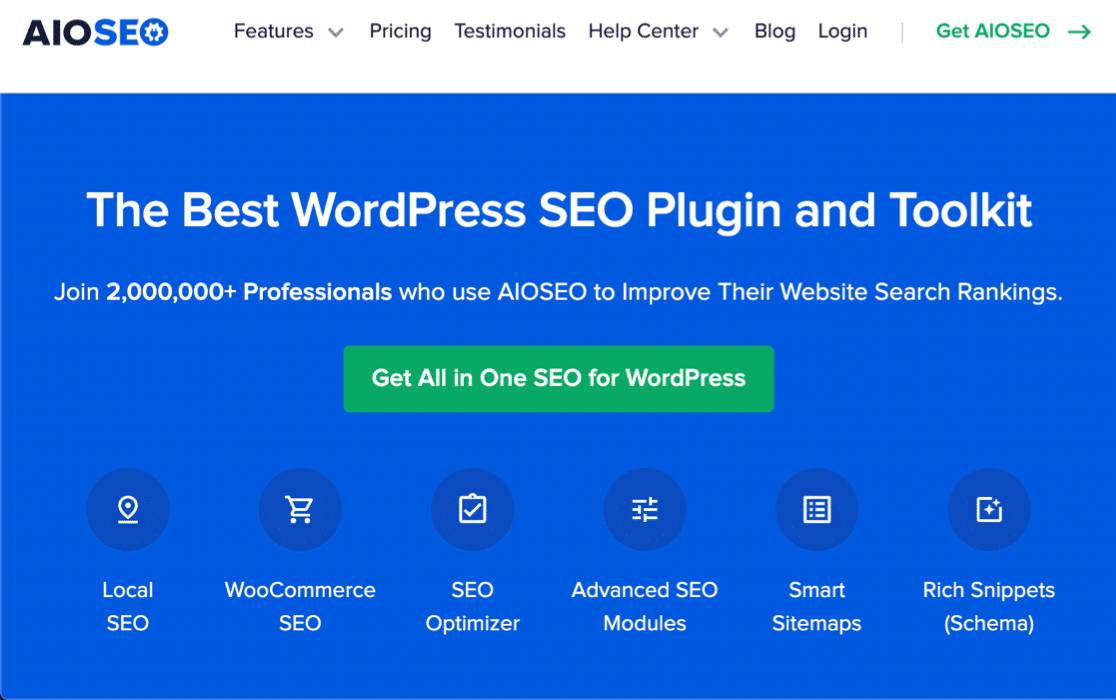 All in One SEO is a super important WooCommerce plugin because it can help you make sure people can find your store when they're looking for it. Attracting more organic traffic is key to building your WooCommerce store.
Luckily, this plugin integrates with WooCommerce in just a few clicks. So you can start using its powerful SEO features right away.
AIOSEO also allows you to add product schema for your WooCommerce products. With properly configured schema, you can improve the chances of your product listings appearing in search engine results.
Apart from that, AIOSEO gives you really handy tools for on-page optimization. It automatically audits your site so you can spot any SEO issues that need attention. Plus, it gives suggestions for keyword usage and readability as you write a post within WordPress.
One of the features that sets AIOSEO apart from other WooCommerce SEO plugins is the Link Assistant. This feature generates a detailed report, displaying all internal links on your site. It's a massively helpful tool that we also use on the WPForms site to identify linking opportunities.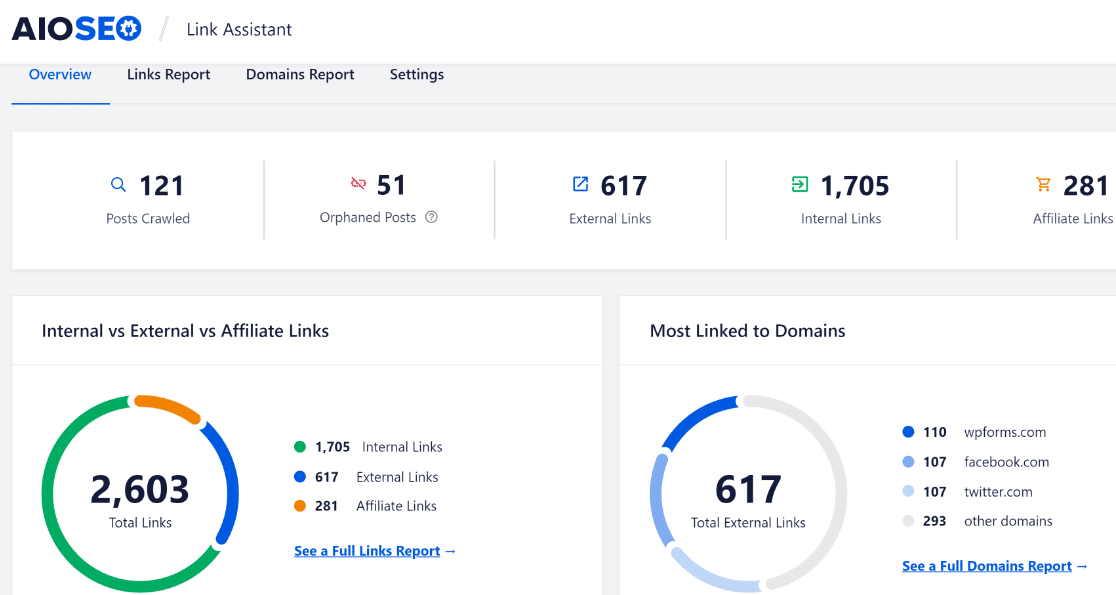 You can also do the same for your online store and determine if any important product pages need a greater number of links to rank higher on Google and be easily discovered by more customers.
How Much Does All in One SEO cost?
There's a free version in the WordPress.org repository and a paid version with premium features. The paid version starts at $49.60 per year.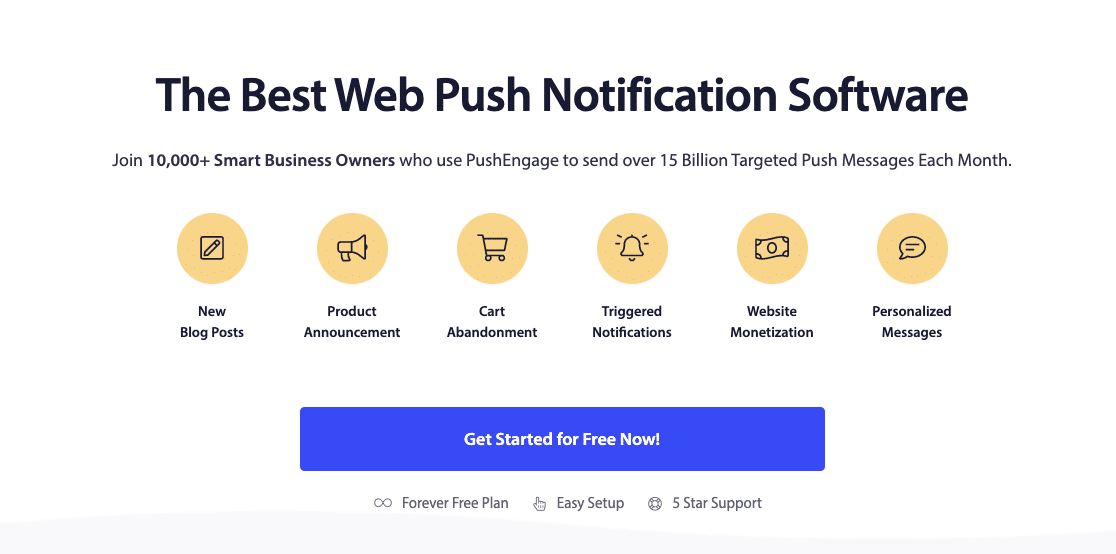 Browser notifications are an awesome tool to encourage visitors to come back to your website.
With PushEngage, you can easily set up automatic notifications to send to subscribers each time you publish a new blog post or product on your site.
You can also use PushEngage to send WooCommerce notifications. For example, if a customer picks out some products and leaves without buying, you can automatically send an abandoned cart alert to boost your conversion rate.
How Much Does PushEngage Cost?
There's a free version of PushEngage that lets you add up to 2,500 subscribers. Paid plans start at $9 per month.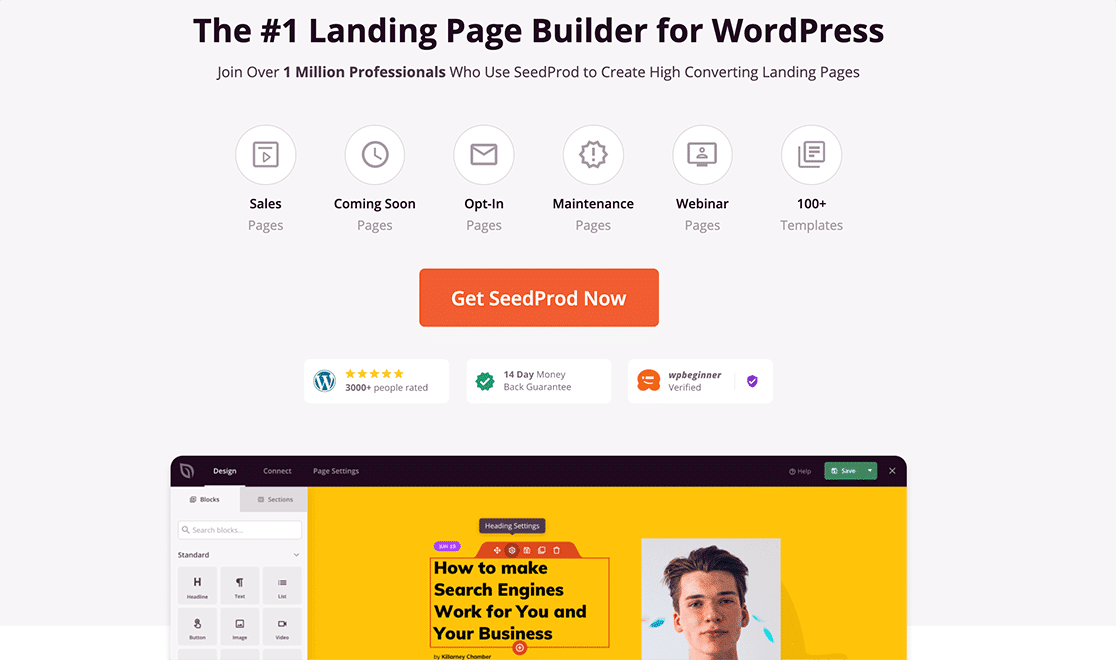 SeedProd is the best drag-and-drop page builder for WordPress and it comes with over 100 professionally designed templates to get you started quickly.
With this plugin, you can easily build beautiful landing pages for your WooCommerce store, including product pages, email optin pages, coming soon pages, maintenance mode pages, and much more.
SeedProd also offers custom WooCommerce blocks like Add to Cart Button, Shopping Cart, Checkout, and Product Grids. This makes it easy to customize the WooCommerce checkout page and boost conversions on your product-focused landing pages.
How Much Does SeedProd Cost?
SeedProd starts at $31.60 per year. To access WooCommerce support, you'll need the Pro plan, which starts at $159.60 per year.
Alternative: Thrive Architect or Elementor.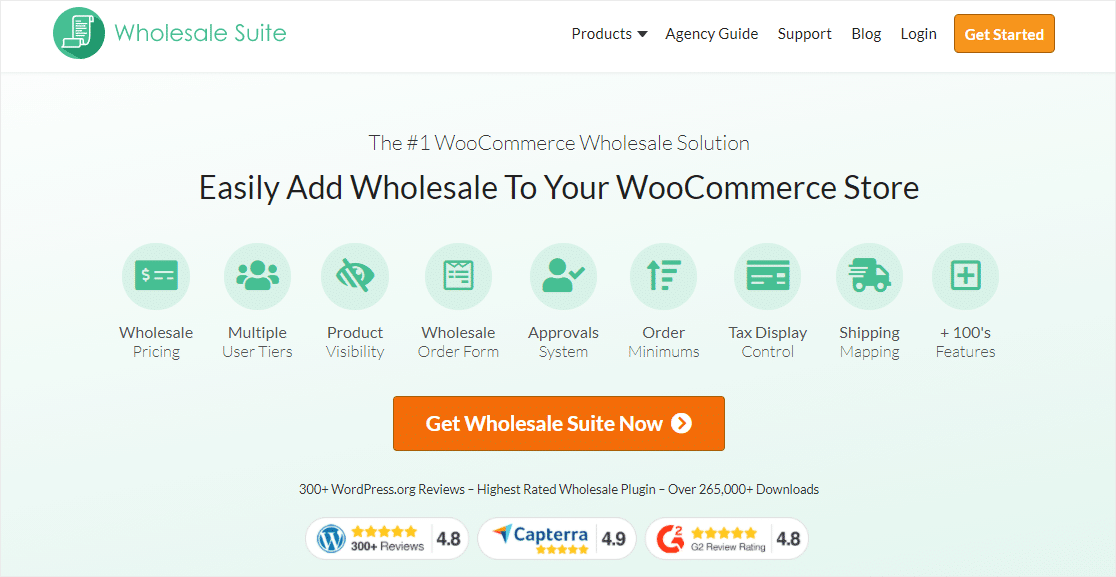 The Wholesale Suite is actually a bundle of 3 plugins: Wholesale Prices, Wholesale Order Form, and Wholesale Lead Capture. Together, they let you easily set up wholesale pricing for your eCommerce store and manage large orders.
This is super helpful if you're selling anything in bulk and want to add a discount for customers who buy at a certain volume. With Wholesale Prices, you can automatically show wholesale pricing when certain quantities are selected.
Wholesale Order Form lets you build a simple wholesale order form where customers can easily and efficiently purchase their best-selling items. And Wholesale Lead Capture will help you sign distributors up for your wholesaler program so you can approve them to buy at a discount and sign them up to your email list.
Check out this tutorial on how to add wholesale pricing in WooCommerce for details on how to do this easily.
How Much Does Wholesale Suite Cost?
Pricing for the Wholesale Suite Bundle starts at $148.50 per year.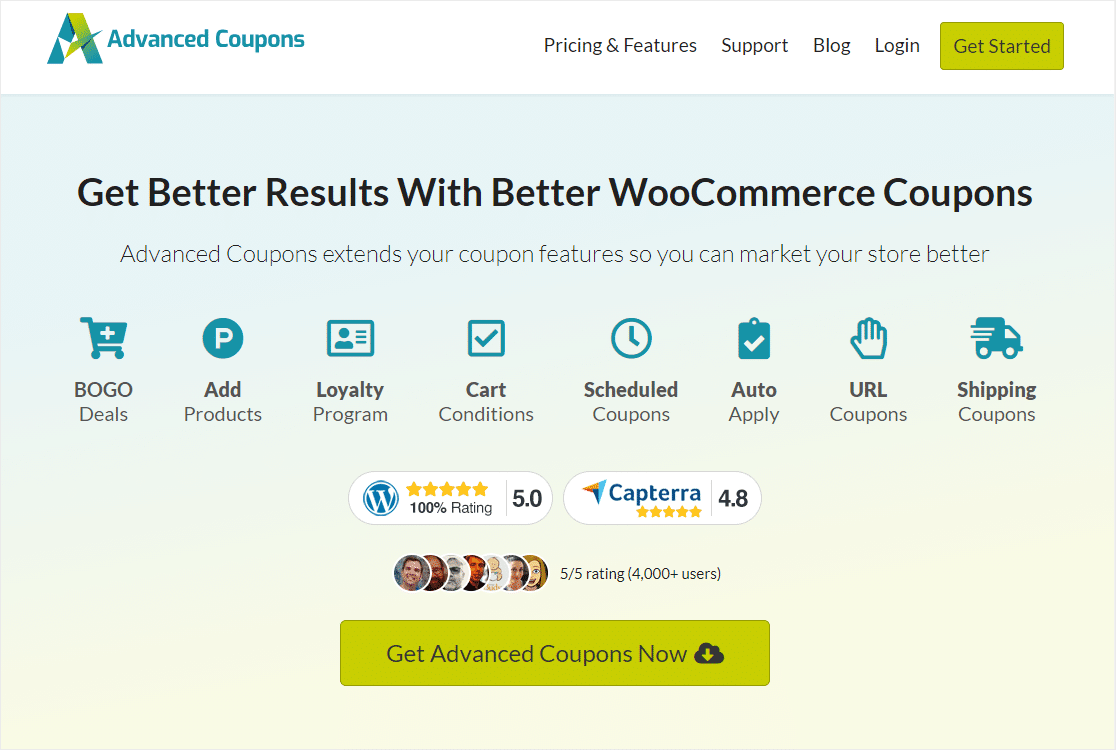 Advanced Coupons solves the problem of WooCommerce's extremely limited coupon functionality.
This fantastic coupon code plugin integrates perfectly with WooCommerce. It lets you use BOGO offers, scheduled coupons, shipping coupons, auto-applied coupons, coupon URLs, and other excellent features.
Plus, Advanced Coupons is super easy to use. It's a breeze to get coupons up and running on your eCommerce site using this plugin.
How Much Does Advanced Coupons Cost?
There's a free version of Advanced Coupons. Paid plans start at $47.60 per year.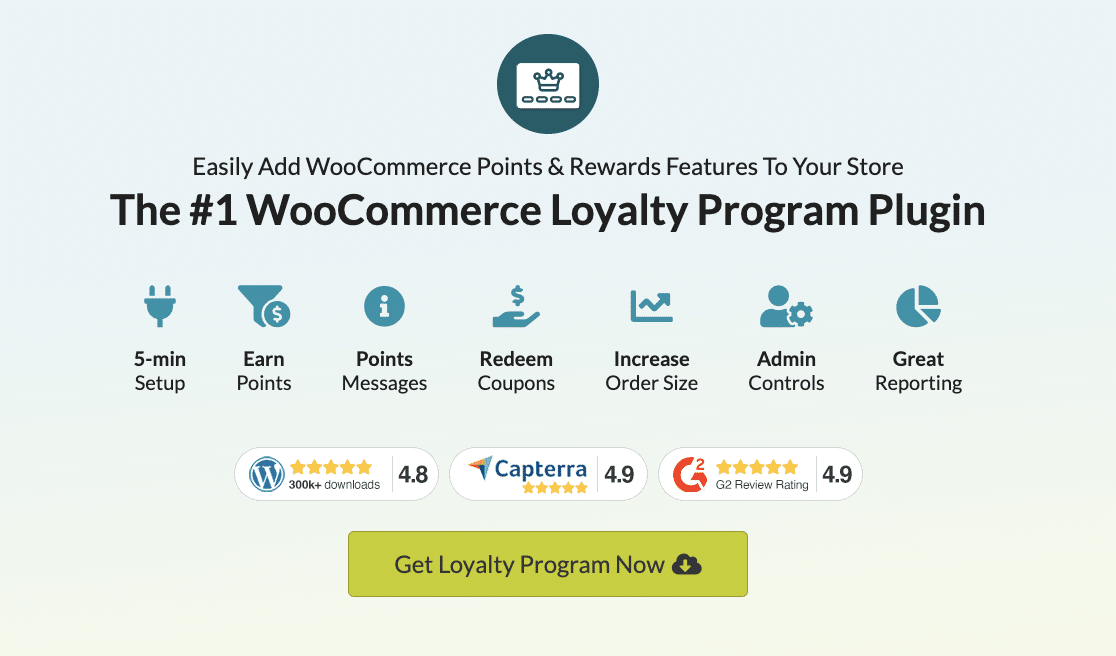 Advanced Coupons is worth mentioning on its own, but to expand your coupon marketing strategy further, you'll also want to install its addons, Loyalty Program and Advanced Gift Cards.
Signing your customers up for a loyalty program encourages them to keep coming back to your eCommerce site. Repeat customers are a reliable source of revenue, so rewarding your more dedicated shoppers will definitely pay off.
Gift cards not only give your customers a new way to spend money on your site but can also help with word-of-mouth marketing. Your loyal customers can purchase gift cards for their friends and family to help send more business your way.
How Much do Loyalty Program and Advanced Gift Cards Cost?
Loyalty Program and Advanced Gift Cards can be purchased separately, starting at $63.60 and $47.60 per year, respectively. For a better deal, bundle them with Advanced Coupons and purchase all 3 plugins starting at $95.20 per year.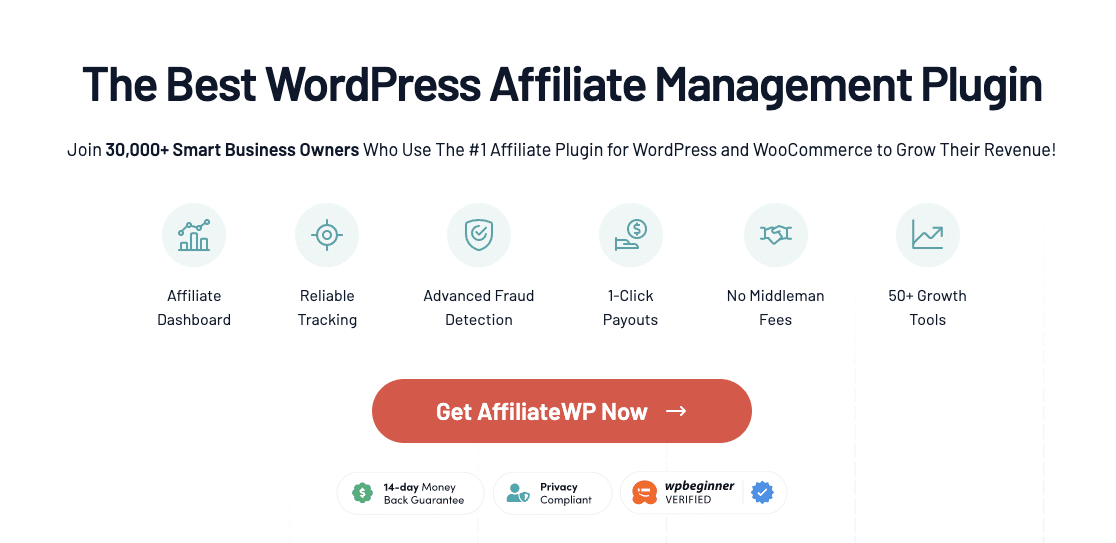 Start growing your sales with the power of referral marketing using AffiliateWP. It's the best all-in-one affiliate program plugin for WordPress.
Within minutes, you can set up an utterly self-hosted affiliate program for your eCommerce store and avoid the transaction fees and restrictions associated with 3rd party affiliate platforms.
AffiliateWP lets you register new affiliates and manually or automatically approve them. It also enables you to create a custom affiliate portal and dashboard so your partners can easily manage their accounts, access vanity coupon codes, links, and banners, track their payments, and more.
You can even integrate AffiliateWP with WPForms to track form referrals. To learn more about this top WooCommerce plugin, see our full AffiliateWP review.
How Much Does AffiliateWP Cost?
AffiliateWP starts at $149.50/year.
Alternative: Easy Affiliate.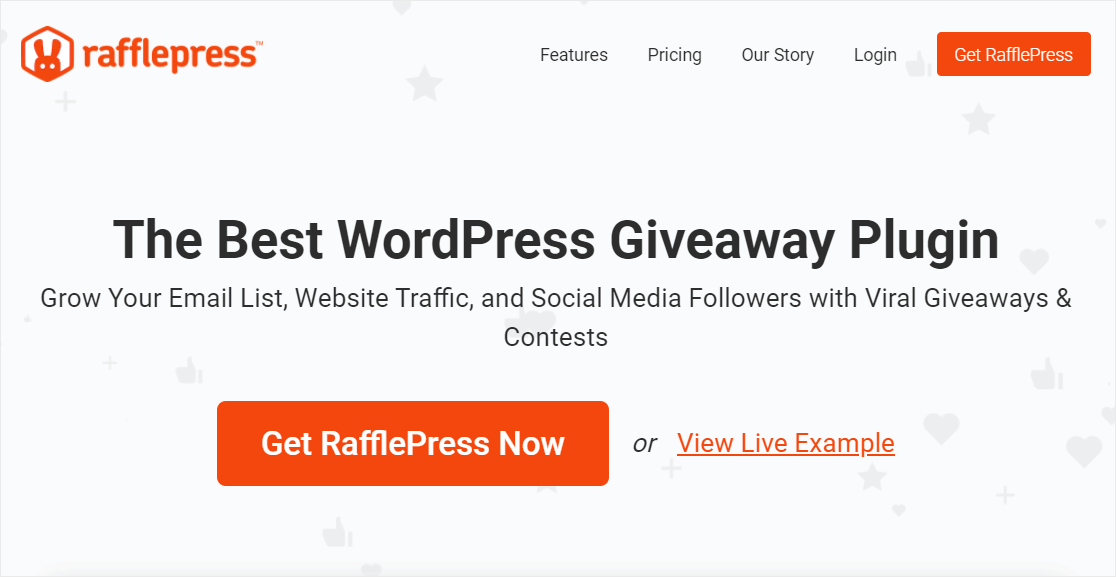 Running an online giveaway is a great way to drive more traffic to your site, build brand awareness, grow your social media following, and even generate sales.
RafflePress is the best giveaway plugin for WordPress. It comes with a drag and drop giveaway builder and pre-made giveaway templates so you can create an optimized campaign in minutes.
Plus, RafflePress has bonus giveaway actions to help your store reach its goals. This lets you reward participants with extra entries for performing specific actions like referring a friend, subscribing to your newsletter, following you on social media, visiting a page, and much more.
How Much Does RafflePress Cost?
RafflePress has a free version available in the WordPress.org repository. The pro version starts at $31.60 per year.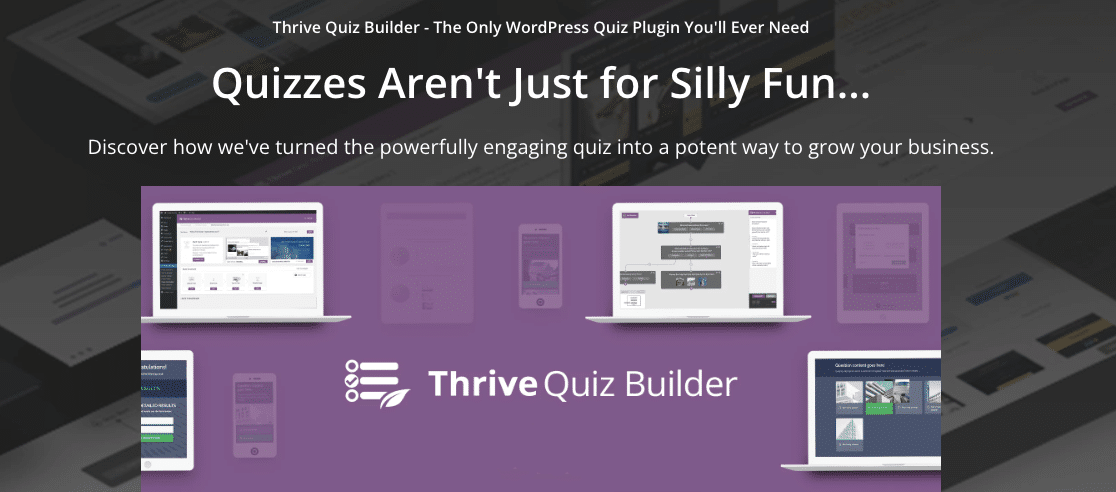 Quizzes might not seem essential to an online store, but they can actually be super valuable for driving sales.
With Thrive Quiz Builder, you can create quizzes that help you learn what your customers like, segment them for marketing campaigns, and show them more products they'll be interested in.
Plus, quizzes are a fun way to engage your site visitors so they interact with your eCommerce store and spend more time on it. Engaged visitors are more likely to become paying customers.
How Much Does Thrive Quiz Builder Cost?
You can purchase Thrive Quiz Builder alone starting at $99 per year, or get the entire Thrive Suite of plugins starting at $299 per year.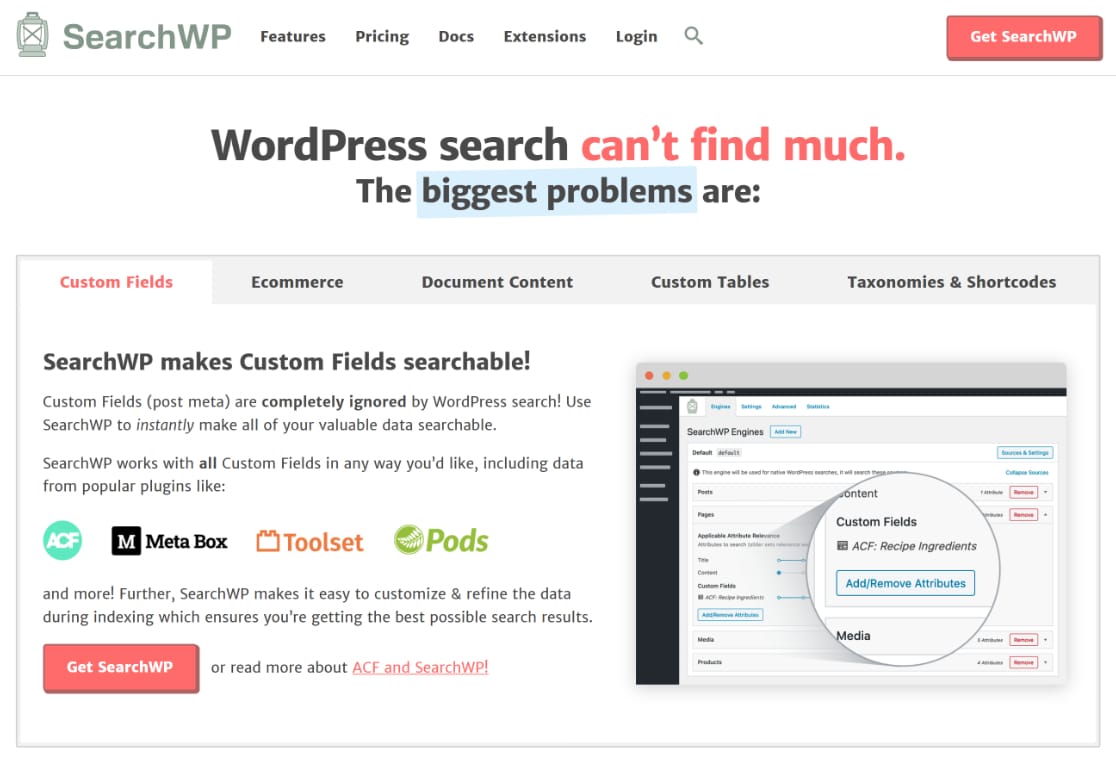 Particularly if you have a large eCommerce store with hundreds or thousands of products, it's essential to ensure customers can find what they're looking for.
Unfortunately, the default WordPress search feature doesn't work very well, which is why you'll want a plugin like SearchWP to improve it. SearchWP dramatically improves the accuracy of search results, allowing your customers to find exactly the products they're looking for quickly on your WooCommerce store.
This will help you avoid missing out on sales because customers can't find the products they want.
How Much Does SearchWP Cost?
Pricing starts at $99 per year.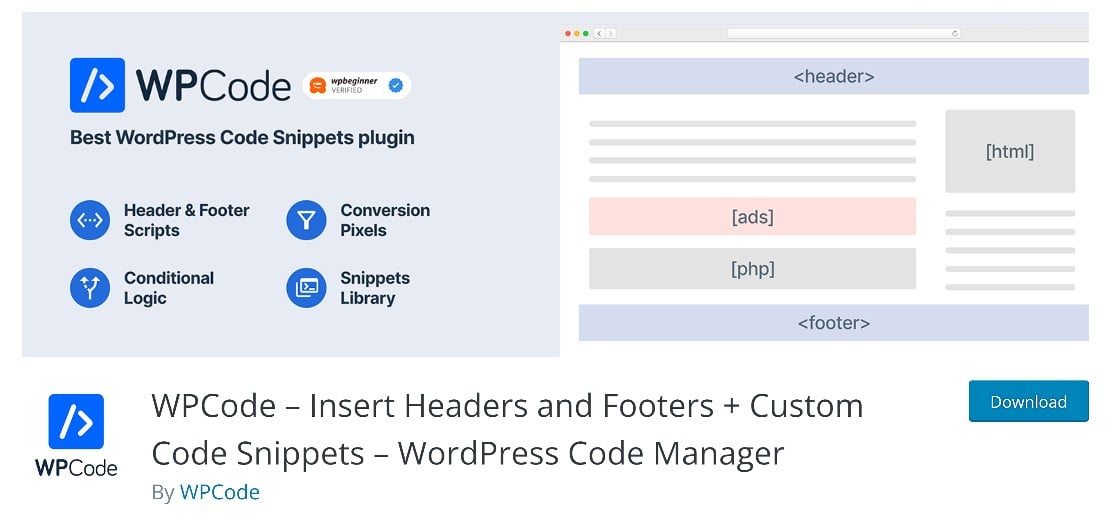 WPCode is an easy to use plugin that lets you add custom code to your site. It's ideal for anyone who wants to make customizations to their WordPress site without advanced technical skills.
For WooCommerce sites, WPCode is especially useful for adding tracking code snippets such as Facebook Pixels or TikTok Pixels. This can help you collect customer data and improve your marketing strategy.
How Much Does WPCode Cost?
WPCode is available for free in the WordPress.org repository. Advanced features are available with paid plans starting at $49 per year.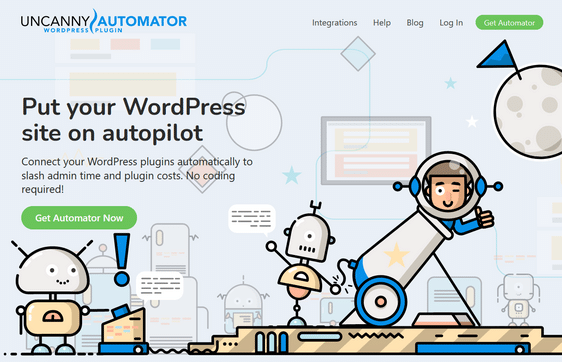 Uncanny Automator lets you put your entire WooCommerce store on autopilot with automation.
With this powerful plugin, you create "recipes" so that when a specific action takes place, Another action happens automatically somewhere else. For example, when a user visits a product sample page, Uncanny Automator can email them a special offer to convert to the premium product.
Creating recipes is super easy; no coding required! Plus, Uncanny Automator integrates with popular plugins like WooCommerce, WPForms, MemberPress, LearnDash, Easy Digital Downloads, and many more.
How Much Does Uncanny Automator Cost?
There's a free version in the WordPress.org repository and the premium version starts at $149 per year.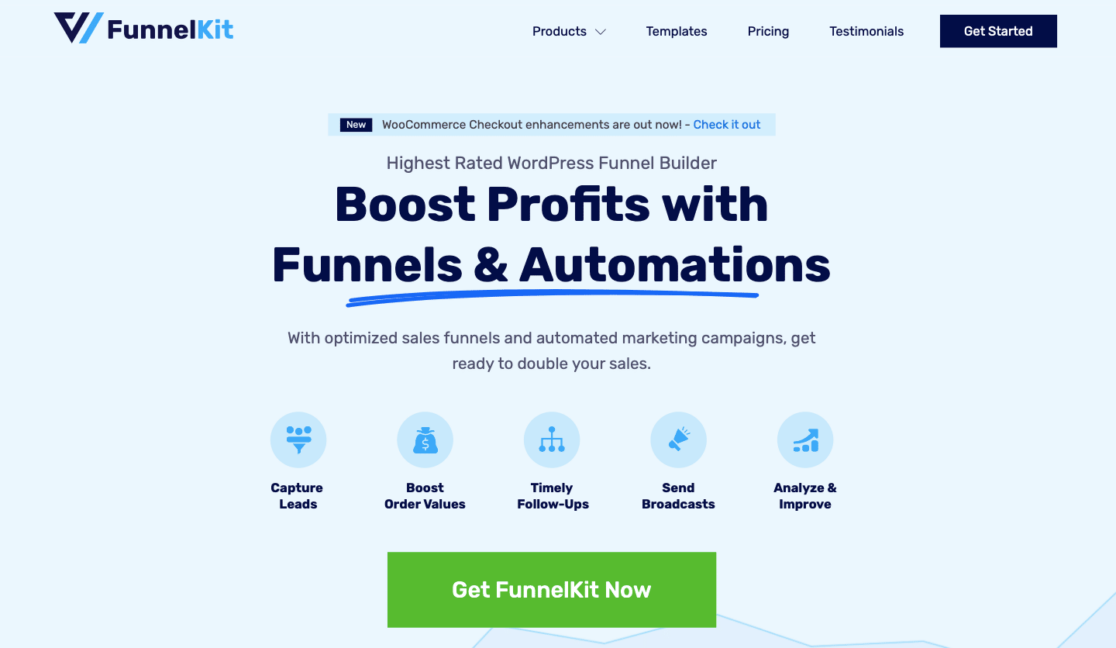 Your marketing efforts shouldn't stop once a customer clicks Add to Cart. With FunnelKit Builder, you can create optimized sales funnels to earn more revenue from every customer with cart bumps, 1-click upsells, and more.
Additionally, FunnelKit Automations helps you make email marketing a breeze. It enables you to create detailed profiles for your contacts, including their order histories and engagement analytics.
You can also use it to build automated email marketing campaigns with audience segmenting and built-in A/B testing.
Together, these plugins not only help you capture more leads and sales but do it without you having to lift a finger once you set them up.
How Much Does FunnelKit Builder and Automations Cost?
FunnelKit Builder pricing starts at $99.50 per year. To use Automations, you'll need to upgrade to the Professional Plan, which starts at $249.50 per year.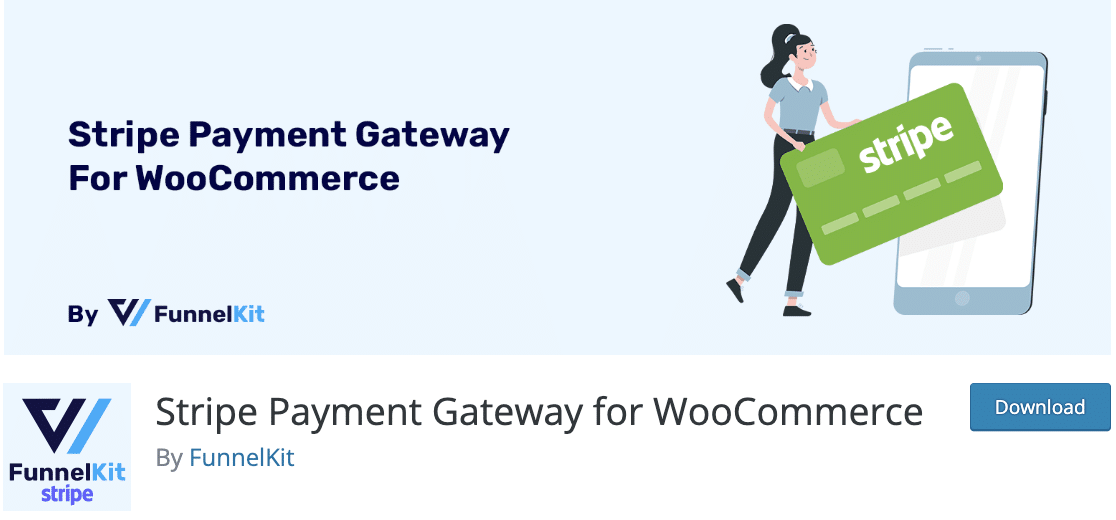 Stripe is one of the top payment gateways for eCommerce, but you'll need a plugin if you want to use it WooCommerce. Fortunately, Stripe Payment Gateway for WooCommerce will let you connect your Stripe account to your online store and start accepting credit cards with minimal effort.
On top of connecting your WordPress site to Stripe, this plugin also lets you offer Apple Pay and Google Pay for express checkout options. Plus, it's maintained by the same team as FunnelKit, so you can expect it to work seamlessly with your cart upgrade campaigns and automations.
How Much Does FunnelKit Stripe Cost?
The Stripe Payment Gateway for WooCommerce plugin is free, but standard Stripe transaction fees apply.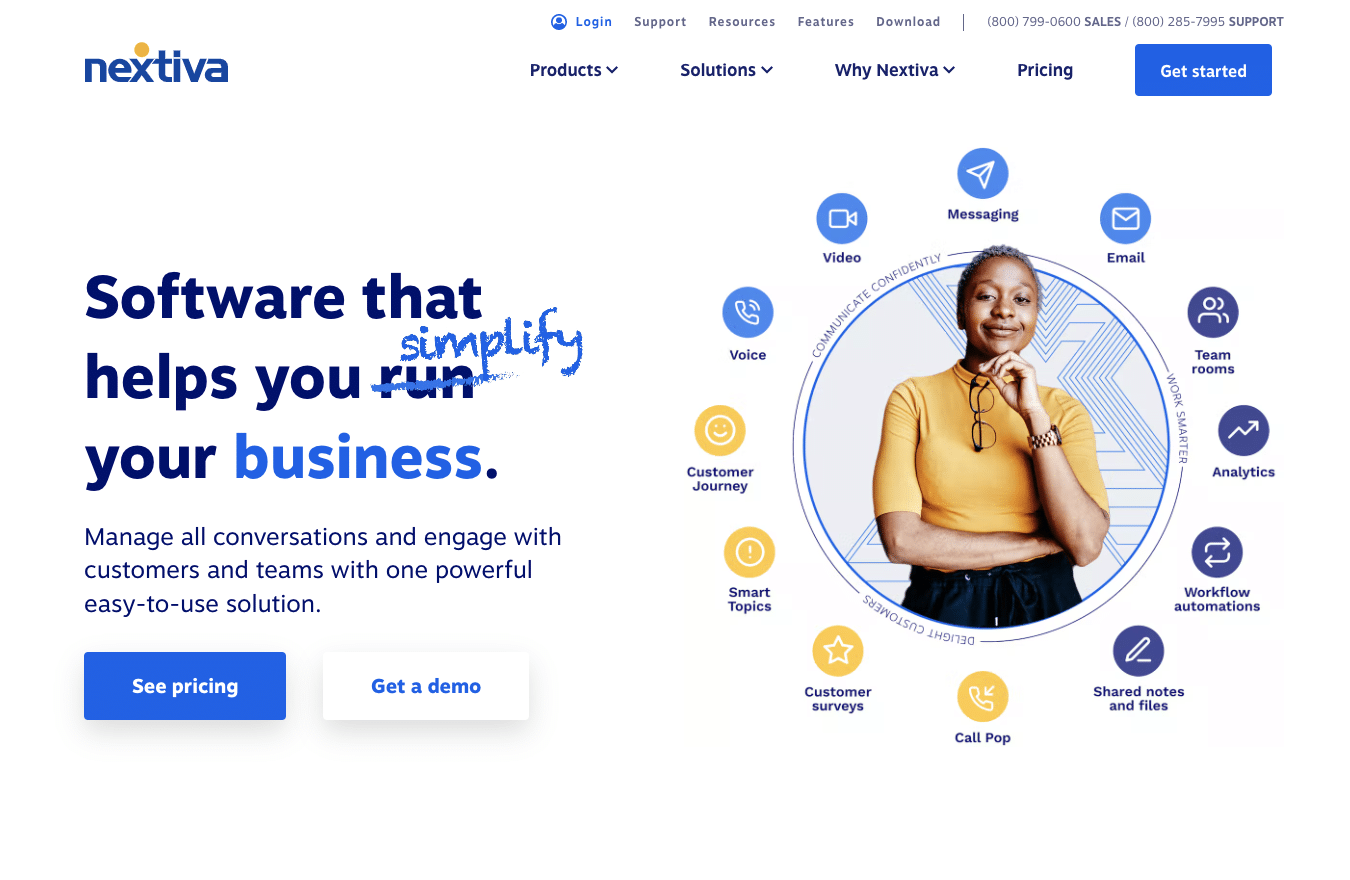 A contact form is essential for letting customers reach out to you, but if you offer product support or other services, you might want to provide other means of communication, too.
Nextiva is a virtual phone and contact center platform that you can connect to WordPress. You can use it to take calls from customers and can even route calls to the best person to help each caller.
How Much Does Nextiva Cost?
Pricing starts at $18.95 per user per month.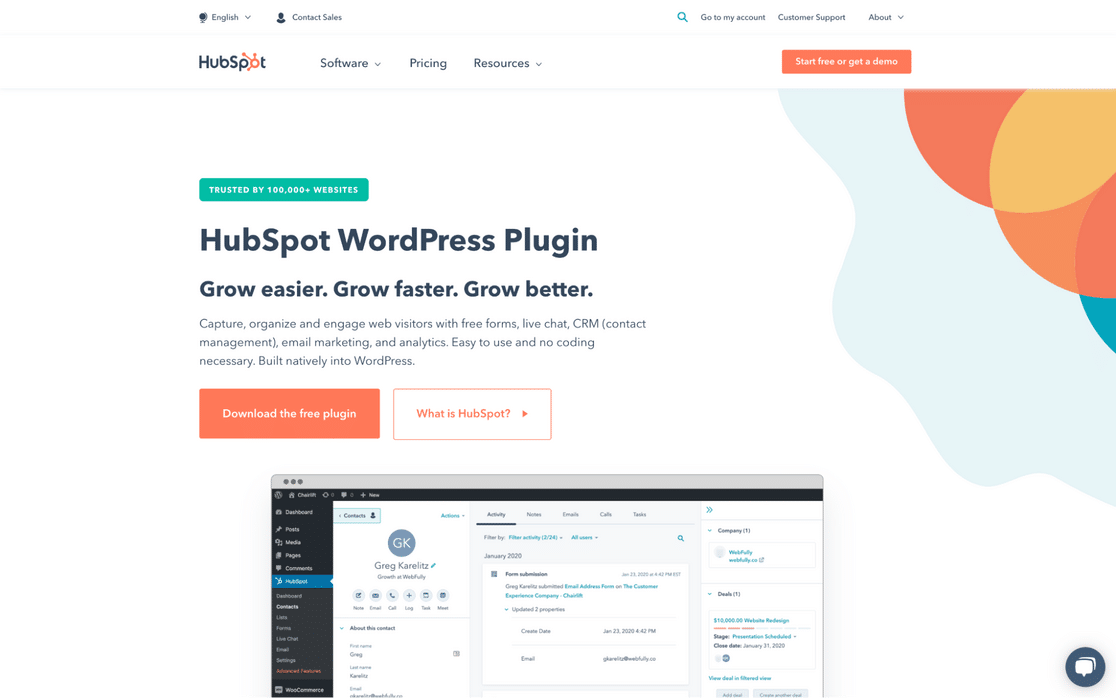 The HubSpot WordPress plugin comes with many powerful marketing and sales tools to help you grow your online store.
Its well-known CRM and contact management system will help you keep track of your customers and every interaction they've had with your website. Plus, it comes with other features like email marketing, marketing automation, forms and popups, and live chat.
HubSpot is super easy to use, with no coding required, so you can start capturing, organizing, and engaging your website visitors quickly.
How Much Does HubSpot Cost?
Free. Premium versions start at $18 per month.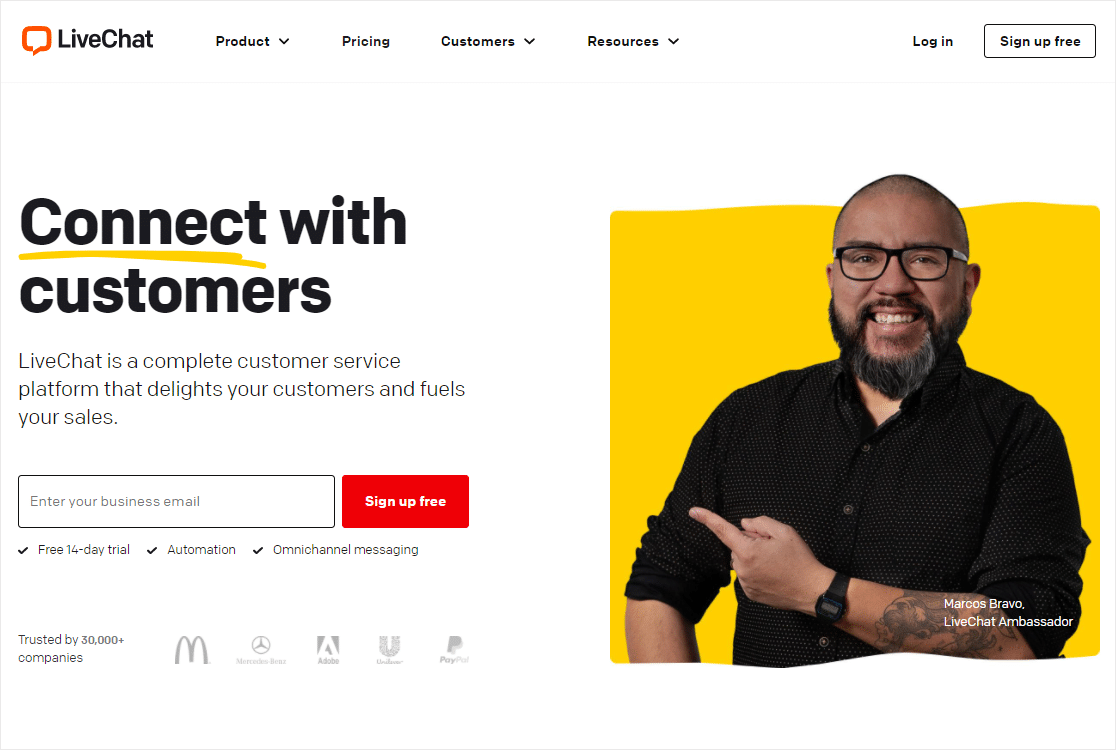 A fantastic live chat software to use with your WooCommerce site is LiveChat.
LiveChat lets you give customers instant answers to their questions while they are browsing your eCommerce store. This helps you convert visitors into customers by finishing their purchase before they abandon their shopping carts. It has a lot of helpful integrations including Facebook Messenger and popular CRM software.
How Much Does LiveChat Cost?
LiveChat pricing starts at $16 per month per agent.

Omnisend is an digital marketing platform and CRM that is specifically made with eCommerce sites in mind. You can easily connect it to your WordPress site using the Email Marketing for WooCommerce by Omnisend plugin.
Omnisend enables you to create email marketing campaigns, SMS campaigns, and web push notifications. You can create automations to send customer onboarding campaigns, cart abandonment emails, and more.
The plugin lets you manage all of these features and more from your WordPress dashboard, so you don't even have to leave your site.
How Much Does Email Marketing for WooCommerce by Omnisend Cost?
The Email Marketing for WooCommerce by Omnisend plugin is free. You will need an Omnisend account to use it. A limited free plan is available, and paid plans start at $16 per month.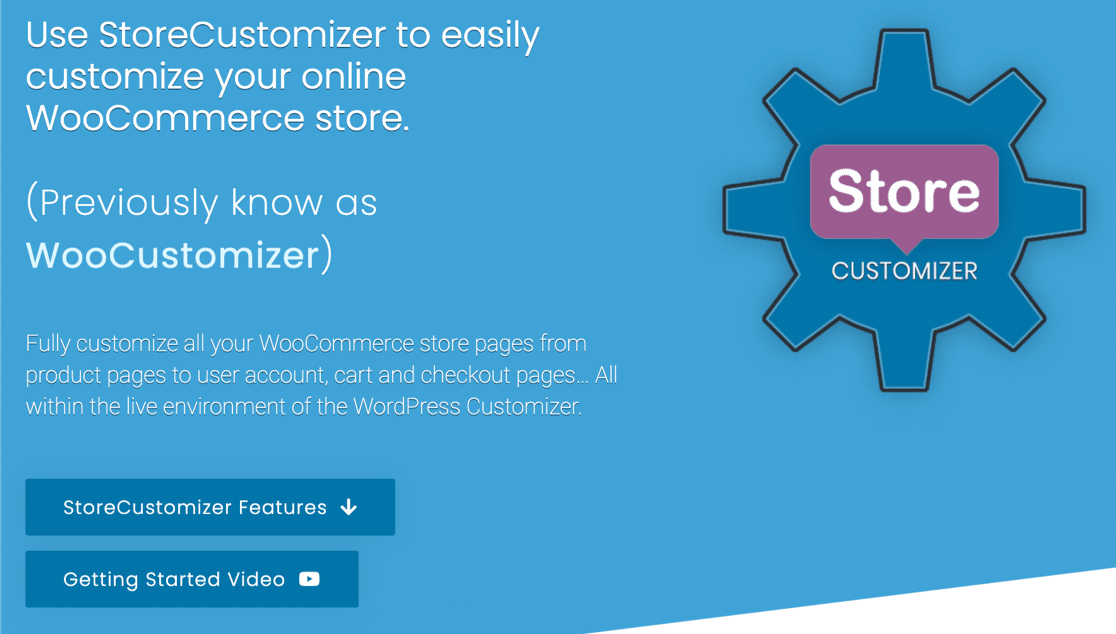 StoreCustomizer is a powerful WooCommerce plugin that lets you easily change the design, labels, and button text across your WooCommerce store without needing to know HTML or CSS.
It adds controls for the number of products per page, and lets you remove clutter from your shop and product pages. For example, you can check 1 box to remove tags or SKUs. You can even customize the default tabs and add more tabs if you want to.
The design tools integrate with the WordPress Customizer so you can easily change the way your store looks using 1 panel.
The Pro version of StoreCustomizer adds tons more tools, including:
A quick view popup for all products
Custom thank you pages
Ajax store search
Catalogue mode to let users browse without buying
How Much Does StoreCustomizer Cost?
There's a free version, and pricing starts at $49 for StoreCustomizer Pro.
Alternative: WooCommerce Customizer.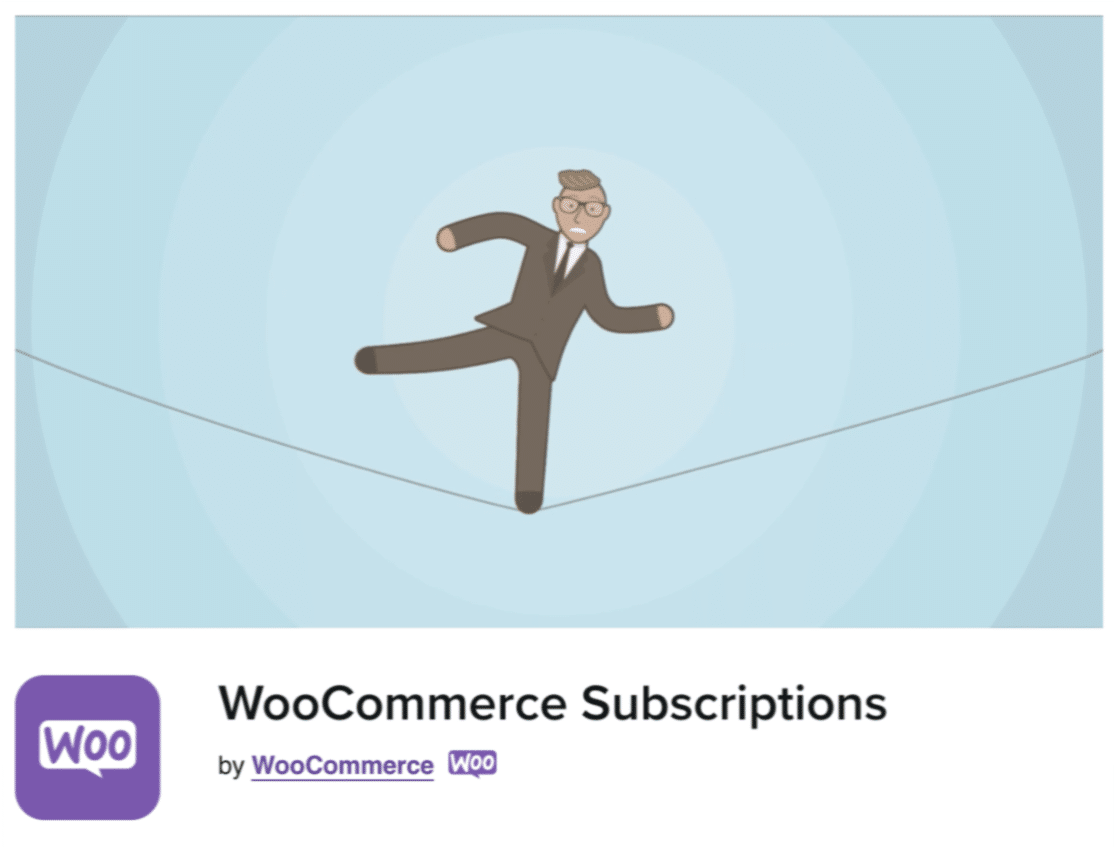 A subscription-based store can be a great choice if you want to boost your eCommerce store's sales and overall revenue.
WooCommerce Subscriptions lets your customers subscribe to your products or services by paying on a weekly, monthly, or yearly basis, so you can earn consistent recurring income.
Additionally, you can add sign up fees or offer free trials.
How Much Does WooCommerce Subscriptions Cost?
Pricing starts at $199 per year.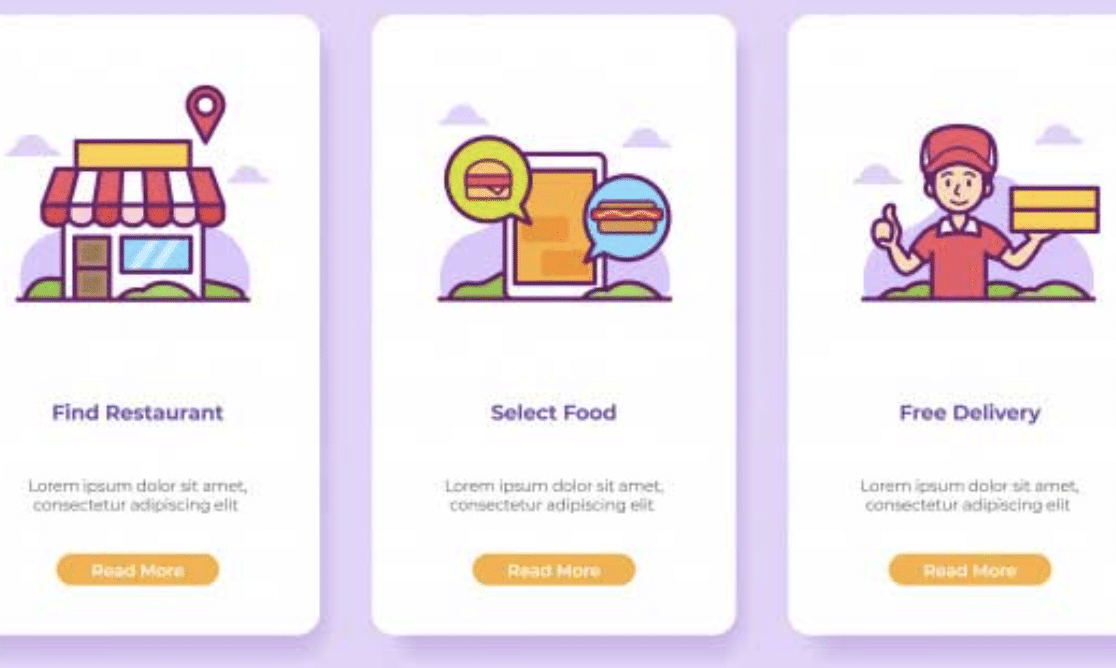 The PickPlugins Product Slider is a must-have for a beautiful looking eCommerce store that keeps shoppers engaged.
It lets you easily create product sliders or carousels and add them anywhere on your WooCommerce store. Customers will be able to easily flip through your items to discover new products.
This product slider plugin is completely responsive, so it works beautifully on mobile devices, too.
How Much Does WooCommerce Product Slider Cost?
There is a free version in the WordPress.org plugin repository, or you can upgrade to premium version starting at $19 per year.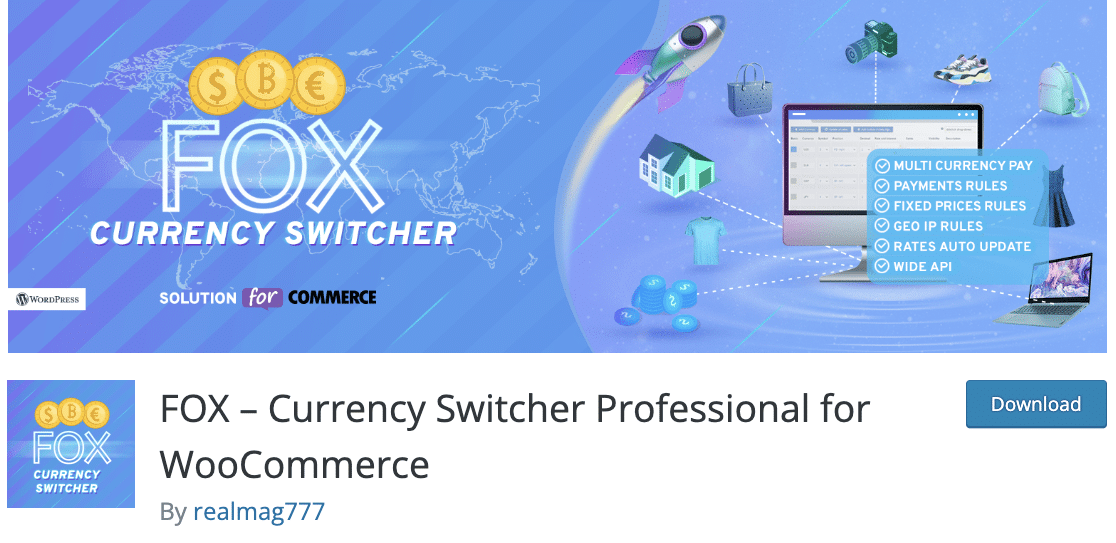 FOX Currency Switcher (formerly WooCommerce Currency Switcher, or WOOCS) is a free WordPress plugin that lets your customers easily switch currencies so they can get real-time conversion rates in their local currency. You can pair with a translation plugin to make WooCommerce multilingual.
You can add the currency switcher in just a few clicks by using a shortcode or a sidebar widget, and continue to use WooCommerce's multiple payment gateways.
In addition, you can set this plugin up to automatically change the currency based on the shopper's location so you can customize and automate the shopping experience.
How Much Does FOX Current Switcher Professional for WooCommerce Cost?
FOX Currency Switcher is free but requires a payment gateway to process transaction. Standard payment gateway transaction fees apply.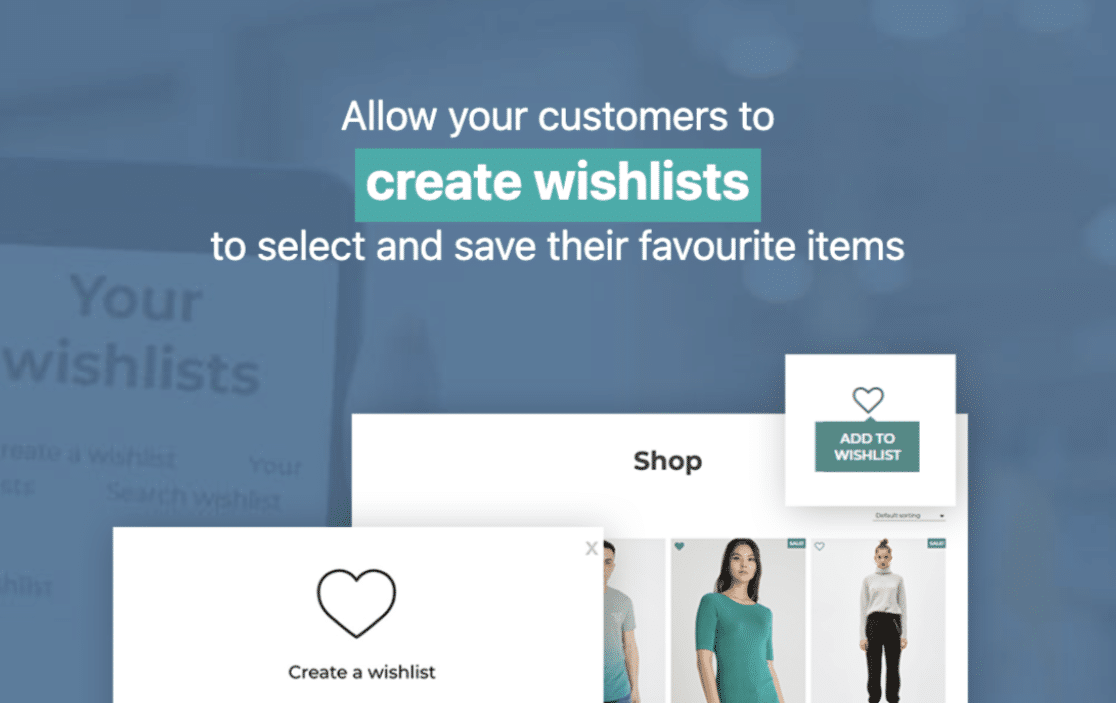 With YITH WooCommerce Wishlist, your shoppers can create and share wishlists so their loved ones know exactly what to get them for birthdays, holidays, weddings, or just because. It's similar to the "Favorites" list that you can find on larger eCommerce stores, like Amazon.
Customers can also keep a list of things they want to buy from you in the future. And you can use that information to reach out to shoppers when there are sales on their wishlist items, securing sales.
How Much Does YITH WooCommerce Wishlist Cost?
Pricing for paid plans starts at $94.99 per year.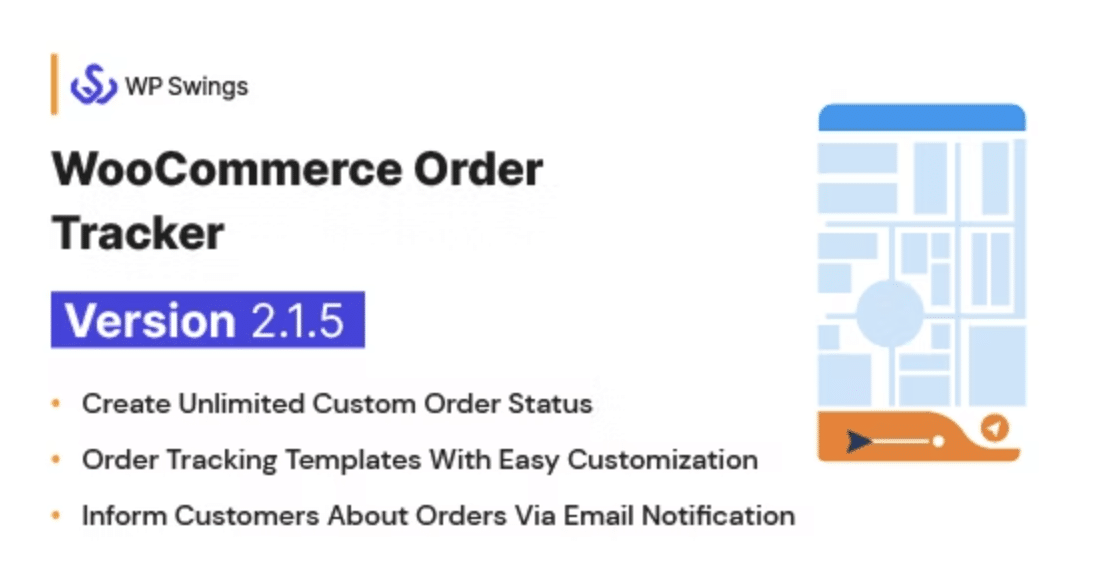 Shipping is a necessary part of selling physical products online, but it's also a pain point for many customers. Order Tracker lets your customers interactively track their orders with USPS, Canada Post, and FedEx, which takes some of the uncertainly out of the process.
With this plugin, customers will never be confused about where their order is or when it's going to arrive. You can even create your own custom order statuses to keep your buyers posted on when they can expect their delivery date.
Not only does this provide a great user experience for your customers, but it can also cut down on the number of queries you receive about order statuses.
How Much Does WooCommerce Order Tracker Cost?
WooCommerce Order Tracker is available for $29.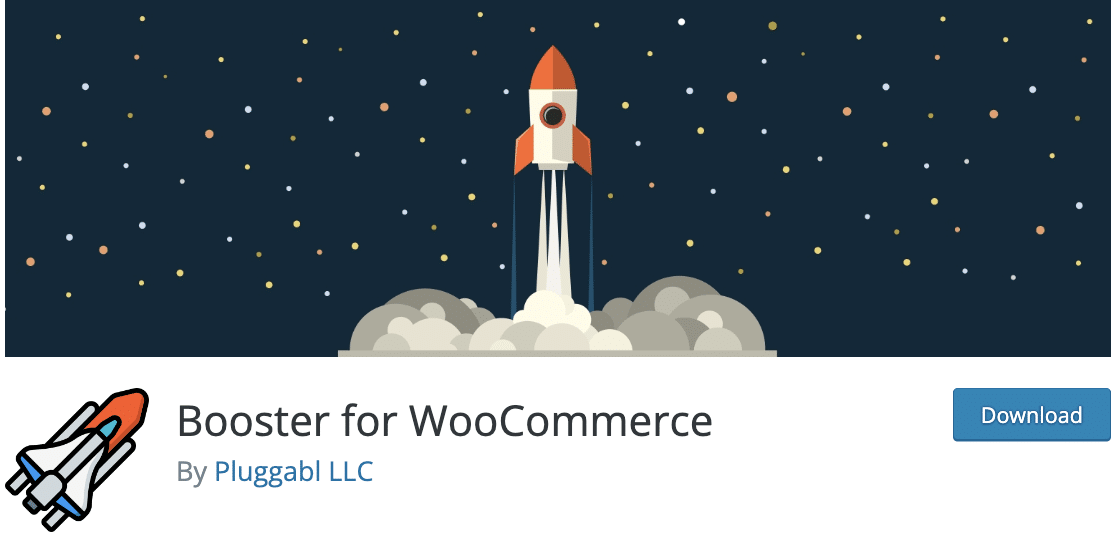 Booster for WooCommerce is a free and open-source plugin that can help you increase your sales by letting you cross sell products, manage pricing, adjust currencies, and much more.
It's a huge bundle of tools with several useful features for growing your online business. Booster for WooCommerce is also customizable, so you can control which options you want to use according to your site's needs.
How Much Does Booster for WooCommerce Cost?
The version on in the WordPress.org repository is free. If you want to upgrade, you can choose from 3 paid versions with additional features starting at $11.99 per month.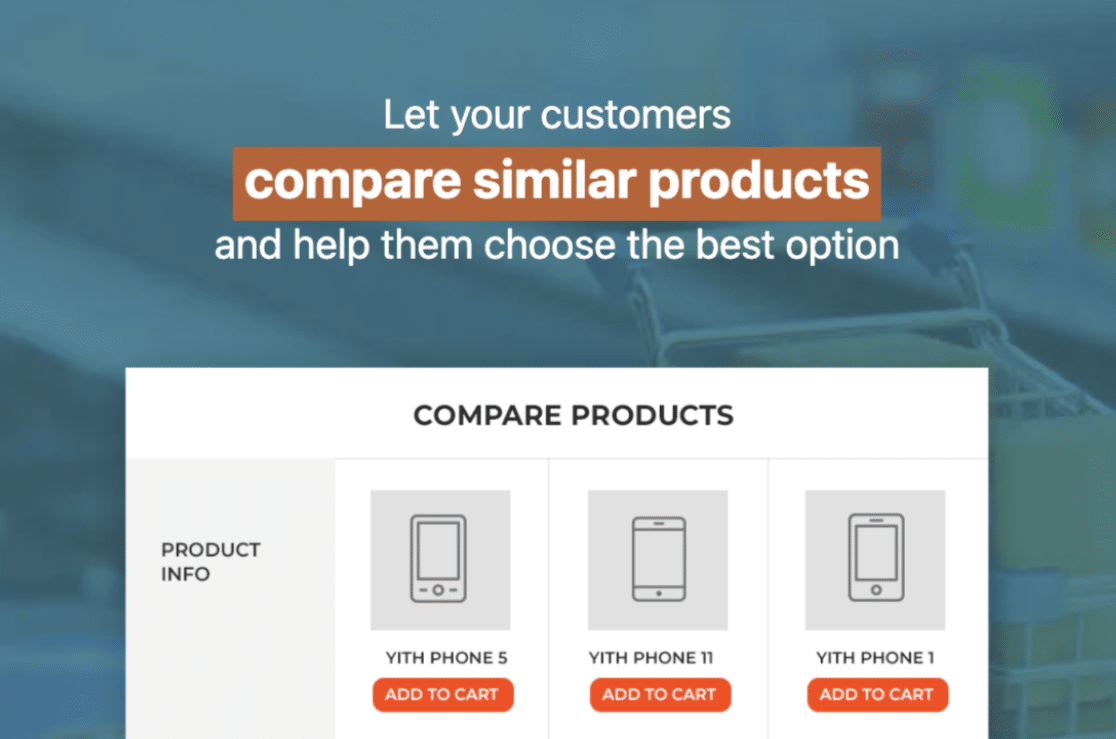 One of the easiest ways to increase your eCommerce sales is to simply make the shopping experience on your site as smooth as possible. YITH WooCommerce Compare helps with that by letting your shoppers compare 2 or more products or services side by side so they can decide which option is best for them.
You can choose which fields users will see in the comparison table, and WooCommerce Compare lets you reorder the fields in exactly the way you like.
How Much Does YITH WooCommerce Compare Cost?
Pricing starts at $69.99 per year.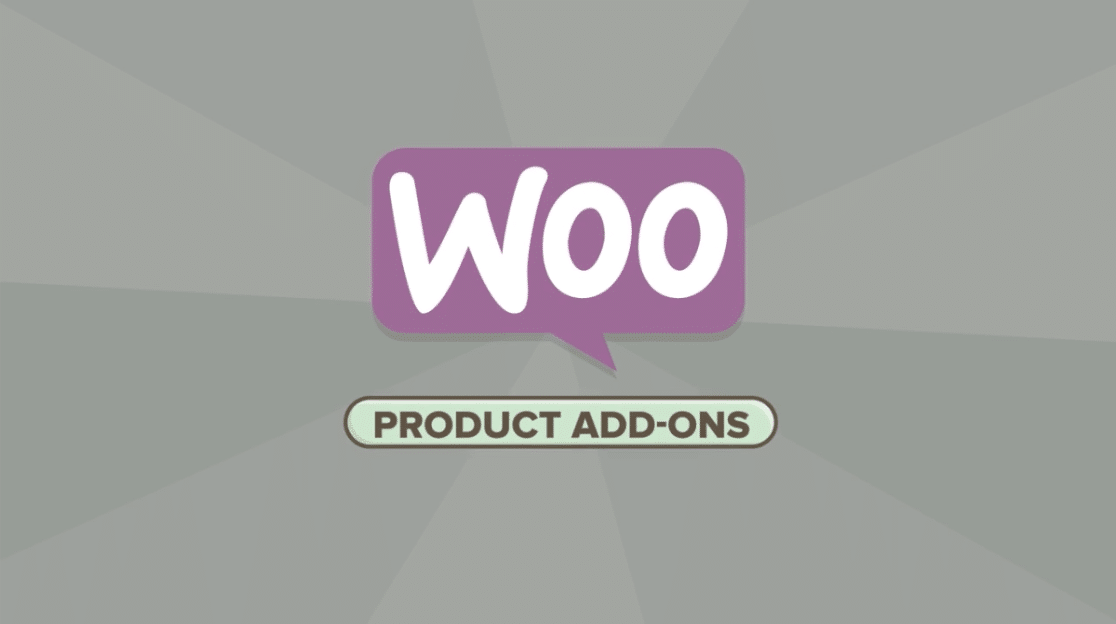 If you'd like to give your shoppers the opportunity to personalize or customize their product, this is the perfect plugin for your shop.
WooCommerce Product Add-Ons is one of the best WooCommerce checkout plugins. It lets you add a special input box on your checkout pages where users can submit their specifications.
And this feature gives you a great upsell opportunity if you charge a fee for the customization. This is another great way for you to make more money, making WooCommerce Product Add-Ons one of the best WooCommerce upsell plugins around.
How Much Does WooCommerce Product Add-Ons Cost?
Pricing starts at $49 per year.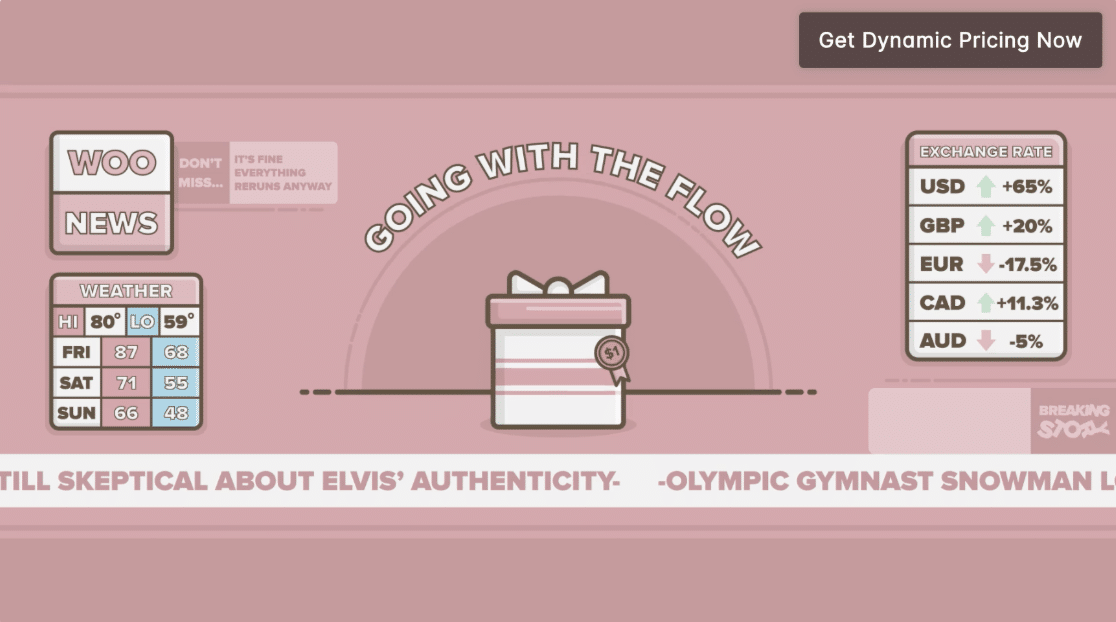 The WooCommerce Dynamic Pricing extension lets you offer bulk discounts to your customers. For instance, you can give a 15% discount on a product when shoppers buy 20 or more units of that item.
In addition, it lets you offer a discount on everything in your entire eCommerce store, which is perfect for the holidays and other sale events. And you can create your own loyalty program to reward your returning customers.
How Much Does WooCommerce Dynamic Pricing Cost?
Pricing starts at $129 per year.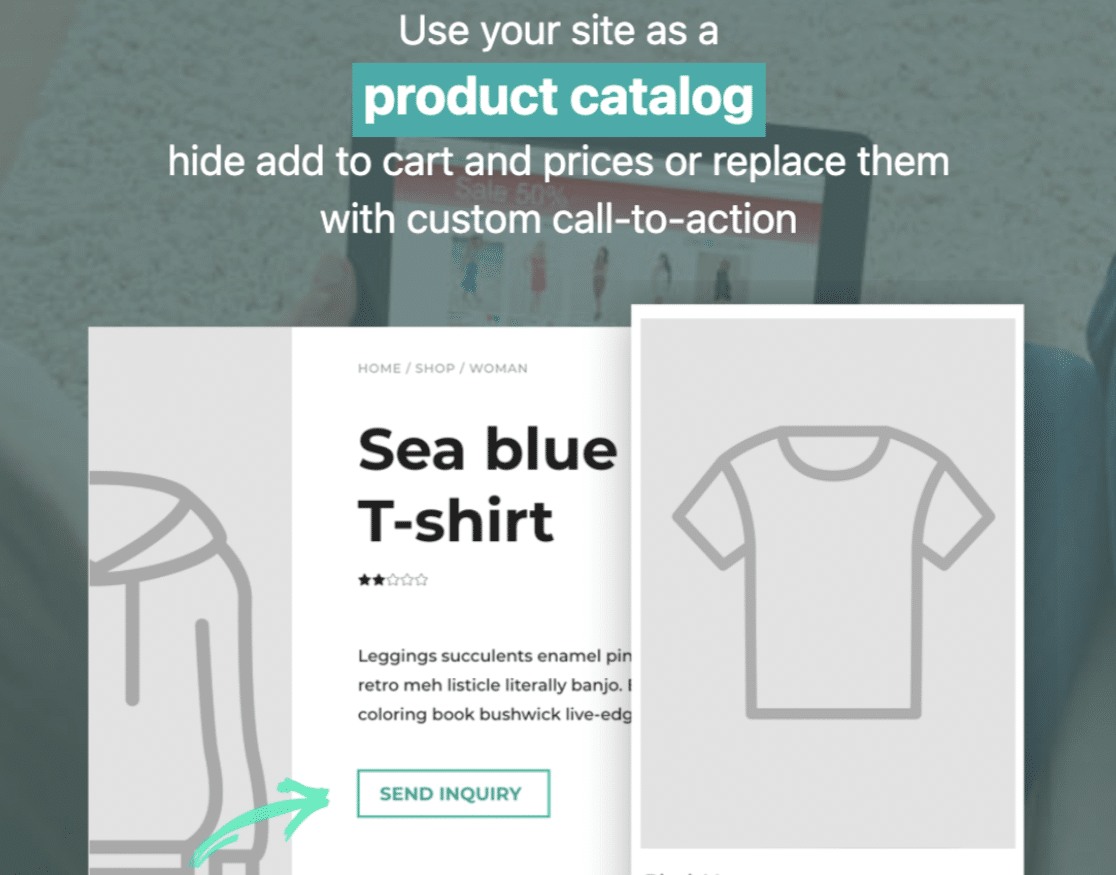 If you're still in the planning phases of setting up your WooCommerce eCommerce store, the YITH WooCommerce Catalogue Mode plugin could be very useful for you.
This plugin lets you turn your website into a catalog and showcase all of your products for your future store. Customers can browse what you'll be offering once your business launches and get ready for opening day.
Showing off your products before they're available can help you build an email list and create excitement around your brand before launching your fully-functional store.
How Much Does YITH WooCommerce Catalogue Mode Cost?
Pricing starts at $79.99 per year.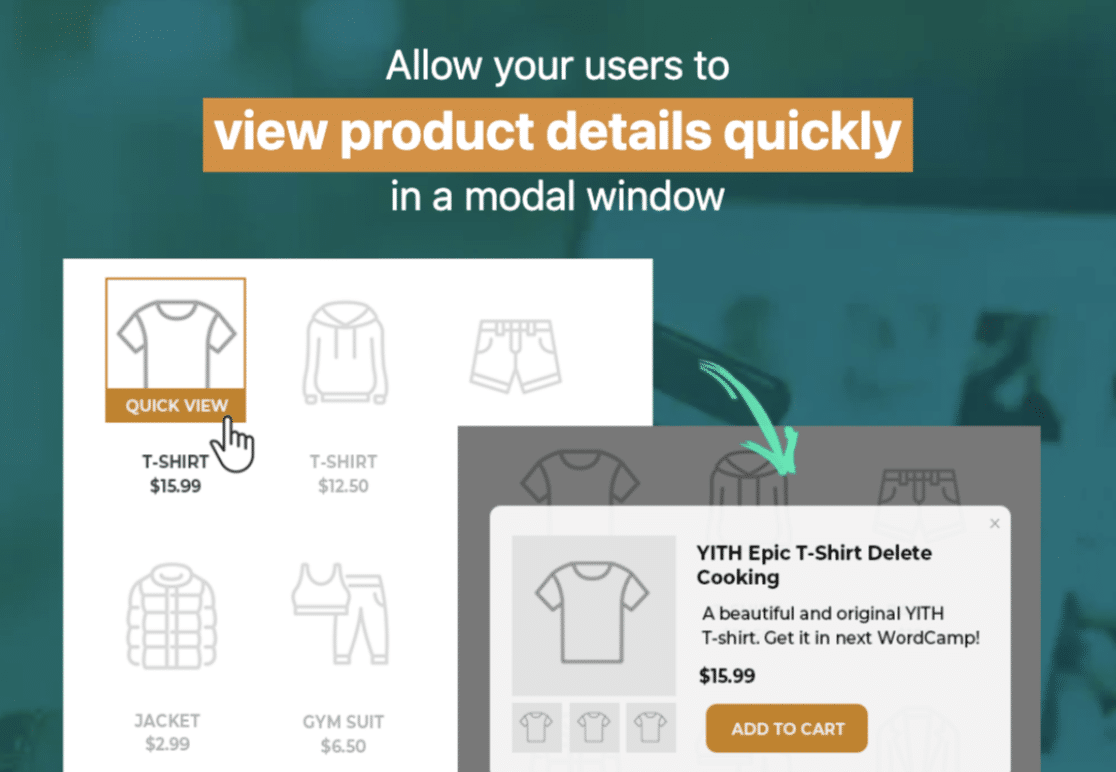 WooCommerce Quick View lets your customers take a peek at product details without having to open a separate product page. It's one of the best WooCommerce image plugins.
Customers can click a button and quickly get the product info within a lightbox popup on your main shop page.
Your shoppers will see a larger product image, description, and an Add to cart button for fast purchasing.
How Much Does YITH WooCommerce Quick View Cost?
Pricing starts at $59.99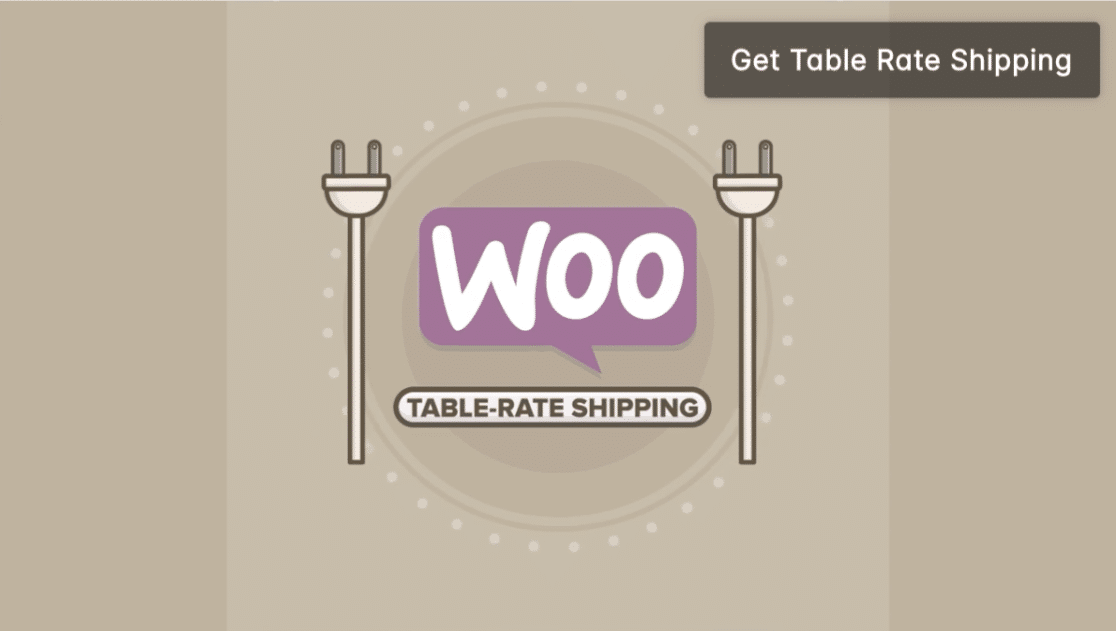 Table Rate Shipping lets you set up shipping options based on different pricing models, products, shipping classes, and other conditions. It's another one of the best WooCommerce checkout plugins.
Plus, this plugin even has a dimensional weight calculator so you can charge more for heavy products and pass that expense on to customers. Table Rate Shipping is flexible, user-friendly, and lets you manage your shipping smoothly so your shoppers have a fantastic checkout process.
How Much Does Table Rate Shipping Cost?
Pricing starts at $99 per year.

Asking yourself how to add custom fields to your WooCommerce checkout page? Use one of the best WooCommerce checkout plugins, WooCommerce Checkout Field Editor.
The WooCommerce Checkout Field Editor lets you easily add and customize fields on the checkout page of your online store. It's a great way to personalize and simplify the checkout process for your customers.
How Much Does WooCommerce Checkout Field Editor Cost?
You can use WooCommerce Checkout Field Editor for free.
There you go folks! We hope this list of the best WordPress WooCommerce plugins helped you find a great tool for your eCommerce store. And once you've settled on the best plugin that works for your store, you can begin tracking your WooCommerce progress with Google Analytics.
FAQs on Best WooCommerce Plugins
Need to learn more about WooCommerce plugins? We listed down a few common questions asked by other readers like you:
Can WooCommerce Handle 5000 Products?
Yes, WooCommerce can handle 5,000 products and even way beyond that. But it's important that you're using a web hosting plan that can handle the size of your website. If you're using a low tier web hosting plan with stricter data limits, you may start experiencing more downtimes and website instability.
As long as you use a sufficient hosting plan, WooCommerce should be able to handle a large amount of product inventory without any issues.
How Do I Make WooCommerce Super Fast?
You can use caching plugins and file compression tools to make your WooCommerce site load faster. There are a lot of plugins like W3 Total Cache that keep your WordPress database clean from piled up junk. You can also use CDNs to further improve your site speed.
Next, Build a Request Call Back Form
Want to get in touch with potential customers when it's convenient for both of you? Don't forget to add a request a call back form to your site so your customers can easily reach out if they have questions.
And if you're taking your eCommerce store international, you'll love our tutorial on how to make your WordPress website multilingual. And don't forget: we have a helpful guide that will solve problems with WooCommerce not sending emails reliably, too.
If you'd like to see more roundups like this one containing our favorite WordPress plugins, here are a few you may like:
Create Your WordPress Form Now
What are you waiting for? Get started with the most powerful WordPress forms plugin today.
Don't forget to follow us on Facebook and Twitter for more updates from our blog.