Do you want to add social proof notifications to your website so you can boost conversions and drive more sales?
Social proof notifications are an incredibly powerful marketing tool. These small messages leverage FOMO ("fear of missing out") to get your site's traffic to take the actions you want them to.
But there are a lot of services out there that provide social proof notifications for websites. And we've had lots of customers ask us, "Is TrustPulse really the best social proof software?"
That's why, today, we're giving you an in-depth review of TrustPulse, what it does, and why it's hands down your best option for creating social proof notifications.
Let's start with getting clear on what TrustPulse is.
What Is TrustPulse?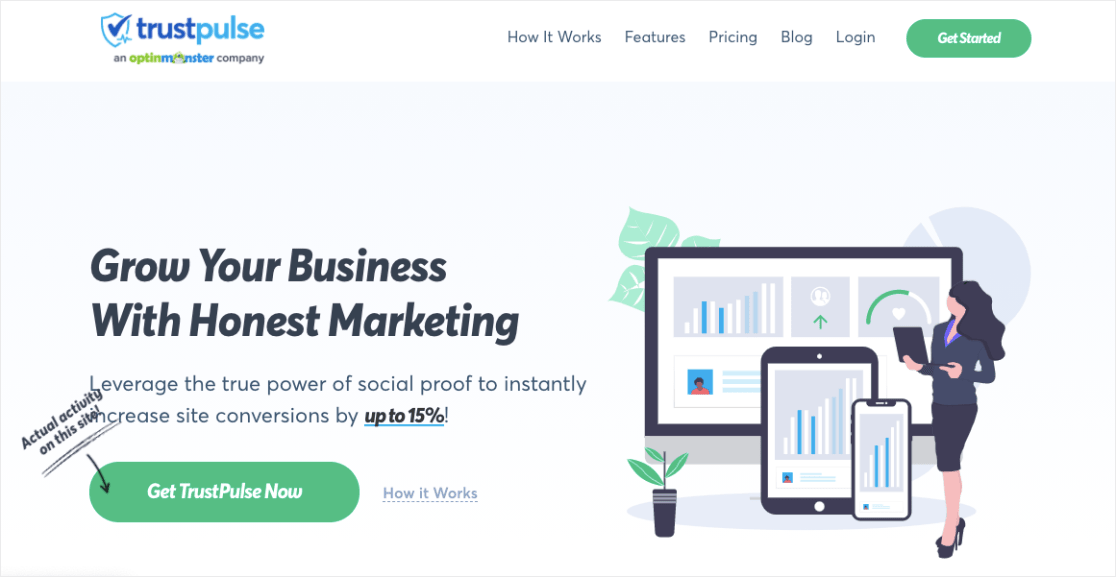 TrustPulse is the world's #1 social proof software. It allows you to quickly and easily create social proof notifications that lead to higher conversions across your site.
When your site's traffic see these messages appear on your website, two things happen:
Your brand is instantly more trustworthy: Social proof notifications show your site's traffic that real people are engaging with your brand. This makes others more comfortable doing so, too.
People are more likely to take action: When people see social proof notifications, FOMO kicks in and motivates them to learn more about, sign up for, or make a purchase from your calls to action.
Because we've seen firsthand how effective social proof notifications are, we're huge fans of TrustPulse. That's why we've listed a few reasons why every website should use this social proof software.
So if you're asking yourself, "Is TrustPulse worth it" or "Do I really need TrustPulse for my site," the answer is a loud resounding YES.
Here's why you should be using TrustPulse to get more conversions on your website:
TrustPulse Reviewed: Why It's Best for Social Proof
As this is an in-depth review, feel free to use the following table of contents to navigate to the section that interests you most. Or you can start from the beginning to get a glimpse of all the benefits of using TrustPulse.
1. Boost Overall Sales
We're kicking off the list with one of the most important questions you probably have: "Will social proof notifications lead to more sales for my website."
In short, ABSOLUTELY.
Remember, two things happen when people see social proof notifications on your site:
Your brand becomes instantly more trustworthy
FOMO motivates your traffic to take action
In order for people to buy your products, they need to trust your brand. Social proof notifications let them know that other customers are actively making purchases from your site.
Plus, when they see the specific items people are buying, they'll feel a sense of urgency to do the same:

That's because, like most online consumers, they don't want to miss out on any benefits your product has to offer.
As a result, you can expect social proof notifications to drive more revenue and improve your bottom line.
2. Increase Site Conversions
In some cases, you might not be selling anything at all. Perhaps you run an online blog or publishing company. Or maybe you're an affiliate marketer who does product reviews.
Or maybe you've got tons of products to sell, but you want to use social proof to improve other parts of your customer journey. So rather than show social proof notifications for specific products, you want to use them for something like getting more email signups, for example.
The question remains: can social proof notifications increase conversions on your site for actions that don't involve making a purchase?
Again, the answer is YES.
In fact, TrustPulse has been shown to instantly improve sitewide conversions by up to 15%. That means you can use TrustPulse to get more:
Email signups
Affiliate link clicks
Webinar registrations
Pageviews
Testimonials and reviews
Survey respondents
Or any other calls to action you could possibly have on your site. Here's an example of a social proof notification not related to sales:

If you have a clear call to action for your audience, TrustPulse is the right tool for getting more people to participate.
3. Create Different Types of Notifications
When it comes to increasing conversions on your site, there are many different types of social proof notifications you can use.
TrustPulse offers two types of notifications: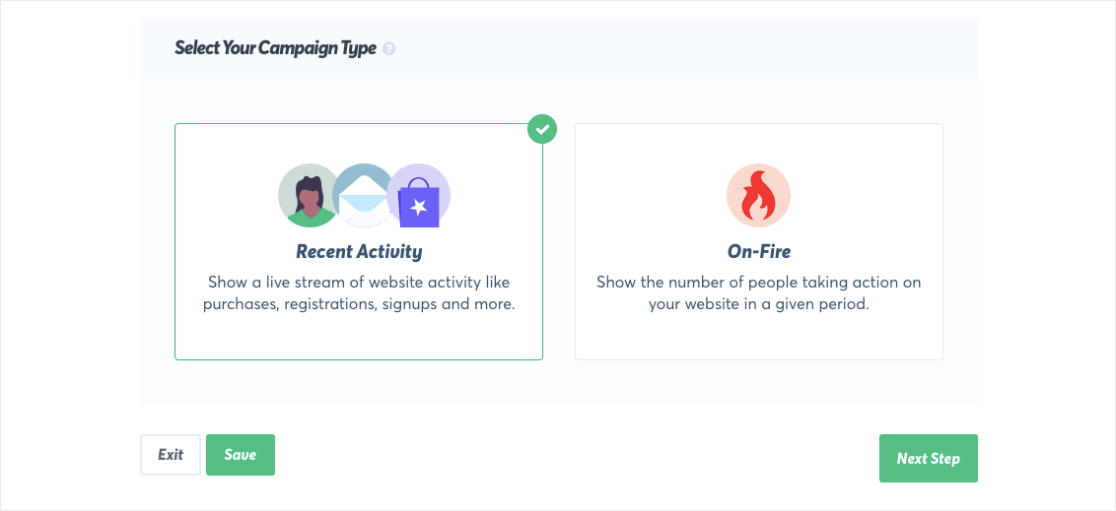 Recent Activity campaigns show when individuals take an action on your site. Here's an example of what these messages look like:

On-Fire campaigns are a bit different. These show the number of people who have taken the same action on your site. These messages look like this: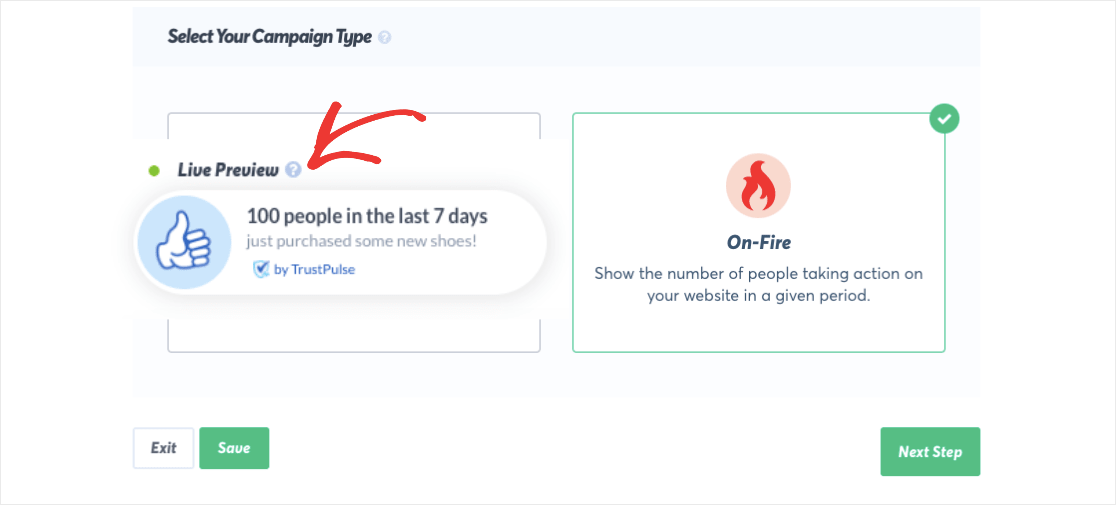 Both types of notifications are effective when used correctly. Recent Activity campaigns, for example, are great for everyday types of sales across your online store.
On-fire campaigns, though, would be better for your calls to action that attract lots of people. This could be like a flash sale, a popular webinar, or redirecting people to a high-traffic blog post.
But, again, each type of campaign can be used to accomplish multiple goals that extend beyond making sales. You can use both types of social proof notification to:
Boost newsletter signups
Increase webinar registrations
Get more survey participants
Drive traffic to other blog posts
Create low-inventory alerts
And so much more. This is an important distinction to make because unlike some competing software, TrustPulse is a social proof tool that can be used in an endless number of ways to get you more sitewide conversions.
4. Easy to Install
One thing some users worry about is how difficult TrustPulse is to get started. After all, creating highly custom and targeted social proof notifications probably requires a bit of tech skills, right?
Wrong.
In fact, if you can copy and paste, then you can install TrustPulse on ANY website. You'll get a simple embed code that you can copy and paste into the header section of your site: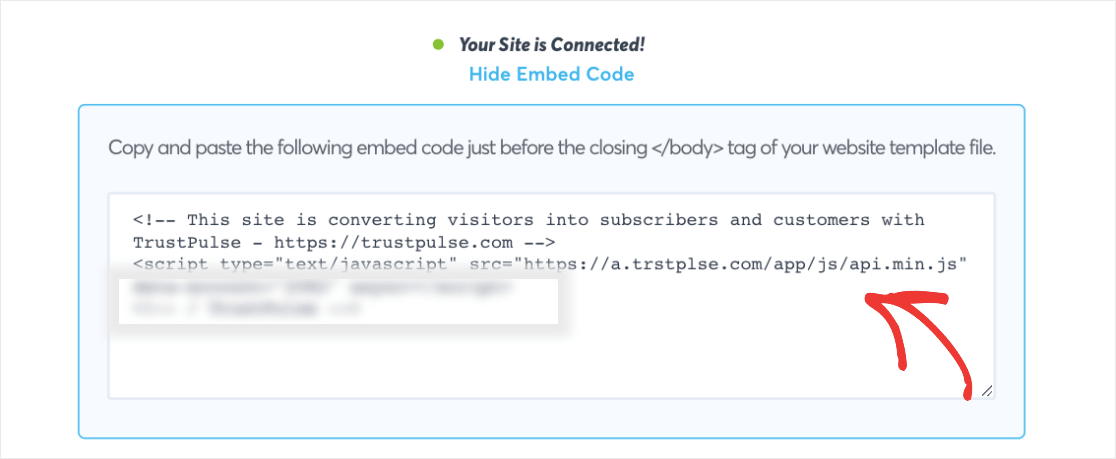 It's the same process for installing your Google Analytics tracking code or a Facebook pixel. And just like these other code snippets, your users will never see what's working in the background.
Instead, they'll only get the social proof notifications motivating them to take action.
And if you're working with WordPress, then things are even easier. That's because TrustPulse comes as a social proof plugin that can be installed and activated like any other plugin you use.
For more information on how easy it is to install TrustPulse, you may want to check out the following articles:
These resources will have everything you need to get TrustPulse up and running on your site in minutes.
5. Works With Any Platform
Not only is TrustPulse easy to install, but it's incredibly flexible. That means it works with any website, no matter what platform you used to build it.
This is important since some social proof notification software is constrained to a certain platform like WordPress or Shopify.
But with TrustPulse, you won't have to change your content management system (CMS) to get started. And if you decide to migrate platforms in the future, you won't run into any problems.
Well, at least not with TrustPulse.😉
It's this kind of flexibility that makes TrustPulse the most flexible and versatile social proof software on the market.
6. Extremely User-Friendly
One of the best parts about TrustPulse is that you don't need any coding experience or tech skills to make stunning social proof notifications.
That's because even when TrustPulse is installed, it has an incredibly low learning curve.
All of the customization options are clearly laid out and can be modified with:
* Drop-down menus
* Basic text input
* Selecting colors from a color wheel
If you know how to point, click, and type, then you can use TrustPulse.
7. Customize Notifications to Match Your Brand
Part of creating a good social proof notification is finding the right balance.
On the one hand, you want your notification to match your site's style, look, and messaging. On the other hand, you want your notification to stand out enough to get noticed.
That means you need 100% control over how your notification looks and what it says. You need access to quickly change your notification's image, font, text color, background color, and every other visual aspect of your message's appearance.
With TrustPulse, you DO have 100% control over how your notification looks.
Like we mentioned earlier, customizing your social proof notification couldn't be easier. Our Design & Appearance tab lets you easily change how your notification looks, what it says, and where it links out to: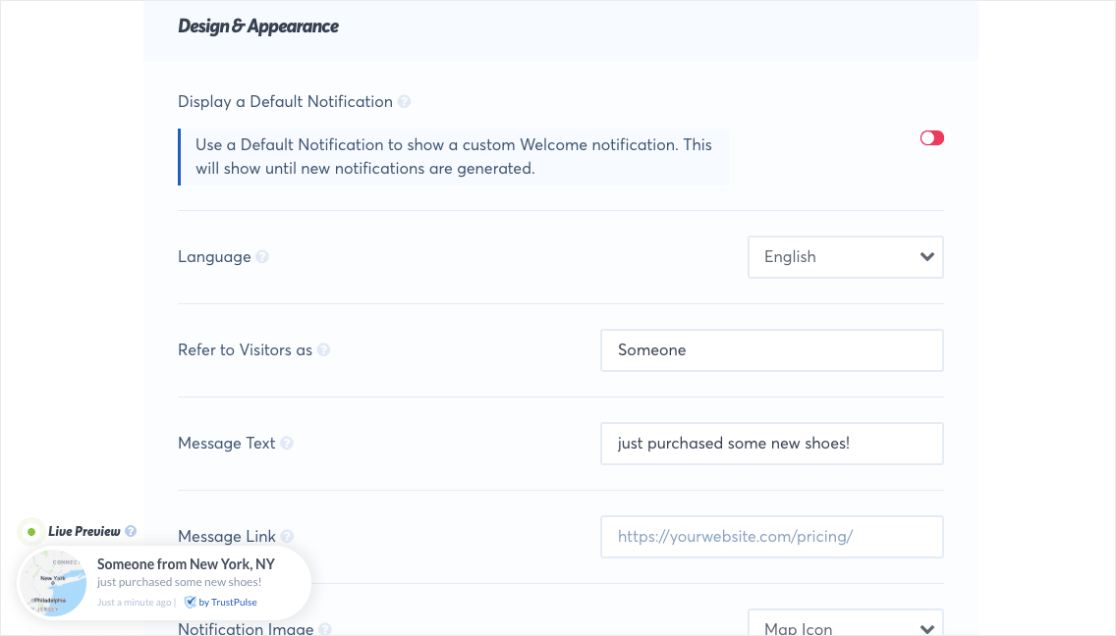 This lets you design a social proof notification that's as powerful, engaging, and stunning as your website.
8. Target Your Ideal Audience
For social proof notifications to be the most effective, making them visually appealing is only half the battle. The other half is making sure they're seen by the right people.
For that, you need powerful targeting rules to control when, where, and to whom your notifications display.
With TrustPulse, these targeting rules are readily accessible from your dashboard. With a few clicks, you can modify what pages or categories your notifications appear on: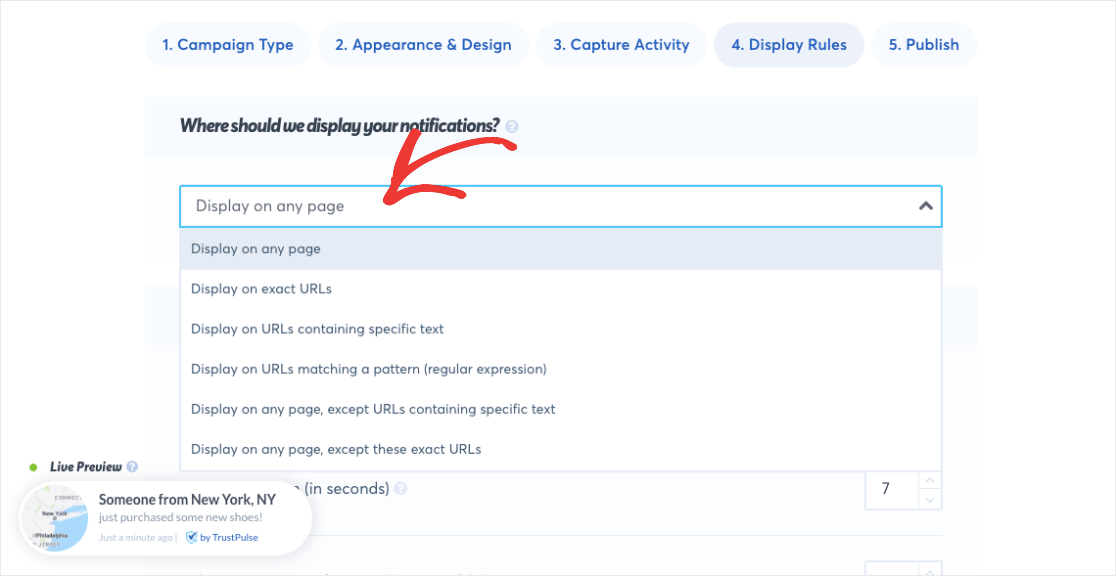 You can also customize:
When to show the first notification
How long your notifications will appear
How much time you want in between notifications
And much more

That means you can tailor your social proof notifications for specific URLs, categories, or sections of your website.
This personalizes the user experience (UX) and, ultimately, leads to higher conversions.
9. Connect With Over 5,000 External Sites
A common misconception people have is that social proof notifications are limited to activities taken on your site.
But with TrustPulse's Zapier integration, you unlock so much more potential: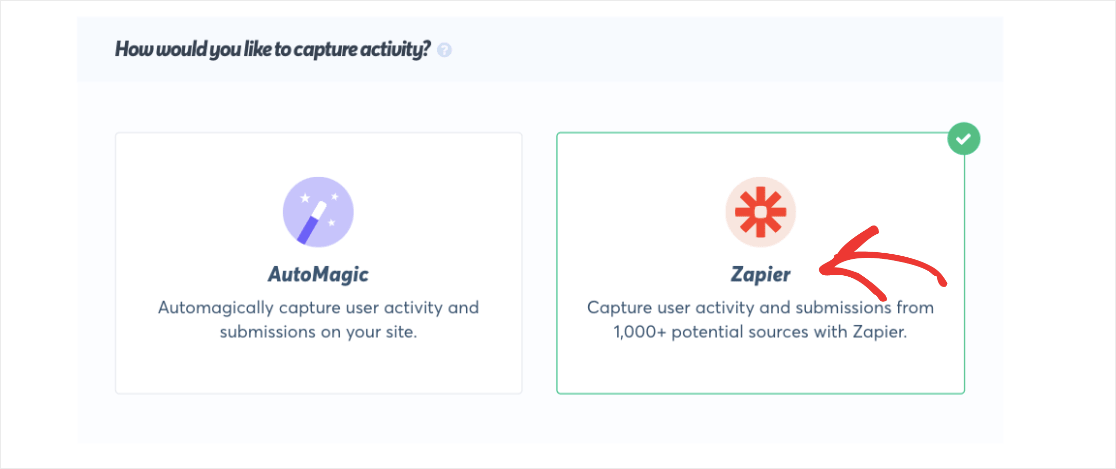 When you connect TrustPulse with Zapier, you can track how people interact with your brand from over 5,000 3rd-party websites.
Let's say, for example, you wanted to create a notification for when people leave you a review on a site like Google My Business or Yelp. TrustPulse's Zapier integration makes this possible.
So even though the actual interaction (someone leaving you a review) took place on a different website (like Yelp), you can still display a notification automatically on your site.
This is important because your brand's online presence likely extends beyond your domain name. As such, you want to show all of your site's traffic how popular your brand really is.
10. Improve User Experience (UX)
Forget about improving your bottom line for a moment. And forget about getting more people to sign up for your monthly newsletter.
Those are all great results that you can expect from using TrustPulse, but let's turn our attention to another major benefit: you'll be massively improving your user experience (UX).
When people visit a website, they're usually looking to learn something they're interested in or to buy a product they want.
With social proof notifications, you can help them accomplish either (or both) of these with less work.
That's because you can add a link to your social proof notification. When users see and click on the message, they'll be redirected to the exact place where the previous conversion happened.
So let's say you want to boost sales from your eCommerce site. And you show a notification whenever someone buys a new pair of sunglasses. The campaign looks something like this:

When a customer sees this message, they think, "Hey, I've been wanting a new winter hat just like that."
Rather than have them search aimlessly across your site–which would provide them tons of cart abandoning distractions along the way–they can simply click the social proof notification.
From there, they'll be redirected to the product page from your message.
And you can link your notifications to any kind of activity on or off of your site. You can send people to:
New blog posts
Webinar registration forms
Newsletter signup forms
3rd-party review sites
Online surveys
Or any other landing page where driving traffic will get you more sales and conversions.
11. Pay a Fraction of Competitor's Cost
Let's be honest: when it comes to selecting a new tool, pricing is always a major factor.
This is true for any digital marketing tool you may have, and social proof software is no exception.
This is really one of TrustPulse's biggest advantages. Not only does it offer the same (if not more) functionality as its competitors, but they do so at a fraction of the cost.
Whereas many social proof notification software start their pricing at $20/month or higher, TrustPulse's paid plans start at only $5/month: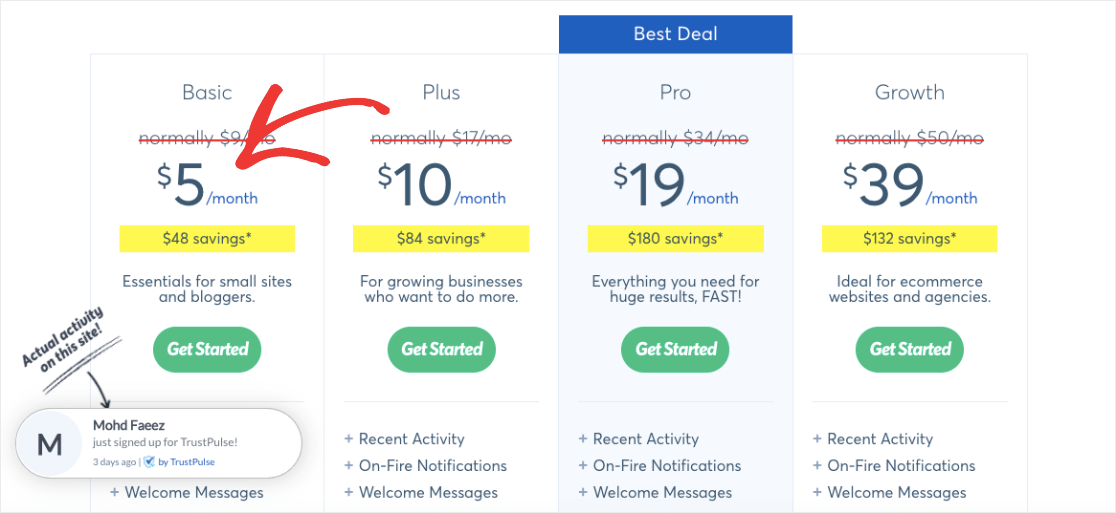 This gives you all the benefits of using social proof on your website for about the price of your morning cup of coffee.
For more information on how TrustPulse stacks up to the competition in terms of pricing and features, you might be interested in this article: FOMO vs. UseProof vs. TrustPulse: Which Is Best for Social Proof.
The Verdict? TrustPulse Is the BEST for Social Proof
Since TrustPulse offers total control over your campaign's type, design, and display, it was already a powerful competitor in the space.
But seeing as how they offer all those robust features at literally ¼ the cost of reputable competitors, it's easy to see why TrustPulse is the best social proof software on the market.
Plus, it offers a 14-day money-back guarantee so you can try it out at zero risk.
Next, Grow Your Site With WPForms
We hope you found this article helpful. If so, you may also want to check out the following posts:
Ready to increase conversions and sales across your site? Sign up for your risk-free TrustPulse account today!
If this article helped you out, please follow us on Facebook and Twitter for more free WordPress tutorials and guides.