How to Get More Guest Post Submissions on Your WordPress Blog
Last updated on May 3, 2017 by Shahzad Saeed
Do you accept guest posts on your blog? Accepting guest posts is a great way to grow your network, build your brand, and save time to focus on other tasks to grow your business. In this guide, we'll show you how to get more guest post submissions on your WordPress blog.
1. Publish a "Write for Us" Page
Looking for an easy way to invite guest authors to contribute to your blog? You'll need to publish a "Write for Us" page on your site. Be sure to list it in the navigation menu so it easily grabs the attention of your visitors.
If done right, this page will attract relevant guest writers to your blog and help you generate a constant flow of great content.
Below are a few things you should keep in mind when creating the "Write for Us" page.
Get discovered: Guest authors who regularly contribute to various blogs often use Google to find guest post opportunities. You'll need to use SEO to optimize the URL slug and the content of your "Write for Us" page to make sure that your page shows up in their searches.
Include detailed guest post guidelines: Tell your visitors what kind of articles you're looking for. You may also want to include formatting and post submission guidelines on that page.
2. Review Guest Post Proposals
Reading and reviewing poor quality articles will consume a lot of time.
Before reviewing a guest post, it is always better to ask the author to send a proposal. This way, you can ensure that only high-quality articles are reviewed so you can save your time.
In the "Write for Us" page, you can create a contact form and encourage your visitors to submit a guest post proposal.
You can ask details like:
Post headline
A small description about the post
Author bio
If you liked the proposal, you can invite the author to submit a guest post.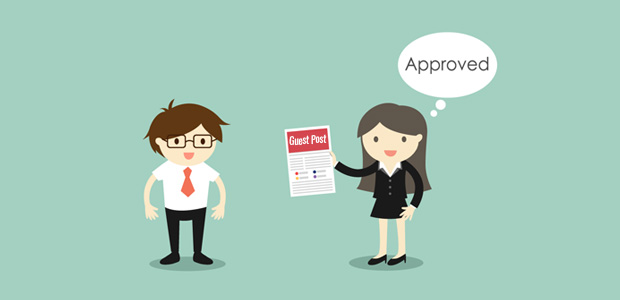 3. Create a Frontend Submission Form
Providing an author account to everyone who wants to write on your site could be a big mistake. You don't want someone to have an account on your site so that they can write anything they want.
On the other hand, the manual review process without providing an author account can be even more tedious.
What if there's an easier way to automate the review process for guest post submissions?
With WPForms' post submission addon, you can allow your website visitors to submit guest blog posts without having to log into the admin area of your site.
All you need to do is to create a frontend submission form using our post submission addon. You can also collect all the necessary information that you need such as:
Post Title
Post Content
Post Excerpt
Featured Image
Custom Fields (aka Post Meta)
When someone submits a guest post from your guest post submission form, it will be automatically added to your post editor and will be marked as pending. That means creating a guest post submission form simplifies your tasks. In the end, all you need to do is to review the posts before it goes live.
For more reference, read our guide on how to allow users to submit blog posts.
After creating the form, the next thing you want to do is to embed this form in a page that is blocked from search engine robots.
This way, you can stop search engines from crawling that page. It also ensures that only those visitors whose proposal is accepted can see this page. You can learn how to hide a WordPress page from Google.
4. Invite Guest Authors
Just because you started accepting guest posts, doesn't ensure that you'll receive quality articles that add value to your blog.
If you're looking to get high-quality content for your blog, make sure to promote it heavily so it grabs the attention of the right audience. You can also invite potential guest authors who regularly contribute to various blogs in your niche.
Below are a couple of takeaways that might help you:
Browse through popular blogs in your niche and create a list of people who regularly contribute to those blogs. Let them know that you've started accepting guest posts on your blog.
Creating a guest posting contest is another great way to promote quality guest post submissions. You can reward one guest author every month. This will likely boost guest post submissions.
If you follow the above tips, you can attract potential guest authors to your site and get more guest post submissions to generate a constant flow of great content.
What are you waiting for? Get started with the most powerful WordPress forms plugin today.
If you like this article, then please follow us on Facebook and Twitter for more free WordPress tutorials.