Are you looking for a multi-author blog WordPress plugin?
Websites with multiple authors are always tricky to manage. The more people there are on your team, the tougher it is to keep a track of all activities, maintain the editorial calendar, and keep your site optimally functioning.
In this post, we'll look at some of the best multi-author blog plugins for WordPress that can make your workflow more streamlined and productive.
Best Multi Author Blog Plugins for WordPress
These are our top picks for WordPress multi-author blog plugins:
Let's explore each of these in some detail.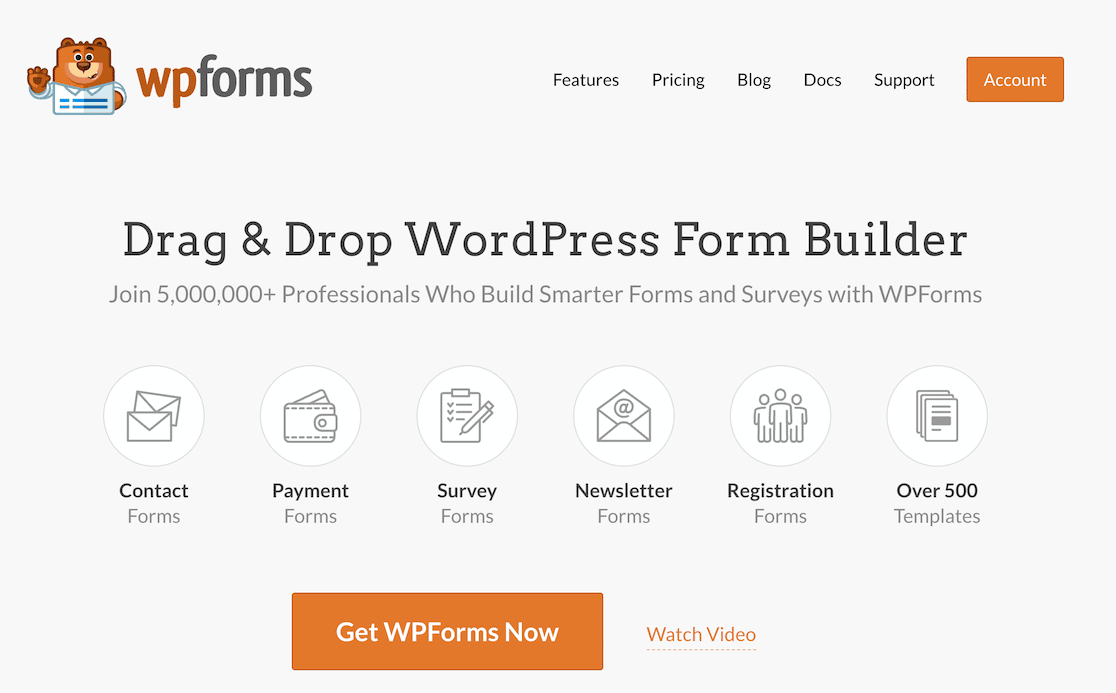 WPForms is the best form builder for WordPress. It also unlocks many ways to get multiple authors interacting with your site and generating content.
For instance, you can accept frontend post submissions from guest authors with a form on your site using our Post Submissions addon.
Websites that are looking to grow their blog with the expertise of guest contributors can easily use WPForms for frontend submissions without requiring users to sign in.
But what if you want to track how different members of your team are interacting with the forms themselves?
WPForms has a built-in Form Revisions feature that does just that. Version control is a valuable feature multi-author blogs because it helps you prevent data loss if any form settings are mistakenly changed by a team member.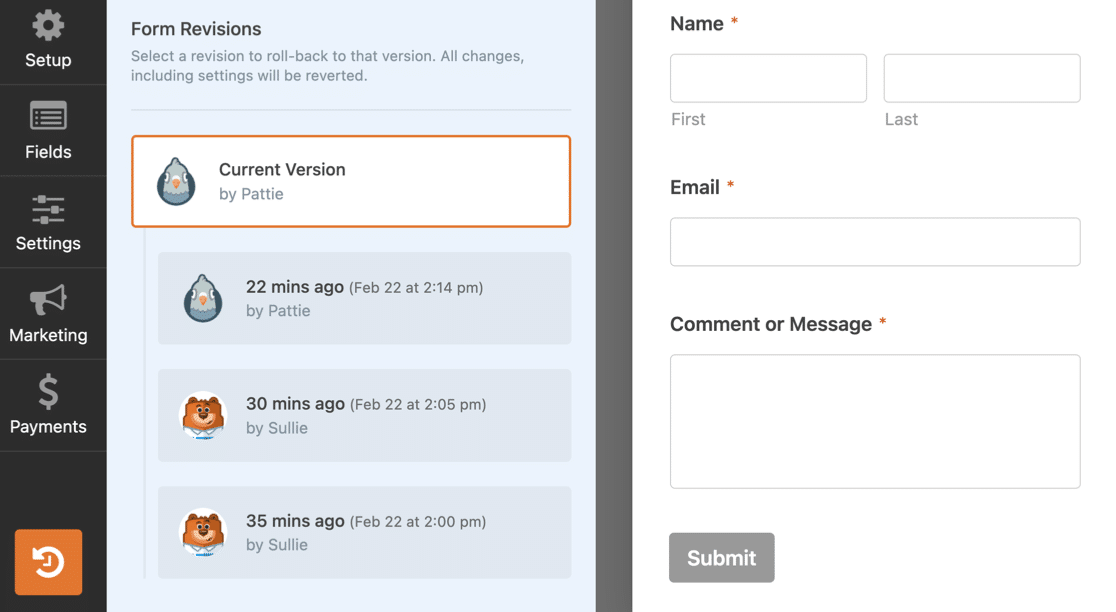 Every time you save a form, WPForms stores a version of it in a continuously maintained history. A form revision displays the author who created it along with the date and time.
If you want to roll back your form to a previous version, you can restore it with a single click without needing to build it all up from scratch.
As an extra bonus, WPForms even has a Form Trash area where deleted forms go. A member of your team deleted a form by mistake? No worries. You can always go to the trash area to recover the form with all its settings and data intact. Recovering a deleted form will also restore the entries.
Overall, WPForms is one of the most feature-rich forms with some extremely useful functionalities for team collaboration and improving your multi-author blog management.
Pricing: WPForms offers version control on both free and paid plans, but extra features like post submissions are available in the Pro plan starting from $159.60.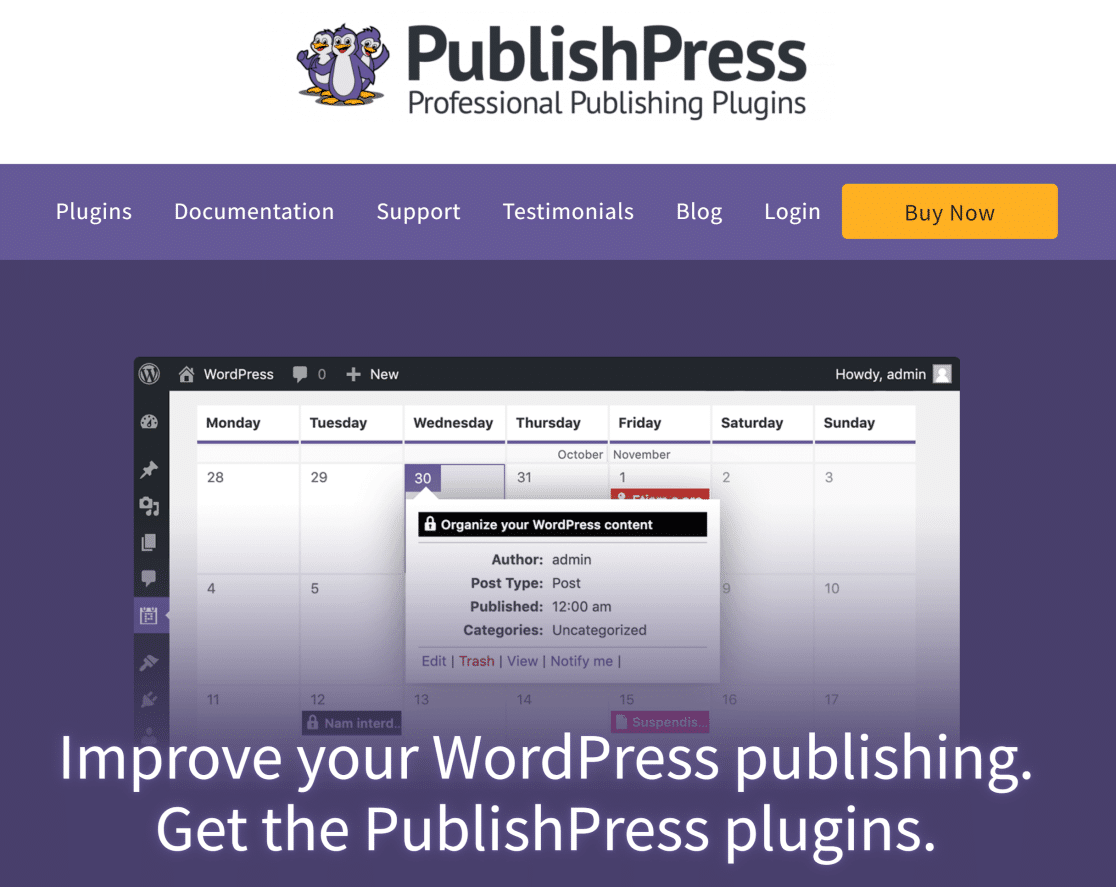 PublishPress is an excellent WordPress plugin for managing your content calendar and editorial workflows.
There are multiple PublishPress plugins, each specializing in different areas. For instance, PublishPress Authors lets you add multiple authors to a single post, a capability not supported by default in WordPress.
PublishPress Authors also gives you a lot more flexibility in how you want to display author profiles on your website. Plus, you can create guest authors to manage post submissions from users outside of your content team.
Another useful plugin from the PublishPress family is PublishPress Permissions, which lets you manage content creation and viewing permissions for users on your site.
Pricing: All PublishPress plugins are priced differently.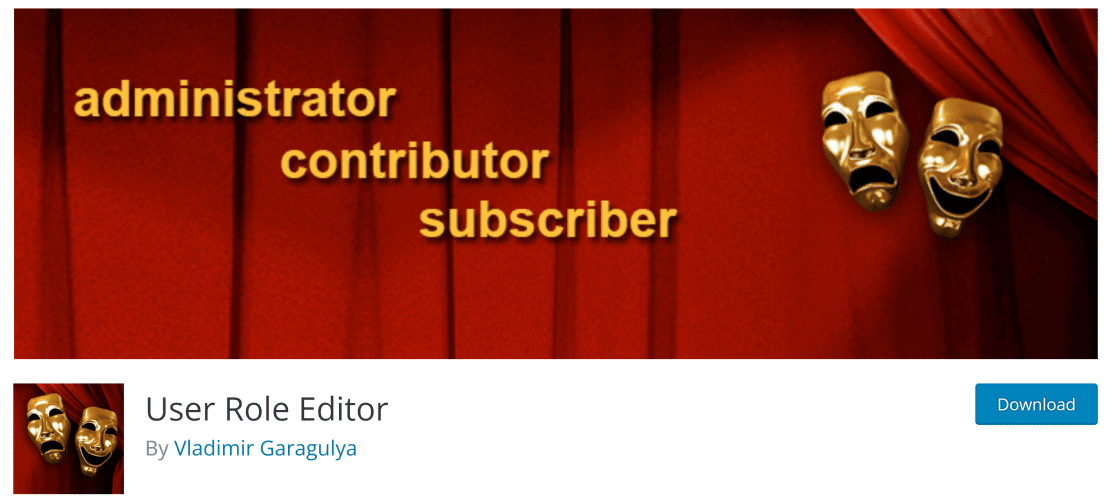 User Role Editor is a simple solution for managing multiple authors on your WordPress site. Although WordPress provides 6 different user roles, each having different levels of permission, it doesn't offer much flexibility to you in terms of user permissions.
User Role Editor allows you to control the permissions and capabilities for each user role beyond what you get in WordPress by default.
For instance, you can choose to hide certain menus and items from your WordPress based on the permission level of each author on your site, depending on their user role.
Overall, User Role Editor is a very easy-to-use plugin that facilitates better management for multi-author WordPress blogs.
Pricing:  User Role Editor is a freemium plugin with paid versions starting from $29 per year.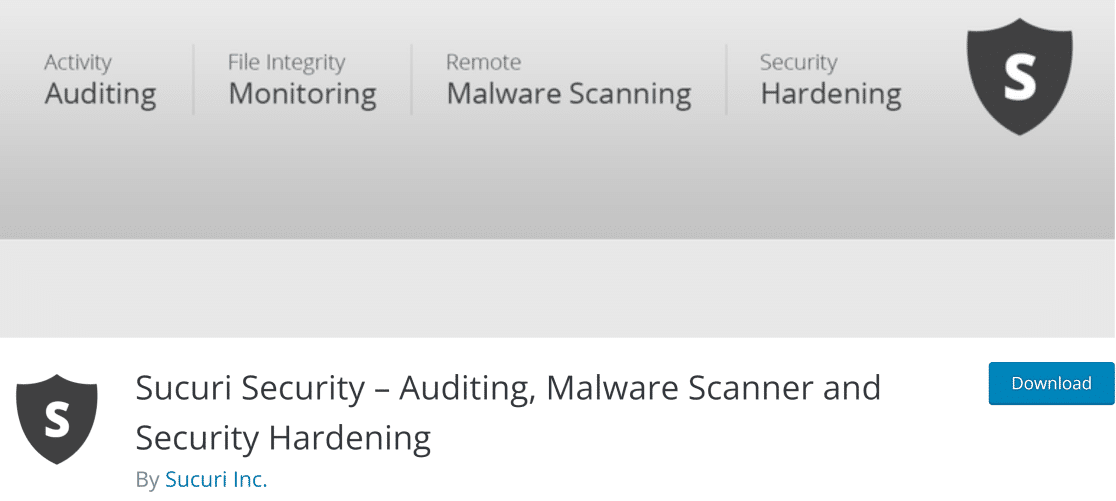 Sucuri is a well-known WordPress security plugin. It protects your site from threats like brute force attacks, DDoS, malware, and hacking.
As your team grows and more people access your WordPress backend, it's important to make sure that your core WordPress installation and settings aren't tampered with by anyone.
Sucuri's security auditing feature tracks changes to your WordPress core files, themes, and settings and notifies you of the event. It's a great way of ensuring your site security and monitoring login sessions of other authors on your team and their backend activities.
Pricing: Sucuri is a freemium plugin with advanced security features available in the paid plans starting from $199.99 per year.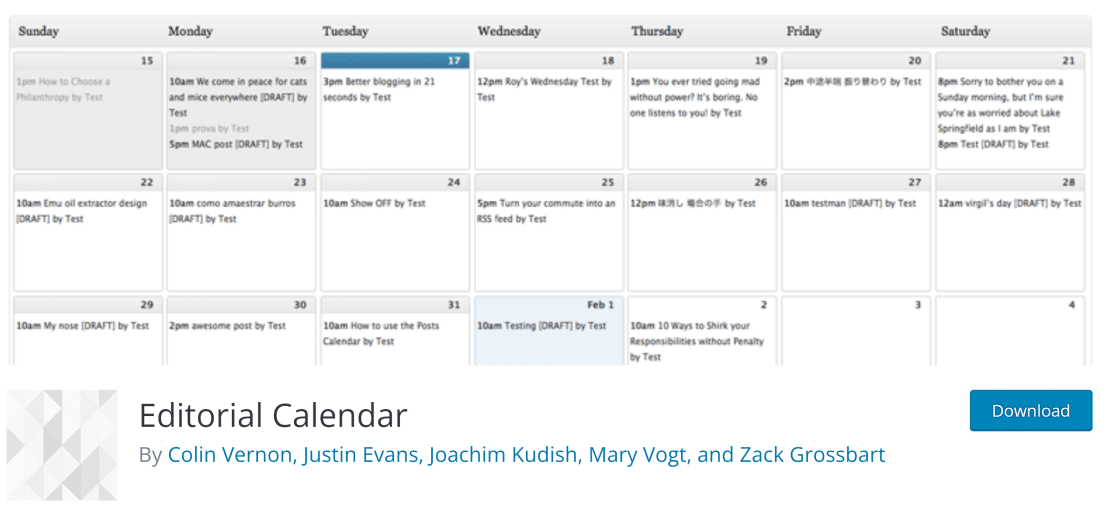 Editorial Calendar is a great tool for organizing the content calendar for your WordPress blog. It is especially useful for teams with multiple authors since it facilitates better content planning and scheduling.
From the main calendar, you can quickly edit the titles of your posts and use the convenient drag and drop functionality to move your posts around the calendar.
Editorial Calendar can really make your editorial life easier with its simple but outstandingly useful content management features.
Pricing: Editorial Calendar is free of cost.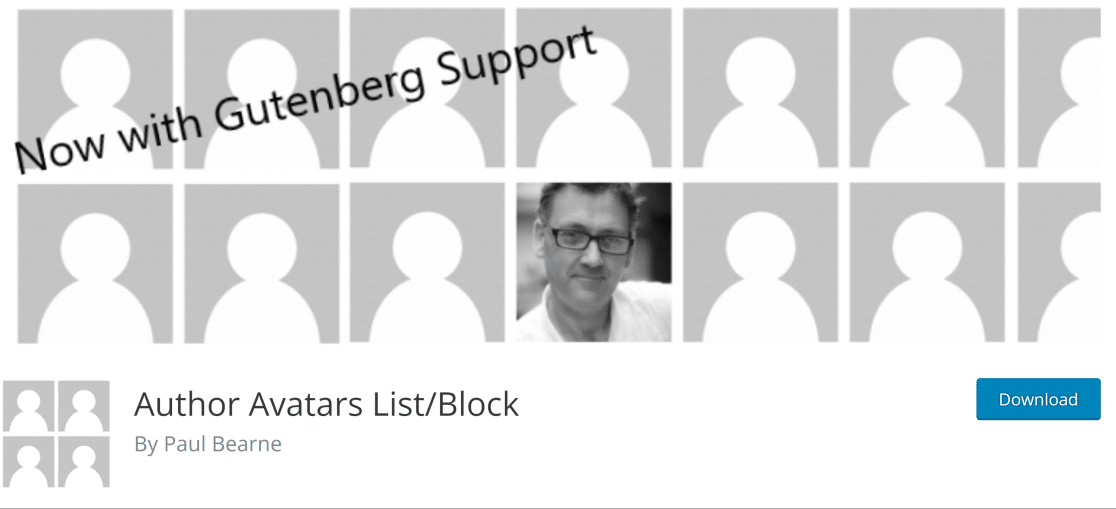 If you want to publicize your site for guest posts, it's a smart idea to display a list of your featured authors on your WordPress site.
Author Avatars List pulls avatars of your authors and allows you to display them on your sidebar or within a widget on any of your posts and pages.
Author Avatars List provides decent customization options as well. For instance, you can control the number of authors to be displayed, choose their order, adjust avatar size, group users by blogs, and a lot more.
Pricing: Free.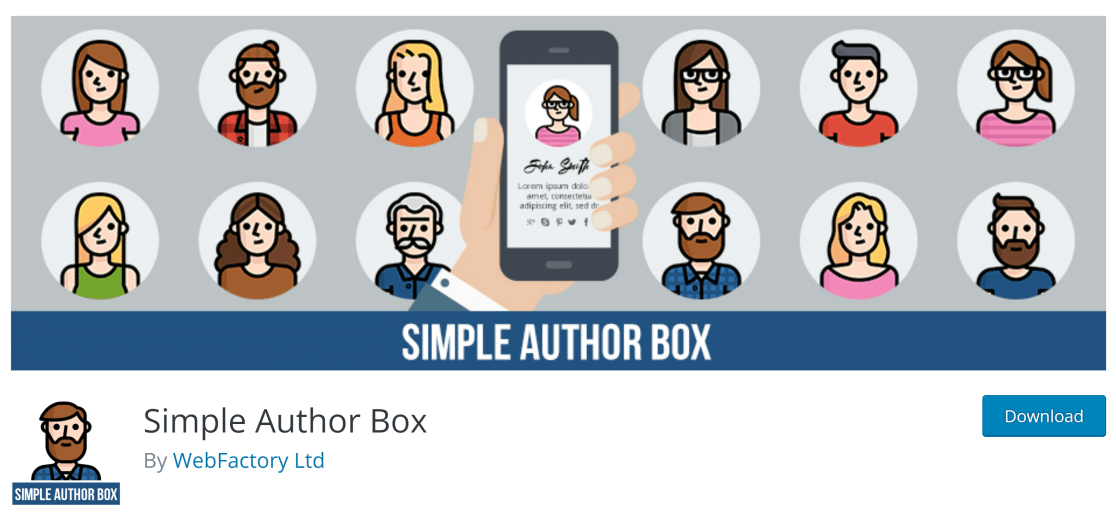 Simple Author Box is a snappy plugin for multi-author WordPress blogs. Using this tool, you can create visually appealing author boxes with an avatar, name, and biography.
The range of customizations you get with this plugin is a big improvement over what WordPress offers by default. You can customize author boxes to ensure consistency with your theme with lots of style, size, color, and text options.
In addition, the boxes it creates are responsive and well-optimized for all kinds of devices including desktops, smartphones, and tablets.  Simple Author Box also lets you add more than 30 social profile icons to your author bio.
Pricing: Freemium plugin with paid plans starting from $39 per year.
Which Multi Author Blog Plugin Is Best for WordPress?
Depending on your goals, you might need more than one plugin to improve your productivity and efficiency for your multi-author blog.
For websites that want to accept guest posts and use different types of WordPress forms on their site, we strongly recommend WPForms Pro because:
WPForms has a super flexible Post Submissions addon that enables guest authors to submit their posts using a form from your frontend
It provides excellent visibility into your form changes and revisions over time and records your form history to prevent data losses.
It has a built-in trash feature that prevents any user from deleting a form by mistake – which would also delete the entries. This is excellent for teams with multiple authors with access to your forms.
Create Your WordPress Form Now
For general team publishing, PublishPress Author is a great option for sites where posts are co-authored by multiple writers. The plugin makes it easy for you to give credit to all authors responsible for content on your site
Other tools like User Role Editor, Editorial Calendar, and Sucuri can also be a massive help in organizing and managing your multi-author site.
Next, Level Up Your Digital Downloads Store
Are you an eCommerce site selling digital products? You might want to check out your Easy Digital Downloads review to learn about the best features of this eCommerce plugin.
And before you start building your next landing page, see our top landing page tips to improve your conversions.
Ready to build your form? Get started today with the easiest WordPress form builder plugin. WPForms Pro includes lots of free templates and offers a 14-day money-back guarantee.
If this article helped you out, please follow us on Facebook and Twitter for more free WordPress tutorials and guides.