Are you looking for an Easy Digital Downloads review to learn if it's the right plugin for your eCommerce store?
In this post, we'll review Easy Digital Downloads, and set up a digital product download ourselves to test its various functionalities and ease of use.
Easy Digital Downloads Review: Is It Worth It?
Easy Digital Downloads (EDD) is a plugin geared towards eCommerce stores primarily selling digital products like eBooks, PDFs, software products, and even your own WordPress plugins.
EDD is extremely simple to use, is lightweight, and is a complete solution for WordPress eCommerce sites that want to manage their digital downloads from a single platform.
In this review, we'll consider the key EDD features and see whether it meets our expectations in the context of the exceedingly competitive WordPress market.
Here's a quick snapshot of the contents of this review:
Let's now dive into our Easy Digital Downloads review.
Installing EDD
Grab a copy of the free EDD "core" plugin below. Once you have that ZIP file you're ready to install Easy Digital Downloads.
On your WordPress admin menu go to Plugins » Add New. Next, click the Upload Plugin button. You can click the Choose File button to select the ZIP file you downloaded and then click Install Now.
Creating Downloads with EDD
To start with, let's see how easy it is to create and configure your digital download using EDD.
After you install Easy Digital Downloads you'll see a new menu item called Downloads on your WordPress admin menu (left side).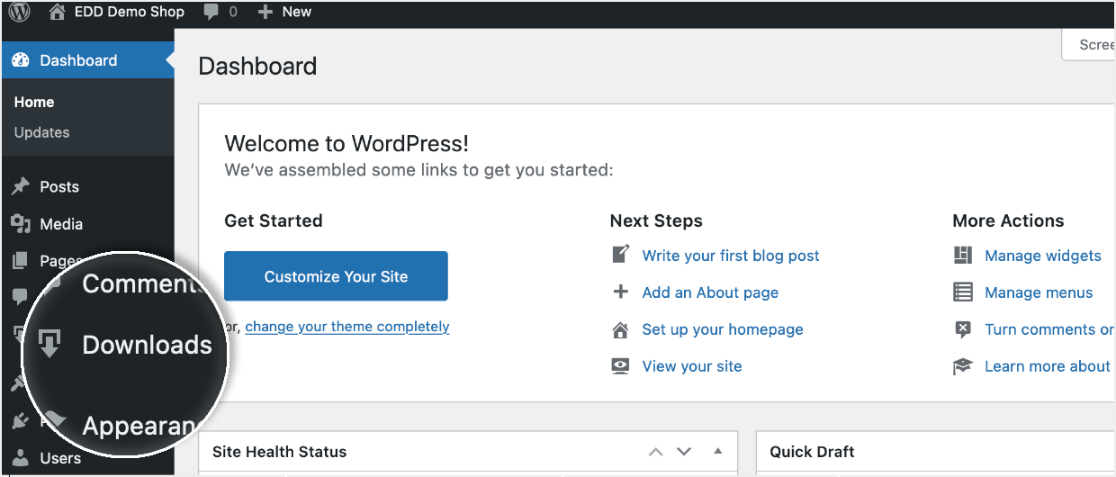 First, note, we suggest selling your download files as ZIP files, unless you have a specific reason not to. For more information, see this post about why you should use ZIP files for digital downloads.
On your WordPress dashboard, hover over Downloads and click Add New.
Give your Download a name. Then add a description in the main text area below.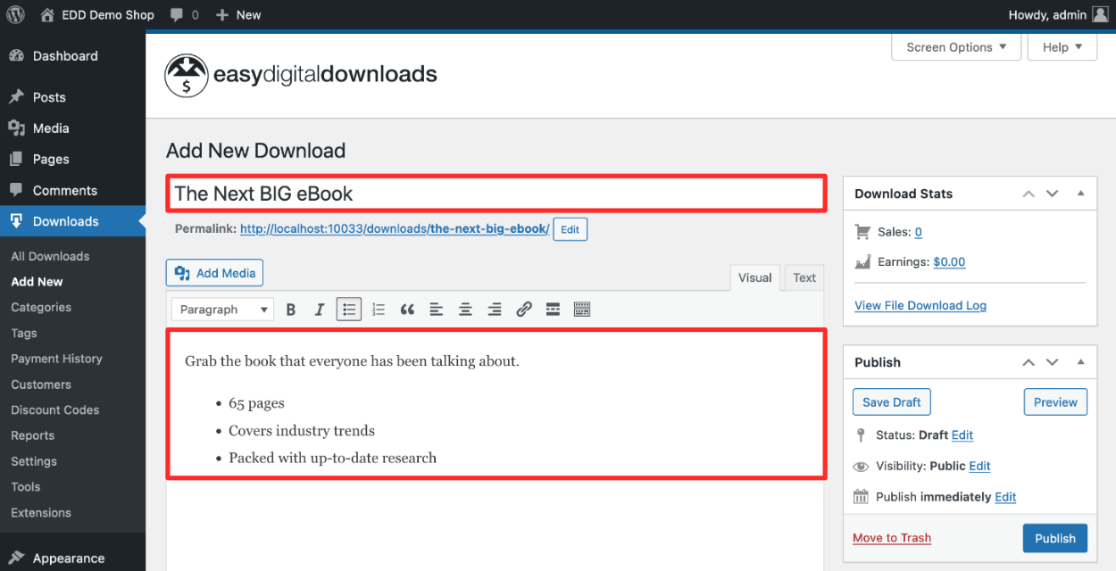 Now, you can easily set a price for your product by adding a price value under Download Prices.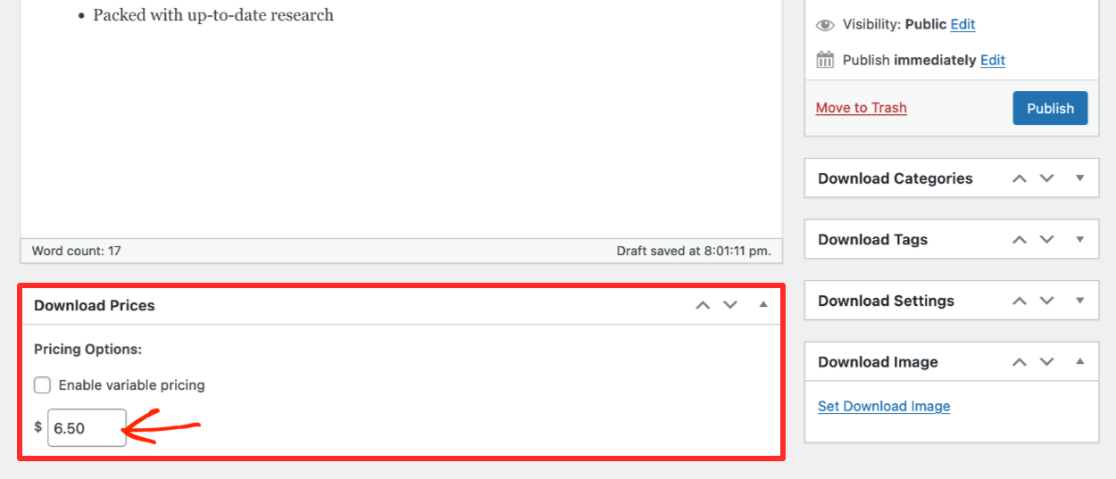 It's that easy to add the main product details (title, description, and price) with EDD!
Next, we're going to configure the Download File. This is the eBook file that the customer gets after purchase. They'll get a private link on the thank-you page after checkout and on their purchase confirmation email.
Under File Name type in a phrase that describes the product.  This is the clickable link text that will be displayed on the confirmation page and email.
Under File URL click Upload a File and upload your ZIP file (download/product file). It will automatically be protected from unauthorized downloads (by non-customers) and search bots.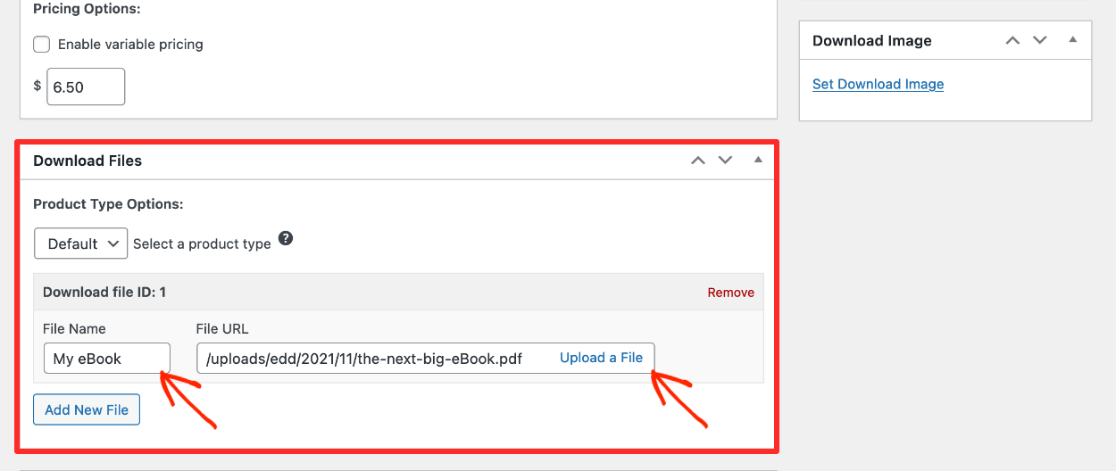 EDD also lets you add a Download Image to make your download page more attractvive. In this case, it's the book cover, which as we all know, the customer is likely to judge your book by. So it's important to make it look nice.
Not sure how? Use our free Canva template to get started.
You can edit the pictures, text, colors, and all layers. You just need a free Canva account!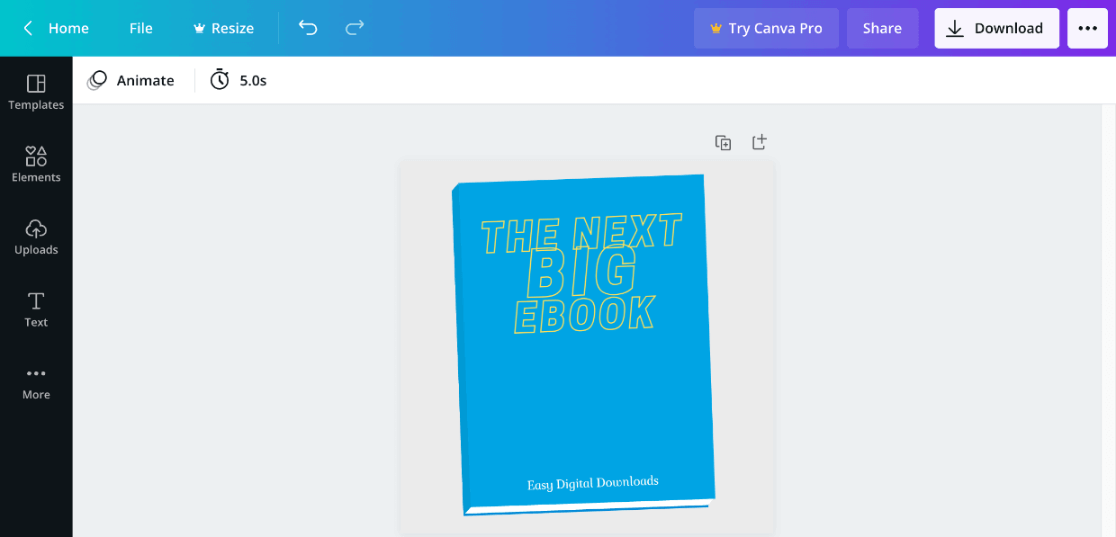 🎨 Get your free eBook cover Canva template
Once you have your image ready to go, look under Download Image and upload your image.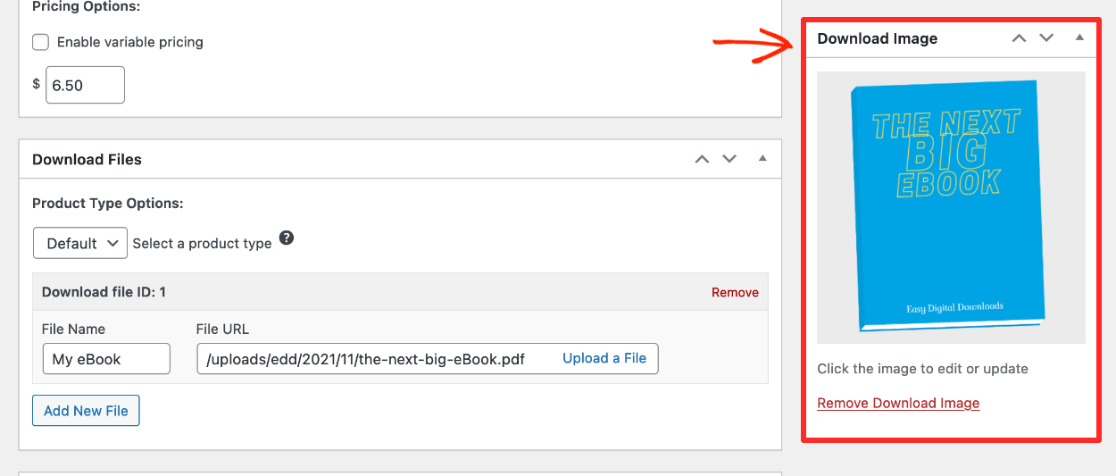 Great work! Your product is ready to preview. Click Publish.
Let's look at it as the customer will see it on the product page.
Product Page Frontend Appearance
Click on the View Download link on the top notification banner that appeared after you clicked publish.

You'll see your download on the frontend of your website. This is what the customer will see.
We are using the free WP Astra theme in the example below. Your site look will vary depending on which WordPress theme you have.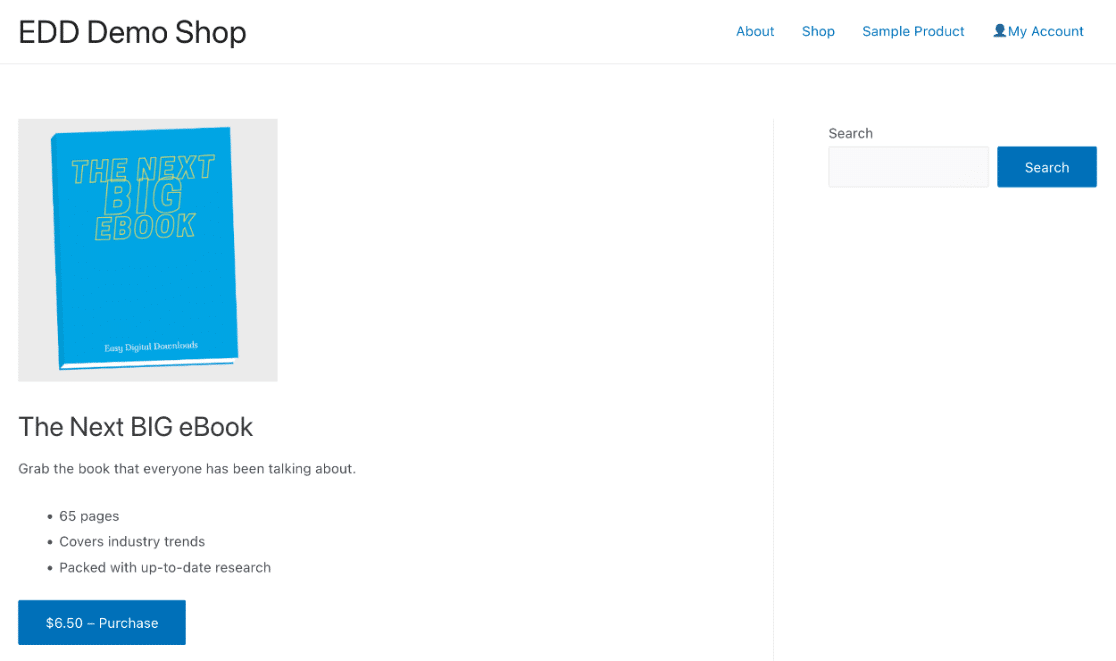 Purchase Confirmations
Once a customer makes a purchase they'll get a purchase confirmation email that looks like this: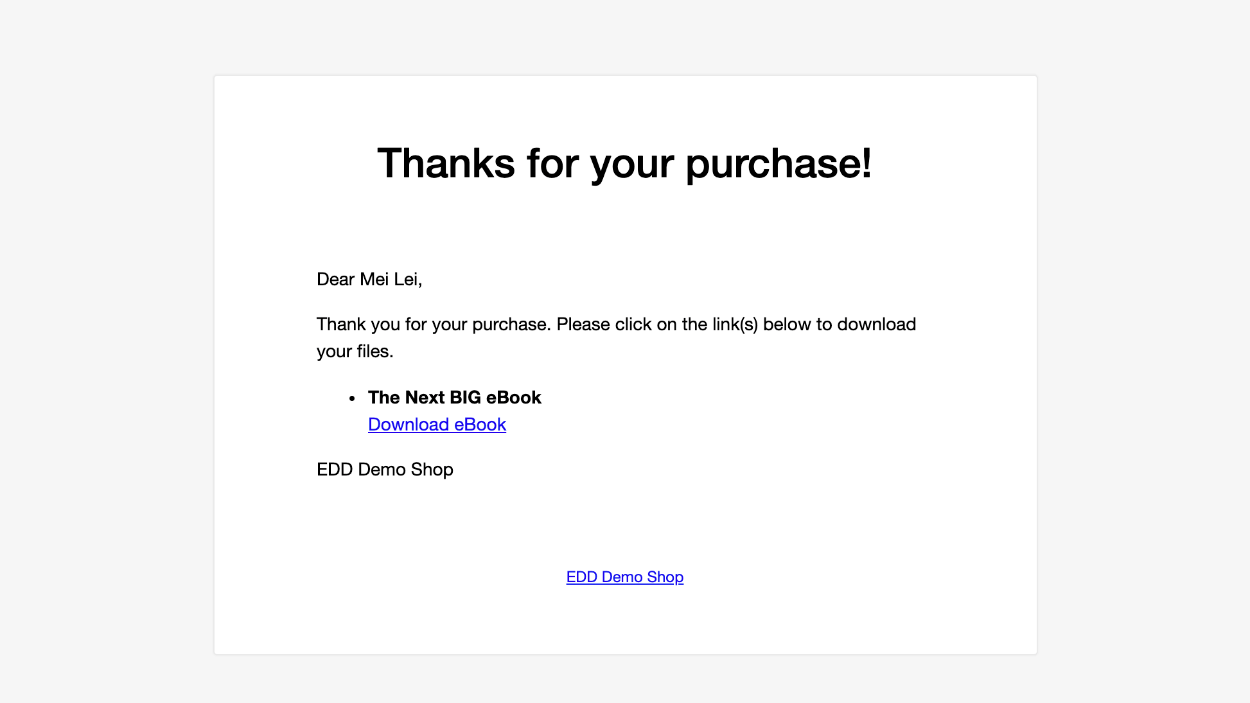 You can use the email text presets, or customize your own. On your WordPress admin look under Downloads » Settings » Emails » Purchase Receipts.
The 'My eBook' is what you set up above in step 3. The customer uses that link to grab their new download. The link provided expires after 24 hours.
You can reissue a new download link at any time
You can change and set that link expiration time to be whatever you want
These are incredibly useful EDD features and give you a lot of freedom for how you want to manage your digital downloads.
Payment Methods
Last, you need to set up a way for customers to pay. EDD supports Stripe to enable credit cards, and even Apple Pay or Google Pay.
Do you already have a Stripe or PayPal account? It's simple to integrate with EDD. EDD officially recommends using Stripe due to its ease of use and overall convenience when it comes to managing payments for digital downloads.
If Stripe is not available in your country, or you need certain currencies for your region, PayPal is a good option. Or use both. That's what we do on WPForms checkout page.
Click one of the payment gateway links below to get started:
Customer Management
EDD turns your site into a full-featured eCommerce store. The customer management dashboard maintains a record of your customers.
You can manage customers, view payment history, and see reports all from your WordPress admin when you use EDD.
Here's the Customers menu in EDD which displays information like the number of purchases and total amount spent by each of your customers: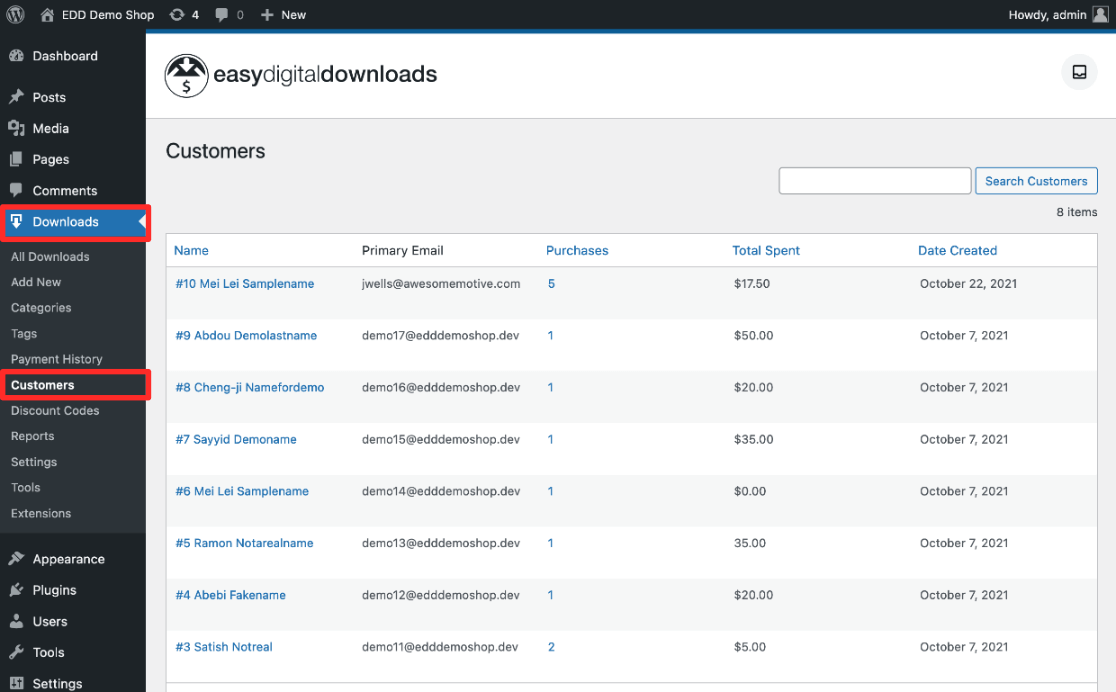 Plus. you can easily see payment details for each purchase made by your customers.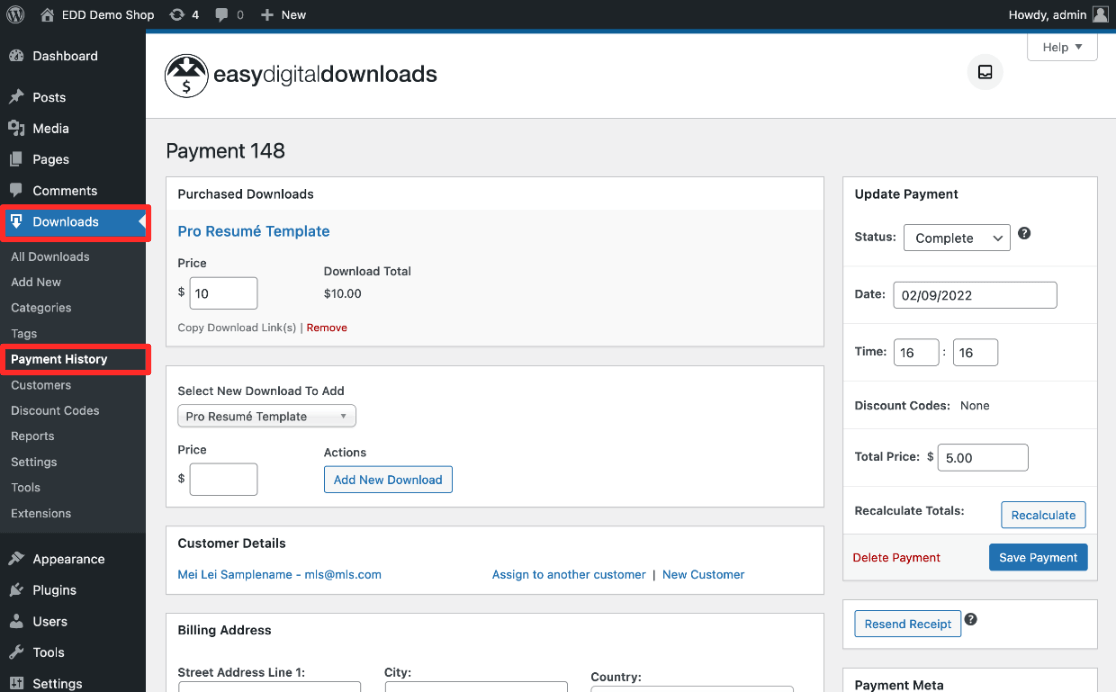 EDD also provides a graphical view of your total earnings over a selected period of time.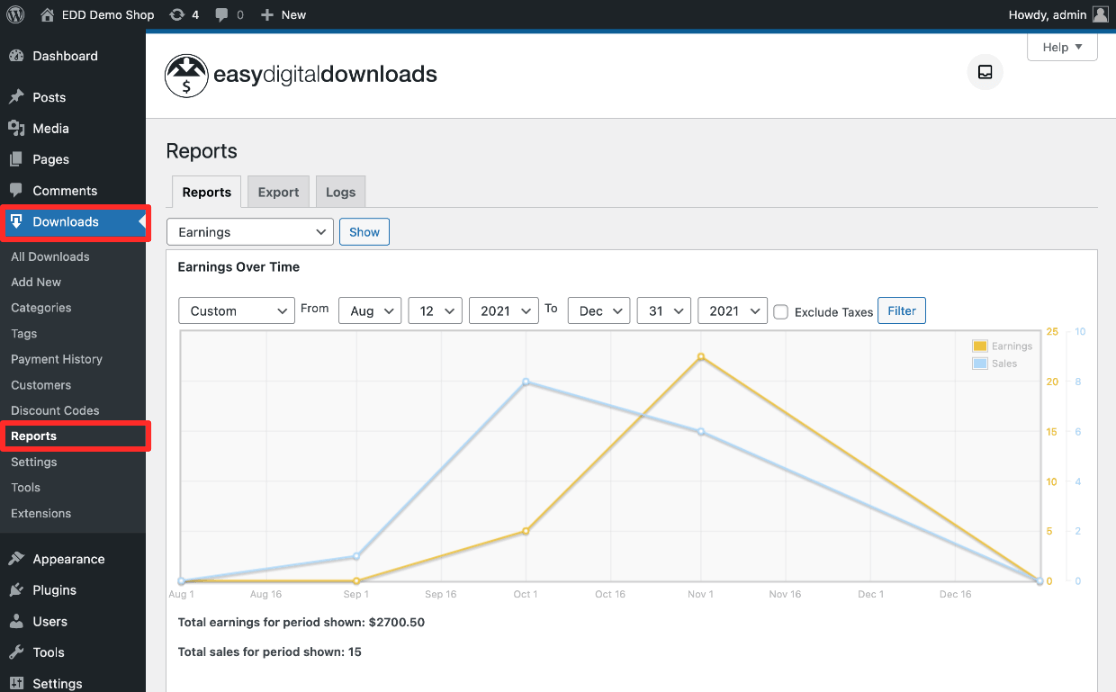 Full-Powered Ecommerce That's Still Easy
EDD is really powerful, yet it's easy to use. We recommend it for selling digital products because it has everything you need and it can grow with you over time.
The free version has what you need to get started and run a successful business. As you grow, if you need to add other functionality, just purchase an EDD annual Pass. You can choose which pass is right for you. With a Pass you can add features like:
Email marketing integration
Subscriptions (recurring payments)
Software licensing
Amazon S3 or Dropbox Integration
Conclusion: Is Easy Digital Downloads Worth It?
Easy Digital Downloads is easily one of the best eCommerce plugins the WordPress market has to offer. There is no other plugin on the market that is as straightforward to use and provides the same level of core features to create your digital downloads and manage your digital products.
This is why we wholeheartedly recommend Easy Digital Downloads if you're an eCommerce store looking for easy management of your digital products and grow your sales.
And that's it! We hope this Easy Digital Downloads review helped shine light on some of its key features and capabilities.
Next, A Great Store Needs Great Forms
Now that you have an e-commerce store for digital products, you'll need a contact us and a support request form. We've got you covered! WPForms is the most user-friendly WordPress form builder with over 5 million active installations.
Don't start from scratch, use one of our WordPress form templates and be ready in no time!
With WPForms, you can conduct student surveys, create simple signup forms, and more.
Also, if you're looking for a search plugin for your WordPress site, don't forget to check out review of SearchWP and see if this is what you need for your site.
Create Your WordPress Form Now
Ready to build your forms? Get started today with the easiest WordPress form builder plugin. WPForms Pro includes lots of free templates and offers a 14-day money-back guarantee.
If this article helped you out, please follow us on Facebook and Twitter for more free WordPress tutorials and guides.