Want to launch and grow a successful podcast with the help of a WordPress plugin?
There's a ton of WordPress plugins out there, so this list narrows them down and shows you which ones are great to use if you're about to start (or have been) podcasting.
In this guide, we've listed the very best WordPress podcasting plugins to help you with your podcast.
Here's a table of contents to guide you:
And don't miss out on our bonus recommendation, RafflePress.
Can You Host a Podcast on WordPress?
Yes, you can host a podcast on your WordPress website. In fact, WordPress is a fantastic choice for podcasting.
While it's true that you can host a podcast without a website, you'll want to create a dedicated website for your own podcast to reach its full potential and to grow your subscriber list. And it would be very difficult to have a WordPress podcast without a plugin to expand the functionality of your website.
Some of the top reasons WordPress is good for podcasting include:
Allow your fans to access all episodes or just a single episode
Give your audience a place to contact you through a simple contact form on a contact us page
Connect with listeners by sharing details about yourself
Have somewhere for advertisers to learn more about your podcast
Gain new listeners through search engine traffic
Access podcast-specific layouts WordPress offered by theme companies like Divi (helps you make a WordPress podcast theme)
Expand your podcasting features with WordPress plugins
However, you may be thinking that starting a website for your podcast is too much work. But it's actually really easy if you use the right tools.
Best WordPress Podcasting Plugins
Here are our top picks for the best podcast plugin for WordPress:

Easily the most powerful podcasting plugin on the market, the PowerPress podcasting plugin by Blubrry is an incredibly user-friendly tool to add podcasting to your WordPress site.
And since it's offered by Blubrry, you'll also be able to get services like podcasting hosting and podcast statistics.
Features:
Works as a Soundcloud podcast WordPress plugin with the ability to import your Soundcloud
Easily set up a premium podcast with MemberPress
Supports Apple and Google podcasts and creates an RSS podcast feed
Fantastic organic growth through SEO
Switch between simple and advanced mode to learn the plugin then use all its amazing features
Create a responsive podcast sidebar widget asking people to subcsribe
Integrated HTML5 media web player with embed support for YouTube and more so you can embed your podcast into WordPress
Add both audio files and video podcasts to your site, so you can share your media files and podcast files easily
Cost:
Blubrry PowerPress pricing starts at $12/month for 100 MB.
Click Here to Get Started with PowerPress Today!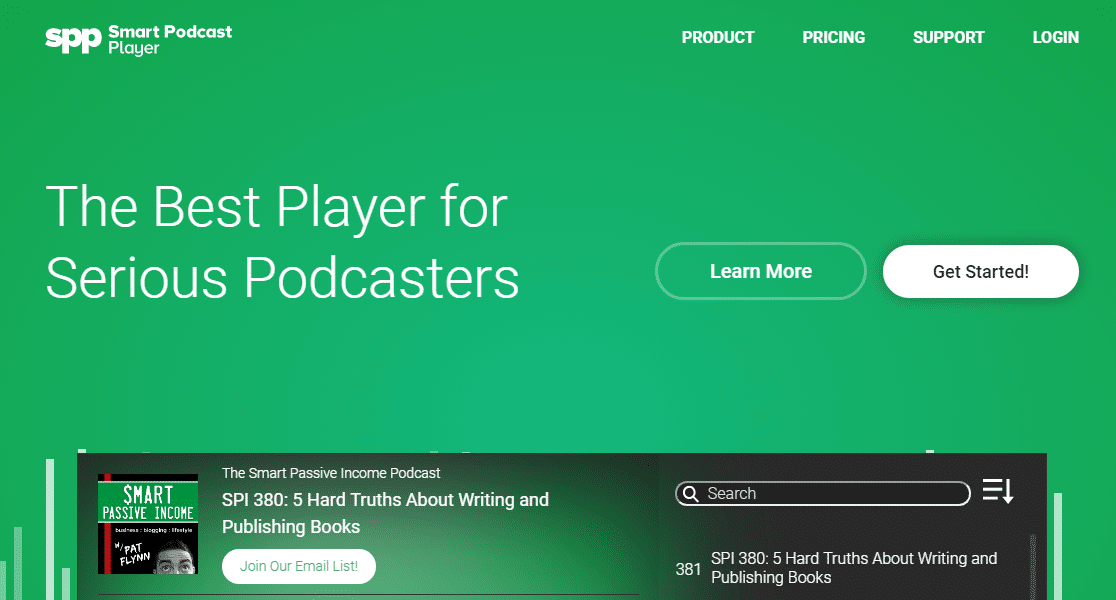 Smart Podcast Player is a great choice for power users and podcasters who want to take their podcasting to a professional level. It's one of the best WordPress podcasting plugins to help you set your podcast up on a website. It's intelligent Smart Track Player is the biggest feature that sets this service apart from the others.
Features:
Beautifully designed HTML player with share, download, and subscribe buttons
Ability to promote your entire podcast archive and your latest, new podcast episodes
Has clickable timestamps
The Smart Track Player is completely responsive and looks fantastic on desktops, tablets, and mobile devices (especially if you're using a WordPress responsive theme)
Speed control features let you add different playback speeds
Customize your color theme to fit your podcast's branding
Cost:
Smart Podcast Player pricing is $8.09/month (billed annually).
Click Here to Get Started with Smart Podcast Player Today!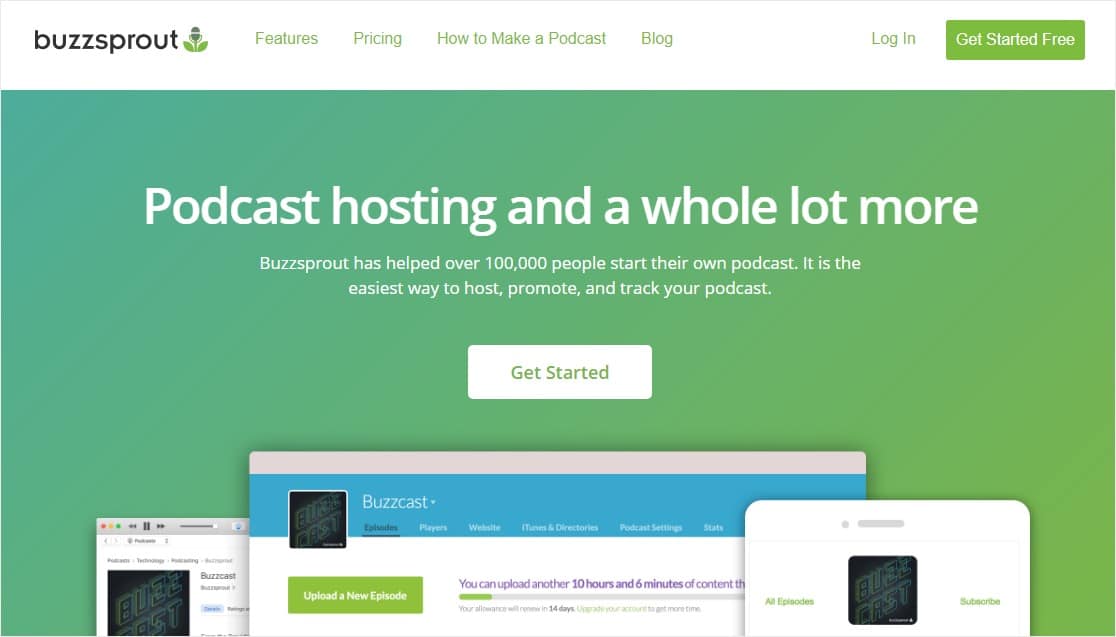 Buzzsprout podcasting is a very popular and well-known podcast plugin that's also a complete podcasting service, and one of the best audio plugins for podcast. It offers podcasting promotion and podcast hosting as well. If you are planning on podcasting for less than 2 hours a month, many people may tell you it's the best free podcast plugin for WordPress.
Features:
Simple and easy-to-use user interface
Automatic audio optimization as your file is uploading
Ability to easily sync your episodes to popular podcast directories including Stitcher, iTunes, Google Play, Spotify, and more
Use podcast shortcodes from the free WordPress plugin to add your episodes anywhere on your WordPress site
Cost:
Buzzsprout has a free plan for up to 2 hours of audio/month, and starts at $12/month for 3 hours of audio/month.
Click Here to Get Started with Buzzsprout Today!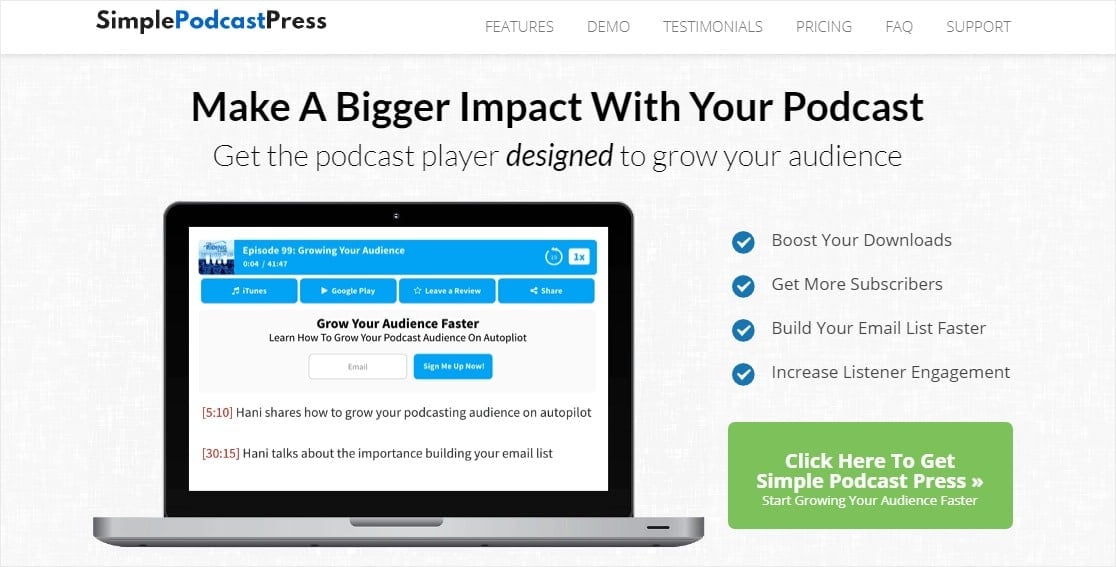 One of the simplest podcasting plugins for WordPress is appropriately named Simple Podcast Press. It's a podcast audio player and plugin specifically designed for hosting your episodes on WordPress so you can grow your audience with a website. It can work as a Podbean WordPress plugin because it's compatible with Podbean and other podcasting platforms.
Features:
Compatible with all major podcasting platforms, including Spreaker, BlogTalkRadio, PodBean, Soundcloud, and more
Completely automatic, so you can set it up then focus on producing more episodes
Creates unique pages for each of your podcast episodes
Customizable buttons
Clammr integration for easy social media sharing
Automatic URL shortener
Cost:
Simple Podcast Press pricing starts at $67.
Click Here to Get Started with Simple Podcast Press Today!

Using the Libsyn Podcasting plugin, you can connect your WordPress website to your Libsyn account and start publishing podcasts easily. It's a great option if you want to have your podcast on and off WordPress.
Features:
Since the episodes are stored on Libsyn, you won't take up space on WordPress hosting platforms and can access them if your site goes down
Easily create podcast drafts and podcast episodes, then schedule them to post on your WordPress site
Ability to use Apple Podcasts optimization tags
Easy-to-use block editor
Cost:
The Libsyn WordPress plugin pricing starts at $5/month for 50 MB.

One of the best podcasting plugins for WordPress for beginners to podcasting is Seriously Simple Podcasting. Because it's a free plugin, it's a good choice for a podcasting plugin for people just starting out.
Features:
Supports both audio and video podcasting
Lets you run multiple podcasts on the same WordPress website
Run multiple podcasts from the same site with their own unique RSS feeds
Customizable media player to change colors and add your podcast image
Supports most popular podcast platforms including iTunes, Stitcher, Google Play, Castos hosting service, and more
Ability to use shortcodes and widgets to add your episodes, playlists, and archive anywhere on your WordPress site
Cost:
Seriously Simple Podcasting is a free WordPress plugin, but if you want unlimited storage, pricing starts at $19/month.

Podlove Podcast Publisher is a free, open-source podcasting plugin. It's best for people looking for a customizable option with lots of features.
Features:
An active online community
Options for different templates
Includes an HTML5 player to play your podcasts
Supports multi-format publishing by using modern audio and video codecs
Features chapter support to help you manage your podcast episodes easily
Comes with analytics so you can see what your listeners are doing with your podcast
Cost:
Podlove Podcast Publishing is free, and if you'd like support, pricing starts at around $44/month.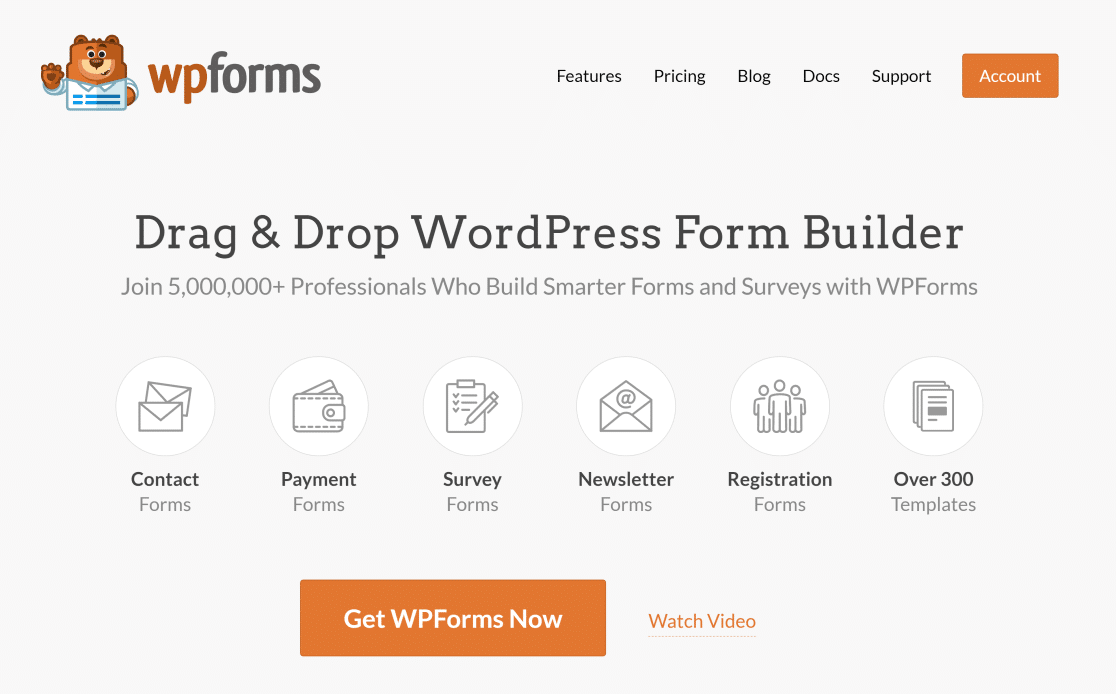 If you're looking to build a strong community of loyal podcast listeners, WPForms is a must-have plugin for your podcasting website. Once you have your podcast listeners on your website, you can use forms to generate leads and build your email list.
Features:
Easy drag-and-drop builder to create tons of different types of helpful forms from 300+ pre-made templates
Add contact forms in minutes to give your users and advertisers a way to reach you
Create online order forms to accept payments via Stripe, Authorize.Net, Square, and PayPal to make money from your podcast
The Survey and Polls addon to uncover what your listeners want to hear more about in future episodes
Gorgeous conversational forms to help capture the email addresses and information from your website visitors with a conversational contact form
Cost:
WPForms Lite is free, and the feature-rich WPForms Pro is $199.50/year.
Click Here to Get Started with WPForms Today!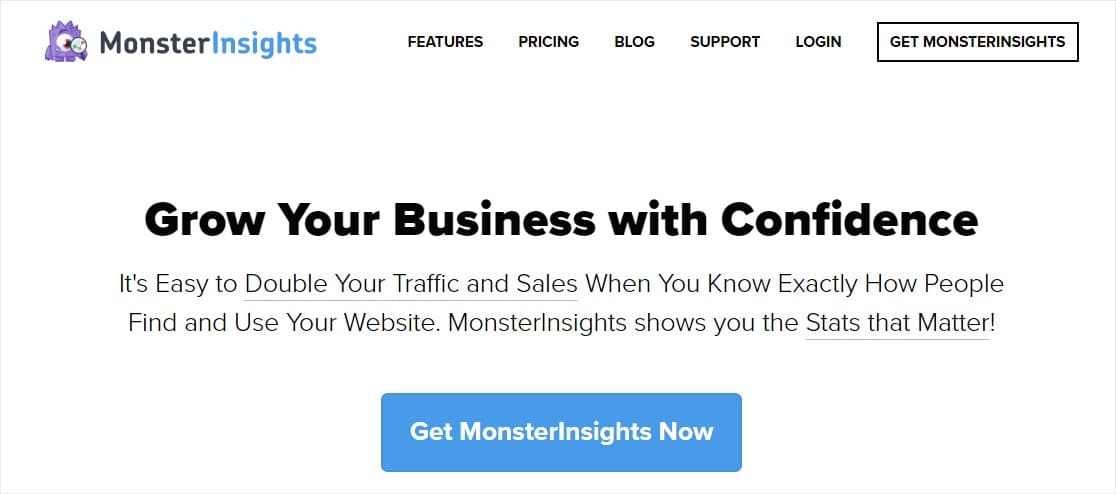 If you want to know how people find your podcast website and what they do once they're there, the MonsterInsights plugin is a must-have. It lands on this list of the best WordPress podcasting plugins since it makes it so easy to learn more about and grow your listener base.
Features:
A Google Optimize tool to let you conduct experiments with your content like A/B testing to find what works best for your site
Get updated stats in real-time, so you can immediately see people going to your website as you mention it on your podcast
A link tracking tool that helps you see which episodes are downloaded the most
Ads tracking helps you see who is clicking on your Google AdSense ads so you can sell ad space on your WordPress website
A user-friendly dashboard helps you see your podcast site's performance right in your WordPress dashboard
Cost:
MonsterInsights Pro is $199.50/year.
Click Here to Get Started with MonsterInsights Today!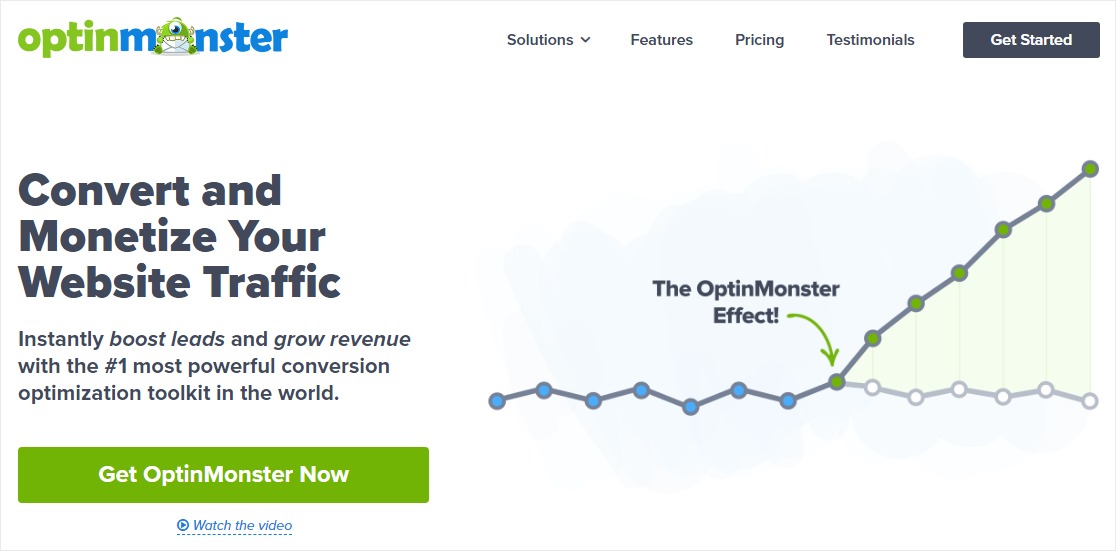 If you're serious about capturing your podcast listeners' attention and turning them into loyal fans and paying customers, OptinMonster is for you. It's the most powerful lead generation software in the world, and it's a brilliant tool to use on any podcasting website.
Features:
Monetize your podcast audience by turning your website traffic into leads, podcast subscribers, and customers
Mobile-friendly popups help you optimize your campaigns for tablets and mobile devices, where many podcast listeners visit your site from
Create your own designs easily from scratch to match your podcast site's branding
Insanely effective Exit-Intent® Technology detects a user's mouse behavior and shows them a targeted message as they are leaving your site to help you grow your email list
Cost:
OptinMonster Pro costs $29/month (billed annually).
Click Here to Get Started with OptinMonster Today!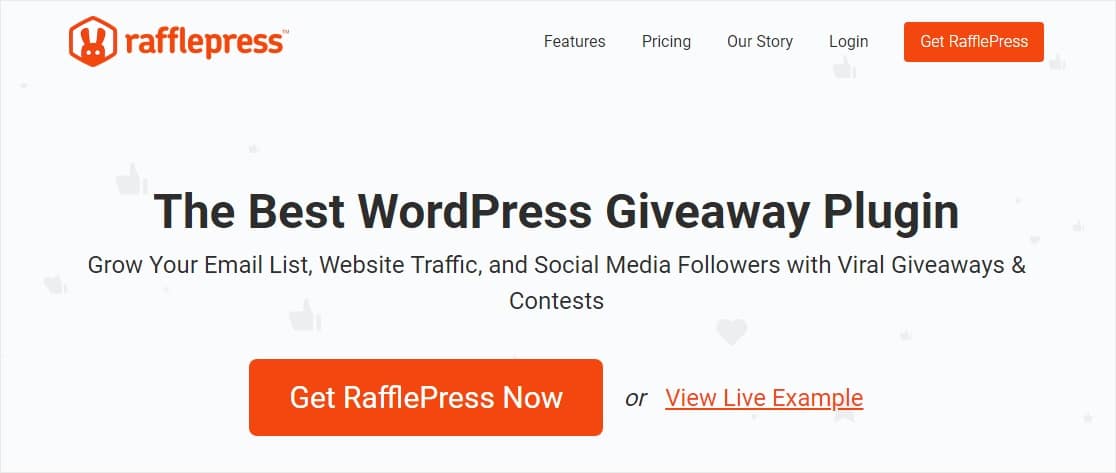 Hands-down one of the easiest ways to grow your podcast audience on your website is through RafflePress. It's a giveaway plugin that helps you coordinate your contests and giveaways from your podcast right on your WordPress site. And we've got you covered with this easy tutorial on how to run a giveaway online with RafflePress.
Features:
Grow your podcast following and website traffic by sending listeners to your site to enter contests they hear about on your podcast
Create beautiful, responsive online giveaways for your website in minutes
Use pre-built giveaway templates to get more subscribers and improve engagement
Integrates with your favorite email marketing services so you can easily grow your email list
Viral sharing feature helps automate word-of-mouth marketing to skyrocket your podcast's growth
Cost:
RafflePress pricing starts at $39 per year.
Click Here to Get Started with RafflePress Today!
And there you have it. We hope this post helped you find the best WordPress podcasting plugins to use and we wish you tons of success in your business online.
Next, Learn About Website Costs
If you're just setting up your business, you should consider reading up on how much does a website really cost. Also, be sure to install the best WordPress GDPR plugins to make sure you're storing visitor data in the right way.
Ready to build your podcast's email subscriber list? Get started today with the easiest WordPress form builder plugin. WPForms Pro includes lots of free templates and offers a 14-day money-back guarantee.
And don't forget to please follow us on Twitter and Facebook to get updates from our blog.