Looking for contact us page examples for inspiration to create your own?
A website's contact page plays an important role in turning visitors into customers.
So let's take a look at some fantastic contact page examples, so you can discover ideas to use on your site to increase your revenue online.
How Should a Contact Page Look?
Before we take a look at some great contact us page examples, we wanted to talk about how a contact page should look. There are some key contact us page best practices for you to consider when building your own.
Here are some tips to keep in mind when thinking about how your contact page should look:
Don't Use a Distracting Sidebar: Work on not crowding your page with things that distract from what you want your visitors to do. Keep it focused on the contact form.
Limit Form Fields: Make sure that your contact form only asks for the important details. Forms with tons of required fields asking for things like addresses and phone numbers can make conversion rates suffer greatly.
Represent Your Brand: The first contact is the beginning of a relationship with your visitor and your brand. You contact us page design and style will be part of your lead's first impression of your small business.
Write Details About What You Want: When someone has landed on your contact us page, they need you to write instructions on what you expect them to do.
Now that you've got some ideas on what a contact us page should look like, let's take a look at some different examples for even more ideas of what's possible in the world of contact us pages.
Best Contact Us Page Examples
Below are our top picks for great contact us page examples for you to check out.
1. WPForms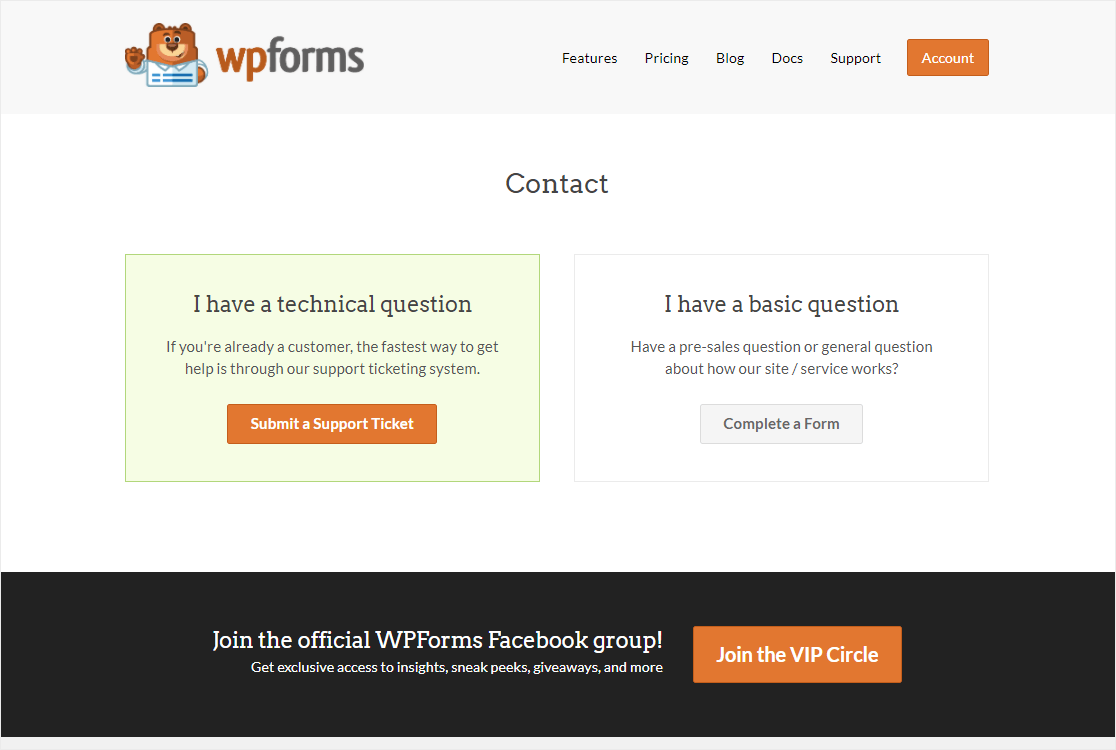 We wanted to start with the WPForms contact us page because we think it's a solid example of a contact us page for small businesses.
The above the fold section of our contact us page is split into two sections: one for existing customers who may have a technical question and another for presale queries.
The contact form is hidden by default. It will only be displayed once the 'Complete a Form' button is clicked. By hiding the form, it reduces the size of the page. It also makes sure that only new prospects use the contact form because it only appears if someone clicks on the presale 'Complete a Form' button.
This helps segment people quicker and get them to the right places, making it easier for both our business and the people reaching out.
Plus, at the bottom of the page, there's a link with a CTA to join the WPForms VIP Circle.
How to Create a Contact Page Like This
You can use pre-built form templates for feedback, marketing, business operations, and tons more to create tons of visually appealing forms that are fully functional.
And if you're a multi-lingual site or English isn't the language of your audience, you can also translate your contact forms quite easily.
2. Marie Forleo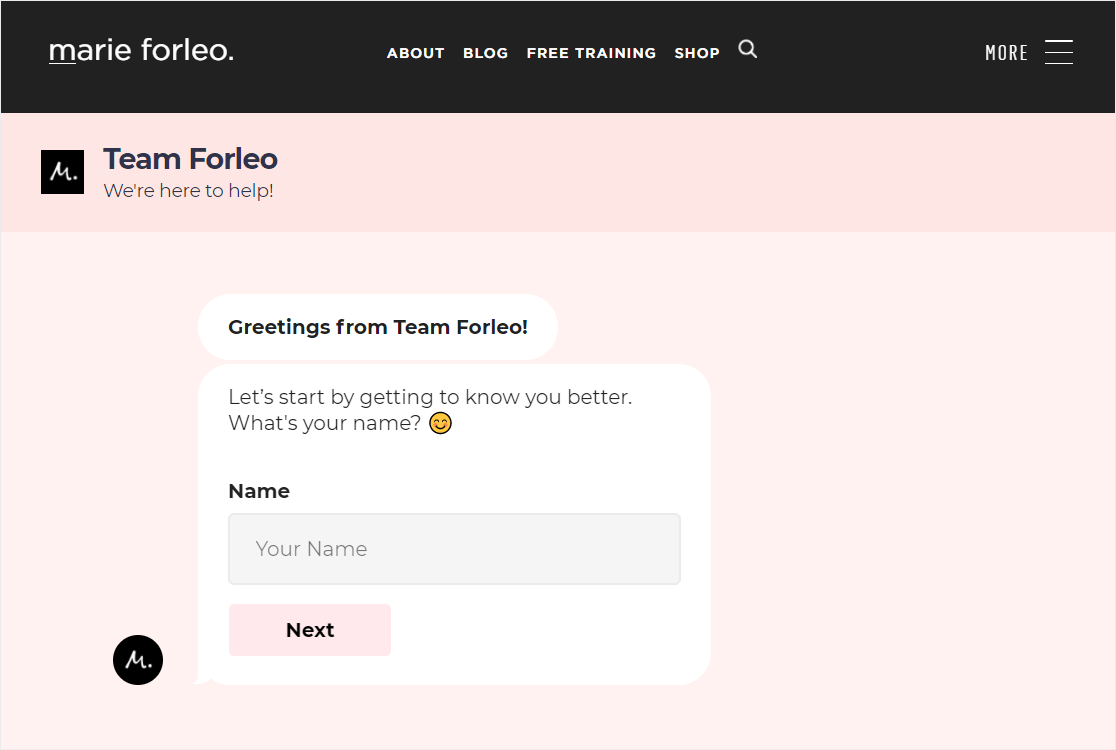 The eye-catching contact us page on Marie Forleo's website acts as a face to the support section of the site. It fields requests to places people might be able to find answers, without needing to contact them unnecessarily. Not only does it get people help faster, but it also looks super sleek, too.
How to Create a Contact Page Like This
3. QuickSprout
The top of this very long (but jam-packed with personality) contact us page starts with an infographic.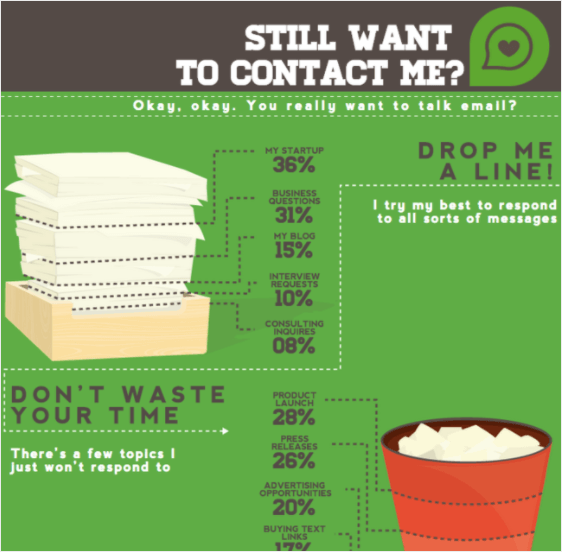 Scroll down to the bottom of the page, and you'll see this concise, witty contact form area.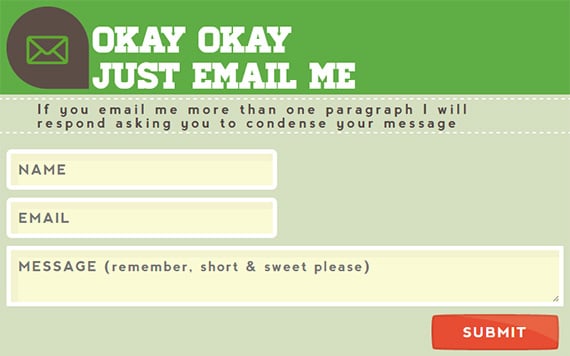 The form also instructs visitors to make the message short with no more than one paragraph.
If you're looking to drive away specific types of inquires on your small business website QuickSprout's contact us page is a good example for you to follow.
How to Create a Contact Page Like This
Give your readers information on how long of a response time they can expect +why.
Customize your placeholder text to make sure your visitors fill out your form correctly.
4. Legalia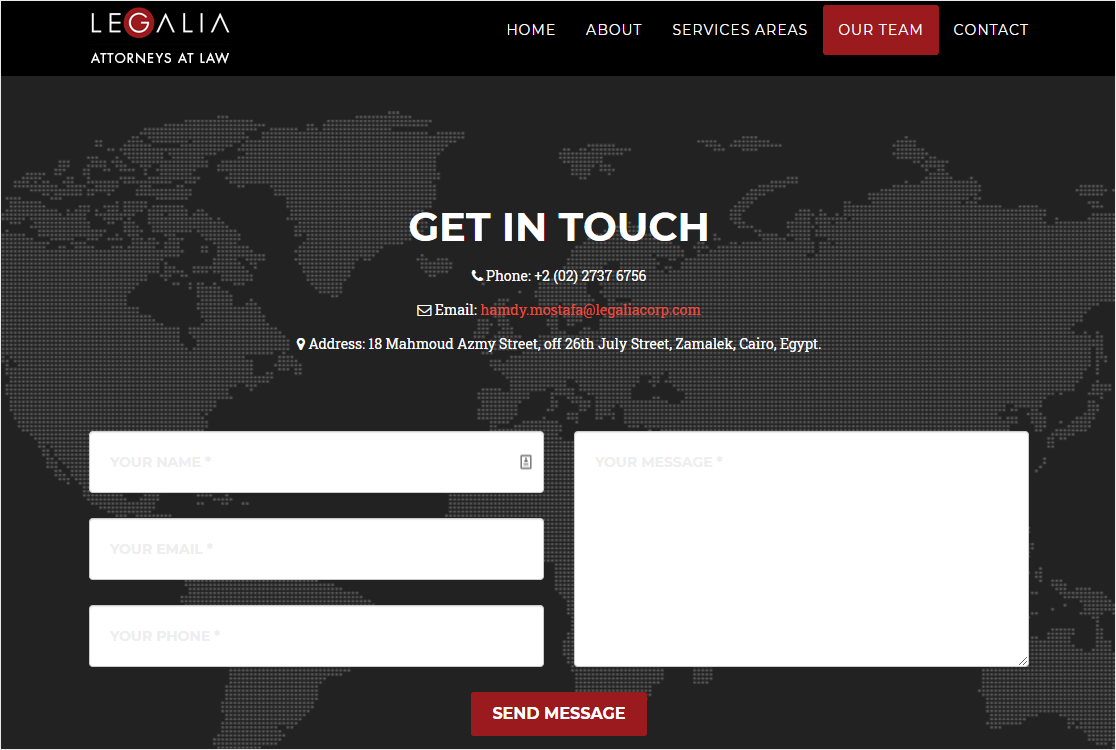 In order to make the contact form look short, Legalia uses a multi-column form on their contact page which surely helps lower their form abandonment rate. They also provide details of the physical addresses of their office and include other useful info like their phone and email address.
How to Create a Contact Page Like This
5. Grover Web Design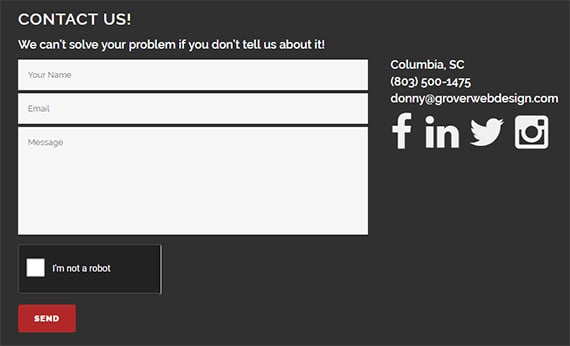 This website uses a simple contact form with a CAPTCHA feature to prevent spam submissions. The best thing is users can easily pass the CAPTCHA by simply selecting a checkbox.
The contact us page also includes a physical address, email address, and links to their social media profiles.
How to Create a Contact Page Like This
6. Den Ersten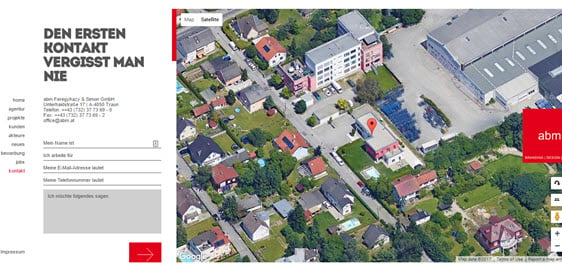 If your business relies on customers coming to a physical location, you might want to use a map on your contact us page just like this Den Ersten contact us page does. This way you can show your customers how to reach you and help them easily navigate to your shop.
They also use a short and beautiful contact form on their page, which fits great.
How to Create a Contact Page Like This
7. JetBlue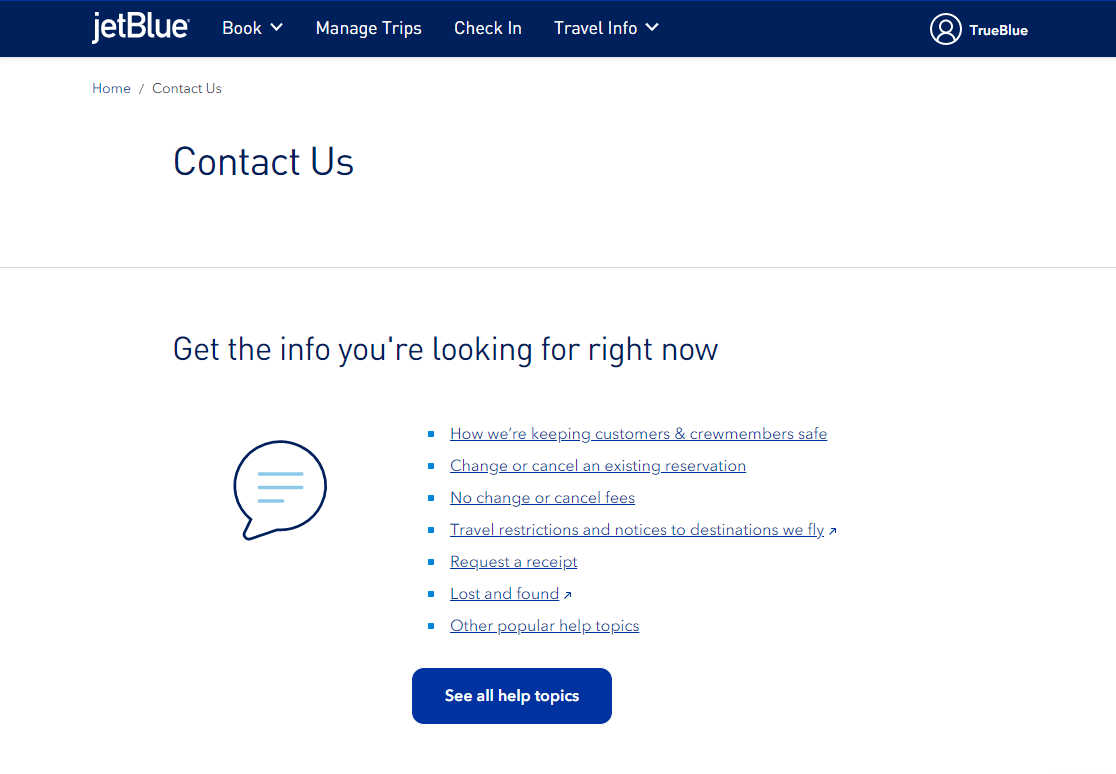 JetBlue's contact us page contains direct links to popular help topics and answers. If users can't find answers to their questions, they can easily reach out via email or phone.
The main downside of their page is that JetBlue doesn't use a contact form. This can be frustrating to users who urgently need to contact their support teams to help answer your questions.
How to Create a Contact Page Like This
Create a FAQ or knowledge base on your website with a plugin.
8. Tune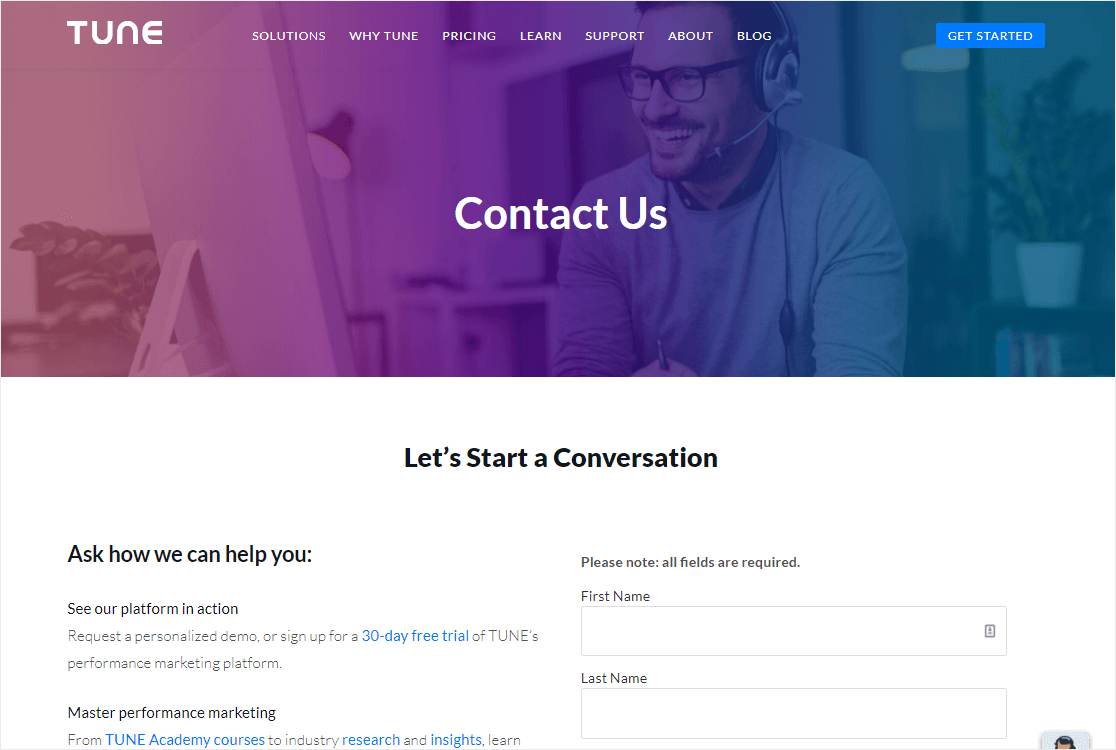 Another leader on our list of the best contact us page examples is Tune.
Tune features a beautiful hero image at the top of their contact us page in their header. On the left side just below the hero image, they describe their company and also explain why new prospects should contact them using their form published on the right side.
The contact form targets new prospects, so they can easily send presale queries. Just below their form, they also feature a call to action targeting their existing customers.
The downside of this page is that some of the existing customers may also use the contact form for support-related queries instead of submitting them through the support page.
How to Create a Contact Page Like This
9. Choice Screening

Using images of real people on your contact us page is one of the best ways to make your brand seem more personable.
Aside from displaying images, Choice Screening also used a header that says 'Talk to a Human'. They reassure their customers that their emails will be seen and read by a person and won't be buried in their inbox.
They also use a big contact form with many fields on their page to weed out unqualified leads from submitting forms along with a call to action that says talk to a human.
How to Create a Contact Page Like This
Use a WordPress theme like Zerif that allows full-width header images.
Add copy reassuring your visitors that their messages will be read and responded to in a timely manner.
Consider creating a multi-page form to get all the information you need without scaring away visitors.
FAQs on Contact Us Pages and Forms
Got questions? We'll do our best to answer them for you below.
What do I write on a Contact Us page?
On your Contact Us page, you should write a small amount of content to explain your usual preferences for contact with customers. Do you prefer them to call, use your contact form, or do you have specific opening hours when they can visit? It's best to explain this.
Although it varies depending on your niche and the type of business you're in, you'll typically also include:
An invitation to fill out your contact form.
Copy that matches the tone of your brand.
Social media details to connect with your visitors.
Extra details and contact options as necessary like a business phone number if you accept calls and an address or map if you operate a storefront.
Asking yourself: "what can I say instead of contact us"? Typically, 'Contact Us' is a straightforward, clear way to explain what you want the visitor to do. But if it matches your brand, you can feel free to have fun with the wording.
Some ideas for what you can say instead of 'Contact Us' include:
Drop Us a Line
Get in Touch
Reach Out
Let's Chat
Talk to Us
Get Ahold of Us
However, we'd stay away from saying 'Email us' on your Contact Page. It may seem tempting to provide your contact information directly on your site. But this might confuse people and using email instead of a contact form isn't usually the best idea for any size business. It can result in an increase in spam and phishing emails.
Remember: your contact form page doesn't need any SEO keywords because it doesn't need to rank on Google. Just provide your essential contact information and a form that's easy to fill in.
How do I make a Contact Us page in WordPress?
The best way to make a Contact Us page in WordPress is with a WPForms plugin.
WPForms is the best FREE form builder for WordPress. It includes pre-made form templates to help you get started. You can also take payments in the free version.
When you upgrade to WPForms Pro, you can unlock the ability to store your entries in your WordPress database and export form entries to Google Sheets.
What is the best way to style my contact form?
When styling your contact form, you can opt for a minimalist design with sparse imagery, simple typography, and clean designs. You could also go with a more eye-catching design that uses bright colors and bold typography. In either case, a clean form design is a must.
Can I get notifications when someone contacts me through my form?
Yes, you can get notifications about contact form submissions. Most form builders will let you set this up right within the plugin. If not, you can set it up using SMTP or another third-party provider.
How can I optimize my contact form?
You can optimize to increase form conversions. Be sure there is a direct way for users to navigate to your contact page and that the form is clearly visible when they get there. Keep distractions to a minimum and use a call to action like "Send Email" as the button text.
Can I include other forms of contact?
While a contact form is likely the keystone of your contact page, you can include other forms of contact, as well. If you have a customer support phone number, chat service, or meeting scheduler, you should also include that information on a contact page.
Next, Set up Your Contact Page With WPForms Pro
We hope this article showed you some cool contact us page examples you can take as inspiration to create your own.
If you're ready to get started with WPForms for your contact us page, you should check out WPForms Pro.
Create Your WordPress Form Now
WPForms comes with tons of amazing features:
Email Marketing Integrations – Set up your WordPress forms to automatically send contact page inquires to your email lists in Constant Contact, AWeber, Mailchimp,  and more.
Unlimited Forms – Create as many forms as your website needs, not just a contact form.
Conversational Forms – Use highly engaging Conversational Forms to impress customers and potential leads with interactive marketing.
Landing Pages – Get more leads by creating distraction-free form pages right on your contact us page.
Secure Forms – Protect forms with different anti-spam options like custom captcha, hCaptcha, Cloudflare Turnstile, or Google reCAPTCHA v2 or v3.
Surveys and Polls – Understand what your customers want more of, plus use a beautiful reporting dashboard that lets you export this priceless data.
…and a lot more
With WPForms, you can easily change the look of the form the way you want to customize it. You can read how to style your contact forms in WordPress. Who knows, maybe you'll end up being one of some else's favorite contact us page examples!
Sometimes you'll want to restrict access to WordPress while you're creating your forms and getting everything set up. To find out how to do this, check out our guide on how to hide your WordPress site until it's ready. You can also see how WPForms measures up as a Caldera Forms alternative.
What are you waiting for? Get started with the most powerful WordPress forms plugin today.
If you like this article, then please follow us on Facebook and Twitter for more free WordPress tutorials.