Want to learn why there's such a buzz around conversational marketing and how you can use it to boost your online sales?
Conversational marketing is a powerful tool that improves the user's experience and gets you more sales on your website.
In this ultimate guide, we'll share everything you need to know about conversational marketing.
What Is Conversational Marketing?
Conversational marketing is a new, personalized approach to doing business online. It moves buyers through marketing and sales funnels by using the power of one at a time questions, a lot like a real-time conversation.
In other words, it's an automated conversation with your website visitors. You can ask them different questions based on their previous answers, so they can give you specific details about them.
That way, you get the exact information you need from your website visitors. And it happens at the same time that they engage with your business.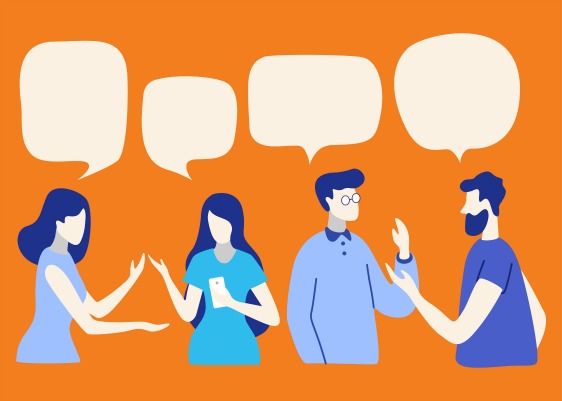 Conversational Marketing is effective because it builds relationships with customers through the experience of a conversation. Instead of asking people to go through lead capture forms and wait for a response.
And it's been proven as a successful way to use marketing to drive user engagement. It can also help expand your customer base, develop loyal customers, and grow your income.
So by making it easier for people to engage with your business, you can convert more of the right leads faster. Meaning, conversational marketing doesn't just bring you customers. It brings you relevant ones as qualified leads.
What Are Conversational Marketing Chatbots?
Chatbots are artificially intelligent software programs. They use natural language and pre-programmed responses to have a conversation.
And they do this by using conditional logic, which you get to set up and control.
Chatbots are a popular way to use conversational marketing. That's because they don't require anyone to actually be responding to the user. That's why using a Chatbot is such a budget-friendly way to get started.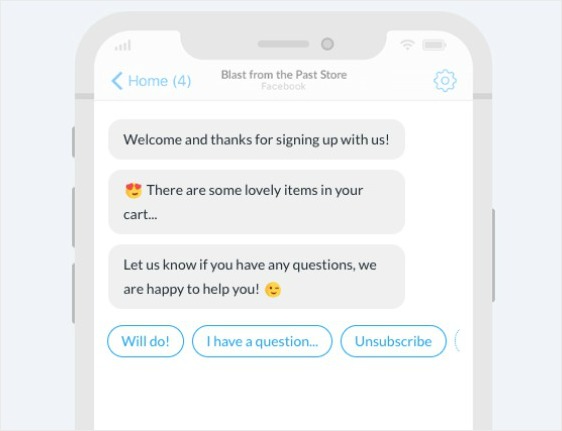 What Is Conversational Marketing Live Chat?
Live Chat is software or an app you can add to your business website. It lets users send a message directly to you or a team member in real time.
Live Chat is popular because visitors can get answers to their questions right away. But, it requires a real human be available to help.
Both Chatbots and Live Chat aren't just for troubleshooting and customer support, either. They can both provide content that helps nurture your audience.
And Conversational Marketing is more than just chat. Similarly, it can be used in tons of different areas of your business, including:
Forms
Landing Pages
FAQs
Voice Applications (Alexa, Google Smart Assistant, etc.)
And more…
Let's take a look at how people are using conversational marketing next.
Conversational Marketing Examples
Conversational Marketing is a much more human way to get data from website visitors.
And, examples are starting to pop up all over the web.
That's because a lot of businesses are already using this personal experience strategy to capture info.
Check out these Conversational Marketing examples:
1. MonsterInsights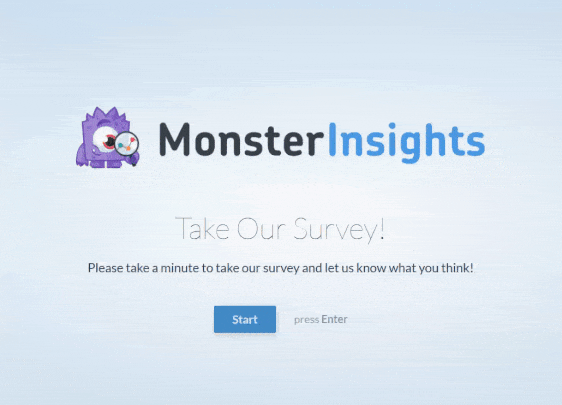 MonsterInsights uses the WPForms Conversational Forms Addon. In this example, they are using it to create a survey form in WordPress. They take the answers and use it to grow their brand.
MonsterInsights' conversational forms prove that WPForms is the best Typeform alternative.
2. Domino's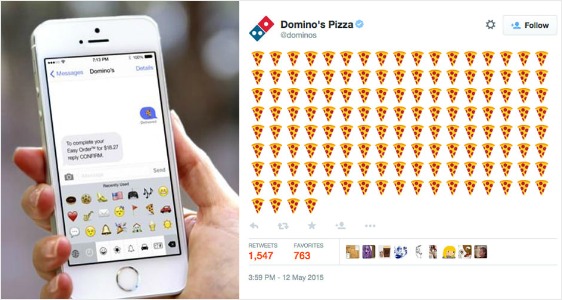 Domino's uses text messages. They want to encourage previous customers to order again with a simple pizza emoji. It doesn't get much simpler.
3. London & Company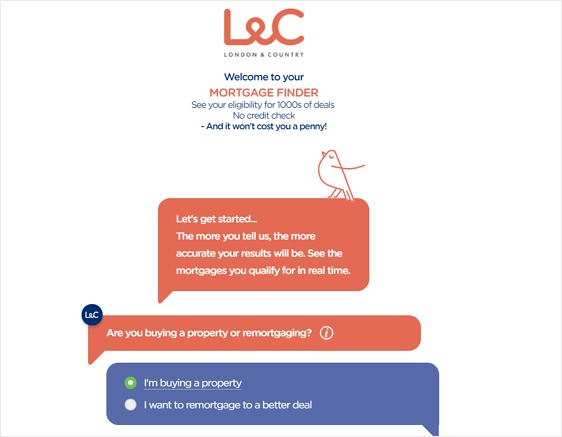 London & Company uses a pretty looking Chatbot for to ask qualifying questions and get new leads from potential customers.
4. Drift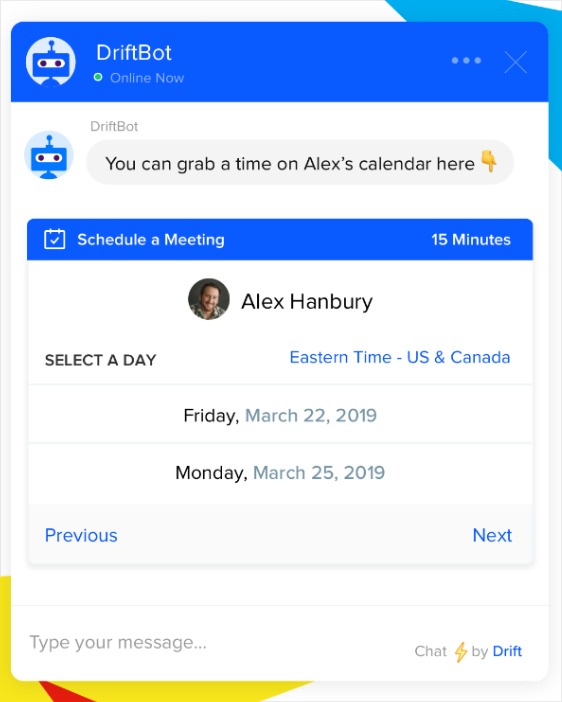 Drift lets customers schedule a meeting with sales team and sales reps themselves. And it happens on their own watch. This makes the user feel more engaged in the sales process.
5. 1-800-Flowers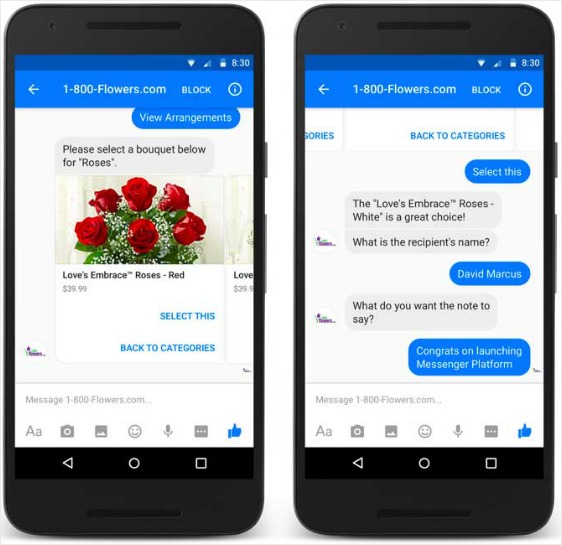 1-800-Flowers sells their product through Facebook Messenger. And they use bots to walk customers through the sales cycle from start to finish.
6. Sephora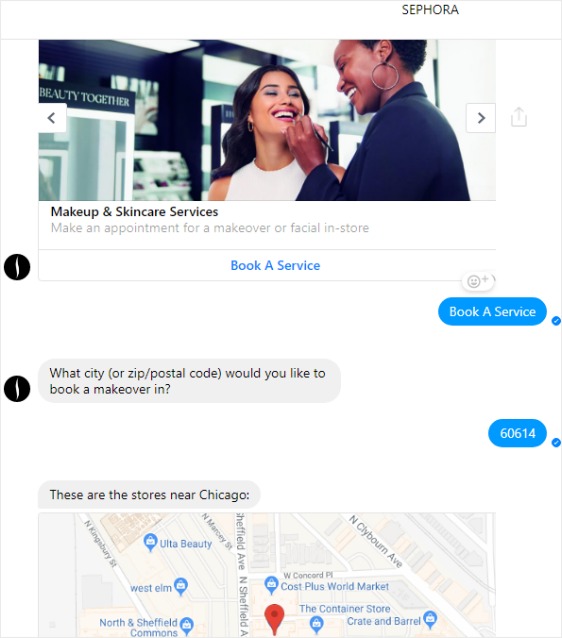 Sephora automatically books appointments through Facebook Messenger. And they use geolocation to bring people into their storefront.
7. Databox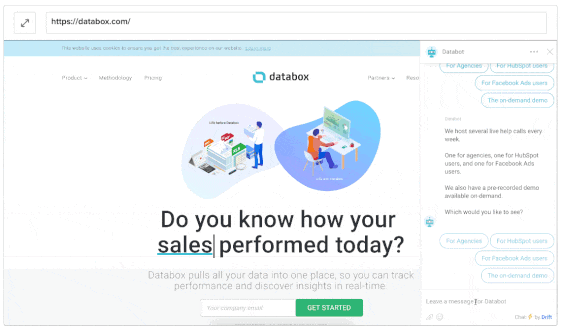 Check out how Databox has a sidebar Chatbot on  their homepage to get qualified leads. And they also start building the relationship with the user right away in the chat.
8. HealthTap
HealthTap also uses Facebook Messenger to help get leads and take are of existing customers. In fact, most of their business is based around this conversational strategy.
9. Plum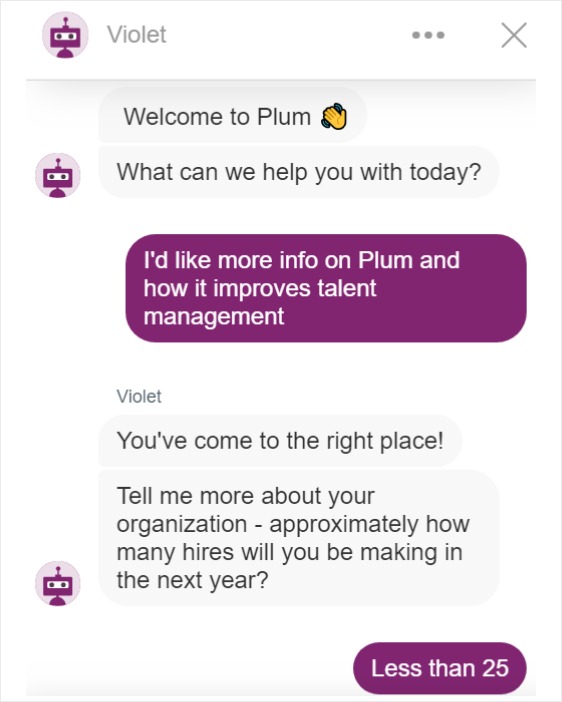 Plum uses conversational marketing through a Chatbot. And it shows up directly on their homepage and around their website.
10. Casper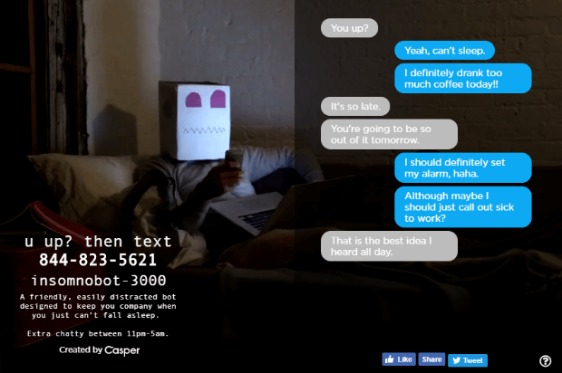 Casper uses a fun and creative Chatbot for lead generation. And the whole thing happens via text message.
So now that you've seen some conversational marketing examples, you should be getting a better idea about what it is.
And, you've probably realized that you've been on a website that uses conversational marketing recently!
Conversational Marketing Statistics
Information overload happens pretty quickly. Especially when filling out long forms.
But conversational marketing is helping reduce form abandonment, one of the biggest paint points for business owners with websites.
Here are some astounding conversational marketing stats that prove why this type of marketing is becoming so popular:
By 2020, conversational marketing will be a recognized channel for revenue in both B2B and B2C business.
Aeromexico made the first-ever airline Chatbot in 2016.
When asked about the next big marketing trend, people answered with consumer personalization (29%), AI (26%), and voice search (21.23%).
Half of U.S. adults (46%) now use voice assistants to talk with smartphones and other devices.
More people use messaging apps than social media.
Virtual chat reps will count for the majority of customer interactions with businesses by 2020.
86% of online shoppers prefer proactive customer support.
By 2021, more smart speakers will be owned than tablets.
58% of B2B businesses haven't adapted to modern consumer behavior.
Nurtured leads increase sales opportunities versus neglected leads.
79% of top-performing businesses have been using marketing automation to get leads for 3 or more years.
Using a quiz-like form to capture information has the potential to triple your conversion rate.
Mobile is growing past desktops as the most popular device to use online.
Companies automating lead management see a 10% increase in revenue after 6-9 months.
People finish conversational forms 3.5 minutes faster on mobile.
Conversation marketing will replace a combination of different parts of marketing, sales and service activities.
To sum up, these conversational marketing stats are part of why so many businesses are focusing their energy on this new form of marketing.
Next, let's talk about your conversational marketing strategy.
Conversational Marketing Strategy
So we all know that the way we communicate online is changing. Today's consumer doesn't want to be coldly sold to or marketed to. They want to be honestly helped.
And they want that help right away!
So let's get you ready to help your customers and grow your business by understanding Conversational Marketing Strategy.
Here's the framework to Conversational Marketing Strategy:
Engage
Understand
Recommend
Repeat
So are you wondering where this strategy will work?
Successful digital marketers use conversational marketing for lots of different things to build their business online:
Email Marketing
Support
Sales
Lead Generation
And more…
And your conversational marketing strategy will look a little different in each area of your business.
For example, let's take a look at a common Sales conversational marketing strategy:
Qualify leads
Route conversations to reps
Book meetings
Increase Revenue
Notice that there's both an automated and human piece to this strategy.
As you can see, the modern way of using conversational marketing means sales reps spend time only dealing with the best leads, as people qualify themselves through interactive forms.
And what's really great about conversational marketing is that it's not an all-or-nothing kind of marketing strategy.
In short, you can use your conversational marketing strategy alongside traditional marketing strategies. You'll quickly see the benefits of using automated technology on top of conventional marketing.
Conversational Marketing Best Practices
There's a lot of excitement around conversational marketing. So when getting started it's important to follow these conversational marketing best practices:
Pick the right places. Focus on the most popular areas of your business.
Keep your old marketing. Conventional methods still work great. Use both traditional and conversational marketing.
Plan. Map out the customer journey and build around it.
Be human. Talk at your customers, not to them.
Think about the visitor. Your goal should be to make your customer experiences easier and more pleasant.
Keep in simple. Remember that visitors expect an easy and quick process.
Experiment. Test everything and tweak when necessary.
Follow-up. Even if you're relying on marketing automation software, always route people to a real human at some point.
Conversational Marketing Tools
Conversational marketing is skyrocketing in popularity. So more and more tools are being created to help you grow your business online.
Here are some popular conversational marketing tools:
1. WPForms Conversational Forms Addon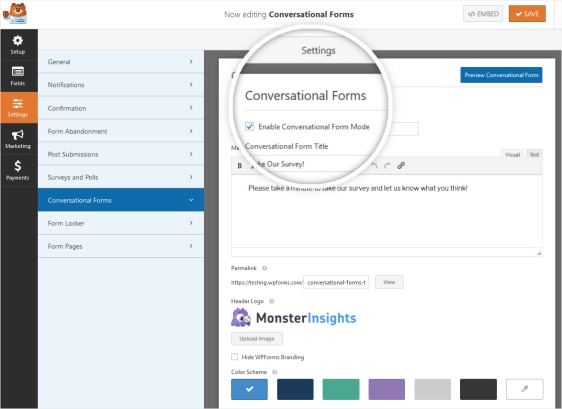 WPForms know how fantastic forms are. But we also know how important it is to engage with your website visitors while they are on your site.
In other words, strike while the iron's hot. That's a popular saying in sales for a reason.
That's why we created the Conversational Forms Addon. We believe it's simply the easiest and most cost-effective way to incorporate conversational marketing into your business by building a conversational contact form.
Click here to see a Conversational Forms Demo
Skill Level: Beginner
Cost: WPForms Pro starts at $199.50 a year
2. Facebook Messenger Bot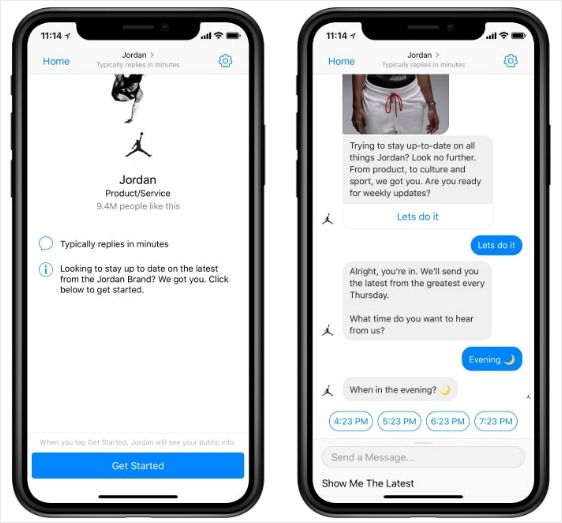 Big businesses like Nike, Sephora, and Pizza Hut use Messenger bots. And they are free to set up. However, they are very complicated for everyday business owners to create without help.
Skill Level: Advanced
Cost: Free (but you'll need to pay a developer to set it up, or use a paid software)
3. Chatfuel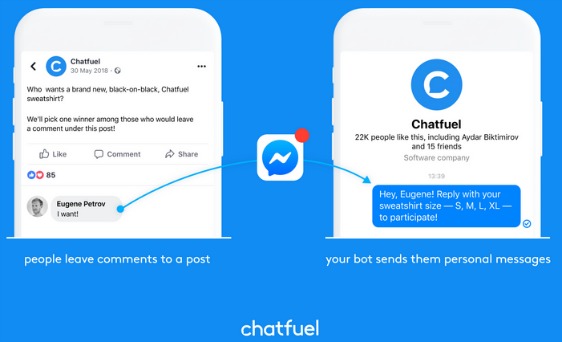 Chatfuel is a plugin that helps you build bots for Facebook Messenger. However, it doesn't work with other platforms (like WordPress).
Skill Level: Mid
Cost: Starts at $180 per year
4. Botfuel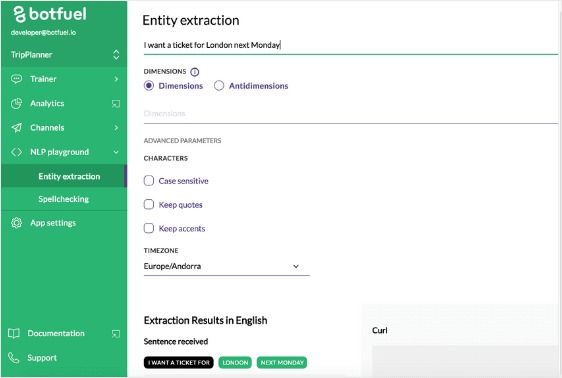 Botfuel is a platform that lets you build and manage conversational Chatbots based out of info in your database. And it gives you analytics to check out to see how your Chatbots are doing.
Skill Level: Mid
Cost: Free to start and has a limit of 5,000 messages per month.
5. Drift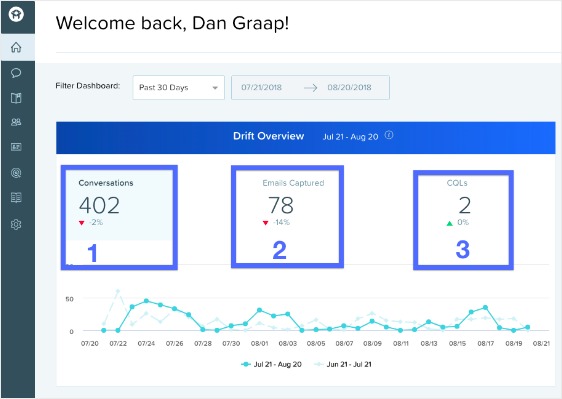 Drift makes it easier for people to buy from your business by using conversations. So when you connect Drift's conversational marketing platform to your site, you can get more qualified leads using bots. And bots also help book meetings with your team members.
Skill Level: Mid
Cost: Starts at $4,800 per year
Other conversational marketing tools that are enterprise-friendly include:
Intercom
Conversica
Siftrock
Final Thoughts
And there you have it! Hopefully, this ultimate guide helped you learn what conversational marketing is and how you can use this modern and powerful marketing tool to improve your website visitor's experience while also growing your online revenue.
Don't forget: many form builders don't have any conversational form features. Check out our comparison of Ninja Forms vs WPForms to learn more.
Interested in putting conversational marketing to the test and adding a membership area to your site? Check out our article on the best WordPress membership plugins compared.
What are you waiting for? Get started with the most powerful WordPress forms plugin today.
If you like this article, then please follow us on Facebook and Twitter for more free WordPress tutorials.