Looking for ways to make your lead capture form in WordPress get you more clients and more money from your website?
You can work really hard building a lead form or getting traffic to your site, but if you aren't using some of these simple ideas, people may never complete your form.
So we gathered this list of tips to create a lead capture form that converts to help you turn all those website visitors into leads and customers.
Create Your WordPress Lead Capture Form Now
What Is a Lead Capture Form?
A lead capture form is a contact form that collects information from visitors. This is with the hope that you can convert them into a customer.
Contact forms come in many shapes and sizes. And when built with conversions in mind, a contact form can easily become a successful lead capture form.
So now that you know what a lead capture form is, let's take a look at the best ways to build a lead form that actually converts so you can start to collect leads now!
Tips to Create a Lead Capture Form That Converts
Creating a lead form is easy, but creating one that actually converts can be tricky for some people. It isn't hard — just check out these tips to create a lead capture form that converts.
1. Check out Lead Capture Form Examples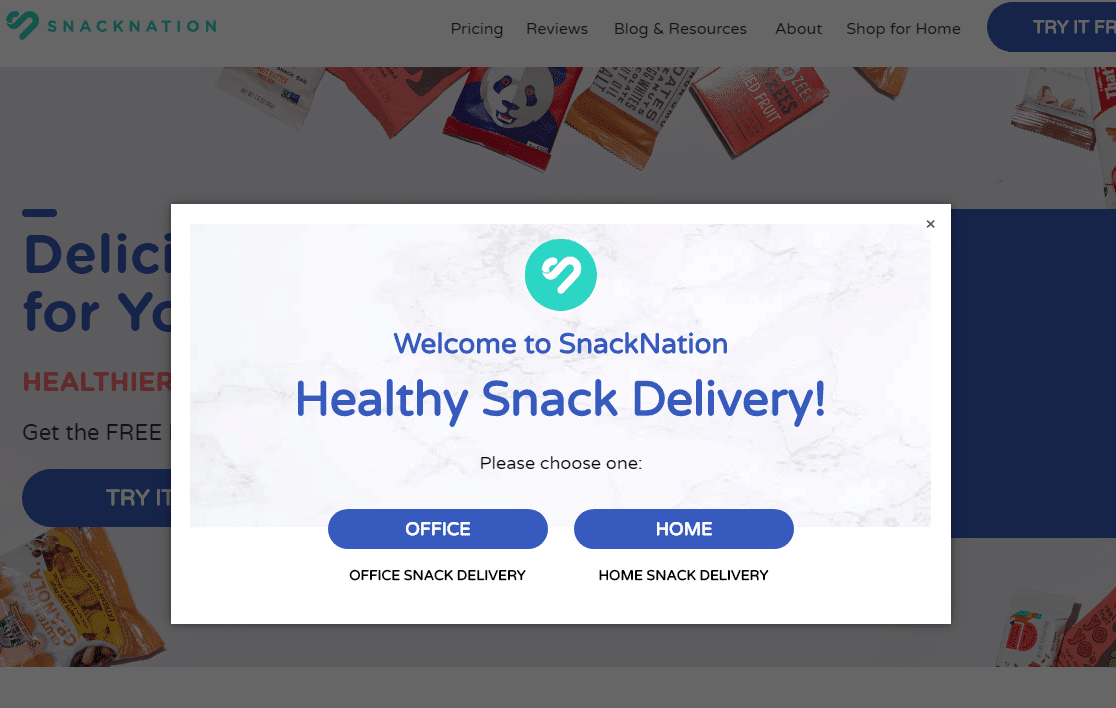 To get inspiration for your forms, it's a good idea to look at others that work well. Check out our post with these awesome landing page lead generation form examples (also known as a lead capture page) to see how other people are making lead capture forms.
2. Use a Lead Capture Form Template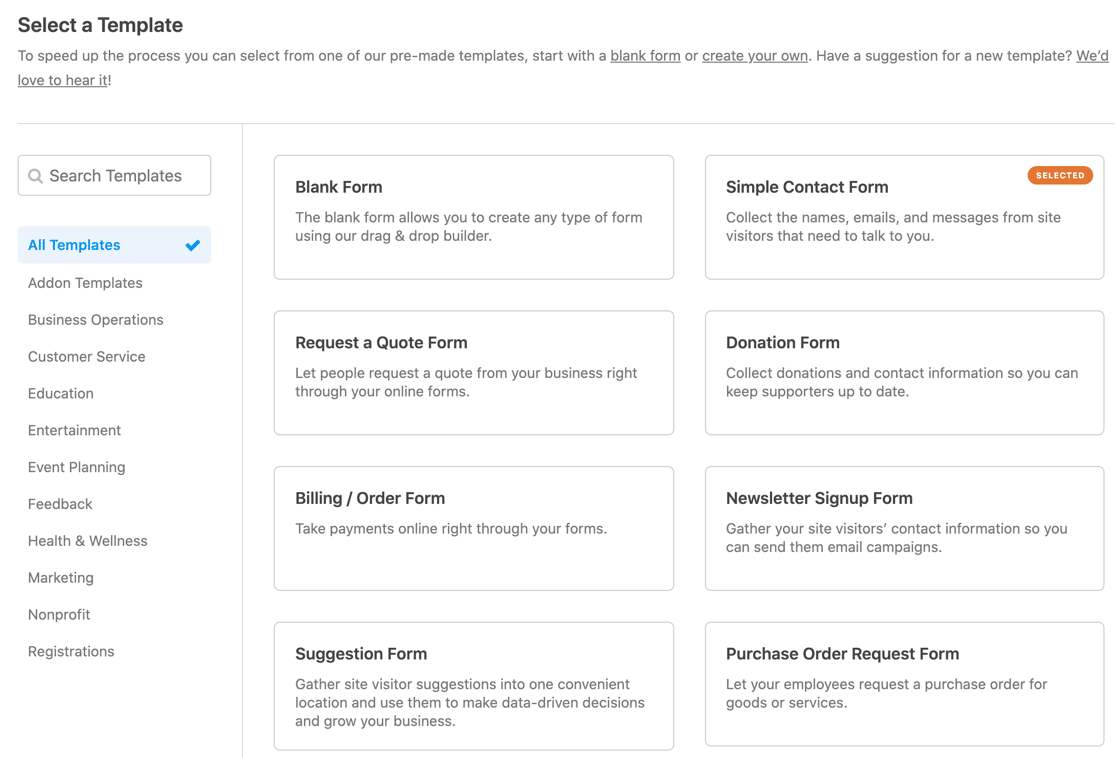 Lead capture form templates are an easy way to get up and running in no time. In WPForms, there are pre-built lead generation form templates that work for conversions, so you don't have to put extra time or effort into figuring out if they will convert well or not.
3. Don't Ask for Too Much Personal Information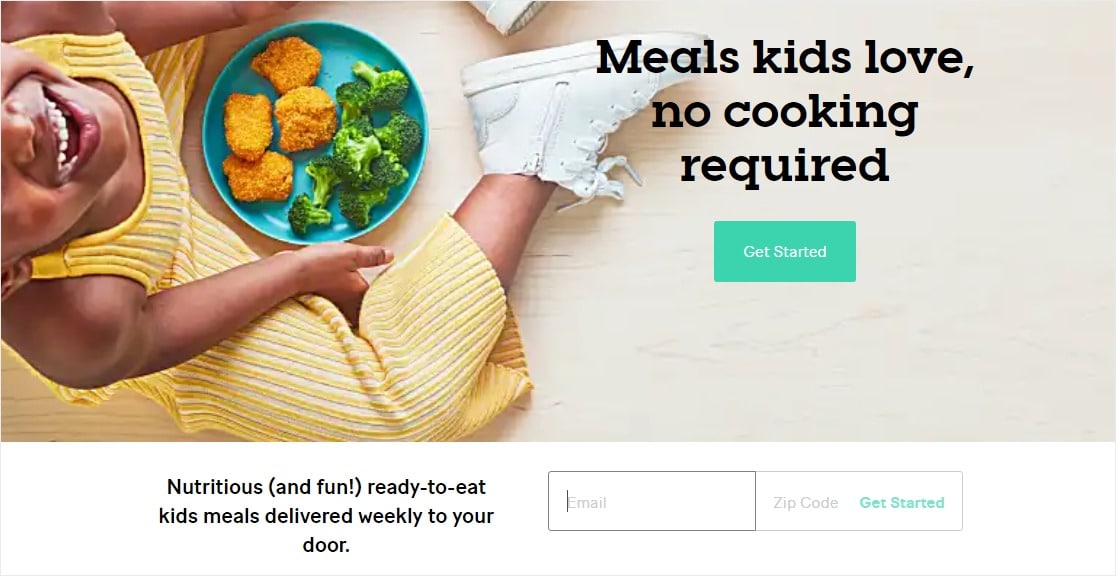 Sure, you want high-quality leads. But, the best lead form is a simple one. Try not to overcomplicate it by asking for addresses, phone numbers, birthdays, and more, all on the same form.
Statistics show that asking for information like a phone number decreases conversion rates by up to 5%. Ask for just the contact information you truly need at the time, even if that's just an email address to grow your email list.
4. Keep Your Form Length Short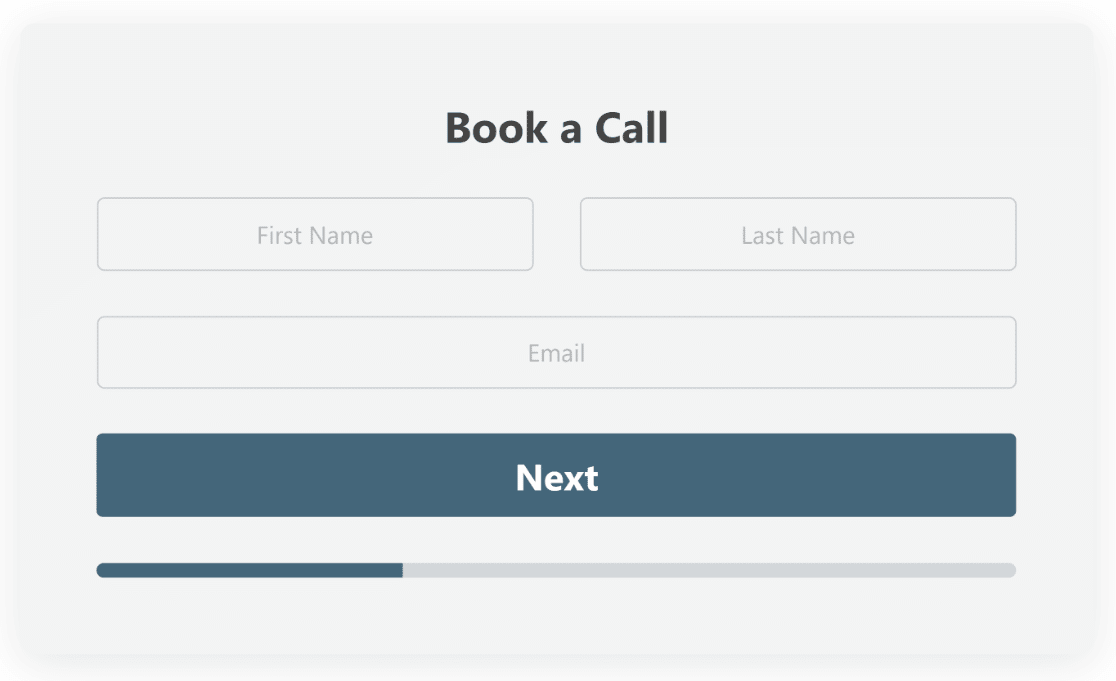 Form length is really important if you're trying to boost your lead capture form conversion rate. Make sure not to overwhelm users with questions. The WPForms Lead Forms addon automatically breaks up your form into steps to make it easier for users to fill out.
Or, try creating a multi-step form in WordPress to break things up a bit if you're asking lots of questions and for tons of contact details.
5. Use The Right Calls To Action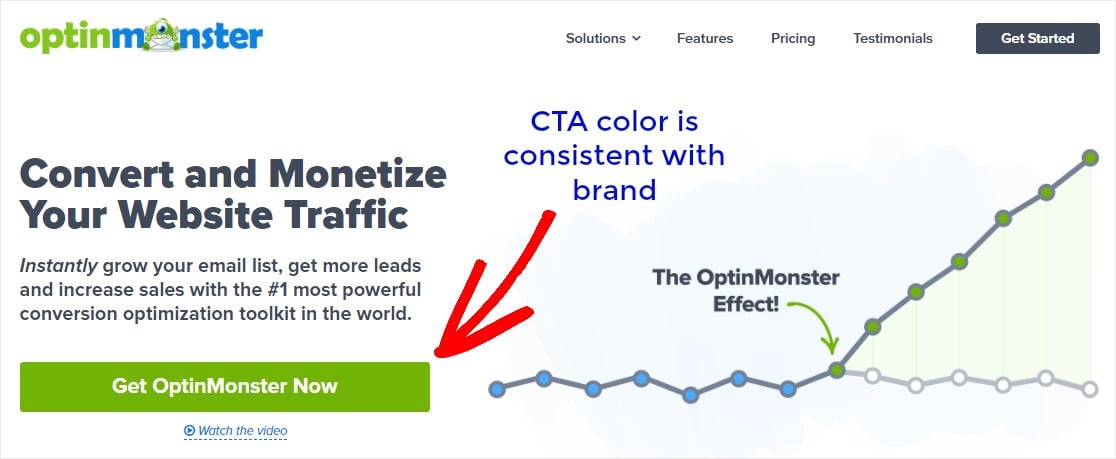 Submit button text and colors impact conversion rates. This may sound odd, but 3% of people will abandon a form if the submit button just says "Submit."
Try customizing your submit button text or changing the color. And don't forget to track button clicks in WordPress so you know which ones are driving the most traffic.
6. Use Conditional Logic
Using conditional logic to hide or show form fields based on previous answers is a smart way to keep your forms organized. It's incredibly easy to set up conditional logic with WPForms, too.
With Conditional Logic, you can ask the right questions and get people into your sales funnel through your lead capture forms sooner.
7. Email People When Someone Submits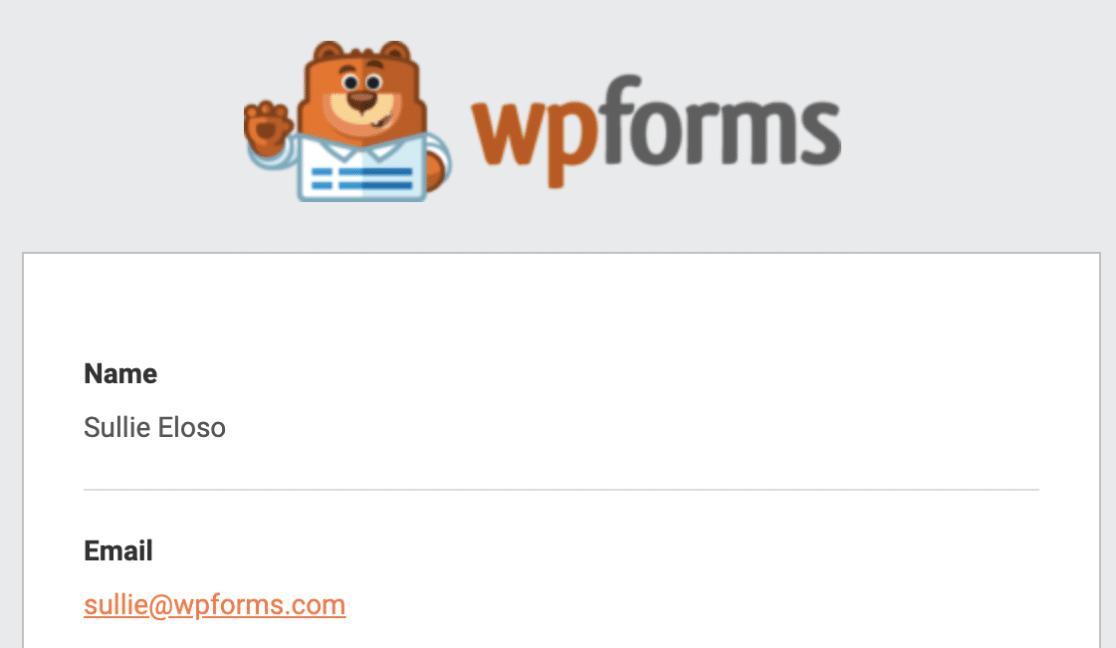 With form notifications, you can set up your lead capture form to automatically send WordPress emails whenever someone submits your form. That way, you can stay on top of leads and help your forms convert at a much higher rate.
You can even create a conditional form notification email that emails specific people based on criteria from the form. It's a great idea if you've got different sales people working with different types of customers.
For example, say your rep Mary only works with new leads from your mortgage application form who need over $400,000 for a new home, but your rep Jason works with those whose loan amount is under $399,999. You could set up emails to go to each person based on how much someone asked for when they filled out the form.
And if emails aren't enough, WPForms also lets you get an SMS notification from your forms.
8. Connect Your Lead Capture Form to 5,000+ Web Apps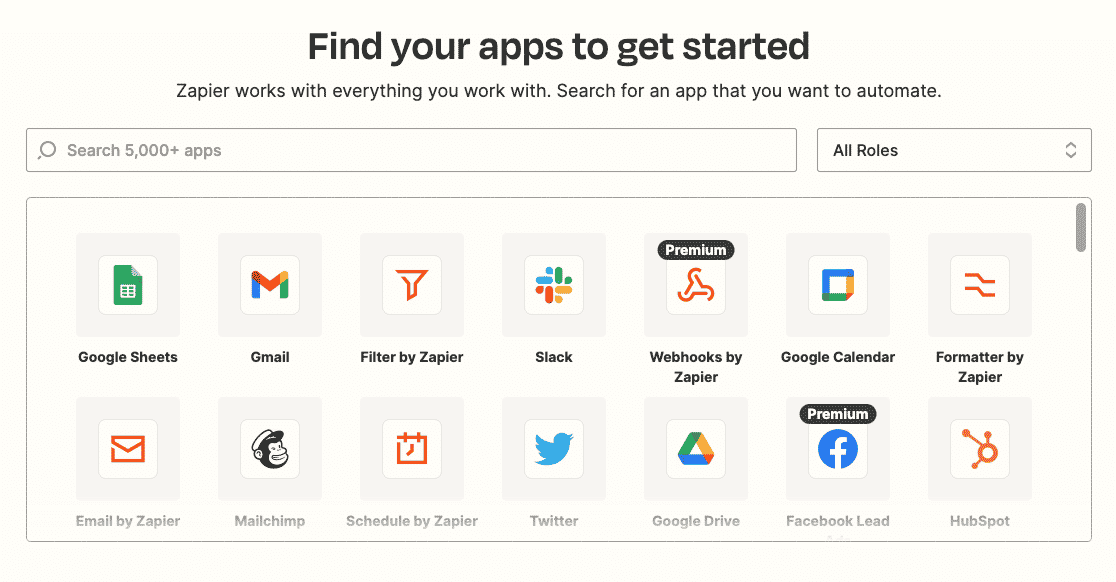 Would you like to automatically enter your lead information into Salesforce, Google Drive, and more?
You can with the Zapier addon. Just turn it on and set up your zaps, and you'll be storing the data from your lead forms into all sorts of awesome programs of your choosing.
A great Zapier alternative is Uncanny Automator. Uncanny Automator lets you put your entire WordPress site on autopilot by connecting existing plugins together and automating routine tasks.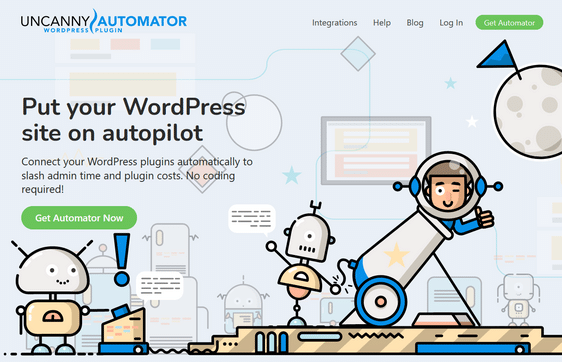 With Uncanny Automator, you can connect WPForms with MemberPress, Slack, WooCommerce, Zoom, and much more.
And WPForms has its own direct integration with Google Sheets so you can save lead information in a spreadsheet.
So, you can do things like automatically register a user for a Zoom meeting when they submit a form. Or, automatically add new form submissions to a Google spreadsheet.
9. Make Your Lead Capture Form Interactive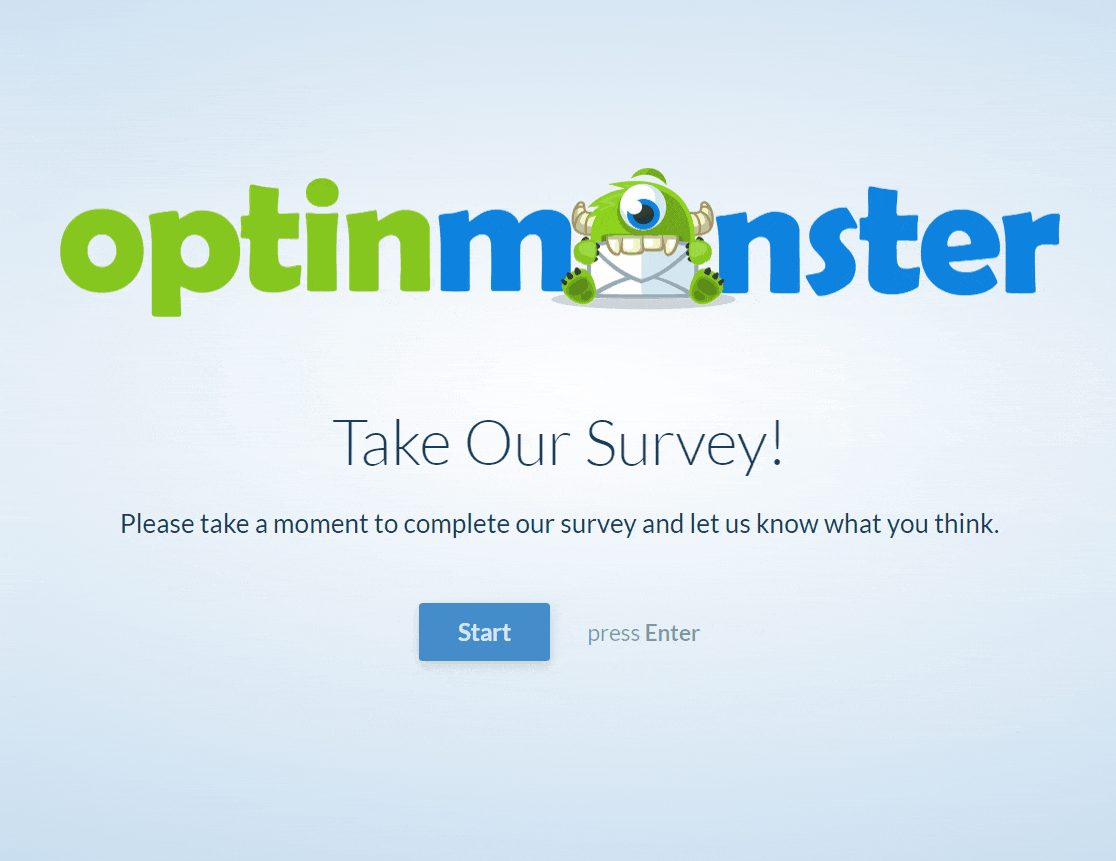 Who doesn't love a good conversation? A really smart way to take a lead capture form from good to great is to turn it into a Conversational Form. It's super effective and gorgeous while making your forms feel much more human.
Tapping into the power of conversational marketing is a brilliant way to increase conversions on forms. Your visitors are much more likely to complete the form when they're asked one question at a time, just like in a face-to-face conversation.
And you can try Conversational Forms out today to make a conversational contact form without needing to create any new forms. You can turn any of your existing WordPress forms into an interactive form with a click of a button.
Check out our tutorial on using the Conversational Forms Addon for more details.
10. Capture Leads from Partial Form Submissions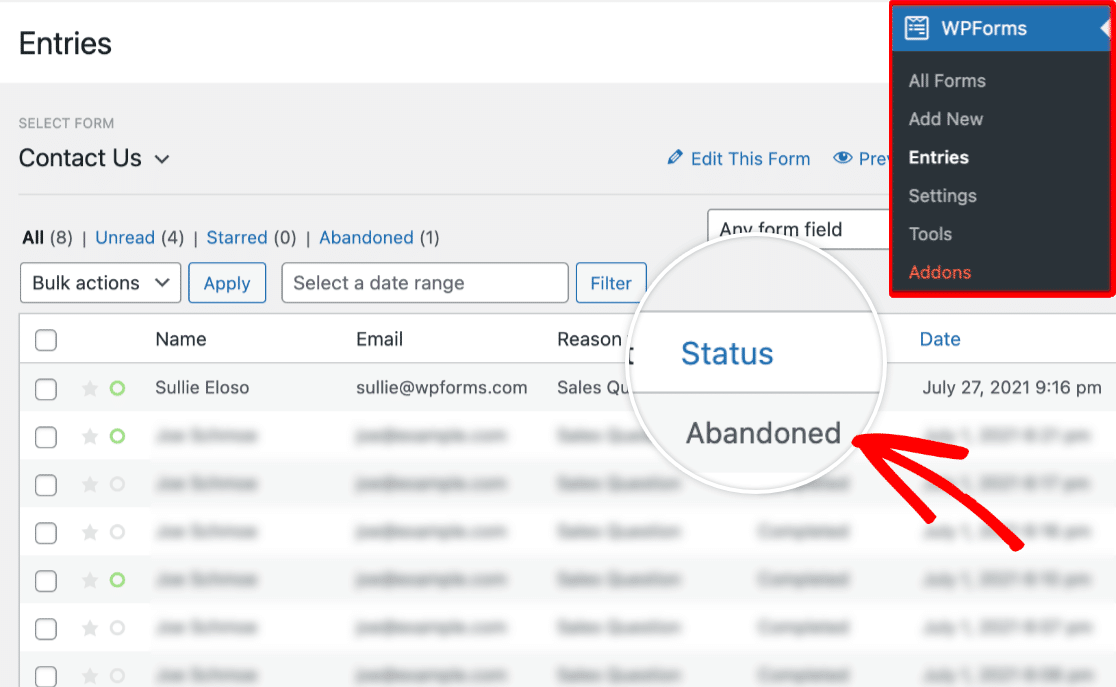 Did you know most people who start filling our lead capture forms never actually finish them?
The WPForms Form Abandonment addon collects users' information even when they don't hit submit. For a lot of people, you can even set up your email marketing service to automatically email these people to invite them to come back and complete the form.
Another option is to enable save and resume for your lead generation form. This will give users a link they can follow to pick up filling out your form where they left off.
11. Learn More About Your Audience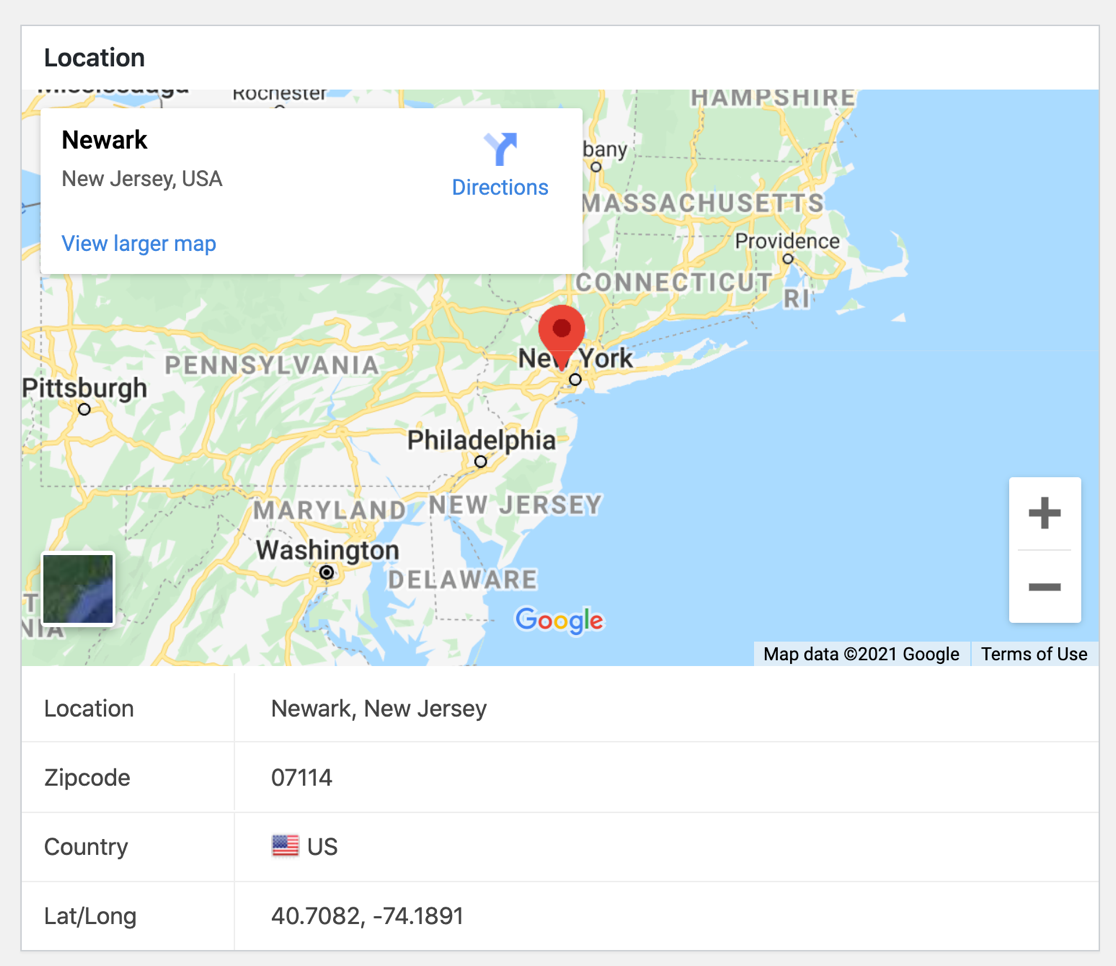 By turning on Geolocation for your forms, you can see where your leads are coming from. The user's country, state, and city information gets collected and included in their entry.
And this information can give you a lot of power to make your lead capture forms convert even better if you have the added insight about who is filling out your forms and from where.
You can also connect the WPForms Geolocation addon to Google Maps or Mapbox to turn on address autocomplete and make it easier to fill out your lead generation form.
Check out the post on how to install and use the Geolocation Addon with WPForms to set this up now and start finding out more about your visitors than ever before.
You could also add a country dropdown list if you want a simple way to record your visitors' locations.
Another way to learn more about your audience is with the User Journey Addon.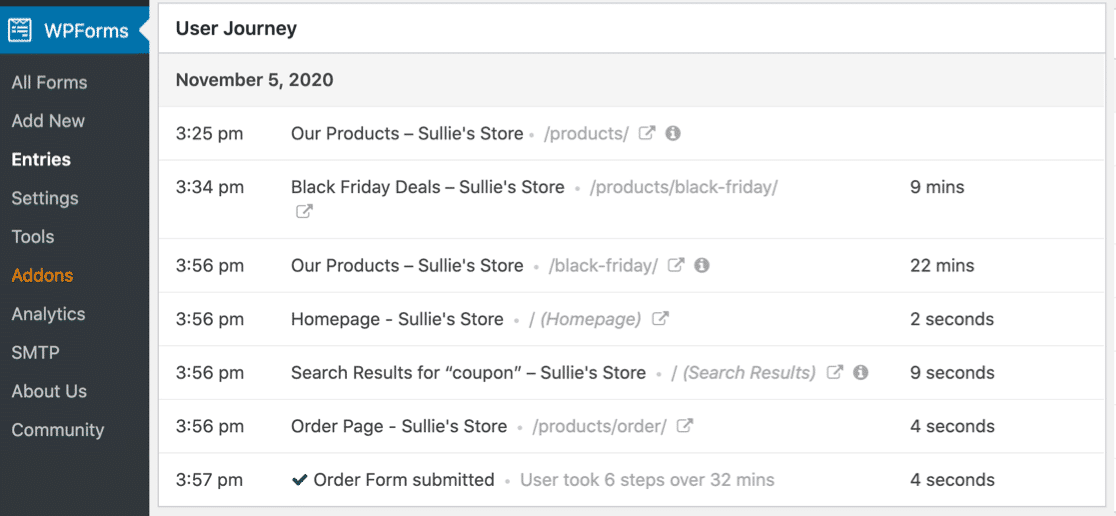 This feature lets you see which pages and posts your visitors looked at before they submitted a form. With these insights, you can optimize your site for even more conversions.
12. Make Your Lead Capture Form Secure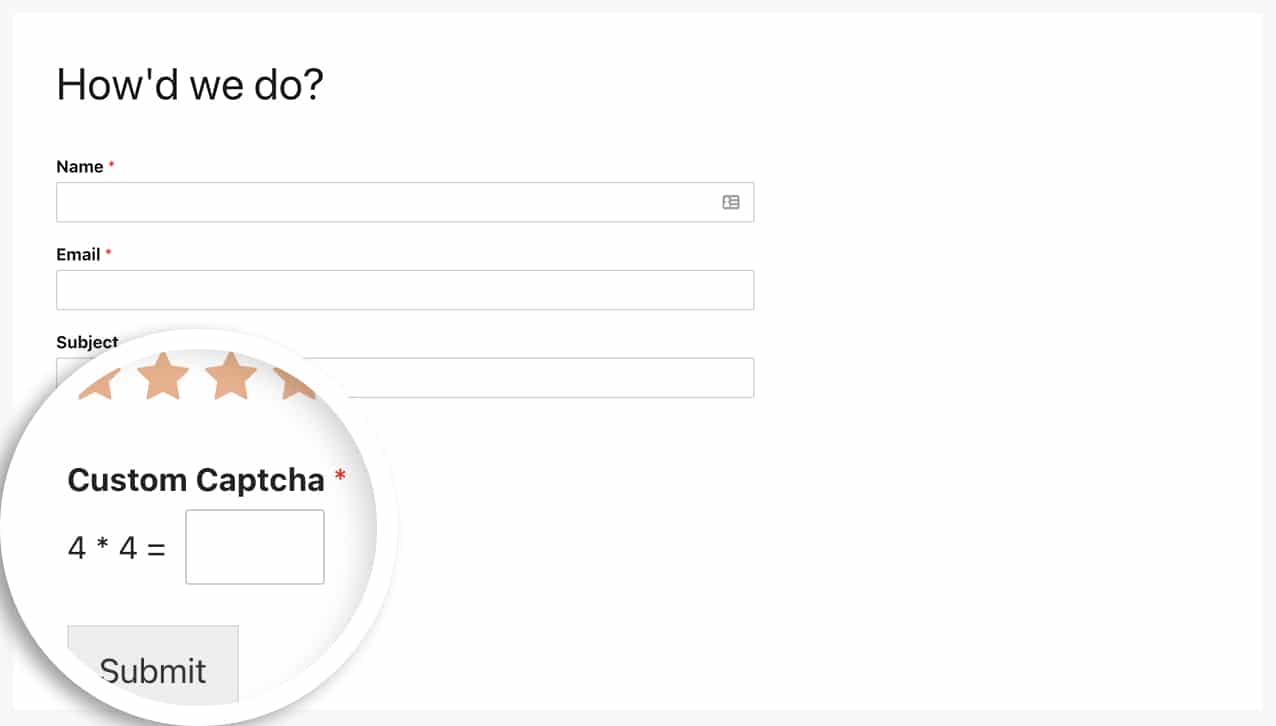 If your lead capture form doesn't appear secure to your visitors, they are much less likely to complete it. So setting up CAPTCHA is a great idea and can comfort your users.
Be sure to check out our ultimate guide to building spam-free forms for more information on keeping your forms safe and appealing to your website visitors, as there are several different types of features you can use for added security.
13. Make Your Terms of Service Scrollable

Speaking of privacy, you may want to add a ToS or privacy policy to your form. But if it's too long, it could hurt your conversion rates.
Luckily, there's an easy fix for this. You can easily add your Terms of Service agreement in a scrollable text box.
14. Honor User Privacy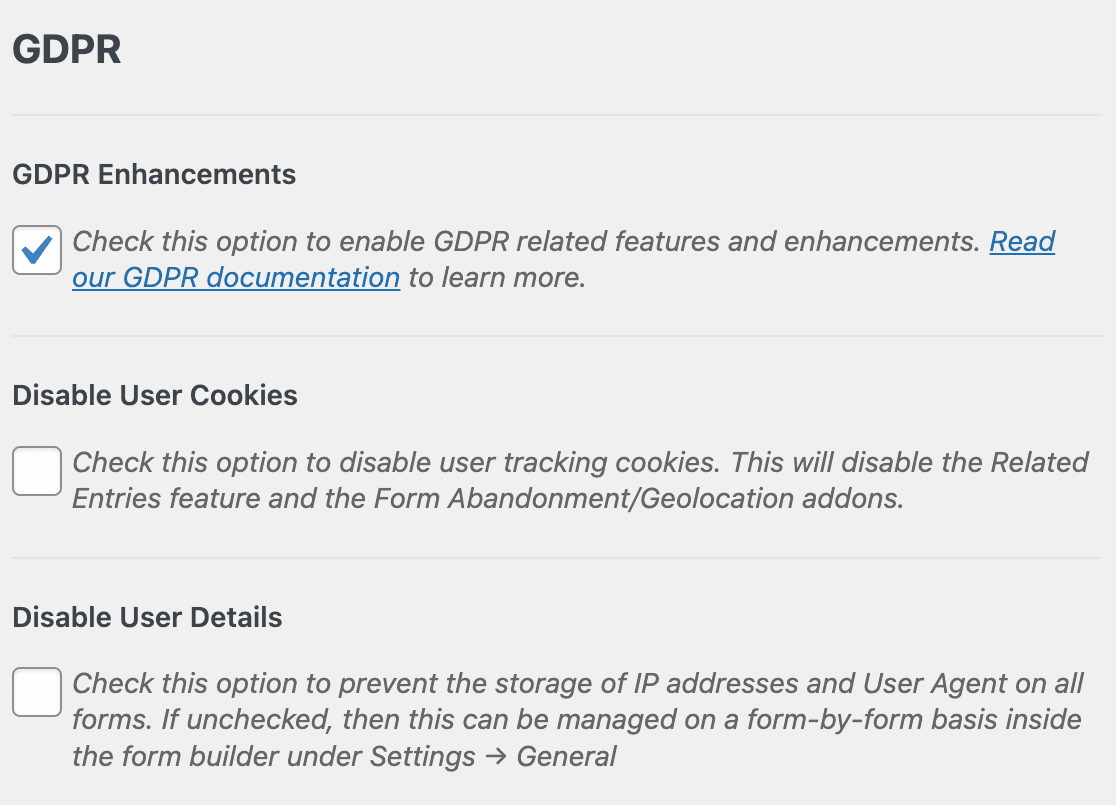 Your lead form should be compliant with the European Union's General Data Protection Regulation.
And this isn't just a suggestion that won't impact your conversion rates — some visitors are actively looking for forms that respect GDPR compliance. And if they don't see it, they may just turn away from your form completely.
You have the option to adjust your form settings to do things like Disable User Cookies, Disable User Details, and more. Your users will love you for it.
15. Incentivize Users With a Giveaway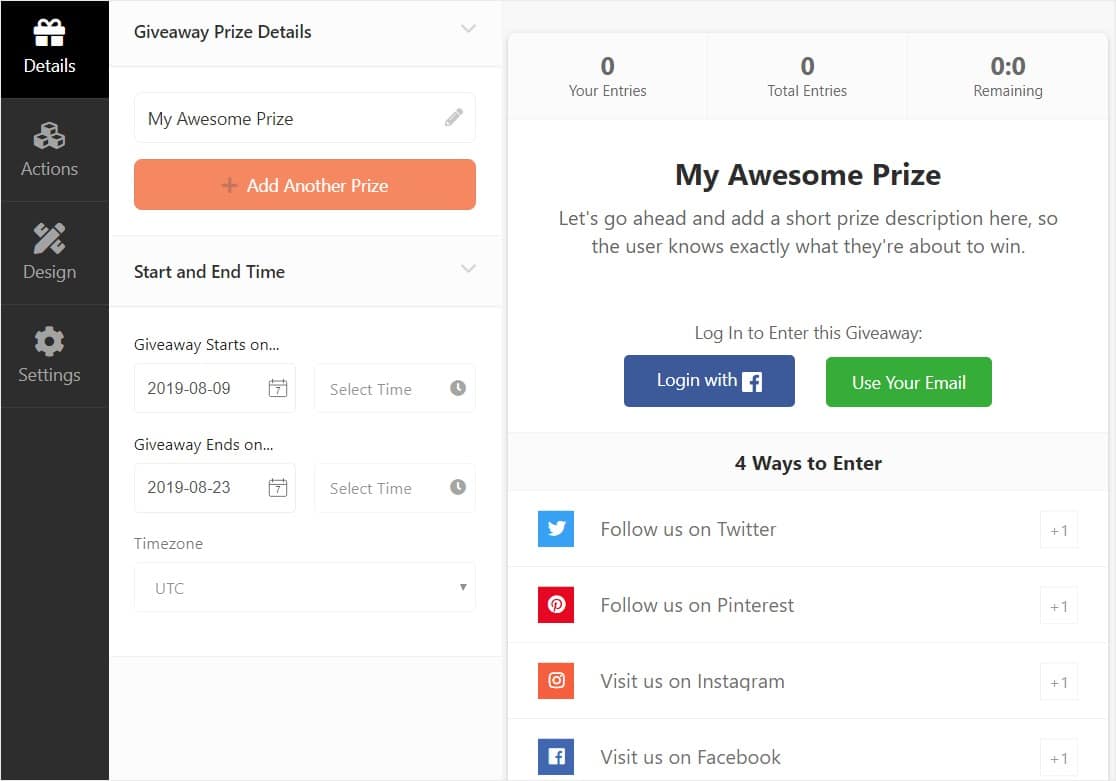 People love a good giveaway (and who can blame them?) If you're trying to get the word out about your business or a product through a lead capture form, try converting it into a giveaway to easily gather contact information from leads.
There are lots of WordPress giveaway plugins out there, but our favorite is RafflePress. Take a look at our tutorial on how to host a giveaway on your WordPress site for more information.
15. Try a Survey or Poll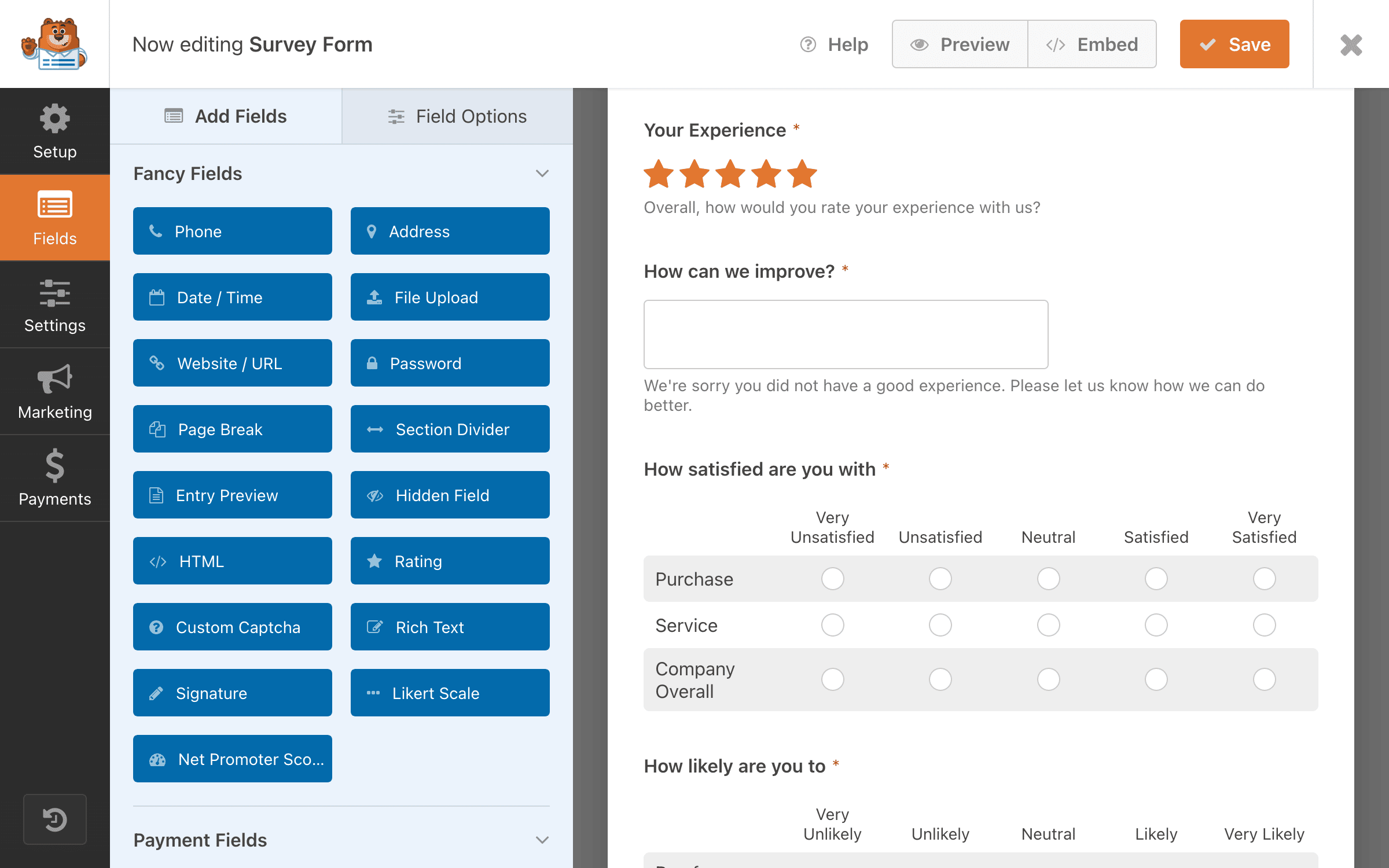 If your goal is to engage your visitors a bit during the lead capture process, why not try using a survey template as your lead capture form?
Not only can you gather a ton of information, but the survey style of the form makes it easier to invite people to complete it. It's incredibly easy to set this all up with the WPForms Surveys and Polls addon, so you can have your forms converting like crazy in no time.
Create Your WordPress Lead Capture Form Now
Next, Track Your Form Conversions in Google Analytics
And there it is. You now know some great tips to create a lead capture form that converts so you can make more money from your business online.
WPForms includes awesome entry management features so you can monitor your lead generation form submissions. However, you might also want to check out this tutorial on how to track form conversions in Google Analytics to get even more data on your users.
So what are you waiting for to ramp up your lead generation efforts? Get started with the most powerful WordPress forms plugin today. WPForms Pro includes tons of free lead capture form templates to get you up and running in minutes, plus offers a 14-day money-back guarantee.
If you enjoyed this post, make sure to follow us on Facebook and Twitter for more from the blog.