4 Insanely Easy Ways to Grow Your Email List Fast Starting Now
by Lindsay Liedke on Mar 19, 2018
Do you want to grow your email list so you can reach more customers, generate more sales, and grow your business? Knowing the best email marketing strategies is the best way to build an email list. And fast.
In this article, we'll show you some of the easiest ways you can build your email marketing list so you know any time you launch an email campaign, you're reaching the widest audience possible
1. Make Your Forms Simple
Sometimes the best way to get people to subscribe to your email list is to just ask them to.
But you have to remember, people don't want to deal with the hassle of filling out long, complicated forms, even if they want to subscribe.
Don't believe us? Check out this infographic by Quick Sprout:

Notice that the more fields you make visitors fill out, the less likely to subscribe they are.
That's why using a forms plugin such as WPForms is one of the best list building strategies. Not only is it beginner friendly, it's user-friendly too.
With WPForms, you can build your email list in two ways.
Create a signup form specifically asking visitors to subscribe
Create a contact form with a checkbox allowing visitors to be added to your email list automatically after selecting it
WPForms does more than integrate easily with popular email service providers such as AWeber, MailChimp, GetResponse, and Campaign Monitor.
It also allows you to embed your signup form anywhere on you want on your WordPress site. Add it to your posts, pages, sidebar widgets, and even footer sections using shortcodes. This guarantees site visitors have the chance to subscribe no matter where they are on your website.
Not to mention, you can create other cool forms that ask people to sign up like order forms, login forms, and even donation forms.
2. Optin Incentives
Giving people a solid reason to subscribe is one of the easiest ways to convert more site visitors.
Offer optin incentives such as eBooks, swipe files, free software tools, access to exclusive online courses, white papers, and even resource lists and watch your email list grow.
For instance, Neil Patel offers subscribers access to a free course on his Quick Sprout blog, which is valued at $300.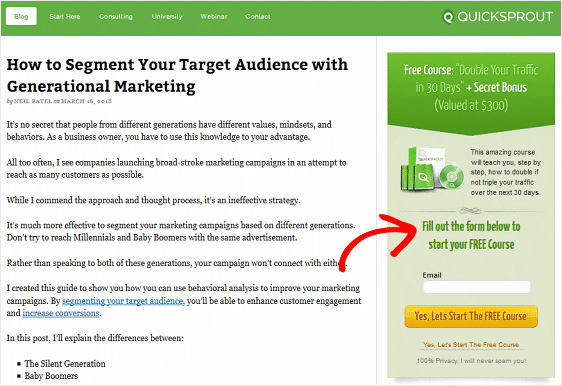 This entices people to sign up because not only are they receiving something of high value for free, they don't want to miss out on learning how to drive traffic to their website.
The reason for using an optin incentive is twofold:
Offer your incentive on any signup form on your site – sidebar forms, lead capture top bars, optin popups, blog post footers, and even author bios so all site visitors, no matter where they navigate on your site, see it
You only need to come up with one really great incentive piece, since the same offer will be available on all subscribe forms
Use this simple method for building a bigger email list and watch subscription rates increase.
3. Enable Popups
Using a lead generation solution such as OptinMonster is another quick and easy way to boost your site's conversion rates. Especially if you want to create cool looking popups on your site.
Better yet, take advantage of OptinMonster's Exit-Intent® technology and target visitors as they are about to leave your site.
This gives them one last chance to consider subscribing before they leave for what may be forever. Make it even more enticing by adding an optin incentive such as the ones mentioned above.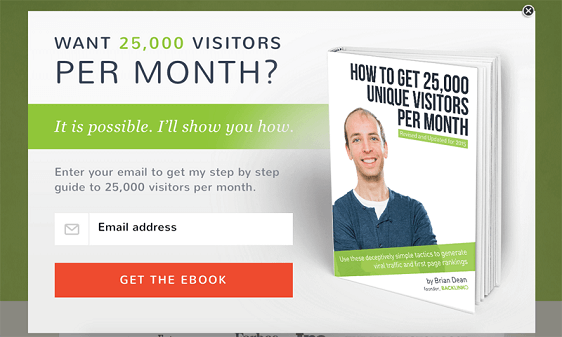 OptinMonster differs from WPForms in that it offers multiple form types such as lightbox popups, slide-ins, sidebar forms, floating bars, and more.
This means you can have your pick when it comes to choosing which type of subscribe form you want to add to your site.
In addition, you can A/B test your subscribe forms, access built-in form analytics to make sure your email list building efforts are working, and enable page-level targeting so the right forms appear before the right audience.
You can also use creatively placed MonsterLinks, that when clicked, enable a popup to appear.
Try this technique and you might boost conversion rates as much as Sportique.com did – a whopping 58% throughout their site, and an even more impressive 79% on the cart page alone.
If this sounds like something you want to do, check out OptinMonster's full feature list.
4. Leverage Social Proof
People love to make decisions on whether to subscribe based on their initial impressions.
That's why using social proof on your subscribe forms is a great way to give your site visitors the perfect first impression and convince them to subscribe right away.
There are six types of social proof you can use:
Industry experts making recommendations
Celebrity endorsements
Current user and customer reviews
Wisdom of crowds
People like you sharing on social media and other platforms
Official stamps of approval
You can add any of these types of social proof to your subscribe forms, but one of the most commonly used is wisdom of crowds. Using the sheer power of numbers to show how reliable you are is a great way to prove to new site visitors that subscribing is worth it.
For example, Buffer adds how many subscribers you would be joining if you too subscribe to their email list.

After all, if hundreds of thousands of people have already handed over their email address, it's safe to say joining the ranks is a good idea.
And that's it for today! You now have four super easy ways to grow your email list starting now.
If you are looking for ways to optimize your mobile device lead generation strategies, check out how to optimize your forms for your mobile audience.
So, what are you waiting for? Get started with the most powerful WordPress forms plugin today.
If you like this article, then please follow us on Facebook and Twitter.