Are you looking for a Learning Management System (LMS) plugin for your WordPress website? Then you're in the right place. Choosing the best LMS plugin will help you to create, manage, and sell online courses from your website without any hassle.
In this article, we'll compare the best WordPress LMS Plugins to make your decision easier.
What to Look For in a WordPress LMS Plugin?
To start your own Udemy or Treehouse-like website, you need to enhance the functionality of your WordPress site. That's where an LMS plugin comes in handy.
Now, there are many LMS plugins out there and it'll be difficult for you to choose the best one for your needs. So you need to first understand your requirements before selecting a particular plugin.
Whatever your necessities may be, here are some of the most essential features to look for in your LMS plugin:
Ease to create and manage a course.
Ability to monitor the progress of students.
Can offer certificates and badges as incentives.
Content dripping to schedule lessons.
Built-in payment gateway support and monetization options.
Now that we know what the basic features should be, let's get started with the list of the best LMS WordPress Plugins.
Best WordPress LMS Plugins
Check out this list of the best LMS plugins available for your WordPress site: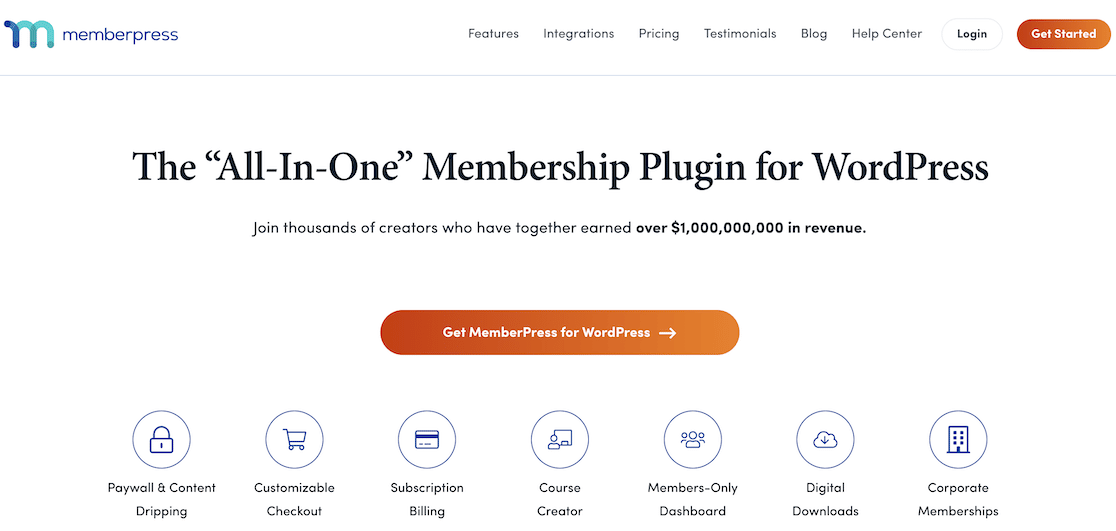 MemberPress is the best membership plugin on the market and it includes powerful LMS features to create, manage, and sell online courses. So, it's a membership plugin and LMS plugin, all-in-one!
With MemberPress, you can lock exclusive content like online courses, premium blog posts, forums, and more, behind a members-only area. You can easily control what members see based on the membership they've purchased.
Creating online courses is super simple with the visual course builder. It's built on the WordPress block editor so you can drag and drop lessons, topics, images, videos, and more to build your course curriculum.
There's also a special Classroom Mode setting so you don't have to worry about styling the course yourself. MemberPress automatically handles it for you, making sure your course looks appealing and professional.
Let's take a look at some other features:
Create multiple courses with different subscription options.
Content dripping to release courses gradually instead of all at once.
Course progress tracking to monitor students' progression.
Integrates with payment gateways like PayPal, Stripe, and more.
Generate coupons to run promotions and giveaways.
Set up is easy as well. To get started all you need to do is install the plugin, configure your payment gateways, create membership levels, and add your online courses. Then, start inviting people to join.
Price: Starting from $149 per year for a single site.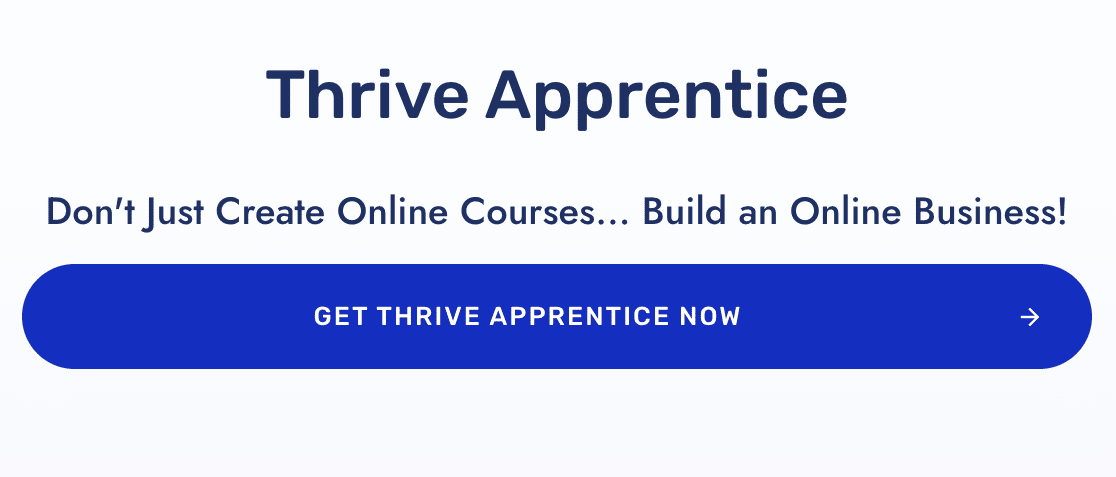 Thrive Apprentice provides a visual course builder for your WordPress site to help you create online classes of all kinds. It's super user-friendly and incudes dozens of templates to help you get started.
This LMS plugin provides flexibility in a ton of different areas. You can organize your online courses into chapter, modules, and/or lessons. Thrive Apprentice also provides options for multiple media types, including written lessons, video lessons, and audio lessons.
If you want to provide downloadable materials for your virtual students, you can easily do so with Thrive Apprentice. And you can offer downloadable completion certificates for your students, too.
On top of all of that, Thrive Apprentice's content dripping feature lets you easily control how often new lessons become available.
Features:
Visual, drag-and-drop course builder
55+ course templates
Multiple media options
Downloadable course materials and certificates
Customizable content dripping
Price: Thrive Apprentice starts at  $149 per year.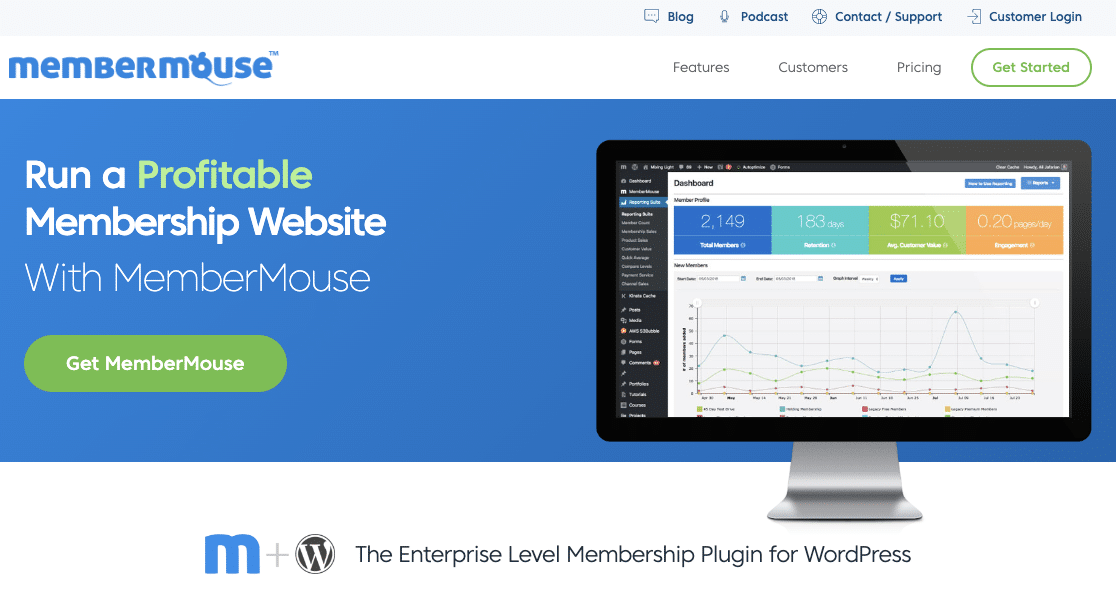 MemberMouse is an enterprise-level membership plugin for WordPress. Although it doesn't have a visual course builder like MemberPress or Thrive Apprentice, it has some other features that might make it the best LMS plugin for certain online educators.
First, MemberMouse offers all the best features of a high-quality membership plugin. You can manage all your students from an easy-to-use dashboard, create multiple memberships levels with differing access to content, and set up a content dripping schedule to give students access to one module at a time.
Where MemberMouse is unique in the membership plugin market is that it also enables you to sell products for one-time purchase. This could be use if you want to sell textbooks, workbooks, or other materials and resources to your students in addition to the courses themselves.
Additionally, MemberMouse includes the option to offer prorated upgrades to customers as well as upsells at checkout. These features make it simple for your students to access more content they want and for you to grow your revenue.
Features:
Members dashboard with analytics
Gated content and content dripping
Sell memberships and physical products
Upsells and prorated upgrades
Email marketing integrations
Price: MemberMouse starts at $199.50 per year.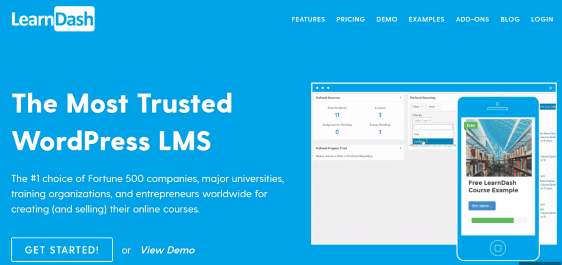 LearnDash is the most popular LMS WordPress plugin on the web. It can be useful for universities, professional training institutions, or anyone looking to create an eLearning platform.
It comes with a drag and drop course builder that allows you to easily create multi-level courses and add lessons, assignments, and quizzes to them. You can also set prerequisites to guide your students on the right path.
Want to schedule the lessons in your course? You can do that by making the lessons visible on a specific date or after a certain period. Also, you can notify your users automatically once the lessons are accessible to them.
One of the features of LearnDash that needs special mention is Course Points. It allows your students to earn points once they complete a course. And they can use these points to unlock other courses you offer. Basically, it's a gamification technique that increases the engagement of the students on your website.
Features:
Award certificates to students once they complete a course.
Add a timer to your lessons to prevent users from skipping them.
Allow your students to track their course progress, print certificates, and more using their frontend profiles.
Use free and premium addons to add extra features to your site.
Last but not least, LearnDash comes with a lot of monetization options including one-time purchase, membership, and course bundles. It also supports multiple payment gateways like PayPal, Stripe, and 2Checkout to make life easy for you.
Price: Starting from $159 per year for a single site.
LifterLMS is a simple yet powerful LMS plugin that comes with tons of useful features to help you handling course content. Just like LearnDash, it offers a drag and drop course builder and thus, helps you to build multi-tier courses with audio, video, images, and text-based lessons.
Features:
Create multimedia quizzes for your students and set a maximum time limit to test their knowledge.
Make assignments, set prerequisites, drip content, and offer downloadable material for offline learning.
Assign multiple instructors to a single course with a multi-instructor platform.
Students can easily interact with the instructors using forums, lesson comments, timelines, and private coaching areas.
While the basic features are included in the free version of this plugin, you can always enhance the functionality of your eLearning site by using different addons.
For example, you can use the WPForms addon to create custom registration forms, collect testimonials, and build online survey forms. Or, you can collect payments using the PayPal extension, Authorize.net Payment Gateway, or Stripe extension.
You can also integrate this plugin with the MailChimp extension to start building your email list.
Price: Individual addons can be purchased for $99 per year, whereas the universal bundle is priced at $299 per year.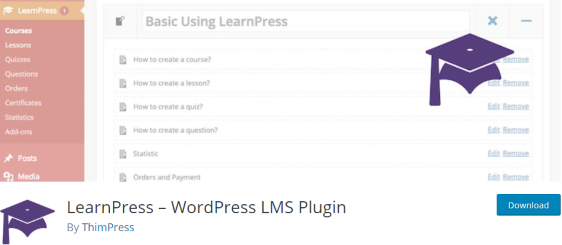 Looking for a free LMS plugin to start your eLearning site? LearnPress can be your next best friend. It's a popular free plugin with more than 50,000 active installs and is suitable for those who are just starting out.
Features:
Comes with a setup wizard to help you get started with basic things including currency selection and creation of important static pages. You can also create unlimited courses with multiple lessons and quizzes and make them available for free or sell them on your website
Choose one-time or recurring payments.
Offers a number of free and premium addons to take your site to the next level.
Can be integrated with the popular WooCommerce plugin. This allows you to add advanced payment features and use coupon system on your website. Plus you can do things like add live sales notifications to WooCommerce to skyrocket your online revenue.
Use different payment gateways like PayPal, 2Checkout, Authorize.net, and Stripe to accept payments from your customers.
Do you want the students to interact with the course instructors? You can achieve this with the help of the bbPress addon. You can also use the BuddyPress addon to set up students' profiles and let them connect with each other.
Some of the other useful addons include offline payments, wishlist, content drip feed, and grade book.
You can also add the notification addon to create email alerts when courses are completed. If you have any difficulty with the alerts, check out how to fix LearnPress not sending email.
Price: Free. However, you can buy the LearnPress Pro Bundle for $249 to get access to all the addons.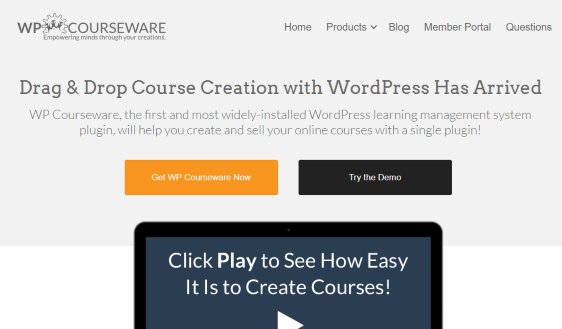 WP Courseware is a popular and feature-rich LMS solution. It offers a powerful drag and drop builder which makes course creation pretty simple.
Like most LMS plugins, WP Courseware lets you create quizzes for your students.
However, it comes with 2 types of quizzes: blocking and non-blocking. While blocking quizzes needs a student to get a minimum grade before they can move to the next lesson, non-blocking ones don't have any such requirements.
This plugin also has the ability to add a new user role called Instructor. In case you don't know, WordPress comes with 5 default user roles. But you can also add custom roles if you want.
Thus, you can invite different instructors to your eLearning site. The individual instructors will have the freedom to manage multiple courses and also enroll students to them.
Anyways, let's take a look at some of the other features:
Grade Books: View the progress of every student.
Certificates: Award downloadable certificates to students for completing a course.
Built-in Shopping Cart: Use PayPal or Stripe to sell your courses, either for a one-time fee or as a recurring subscription.
Free Courses: Offer free courses to prospective customers and build your email list.
Lastly, you can also integrate WP Courseware with some of the most popular membership and eCommerce plugins like WooCommerce, Easy Digital Downloads, MemberPress, and more.
Price: Starting from $129 for 2 sites.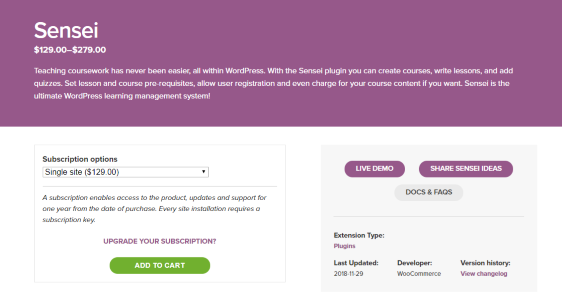 Sensei is a premium learning management system plugin for WordPress and has been built by the team behind WooCommerce.
It's a simple and easy to use LMS plugin. You can easily create lessons, add quizzes, and set prerequisites. You can also integrate this plugin with WooCommerce and accept payments for your courses seamlessly.
Though this plugin provides the basic features required for starting an online course, it still offers limited functionality as compared to some of the other LMS plugins in the market.
However, you can always use some of the free and premium extensions like content drip, certificates, course progress, course participants, and more to expand the scope of this plugin.
Price: Starting from $129 for a single site.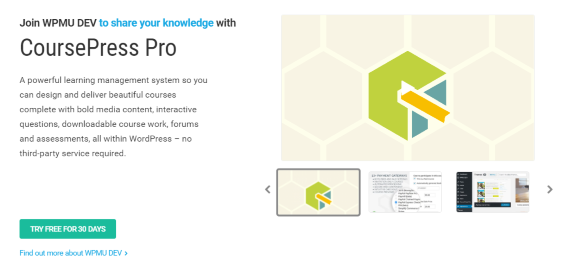 CoursePress Pro is a powerful LMS plugin that allows you to create, manage, and sell your courses online. It's fully integrated with MarketPress and WooCommerce and comes with many built-in payment gateway options.
This plugin offers some handy features for creating a Lynda-like site. It lets you create custom styled certificates for each course. You can also assess your students by creating different types of quizzes using the powerful quiz builder.
Some of the other features of this plugin include:
Offer free and paid courses to your students.
Ability to schedule lessons and send email notifications once they're available.
Built-in email marketing options.
Discussion board for students and teachers to interact.
To use this plugin, you've to purchase the WPMU Dev membership for $49 per month. But you can always use their 30 days free trial to test the product before taking any decision.
Price: $49 per month for unlimited sites.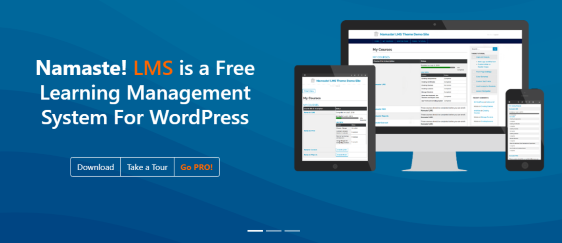 Namaste! LMS is another free WordPress LMS plugin on our list. It also offers a premium version to add extra features to your site.
Like every plugin on our list, Namaste! LMS allows you to create unlimited courses, lessons, and assignments. You can also give feedback to your students and award certificates to them for successfully completing the course.
Let's take a look at some important features of this plugin:
Support for payment gateways like Stripe and PayPal.
Integrate with Watu Quiz plugin to create exams or quizzes.
Use grade system to analyze the performance of each student.
Overall, Namaste! LMS is a lightweight plugin with limited options and hence, can be useful for creating a simple learning management platform.
Price: Free. But you can upgrade to Namaste! Pro with a one-time payment of $47.
Which LMS Plugin is Best for Your Needs?
After comparing the above LMS plugins, we can conclude that MemberPress is a step ahead of its competitors.
It offers some amazing LMS features and powerful membership features so you can generate recurring income with members-only online courses. And unless you're looking for a completely free plugin like LearnPress or Namaste! LMS, MemberPress can be a good choice for almost everyone.
However, you should note one thing here: MemberPress doesn't have the ability to create custom registration forms. But there's no need to worry! You can always use WPForms to build custom registration forms on your website.
Create Your WordPress Form Now
Next, Build Your Membership Website With WordPress
We hope this article helped you to find the right LMS WordPress plugin for your website.
Once you've chosen an LMS plugin, you'll want to create a top-notch membership website to install it on. Make sure to check out our step-by-step guide to building a membership site with WordPress and our articles on the best WordPress membership plugins and the best GDPR plugins, too.
Also, please share this article on your favorite social media platform. And don't forget to follow us on Twitter and Facebook.