Wondering which WordPress membership plugin to use to build your own membership site?
Choosing the right platform to build your membership site on makes a huge difference when it comes to growing your business and making more money online.
So in this article, we'll share with you the best membership plugins for your WordPress site so you can make an informed decision that meets your unique needs.
Benefits of Creating a Membership Website
There are a lot of ways to make money online, but creating a membership website using a WordPress membership plugin is one of the most effective.
A membership site lets you monetize your site by limiting access to your site's content to only paid users. This content can include downloads, forums, support, and more.
So here are some of the reasons you might want to build a membership site:
Generate Steady Income — By requiring site visitors to pay for access to your membership site, you generate a consistent stream of recurring income that increases as more people register.
Build a Bigger Email List — All small business owners look for ways to improve their email marketing strategies. And that all begins with building a bigger email list. Adding registered users to your email list helps keep your list full of active members that are more likely to respond (and convert) to your email campaigns.
Deliver More Value — The great thing about creating a membership site is that the premium content you limit access to is evergreen, meaning it will be valuable to people forever. It's also packed into one convenient location for everyone to see. You can easily build on that content to create even more value for your users, which will encourage them to continue paying you for access.
Automation — Though you can continue to build on the content that you offer registered users, you don't have to. If you do all the work upfront and create a membership site for your target audience to enjoy, you technically don't ever have to do anything else. Unless you want to update content from time to time, the content on your membership does all the work for you.
Lastly, building a membership website will help you establish yourself as an authority in your industry. Providing high-quality content and requiring payment to access it shows that you're an expert and you understand the value of what you know.
What to Look For in a WordPress Membership Plugin
Here are the criteria we used for making our list that we think are the most important things to look for in a WordPress membership plugin:
Each type of membership site requires a specific set of features to get the job done.
Let's take a look at the most common types of membership sites:
Online courses/eCourses that include interactive projects, documents such as PDFs, and video content
Service-based memberships that require customers to pay for access to services you provide, such as coaching or consulting
An all-in-one site that gives paying customers access to everything for a monthly subscription
Online communities that have forums, live chats, articles to read, and other resources that aren't available to unregistered users
Product-based memberships where physical or digital products are sent to members on a recurring basis
Fixed-term memberships where members have access to locked content for a set amount of time
Drip feed models where locked content is revealed as members progress through a program
And that's just the beginning. Luckily, most of the best WordPress membership plugins on the market today are capable of helping you create whatever type of membership site you want.
That said, not all membership plugins are created equal. Below, we have some of the most important things to keep in mind when choosing a membership plugin for WordPress.
Ease of Use
Regardless of your skill level, most people want a plugin that's easy to use. Some complex membership plugins offer tons of functionality that you'll never need. Others will be super lightweight, offering only the basics to get a membership site up and running.
Whatever type of membership site you want to build, make sure the platform you're using is easy to set up and has the membership management features you need. To make things easier for you, you can always use a more basic solution and invest in additional functionality when needed.
Compatibility
As with all WordPress plugins out there, it's important you make sure the membership plugin you choose is compatible with your existing WordPress plugins and theme. If it's not, you could end up breaking your site and making things a lot harder on yourself.
To avoid this, test your membership plugin on a local WordPress install first. If everything cooperates, you know it's safe to use your solution on your live site.
Features
Even though many membership plugins come with all the features you need right out of the box, you should always check before picking one. A lot of membership plugins have multiple plans that come with different sets of features (and price tags).
While every membership website is different, here are some of the most important features to look for:
Member management
Support for forums and live chats
Email marketing tools
Easy digital downloads
Course building tools
Content drip functionality
Multi-level subscriptions
Coupons and discounts
Recurring subscriptions
Design templates and other design features
And having an idea of what type of membership site you want to create will help you decide whether or not the membership tool you're considering has the features you need.
Best WordPress Membership Plugins Compared
Before we dive into our full membership plugin review, here's a side-by-side comparison of the WordPress membership plugins we've covered in this post:
What Is the Best Membership Plugin for WordPress?
Now, let's take a look at the top WordPress membership plugins so you can decide which one is right for you.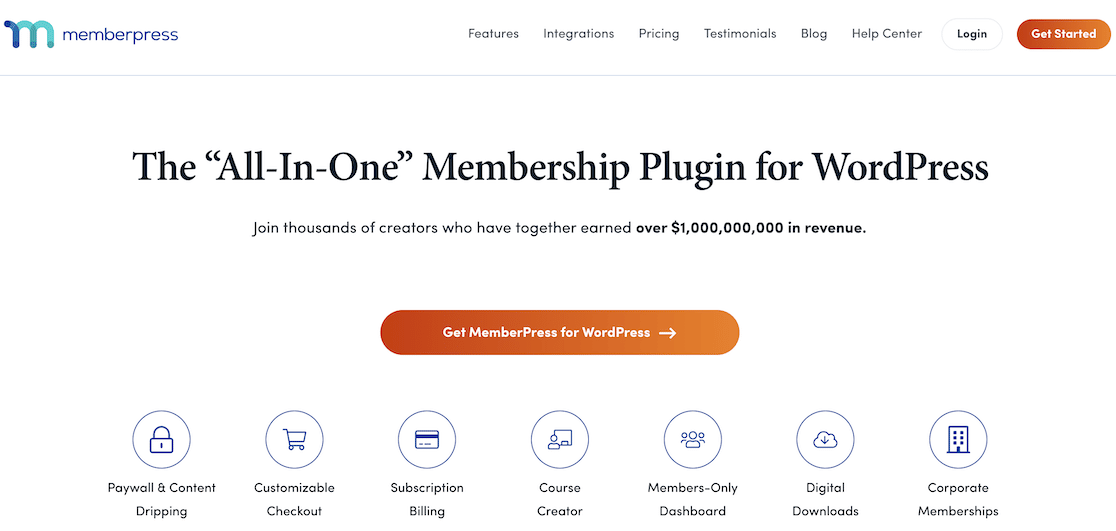 MemberPress is one of the easiest to use WordPress membership plugins out there. It comes with a ton of features and integrates seamlessly with WordPress, so you can turn your website into a powerful membership site with ease. Plus, it's the best alternative to MemberMouse and ARMember on the market.
Features:
Easy Setup — To get started all you need to do is install the plugin, configure your payment gateways, create different membership levels, and add some products. Then, start inviting people to join.
Content Restriction — Use the power of restricted content. Restrict user access to pages, posts, custom post types, categories, tags, and much more. Maintain control over what members can see using customizable membership plans.
Course Builder — MemberPress offers a built-in Courses addon that turns it into a Learning Management System so you can create, manage, and sell online courses. Use the drag and drop builder to easily build your course curriculum, automatically style your course with Classroom Mode, track learners' progress, and more. 

Integrations — MemberPress integrates with popular email marketing services such as AWeber, Mailchimp, Constant Contact, MadMimi, and GetResponse. You can also integrate with BuddyPress for creating a forum, and Amazon Web Services for organizing and growing your business.
Widgets — Login widgets for sidebars to make it easy for your members to sign in.
Payment Gateways — MemberPress supports both PayPal and Stripe payment gateways. The Pro and Plus plans also support Authorize.net.
Documentation — Tons of helpful walkthrough tutorials.
And using MemberPress, you'll also enjoy features such as coupon generation, dynamic pricing, content dripping, and detailed analytics for monitoring the success of your membership site.
Tip: If you're having difficulty with MemberPress email notifications going to spam, here's an article on how to fix MemberPress not sending email that'll help.
Cost: Pricing for MemberPress paid plans starts at $129/year for a single site license.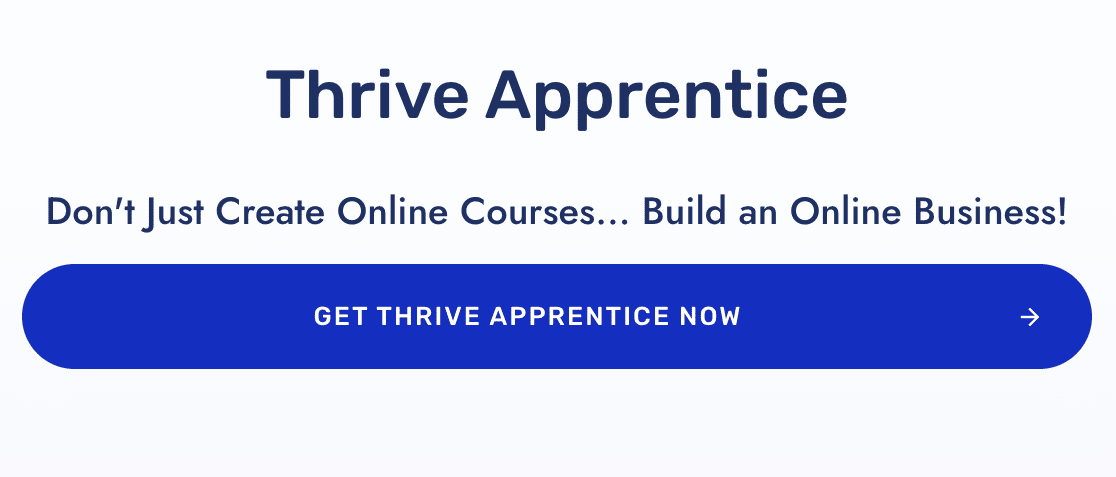 Thrive Apprentice is a membership plugin and course builder. It's perfect for offering instructional content to your users. You can see all your members' information in an easy-to-read dashboard, create custom content dripping schedules, and more.
Features:
User Friendly — Thrive Apprentice is beginner friendly and even provides a handy setup wizard to walk you through the process of creating your first course.
Content Dripping — Set a custom schedule to determine when students can access new lessons. You can even create multiple schedules for the same course to personalize the experience.
Member Management Dashboard — Keep track of all your members from the member dashboard and easily set access rules for individual users.
Visual Course Builder — Create unique online courses with ease using the drag-and-drop course builder. It comes with over 55 templates.
Personalized Content — Use conditional display rules to show different courses to different types of users and increase your engagement rates.
When it comes to custom course, building Thrive Apprentice gives you tons of options. You can choose how to divide up your classes, what format they're available in (text, video, or audio), and whether you want to include additional downloadable materials and certificates.
Cost: Thrive Apprentice starts at  $149/year.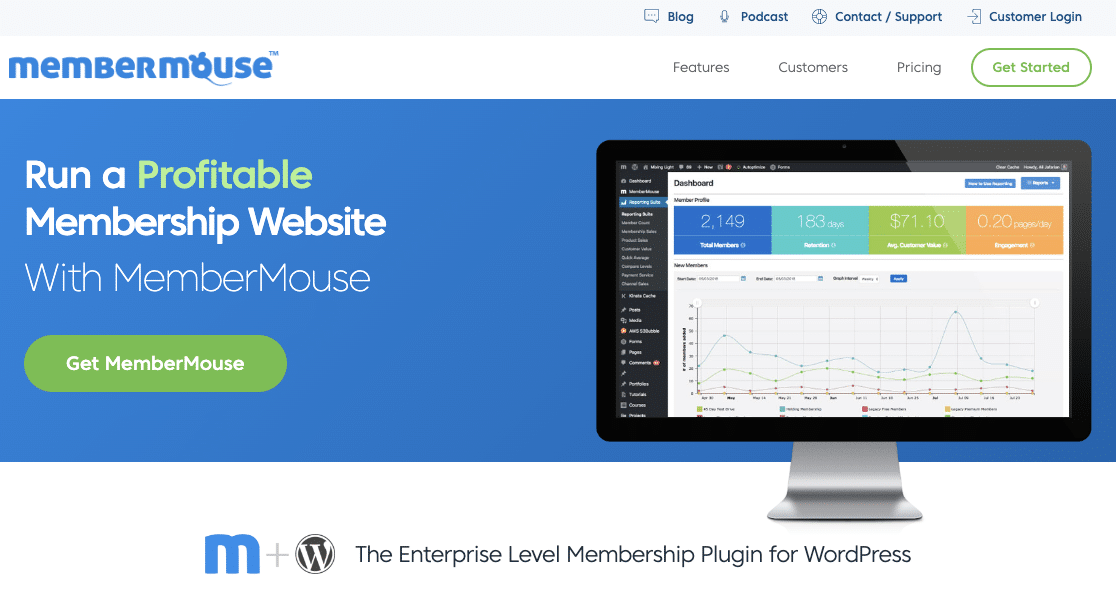 MemberMouse is a popular enterprise-level membership plugin. It offers lots of advanced features for created gated content, managing your members, and generating revenue. Although it's not as beginner-friendly as MemberPress or Thrive Apprentice, it can be a great solution for large memberships sites.
Features:
Create Multiple Membership Levels — Set up different types of memberships with increasing price ranges.
Content Protection — Lock content for non-members or members who don't have the right subscription.
Content Dripping — Release content on a pre-set schedule.
One-Time Product Sales — Sell physical products in addition to your membership subscriptions.
Advanced Member Dashboard — Manage your members and view advanced analytics right in your WordPress admin dashboard.
MemberMouse integrates with popular payment gateways and email marketing platforms as well. Plus, you can offer prorated upgrades and upsells to your members to increase your revenue.
Cost: MemberMouse starts at $199.50/year.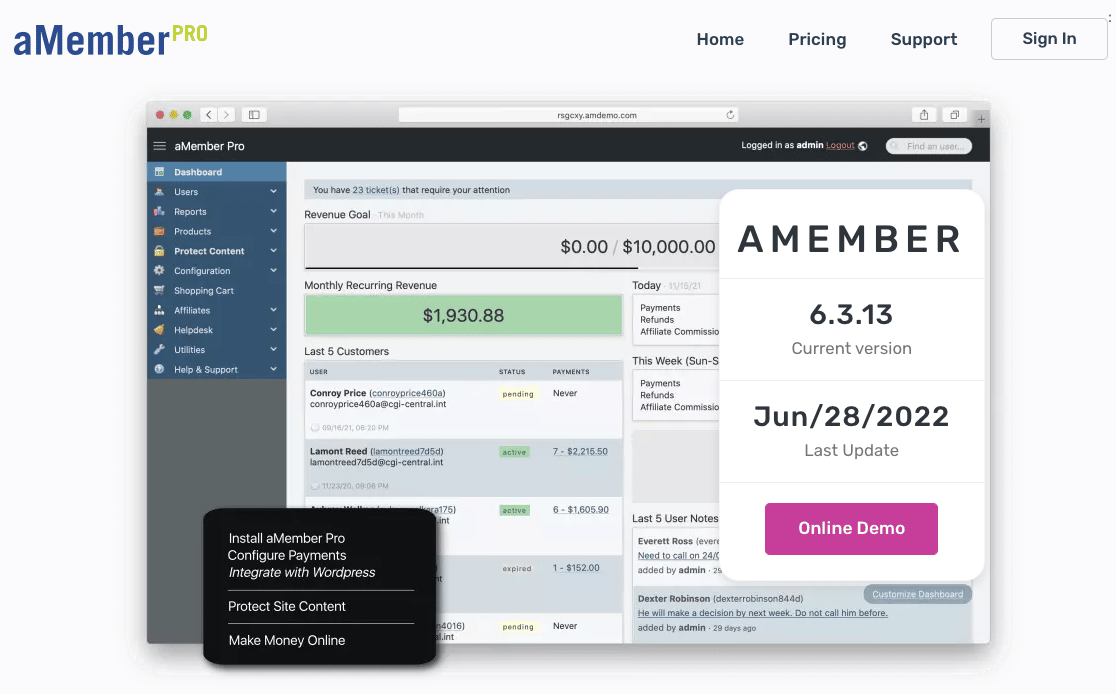 aMember Pro is another featured-packed membership plugin designed to help you create any type of membership site you want. Keep in mind that it's not a native WordPress membership plugin (which may cause some compatibility issues with your plugins and theme). And despite its somewhat dated interface, this solution makes it easy to create a fully functioning membership site.
Features:
Multi-Level Memberships — Create unlimited membership levels, add as many products as you want, and set dynamic prices for products and subscriptions for WordPress users to pick from.
Complete Member Management — Manage members in the easy to access admin panel. Add, edit, or delete customers and their subscriptions. View detailed reports and run batch operations, saving yourself tons of time and hassle.
Integrated Modules — Modules in aMember Pro include an email newsletter optin, a helpdesk, affiliate management, and a shopping cart, plus many more.
Automated Processes — Save time by automating customer signups. Set the product and payment gateways to offer during the initial sign up and let aMember Pro do the rest.
And with aMember Pro, you'll also get membership features like access to dozens of payment gateways, content dripping, and coupon codes. On top of that, it has 6 translations (German, Spanish, Greek, Russian, French, and Chinese) for both the admin interface and the frontend of your site.
Cost: The cost of aMember Pro is a one-time payment of $149.36 and can be used on as many sites as you want (some plugins restrict their usage to just one, so this is great for developers/freelancers).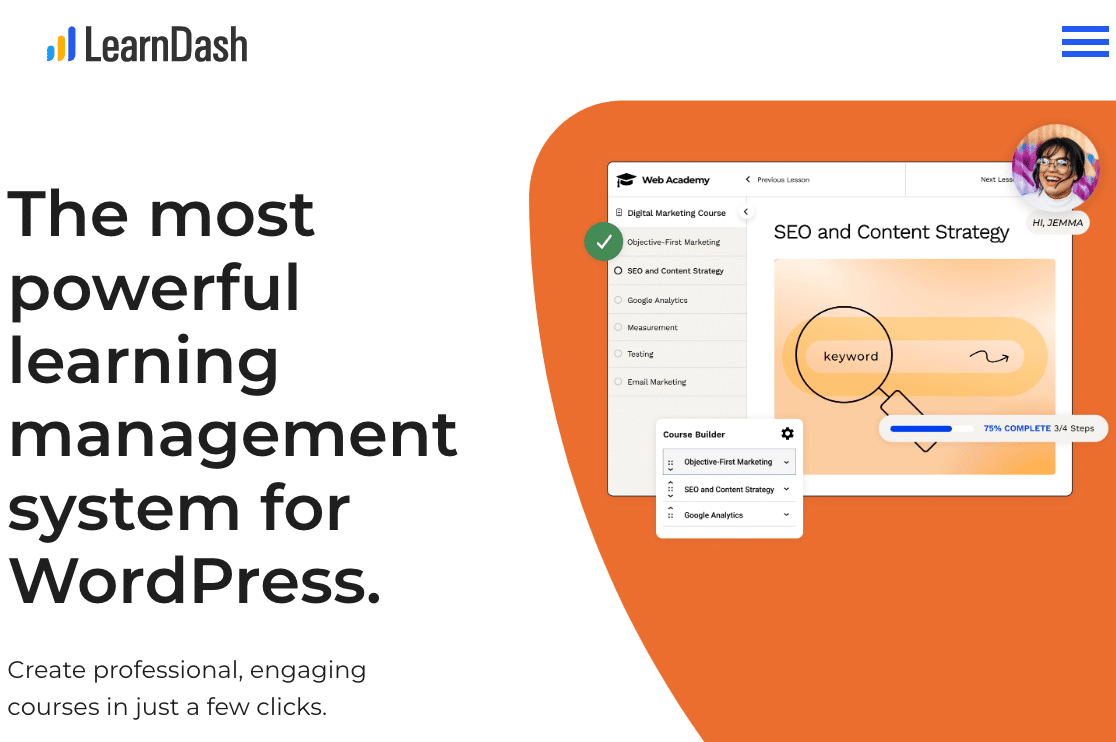 LearnDash is a WordPress membership and popular LMS plugin designed to help you create and sell online courses on your website. It's an extremely easy-to-use tool that comes with lots of integrations, membership modules, and powerful administration capabilities.
Features:
Advanced Course Builder — If selling online courses is the main goal of your membership site, LearnDash has you covered. Their drag and drop course builder lets you create multi-layer courses with categories, lessons, topics, assignments, and quizzes.
Easy Payment Structure — You create any pricing model you want, which includes one-time sales, subscriptions, and membership bundles. You can also use any of 300+ available payment gateways. Which is great since the goal here is to generate the most money and make the process super easy on your users.
Comprehensive Member Management — You have complete control over your students as they progress through courses. Features include frontend user profiles for users, detailed reporting, and automatic email notifications to encourage engagement.
Advanced Technology — LearnDash supports the latest technology and it's WordPress multisite compatible. Use this membership plugin on any WordPress theme, without the need to code. Plus, insert tons of different media types and know your courses will look great on mobile devices.
Also, additional features in LearnDash include drip content, forums, restrict content, and the ability to award learners with certificates and badges.
Cost: Pricing for LearnDash starts at $159/year for a single site license.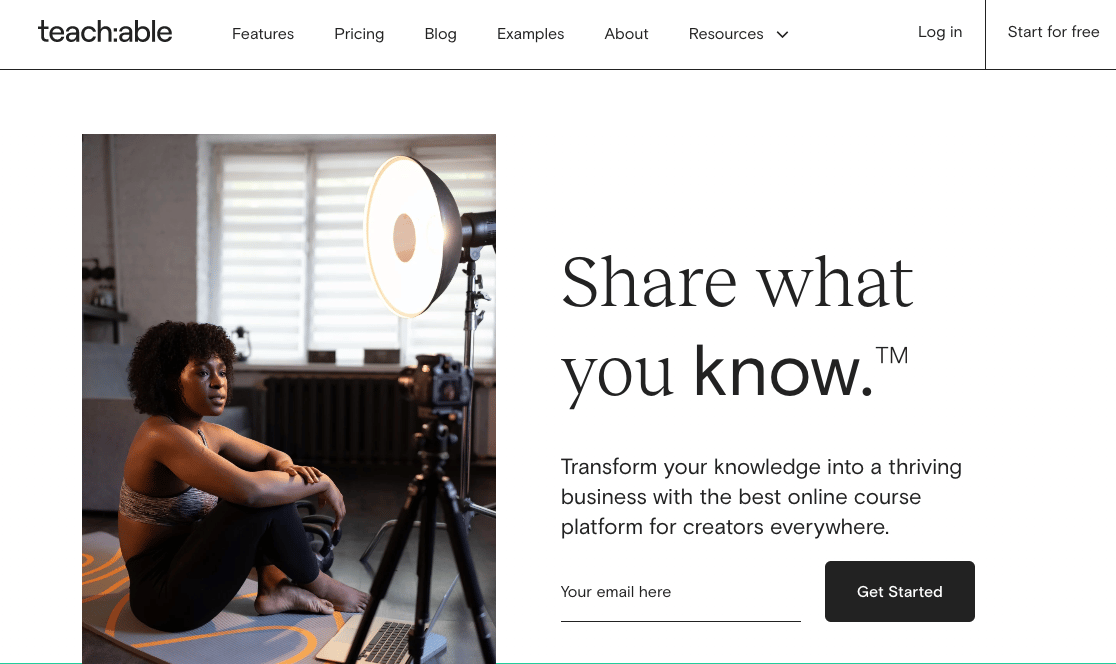 Teachable is an all-in-one platform that lets you create and sell online courses with a few simple clicks. It comes with built-in member management, payment gateways, and even sales and marketing tools to help you grow your business fast.
Features:
Membership Site Design — Create a stunning membership site with Teachable using their built-in customization tools. Add video, images, text, audio, and PDF files with ease. Plus, use the drag and drop builder to create new pages. You can use Teachable's domain, a subdomain connecting to your site, or work with your existing WordPress website's domain.
Learning Tools — Create quizzes, surveys, and discussion forums for students. In addition, integrate with Zapier to connect to nearly every known support tool to stay organized and on track. Lastly, issue course completion certificates as people progress through your programs.
Marketing Tools — With Teachable, you can easily incentivize people with coupons or promotions. Also, you can start your own affiliate program and create fully customized sales landing pages. On top of that, you can define varying prices such as one-time, membership subscriptions (recurring), or bundled services.
Easy Member Management — Take advantage of the useful dashboard for monitoring members. You can access detailed analytics about signups, membership types, and revenue. Plus, you can even give others access to create courses and manage students.
And with Teachable, you'll also get features such as flexible drip content functionality and international payment gateways and multiple currency acceptance. Plus, it offers automated email marketing to boost engagement and segment users.
Cost: Teachable starts at $29/month billed annually.

S2Member is a WordPress membership plugin that comes packed full of features. However, it's not beginner-friendly. That said, once you get the hang of it, s2Member is a powerful membership plugin for selling physical and digital products. And it's a free WordPress membership plugin, which makes it a great alternative to WP-Members or Ultimate Member.
Features:
Registration Flexibility — s2Member can restrict registrations to paying customers. Or, allow open registrations so free subscribers can create accounts too. This way you can limit your content the way you want and for who you want.
Content Restriction — Restrict access to entire posts, pages, categories, tags, and more. Or, lock portions of content to encourage people to join your membership site. Using s2Member's simple shortcode conditionals, you can restrict content in creative ways that boost signups and retain existing users.
Email Marketing — Customize transactional emails such as signup confirmations, upgrade/downgrade actions, and checkout behavior. Add customer names for a personalized touch and include all transaction details for your customer's records. Plus, integrate with email service providers Mailchimp, AWeber, and GetResponse.
Multiple Membership Levels — Create 4 membership levels with the free version of s2member. With the pro version of this WordPress membership plugin, you can have an unlimited number of users.
In addition, s2member offers site owners features like popular payment gateway integrations and brute force attack monitoring. It's also got bbPress and BuddyPress support, content dripping, and coupon/gift card redemption functionality.
Cost: S2member's free plugin doesn't cost anything. If you want additional features, the premium version of s2member is available for a one-time fee of $89 for a single site license.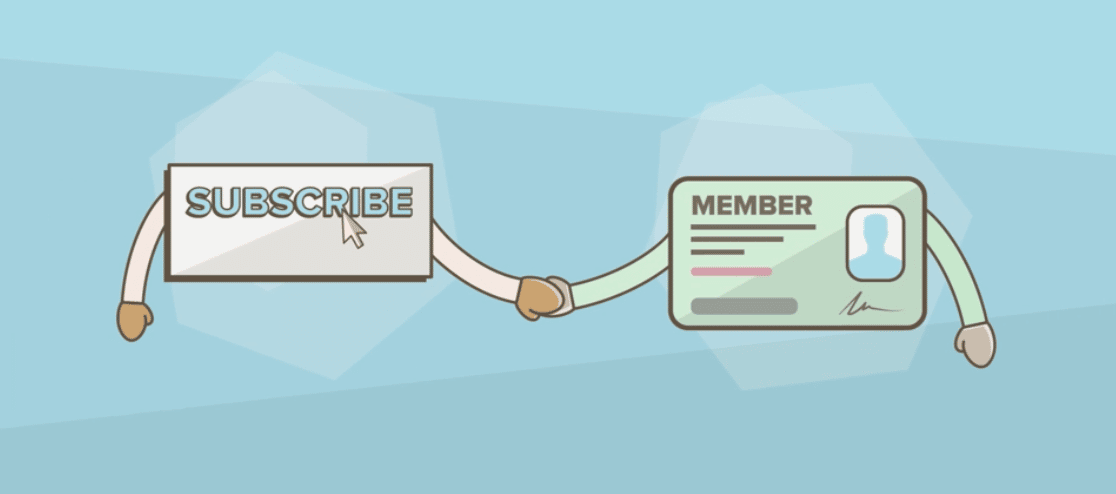 WooCommerce Memberships is a WooCommerce subscriptions plugin that lets you limit the sale of products and services to registered users on your eCommerce site. But, it's not an all-in-one solution since you'll have to use WooCommerce Subscriptions to accept recurring payments for paid member subscriptions on your site. However, it does give you the ability to create locked content and products.
Features:
Membership Flexibility — Since memberships are created separately from your WooCommerce products, so you have the flexibility to create different kinds of memberships. This includes standalone products, part of a product purchase, or as a monthly or yearly subscription. You can even assign memberships manually as part of an invite-only members area (exclusive to members only).
Content Dripping — Easily schedule when members see you content as part of a drip campaign. Restrict access to WordPress posts or pages so you can control how members use your site. You can even set up a free trial and then lock content when the trial periods are over and require payment to continue accessing it.
Member Rewards — Those paying for access to your WooCommerce shop and content are often your most loyal customers. Extend free shipping and other special discounts to people that are a part of your membership site. Then, require non-members to meet certain criteria such as having a coupon or a minimum order amount.
Easy Member Management — WooCommerce Memberships makes managing memberships easy on both site owners and their users. So members can view their accessible content, discover future access dates, and see all details regarding their membership status in the exclusive Members Area.
And you'll also get features like the ability to export member information into email marketing tools and communicate with members by sharing notes you've created.
Cost: WooCommerce Memberships starts at $149/year for a single site license.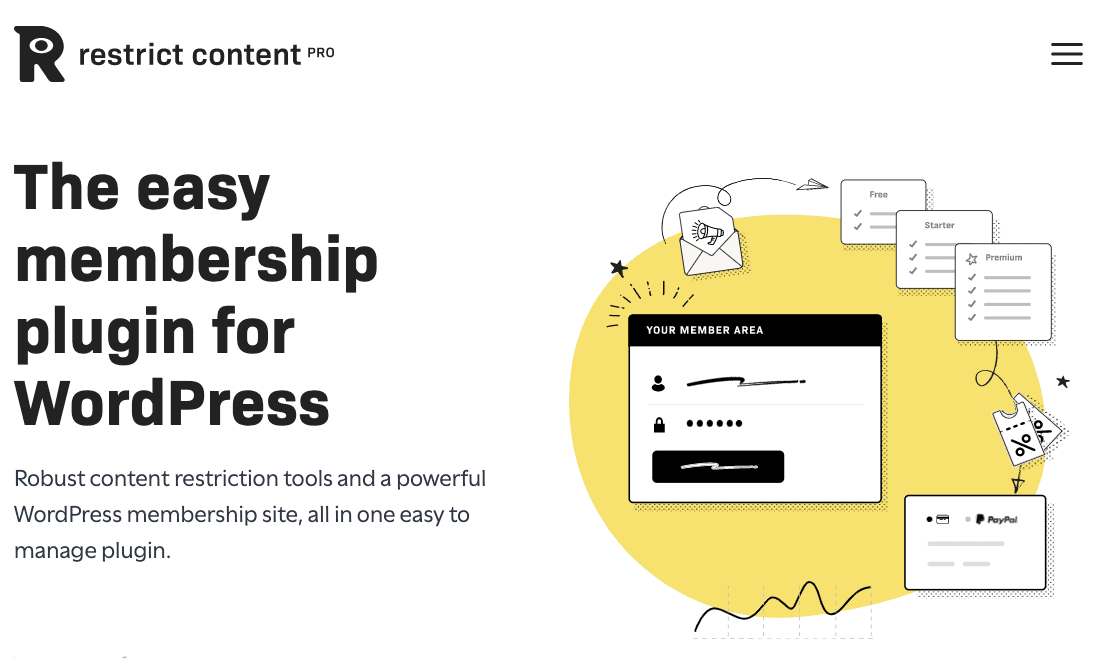 Restrict Content Pro is a lightweight WordPress membership plugin that gives you all the features you need to create a full-featured membership site.
Features:
Built-In Payment Integrations — Restrict Content Pro comes with popular payment gateways such as PayPal, Stripe, Braintree, 2Checkout, and Authorize.net.
Easy to Use — It's built to work seamlessly with the WordPress interface. So it works perfectly with all WordPress themes and plugins. It's easy to use so even beginners can figure it out quickly.
Flexible Subscription Levels — Create any number of subscription levels and assign them a price, optional signup fee, frequency, and a user role that members will receive when they register for your membership site. Members can easily upgrade and downgrade, and new subscriptions will be prorated automatically.
Promotional Tools — Give your registered users exclusive discount codes to use on their subscriptions when they register for your membership site. So you can create an unlimited number of discounts, set them up as a flat rate discount or a percentage, set expiration dates, and even limit the number of uses.
Restrict Content Pro also comes with great features like a comprehensive customer dashboard and detailed earnings reports. Plus, the ability to export member data to 3rd-party tools as well as automated emails sent out based on member behavior.
Cost: Pricing for Restrict Content Pro starts at $99/year for a single site license and includes 12 free addons.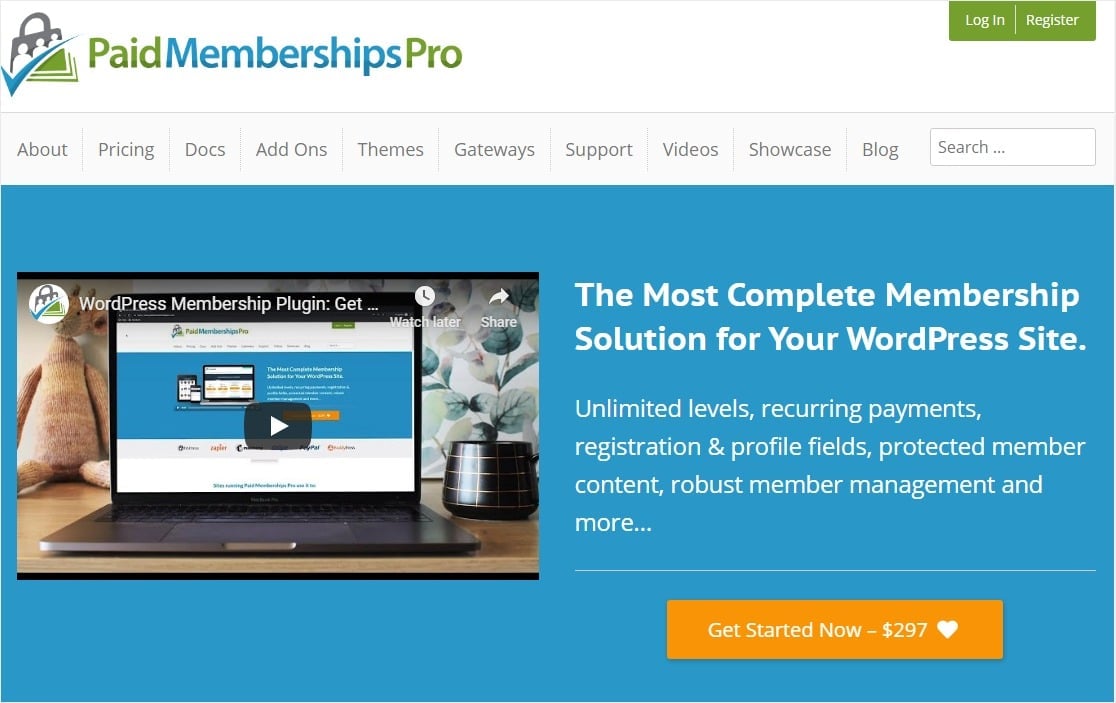 Paid Memberships Pro is an awesome membership plugin that can be totally customized to fit your business's needs. We've included it as a bonus pick because of its built-in payment tools.
Features:
1-Click — Comes with 1-click add on installation and updates.
Support — Includes unlimited support tickets and access to helpful customer service.
Flexible Subscription Levels — Unlimited membership levels with flexible membership pricing options.
Built-In Payment Integrations — Has 6 popular payment gateways included.
You can also find a great reporting dashboard, content access by levels, email notifications, and more with Paid Memberships Pro.
Cost: Pricing for Paid Memberships Pro starts at $297
Which WordPress Membership Plugin Is the Best Choice For You?
After comparing the top WordPress membership plugins out there, we've found that MemberPress is the most comprehensive and easy-to-use solution, and one of the best WordPress plugins overall. It offers plenty of payment gateway and email service integrations for a  WordPress membership site. Plus, you can set up content dripping, create courses, and access detailed reporting so you can track your success.
On the other hand, if you're looking to create advanced online courses for your membership site, LearnDash is probably the best option for you. It comes with hundreds of payment options and automated emails, plus you can create multi-layered courses for your membership site that users can purchase.
And for something that's more lightweight and flexible, Restrict Content Pro is a great solution. You can create unlimited subscription levels, integrate with popular payment gateways, and export member data into other tools. That way, you can grow your business even faster.
Next, Build a Custom Registration Form for Your Membership Site
We hope this article helped you find the best WordPress membership plugin for your needs. We think MemberPress is the best one out there.
Once you have set up your membership site, you'll want to create custom user registration and user login forms. Our WPForms plugin can help with that.
The WPForms drag and drop form builder makes it easy to create a custom user registration form in just a few minutes when you get started with WPForms today.
And if you love comparison posts, make sure to check these ones out as well:
And don't forget, if you like this article, then please follow us on Facebook and Twitter.