Are you looking for a SurveyMonkey alternative? You might be curious to know how WPForms matches up against SurveyMonkey.
In this article, we'll compare WPForms and SurveyMonkey so you can decide which is the best form and survey builder plugin for you.
Overview: WPForms vs SurveyMonkey
Before we start with our comparison of WordPress form builders, let's take a look a look at the basics behind each.
What Is WPForms?
Are you wondering what WPForms is?
WPForms is a beginner-friendly contact form plugin that aims to make creating WordPress forms easy to do no matter how much experience you have.
It comes with plenty of built-in features for creating smart, yet powerful online forms. It also has a variety of fields, making your forms completely customizable, and it cuts down on the time needed to create stunning forms for your website that convert.
Everything is drag-and-drop with WPForms. Pair this with the pre-made templates available and you have everything you need to create and launch a WordPress form on your site with a single click.
In addition, WPForms comes with multiple premium addons, making it possible to do things like add surveys and polls to your forms and accept online payments.
Whether you want to create a simple contact form or a more complex online order form, WPForms makes it easy to do.
What Is SurveyMonkey?
SurveyMonkey is an online survey software tool used to find out people's opinions.
It comes with pre-designed templates to pick from for creating surveys, metrics reporting, and the ability to collect payments and survey responses at the same time.
It also has a partial drag-and-drop interface for adding form fields and customization options for survey questions and how they're structured.
When you compare SurveyMonkey vs Qualtrics, you can quickly see that SurveyMonkey is aimed at market research while Qualtrics is for large academic studies.
Now, let's take a look at the specifics of each contact form to find out whether WPForms is a good SurveyMonkey alternative or not.
What to Look for in a Survey Form Builder
There are a few things you should focus on when comparing two survey form builder options before making your final decision:
Ease of Use: It should be easy to use for everyone, even complete beginners.
Features: There should be plenty of built-in features so you can create unique, powerful forms for your website.
Support: You should have access to support any time you run into a problem.
Account Management: Being able to easily access and manage your form entries should be easy to do.
Integrations: Your forms should integrate with a variety of email service providers, payment gateways, and more, for simplifying the form-building process.
Price: Price will always play a role in your final decision.
These are some of the most basic things to look for in any form builder you consider using on your WordPress website, no matter what kind of forms you're looking to create.
That's why in our WPForms vs SurveyMonkey comparison, we'll take a look at how each stacks up against all of these requirements.
Ease of Use: WPForms vs SurveyMonkey
Being able to use the contact form builder solution you choose is the key to creating effective and high-converting forms.
If you struggle with creating forms, you won't get the results you desire. Plus, you'll lose out on potential leads, conversions, and sales.
SurveyMonkey: Ease of Use
SurveyMonkey is an online form builder that helps you create one main type of form: an online survey.
But when it comes to creating other types of forms or adding specific form fields to your surveys, things are not easy.
Sure, you can add a Contact Information form field and delete every other field until there's just a name and email field for people to fill out. But going through that entire process every time you want people to leave their contact information is annoying.
To add form fields to your survey forms, you first have to input a question. You then choose from the dropdown menu which type of form field you want the question to be. You can choose from fields such as dropdown menus, multiple choice options, rankings, and even comment boxes.
If you find yourself having trouble coming up with questions, there is a bank of questions in the left-hand panel of the form builder, broken down into categories, that you can look through for ideas. To use a pre-set question, drag it from the list of questions to your form once the modal popup appears.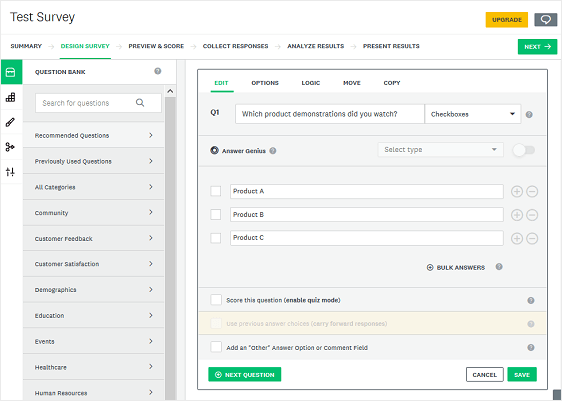 The interface is not very user-friendly since it's only partially drag-and-drop when you get started. Also, it has an outdated look to it. It takes some clicking around to figure out how to create a question, format it the way you want, and structure your form in the order you want.
Only after clicking on every icon in the dashboard did we find that there is a strict drag-and-drop builder, themes to choose from, logic rules to configure, and a bunch of other miscellaneous settings to enable.
At first glance, SurveyMonkey seems easy to use, but once you get stuck trying to create a specific type of survey question that behaves in a certain way, the interface makes it hard to figure out. And that's just for surveys. It gets even trickier if you try to create a complaint form, registration form, or maintenance request form.
WPForms: Ease of Use
WPForms is a modern WordPress form builder that focuses on usability and simplicity.
It's the most beginner-friendly WordPress contact form plugin on the market today and truly requires no coding knowledge to create forms.
And to help you get started when you install and activate the plugin, we have created the WPForms challenge. It guides you through creating your first form, so you can get a feel for how easy it is to get a form up and running on your site, all in under five minutes.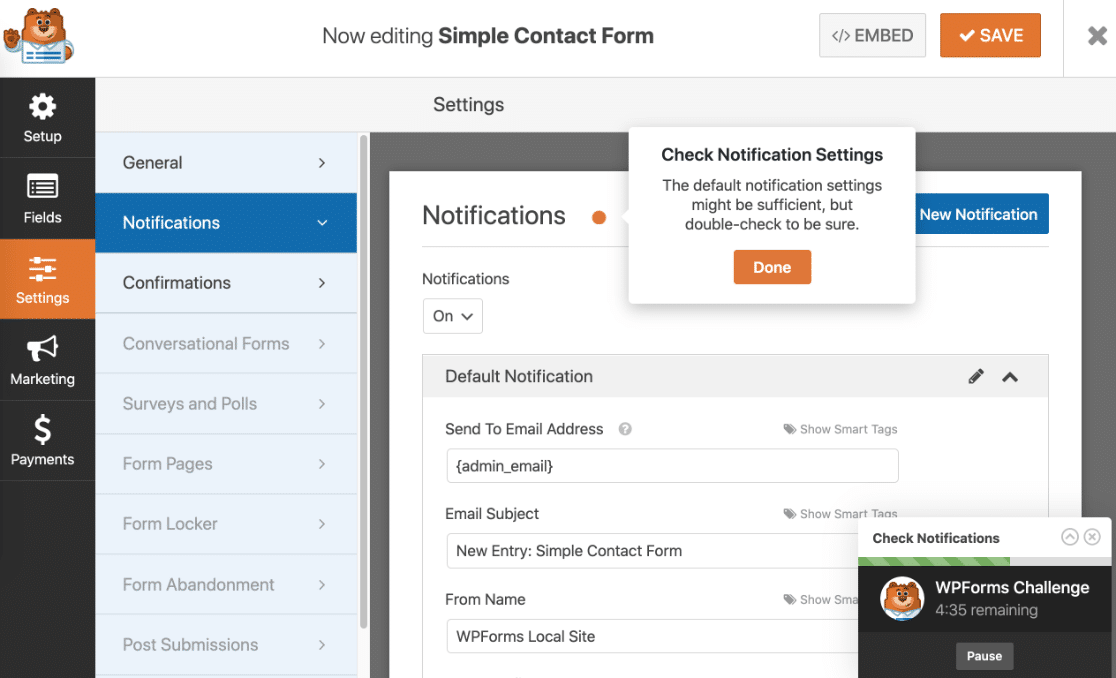 WPForms comes with over 500 pre-designed templates that have all the form fields you need to get your form started. And while SurveyMonkey has tons of survey templates to choose from, that's all it has.
On the other hand, WPForms has templates for any kind of form you can think of, including survey forms. From RSVPs to job applications, support ticket forms to donation forms, WPForms has it all.
Accessing WPForms' pre-made templates is easy since they're found right in the WPForms builder.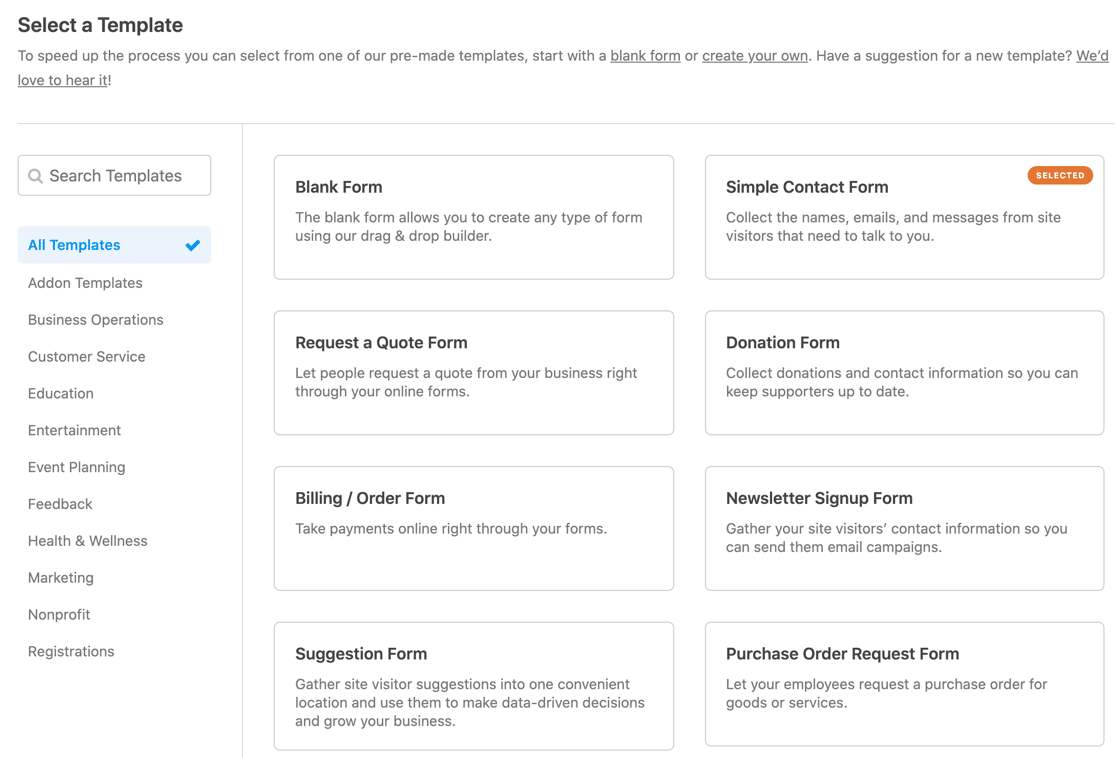 When you want to add a new field to your form, use the drag-and-drop functionality. Just drag the field you want from the left-hand panel of the builder to your form on the right-hand side.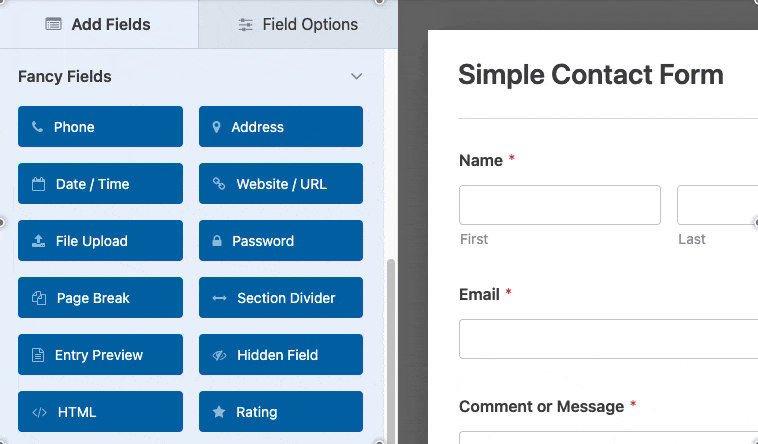 Then, click on the field to make changes. As you make changes to your fields, you'll see those changes in real-time on your form in the preview panel.
WPForms comes with plenty of form fields right out of the box.
For example, the free version of WPForms allows you to accept payments from site visitors on your forms using Stripe, including recurring payments. It comes with Single Item, Multiple Items, Dropdown Items, Credit Card, and Total form fields so you can make money online in the easiest way possible.
If you upgrade to the paid version of WPForms, you can also gain access to Square, Authorize.Net, or PayPal.
This is in addition to unique form fields such as:
Checkboxes
GDPR Agreement
CAPTCHA
Section Divider
Likert Scale or matrix questions
Numbers
Password
If you want a form builder plugin that's easy to use right out of the box, but still offers a ton of built-in features, WPForms works great as an alternative to SurveyMonkey, which is only good for online survey forms and a few other miscellaneous form types.
Winner: WPForms
Features: WPForms vs SurveyMonkey
It's not enough for your contact form builder to be easy to use. If it's too basic or doesn't provide a lot of flexibility, you won't be able to create powerful forms that grab people's attention and convince them to convert.
The success of your business depends on how well potential followers or customers can get in touch with you. That's why an extensive feature set is so important.
SurveyMonkey Features
SurveyMonkey's feature set is very limited when compared to what WPForms has to offer.
In fact, here are some of the most blatant limitations:
There are no specialty form fields like WPForms' GDPR Agreement, CAPTCHA, or Password fields
You can only collect a limited number of responses per month on the first tier paid plan
There are conditional logic or skip logic rules, but if applied to checkbox answers, users can be mistakenly redirected to the wrong question next
Conditional logic questions have to be on separate pages to work, making forms unnecessarily long
If your email notifications aren't sending to you or your site visitors, there's no explicit solution except to refresh the alert feature and hope it fixes itself
Recurring surveys are not allowed on the 1st tier paid plan, which doesn't make sense for a paid online survey form solution
The File Upload form field is limited to the 2 highest priced paid plans, making deep market research hard for small businesses
Only the highest paid plan provides access to advanced conditional logic features
You can only translate your forms into multiple languages if you use the highest tier paid plan
All paid plans except the priciest 1 have SurveyMonkey branding in the footer
Lastly, if you want to access easier-to-use templates to create additional forms, you'll need to invest in another form builder solution such as Wufoo.
SurveyMonkey and Wufoo have teamed up together to give users everything they need to create forms for their sites but at double the cost.
When you want to create forms for your website and find that the limitations outweigh the feature set, it's time to look for a SurveyMonkey alternative.
WPForms Features
WPForms stands out as more than just a simple form builder because of the sheer amount of built-in features and addons you receive as a customer:
Smart Conditional Logic: create as many conditional logic rules as you want, on as many forms as you'd like so your users have the best experience possible and your forms convert.
Entry Management: manage all form entries right in the WordPress dashboard in an organized and easy-to-understand way. Plus, take advantage of the WPForms dashboard widget and see how your forms are performing once you log in to your website. If you're starting with the free version, make sure to turn on the Lite Connect feature to save your entries so you can unlock them when you upgrade to Pro.
File Uploads: enjoy unlimited file uploads on all plans. Plus, easily view them, save them to your Media Library, and even access them in the notification you receive when someone submits a form.
Automatic Form Confirmations: Choose from 3 form confirmation types—Message, Show Page, and Redirect—or use a combination of all three using smart conditional logic.
Survey and Poll Form Creation: add survey or poll forms to your site, collect responses in one convenient location, and access multiple reports displaying results for easy analysis of data.
Partial Form Saving: capture partial form entries and follow up on those leads to turn abandoning site visitors into subscribers, followers, or customers.
Exhaustive Spam Protection: enjoy built-in spam protection, enable CAPTCHAs, customize your own CAPTCHAs, hCaptcha, Cloudflare Turnstile, or even use Google invisible reCAPTCHA to protect your forms from spam submissions.
No Limits: Create as many forms as you want, with as many form fields as you want, and accept as many entries as you like, no matter which plan you choose.
Form Management Features. WPForms includes advanced management options that let you see all the pages on your site with forms embedded, restore deleted forms from the trash folder, track form revisions, and more.
Online Signature Capability: collect signatures from site visitors right on your forms for things like contracts and agreements.
Form Permissions and Access Controls: password protect your forms, schedule start and stop dates, limit the number of entries you'll accept, and even limit form submissions to logged-in users, regardless of which plan you have.
Geolocation Tracking: learn more about site visitors and their locations with geolocation tracking so you can send targeted email campaigns that are more relevant to them.
If you're looking for reasons why WPForms serves as a better solution than SurveyMonkey, its feature set alone is compelling.
In fact, WPForms' flexibility gives you a chance to create standout forms that will convert.
Winner: WPForms
Support: WPForms vs SurveyMonkey
No matter how much experience you have with form builders or even websites in general, you're bound to run into problems every now and then.
Since your success hinges on your website working right, including your contact forms, knowing there's a customer service team backing you at all times can give you the peace of mind that if something did happen, you'd be okay.
Level of Support: SurveyMonkey
With SurveyMonkey, you can access support in two ways:
Using the generic contact form and choosing a topic that hopefully relates to your issue
Reading articles in the Help Center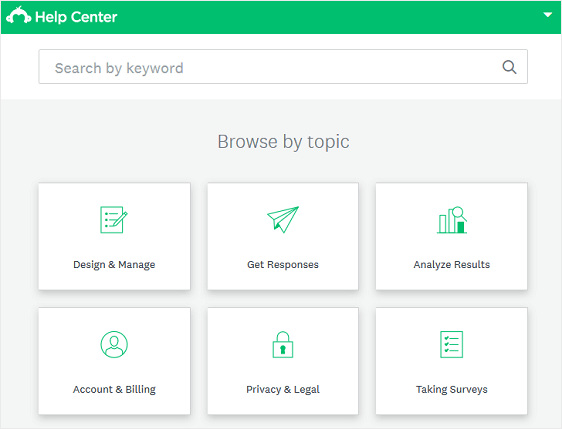 The level of support you get will depend on how much you pay for your monthly SurveyMonkey plan.
For instance, if you are on the lowest tier paid plan, you won't receive prioritized email support that answers questions or concerns in under an hour. And only if you invest in the most expensive plan do you have access to phone support.
Level of Support: WPForms
If you're looking for more comprehensive support through a variety of channels, look no further than the best SurveyMonkey alternative around, WPForms.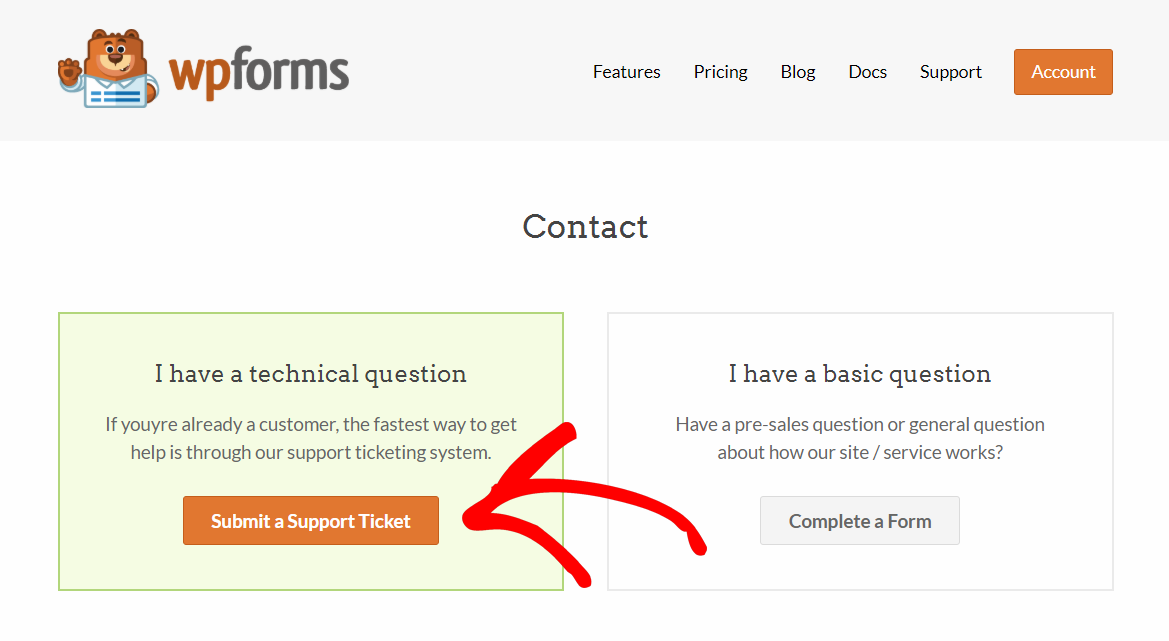 You can access the support ticket system and receive help from the knowledgeable and friendly support team, read through the extensive documentation for configuring every little setting possible, and even check out the blog to learn tips and tricks for creating high-converting, good looking WordPress forms.
And if you want, you can visit the official WordPress Repository, where people using the free WPForms Lite plugin get answers to their most pressing questions.
Remember when we mentioned that SurveyMonkey doesn't have an explicit solution to emails not delivering properly when a form is submitted and an email notification goes out?
Well, not only does WPForms have an explicit solution, which is to use the WP Mail SMTP plugin, but the support team is knowledgeable about how to set it up on your site and troubleshoot issues if you run into them.
We don't tell our users to refresh their forms and hope for the best. We take a proactive approach to help you get the most out of our easy-to-use WordPress form builder.
Winner: WPForms
Account Management: WPForms vs SurveyMonkey
It won't matter if you're able to use your online forms to build a bigger email list, collect data based on surveys and polls, or run a nonprofit organization if you can't manage the entries in an organized and easy way.
SurveyMonkey Account Management
There is a glaring difference between the way you manage SurveyMonkey forms and WPForms forms: the location.
With SurveyMonkey, you have an account on its website where you create and save forms, collect responses, and analyze results. You can also see the results in a dashboard you create, analyzing individual responses or surveys as a whole.
The problem is, every time you want to create a form, make a change, view an entry, or check out metrics, you have to log in to your account first. Then you have to go back to your WordPress website and apply the changes you've made.
This not only leaves room for error, but it's also annoying to have to go back and forth between websites. The same is true for adding a form to your WordPress website. You have to grab a shortcode from your SurveyMonkey account, log in to your website, and embed the code into your post or page, which is time-consuming.
WPForms Account Management
On the other hand, WPForms lets you conveniently manage your forms all in the WordPress dashboard so you never have to leave your website.
For example, you can do the following:
View forms you've already created
Create new forms
Access form entries
Configure settings related to your license, email, CAPTCHA, validation messages, payments, integrations, and more
Use the import and export tools
Activate addons that can be used on your forms immediately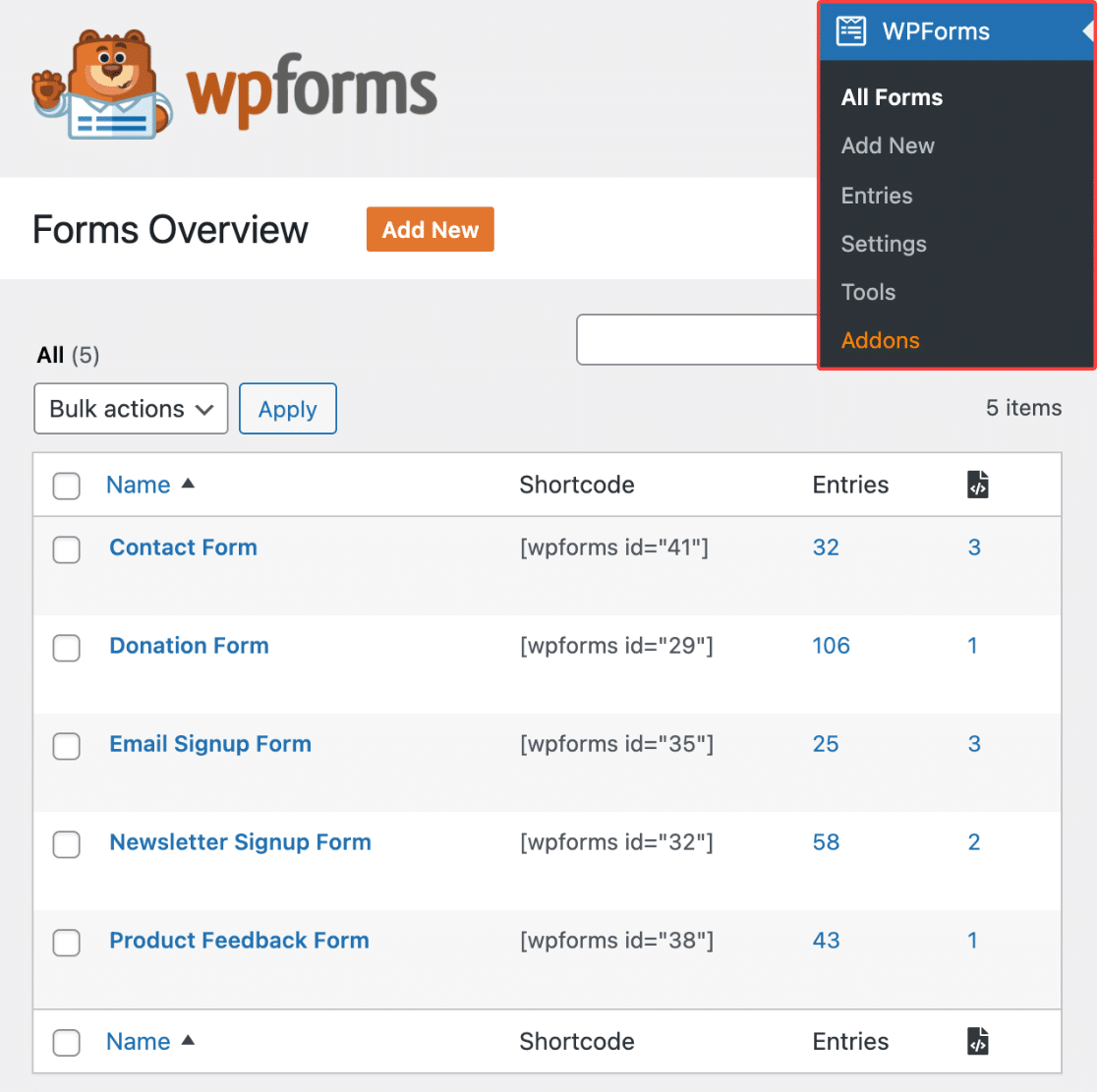 And if you want to get a bird's eye view of how your forms are performing, take a look at the WPForms dashboard widget.
You can see how many total form entries your forms have, as well as a graph view over 7 or 30 days, without ever having to click into your entry management section.
This is perfect for those times you want to monitor a form that means a lot to you in the quickest way possible.
Managing your website's forms shouldn't be difficult. WPForms makes sure it's not.
Winner: WPForms
Integrations: WPForms vs SurveyMonkey
If you're going to pay for a WordPress form builder, it should integrate with other platforms to make form creation even better.
SurveyMonkey Integrations
SurveyMonkey offers over 100 data and API integrations.
For instance, you can integrate with popular CRM tools such as Salesforce, collaboration tools such as Google Drive, and marketing automation apps like Marketo or HubSpot.
For those collecting payments on their survey forms, SurveyMonkey offers the following payment methods:
Credit or debit card
Direct debit
Wire transfer or direct bank deposit
Check
Local bank transfer
PayPal
Having so many payment methods can seem like a good thing. But for every method you accept on your forms, you'll need just as many separate accounts.
Lastly, you can connect your forms to email service providers like ActiveCampaign and Mailchimp.
WPForms Integrations
WPForms integrates with 4 of the most popular and widely used payment processors: PayPal, Authorize.Net, Square, and Stripe. And to top it off, WPForms accepts recurring Stripe payments, which makes collecting donations, subscriptions, or membership payments a cinch.
In addition, thanks to the Zapier addon, WPForms integrates with over 5,000 different web apps. From CRMs to invoicing software, calendaring systems to instant messengers.
For example, you can easily interconnect your forms to apps such as:
Asana
QuickBooks
Google Calendar
and much more
Lastly, WPForms integrates with tons of the best email service providers:
Being able to connect your WordPress forms to various 3rd-party platforms is a must.
Winner: Tie
Price: WPForms vs SurveyMonkey
Price will almost always play a big role in your business decisions.
Make sure to determine your budget before you conduct your research and look into what your potential solutions cost upfront. Then, you don't end up paying too much for too little.
Price of SurveyMonkey
SurveyMonkey has 3 high-priced premium plans to choose from ranging from $384/year to $1,188/year. You can pay $99/month for the Standard Monthly plan, but you'll only get 1,000 responses a month!
Form creation with SurveyMonkey is expensive, especially since the best features are not offered in the Standard Monthly plan.
In fact, tons of things aren't provided unless you make the jump to the most expensive paid plans.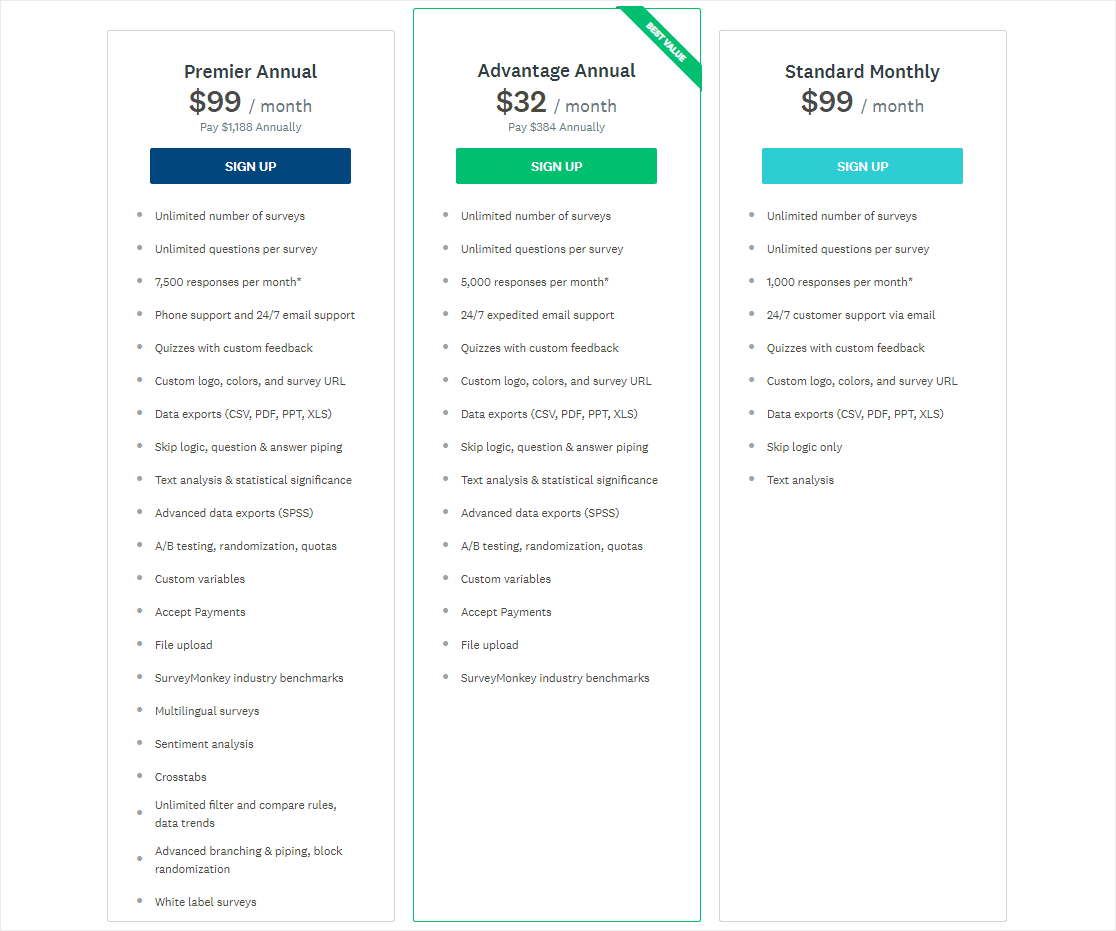 On the plan that limits the number of responses you can collect each month? Keep in mind SurveyMonkey will charge you $0.15 USD for every entry you get over your plan's limit. So carefully monitoring those metrics is just another thing to add to your to-do list.
Want to be able to create more than just survey forms? You'll need to team up with some other form builder solution to make up for SurveyMonkey's shortfalls. This can skyrocket your monthly costs.
Lastly, there's no money-back guarantee to be found on SurveyMonkey's website. So if you don't like what you've paid for, you're out of luck.
Price of WPForms
On the other hand, WPForms comes in at significantly lower price points. It ranges from $39.50/year for the Basic plan to $299.50/year for the Elite plan. There's no free trial, but there's a 14-day money-back guarantee, so there's no harm in trying out the plugin.
This is a far cry from the expensive payments you'll have to make even with SurveyMonkey's most basic premium plan.
In fact, with each plan upgrade, you can access more email service provider integrations, addons, and priority support and still pay far less than SurveyMonkey's lowest paid plan.
For instance, you'll need the Pro plan to accept PayPal or Square payments on your online forms. At $199.50 for the year, this plan's price pales in comparison to SurveyMonkeys's equivalent plan.
And it comes with a ton more features too, making this the most cost-effective form builder solution.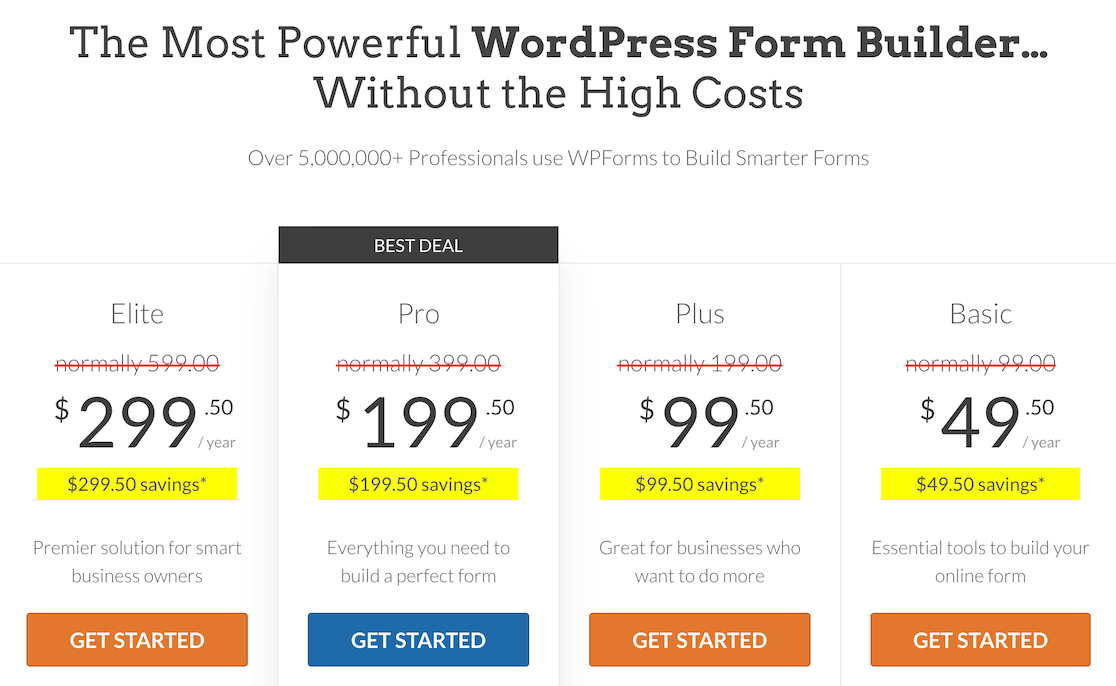 Since WPForms offers that 14-day 100% money-back guarantee if you change your mind for whatever reason, you'll get your money back.
And lastly, WPForms sticks by the motto "Simple Prices. No Surprises," meaning there are no overage charges like the ones found in SurveyMonkey.
Winner: WPForms
WPForms vs SurveyMonkey: Which Is Better?
SurveyMonkey isn't a viable form creation solution. It's limited in the types of forms you can build. Plus, it doesn't have a user-friendly interface and falls short in its feature set.
It's also very expensive for the features you do receive. Plus, it doesn't provide the kind of stellar support you'd expect when using a premium service.
It also brands itself across all your forms unless you pay for the most expensive plan. You could be shelling out thousands of bucks a year for that.
Also, SurveyMonkey forces users to find an alternative solution to create a variety of forms on your website. This makes it an ineffective and costly form builder solution.
On the other hand, WPForms continues to grow in popularity. It offers businesses a faster, easier way to create online forms that go beyond the basics. You can create any kind of form imaginable. Plus, you won't break the bank doing so, and you can manage your forms right in your WordPress dashboard.
Price, features, ease of use, and superior support are all reasons why many successful business owners choose WPForms.
Next, Check Out Our User Reviews
And there you have it! A comparison of WPForms vs SurveyMonkey, with WPForms coming out the clear winner.
If you're still on the fence about whether WPForms is the very best SurveyMonkey alternative, make sure to see what our happy customers have to say.
And if you love comparison posts, make sure to check these out as well:
So, what are you waiting for? Get started with the most powerful WordPress forms plugin today.
And don't forget, if you like this article, then please follow us on Facebook and Twitter.