Are you considering SurveyMonkey vs Microsoft Forms vs WPForms to create online surveys and polls?
Conducting online surveys and polls benefit businesses in many ways. It helps you collect customer feedback, product reviews and measure employee satisfaction.
Creating and sending online surveys might seem like a big task, but it's not if you use the right tool for the process. In this article, we'll compare 3 popular survey form builders, SurveyMonkey vs Microsoft Forms vs WPForms, so you can decide which one is the fit for your website.
So let's get started!
SurveyMonkey Overview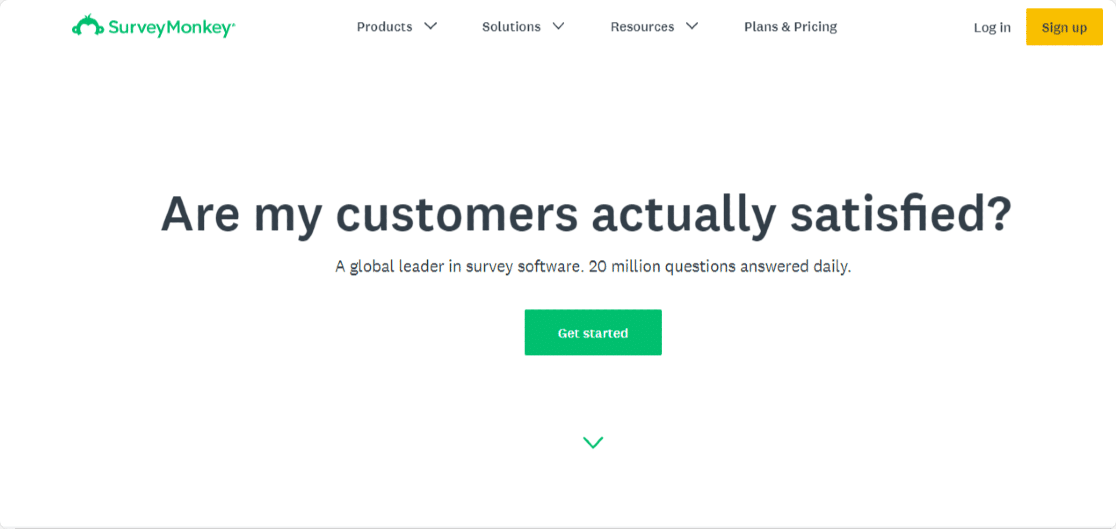 SurveyMonkey is a popular web-based software that helps users create, run and analyze online surveys.
It comes with both free and premium versions. The free version is limited in features, while with the premium version, you get more advanced features, making it an ideal choice for large businesses.
SurveyMonkey includes features like pre-built survey templates, conditional logic, collecting responses, branching, etc. However, many of the advanced features are locked in the paid version of the tool.
Embedding a SurveyMonkey Survey to WordPress or any website is not a seamless process. Because SurveyMonkey is a web-based application, first, you need to create a survey at SurveyMonkey, find installation code, copy and then paste this code on your website to display the survey.
Microsoft Forms Overview
Microsoft Forms was launched by Microsoft in September 2018.
It allows users to create surveys, polls, and quizzes but with limited customizations.
Microsoft Forms is a basic survey tool with some minimal survey options. You can create simple text-based surveys, party invitations, internal surveys for offices, schools, and colleges, and more.
For creating surveys and quizzes with Microsoft Forms, it's necessary to have an active Microsoft ID.
Many features are limited in the Microsoft Forms standard version. You can't add collaborators, restrict audiences and get access to more templates unless you have Microsoft 365 Personal or Microsoft 365 Family subscription.
Again, adding Microsoft Forms to any website is a big task and not feasible for beginners and non-programmers.
First, it requires you to generate the survey's embed code and then copy/paste it to your webpage. And in the last step, to render the survey on the webpage, you need to update the webpage's source code.
WPForms Overview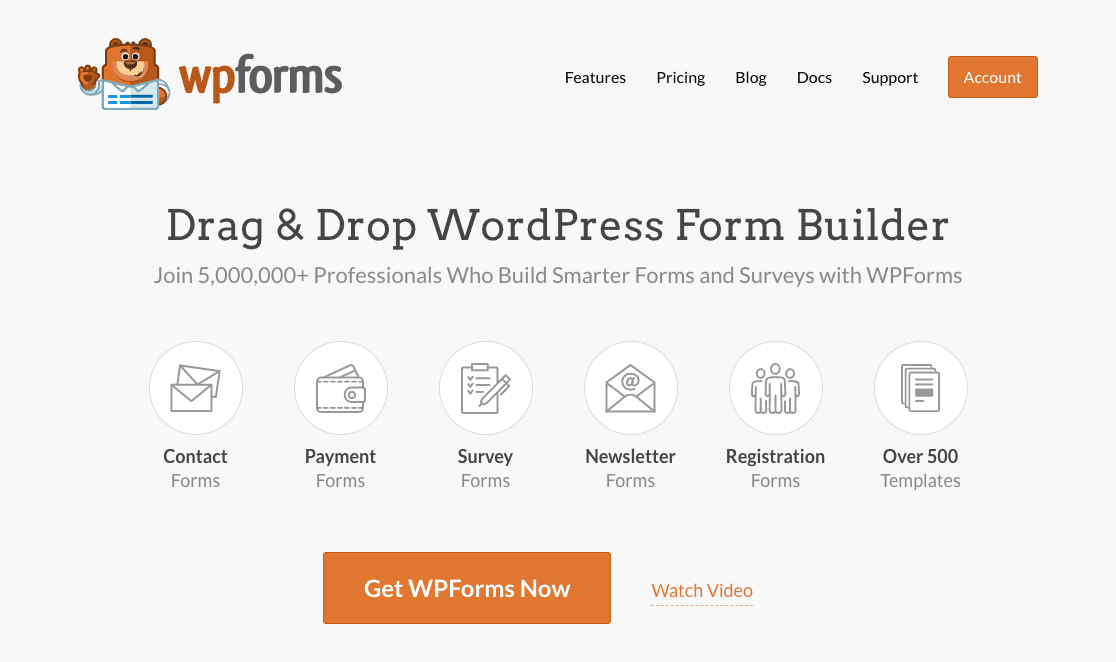 WPForms is the best form builder plugin for WordPress. You can create any form, including surveys and polls, without writing a single line of code.
WPForms includes both free and premium packages. The free lite version contains basic contact form features like basic form fields, email notifications, and captcha for spam protection.
With the premium package, you get powerful form fields and features that you can use to create flawlessly working forms on your website. You can create multi-page forms, order forms, email subscription forms, feedback forms, and more.
For creating surveys and polls, a Surveys and Polls addon is included in WPForms. Using this addon, you can unlock many powerful survey features and easily create and display survey forms on your website.
Because WPForms is a WordPress plugin, you can embed the WPForms survey form on your WordPress website hassle-free.
Create Your WordPress Survey Form Now
SurveyMonkey vs Microsoft Forms vs WPForms: A Detailed Comparison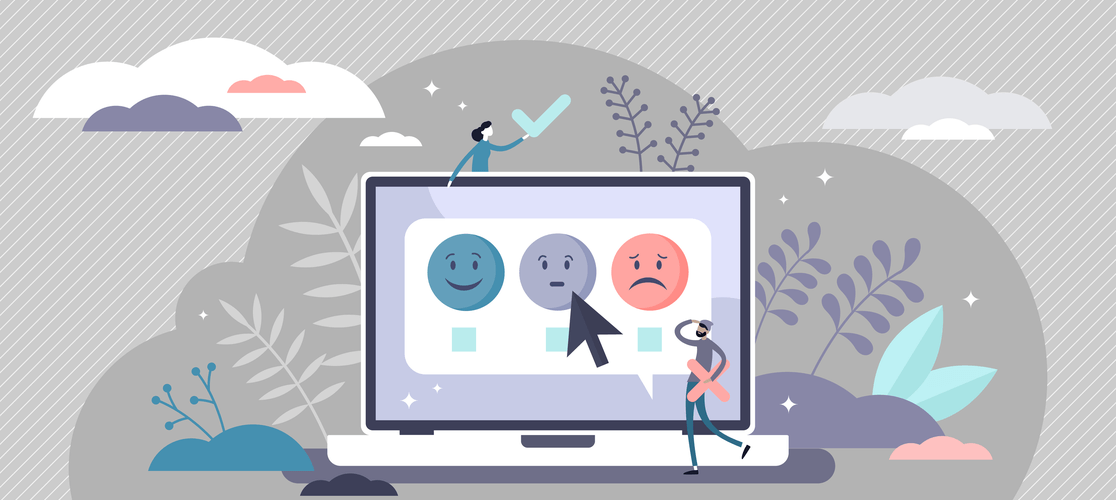 Now, let's get into a more detailed SurveyMonkey vs Microsoft Forms vs WPForms comparison. We'll compare these tools based on their features, ease of use, support, and pricing.
Here's a quick overview:
| Form Builder | WPForms | Microsoft Forms | SurveyMonkey |
| --- | --- | --- | --- |
| Rating | Best form builder for WordPress | Basic form builder | Survey and poll platform |
| WordPress Plugin | Yes | No | No |
| Price | $299 / yr | Free with Microsoft 365 Subscription | $384 / yr |
SurveyMonkey vs Microsoft Forms vs WPForms: Features
Let's take a closer look at the features of these survey tools and see what the differences are.
SurveyMonkey Features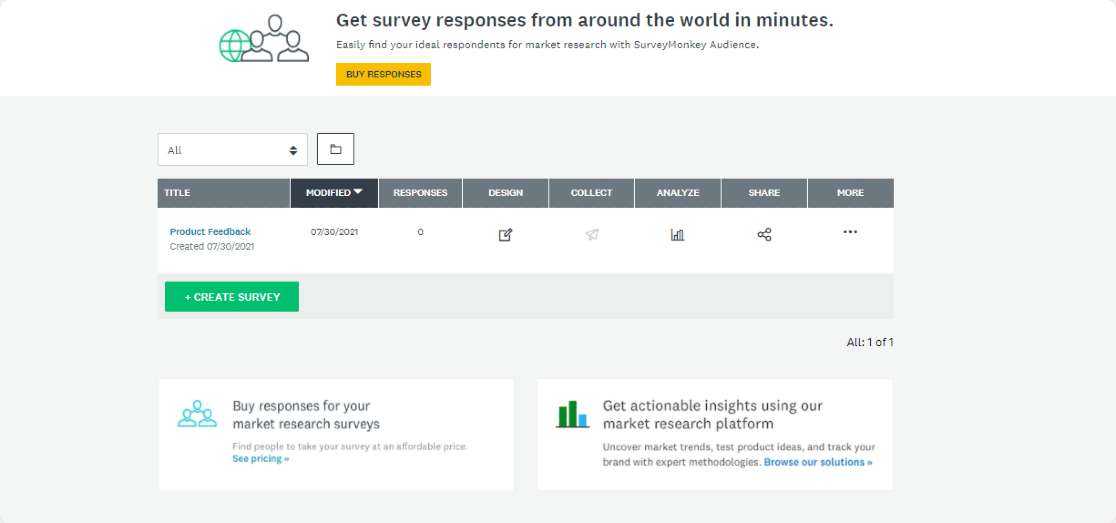 SurveyMonkey is a dedicated web-based survey and polls software.
This tool has many marketing research features, but includes fewer reporting tools. You can export survey results in different file formats and share them internally and externally.
With SurveyMonkey, you can target the right audience and stop people from taking your survey if they aren't part of the targeted audience.
You can create multilingual surveys and get advanced features for deep data analysis. It also allows you to accept payments.
Undoubtedly, SurveyMonkey is an advanced tool, but when it comes to embedding SurveyMonkey surveys into webpages, you need to follow a long process of copying, pasting, and embedding code.
Features:
Templates
Export surveys to SPSS
Question and page skip logic
Accept payments
Team collaboration
Analytics and reports
Create multilingual surveys
Create white label surveys
Microsoft Forms Features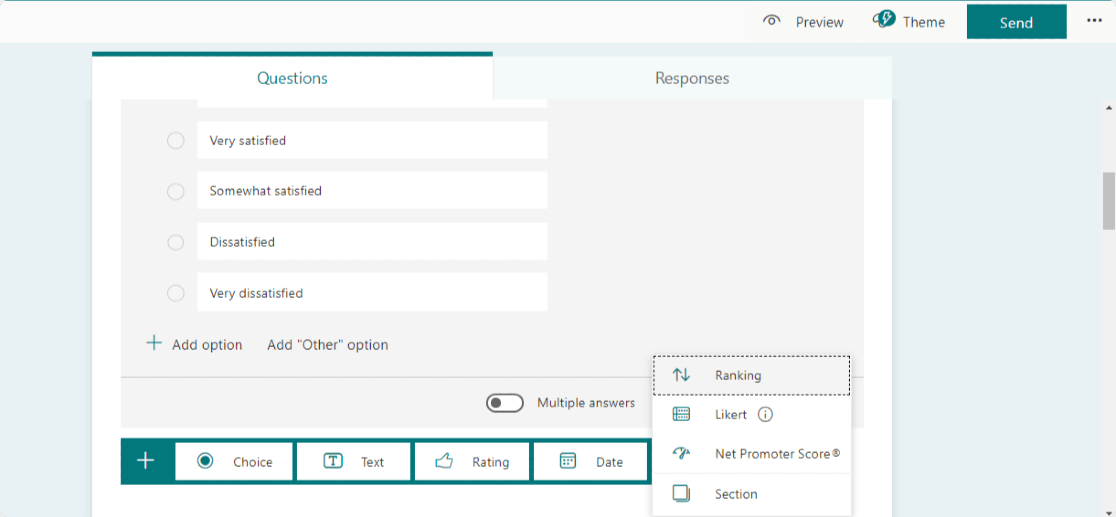 Microsoft Forms lets you create polls, surveys, and quizzes directly in your browser.
You can choose from the pre-built templates or create a custom one with your preferred answer-type choices. Microsoft Forms offer 6 answer-type options such as multiple-choice, ratings, text-based answers, and others.
Microsoft Forms allows you to export form data to Microsoft Excel but to open and view the sheet; you must have an active Office Suite license.
Though Microsoft Forms is user-friendly, it lacks many survey features. You can't create multi-step forms. Also, there is no anti-spam and verification feature.
Features:
Templates and themes
Submission notifications
Image and video support
Conditional logic
WPForms Features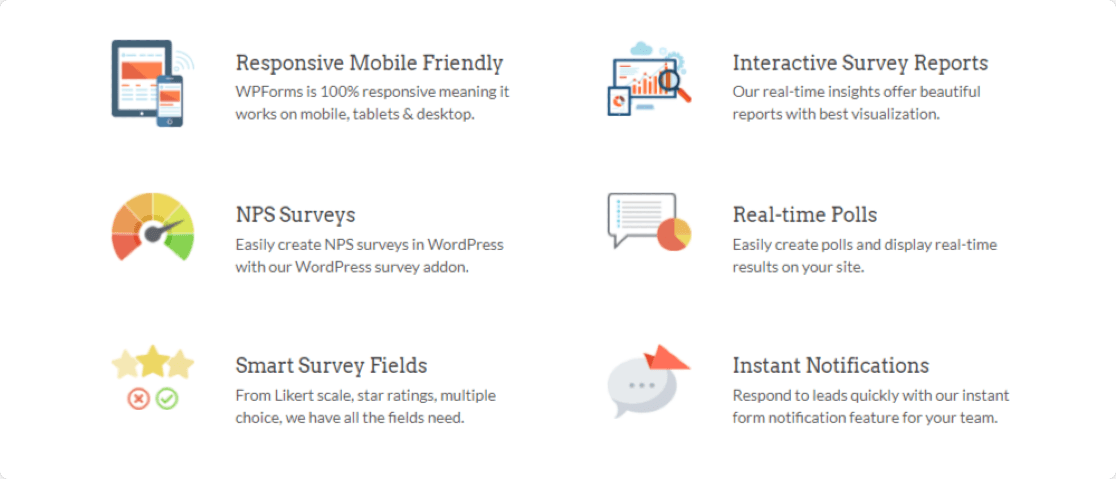 WPForms is a WordPress form builder plugin that you can use to create any form on your website.
If you don't want to build forms from scratch, WPForms' pre-built survey form templates help you get started in a few minutes.
All form templates are completely customizable, and you can modify the form fields however you'd like. You can use the drag and drop builder to add and remove and rename the fields.
Compared to SurveyMonkey and Microsoft Forms, with WPForms' free version, you get more features that you can use to create and display forms on your website effortlessly.
With the WPForms Pro version, you get a powerful Surveys and Polls addon. Using this addon, you can create different types of surveys and polls on your WordPress site.
To create interactive and engaging survey forms, you can add smart survey field options such as Matrix Questions, Net Promoter Score, Star Ratings, etc.
Let's first see some features of the Surveys and Polls addon:
Smart Survey Reporting: There are 2 types of survey reporting available in WPForms: Survey Reporting and Poll Results.

The Survey Reporting feature helps you collect the survey data, while with the Poll Results feature, you can display poll results on your site for your users. These are built-in survey features; you don't have to add any extra form fields for surveys. Enabling these options can turn any form on your website into a survey form.
Beautiful Visual Reports: WPForms survey reporting automatically creates beautiful reports and display real-time insights with the best visualizations for each type of question.

Real-time Polls Report: You can immediately display poll results to each user after submitting the form.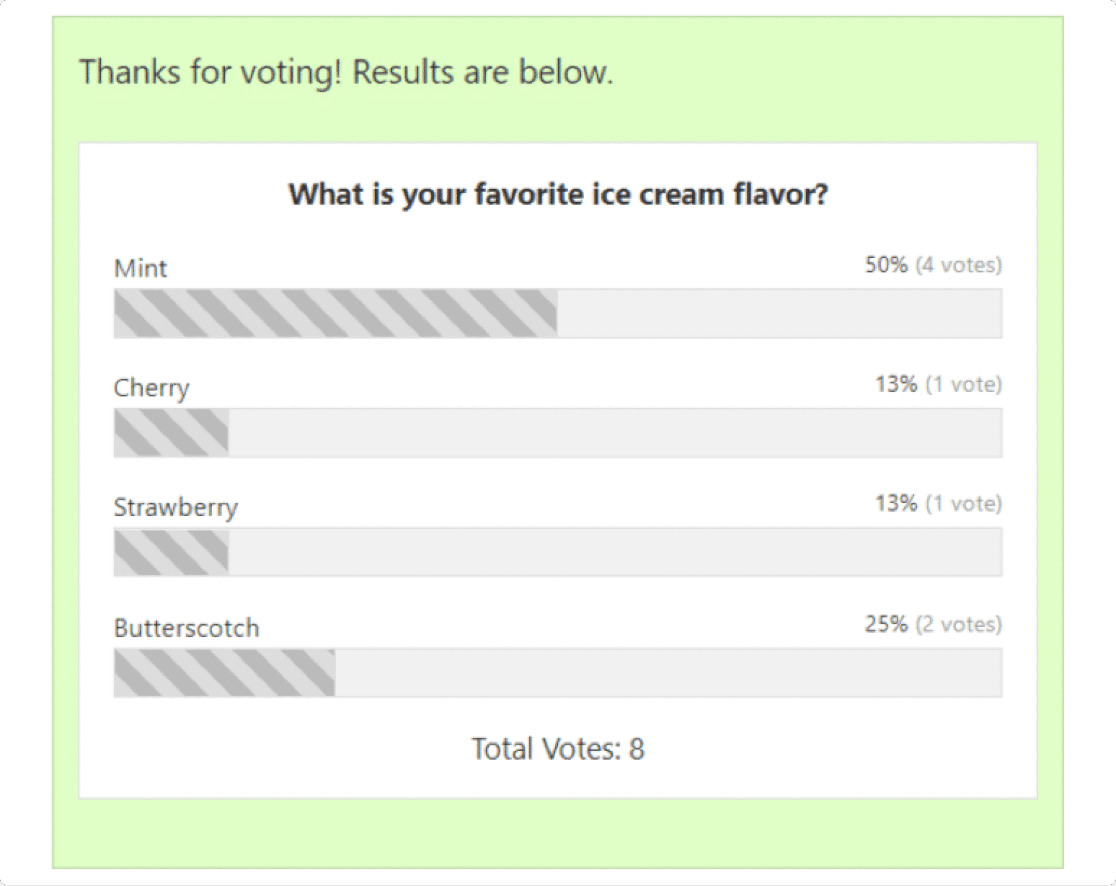 Export Survey Reports: You get the flexibility to export the entire survey report or export individual charts as PDF or JPG with a single click.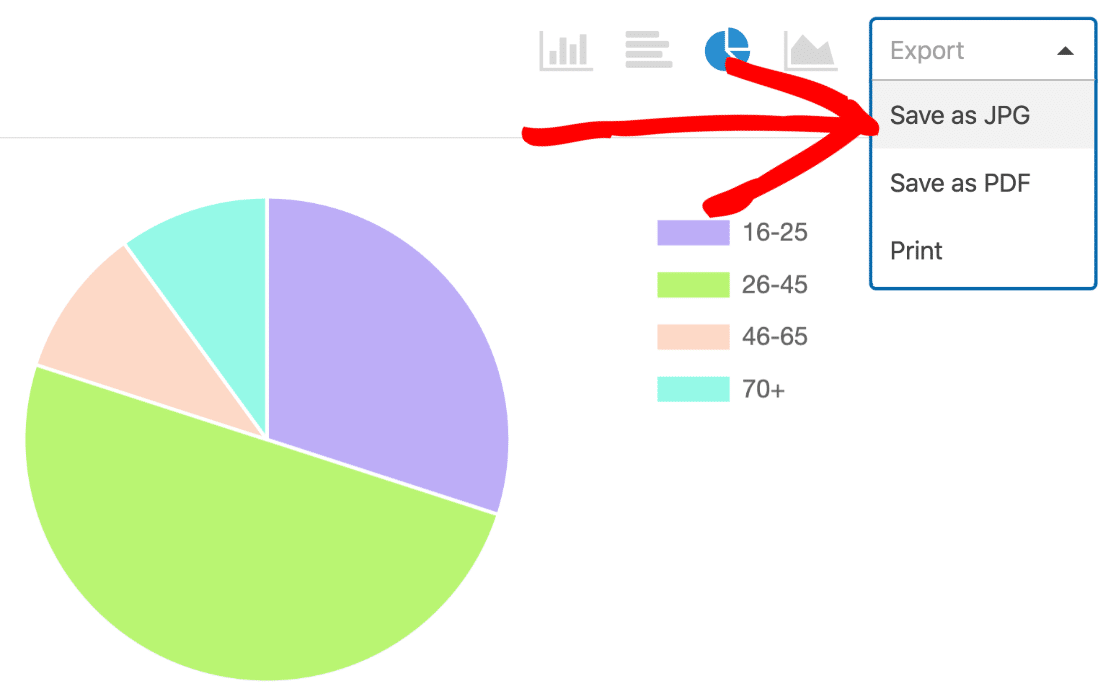 These are the features of the Surveys and Polls addon. You can combine these features with WPForms's powerful features to create highly engaging and interactive survey forms.
Features:
Create unlimited surveys
Add unlimited questions
Get unlimited responses
Create survey forms with advanced survey fields, like Likert scales and Net Promoter Scores
Enable the conditional logic option to personalize your survey questions based on the user's previous answer
Add a GDPR agreement to your surveys
Save survey results in WordPress
Add images and branding
Generate customizable PDF survey reports
Automatically close your survey using a form expiry date
Set a maximum number of responses for a survey
Capture data from abandoned surveys
And many more
SurveyMonkey vs Microsoft Forms vs WPForms: Ease of Use
Now let's take a look at the setup process and see how user-friendly these tools are.
SurveyMonkey Ease of Use
To create a survey form with SurveyMonkey, first, you need to sign-up for a SurveyMonkey account.
After creating your account, you'll be redirected to your account dashboard. Below you can see the SurveyMonkey dashboard.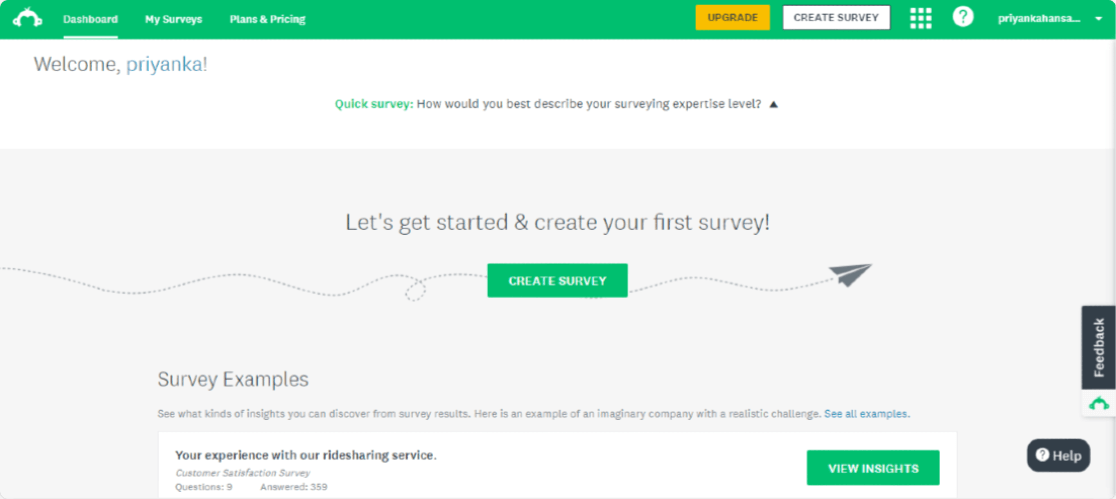 You can start building from scratch or choose from the pre-built templates and customize them to create a survey.
Once you choose your option, you can head over to the form builder. The form builder interface is crowded with many options, making it challenging to start with the process.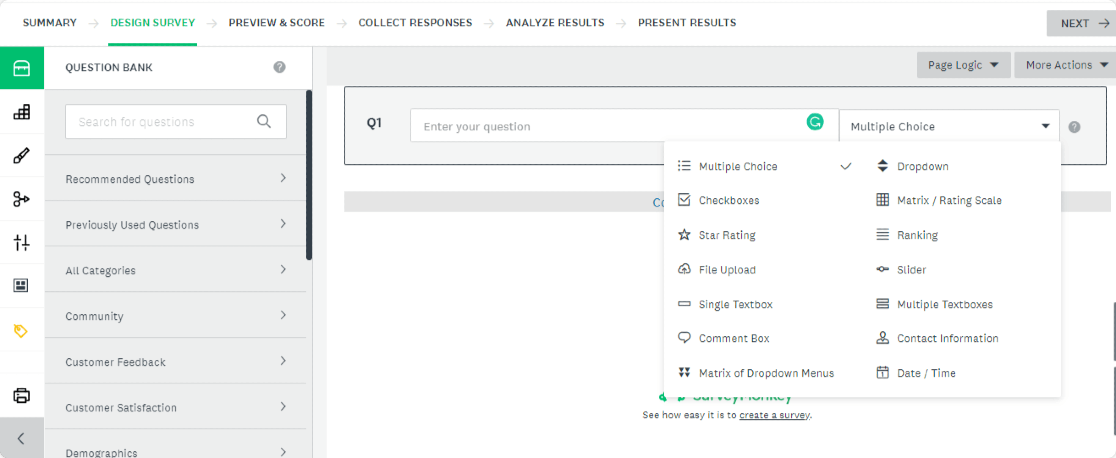 SurveyMonkey includes 5 major steps to build the survey form:
Design survey
Preview score
Collect responses
Analyze results
Present results
Each step includes multiple options, and many of them are only available with paid versions which makes the process confusing for first-time users.
It also includes a Question Bank with pre-written questions but doesn't allow you to add many questions with the free plan.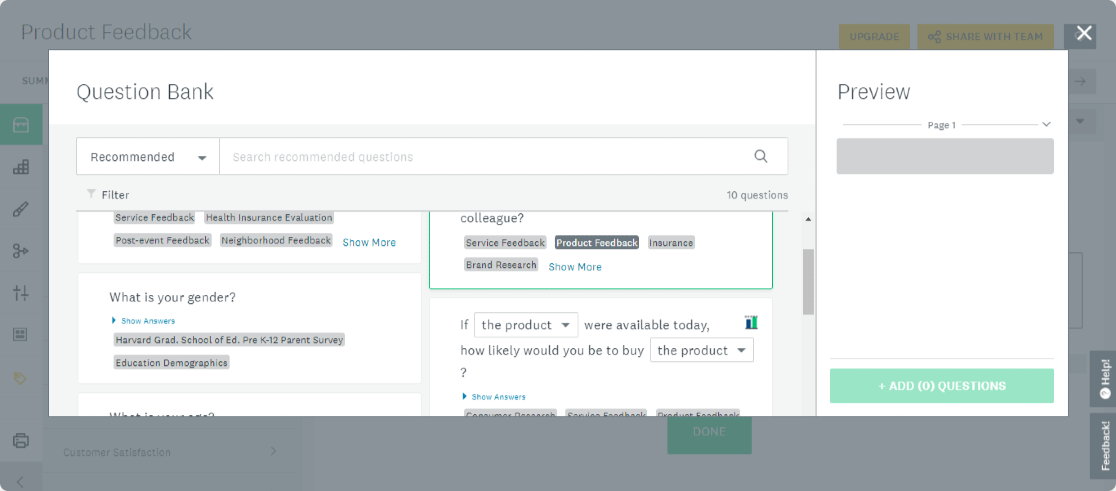 SurveyMonkey features and dashboard interface are pretty advanced, making it a great tool for large-scale businesses and those already experienced with market research tools. For small businesses and nonprofits, the available options are a little overwhelming.
Microsoft Forms Ease of Use
Microsoft Forms is user-friendly and has a clean interface. You can use pre-built templates or start from scratch.
You can add a new question by clicking on the +Add New button. The only drawback is that the important features like Branching, Restrictions, Sub-title, and Print options are not clearly visible. You'll have to find them from the 3-dot menu.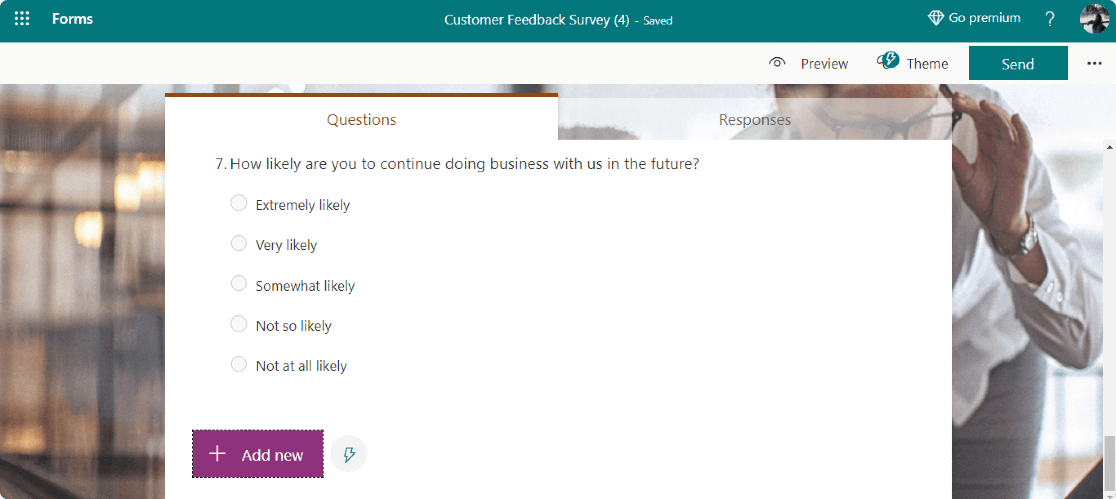 With the preview option, you can check how your survey will look on mobile and desktop. Though Microsoft Forms is limited in survey features, it looks good and modern in terms of design due to the attractive themes and colors.
But again, embedding Microsoft Forms surveys into a webpage, like WordPress, is a big task and not an easy process to follow.
WPForms Ease of Use
Creating surveys with WPForms is a breeze. You can create a perfectly working survey form in just 3 simple steps.
If you're already a WordPress user, then you can add the Surveys and Polls addon in just a few clicks. If not, you can check detailed documentation on how to install and use the Surveys and Polls addon.
With WPForms, creating surveys and polls forms is as simple as creating any other form.
WPForms offer 500+ pre-built templates. You can search for the template from the search bar and choose any survey template to fit your needs.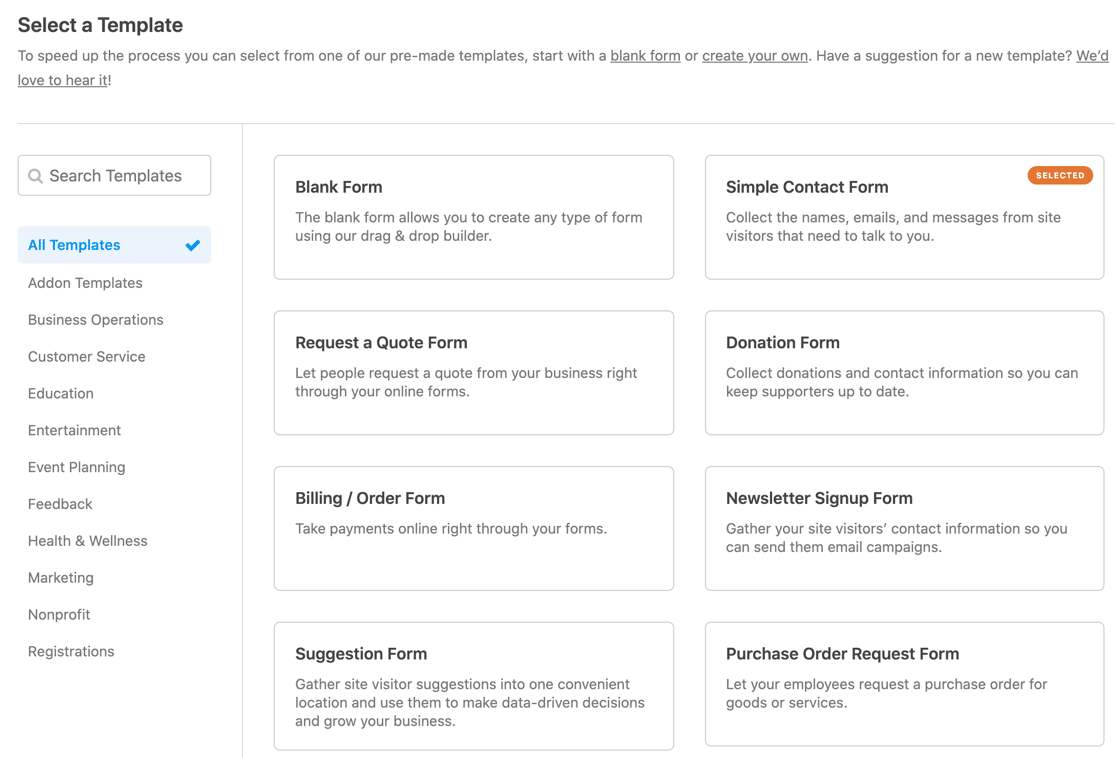 The form builder has an easy drag and drop interface and minimalist design, making each option clearly visible. You can see all the form field options on the left-hand side, and on the right, you can see a live preview of your form.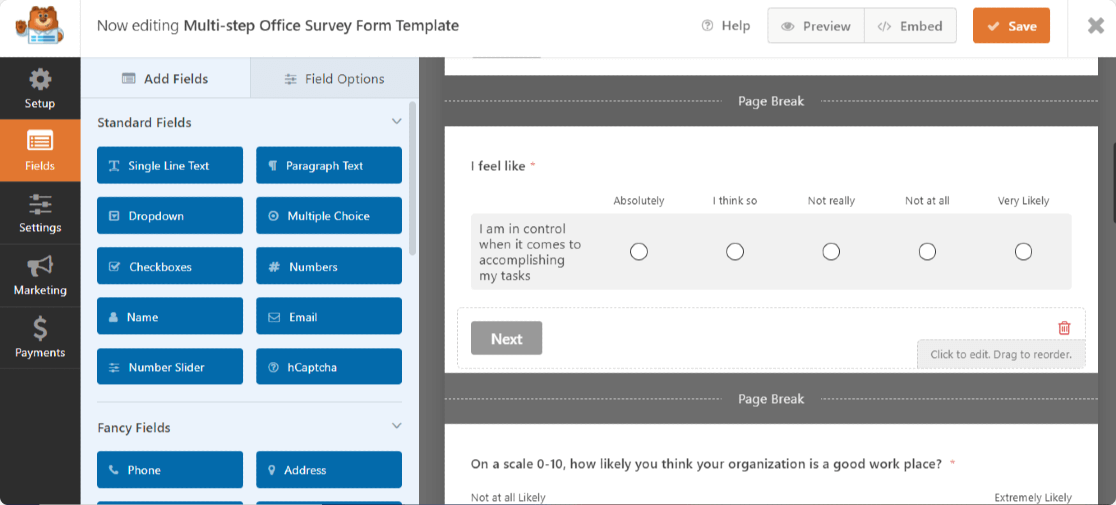 In our list, WPForms is the only official WordPress form builder plugin. So you can add WPForms surveys to a WordPress website without embedding any HTML code.
SurveyMonkey vs Microsoft Forms vs WPForms: Support
Good support service plays an important role in any product's success. Let's compare the support options you get with SurveyMonkey vs Microsoft Forms vs WPForms.
SurveyMonkey Support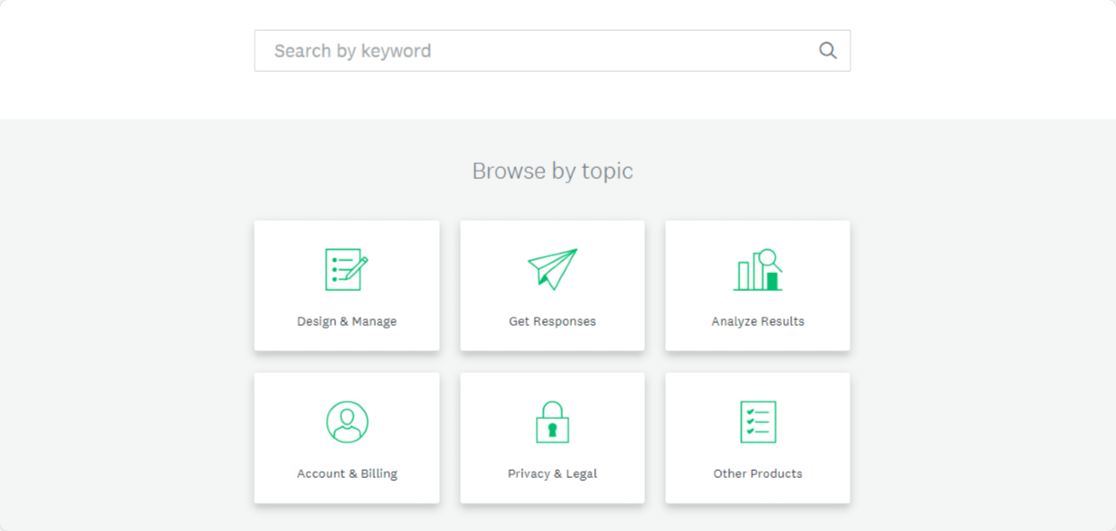 SurveyMonkey offers email support 24/7 for all customers. If you have Premier Annual, Team Premier, or Enterprise plan, you can also get support via phone call.
SurveyMonkey's help center includes a detailed knowledge base about its features and field options. They also have video tutorials and overviews on how different features work.
Microsoft Forms Support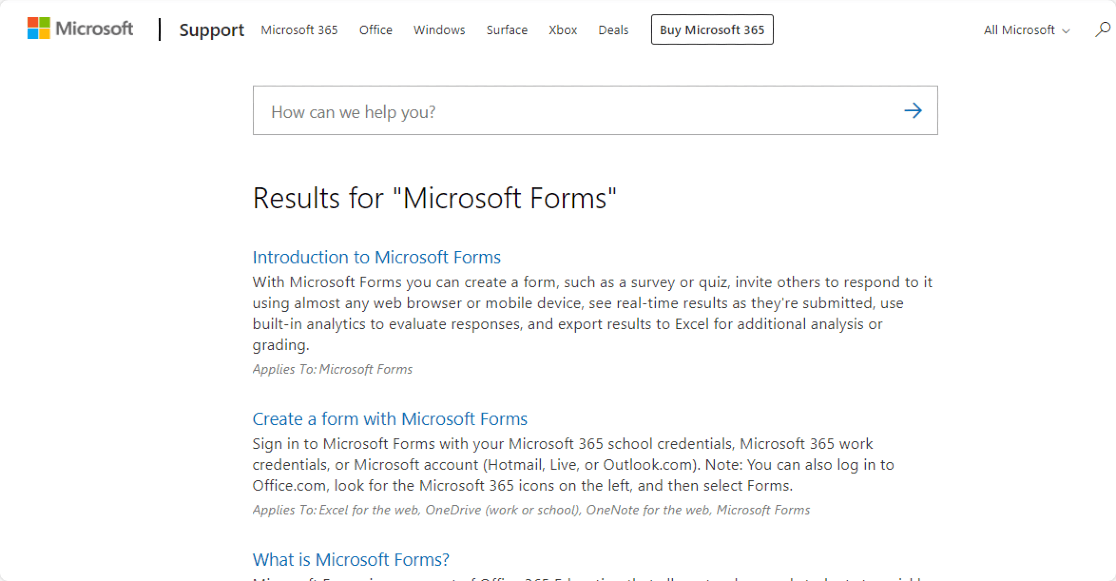 Microsoft Forms support is very limited. There is no feasible option to contact the support team directly.
It does have a basic documentation guide published on its website.
Microsoft has a tech community with a Microsoft Forms group where you can ask your question and get help from other group members.
WPForms Support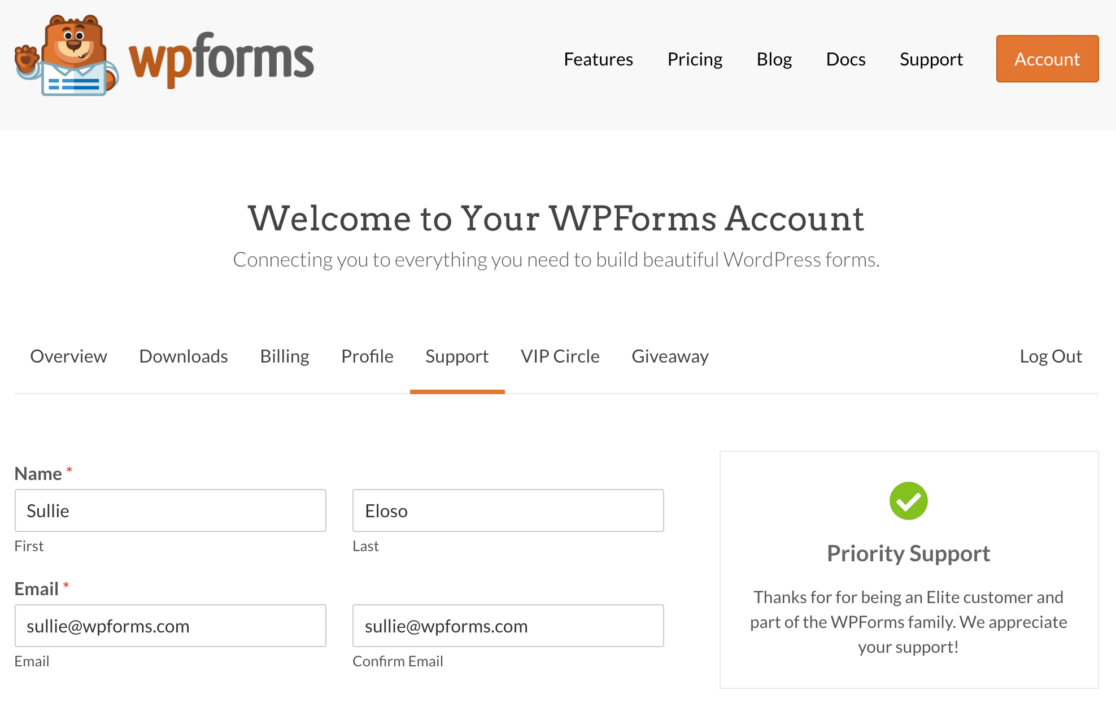 The WPForms support team is available to answer all tickets within 24 hours. If you face any issue related to the plugin or addons, you can submit a ticket via an online form.
Customers with Pro or Elite licenses get priority support.
We also have a detailed knowledge base published on our website. Plus, you'll find tons of helpful tutorials and guides on our blog page.
For advanced users, we have a separate developer documentation site.
SurveyMonkey vs Microsoft Forms vs WPForms: Pricing
Here's a detailed overview of what you get in the free and paid version of each tool.
SurveyMonkey Pricing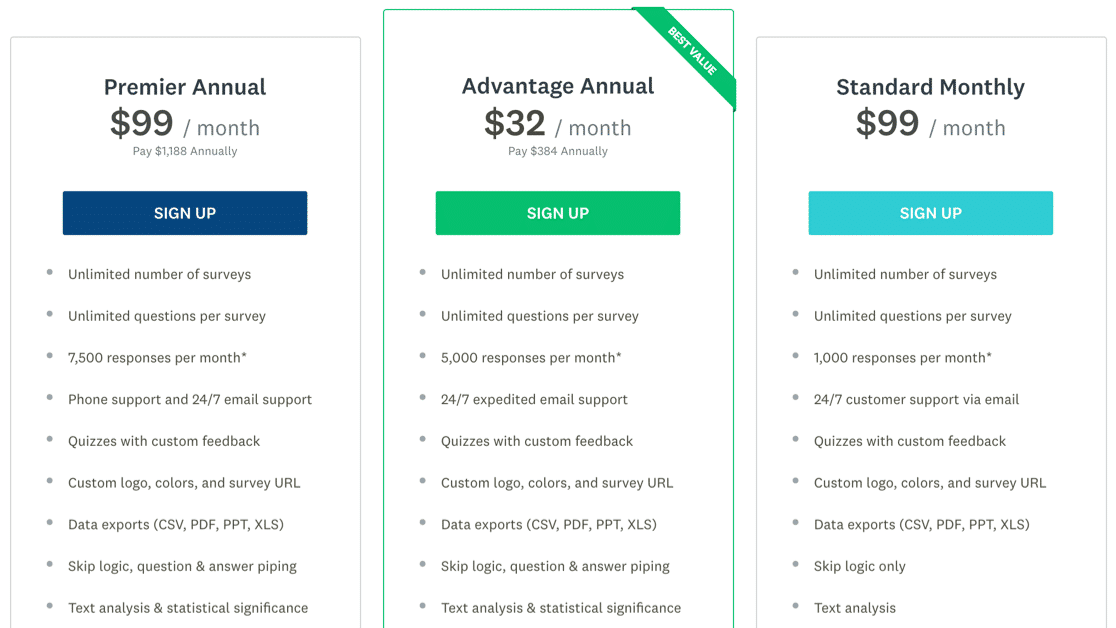 SurveyMonkey is a freemium service. You can create and send a survey with up to 10 questions and collect up to 40 responses per survey with the free version.
The free version includes very basic and limited features, while with the paid plan, you get more options and advanced features.
SurveyMonkey has 6 different paid plans. Advantage Annual is for one user and costs $384/ year. Here's a list of features included in the paid version:
Unlimited surveys
Unlimited questions
Advanced data exports
Custom logo, colors, and survey URL
File upload
Team collaboration
White label surveys
Microsoft Forms Pricing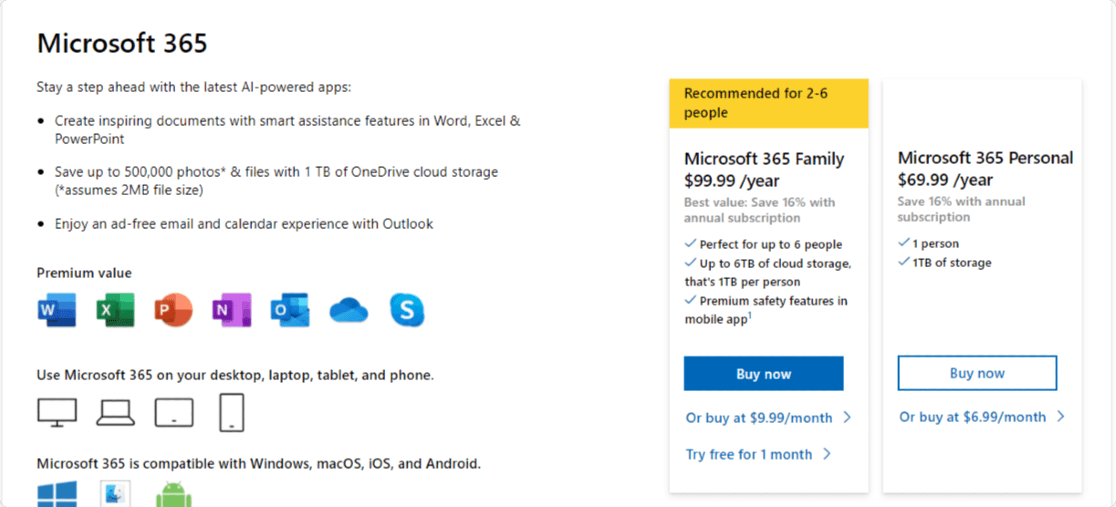 Microsoft Forms is free. However, to use it, you need to pay for a Microsoft 365 subscription.
With Microsoft Forms, you can create unlimited survey or quiz forms, see real-time results, use built-in analytics, share and collaborate with others.
WPForms Pricing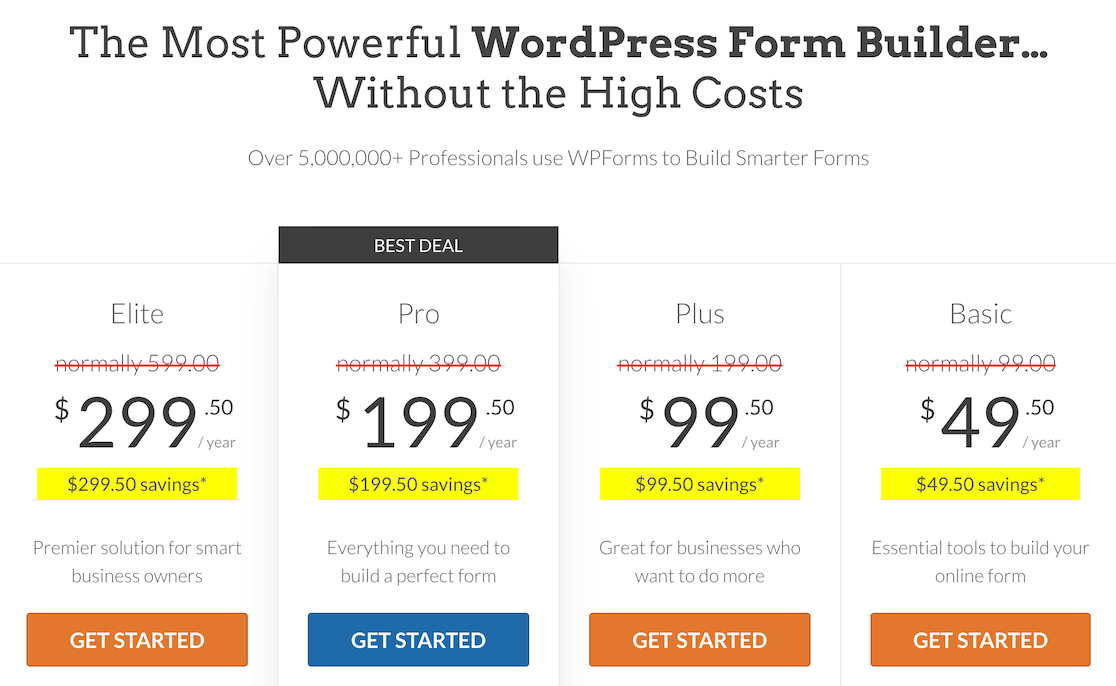 WPForms comes with both free and pro versions. With its free version, you get some basic form features, and can see entry details in your email notificiations. Turning on the Lite Connect feature will let you store entries so you can unlock them when you upgrade to the paid version.
WPForms offers 4 premium plans Elite, Pro, Plus, and Basic. Each plan includes slightly different features based on the pricing.
The Surveys and Polls addon is included in the Pro version of WPForms, which pricing starts at $199.50 a year and scales up.
Here's what you get in the paid plan of WPForms, including all survey features:
Form Templates
Advanced Form Fields
Notifications and Email Summaries
Entry Management
Spam Protection: reCaptcha, Cloudflare Turnstile, and hCaptcha integration
Popular payment gateway integration: Paypal, Square, and Stripe
Mailchimp and MailerLite integration
Privacy Compliance
Zapier Integration
And much more
Also, they offer a 14-day money-back guarantee so that you can use WPForms on your websites worry-free.
SurveyMonkey vs Microsoft Forms vs WPForms: Which Is Best?
Considering all of the comparisons, WPForms is the best tool to create online surveys and polls. It comes with advanced features that can be easily used by beginners as well.
If you want to create powerful survey forms without learning code or hiring a developer, then WPForms is the best option for you.
Create Your WordPress Survey Form Now
Next, Display Survey Results Graphically
After creating your survey forms, you might want to display survey results in interactive graphs and charts. Check out the post to learn how to display survey results graphically.
If you're looking for feedback questions, check these fantastic feedback form questions you can ask on your customer surveys.
Ready to create your survey online form? Get started today with the easiest WordPress form builder plugin and build beautiful forms on your website. WPForms Pro offers tons of forms features and a 14-day money-back guarantee.
Don't forget, if you liked this article, then please follow us on Facebook and Twitter.