Do you want to export your WordPress form entries into Excel? Using an XLSX file to export your data makes it super easy, and WPForms lets you do this in just a few clicks. You'll be organizing your data in Microsoft Excel in no time.
So in this tutorial, we'll show you the simple and pain-free way to export your WordPress form entries to Excel.
Create Your WordPress Contact Form Now
How to Export a WordPress Form to Excel
To export your WordPress form entries into an XLSX file for Excel, follow these simple steps.
Step 1: Install the WPForms Plugin
Before you can export your form entries to Excel, you'll need to have a form that receives entries.
First, let's install and activate the WPForms plugin. To export entries to Excel, you'll need the WPForms Basic license or higher. You won't be able to do this with the free version of the plugin.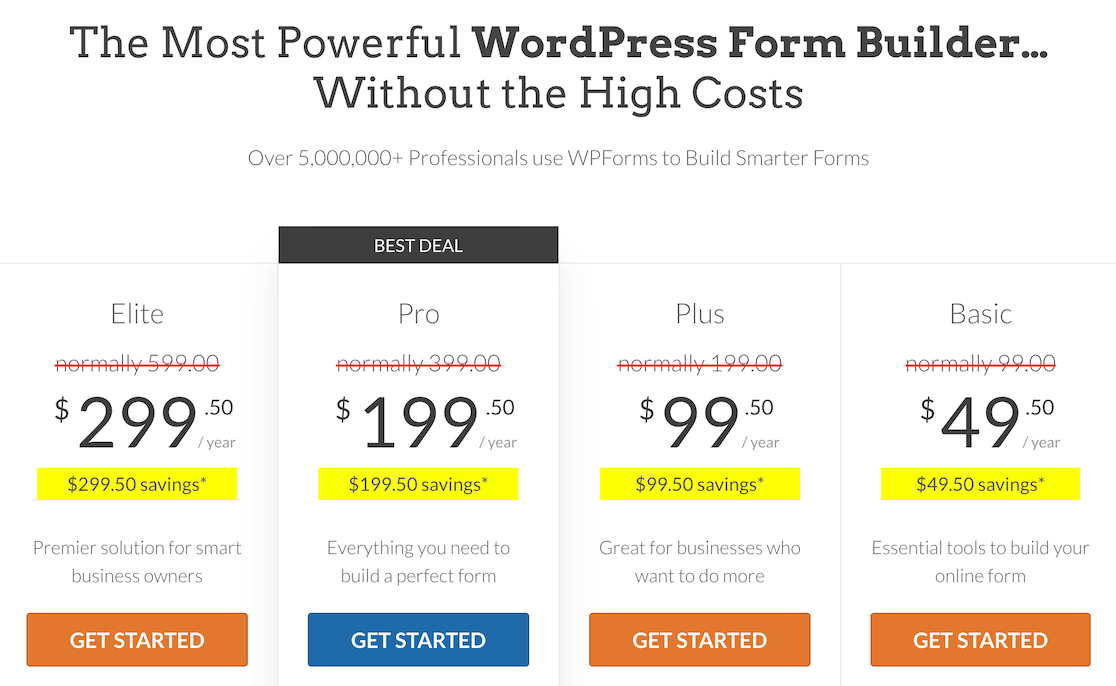 After buying the plugin, click the download link in your WPForms account. You'll just need to download the zip file to your computer.
Then, in the WordPress admin area, navigate to Plugins » Add New. Upload the zip file to complete the installation.
If you need more help getting WPForms installed, here's a beginner's guide to installing a plugin in WordPress that will help walk you through setup.
Wonderful job. Next, let's jump right into the plugin and create your website form.
Step 2: Create Your Form
Next up, you'll need to create a form and publish it on your site. Once it's live, you'll be able to start collecting entries so that you have some to export.
So to do that, check out how to create a simple contact form. This tutorial will show you how to publish a contact form on a WordPress page in less than 5 minutes.
And don't worry, you don't need to know how to code and it's very easy, even for beginners.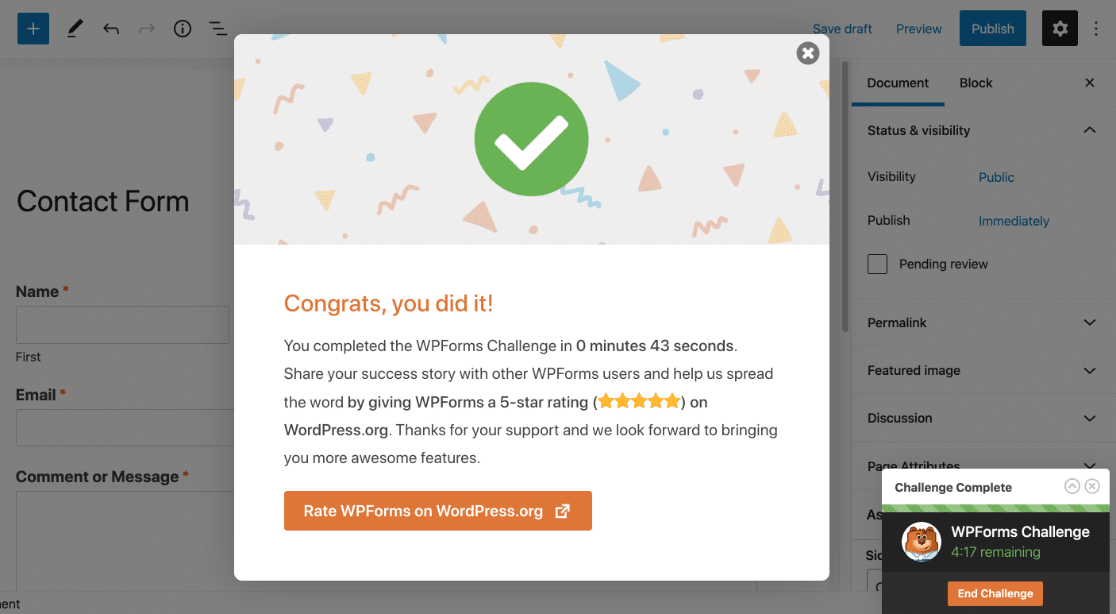 Now once your form is complete, use the Embed button to embed it onto a new or existing page. You can also publish your form in the sidebar if you'd like.
Now, we'll just need to wait until we have a few entries in WordPress. You can go ahead and submit a few test entries so that you can move forward with this tutorial, or wait for a few visitors to fill out your form.
Once you have some entries, it's time to export them to Excel.
Step 3: Export Form Entries to Excel
To get started exporting your form entries to Excel, head to your WordPress dashboard. Navigate to WPForms » Entries and then hover over the form you want to export entries from into Excel and click on Entries.
Now you'll see all of the entries for your form. To get started with the export, click Export All.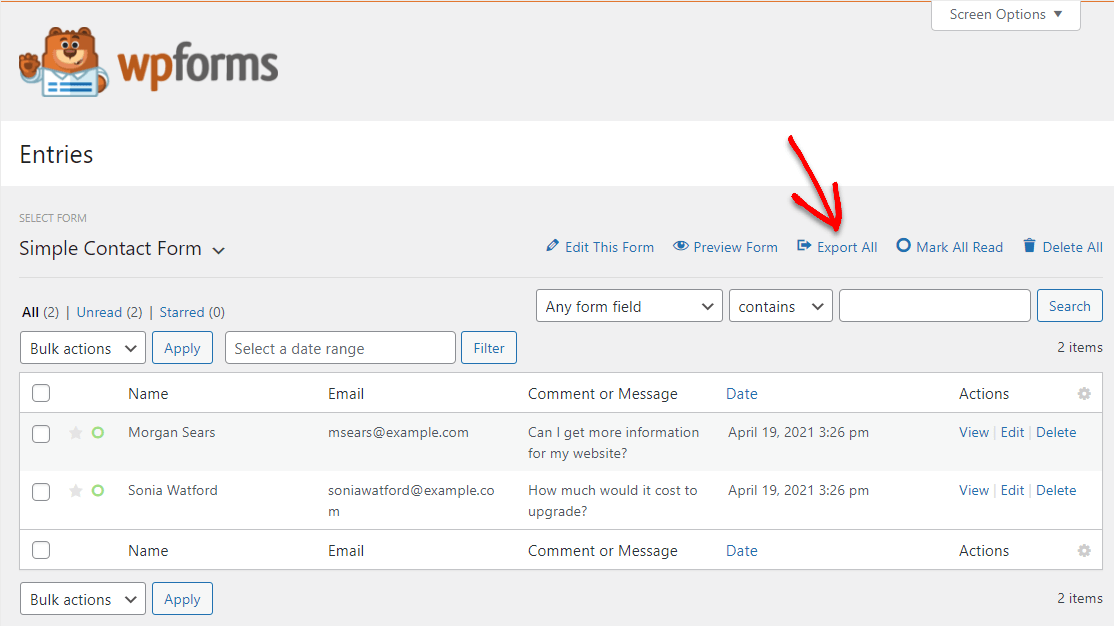 On the next screen, you'll see the name of the form in the dropdown. You'll be able to select all the fields on your form that you want to export.
If you want to see more details on some of the advanced information you can export, check out our comprehensive documentation on how to export form entries in WPForms.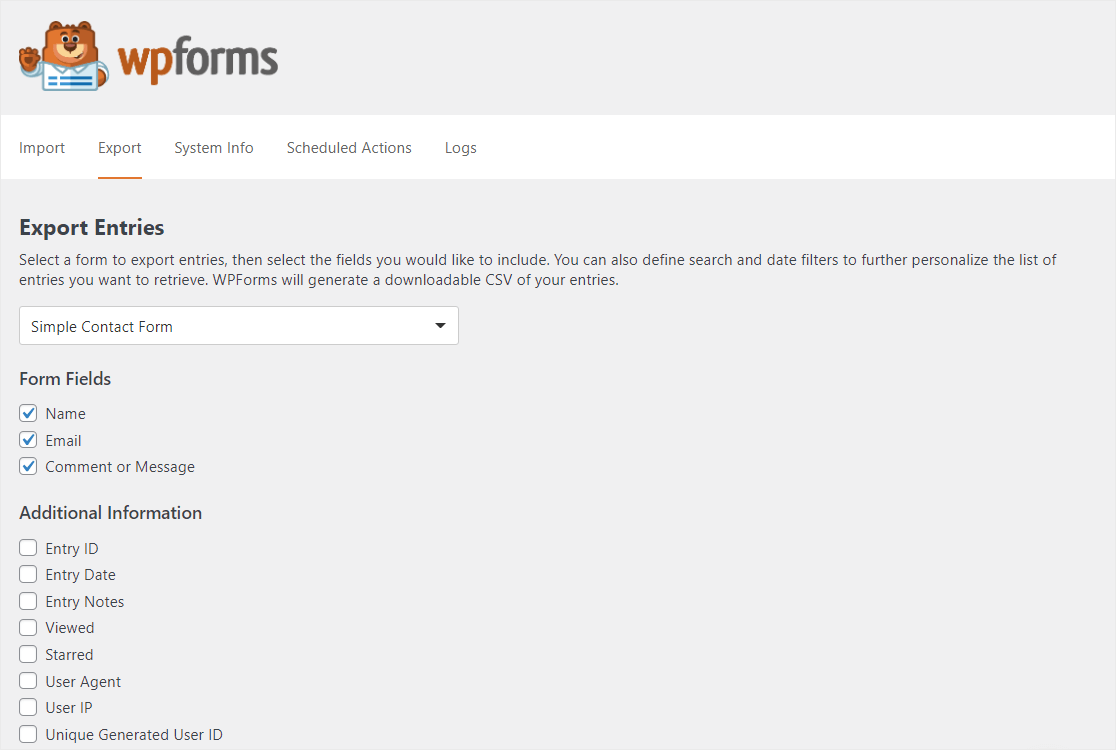 To export your form data to Excel, scroll down the page and click on the checkbox next to Export in Microsoft Excel (.xlsx).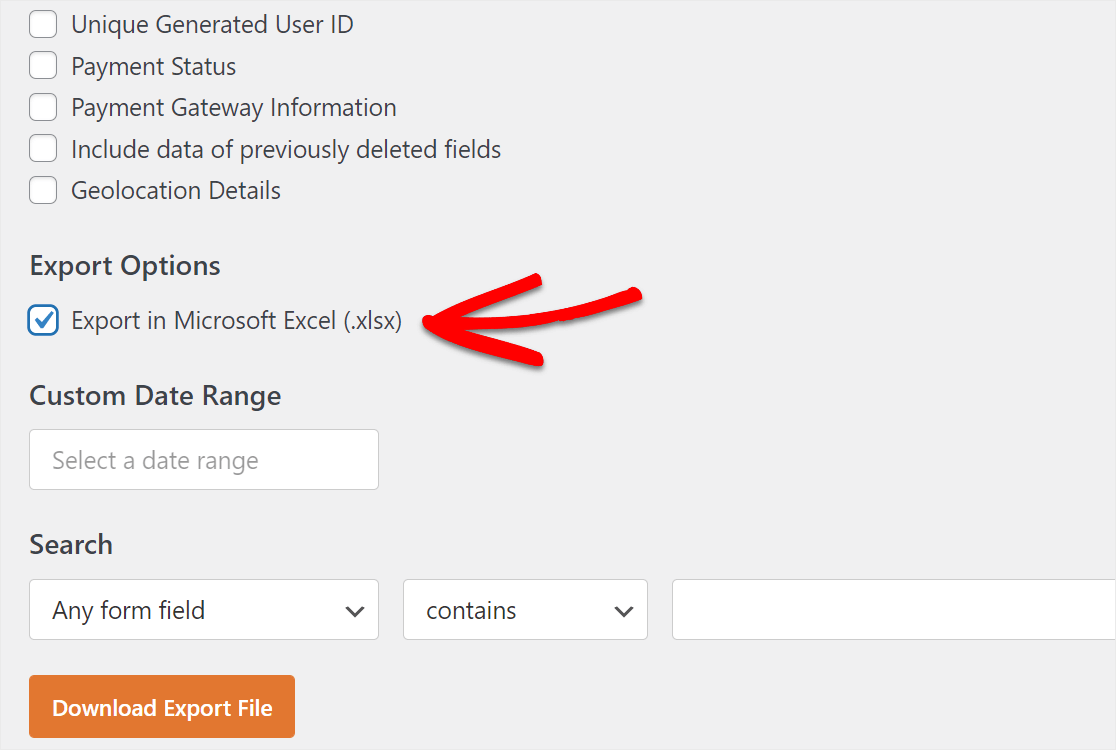 You can even select a custom date range and Search specific form fields.
When you're ready to export your info, click on the orange Download Export File button under Export Options.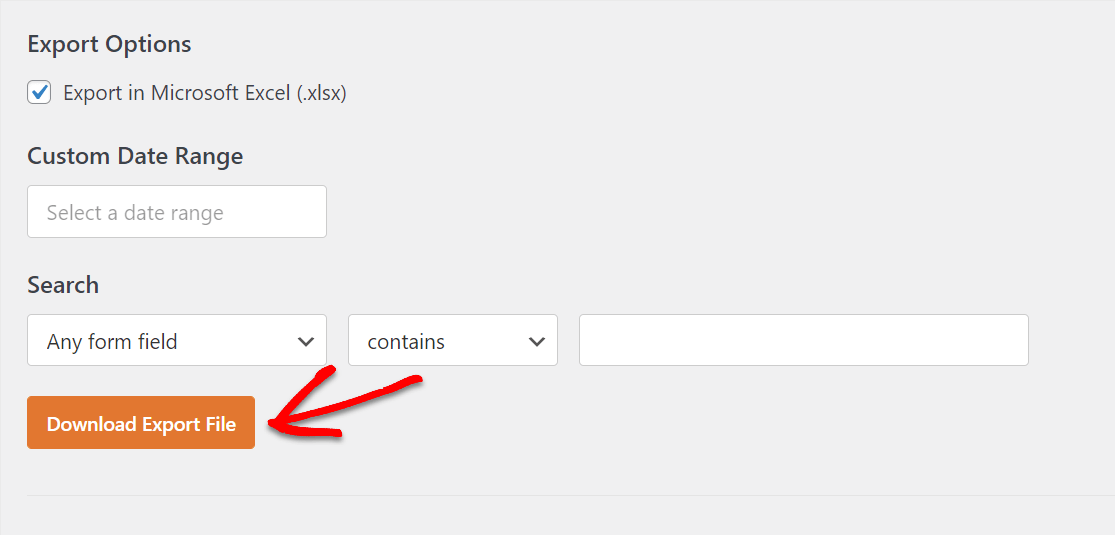 You'll see a prompt letting you know the file was generated and then your download will start.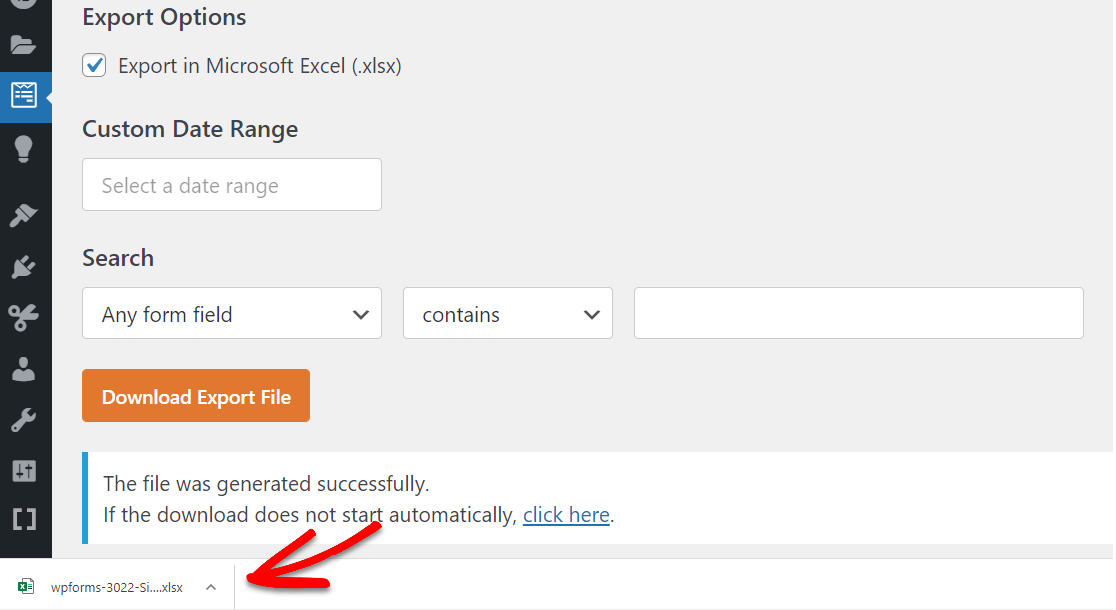 Most browsers will save downloaded files to your computer's Downloads folder, so you can find your file there.
That's it! You've exported your form entries to an Excel file.
Step 4: Export a Single Entry (Optional)
Do you want to export just one entry? This might be extra helpful if you have a longer form (like a multi-step form) and just need the data from one lead. For whatever reason you may need it, it's super simple to export just a single form entry in WPForms.
To do this, navigate to WPForms » Entries and select the name of your form.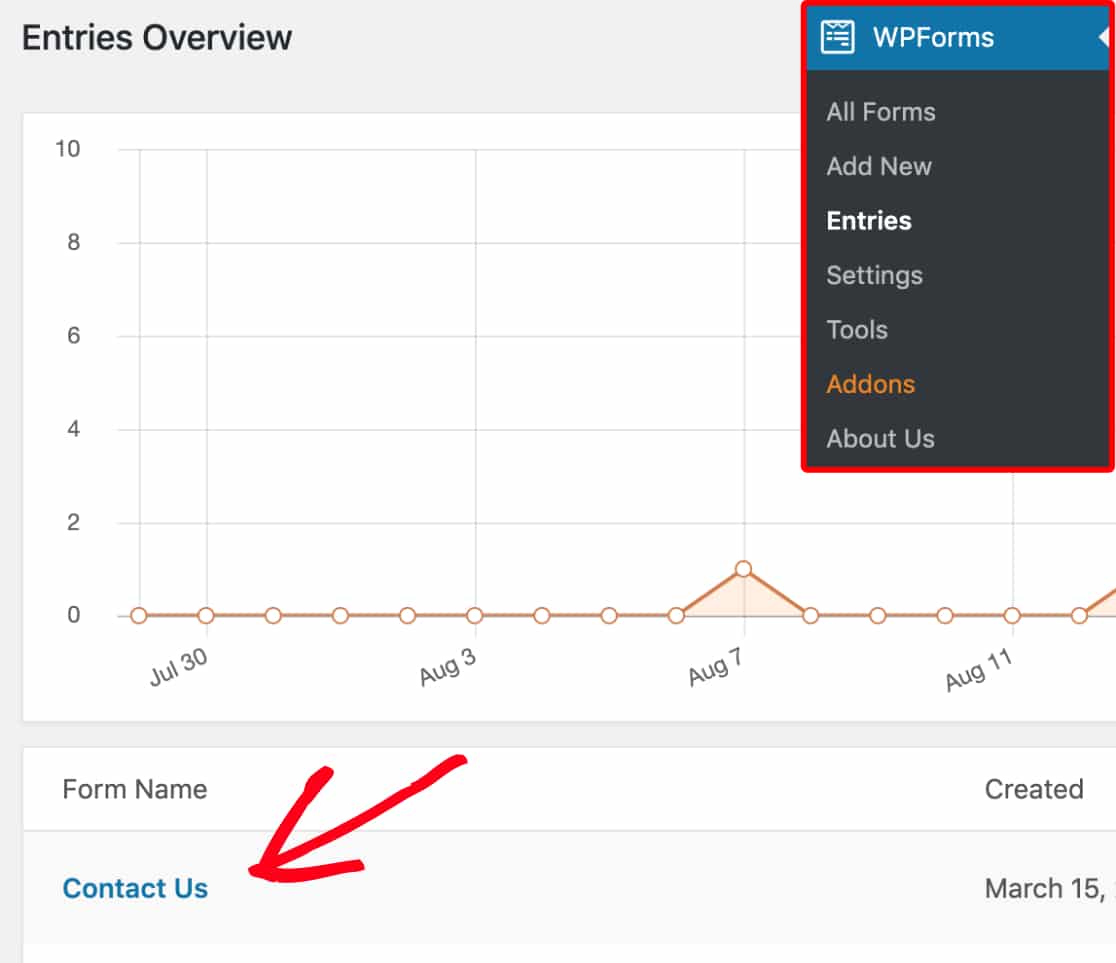 Next, click on View to open the entry you want to export.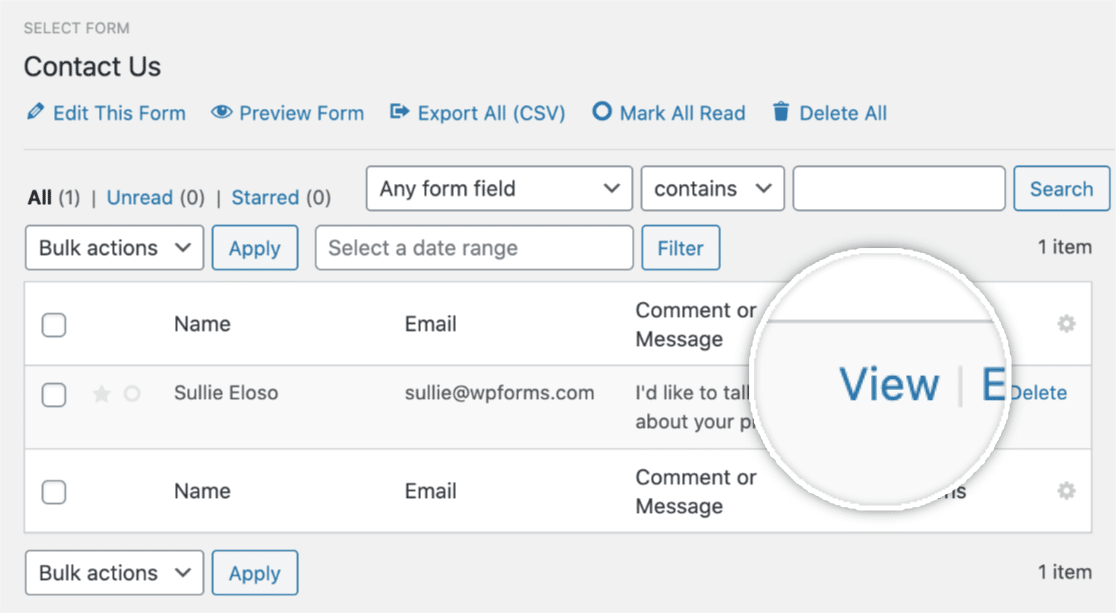 On the entry page, you'll see the Export options on the right-hand side. Click on Export (XLSX).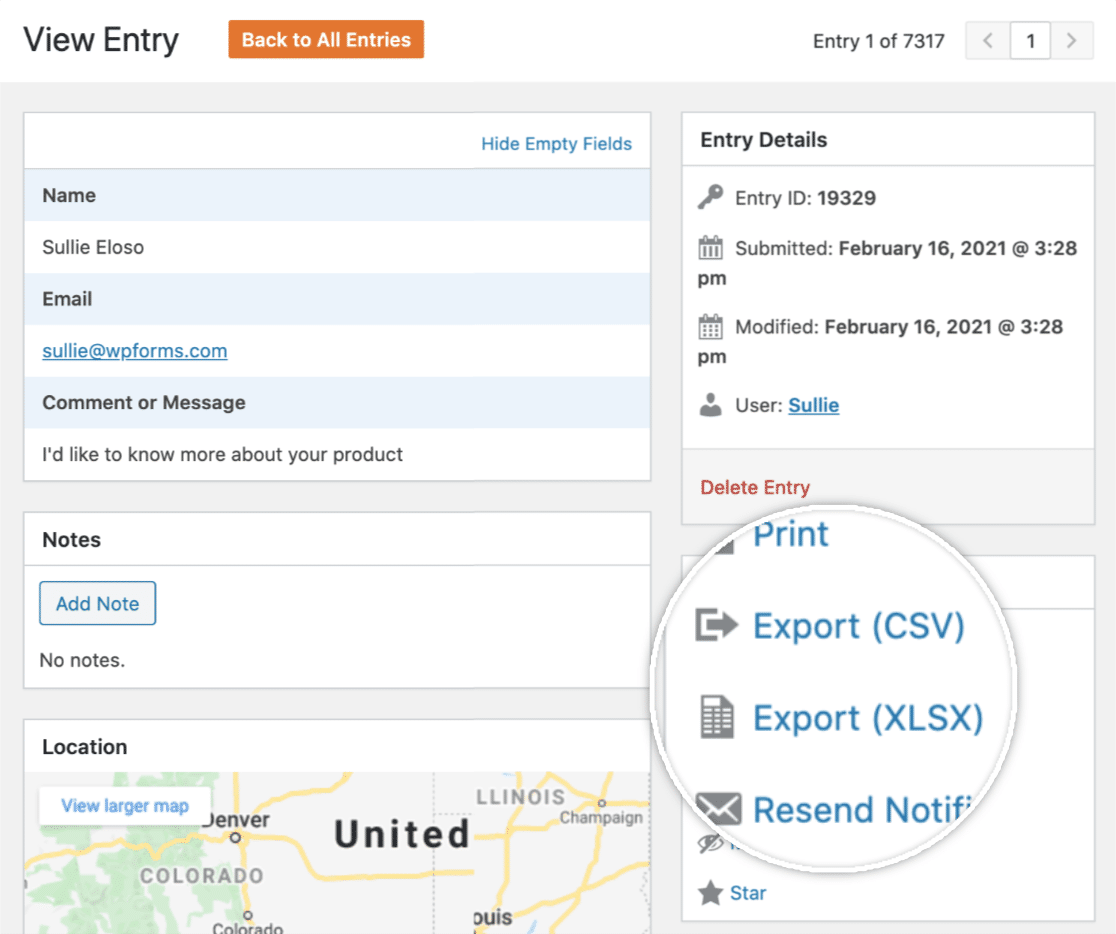 The download should start right away as soon as you click on that button. And now you've successfully exported a single form entry to XLSX so that you can open it in Excel.
Step 5: Open Your File in Excel
Simply open your downloaded file and if Excel is the default program for that file type, it will open your data.
That's it! You've now successfully exported WordPress form entries to Excel from WPForms.
How to Auto-Send Entries to a Spreadsheet
Want your form entries to automatically get sent over to your Google Sheets?
It's easy to do. You can use the WPForms Google Sheets addon to automatically add new form entries to Google Sheets with only a few steps.
To get started connecting Google Sheets with WPForms, check out our guide on how to save contact form entries from WordPress to Google Sheets.
Well, that does just about does it, folks. We hope this post helped you learn how easy it is to export your WordPress forms to Excel.
Next, Export Your Web Forms to WPForms
Still using Contact Form 7? You can easily export your forms from the Contact Form 7 plugin and use them with WPForms.
WPForms includes tons of built-in features and capabilities in the core plugin lacking in other form builders like Contact Form 7. For instance, printing your form entries to PDF in WordPress is a breeze using WPForms.
Ready to build your form? Get started today with the easiest WordPress form builder plugin. WPForms Pro includes the Excel export tool for free and offers a 14-day money-back guarantee.
And if this article helped you out, please follow us on Facebook and Twitter for more free WordPress guides and tutorials.