Have you decided to make the switch from Contact Form 7 to WPForms? As the most beginner friendly contact form plugin on the market today, you can bet it's super easy to export Contact Form 7 to import into WPForms.
In this article, we'll show you exactly how to move your forms from Contact Form 7 to WPForms in a few simple steps.
How to Export Contact Form 7 to Import Into WPForms
Follow these steps if you've decided to import Contact Form 7 for whatever reason, like if you've had issues with Contact Form 7 not sending emails.
Step 1: Install and Activate WPForms
The first thing you'll need to do is install and activate the WPForms plugin. For more details, see this step by step guide on how to install a plugin in WordPress.
Step 2: Access the Form Importer Tool
After you install and activate WPForms, go to WPForms » Tools.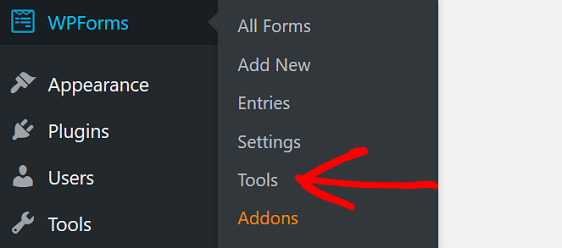 On the next screen, you'll see a section labeled Import from Other Form Plugins.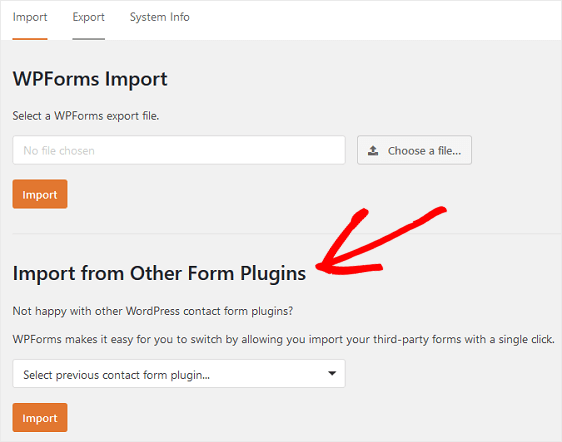 Step 3: Choose the Form Plugin to Import
From the dropdown menu, choose which form plugin you'd like to import into WPForms.
If you've already read our post on Ninja Forms vs Contact Form 7, you'll know that WPForms can import forms from tons of different form builders.
Since this example is about importing Contact Form 7 into WPForms, we'll choose that from the dropdown.

Click Import. Now you can choose which forms from Contact Form 7 you'd like to import into WPForms.
To do this, click on the individual forms in the Available Forms column .
If you want to import them all, click Select All.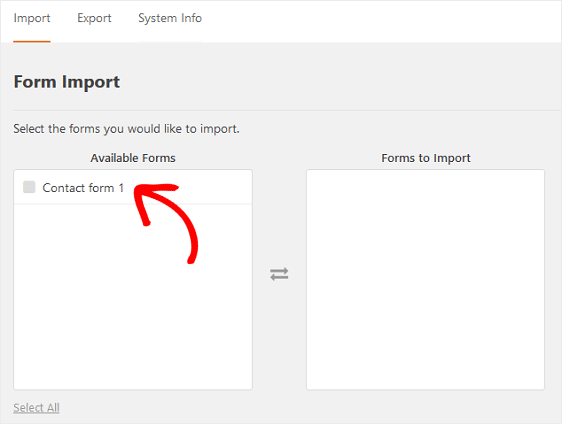 When you click on the form you want to import, it'll be added to the Forms to Import column.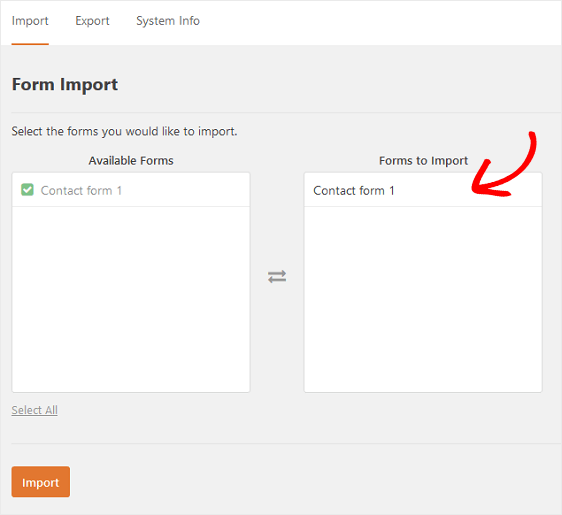 When you've selected all the forms you want to import, click Import.
If the import was done right, you'll see a success message. You'll also see quick links to edit or preview the form.

If by chance any of the form fields didn't import correctly, the importer tool will let you know.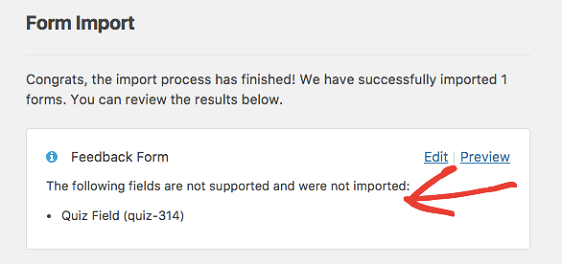 The form importer tool will also import all your form notification and confirmation settings. However, it's always a good idea to read up on setting up form notification emails and how to set up form confirmations in WPForms to make sure these settings are configured exactly the way you want them to be.
This is especially true of you want to set up multiple form notifications for your WordPress forms.
And, if after you've imported your Contact Form 7 forms into WPForms you notice you're not receiving all of your email notifications, be sure to check out how to get WordPress form notifications using the WP Mail SMPT plugin.
Lastly, make sure to preview your imported forms before moving on to the next step.
This is what our imported form looks like: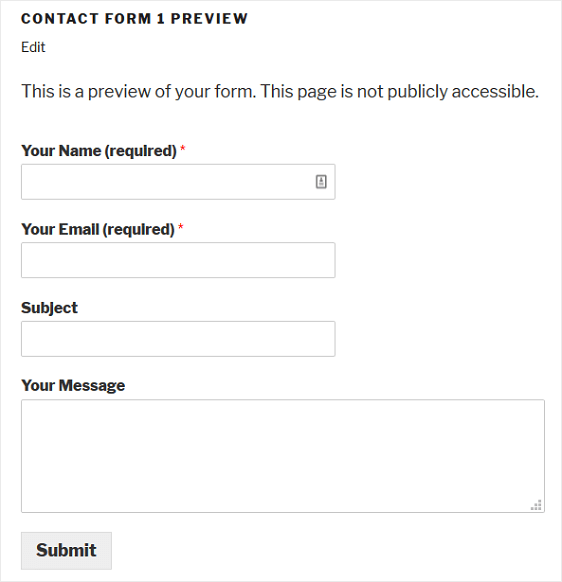 Step 4: Add Your Form to Your Website
Now it's time to replace your old Contact Form 7 form with your newly imported WPForms form.
If you're using Elementor, skip this section and read our guide on adding an Elementor contact form.
To use the block editor, go to the place on your website where you old form is embedded.
For our example, our old form was embedded on the Contact Us page, so we'll there and open the Page Editor.
Delete the old shortcode that Contact Form 7 used to display your form on your site.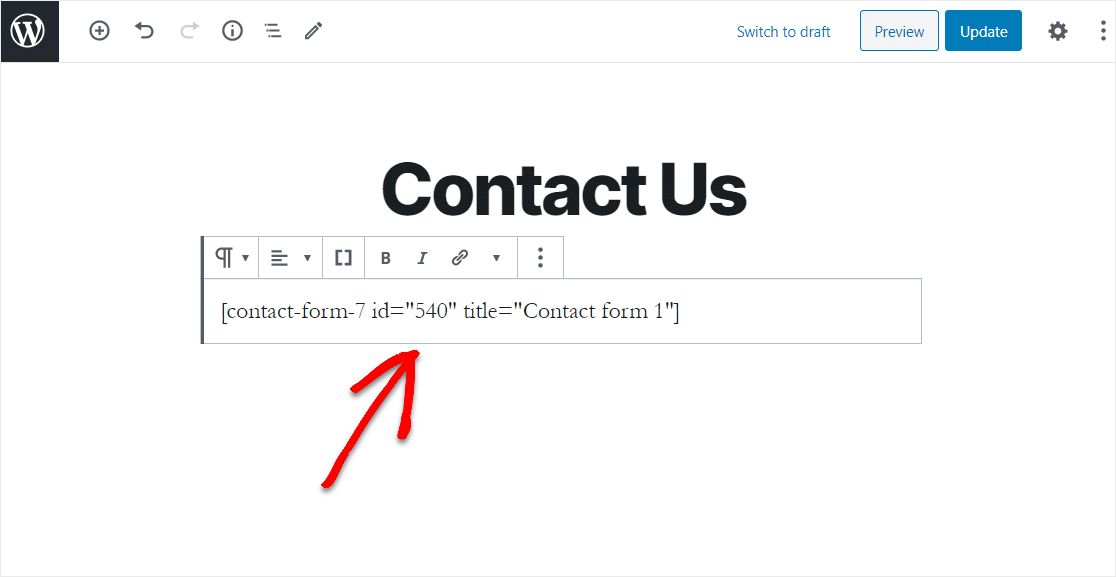 After that, click inside the first block (the blank area below your page title) and click on the Add WPForms icon.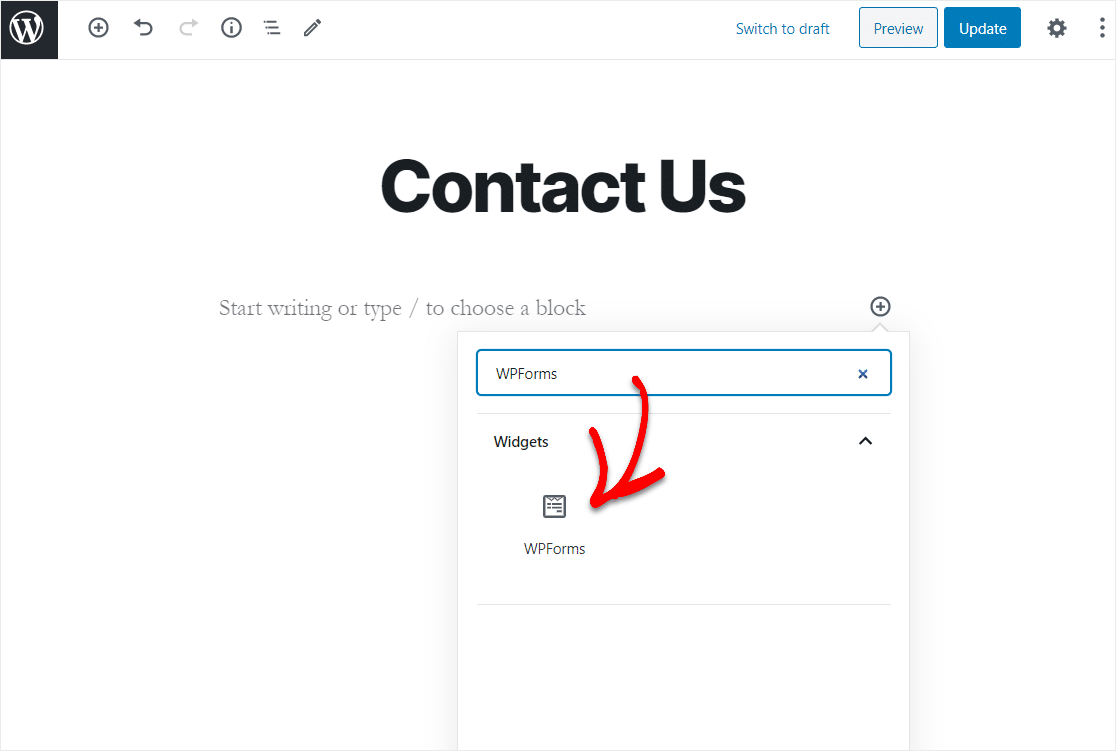 The handy WPForms widget will appear inside your block. Click on the WPForms dropdown and pick the form you've just created and that you want to insert into your page.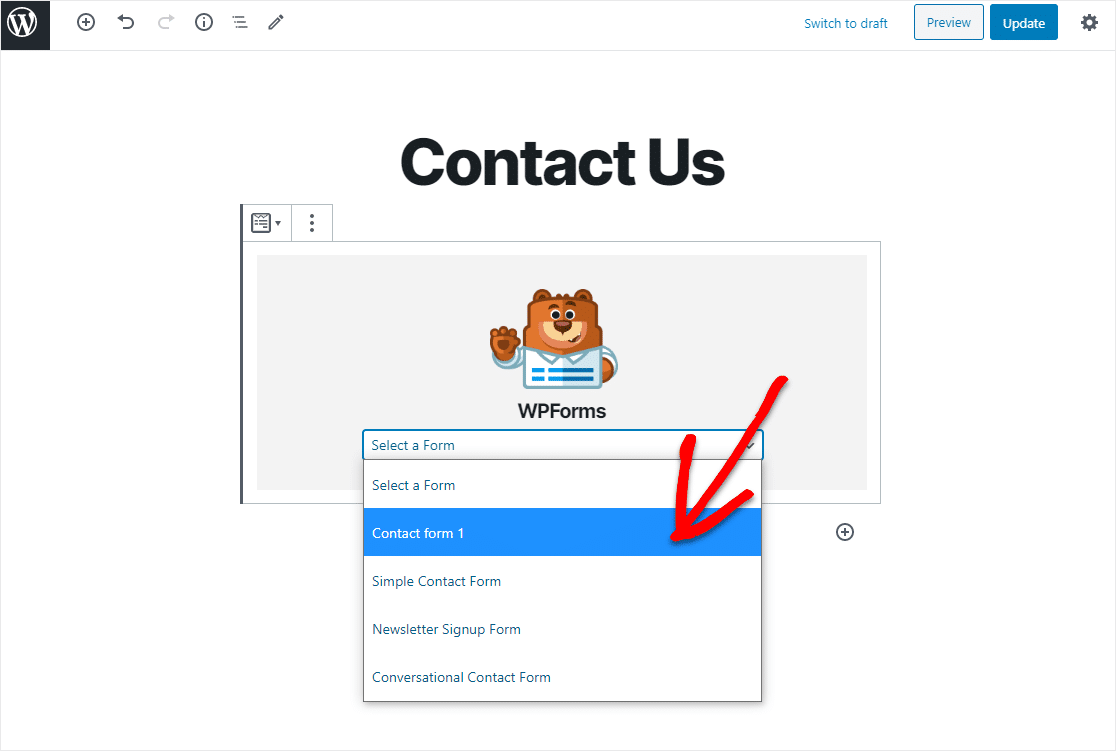 Now, click Preview, and you'll see your imported Contact form 7 form as it will appear on your website. If you're satisfied with the way your WordPress form looks, go ahead and click on Update or Publish and your form will go live on the Internet.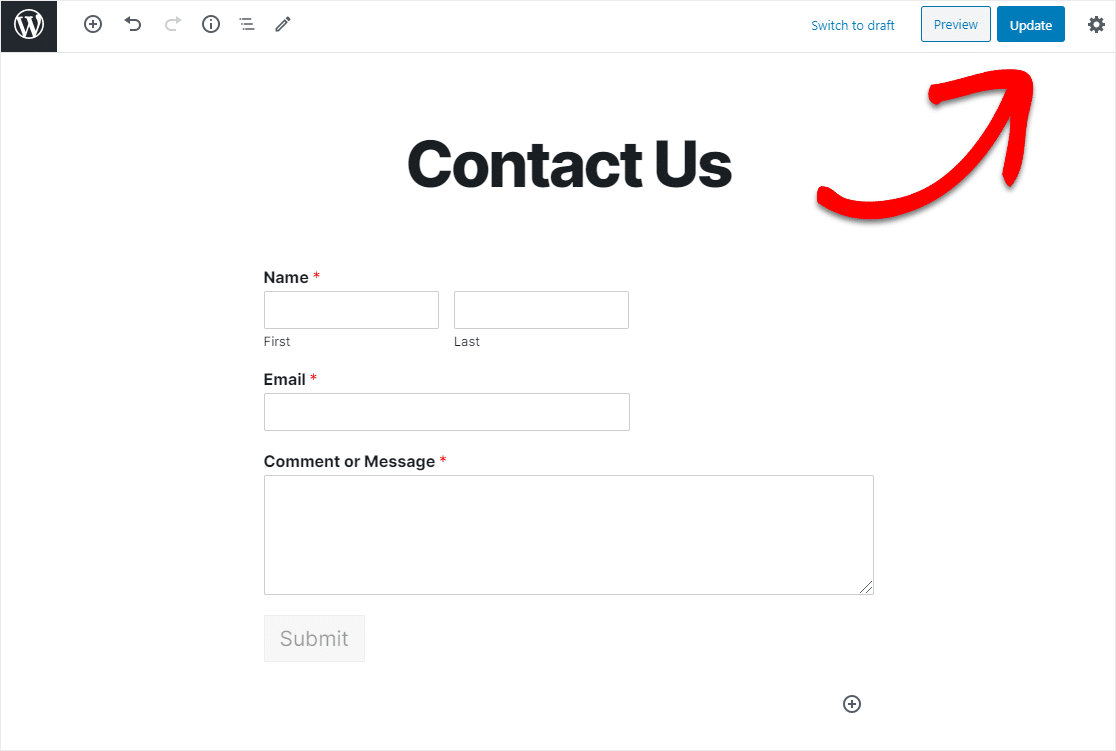 Take a look at your published page to see exactly how it looks on your website!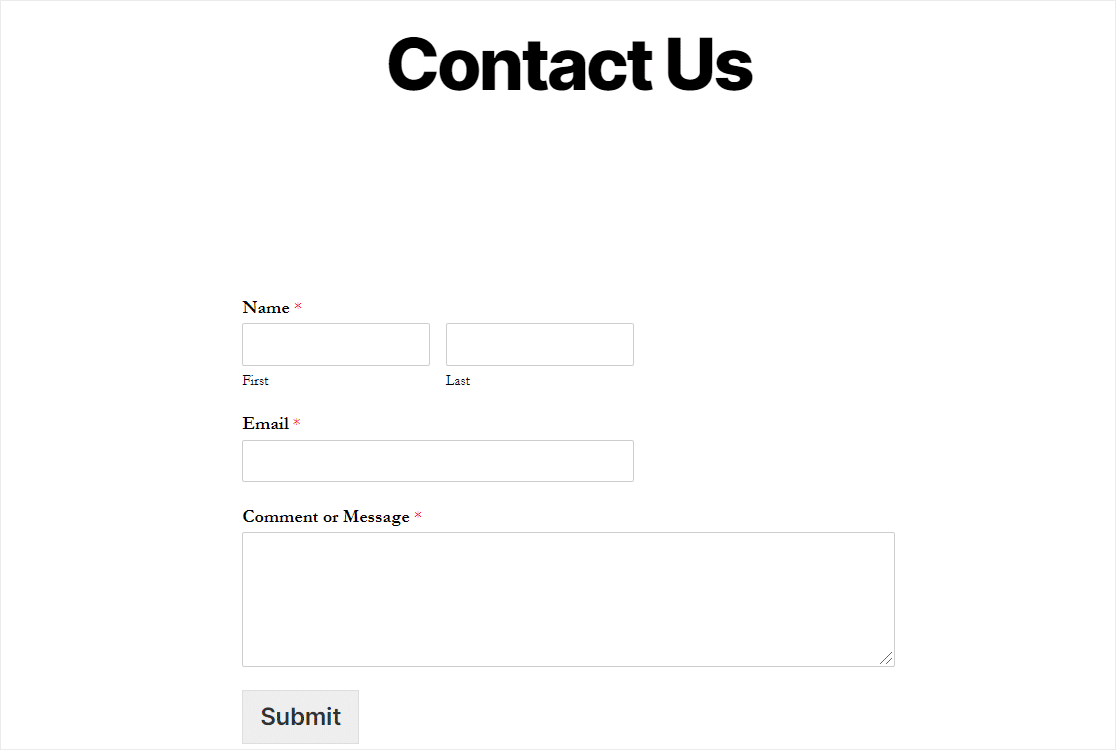 To view your WordPress form entries after they've been submitted, check out this complete guide to form entries.
Click Here to Export Your Contact Form 7 Forms Now
Final Thoughts on Contact Form 7 Export
And there you have it! Now you know how to export Contact Form 7 to import into WPForms.
If you're not sure if WPForms is worth it, be sure to check out this comparison and see for yourself how much easier to use and feature-packed WPForms is when it comes to your email marketing efforts. We also have some tips to help with Ninja Forms not sending email.
So, what are you waiting for? Get started with the most powerful WordPress forms plugin today.
And don't forget, if you like this article, then please follow us on Facebook and Twitter.