Are you trying to decide between Ninja Forms vs Contact Form 7 vs WPForms? All of these free form plugins have loyal fans, so comparing them can be a challenge.
We carefully compared these 3 contact form plugins for you. In this article, we'll explain everything you need to know before you make a decision.
What Is the Best Contact Form Plugin for WordPress?
WPForms is the best contact form plugin for WordPress. Of course, we're a little biased.
After all, there are hundreds of contact form plugins and site builders to create contact forms. But this table gives you a flavor of why WPForms is best:
Ninja Forms
Contact Form 7
WPForms
Free version available
Yes
Yes
Yes
Paid bundle license from
$99/ yr
N/A
$79/ yr
Drag and drop builder
Yes
N/A
Yes
Official addons
Supported
N/A*
Supported
Templates
17
1
500+
Import and export
Ninja Forms only
N/A
WPForms, Ninja Forms, Contact Form 7, Pirate Forms
ReCAPTCHA support
v2 only
v3 only
v2 and v3, plus hCaptcha and Cloudflare Turnstile
*Excludes 3rd party addons
You probably know why you need a contact form. But the real test for a form builder plugin comes when you need to make advanced forms for your business, such as:
Some form builders are too basic for this. And it's a hassle setting up a form builder and then having to switch, so you'll want to pick one that suits you long-term.
To help you make the right choice, let's dive in and compare Ninja Forms vs Contact Form 7 vs WPForms side by side.
Ninja Forms vs Contact Form 7 vs WPForms
We're going to look at each plugin in a little more detail now, starting with the things you can do with each of them.
Features
There's 1 form plugin in our list that is seriously lacking features. Let's take a quick look at the things you can do with Ninja Forms vs Contact Form 7 vs WPForms.
Ninja Forms Features
Ninja Forms has a drag and drop interface to create forms. You can display them on your website using a block or shortcode.
It comes with a basic contact form template and 16 additional templates, but some don't work without buying addons.
All fields are available in the free version of the plugin. But some fields require extra work.
Here you can see that the pre-set Address fields are set up for the US.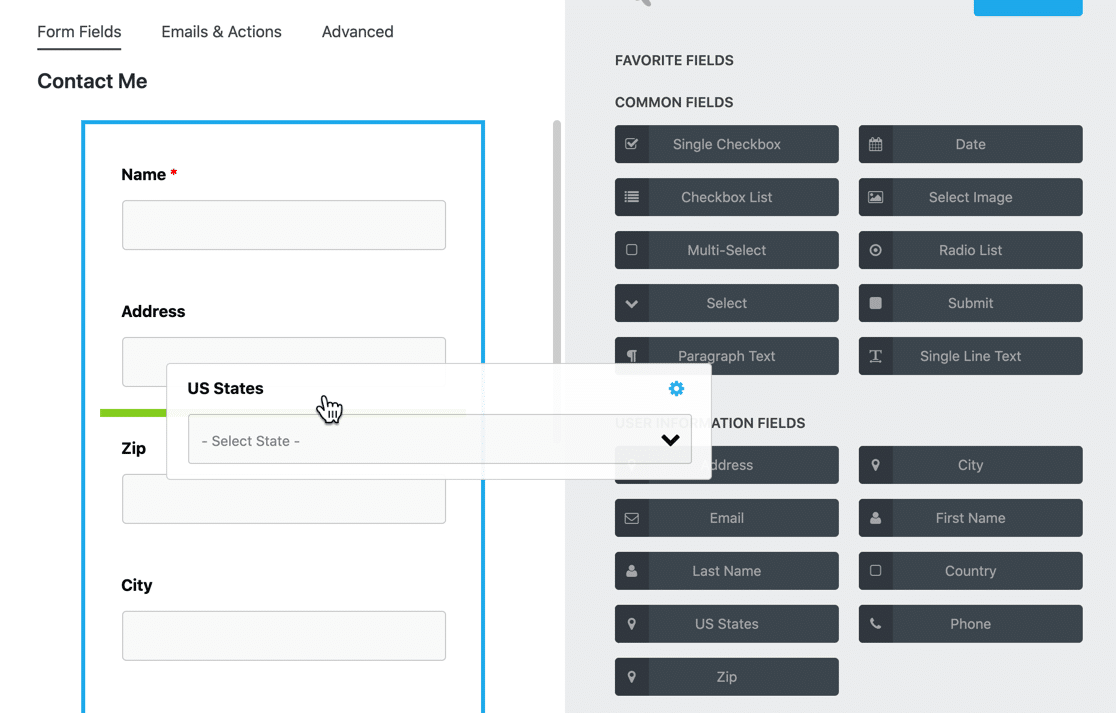 Remember that WPForms has a simple dropdown to change the address scheme if you need to accept international entries. Ninja Forms doesn't have that feature, so changes to these fields have to be done manually.
If you develop WordPress sites on your local computer, keep in mind that the addon system doesn't work fully on a local site.
Contact Form 7 Features
Contact Form 7 allows you to create contact forms that send emails to your email address. That's about it.
When you install CF7, you get 1 basic contact form template. If you need to create more complicated templates, you will need to learn the code syntax or use the buttons to insert the syntax and then edit it.
If you want to customize your form, you'll need to add code snippets in the Additional Settings text box: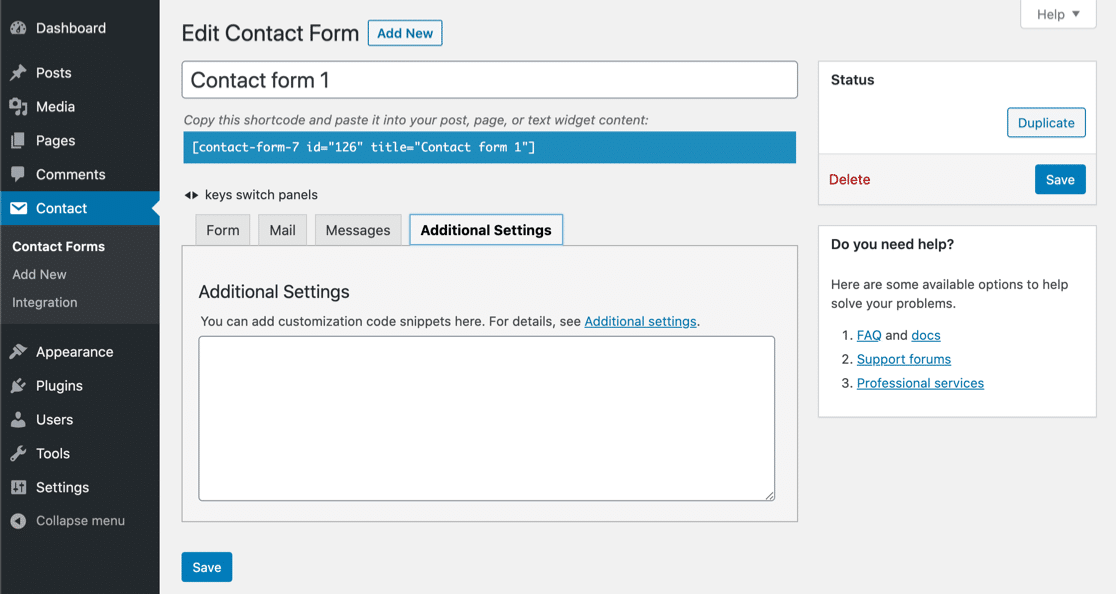 To keep the review fair, we won't talk about 3rd party addons here. But know that using multiple plugins from different developers is risky. If there's a problem, it can be difficult to get help.
The only reason you would want to use Contact Form 7 is to throw up the basic template and forget about it. Unfortunately, you're going to eventually get tons of spam if you do that.
Spam is the #1 issue you'll have to deal with when you have a contact form on your website, and Contact Form 7 only offers ReCAPTCHA v3 to deal with this. WPForms supports more CAPTCHA options, smart spam detection, and a Custom Captcha field.
WPForms Features
WPForms has the most features compared to Ninja Forms vs Contact Form 7.
The free version, WPForms Lite, has everything you need to create a contact form in a few minutes.
It's really easy to build forms using the easy drag and drop builder. You can even make multi-column forms without code.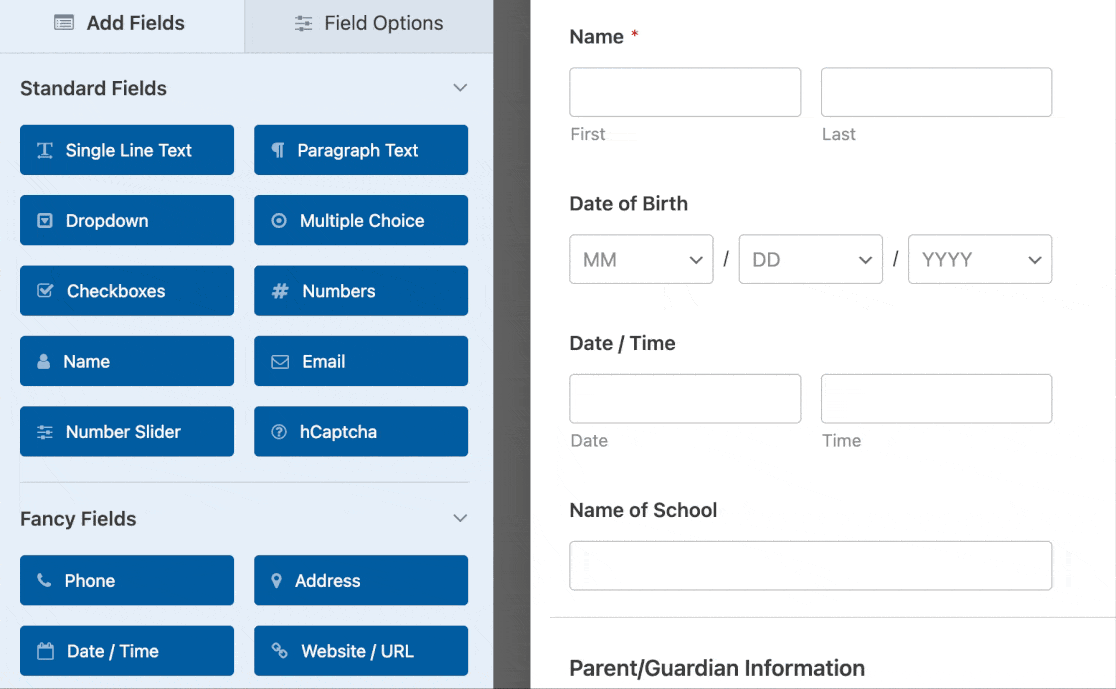 And you can embed your forms without using any code.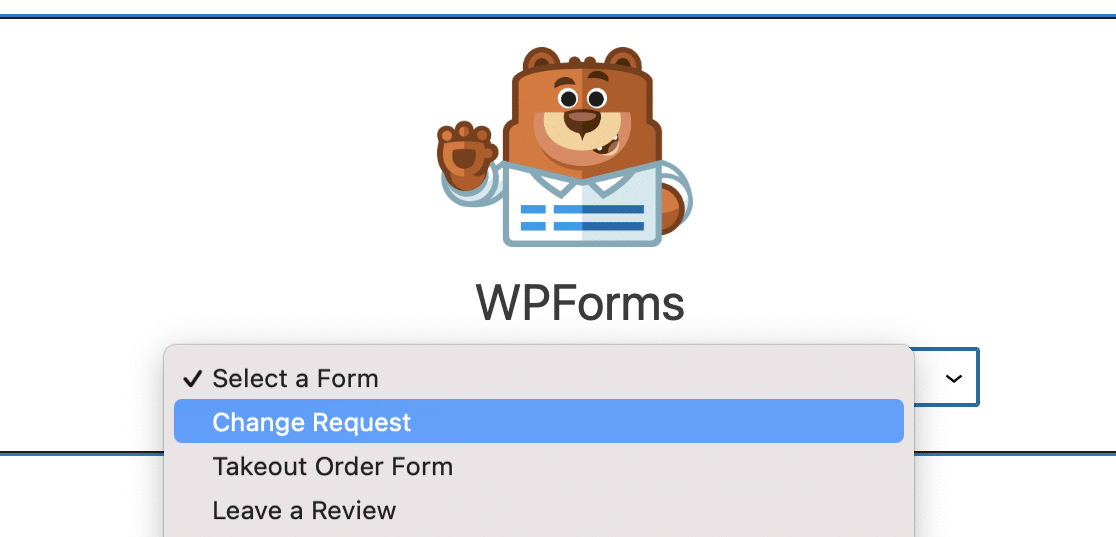 It's also super easy to add an Elementor contact form without even reloading the page: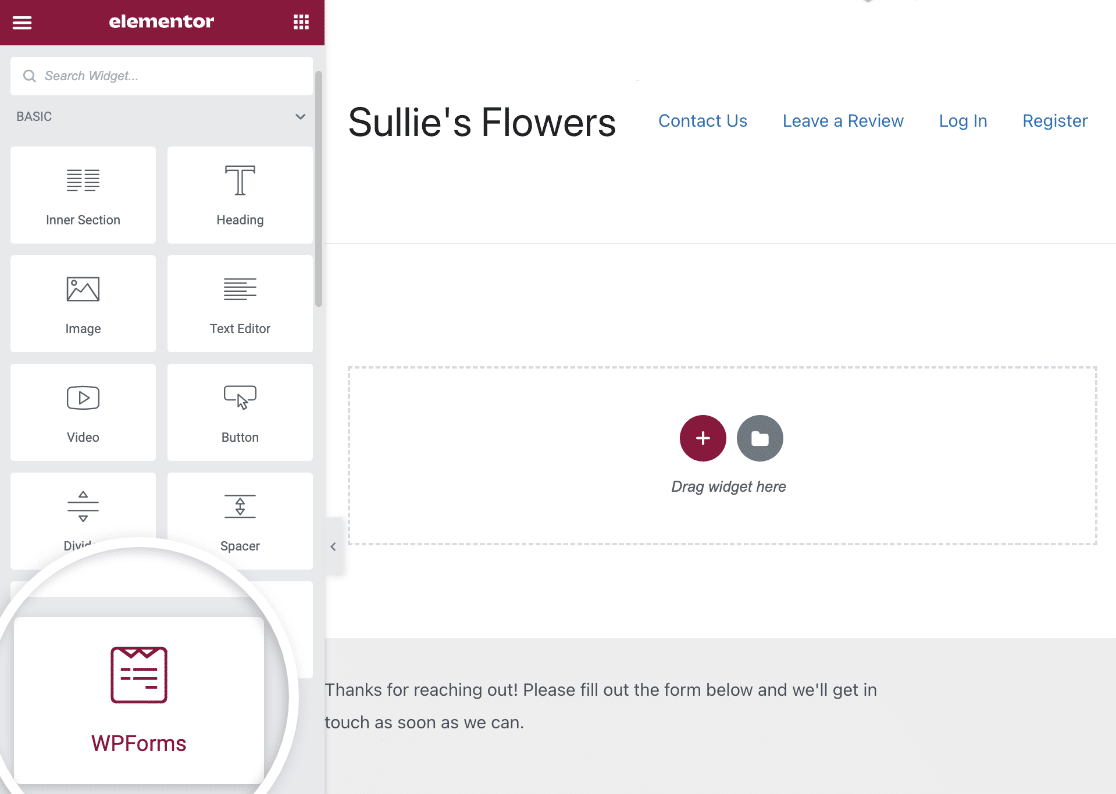 If you use Elementor, this feature alone could make WPForms worth it because it's so much faster than using a shortcode.
With the lite version, you can only see your entries in email notifications. But if you turn on the Lite Connect feature, all your form submissions will be saved offsite and you can unlock them by upgrading to the paid version of WPForms.
The paid version of WPForms also lets you add even more features for practically any type of business form you could want. For example, you could create:
WPForms also lets you do tons of neat stuff behind the scenes, like:
Geolocate users
Save abandoned form entries
Collect form submissions without an internet connection
Let users save their progress and finish filling out your form later
To see a list of everything you can do with WPForms, check out the Features page.
Ease of Use
You've probably noticed that there's a huge difference in the way these form builders look. Let's compare Ninja Forms vs Contact Form 7 vs WPForms on how easy they are to use.
Ninja Forms Ease of Use
Ninja Forms has a drag and drop form builder.
But when you compare Gravity Forms vs Ninja Forms, you can see that they work differently.
You build your form by clicking the plus icon and then dragging a field onto the left-hand pane. You will then need to close the pane and click the plus icon once again to add the next field.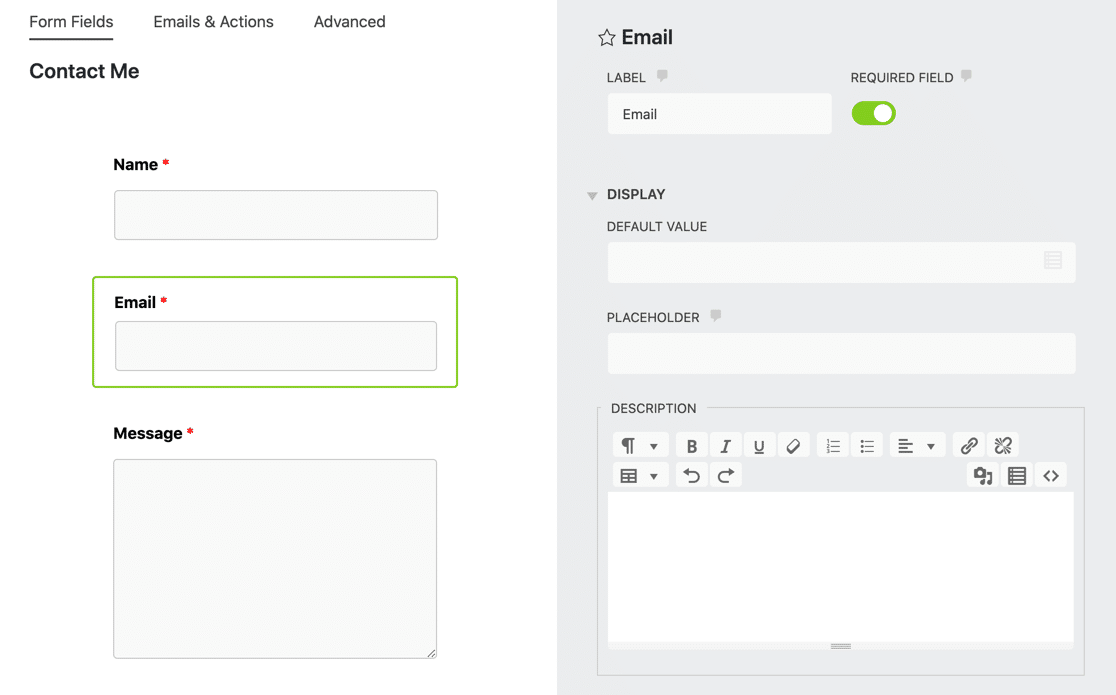 At first, it's not clear how to delete a field. You have to hover over the gear icon on the field, then wait for the trash can icon to pop out before you can delete it.
All of these extra clicks and steps add up when you're building long forms.
Another quirk in Ninja Forms is that most of the field controls are hidden. To reveal all of the functions, you need to turn on Developer Mode.
Contact Form 7 Ease of Use
Contact Form 7 has been around for over 12 years, and the basic interface has not changed a lot in that time.
If you're a beginner, you won't enjoy using it.
There's no drag and drop builder to help you out. The best you'll get is a row of shortcuts to field syntax above the form window. And the help provided in the plugin is quite basic.
As we mentioned, there's only one way to stop spam in Contact Form 7. There's no way to track entries or display them in the WordPress dashboard, and no easy way to build complicated forms.
WPForms Ease of Use
When WPForms was created, it was designed to be the easiest form builder for WordPress.
The form builder lets you create forms quickly from templates or from scratch. You can even create your own templates or import forms from other plugins.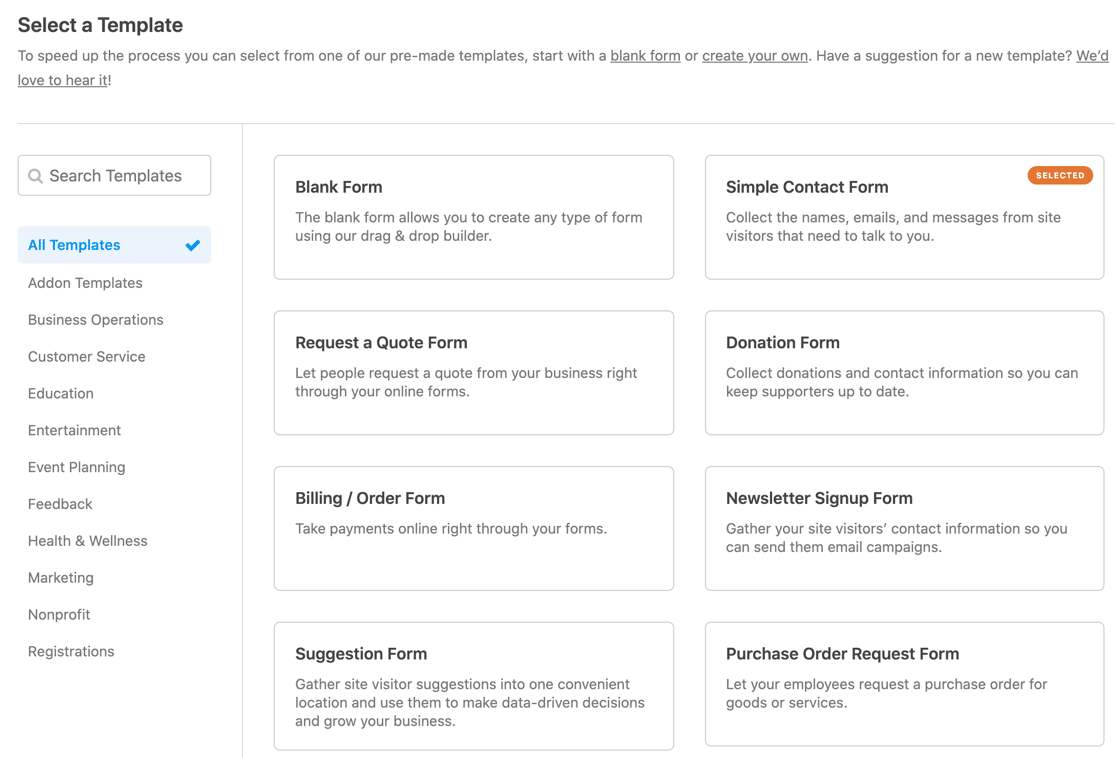 When you're building a form, you will always see a live preview that shows you what the finished form will look like.
Also, embedding forms in your site is super fast thanks to the easy Embed button.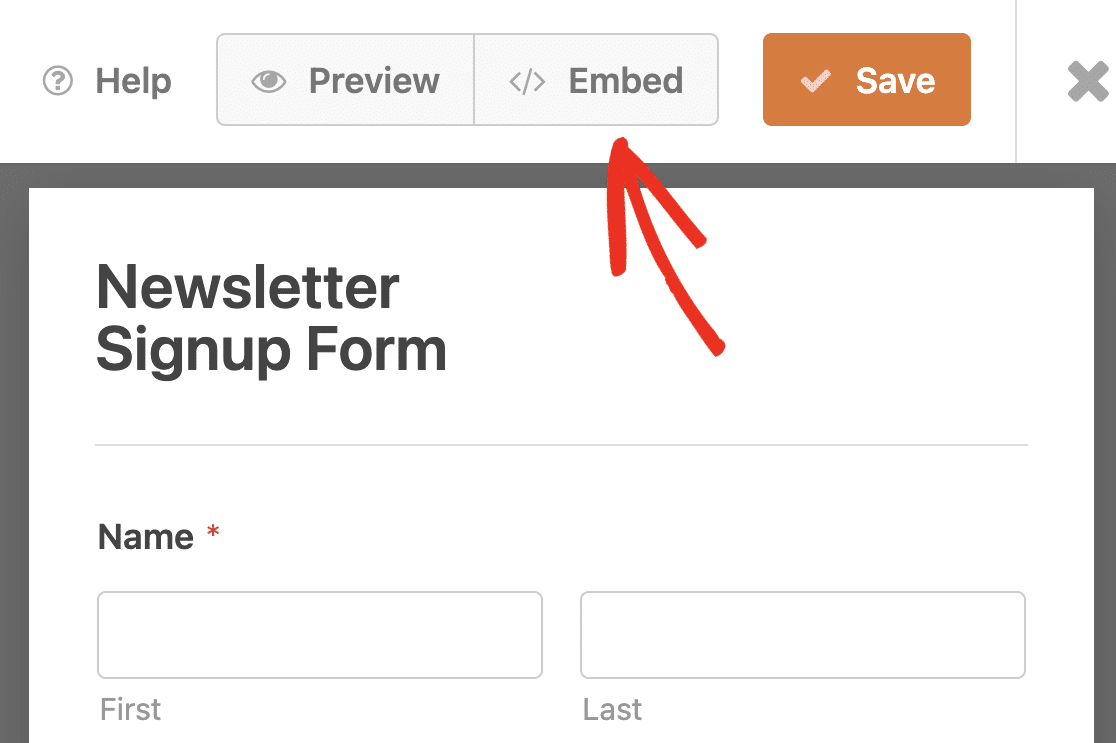 You can use this button to make a new page and embed your form in it without copying any code. Plus, you can always check which pages on your site have forms on them with the Form Locator.

To customize your form, you can click on any field to change its settings, and you can use simple controls to change the way your fields look.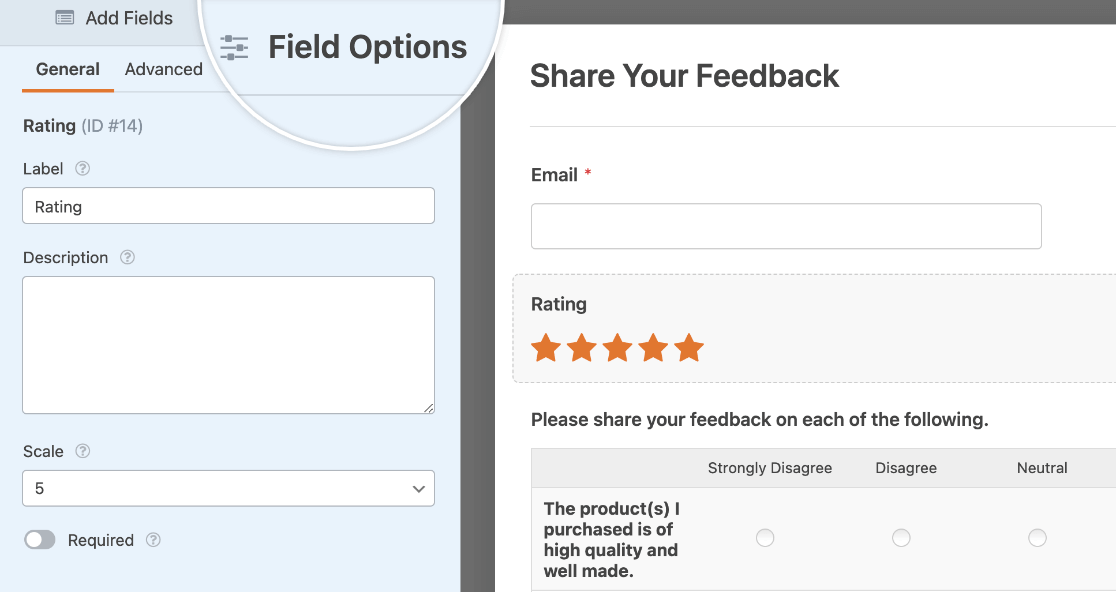 WPForms also has tons of neat features to make form creation faster. For example, it has preset options for dropdown lists. So you can create a complete country dropdown list with just a few clicks.
Support
If you get stuck building a form, you'll need help fast so it doesn't affect your conversions. Let's quickly look at the support offered by each of the plugin authors.
Ninja Forms Support
Ninja Forms has a support team helping paid users from 9 am to 6 pm EST, 5 days a week.
It also has a support forum for the free version on WordPress.org, and a library of docs.
If you don't find what you need in the docs, remember to go down and expand all of the sections. Some of the most valuable information is hidden, so if you search the page, you might not find it right away.
Contact Form 7 Support
Contact Form 7 has 3 support channels:
An FAQ page
Docs
Its plugin support page on WordPress.org.
For any other support, Contact Form 7 says you should hire a developer.
We noticed that 75.6% of WordPress.org support requests for Contact Form 7 are currently unresolved. To put this in perspective, the unresolved requests for WPForms are just 21.2%.
That suggests that a lot of Contact Form 7 customers are not getting the help they need.
WPForms Support
WPForms has a support team working on customer support inquiries from 9 am to 5 pm EST, Monday to Friday.
It has 6 support resources online: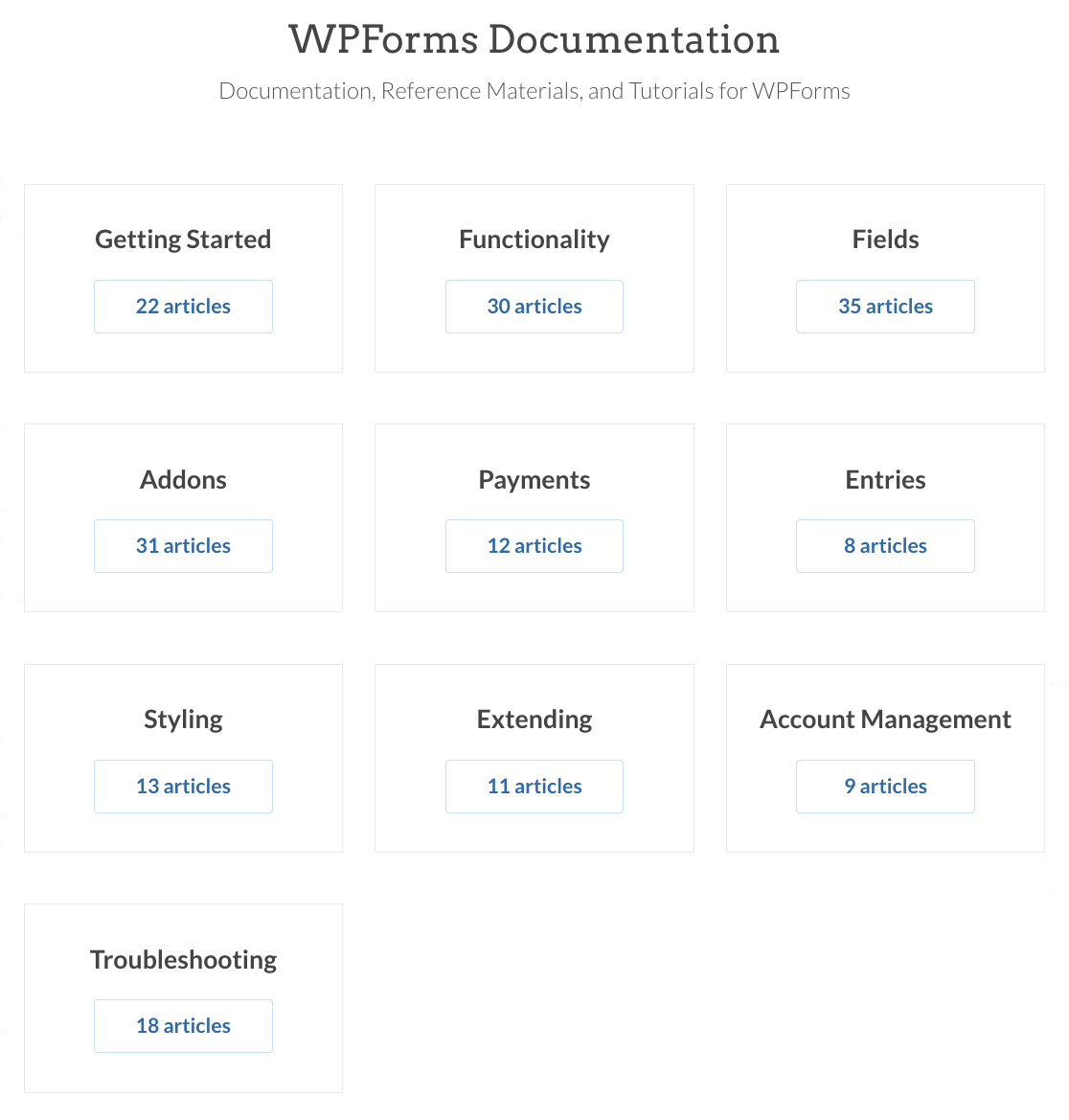 The WPForms support team goes the extra mile to answer questions. If you buy the paid version, you can usually expect to get a response to your question within 1 business day.
If you pay for the Elite license, you'll get priority support.
Pricing
Now for the important part. How much does a form builder cost?
Well, that depends on what you need to do with it.
Let's break it down to some typical use cases and the annual bundle you would need for them.
| | Ninja Forms | Contact Form 7 | WPForms |
| --- | --- | --- | --- |
| Contact form | Free | Free | Free |
| Contact form with Constant Contact | $99/yr | Free | Free |
| Contact form with conditional logic | $99/yr | Not available | $79/yr |
| Contact form with multiple pages | $99/yr | Not available | $79/yr |
| Contact form and Mailchimp form on 3 different sites | $199/yr | Not available | $79/yr |
Let's zoom in on this more and talk about the options.
Ninja Forms Pricing
Ninja Forms has a free version of the plugin, plus 3 annual plans priced at between $99 and $499.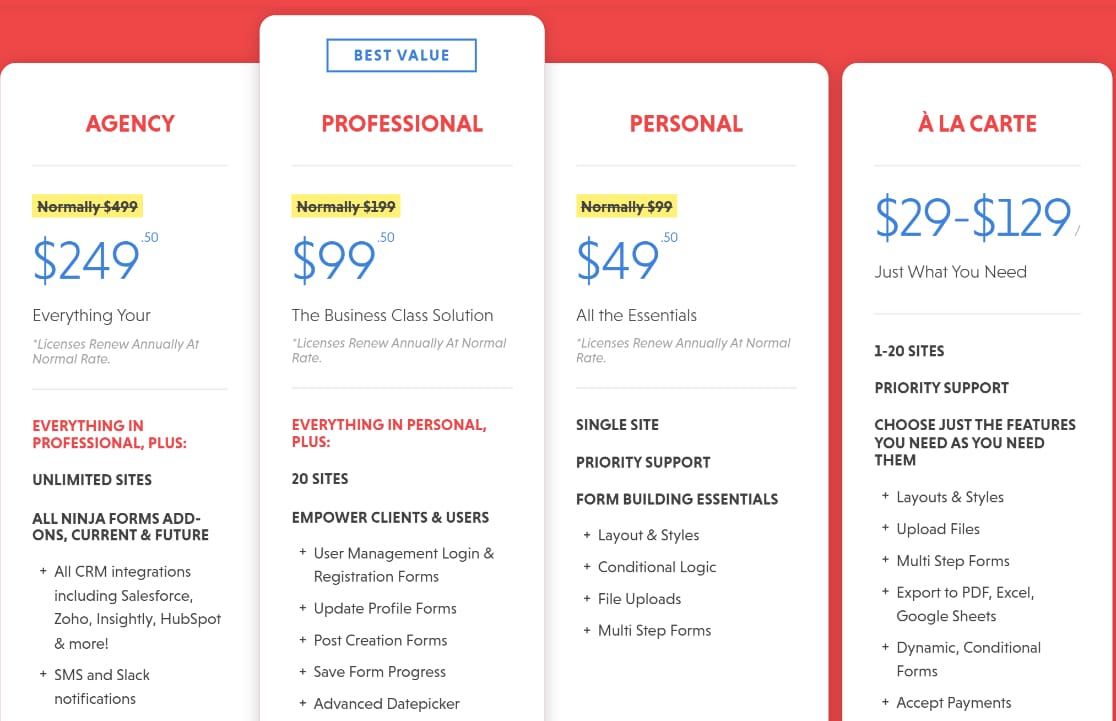 Each plan has a different combination of addons. Keep in mind that the $99 license still limits you to 1 site.
You can buy addons individually too. Each addon has 3 different prices.
For example, to add ConvertKit integration to Ninja Forms, the price will be $49, $79, $99, $129, $199, or $499 depending on how you want to purchase it and how many sites you have.
For 1 addon on 1 site, the decision is easier. As your business grows, it might be a headache to keep track of the cost of adding features.
Contact Form 7 Pricing
Contact Form 7 doesn't have a paid version.
While that makes it great if you're on a budget, keep in mind the other limitations. The free WPForms Lite plugin is much easier to use.
WPForms Pricing
WPForms has a free version, WPForms Lite. The free version is perfect for quickly making a contact form and embedding it on your website without using any code.
There are also 4 paid plans for WPForms: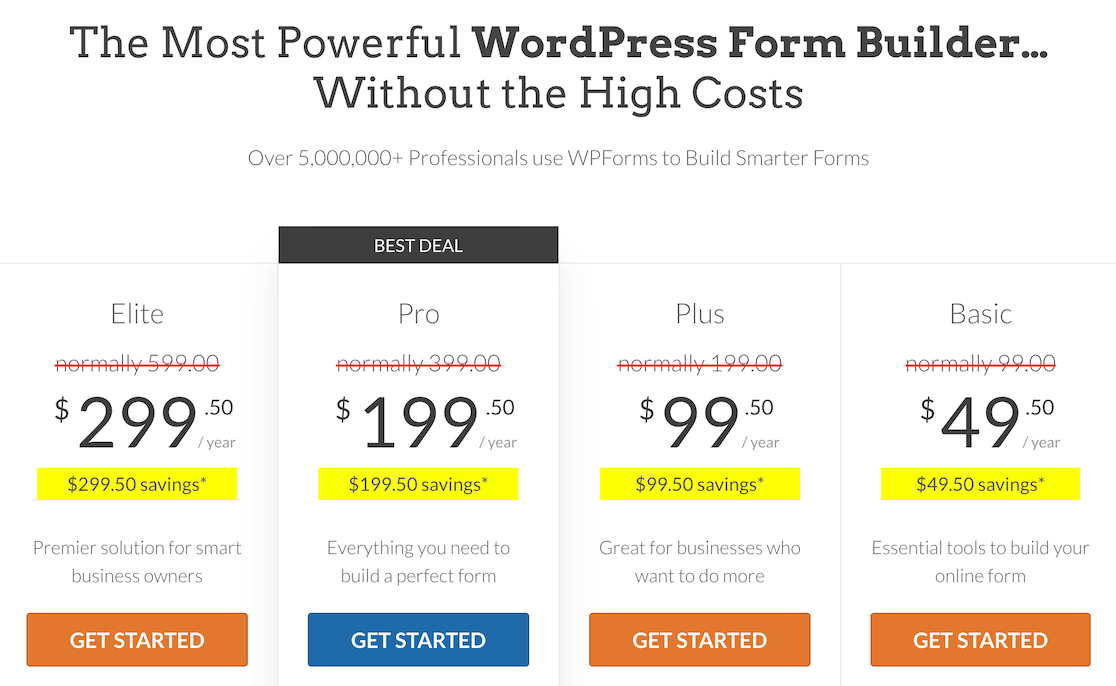 Basic, $79/yr: 500+ templates, multi-page forms, file uploads, Stripe payments and payment fields, and conditional logic
Plus, $199/yr: license for 3 sites plus Mailchimp, Drip, MailerLite, and other mailing list addons
Pro, $399/yr: license for 5 sites plus tons of features like PayPal and Square integrations, conversational forms, offline forms, geolocation, and Zapier integration
Elite, $599/yr: supports unlimited sites and adds Authorize.Net payment fields, webhooks, and more.
The Pro plan is a great bundle. It gives you everything you need to set up advanced forms for up to 5 websites.
The Elite plan is perfect for large businesses and developers.
If you start out with WPForms Lite, you can upgrade at any time without losing your forms.
Which Plugin Should You Use For Contact Forms?
We believe that WPForms is the best form builder for WordPress.
Here are just a few reasons why:
WPForms has the most options for spam protection
The form builder is the easiest and fastest to use
You can put forms on your website using the block editor or Elementor in a few minutes
The paid versions of WPForms come with 400+ templates, way more than the other plugins
All WPForms paid plans also come with a 14-day money-back guarantee. If you try out any paid version and realize it's not for you, you can claim a refund on your license with no questions asked.

Finally, don't forget that WPForms can import forms from Ninja Forms and Contact Form 7.
So if you start off with the wrong form builder, you can quickly move your forms to WPForms and benefit from all of the additional features it has.
Create Your WordPress Form Now
Next, Find the Best Free Plugins for WordPress
Great! Now you know all of the features and benefits of these 3 form plugins for WordPress. You're ready to start making forms for your website.
If you're having any difficulties with email delivery, check out this guide to Ninja Forms not sending email. It offers some useful tips to make sure you receive all of your entries.
After that, check out our guide to the best free plugins for WordPress.
Read to make your forms? Get started now with the easiest WordPress form builder plugin. WPForms Pro is the perfect choice for any growing business and includes 400+ templates that make it super easy to get started.
If this article helped you out, please follow us on Facebook and Twitter for more free WordPress tutorials and guides.