Do you want to learn how to make a Thank You Page in WordPress easily?
A Thank You Page can be a great place to send people after they complete your forms, so you can keep them engaged with your website.
In this tutorial, we've made a step-by-guide on exactly how to create a WordPress Thank You Page.
What Is a Thank You Page?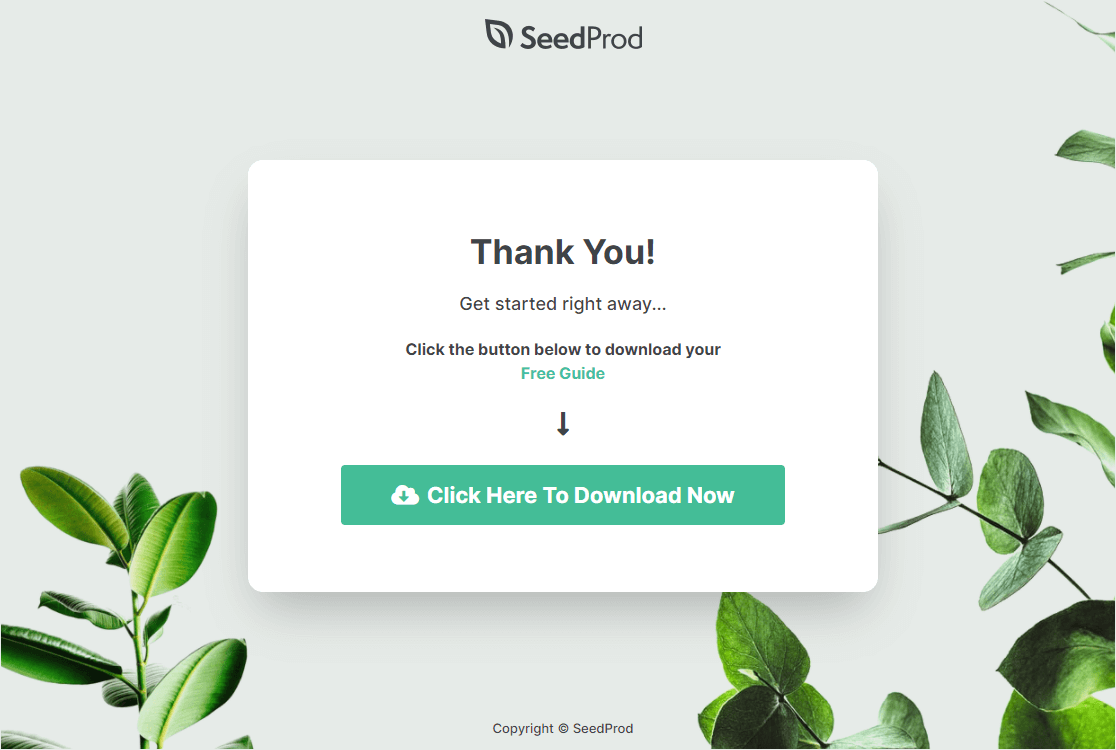 A Thank You Page is a landing page on your website that simply thanks someone for doing something, and offers them next steps. If set up correctly, a Thank You Page in WordPress can really grow your relationships with your audience.
This seemingly simple page can nurture leads and encourage them to become customers. And, it can also help cross-promote to current customers. The possibilities are endless.
Wondering why to create a Thank You Page? There are some huge benefits to having one on your website like:
Ability to offer a coupon code to page visitors.
Makes leads and customers feel more engaged and builds brand trust.
Uses psychology for a powerful marketing persuasion trigger.
Can be used to collect email addresses in exchange for a free lead magnet (which you deliver on the Thank You Page).
…and countless other reasons.
There's a free version of SeedProd with everything you need to build simple landing pages. However, in this tutorial, we'll be using a paid version of the plugin, SeedProd Pro, because it's the best landing page builder around and gives you great options when building your thank you page in WordPress.
How to Make a Thank You Page in WordPress
You'll want your Thank You Page to look like a professional web designer built it (but you might not want to pay one).
The best and easiest solution is to use the landing page builder SeedProd. This incredibly powerful plugin offers some amazing features including:
Coming Soon Pages: Put people into your sales funnel before you even launch.
WordPress Landing Pages With Social Media Sharing Buttons: Get people to share your landing page so it can reach more like-minded leads on other platforms.
Webinar Registration Pages: Build a beautiful and inviting page that encourages people to attend your registration.
Video Landing Pages:  Create a distraction-free page where people actually focus on and watch your video.
Sales Landing Pages: Build a special sales page on WordPress where your sales copy shines and people convert.
Customizable 404 Pages: Turn potential lost traffic into leads by collecting emails, invite people to other landing pages, and more.
Custom Login Pages: Customize your user's login page to match your website and brand
Email Marketing Integrations: Connect to the most popular services to seamlessly connect your website to your email list.
…and a LOT more.
So not only can you make a thank you page in WordPress with SeedProd (we recommend the Pro version), but you can also build, customize, and manage other website pages without having to pay someone else to do it.
To get started on your own Thank You Page and to follow along with this tutorial, get started with SeedProd Pro today.
Ready to make your website's Thank You Page? Here's how to do it:
Step 1: Install and Activate SeedProd
The first thing you'll want to do to set up your WordPress Thank You Page is to download and install SeedProd.
For in-depth details, check out our sister site's guide on how to install a WordPress plugin. Once the plugin is installed and activated, you can get SeedProd up and running in just a few clicks.
You'll be emailed your license key which you can go ahead and copy. On the page asking for your license key, enter it and click on Verify key.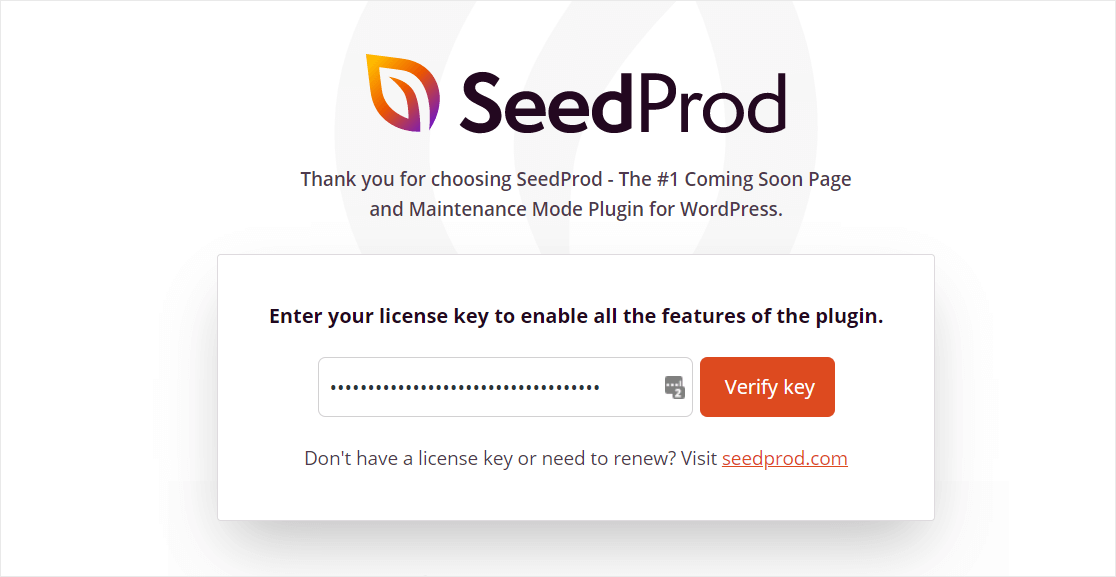 Next, scroll down and click on the button that says Create Your First Page.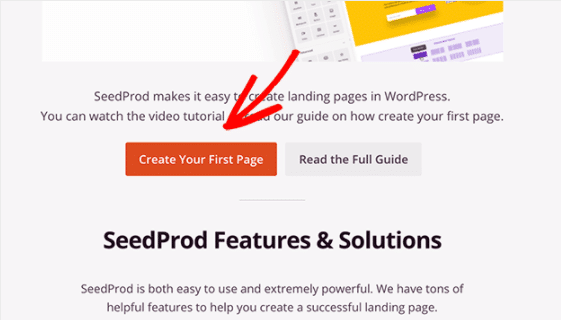 Up next, you'll be taken to the SeedProd dashboard. This is where you'll start making your awesome Thank You Page.
Step 2: Create a New Thank You Page
On the SeedProd Pages page, scroll down to the Landing Pages section and click on the orange Add New Landing Page button.

On the next page, you'll see tons of templates that SeedProd Pro offers. Click on the Thank You filter if you'd like to see templates specific to making a Thank You Page.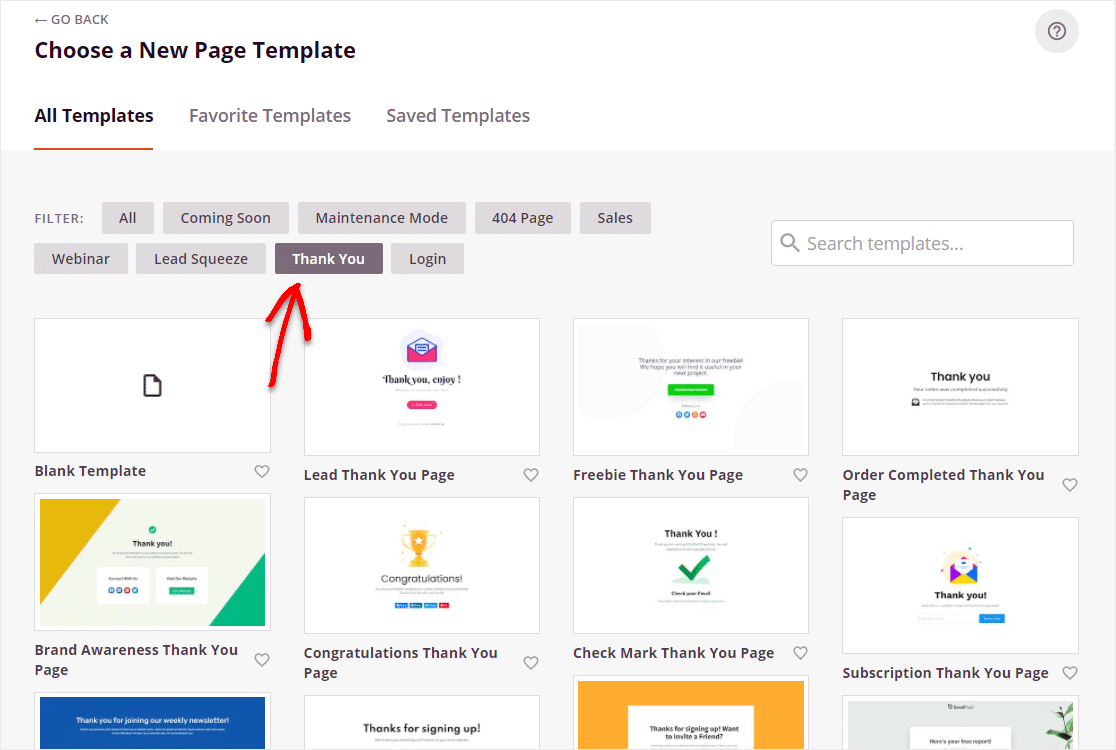 Once you've found a template that you like, go ahead and click on it to open it.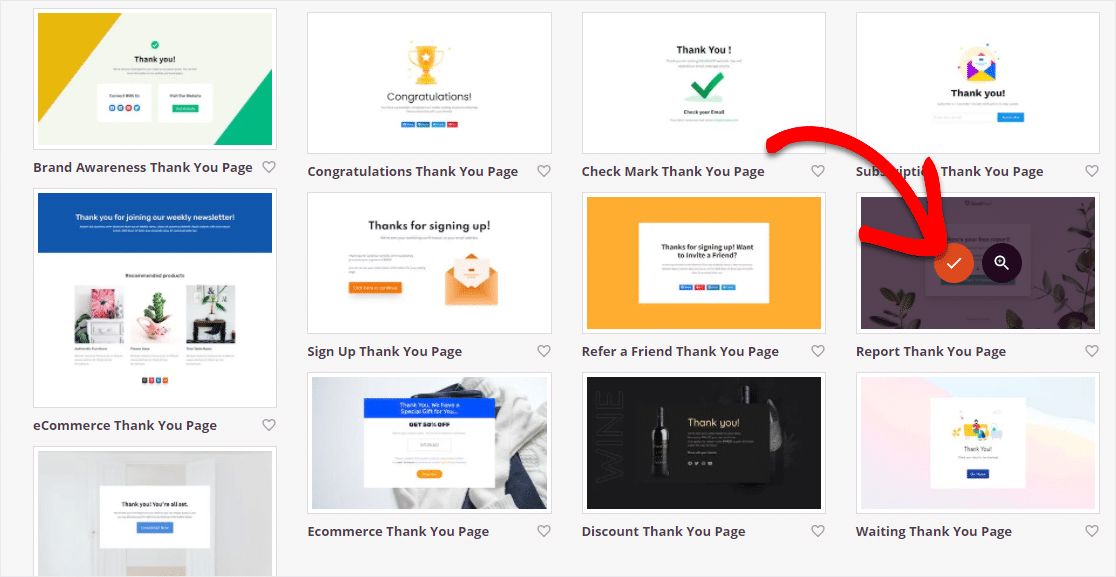 Great job! Now on the next page, you'll see two blank fields you'll want to fill out. Don't worry, you can always change these later before you publish your WordPress Thank You Page (inside the page settings):
Page Name: Name your page something like Thank You Page.
Page URL: Customize the Page URL to match your title or SEO needs.
And once you're ready, go ahead and hit the Save and Start Editing the Page button.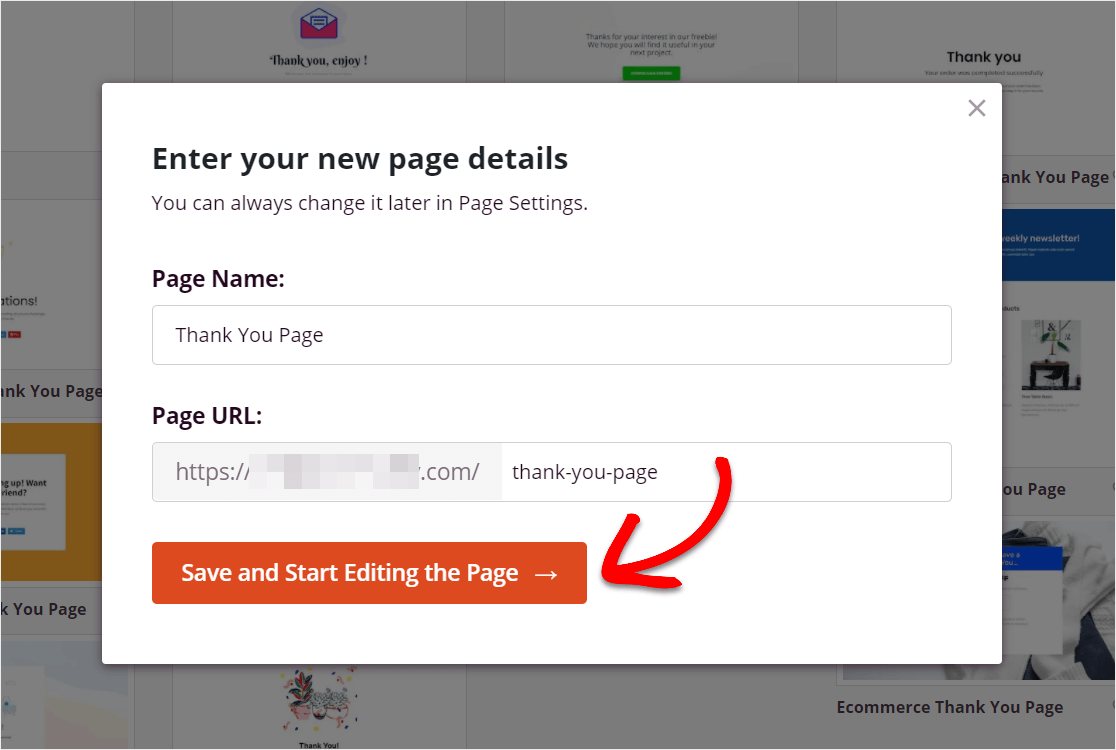 Now, you'll be taken to SeedProd's amazing visual editor, where you can easily make the template you selected your own.
Step 3: Customize Your Thank You Page Template
The next step is to start customizing your WordPress Thank You Page so it matches your brand.
Inside SeedProd's easy-to-use builder, you'll see drag and drop fields on the left. Simply drag them over to your Thank You Page on the right and you can start building the landing page of your dreams.
So you can start by changing the logo to your own (if you have one) and then editing the Call To Action button to direct to one of your own links. And don't forget to click on the Save button to keep all your changes.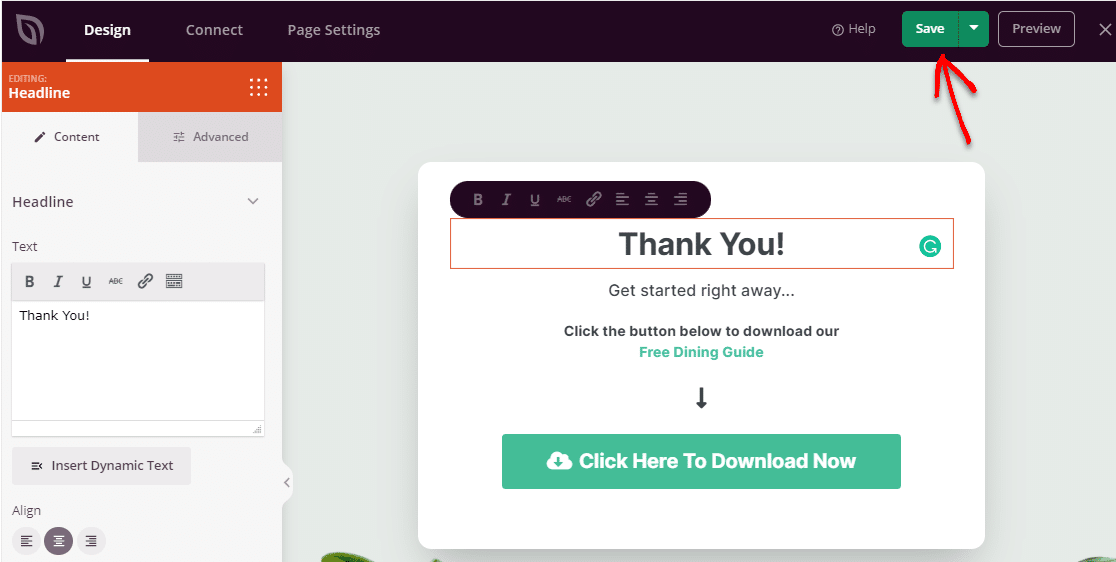 Step 4: Add Content to Your Thank You Page
Feel free to explore the fields available to you in SeedProd to see what you'd like to add to your WordPress Thank You Page. You can keep your Thank You landing page simple or go all out.
You can find these fields on the left side of the builder.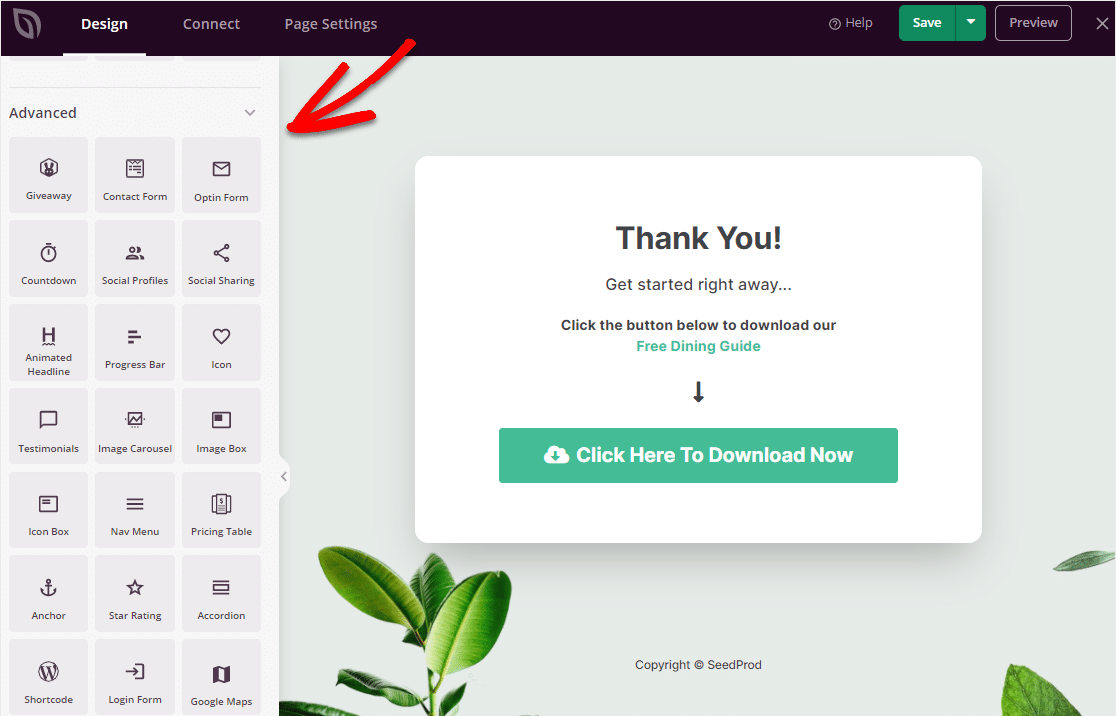 Here's just an idea of some of the blocks you can use with SeedProd:
Standard

Headline
Text
List
Button
image
Video
Divider
Spacer
Columns

Advanced

Giveaways
Contact Form
Countdown Timer
Social Sharing
Animated Headline
Progress Bar
Testimonials
Image Carousel
Pricing Table
Google Maps

WooCommerce

Add To Cart
Checkout
Featured Products
Best Selling Products
…and there are a ton more useful blocks available in SeedProd.
You can also head to the Global Settings on the bottom lefthand side of the builder to change fonts, colors, background, and any use custom CSS.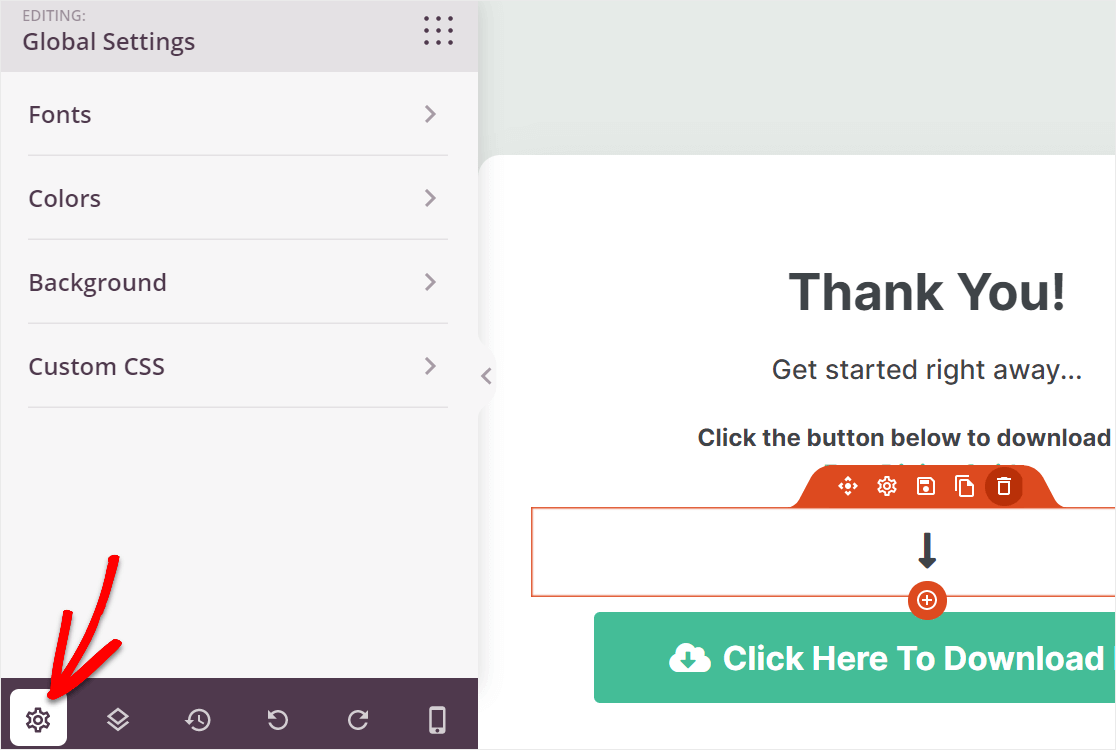 Make sure to save your changes if you make any here.
Step 5: Connect Your Email List
One of the best things about SeedProd is how easily it connects to your email marketing service provider. There are tons of integrations with the most popular email services out there so you can collect a visitor's email address easily.
When you're ready to connect and grow your email list with SeedProd, head to the Connect tab.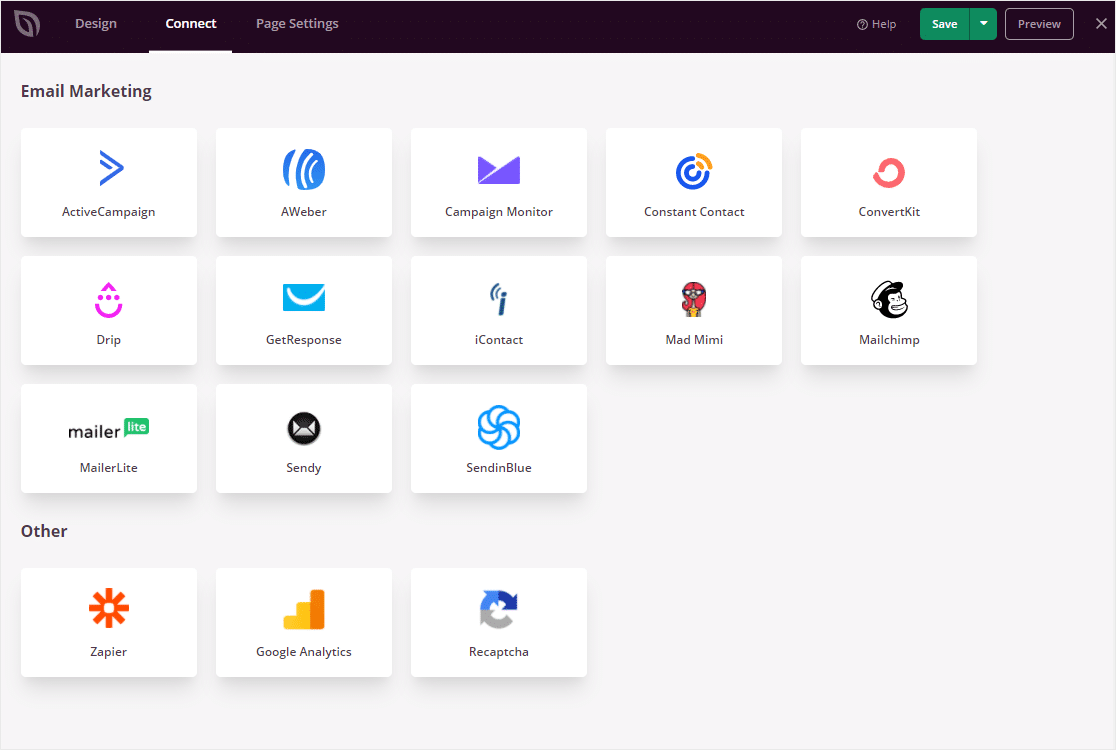 After you sync your email service here, simply click Save.
You might notice there are other integrations with SeedProd as well, including Zapier, Google Analytics, and Google reCAPTCHA. Feel free to connect your SeedProd account with these to your heart's content! The more valuable insight and automation you can get on your small business WordPress website the more time you'll have to focus on growing.
Step 6: Configure Your Thank You Page Settings
One of the last steps before you publish your Thank You Page in WordPress is to customize the settings.
Head to the Page Settings tab. Under General, you'll find the:
Page Title: An editable field where you can update your Thank You Page's title.
Page URL: You can change the page URL here.
Page Status: Publish the page or set it back to draft status here.
SeedProd Link: Enter your custom affiliate link if you've joined the SeedProd partner program.
Isolation Mode: An advanced setting for developers to make sure no other plugins run on the page.
Facebook App ID:  To connect and use the Facebook Page Block.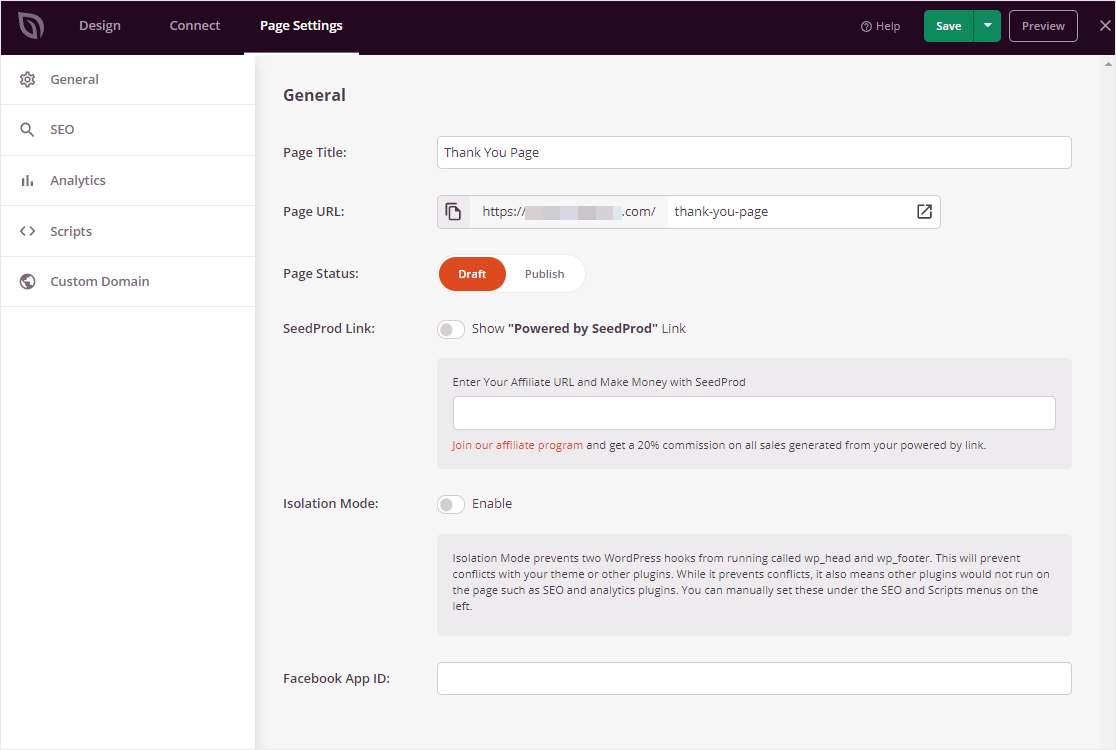 Don't forget to check out the other tabs too. You can use the SEO tab to connect to a great SEO plugin like All in One SEO. And, you can use the Analytics tab to sync with a Google Analytics WordPress plugin like MonsterInsights.
One last thing – make sure to click on the Mobile Preview tab to make sure your Thank You Page will look good to your visitors coming from mobile.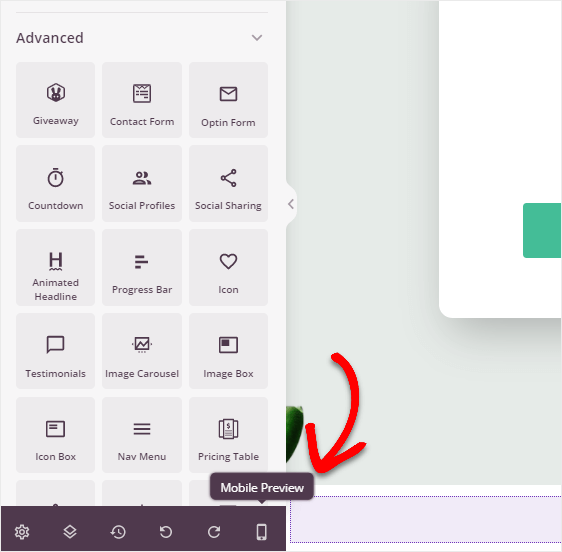 After you're all done customizing your Thank You Page settings, click Save. Congrats, you're now ready to publish your Thank You Page on WordPress!
Step 7: Publish Your Thank You Page
It's time to publish your Thank You Page on the web.
To do it, simply click on the dropdown arrow on the Save button then select Publish.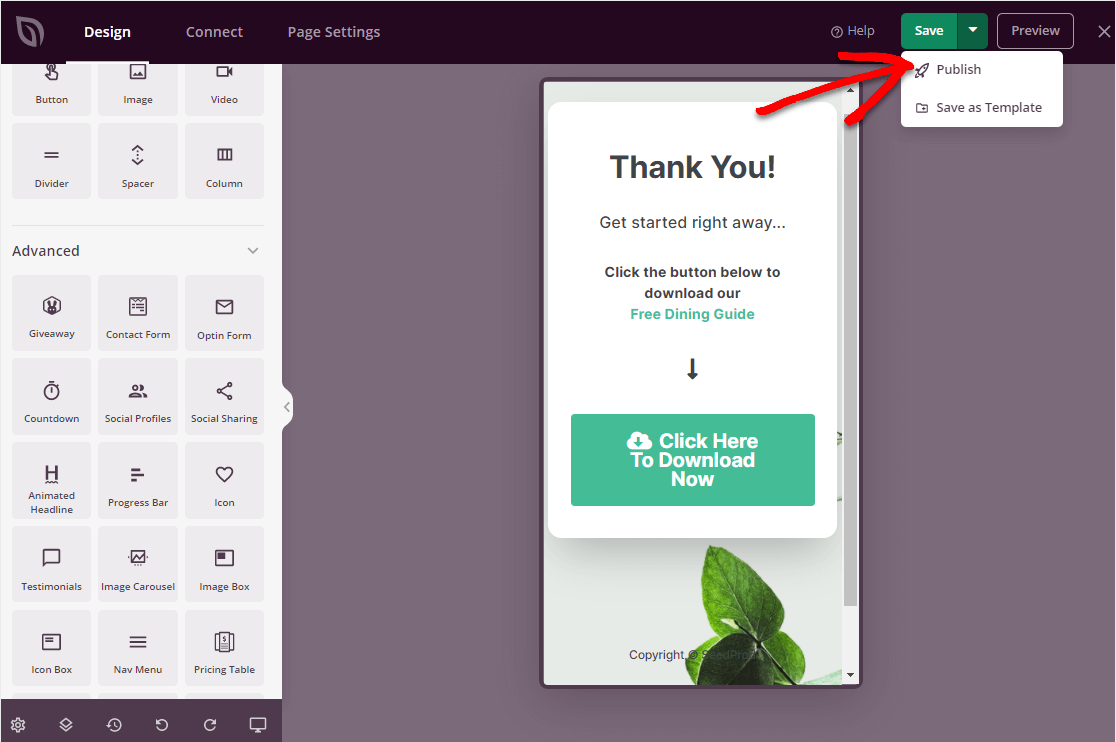 Your fantastic Thank You Page in WordPress is now live on the web. Yep, it really is that easy.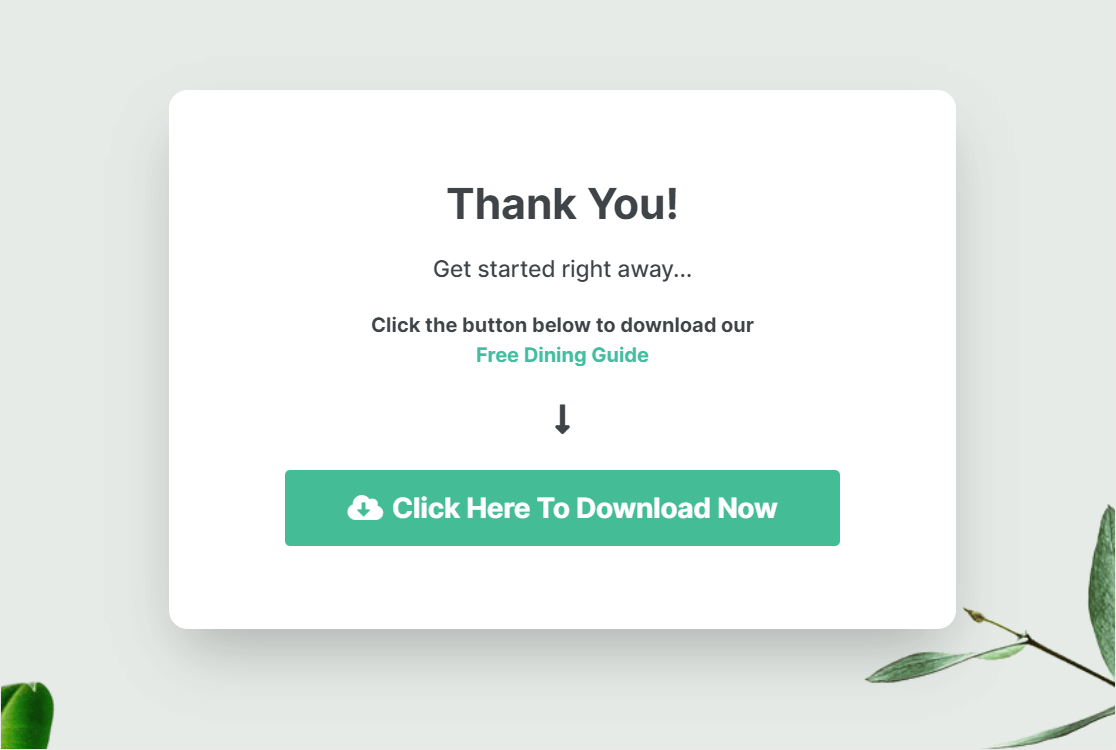 And that's it, you've done it. Now, you'll want to get people headed to this page you worked so hard on. So, if you want people to automatically end up on this page after they fill out a form on your website, keep reading.
BONUS: Automatically Send People to Your Thank You Page
Using WPForms as your contact form creator, you can really extend the possibilities of your SeedProd plugin.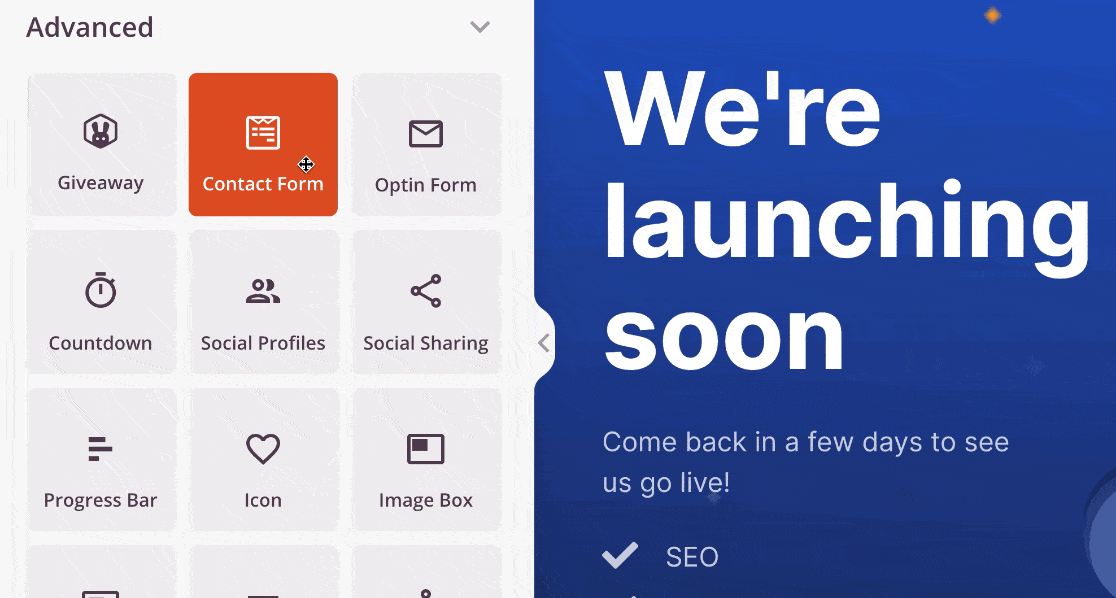 With WPForms, you can create forms that automatically redirect people to your thank you page right after they hit submit.
It's a very cool feature that's wildly easy to set up. Just check out our tutorial on how to redirect users after a WordPress form submission.
There are tons of smart website owners out there taking advantage of the powerful combo of owning both SeedProd and WPForms, two very popular WordPress plugins for a reason.
Get Started With SeedProd Pro Today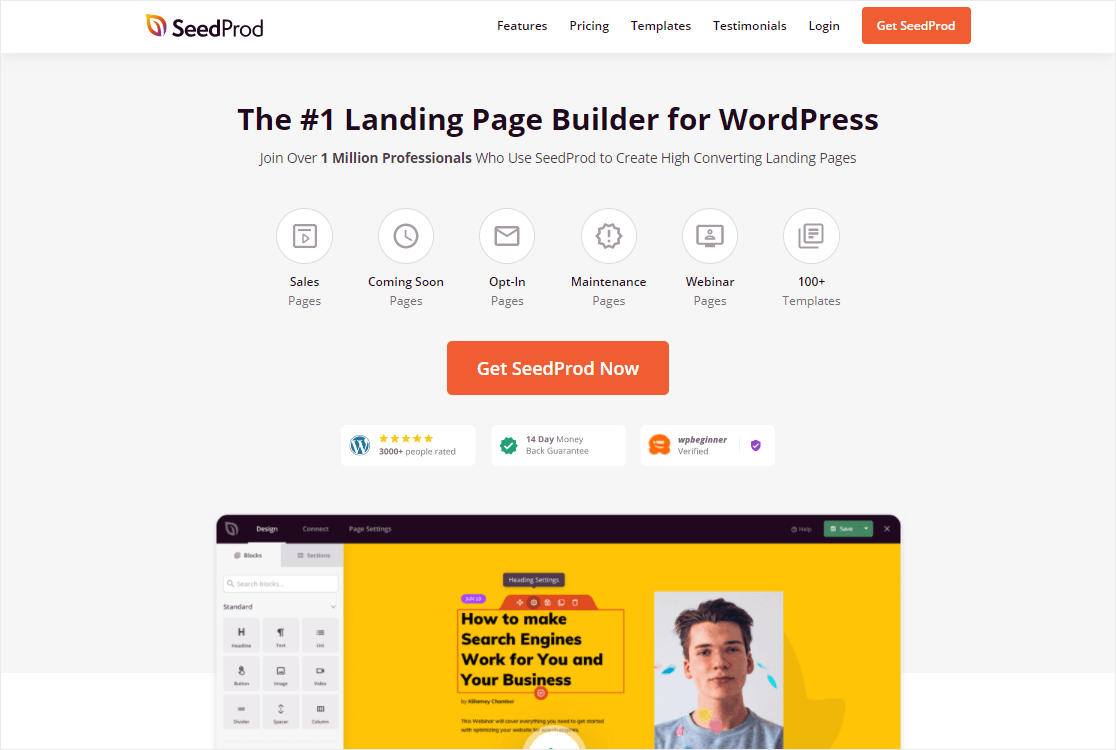 And that's it. We hope this tutorial helped you learn how to create a Thank You Page in WordPress, easily. SeedProd has a lot of amazing features we think you'll love.
So what are you waiting for? Get started with SeedPro Pro today and start making the website (and Thank You Pages) of your dreams.
And now that you've got SeedProd up and running, you should check out our post with the best coming soon page examples out there so you can get yours built quickly.
Make sure your Thank You Page doesn't face any downtime. Don't forget to check out our guide to the best WordPress hosting services out there.
And if this article helped you out, please follow us on Facebook and Twitter for more from the blog.