Looking for the best Google Analytics WordPress plugin for your site?
Adding Google Analytics to WordPress helps you track your site visitors and get detailed information about them. That way, you can make better business decisions.
In this article, we'll compare the best Google Analytics tools for WordPress. We'll also help you to choose the best one for your needs.
Do You Need to Add Google Analytics to WordPress?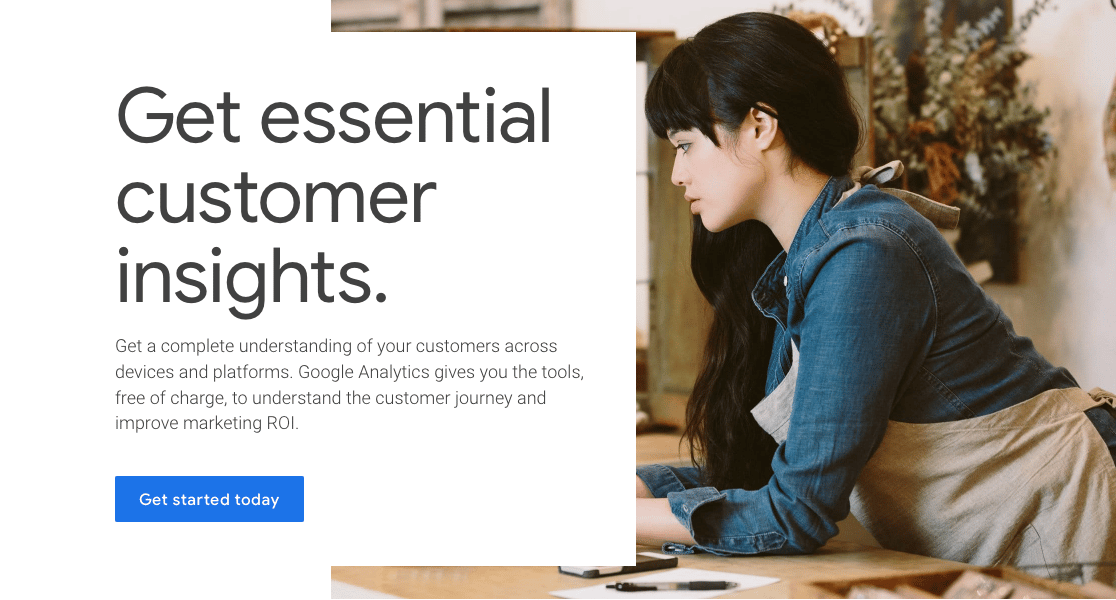 Wondering if you need to add Google Analytics to your site?
It's definitely a good idea if you're serious about your business.
Google Analytics is a free analytics tool. It tracks the number of visitors that visit your website.
You can also:
Know the demographics of your visitors
See how people are finding your website with referral tracking
Check which pages and posts on your site get  the most visits
Get real-time stats about what's happening right now
Use link tracking to keep on top of inbound and outbound links.
With all this valuable data, you can make informed decisions to help shape your business strategy.
Google Analytics plugins help by adding your tracking ID to every page of your site automatically. So it's a lot easier than adding Google Analytics manually.
So now that you know how important it is to add Google Analytics to your site, let's take a look at how to use Google Analytics on your WordPress website.
Can You Use Google Analytics on a WordPress Site?
Yes, you can use Google Analytics on a WordPress site. To collect Google Analytics data, you'll have to add Google Analytics tracking code snippets to your site's header.
You'll also need to learn how to read all that info, which can be tough at first.
How Do I Add Google Analytics to a WordPress Plugin?
If your website is on WordPress.org, you can use a plugin to install Google Analytics. Each Google Analytics WordPress plugin works a bit differently, but they all require you to add the tracking ID from your Google Analytics account to the plugin settings.
The plugin will then insert the tracking code snippets in your site for you.
Do I Need a Plugin for Google Analytics on WordPress?
No, you don't have to use a plugin to add Google Analytics to WordPress. However, using a plugin is usually a lot easier than manually connecting your site to Google Analytics.
Plus, some of these plugins break down the stats right in your WordPress admin panel. This saves you the trouble of switching between WordPress and your Analytics dashboard. It also only shows you the most important metrics instead of forcing you to sift through tons of data to find what you need to know.
Here's a tutorial on how to add Google Analytics to WordPress without a plugin. Unfortunately, this can sometimes be hard for a lot of people unless they're very technical.
The Best Google Analytics Plugins for WordPress
Asking yourself what is the best Google Analytics plugin for WordPress? This list has got you covered.
Keep in mind, the ability to add Google Analytics to your WordPress site easily should be one of the biggest things you look for in a Google Analytics plugin
So if you're ready to use Google Analytics in WordPress here's the list you've been looking for: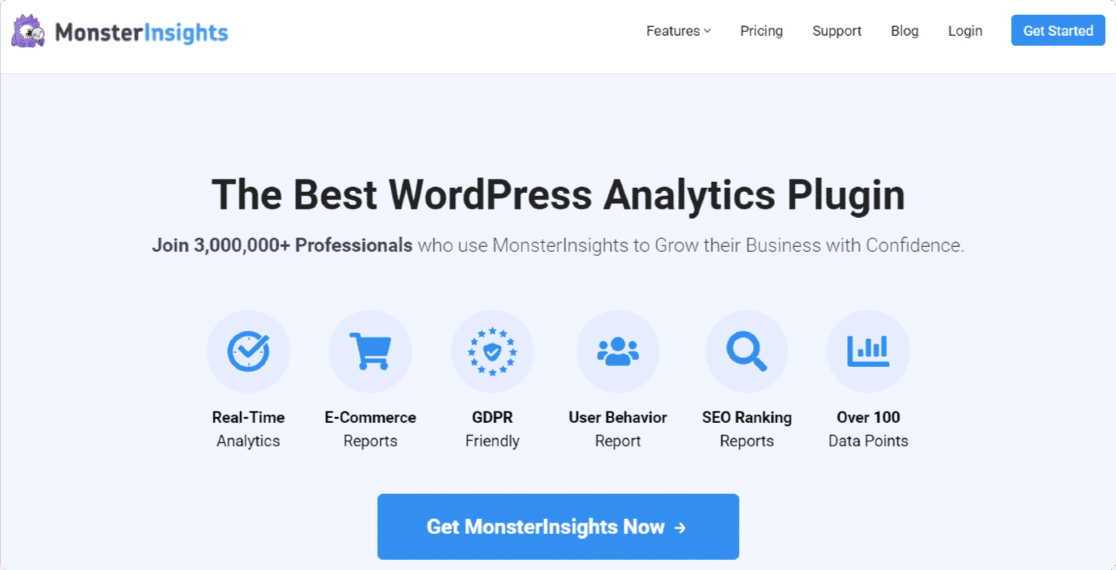 MonsterInsights is hands-down the best Google Analytics plugin for WordPress.
This wildly popular plugin lets you set up Google Analytics to track your site traffic easily. And you don't have to touch a single line of code to get access to all that informative Google Analytics data in detailed reports you can view from your WordPress dashboard.
Features:
Get detailed Google Analytics reports about your visitors' country, gender, device, and more.
See how users found your website, what keywords they searched for, who referred them, and what they did on your site.
Use the Forms addon to track your form views, submissions, and the form conversion rate. This can help to solve form abandonment issues. See our guide on how to set up WordPress form tracking in GA4 with MonsterInsights.
Use the EU Compliance addon to make your site compliant with GDPR and other EU privacy regulations. MonsterInsights integrates with the best WordPress GDPR plugins.
Set up universal event tracking to collect data from any device.
Use download tracking to find out the number of times a file was downloaded.
Connect Google Analytics eCommerce tracking with WooCommerce, Easy Digital Downloads, or MemberPress to see important data including your conversion rate, transactions, and average order value.
Install instantly; MonsterInsights works with popular WordPress themes.
See your site stats and graphs inside your WordPress dashboard, which saves time switching to the Google Analytics website.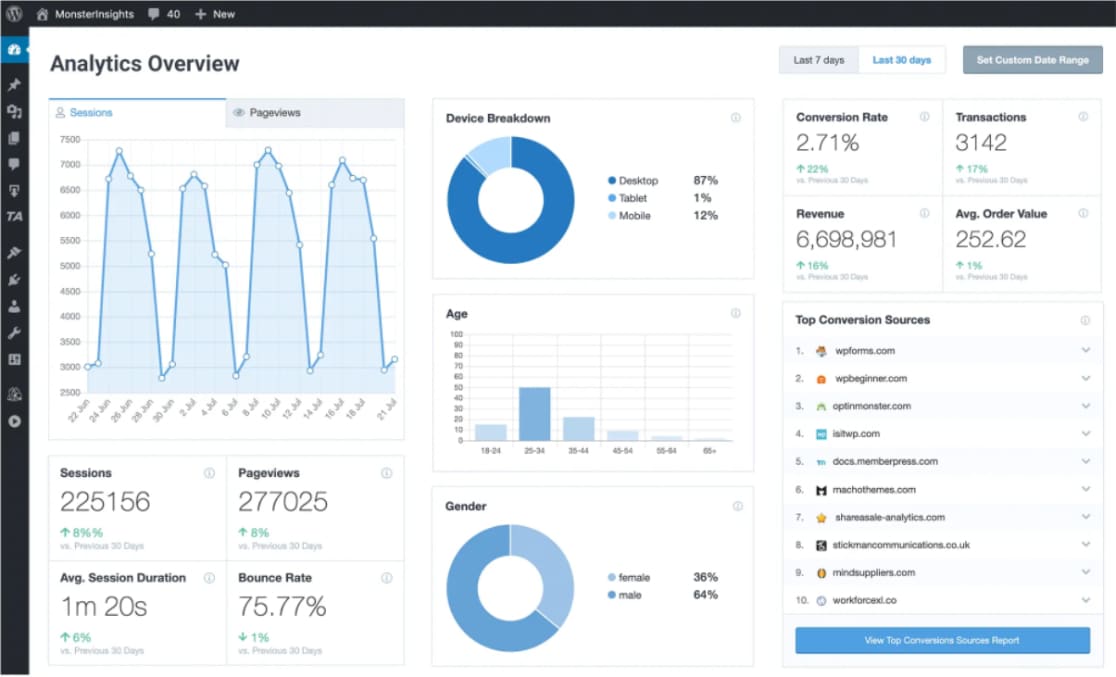 Overall, it's a very powerful and popular Google Analytics plugin. Many successful website owners use and recommend it. And, it's simply the easiest way to add Google Analytics to WordPress.
Cost: Free. The premium version starts at $99.50/year.
Click here to get started with MonsterInsights today!

With more than 1 million active installs, ExactMetrics is another one of the most popular Google Analytics plugins for WordPress. It also offers a free plugin version, which is great if you're adding Google Analytics to a hobby site or startup.
This well-known tool to add analytics to your site was formerly known as Google Analytics Dashboard for WordPress (GADWP).
Features:
Lets you track website visitors and get analytics reports in your WordPress dashboard.
Shows you important details like page views, bounce rate, mobile analytics stats, organic searches, and traffic from social media sites.
Displays real-time statistics, including the number of visitors, traffic sources, and where they come from.
Provides in-depth reports for each page and post so you can analyze the on-page data and optimize your content.
Provides full event tracking for AMP (Accelerated Mobile Pages).
ExactMetrics makes it easy for you to track events like downloads, emails, affiliate links, and more with Google Analytics data.
Cost: Free. The premium version starts at $99.50/year.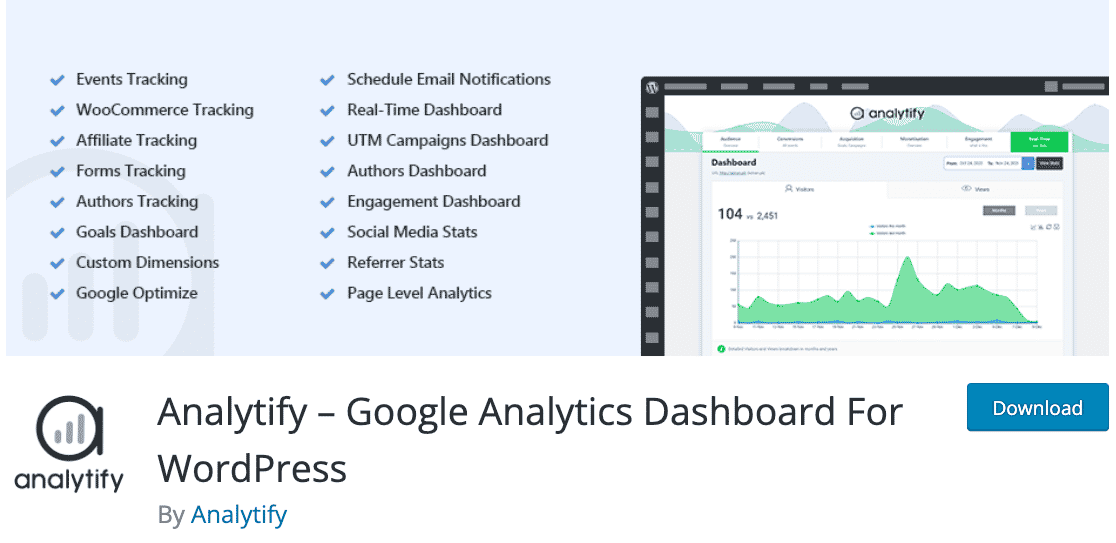 Analytify is a freemium Google Analytics plugin. It offers a simple installation process to add the tracking code to your site.
Features:
Just like MonsterInsights, it lets you view the analytics reports inside your WordPress admin area.
Lets you check the statistics of individual posts and pages.
Offers different addons to enhance its functionality. For example, you can track campaigns using UTM parameters.
Lets you use eCommerce tracking for WooCommerce and Easy Digital Downloads to get an overview of your sales, transactions, and revenue.
Sends automated email reports for every post, page, and general stats of your site.
Cost: Free. The premium version starts at $39.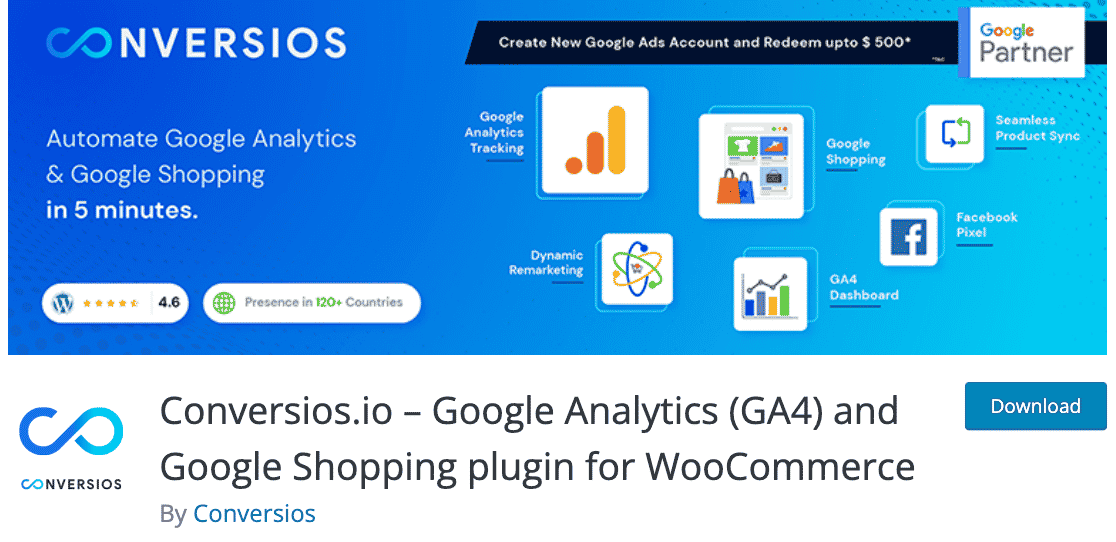 Looking for a Google Analytics plugin to track your WooCommerce store?
The Conversios plugin is a free WordPress plugin that's great for WooCommerce.
Keep in mind that this free plugin comes with certain limitations. It only supports simple products. Also, it's not fully compatible with some WordPress themes, like custom or child themes.
Features:
Uses the eCommerce tracking feature of Google Analytics to study user behavior and help you to optimize your online store.
Supports 4 types of behavior and performance reports: shopping, checkout, product, and sales.
Helps you track product clicks, impressions, and add to cart events. These can be tracked on your product page, category page, featured product section, and more.
Cost: Free.
WP Statistics is another freemium plugin on our list. It's simple but it gets the job done.
Features:
Lets you see visitors' locations, referral sites, browsers, operating systems, and more.
Displays data in filterable charts and graphs.
GDPR compliant so you don't have to worry about user privacy.
Cost: Free with premium addons starting at $19/year.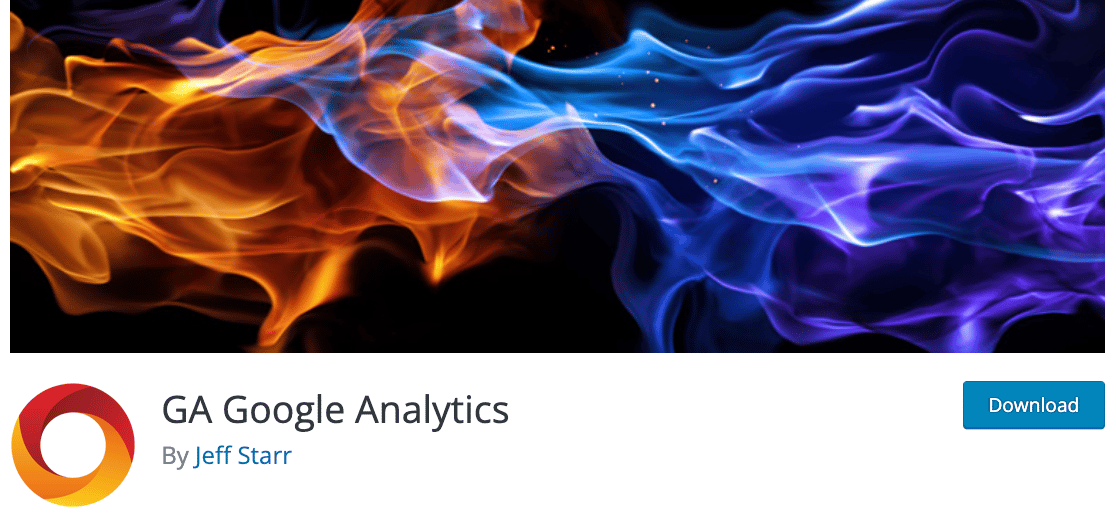 GA Google Analytics is a lightweight and GDPR compliant WordPress plugin. There is a free version, but the features are limited.
To get additional features, you'll have to upgrade to the pro version of the plugin. Once you install at activate it and paste in your tracking ID, it will place Google Analytics data tracking code on all the pages of your site.
Features:
Disables tracking of admin-level users to get the right data on the right visitors.
Lets you easily customize the tracking code if you want.
Doesn't display your site stats inside your admin panel. You'll have to log in to your Google Analytics account to view the analytics data.
Cost: Free. Premium version starts at $15.
Although it hasn't been updated in quite some time, the WP Google Analytics Events plugin is a Google Analytics tool to check out if you just want to track certain events on your site without writing any code.
Google Analytics Events lets you easily understand what your visitors do on your website. However, you should know the plugin only tracks events. So it isn't as comprehensive as the other plugins we looked at.
Features:
Use events to compare the performance of your CTA (call to action) buttons.
Track links, page navigation, and contact form submissions.
The premium version offers extra features including YouTube and Vimeo tracking.
Cost: Free. The premium version starts at $79/year.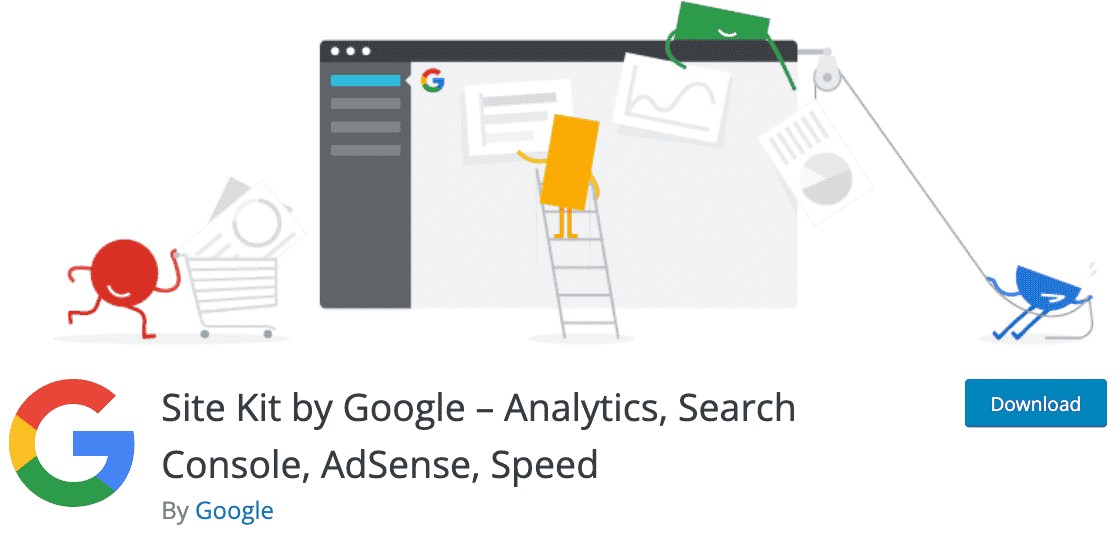 Site Kit is the 2nd most popular free plugin for Google Analytics after MonsterInsights. Lots of sites use it because it's the official Google plugin for WordPress and it can pull data from other platforms, like Search Console and PageSpeed Insights.
That said, we don't strongly recommend Site Kit for a few reasons. First, it doesn't give you very detailed reports in your WordPress dashboard. You'll need to log in to Google Analytics to have enough information to make data-driven decisions.
Also, Site Kit can make it hard to comply with the GDPR. There's no way to anonymize IP addresses or disable tracking automatically, so you must do it manually.
Check out this detailed Site Kit review to learn more about the pros and cons of this Google Analytics WordPress plugin.
Features:
Connects your site to Google Analytics, Search Console, PageSpeed Insights, and more in just a few clicks.
Shows graphs of your site's traffic sources, search impressions, and clicks.
Can display AdSense data to track earnings, impressions, and your most profitable pages.
Cost: Free.
Which Is the Best Google Analytics WordPress Plugin?
After comparing all of the features of these popular Google Analytics plugins, we can conclude that MonsterInsights is the best Google Analytics plugin for WordPress.
MonsterInsights offers tons of useful features and allows you to view the reports of your Google Analytics data right in your WordPress dashboard.
You can get started today by easily adding your tracking ID in the free version.
And that's it! We hope this article helped you learn more about adding analytics to your site and helped you pick the best Google Analytics plugin for you.
Next, Easily Track WordPress Form Conversions
If you're looking for an easy way to track the forms on your WordPress site, be sure to check out our tutorial on how to track WordPress form conversions.
Plus, you can check out this list of best WordPress visitor tracking tools, which let you analyze user behavior across your site.
Looking for more recommendations on the best WordPress plugins? You may want to read the following roundups:
Create Your WordPress Form Now
Ready to build your form? Get started today with the easiest WordPress form builder plugin. WPForms Pro includes lots of free templates and offers a 14-day money-back guarantee.
If this article helped you out, please follow us on Facebook and Twitter for more free WordPress tutorials and guides.