Do you want to track your WordPress forms? Setting up your Google Analytics for form submission tracking can help you figure out where your form users are coming from, so you can make informed business decisions that increase your conversions.
In this article, we'll show you exactly how to use Google Analytics to track form submissions in WordPress.
Why Use Google Analytics for Form Submission Tracking?
Google Analytics tracking is a tool many successful business owners use. Here are a few benefits of using Google Analytics to track form submissions:
Identify which forms get the highest-quality submissions.
Use referral web form conversion tracking to get insights into how to optimize your forms for high conversions.
You can identify the high converting pages on your site.
It's compatible with WordPress AJAX contact forms (for no page reload).
How Do I Track a Form Submission with Google Analytics?
If you're asking yourself how do I track a form on Google Analytics, you're in the right place.
With MonsterInsights, you don't even need to set up tag configuration and Google Tag Manager or use a form submission trigger. It makes web form conversion tracking easy without messy trigger configuration.
Analytics for form submissions can be tracked by following these steps:
1. Create a WordPress Form
The first thing you need to do is install and activate the WPForms plugin. Here's a step by step guide on how to install a WordPress plugin.
After activating the plugin, you'll need to create a form on your site. Check out our tutorial on creating a simple contact form to get started.
2. Sign Up for a Google Analytics Account
You can skip this if you're already using Google Analytics to track your website visitors. If not, follow the below steps to sign up and add your site.
To get started, open the Google Analytics website and click the blue Start for free button in the top right corner of the page.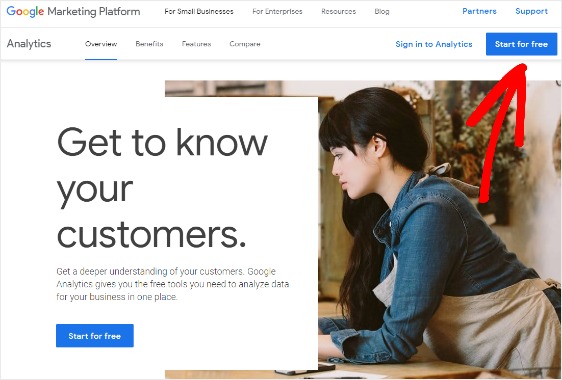 Sign into your Google account if you have one, or click the Create account link to create a new Google account.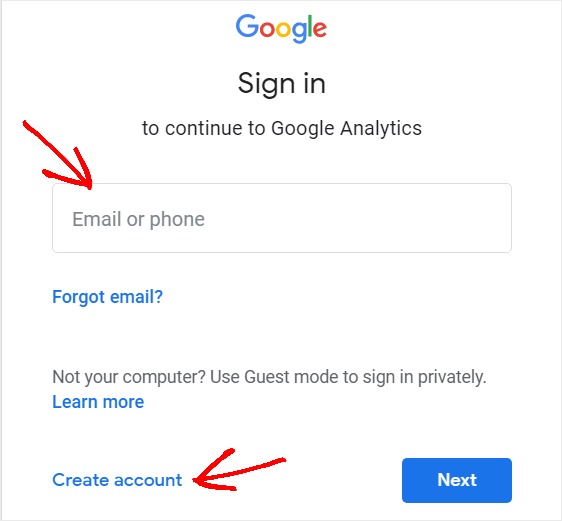 Next, click on the Sign up button to start using Google Analytics.

Now, enter your website information. You'll need to name your Google Analytics account, plus enter your website name, URL, and industry, as well as your time zone.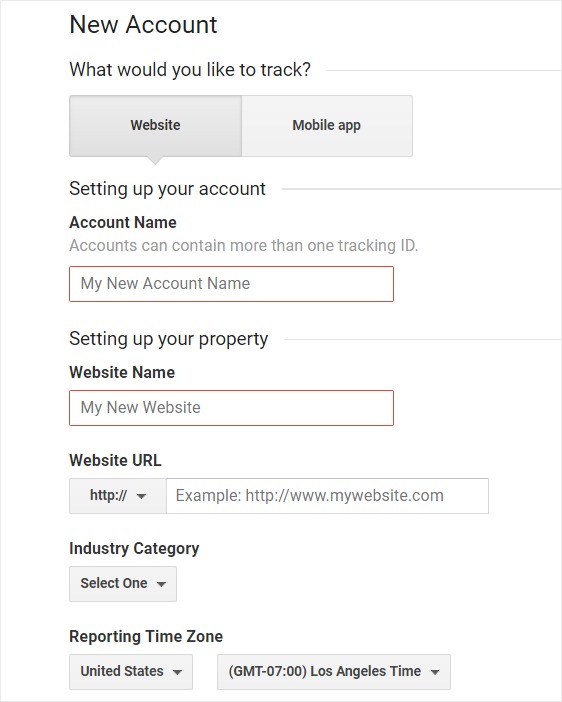 After filling in your website details, scroll down to customize your data sharing settings. And when you're finished selecting your options, click the Get Tracking ID button at the bottom of the page.

In the box that appears, you can review and accept the multiple terms of service agreements.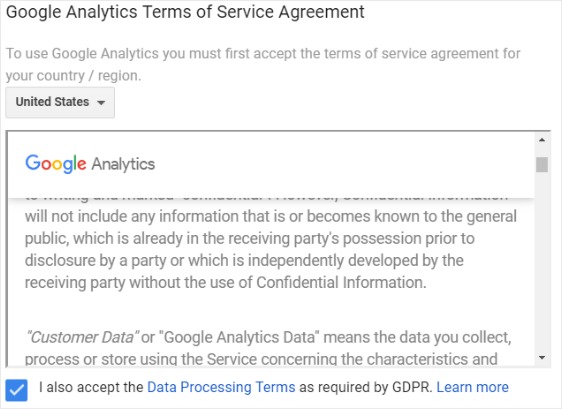 That's it! You're now signed up for Google Analytics.
3. Install & Activate the MonsterInsights plugin
The best way to set up Google Analytics on your site and track your WordPress form submissions is to install and activate the MonsterInsights plugin.
MonsterInsights is the best Google Analytics plugin for WordPress. So it makes it super easy to set up Google Analytics on your site in just a few clicks.
Plus, MonsterInsights lets you access the full potential of all the powerful features in Google Analytics including tracking things like:
Visitors
Forms
Ads
And much more…
And it all happens without having to touch a single line of code.
So now let's install and configure MonsterInsights.
You can get started by purchasing the MonsterInsights plugin. After the purchase, log into your MonsterInsights account and download the plugin. It will download as a zip file.
Once you have the zip file, log into your WordPress dashboard, and navigate to Plugin » Add New.  Click the Upload Plugin button at the top.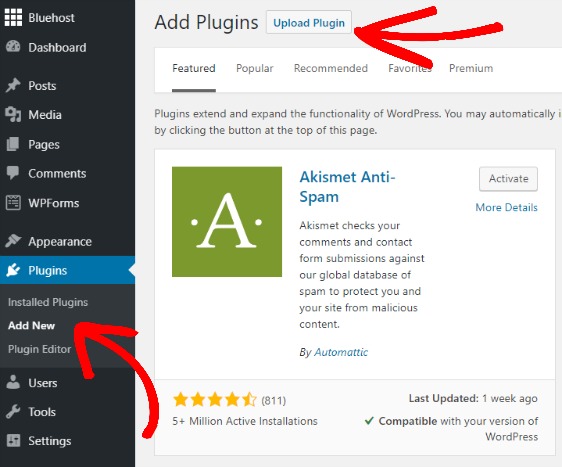 Next, click the Choose File button to select the zip file you just downloaded and click the Install Now button.

After installing the plugin, click Activate Plugin.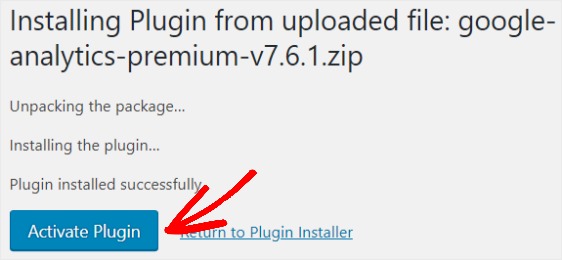 4. Set Up MonsterInsights for Google Analytics Form Submission Tracking
The handy Setup Wizard will launch automatically launch after the plugin is activated.
From here, select your business category and click Save and Continue.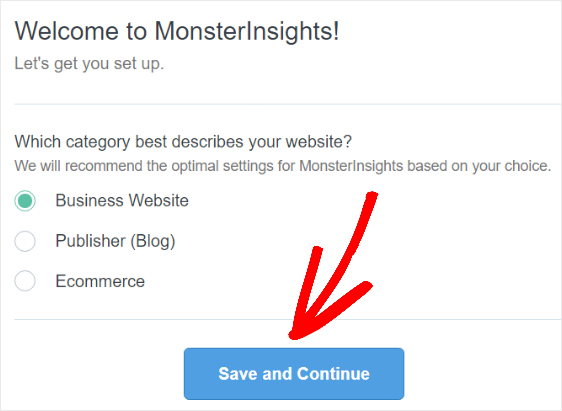 Next, enter your license key. To find it, click on the hyperlinked text Retrieve your license key.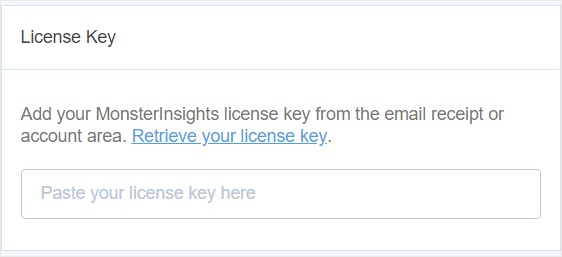 This will open a new tab and take you to the My Account area of the MonsterInsights dashboard. Copy your license key from here.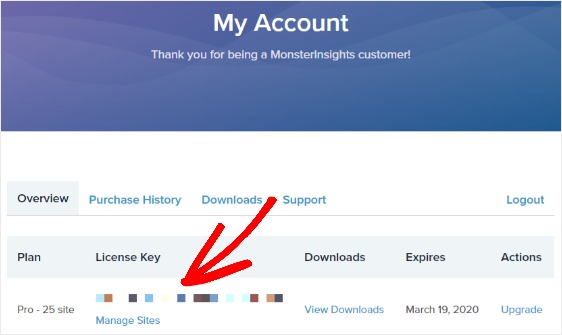 Now, return to the other tab you were working in and paste your license key in the box. It will automatically verify for you.

Next, you need to connect Google Analytics to your site. Click on Connect MonsterInsights.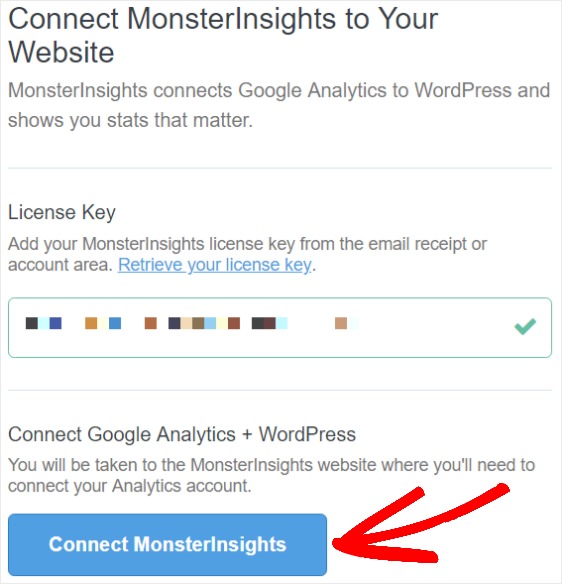 Select your account to sign in to Google.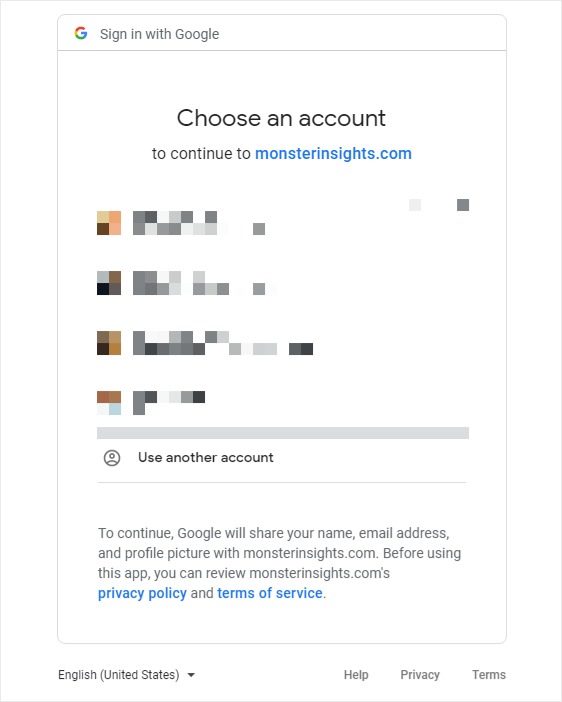 You'll need to grant permissions for MonsterInsights to have read access to your data.
So to do this, click on Allow.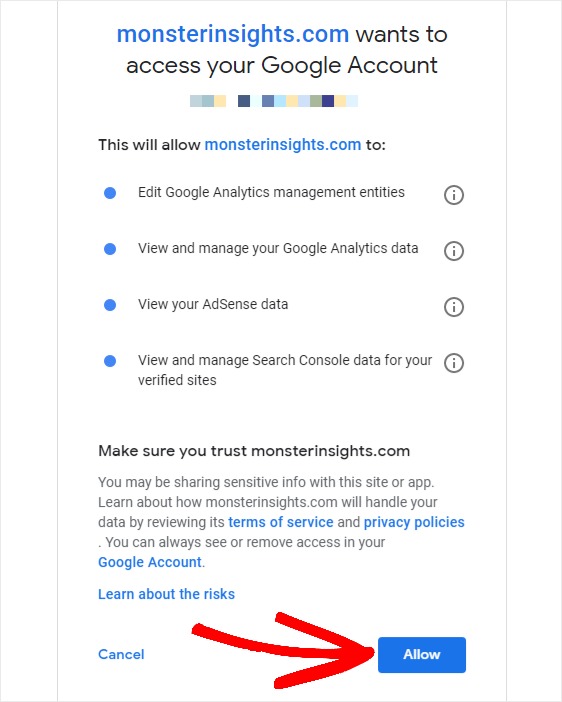 Next, select the correct profile and click Complete Connection.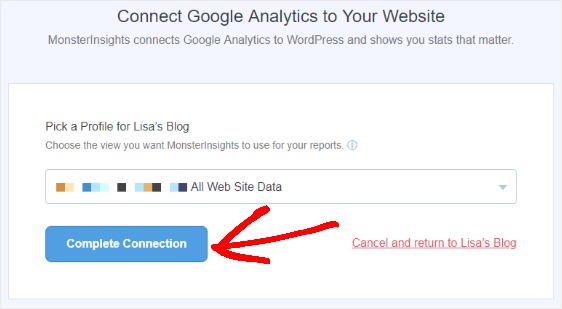 You'll be sent back to the dashboard automatically. Now, you can customize other settings and click Finish Setup & Exit Wizard.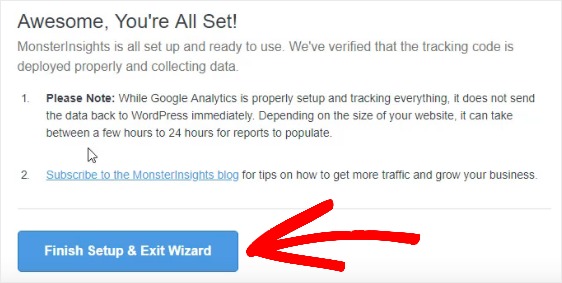 You did it! You've activated the plugin and successfully configured Google Analytics on your site. You're one step closer to being able to track forms.
5. Install the MonsterInsights Forms Addon
Without MonsterInsights and the Forms Addon, tracking your contact form leads can be hard. For example, without the Addon, you'll need to set up a Google Analytics goal for every single WordPress form you create.
This can be super time consuming, especially if you have dozens of forms on your site that you want to track.
In addition, if you're tracking conversions as form submission events (event tracking), you'll need to add an extra tracking code into every page where you publish your form.
MonsterInsights takes the pain out of web form conversion tracking and makes it easier for WordPress users. All you need to do is install the Forms Addon to see that information when anyone sends a form on your site.
To install the Forms Addon, go to Insights » Addons and click Install under the MonsterInsights Forms Addon.

The Forms Addon is now active. Get ready to track link clicks!
6. See Your Conversion Rates in Google Analytics
To track your form views and conversions, log into your Google Analytics account.
In the left-hand menu, navigate to Behavior » Events » Overview. This is the area of Google Analytics where button clicks and other events are tracked.
You can now see the events overview report of your website. In the Event Category column, click on Form.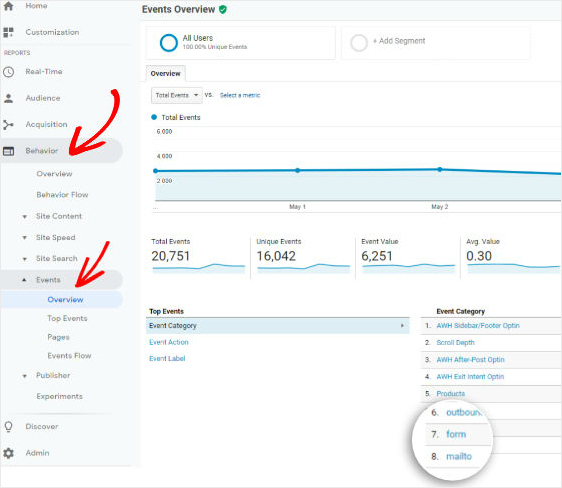 So to view the number of impressions and conversions, click the Event Action link just above the table.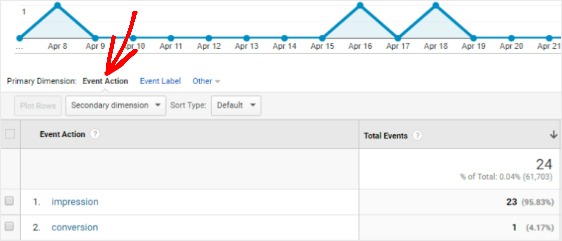 Under Event Label you'll also see each form ID along with the number of submissions it received.
In Google Analytics, you can also identify which page drives the most contact form submissions.
To view your high converting pages, click Conversions in the above report.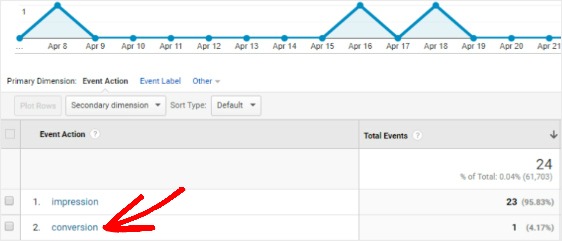 Then click the Secondary dimension dropdown menu, and then select Page. You can now find your high converting pages on your site.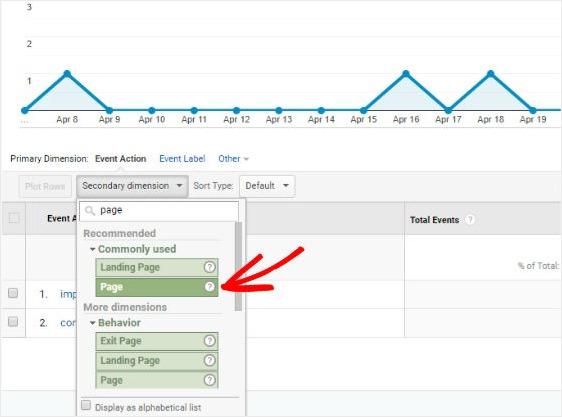 7. Using UTM Codes
Asking yourself how do you make a trackable link? Check out this guide on UTM Tracking Codes if you'd like more in-depth information on what they are and what they can do.
UTM parameters, also known as UTM codes, are little snippets of text added at the end of your URL. UTM Codes offer advanced referral tracking to learn which source/medium is providing you with the most form submissions.
Here are some things you can track with UTM query strings:
Which social media network is your highest referral source and converts the most form entries
Which reason someone is contacting you about
How a particular campaign is preforming
For example, if you're running a Facebook ad, adding a URL code to your ad 's link would look something like:
http://example.com/?utm_source=facebook
If a visitor clicks on your Facebook ad and converts, the parameter will be read into the hidden field you have set up. Then, that info will be sent to you along with the form submission.
Also, you can also track more than one source by separating URL codes with "&" like this:
http://example.com/?utm_source=facebook&utm_medium=social
8. See Your UTM Code Results in Google Analytics
If you want to see which of your marketing efforts are getting the best results, you need to reading the results of your UTM Tracking Codes.
Head over to this step by step tutorial on Where to Find UTM Tracking Code Results Data in Google Analytics to learn exactly how it's done.
Final Thoughts
And that's it! You now know how to use Google Analytics to track form submissions in WordPress. You can use similar tools to track button clicks in WordPress as well.
And if you're trying to get more subscribers you can convert, you might want to try creating a contact form popup on your site.
What are you waiting for? Get started with the most powerful WordPress forms plugin today.
If you like this article, then please follow us on Facebook and Twitter for more free WordPress tutorials.