Do you want to track Google Analytics form submission events for your WordPress website?
Form submission tracking can help you figure out where your users are coming from.
In this article, we'll show you how to use Google Analytics to track form submissions in WordPress. We'll also show you how you can use a WPForms addon to easily get more insights into who's submitting your forms.
Create Your WordPress Form Now
Can Google Analytics Track Form Submissions?
Yes! Google Analytics tracking for form submissions can help you to:
Identify which forms get the highest quality submissions from your website visitors.
Get insights into how to optimize your forms and increase your conversion rate.
Identify the high-converting pages on your WordPress website.
We recommend that you use the MonsterInsights plugin because it's the easiest way to get data out of GA in a user-friendly way.
How to Set Up WordPress Form Tracking in Google Analytics
Before starting this guide:
Install and activate the WPForms plugin. Here's a step-by-step guide on how to install a WordPress plugin.
Check out our tutorial on creating a simple contact form, which will help you set up a form you can track.
Finally, log in to your Google account, sign up for Google Analytics, and add your site as an analytics property. If you're not sure what to do, follow the steps in this guide on adding your WordPress site to Google Analytics with MonsterInsights.
Be sure to add your site to Google Analytics as a 
Google Analytics 4 (GA4)
 property. Universal Analytics will be retired in 2023, but you can
use GA4 and Universal Analytics together
until then if you like.
That's all the preparation done! Let's start tracking your form conversions.
1. Track Form Submissions in GA with MonsterInsights
If you want the easiest way to track form submissions, we recommend the MonsterInsights plugin. It's simple to use, even for beginners.
MonsterInsights is the best WordPress Google Analytics plugin. It lets you easily review analytics data about:
Visitors
Pages or posts
Forms
Ads
Even better, using the MonsterInsights plugin you can set up the WooCommerce Google Analytics eCommerce tracking to optimize your online shop and grow your business.
MonsterInsights is awesome because you don't need to set up tags or write code to connect your tracking ID to your site. This means you can set up Google Analytics form submission tracking without Google Tag Manager (GTM).
To use MonsterInsights, you'll want to add Google Analytics to your WordPress site first. Then you can install and configure the plugin.
Install the MonsterInsights Plugin
You can get started by purchasing the MonsterInsights plugin. After the purchase, click the Download button to download the plugin.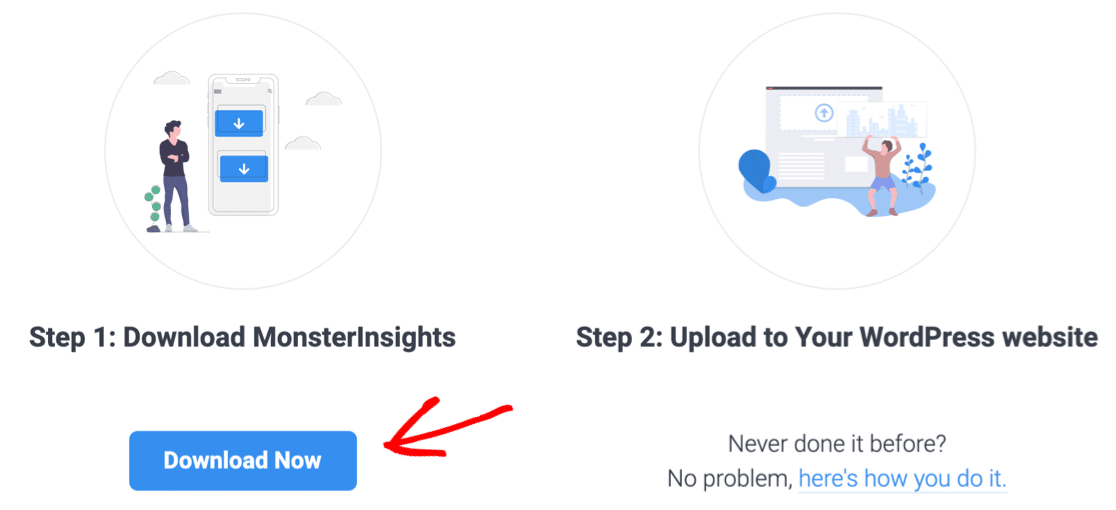 Keep this tab open so we can grab your license key in a second.
Once you have the zip file, log into your WordPress dashboard, and navigate to Plugin » Add New.
Click the Upload Plugin button at the top.

Next, click the Choose File button to select the zip file you just downloaded and click the Install Now button.

After installing the plugin, click Activate Plugin.

The Setup Wizard will launch automatically launch after the plugin is activated.
Now go back to the tab where you purchased MonsterInsights and grab your license key.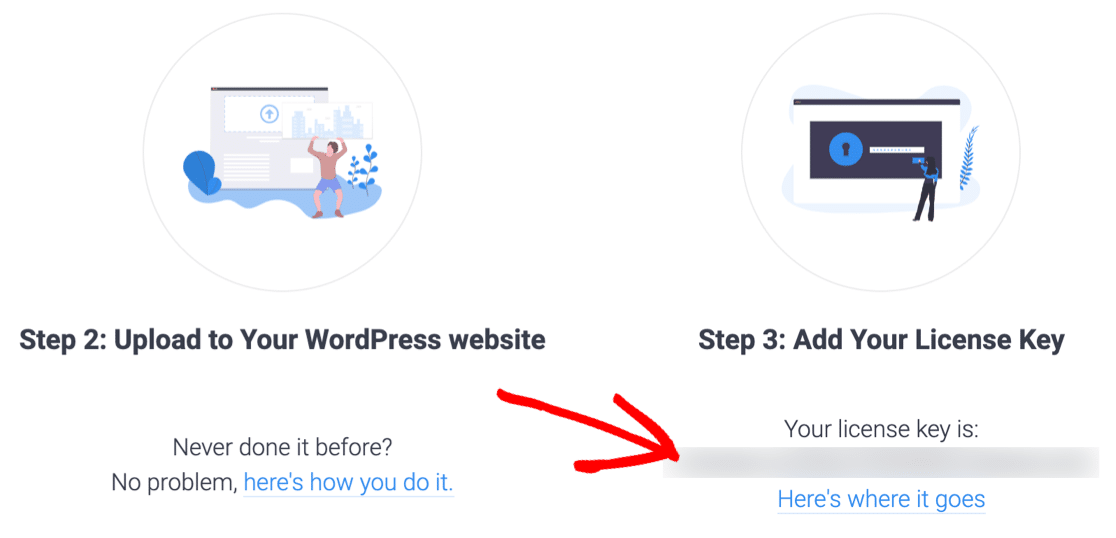 Be sure to enter your License Key now. If you're upgrading from the Lite version, you can paste it into the field in the plugin settings manually to active your new Pro features.

Now we'll run though the Setup Wizard.
Set Up MonsterInsights
MonsterInsights makes it easy to track form conversions. It has a Forms addon that you can install during the initial Setup Wizard.
After that, your forms will start tracking conversions in Google Analytics automatically.
First, you'll want to connect MonsterInsights to Google Analytics. If you're upgrading and your site's already connected, you can safely skip this step.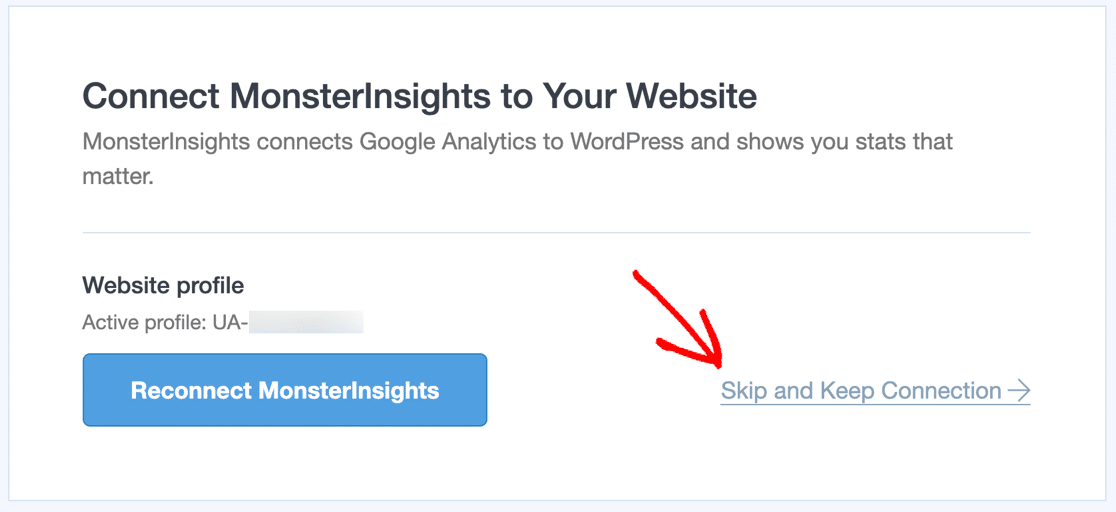 Next, MonsterInsights will ask you to confirm some basic settings, including:
Events tracking
Enhanced link attribution
File download tracking
Affiliate link tracking
And more.
You can make changes now, or simply continue with the Wizard and come back to these settings later.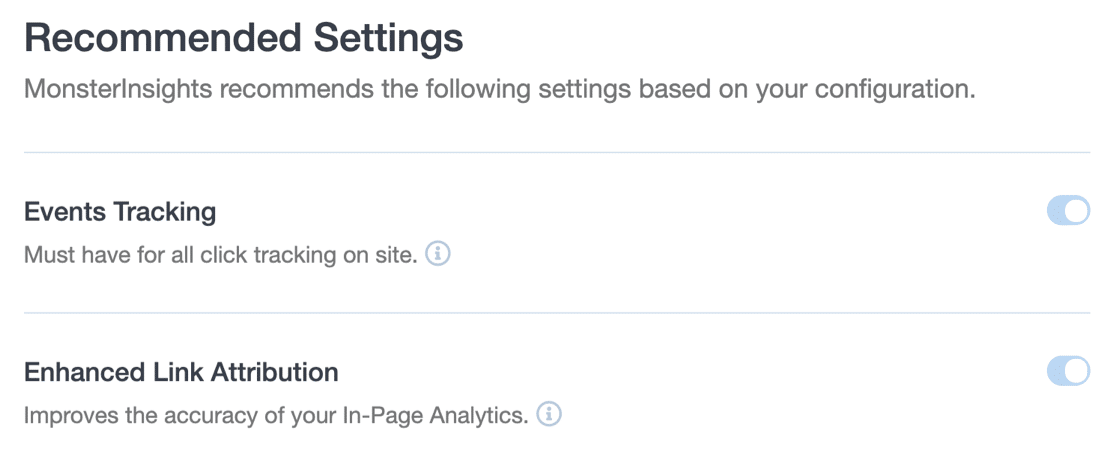 On the next screen, MonsterInsights will show you Recommended Addons. Let's pause here and take a look at the Forms addon to see what it'll do.
Install the MonsterInsights Forms Addon
MonsterInsights takes the pain out of web form conversion tracking and makes it easier for WordPress users. All you need to do is install the Forms Addon to see that information when anyone sends a form on your site.
The Forms addon makes it easy to track a Google Analytics goal for every single WordPress form you create. You don't need to create a goal in Google Analytics manually, so it can save you a ton of time.
In addition, if you're tracking conversions as form submission events (event tracking), MonsterInsights handles everything for you. Without the plugin, you'll need to add an extra tracking code into every page where you publish your form.
So now that we know what the Forms addon does, let's go back to the Setup Wizard.
Click the Install Addon button at the end of the line.
Once the addon is installed, wait a few more seconds. You'll see the button text change to Activated.

And that's it! Now you're tracking your forms without writing a single line of code.
See Your Google Analytics Form Submission Events
There are 2 ways to view MonsterInsights form conversion data.
First, you can head to the Insights » Reports section inside your WordPress admin area.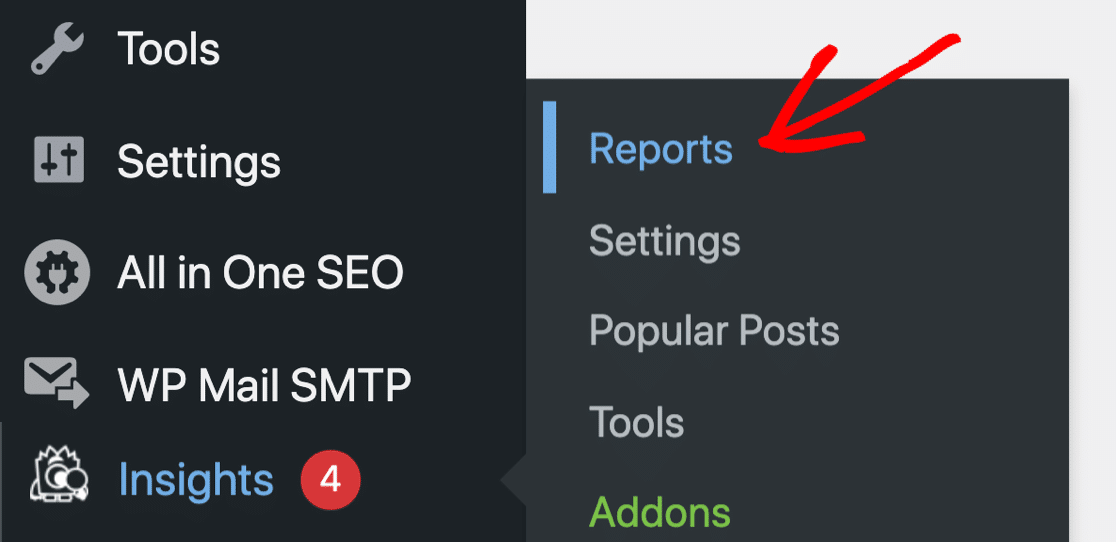 Click the Forms heading to see a conversion report that covers every form on your site.

You can view the data here or export to PDF.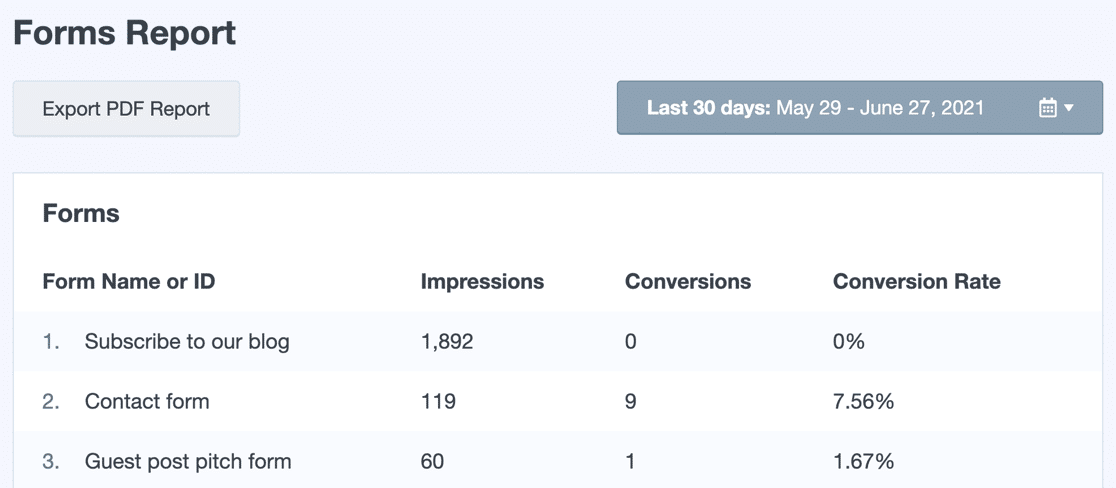 To track your form views and conversions, log in to your Google Analytics account.
In the left-hand menu, navigate to Behavior » Events » Overview.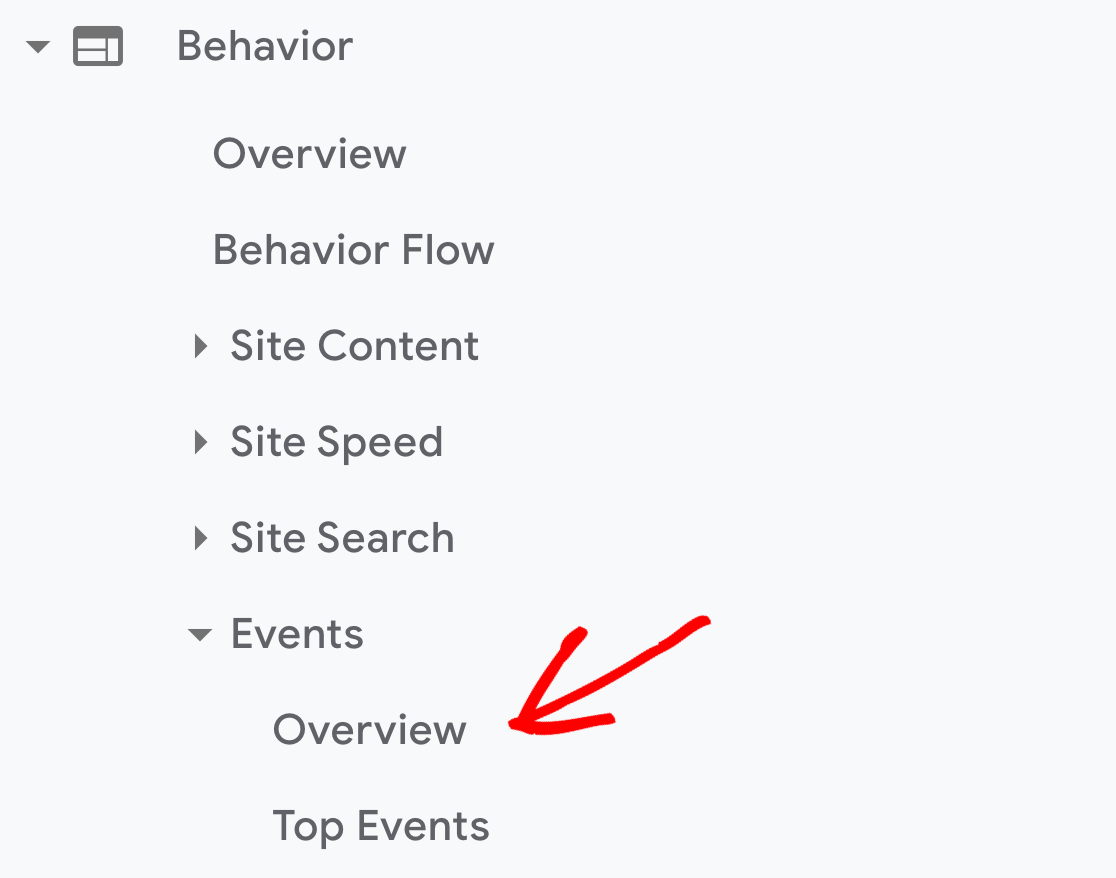 This is the area of Google Analytics where button clicks and other events are tracked.
In the Event Category column, click on Form.

And now change the primary dimension to Event Action by clicking the link just above the table.

Under Event Label you'll see each form ID along with the number of submissions it received.
You can also see which pages drive the most contact form submissions. To do that, click Conversion in the list.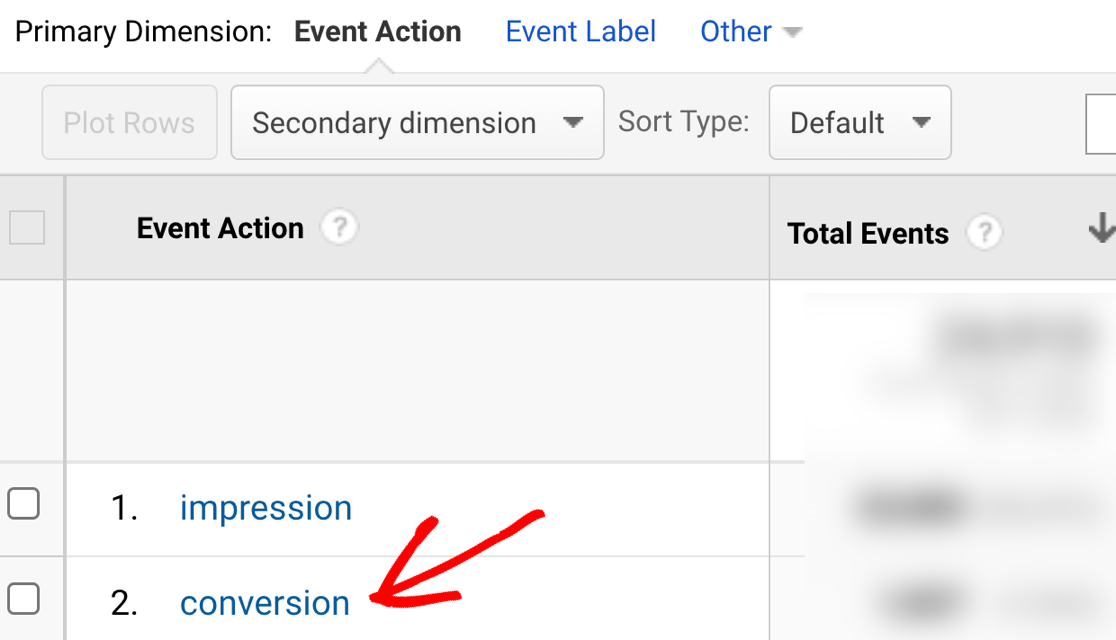 Then click the Secondary dimension dropdown menu, and then select Page.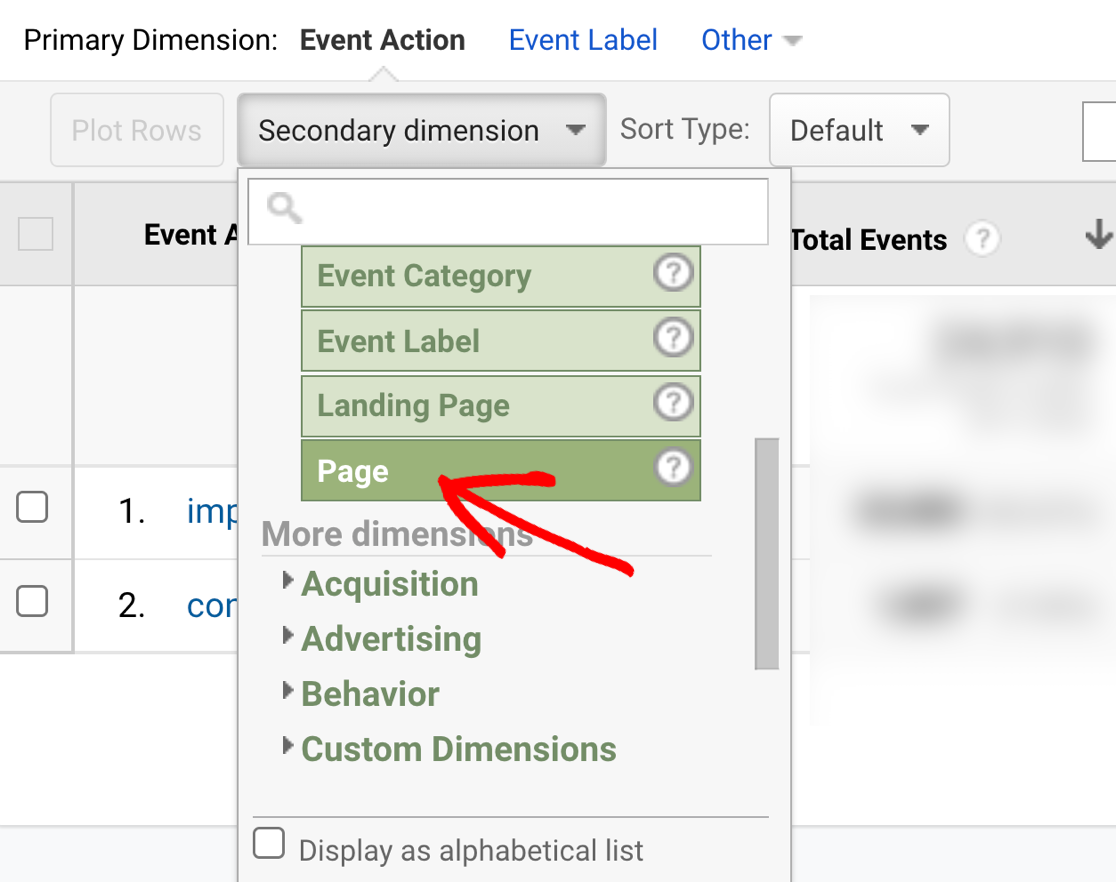 You can now easily see the high converting pages on your site!
2. Get Insights With the User Journey Addon
Did you know that WPForms has its own statistics addon?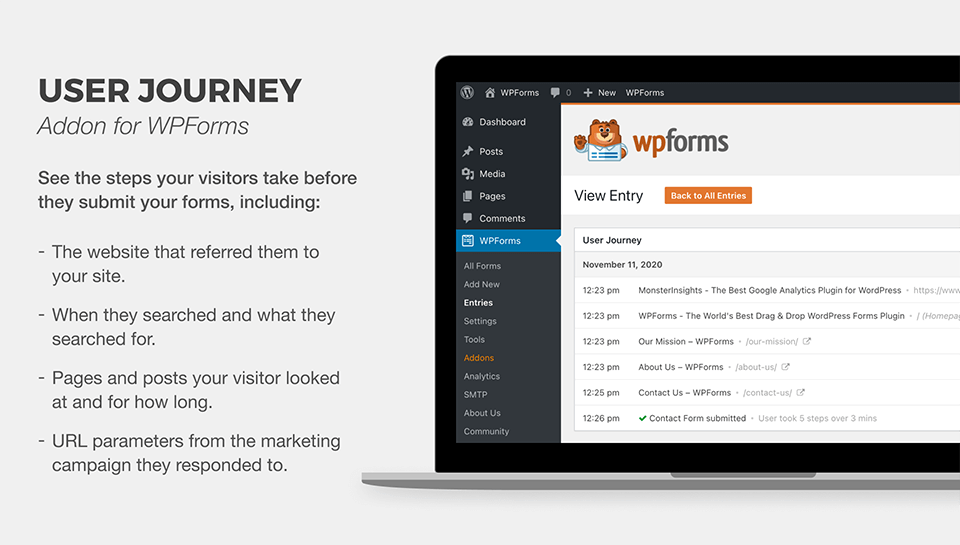 Our User Journey addon shows you what each user did on your site before they submitted your form.
For example, you can see:
Time visited
Pages and posts visited
Time spent on each page
Referrer information
UTM tags
And more.
Each step is timestamped so it's easy to see which pages are getting engagement and generating form conversions.
All of this valuable information is stored right next to their entry in the WordPress dashboard too. That makes it easy to access without logging into a separate dashboard.
The User Journey addon is available for our Pro license holders (or above). You don't have to set up Google Analytics or add a tracking code. Download the addon and activate it and you're done!
3. Use Thank You Page Tracking to Monitor Google Analytics Form Submission
If your form redirects users to a Thank You page after they submit it, you can keep track of your form conversions by looking at how many people visit your Thank You page.
WPForms makes it easy to set up your Thank You page. All you have to do is select Show Page as the confirmation type in the form builder.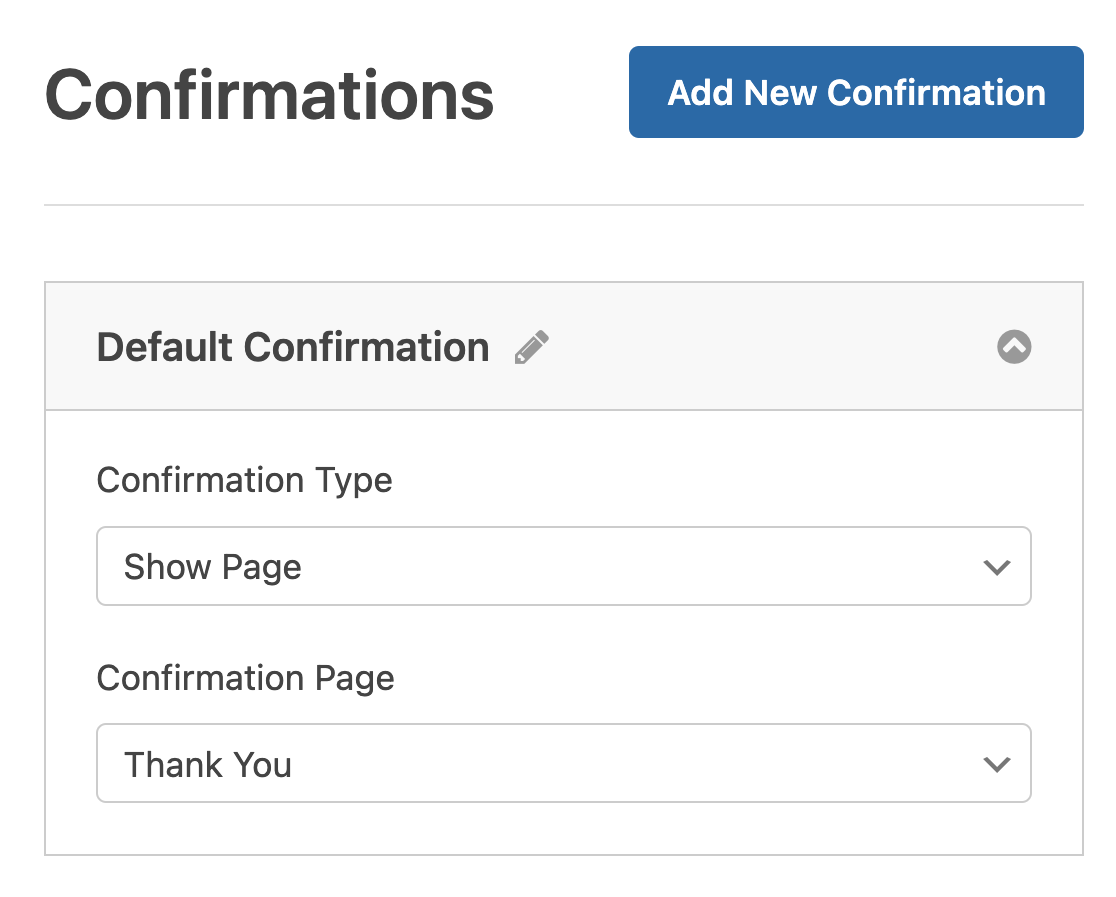 For a step-by-step guide, see our post on how to create a Thank You page.
Once you've set up your form's Thank You page, you can install the MonsterInsights plugin like we did in the first Google Analytics form submission tracking method.
You don't need any addons to see pageviews. Just go to MonsterInsights » Overview in your WordPress dashboard. If you scroll down to the bottom, you'll see the pageviews for your most popular pages.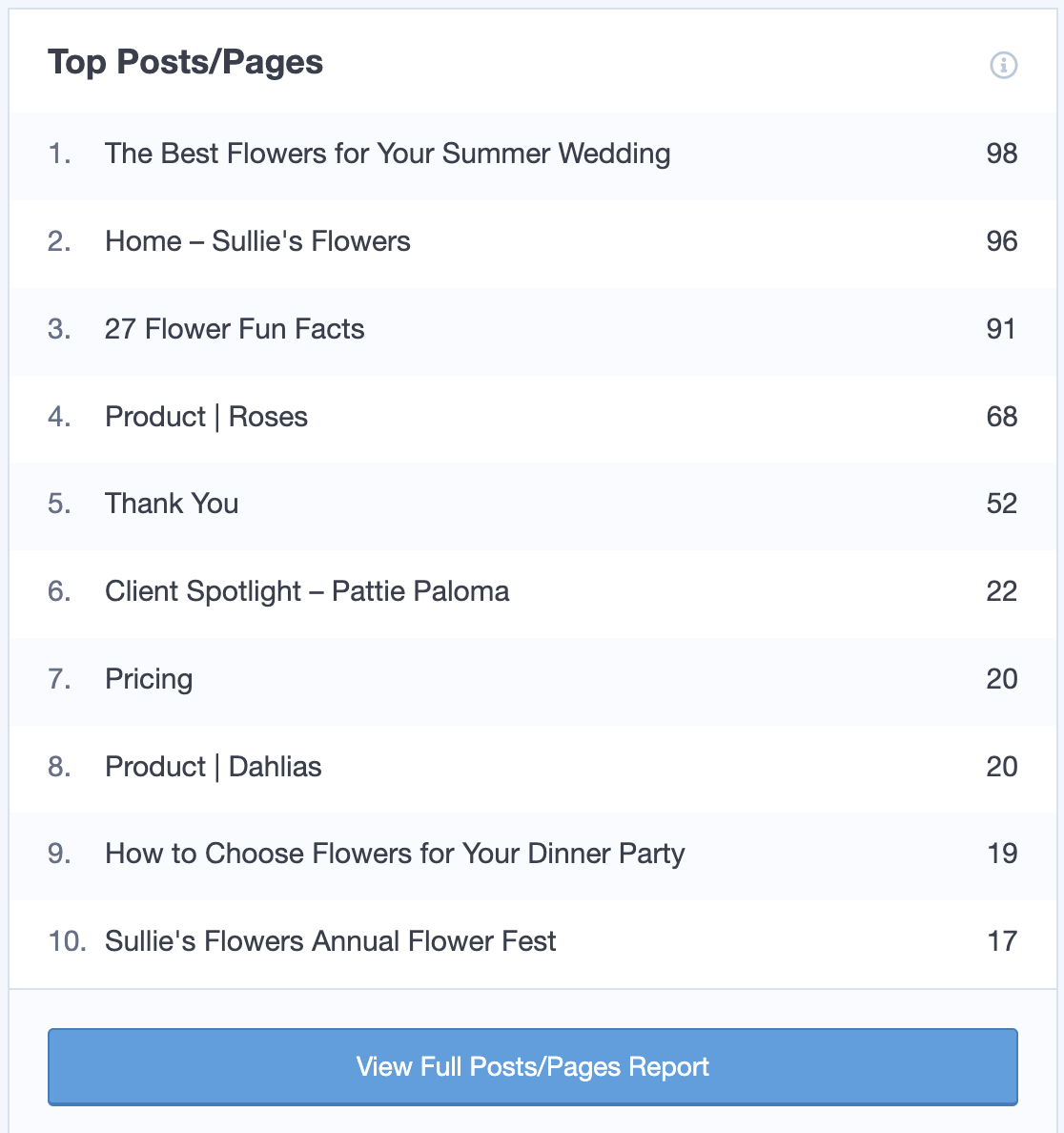 You can scroll through these pages to find your Thank You page, or click the View Full Posts/Pages Report to open this data in Google Analytics.
If you've set up your Thank You page so that the only way to easily navigate to it is by completing your form, you can measure form submissions by tracking pageviews for it.
4. Track Google Analytics Form Submission Events for WPForms Manually
If you want to track WPForms conversions without a separate plugin or addon, there's a 3rd method that you can try.
It's possible to hook into wpforms_process_complete to track form submissions in Google Analytics. Since this involves modifying code, we'd recommend this as an option for advanced users. You also won't be able to see your data in your WordPress admin area if you use this method.
To learn more, check out this developer doc on how to track form submissions without a plugin.
Create Your WordPress Form Now
Next, Track Button Clicks in WordPress
And that's it! You now know how to use Google Analytics to track form submissions in WordPress. You can use MonsterInsights to track button clicks in WordPress as well.
After that, try tracking form submissions with a Facebook Pixel.
What are you waiting for? Get started with the most powerful WordPress forms plugin today.
If you like this article, then please follow us on Facebook and Twitter for more free WordPress tutorials.