Would you like to create a WordPress contact form in under 5 minutes? WPForms is so beginner friendly and easy to use that most users can create and publish a brand new form in just minutes. The WPForms Challenge gives you a chance to try this for yourself, and helps to guide you through the form creation process.
---
Starting the WPForms Challenge
Before beginning the WPForms Challenge, make sure you've installed and activated WPForms. Once the plugin is installed and activated, you'll be ready to get going!
To start the challenge, click on WPForms in the left WordPress menu. As long as this is a new install, you'll see the challenge in the lower right corner of the page.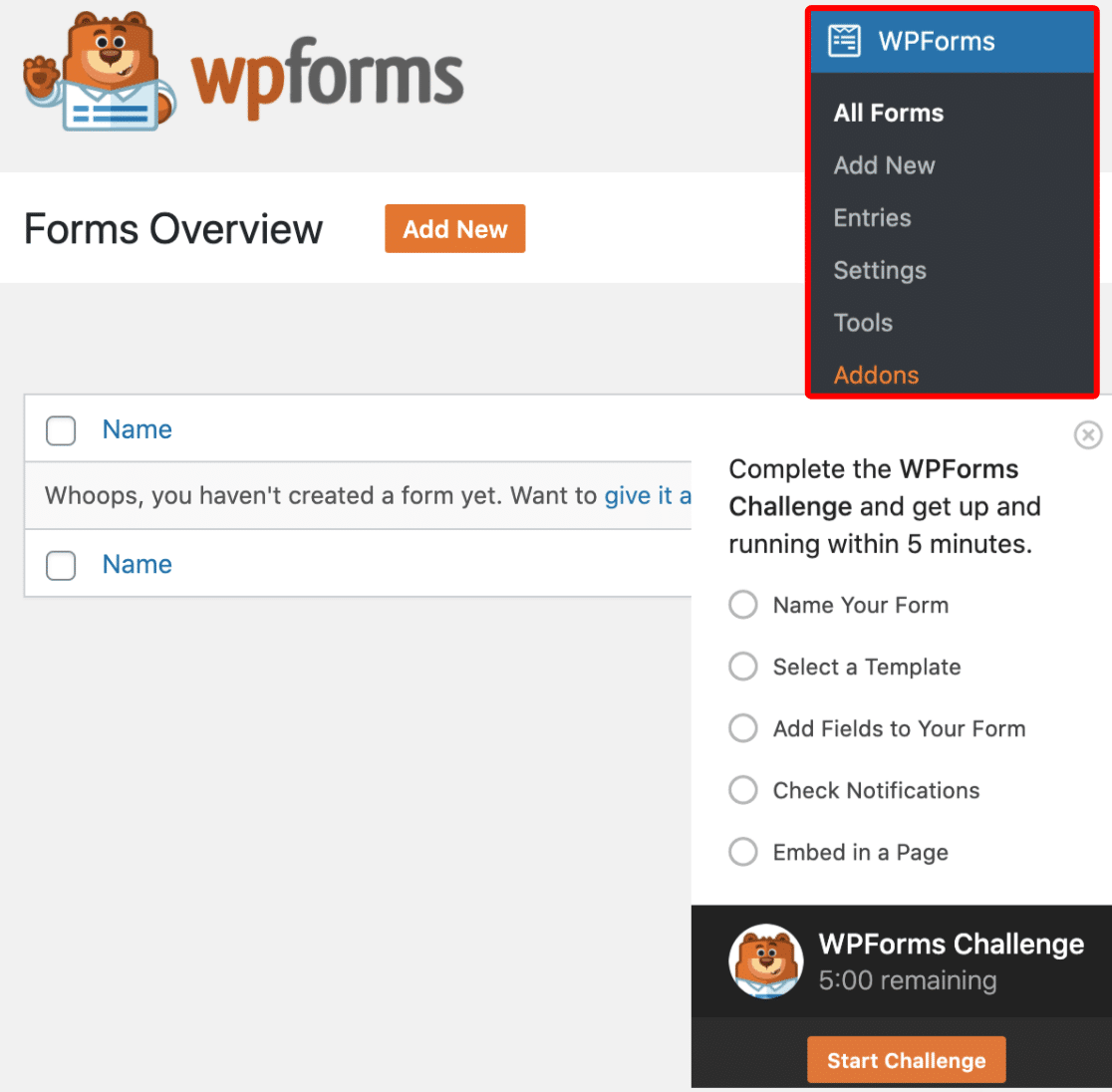 Here are all of the steps you'll go through within the challenge:
Naming Your Form
Selecting a Template
Adding Fields to Your Form
Checking Notification Settings
Embedding in a Page
When you're ready to start the timer, you can click the Start Challenge button.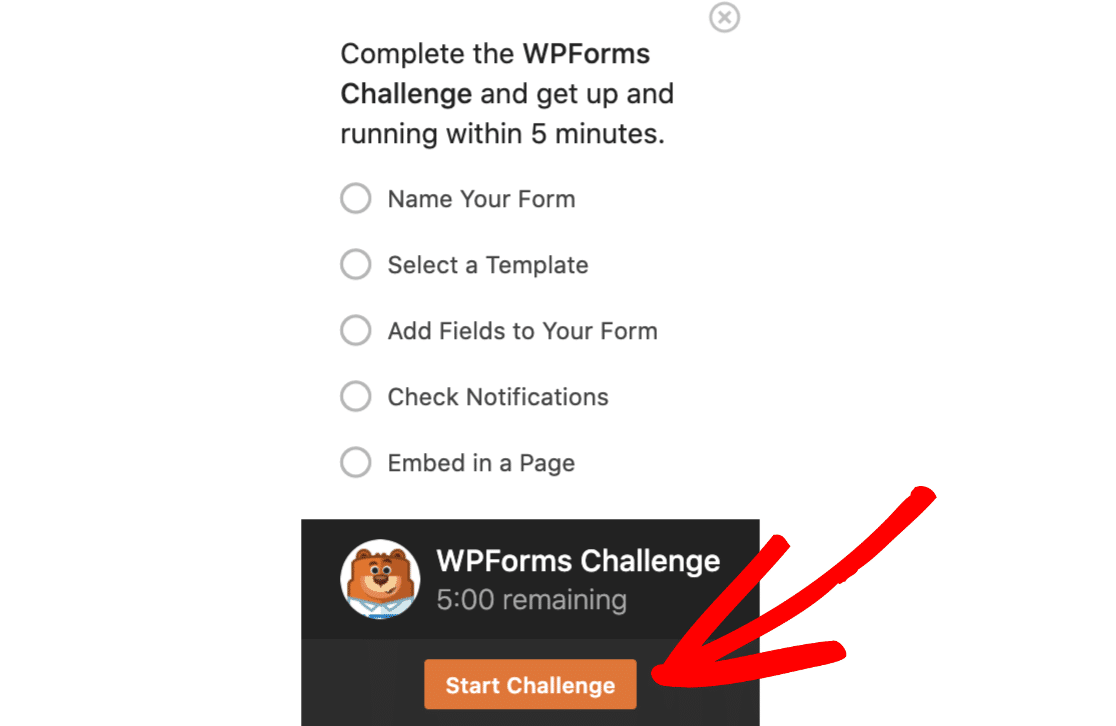 1. Naming Your Form
As soon as you start the challenge, the form builder will open for you. At the top of this page, your first step in the challenge is to add a name for your form.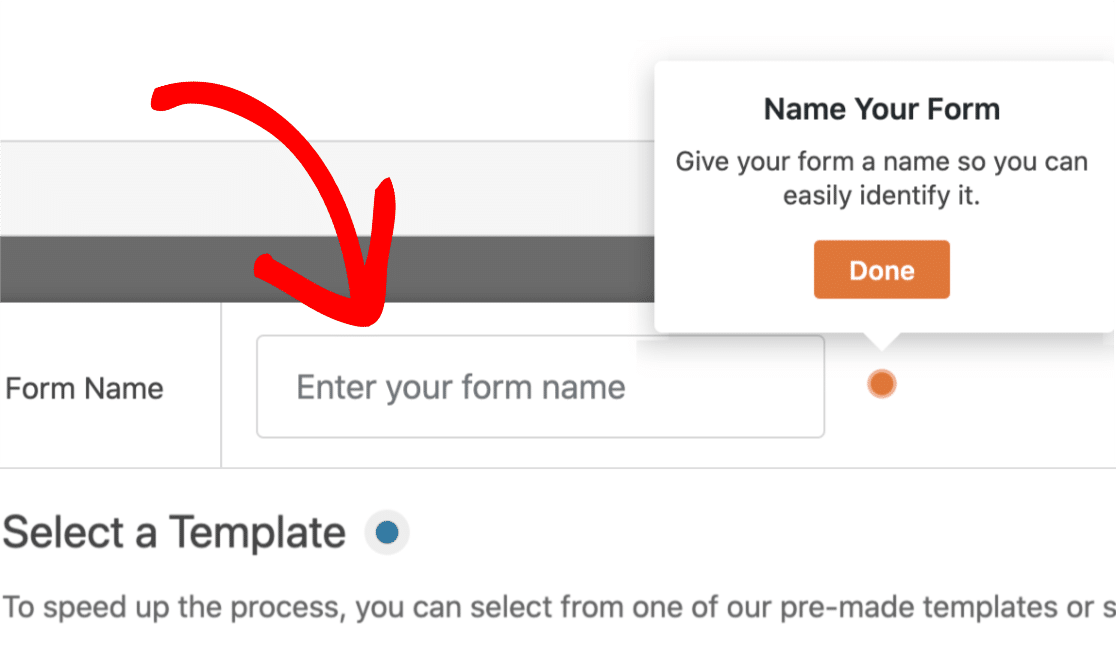 You can decide later whether or not to display this form name when the form is embedded on your site, but the name will also help you to easily distinguish your forms in the admin area.
For our example, we'll name the form Contact Us.
Once you've entered a form name, go ahead and click the Done button in the guide box.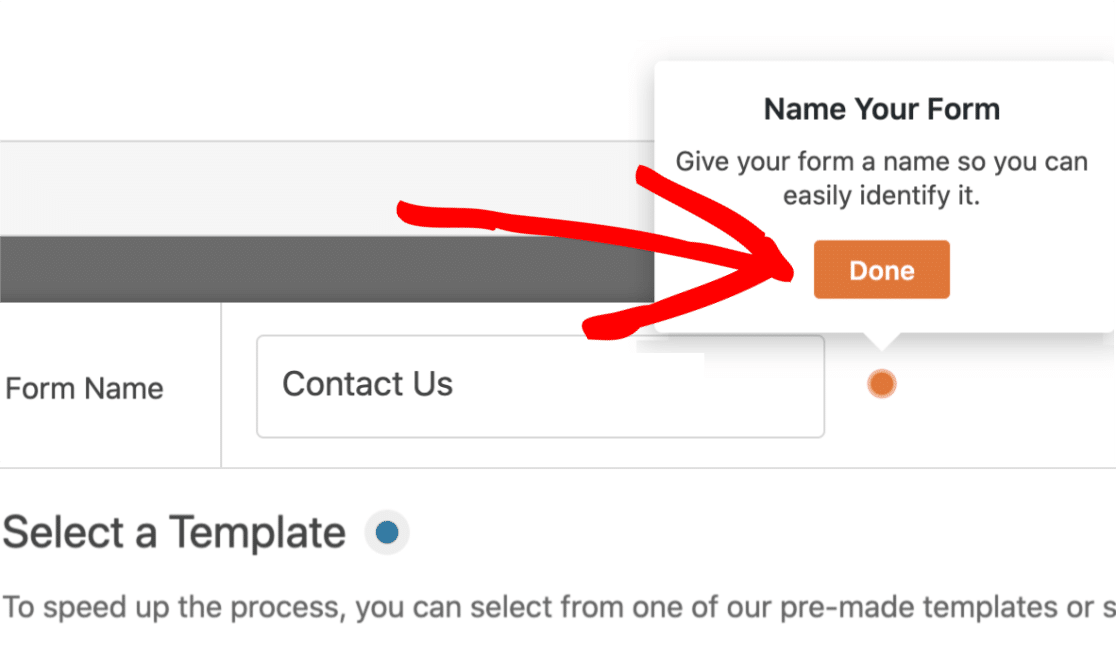 2. Selecting a Template
After adding a name for your form, the next step of the challenge is to choose a form template.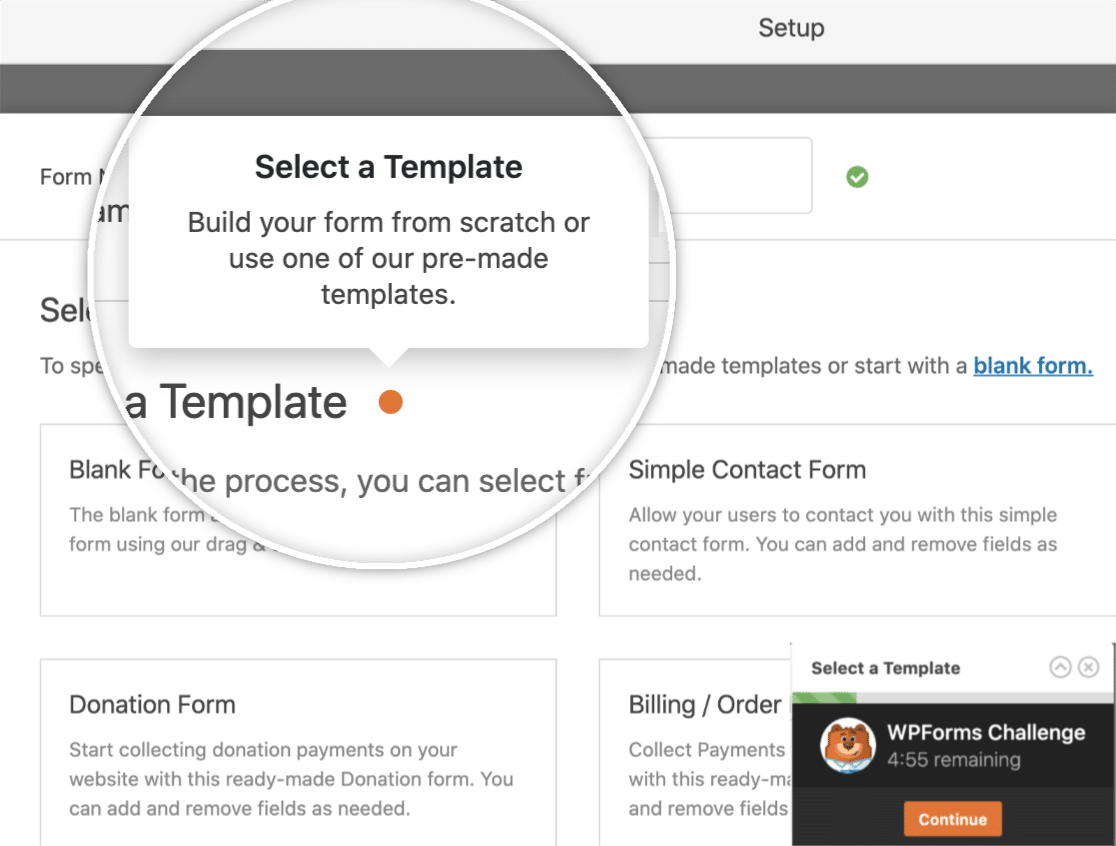 Once you've identified the template you'd like to start with, click on it to open the form builder. For our example, we'll select the Simple Contact Form template.
3. Adding Fields to Your Form
The template's form fields will provide a useful starting point, and in many cases already include all of the fields you need. However, if you'd like to make changes, you can add, delete, move, or rename any fields.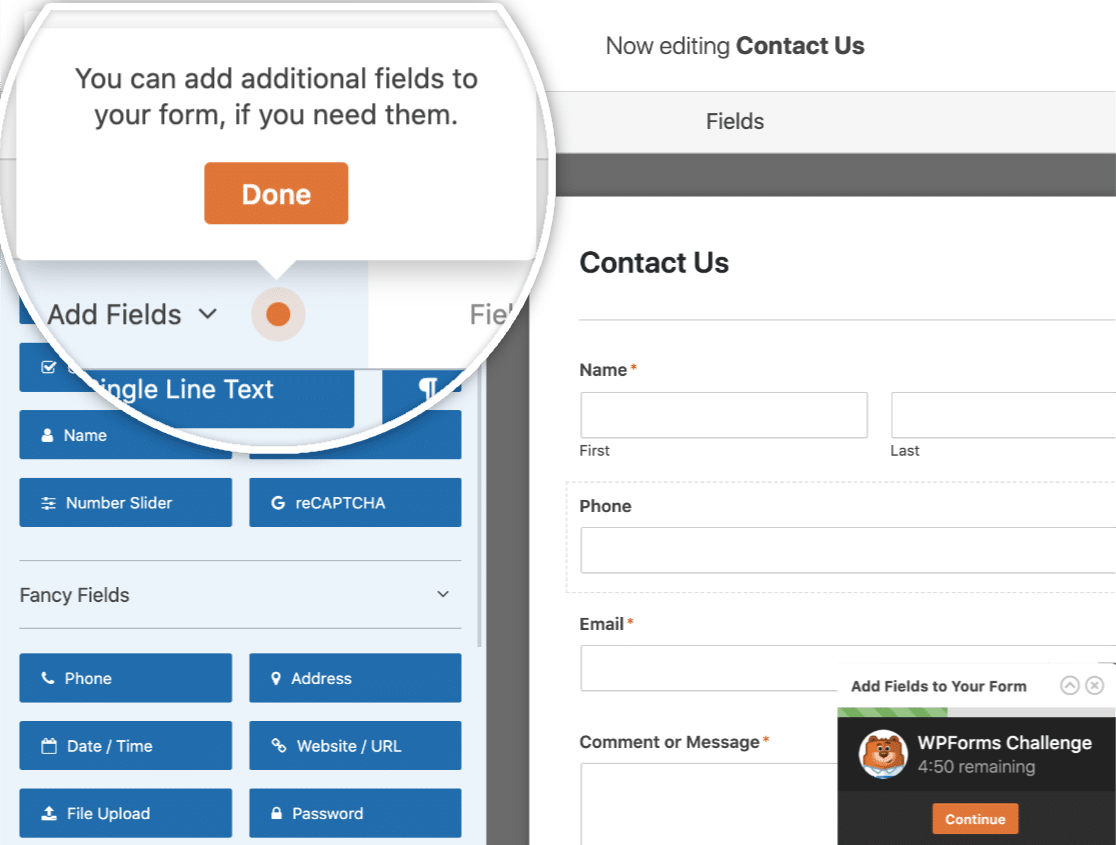 To add a new field, simply click and drag it into the form.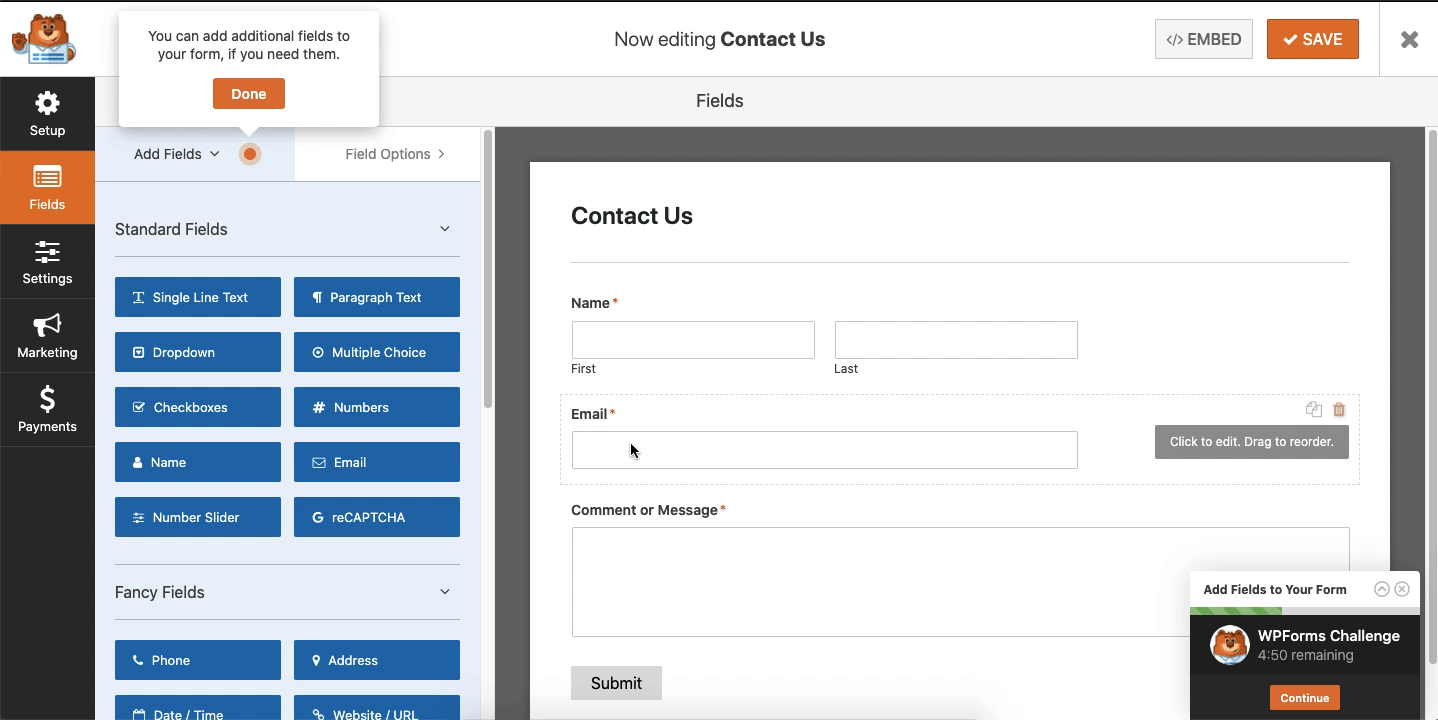 When you're ready, click the Done button to move to the next step of the challenge.
4. Checking Notification Settings
Now that your form fields are all set, the next step is to set up notification emails. These are the emails that get sent out immediately after the form is submitted, and are most often used to let the site admin know that they have a new entry.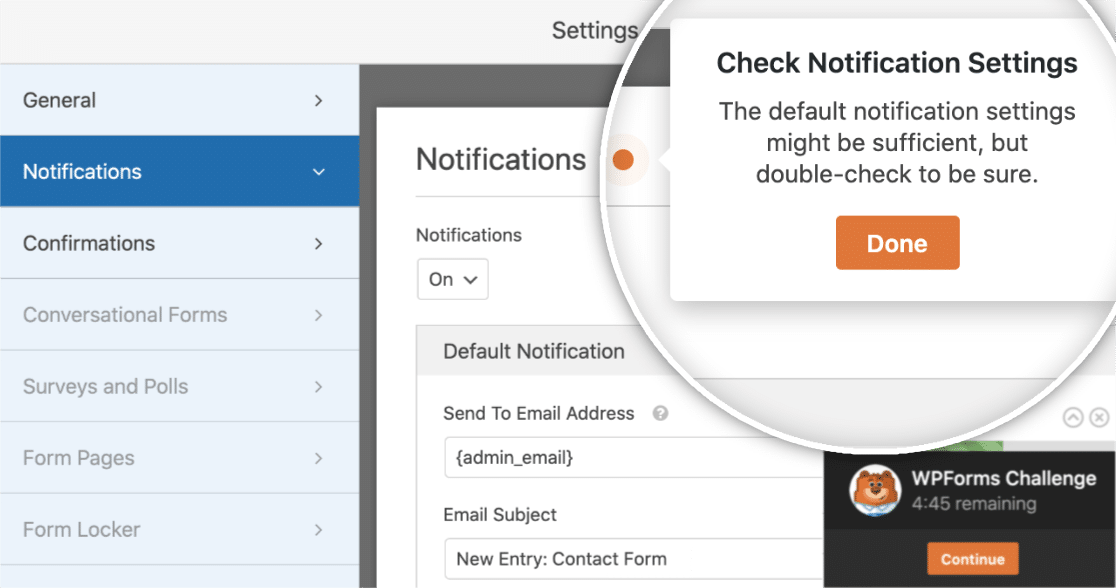 The default settings will send an email to the site administrator and include all form entry details, and are designed to work well for most cases. If you're unsure whether you should make changes, you can check out our notification email setup tutorial.
When you're done checking out these settings, click the Done button.
5. Embedding in a Page
For the last step of the WPForms Challenge, you'll embed the form on a page.
There are two main options for how to embed your form: creating a new page, or adding the form to an existing page on your site.
Additionally, if you'd like to manually embed your form, or embed your form with a shortcode, you can do that from here as well.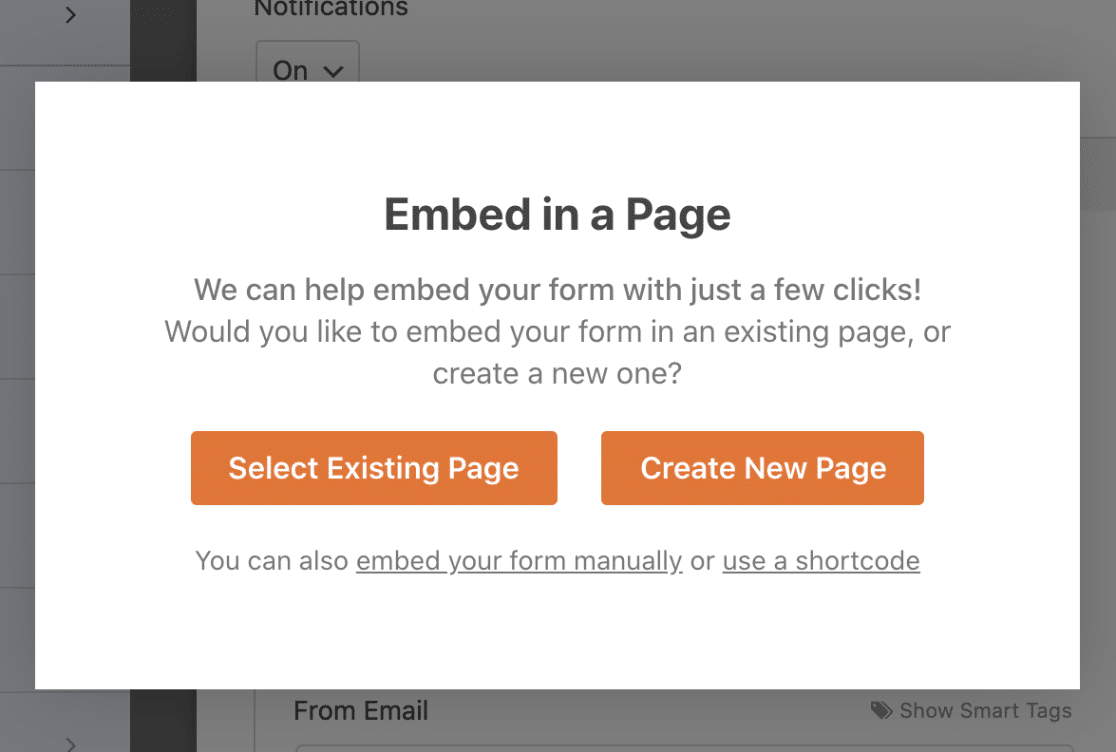 Creating a New Page
This option will allow you to create a brand-new page on your site. Once the page is created, your form will automatically be embedded, and the page will be published.
Once you've selected the Create a New Page option, you'll be prompted to name the page.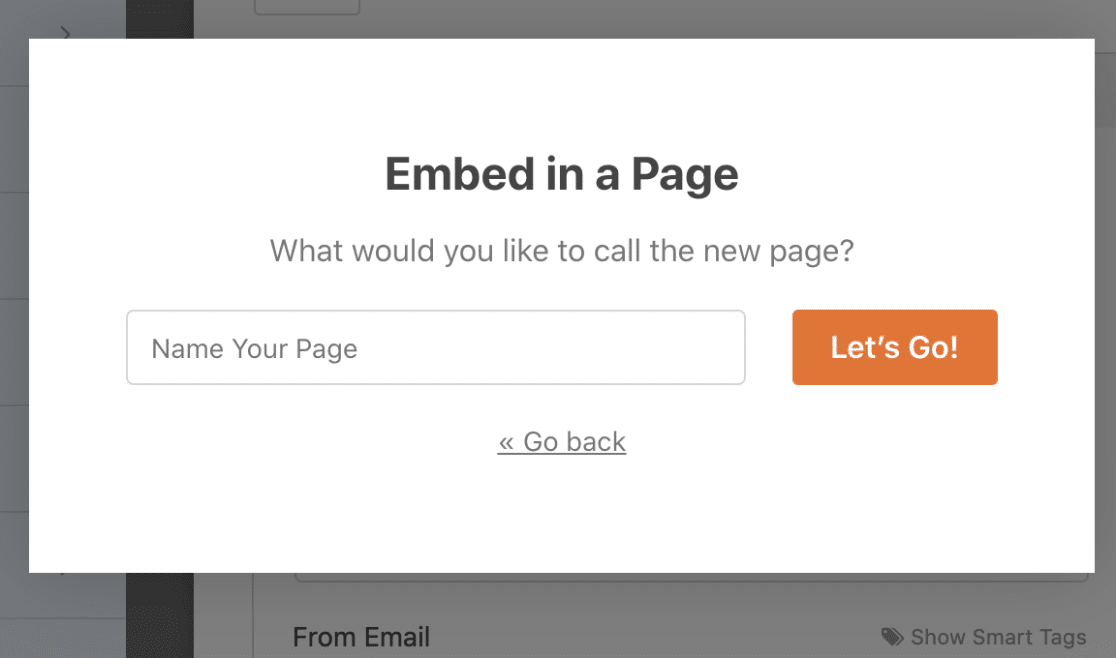 Once you've added a name, go ahead and select the Let's Go! button to embed your form and publish your page.
Adding to an Existing Page
This option will allow you to embed your form directly into a page that you've already built.
After selecting this option, a dropdown menu will appear with a list of all pages on your site. Go ahead and choose the page you'd like to add your form to.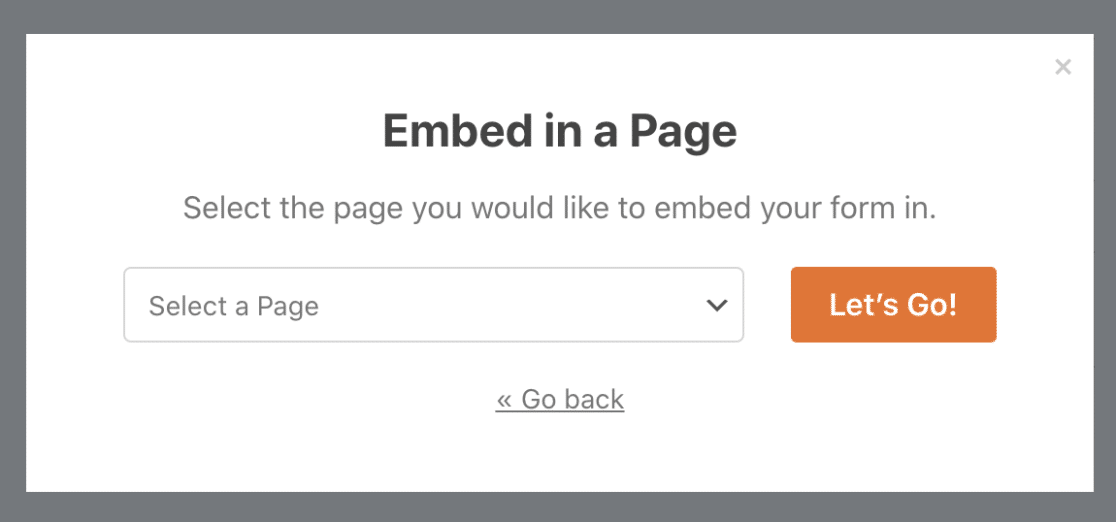 Then, click Let's Go! to open up your page's builder.
Within your page builder, you'll need to click the Add Block button, which appears as a +(plus) symbol at the top of the builder.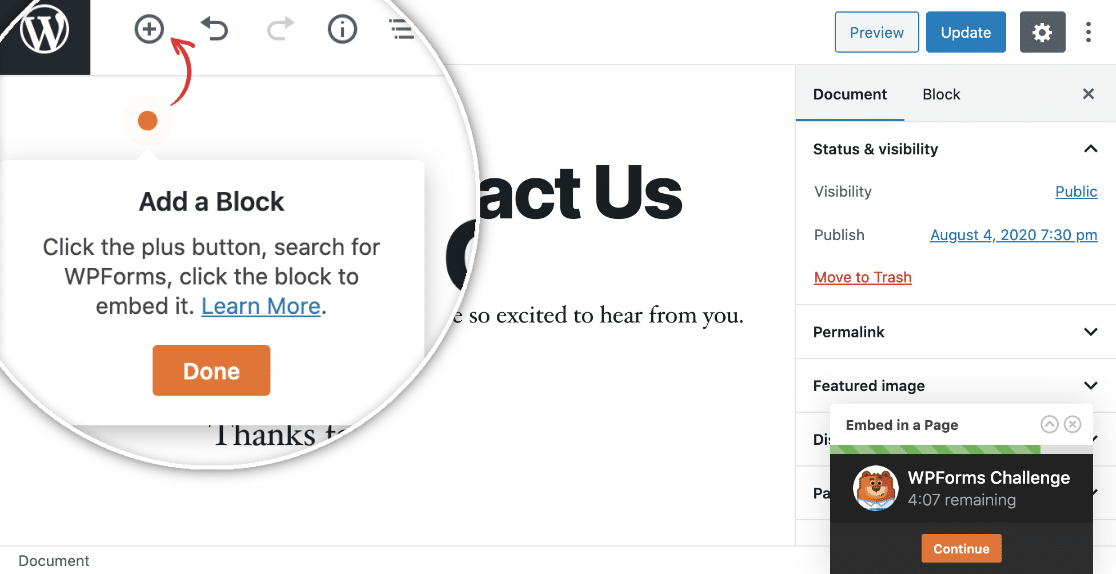 After clicking this button, an overlay box will appear. From there, navigate to Widgets » WPForms.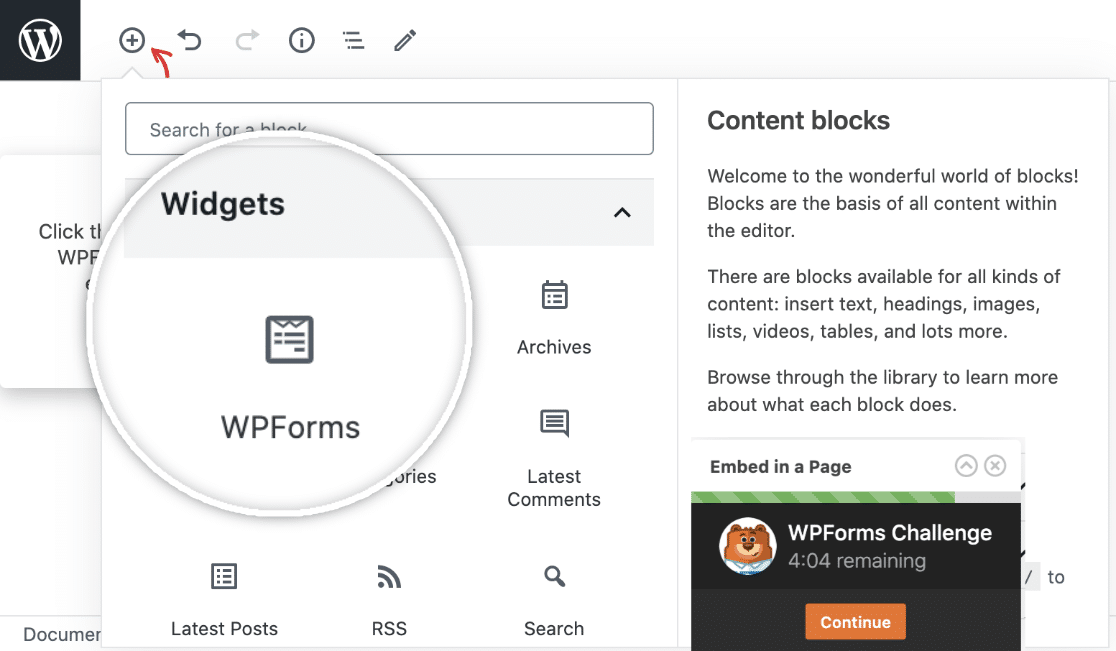 You can then select the form you'd like to embed to your page from the dropdown that appears.

After you've selected your form, it will automatically get embedded into the page.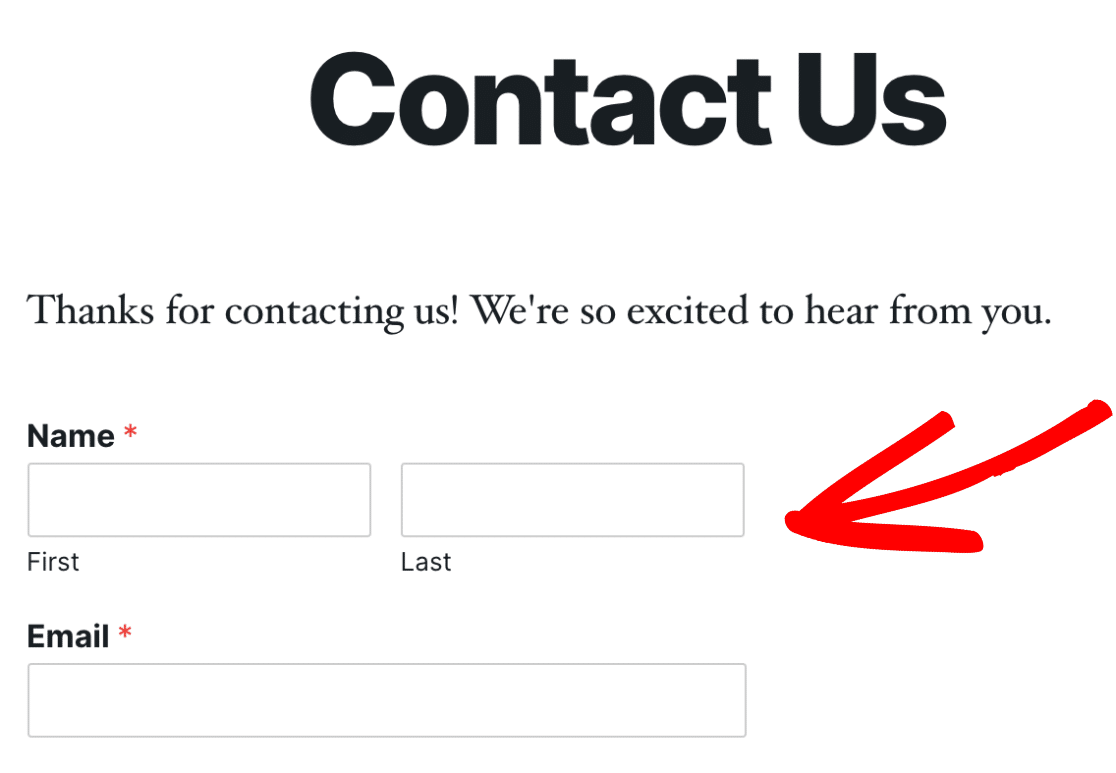 Once the form is in place, you can click the Done button and you've completed the challenge!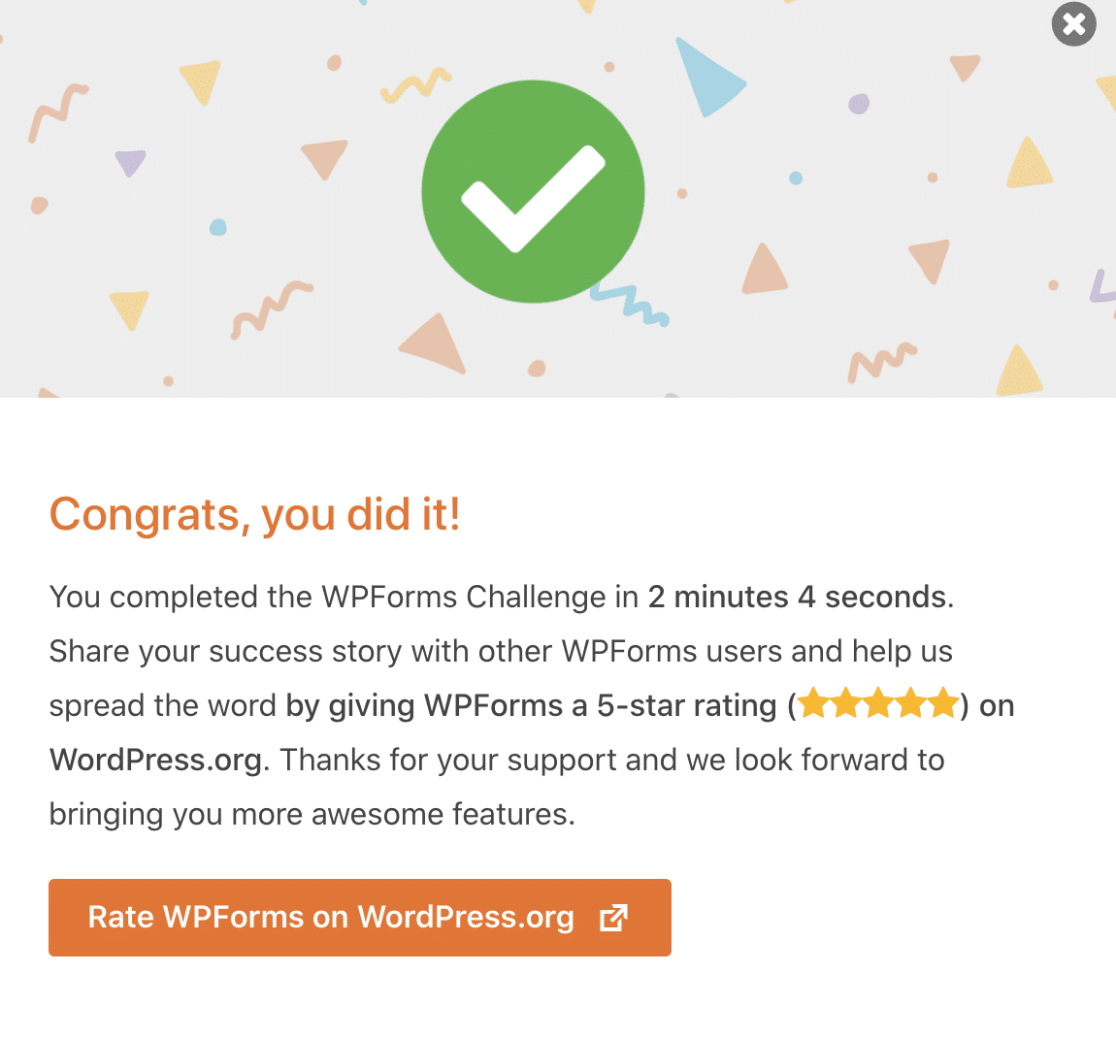 We hope that you enjoyed the challenge and were able create your first form in under five minutes!
Next, we'd recommend testing out your form to make sure it looks and works exactly how you'd like. To help guide you through this process, please be sure to check out our form testing checklist.