Documentation, Reference Materials and Tutorials for WPForms
How to Install and Activate WPForms Addons
Would you like to access WPForms addons to extend the functionality of your forms?
The first thing you need to do is install WPForms. Once that's done, let's go ahead and look at the process of activating addons.
How to Access the WPForms Addons Page
First, log in to your WordPress Admin panel and select your WPForms menu item. Then, click on the Addons link which will take you to the WPForms Addons screen.
Once there, you'll see all addons available with your license level.

How to Install and Activate Addons
At the Addons screen, simply click on the Install Addon button located in each addon.

If you don't see any addons, click on the Refresh Addons button and that should fix the issue for you.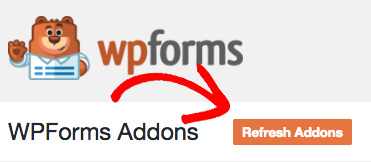 Once the addon has been installed, click on the Activate button, so the addon is activated and ready for use.

Congratulations, you've now installed and activated your addons!
Now that you have the addons installed and activated, you are ready to start creating your forms.