Do you want to know how your Google Ads (formerly known as Google Adwords) campaigns are really doing?
If someone clicks on your ad but never actually finishes converting on your website, that means you're wasting time and money on ads.
In this article, we'll show you how to track WordPress form submissions as Google Ads conversions so you can see exactly how many leads your ads are bringing in and converting.
If you're using a WordPress lead generation plugin like WPForms, it's easy to track conversions from your Google Ads campaigns – here's how.
Step 1: Link Google Ads to Google Analytics
In order to set up Google Ads conversion tracking of your WPForms, you need to link your Google Ads account to your Google Analytics account.
To start, log into your Google Analytics account and click on the Admin tab in the lower left corner.

Under both the Account and the Property columns, make sure the right Google Analytics account you want to link is selected. If not, click on the dropdown to search for another account.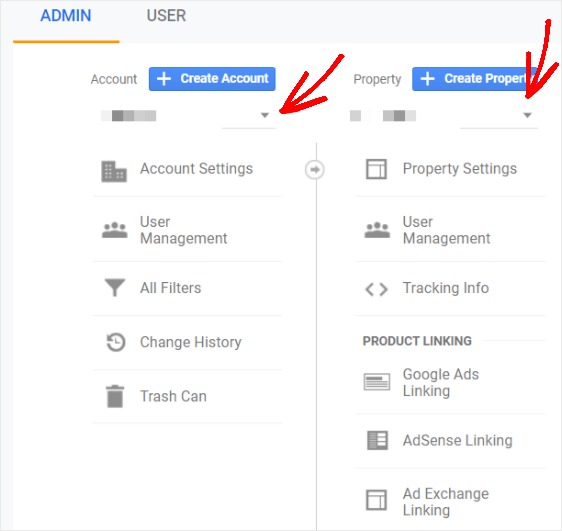 After that, look under the Property section and click on Google Ads Linking.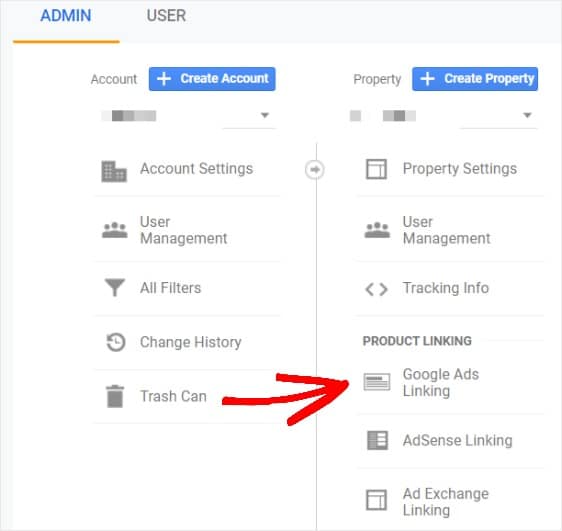 Here you'll see every Google Ads account you have set up. Choose the one you want to link to your Analytics account and click Continue.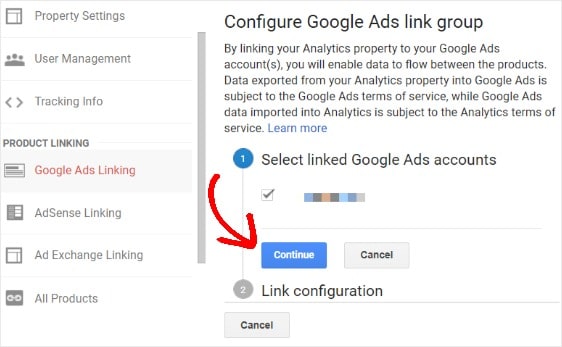 Next, a box will pop up under Link configuration. Give your Link Group a title and toggle the view On.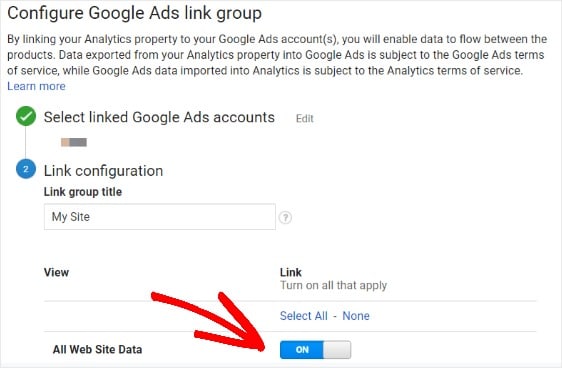 Click on the Link Accounts button.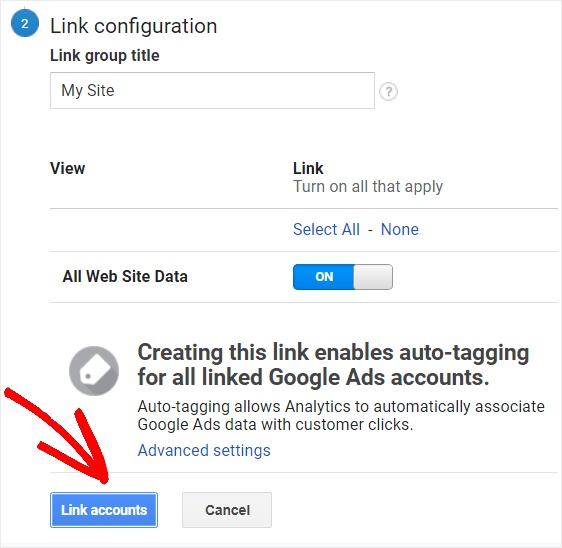 Your Google Analytics and Google Ads accounts are now linked. In other words, data can now flow between them thanks to the built-in auto-tagging feature that lets Google Analytics know when a site visitor lands on your site after clicking on an ad.
Step 2: Create a Google Analytics Goal
In order to see data collected by Google Analytics in your Google Ads account, you need to create an Analytics goal first.
Setting up a Google Analytics goal gives you the chance to track specific user behavior on your website. For example, button clicks, ebook downloads, and in our example, form submissions.
While in your Google Analytics account, click on the Admin tab in the lower left hand corner.

After that, go to the 3rd column to the right (the View column) and click on Goals.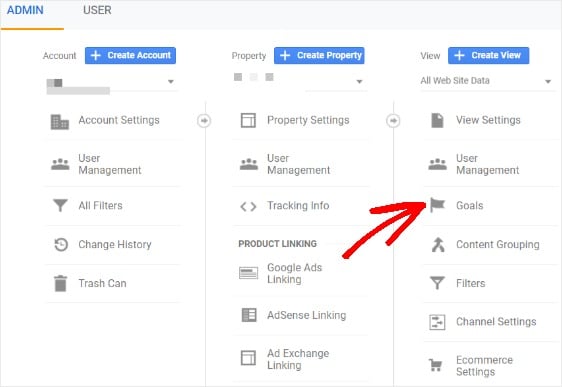 To create a goal, click the + New Goal button.

Next, choose the goal setup you want to use. You have the option of choosing Template or Custom. Template will be selected by default.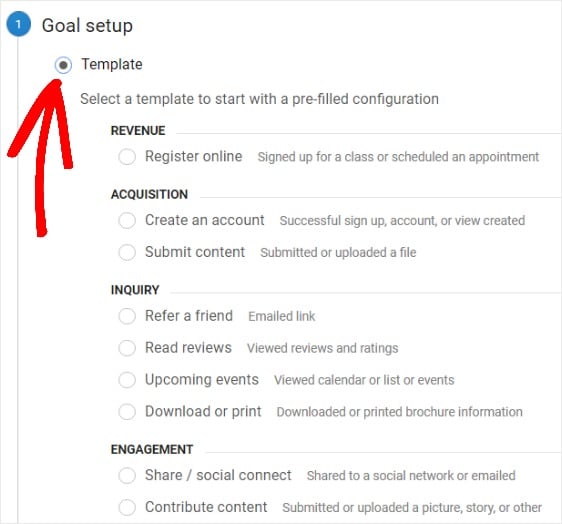 Scroll down and select Custom and Continue.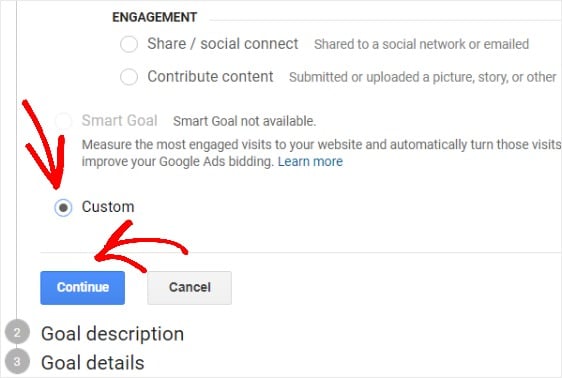 On the next screen, give your goal a name and choose a goal type. You can choose from Destination, Duration, Pages/Screens per Sessions, and Event.
Because you're tracking Google Ads form conversions, you could choose Destination as your goal type if you redirect users after submitting their forms to another URL.
You could also choose the goal type Event and measure how many people click "Submit" on your WordPress form.
If you want an easier way to track your WordPress form conversions, we recommend using the MonsterInsights Forms Tracking Addon. This will automatically track all your form conversions for you – no need to set anything up in Google Analytics. It can also help you track links and button clicks in WordPress.
For this tutorial, we'll select Destination. Just remember, if you're using Destination as a goal type, you'll need to have a thank you page set up for users to be sent to once they have submitted your form.
When you're done, click Continue.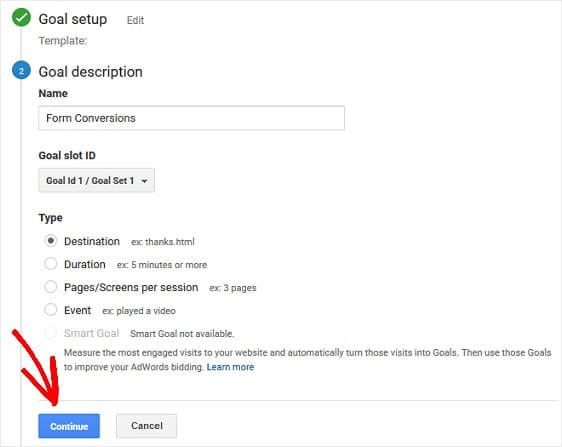 Next, enter the URL that users will redirect to upon form completion, such as your thank you page.
If you're tracking eCommerce transactions, you have the option here to assign a monetary value to each form submission. You can also assign a specific funnel of pages you want each user that submits a form on your site to follow afterwards. In addition, you can click on Verify Goal if you want to measure how often you might expect this goal to convert based on your data for the past 7 days
After that, click Save.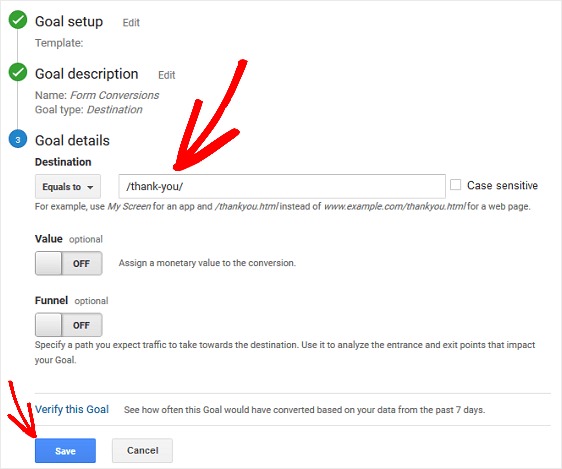 Step 3: Import Goals into Google Ads Account
Now that you have created a goal in your Google Analytics account, you need to import your goal into your Google Ads account.
In other words, you need to let Google Ads know that Google Analytics is tracking a specific goal, and have it ask Analytics for the data it collects.
Start by logging into your Google Ads account.
Navigate to the tool icon at the top right-hand corner of the main page. Now, click on the Measurement dropdown menu and click under Conversions.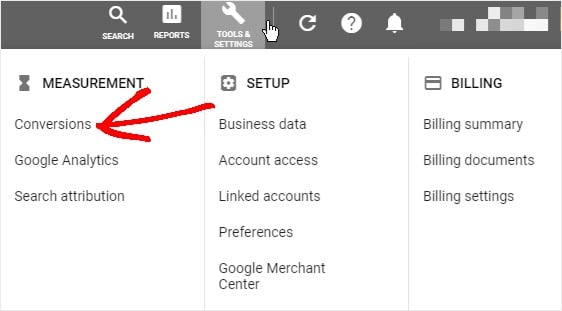 Click on the blue (+Conversions) button to add your goal to Google Ads and select which type of conversions you want to track. You have the following options:
Website. Track sales and other actions on your website.
App. Track app installs and in-app actions.
Phone Calls. Track calls from your ads or your website.
Import. Import conversions from another system.
Since you're tracking form conversions in Google Analytics, click on Import.

Under Select what you want to import, click Google Analytics. Then click Continue.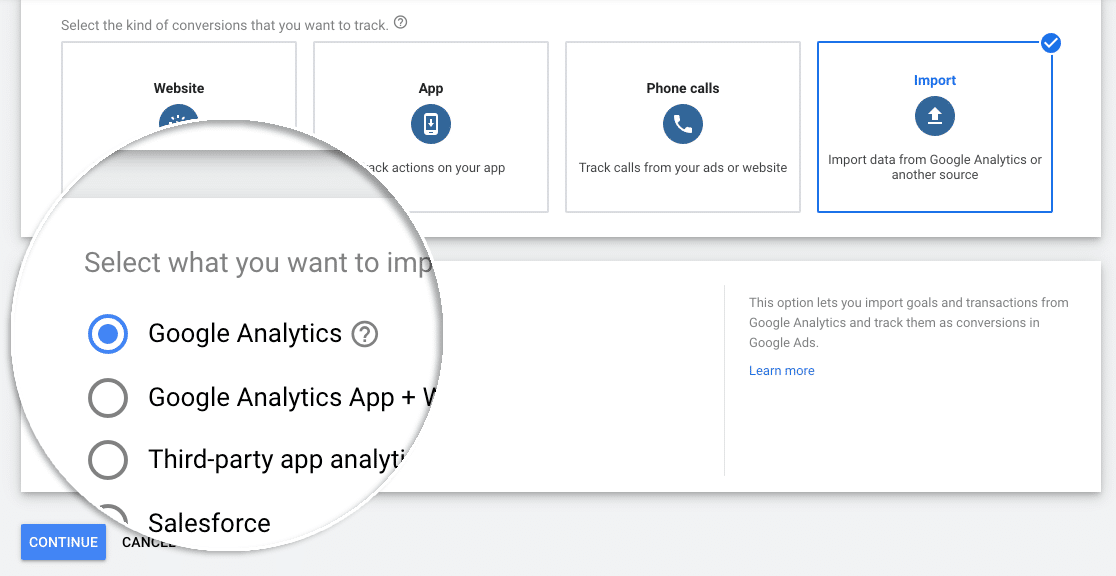 Finally, check the Goal that you created in Step 2.

Step 4: Check Your Goal
If you want to see your Goals being tracked, the easiest way is to use the Realtime view in Google Analytics.
Monitor your site under Realtime » Conversions and you should see your Goal being completed right after a visitor clicks Submit on your form.

Final Thoughts
And there you have it! You have successfully set up Google Ads conversion tracking in your WPForms.
Now whenever a site visitor signs up after clicking on an ad and entering your site, you'll be able to see the Google Analytics data right in your Google Ads account.
You can use a similar technique to:
If you liked this article, be sure to check out this guide on the best email marketing services so you can start launching your email campaigns as you build your email list.
And as always, don't forget to please follow us on Facebook and Twitter.