Want to be inspired for your own website by some great thank you page examples?
When set up correctly, a good thank you page can help you track form submissions while also impressing your leads.
So in this post, we'll show you some of the best thank you page examples out there that you can use to help create your own.
Here's a table of contents if you'd like to jump ahead:
Why Create a Thank You Page
If you're using the WPForms plugin for your forms, you can either show a confirmation message to your visitor or direct them to a thank you page after they fill out a form.
Showing a confirmation message beneath your form is the easiest way to confirm your visitors that the form is being submitted successfully.

However, using a thank you page instead of this confirmation message has lots of benefits. Some of them are:
Better tracking: You can track the conversion rate of your form by using Google Analytics. By tracking the conversion rate, you can see if changes to your form are boosting your form conversions.
Increase engagement: You can customize your thank you page by integrating useful links to various resources on your site. This way, you can increase your visitor engagement.
Boost customer loyalty: Creating a customized thank you page gives you opportunities to boost customer loyalty by creating a deeper connection with visitors who reach out to you.
So now that you see why you should use a thank you page on your forms, let's check out how to create one.
How to Create a Thank You Page
The easiest way to create professional-looking thank you pages is to use the SeedProd plugin. It's the best landing page builder for WordPress.
Plus, they offer some stunning templates to inspire you to build your own thank you page.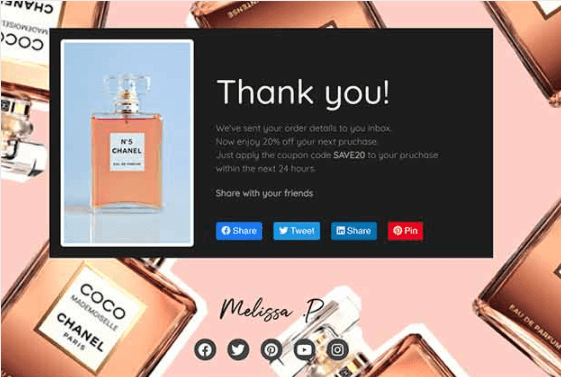 Can you picture how great it looks to a visitor when they are sent to the page above after they fill out your form?
Check out how to make a thank you page in WordPress to see step-by-step instructions on how to easily make one of these awesome pages using the SeedProd landing page builder.
And once you've made your thank you page, simply redirect users to it using WPForms.
Since we know visually stunning thank you pages like the one above make a huge impression on your leads and customers, so let's take a look at great some thank you page examples next.
Perfect Thank You Page Examples
Here are some great thank you page examples we've rounded up from around the web.
1. Thank You Page Example With Video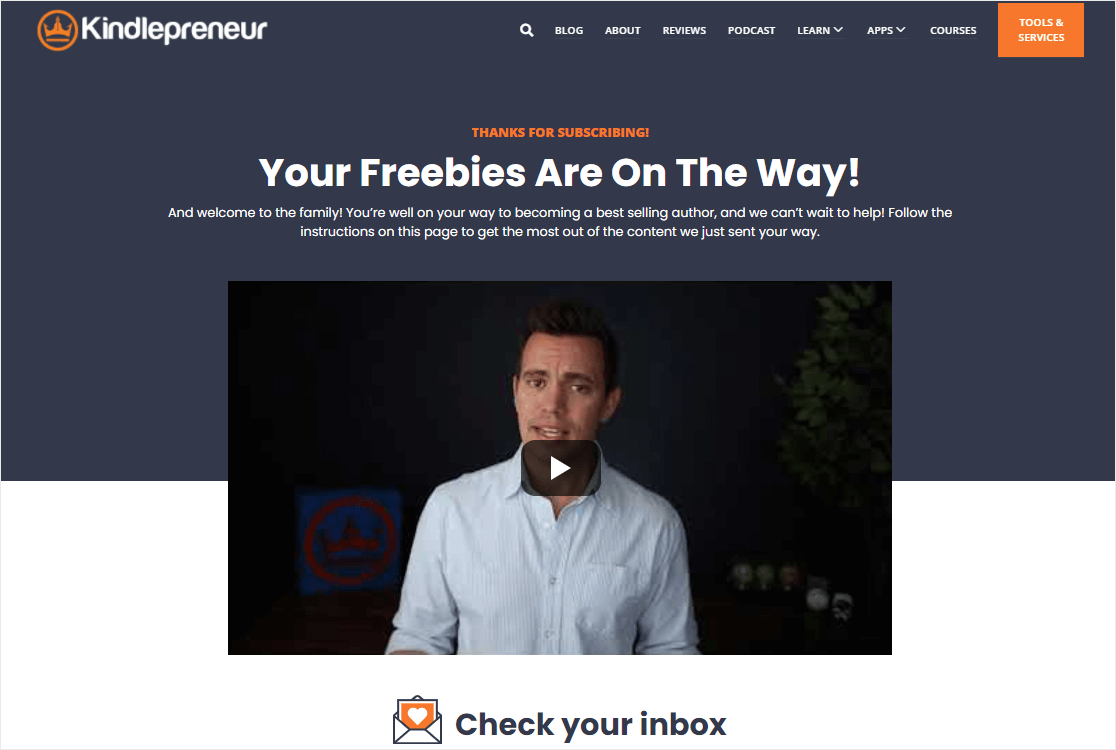 One very cool thing you can do with you thank you page is using a video, like in this example.
The best landing page builders for WordPress like SeedProd will let you easily add a video onto your thank you page. This is not only super modern and looks professional, it keeps your visitor engaged and they get to learn more about you right away.
Plus, using your own face helps build trust with your audience, and the screenshot this person choose for their landing page was a wise choice.
2. Thank You Page Example With Countdown Timer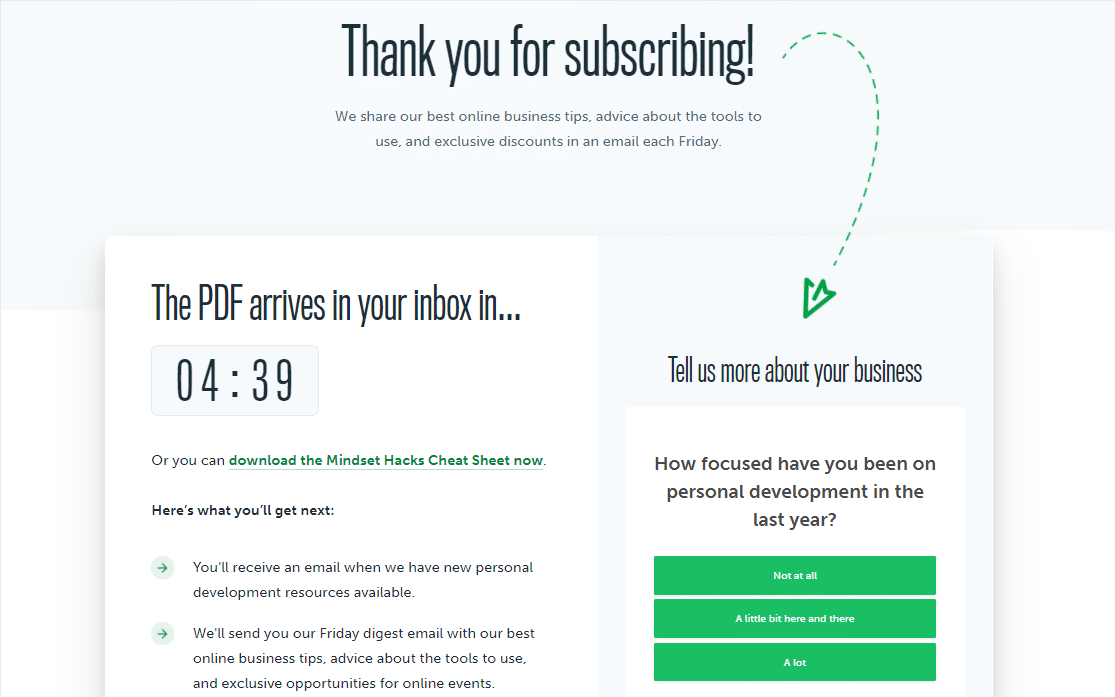 This thank you page example uses a countdown timer to explain when the lead magnet the person signed up for will arrive. You can also use this on your thank you page to encourage someone to sign up for something, like a webinar.
If your WordPress theme doesn't include features like timers, you'll be super happy to learn that SeedProd offers this as well. Simply add the block to your thank you page as you're building it.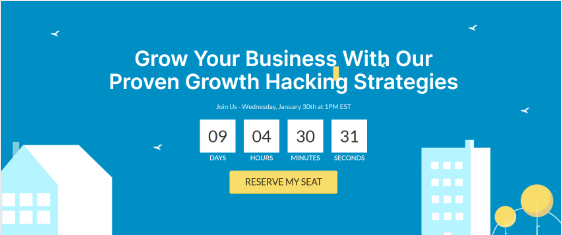 3. Thank You Page With Facebook Group Invite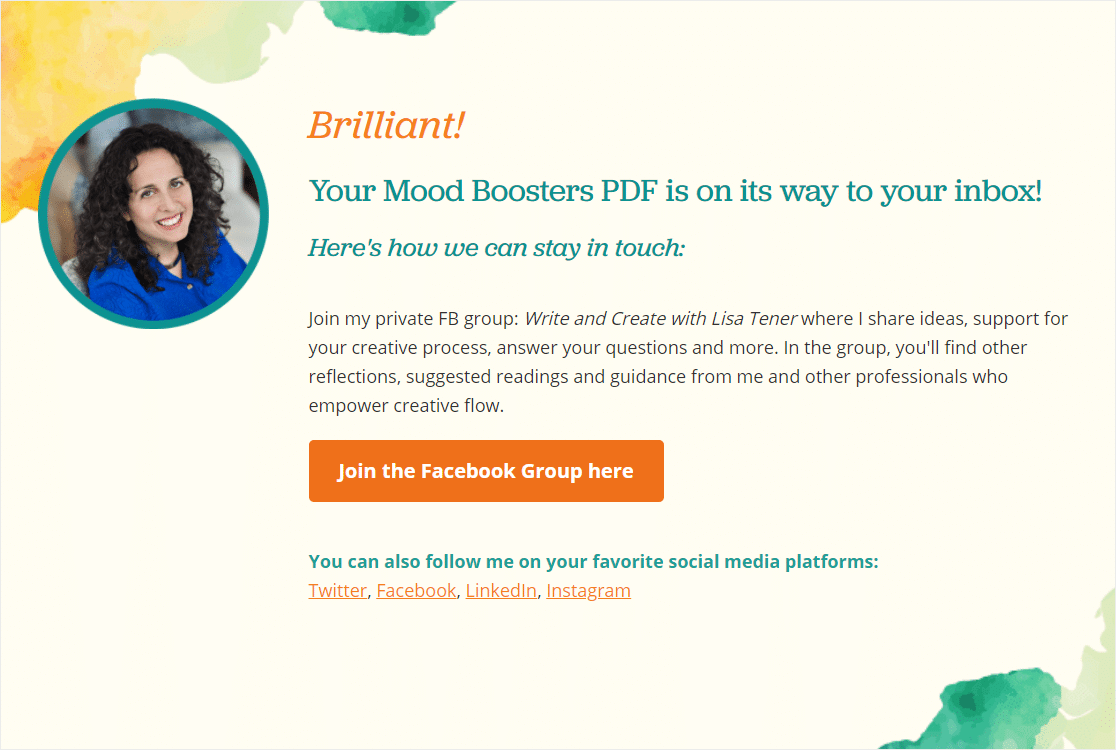 Using social media is necessary for nearly all small businesses these days and ages. And a great way to market your business and build your presence online is to start a Facebook Group.
In this example, the thank you page has a button with a link to a Facebook group. This page is an awesome place to include a CTA like this to bring people into your group.
4. Thank You Page With Social Proof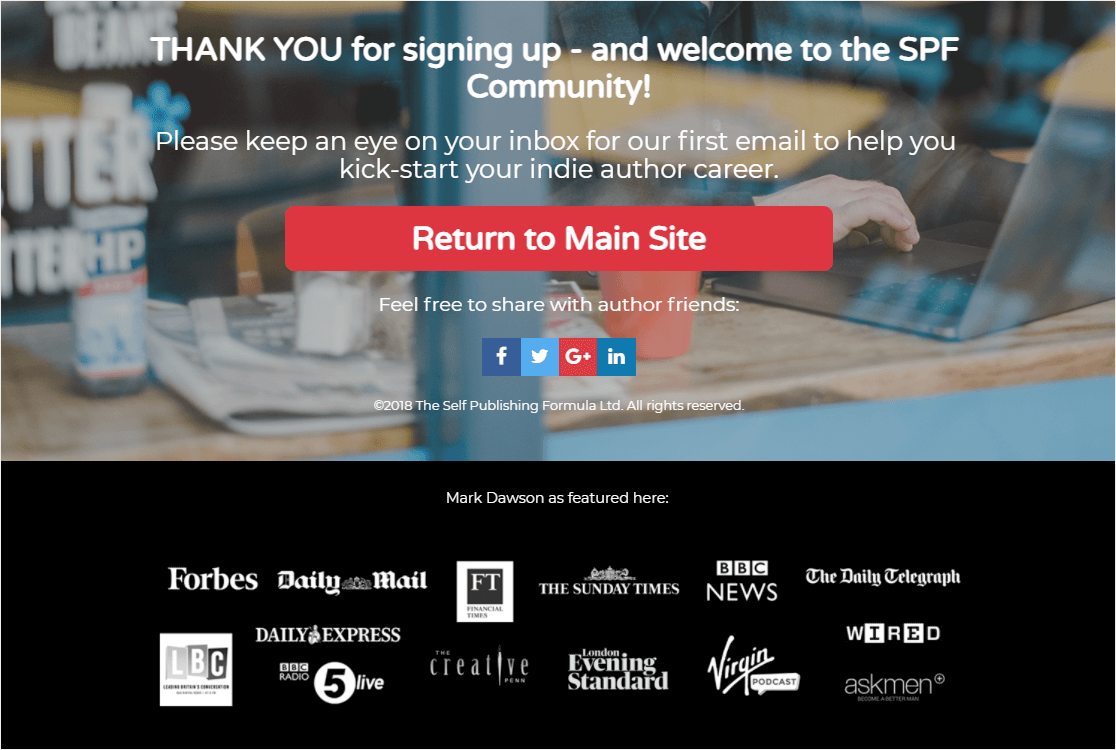 Here's a thank you page with a great social proof example. At the bottom of the page you'll see where the website has been featured.
Using big, recognized brand names or publications that your leads will recognize is a great way to build trust.
5. Thank You Page With Bold Background

This is the most visually appealing thank you page example on our list.
Along with a fun intro video that really helps people get to know the business, this thank you page with a stunning background image clearly matches the brand's tone. And, it's also a fun way to make the thank you page look more professional.
Use this as inspiration to put something eye-catching on your thank you page. There are lots of examples of this in SeedProd's pre-built landing page templates.
6. Thank You Page With Instant Lead Magnet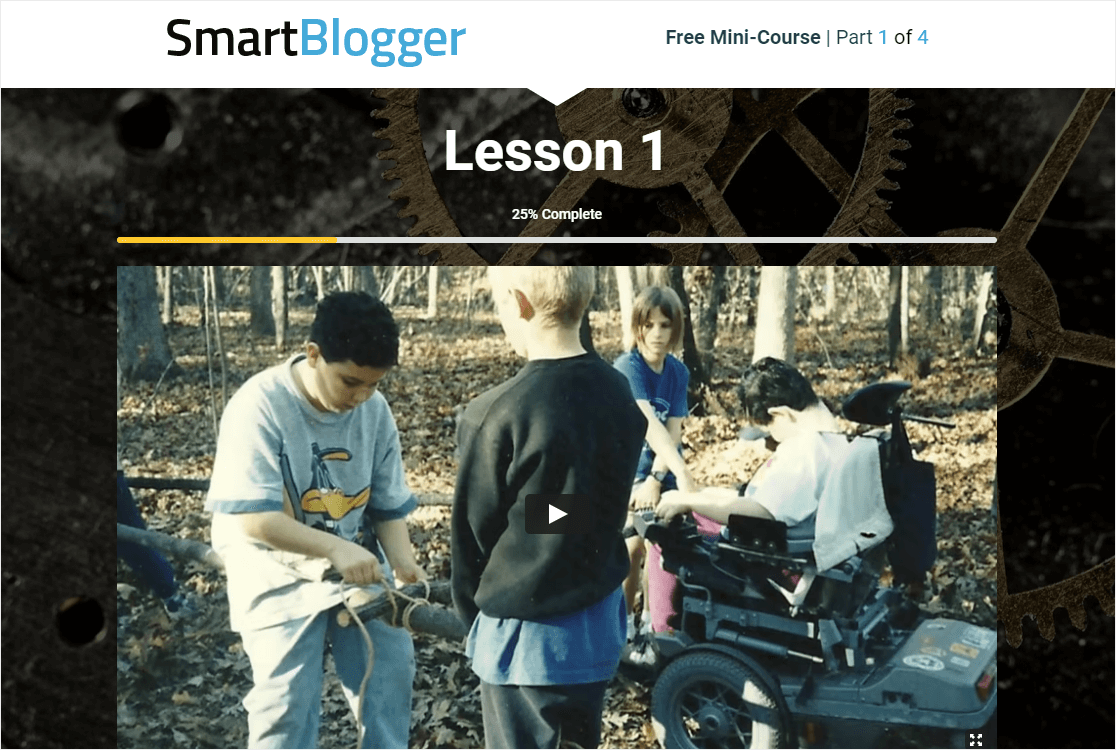 In this thank you page example, the page embeds a video like in the example above.
However, this thank you page for a lead magnet takes it a step further. They offer the lead magnet right on the thank you page.
Meaning, not only did they get the user's email address, but the user never has to leave to go check their inbox for their free resource (even though it's been sent to them if they need it).
7. Thank You Page With CTA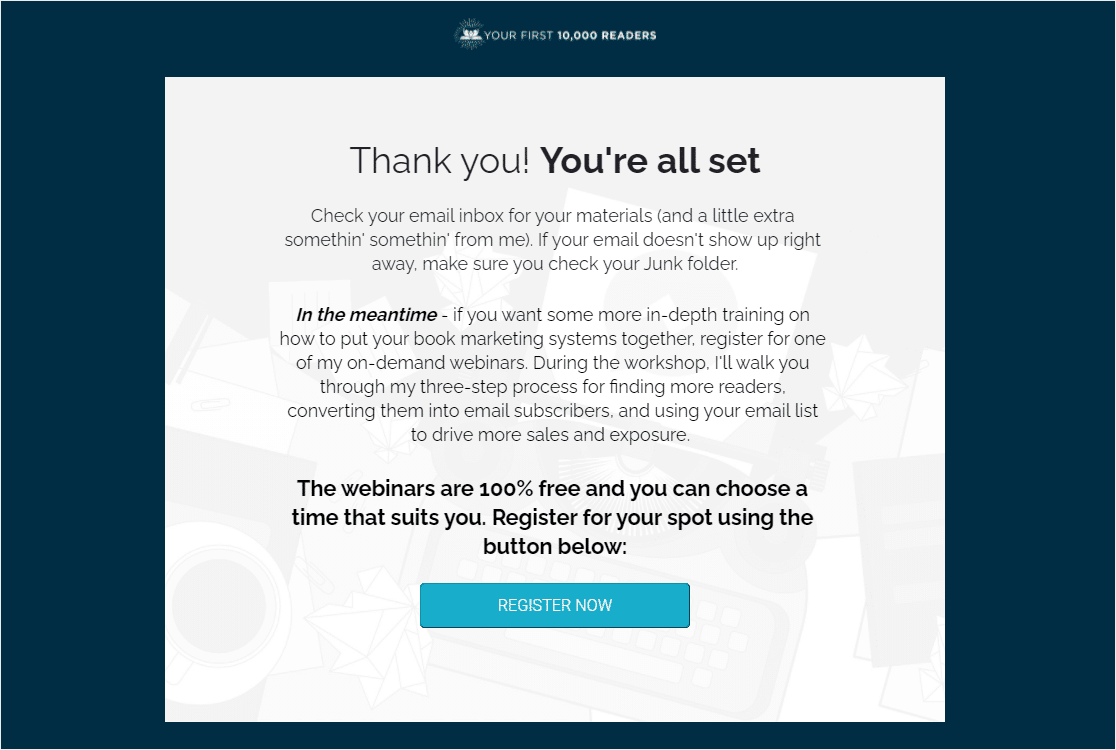 This thank you page example not only thanks the user for signing up with detailed and compelling copy, but it also invites someone to take action doing something else. In this case, it's to sign up for a webinar.
This is a great way to keep the momentum up and move a website visitor through your sales funnel and closer to making a purchase.
8. Thank You Page With Image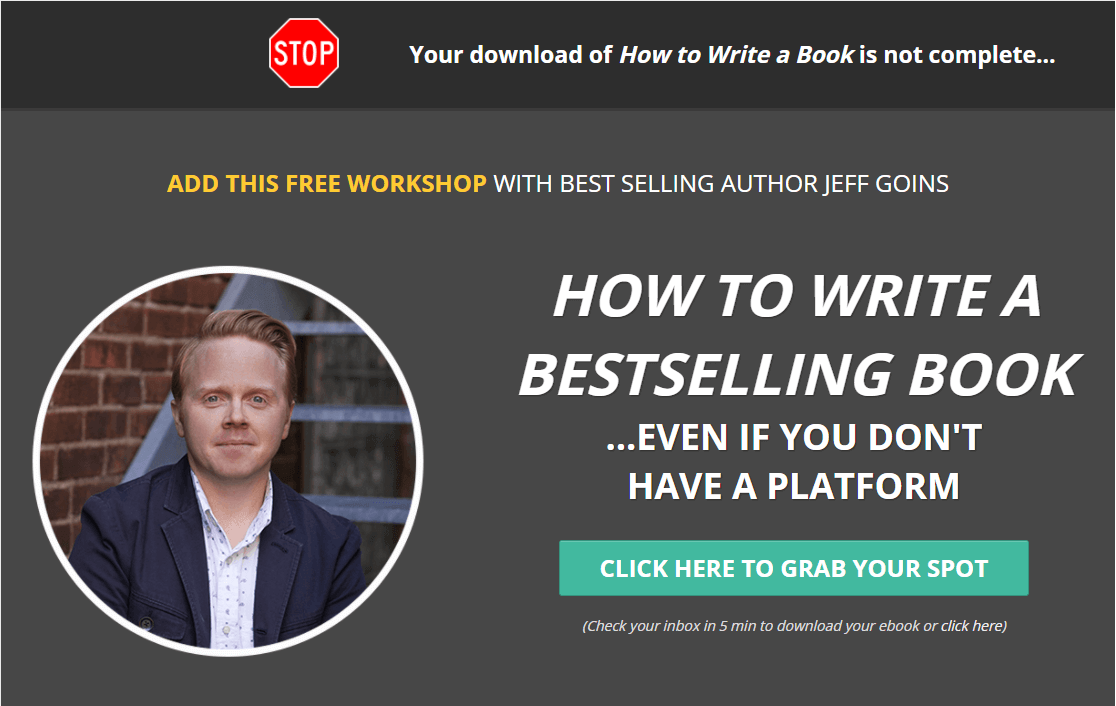 A good way to build trust with your website visitors is to use an image of yourself, like in this example.
This can help make leads feel connected to you and more likely to purchase from you.
9. Simple + Smart Copy Thank You Page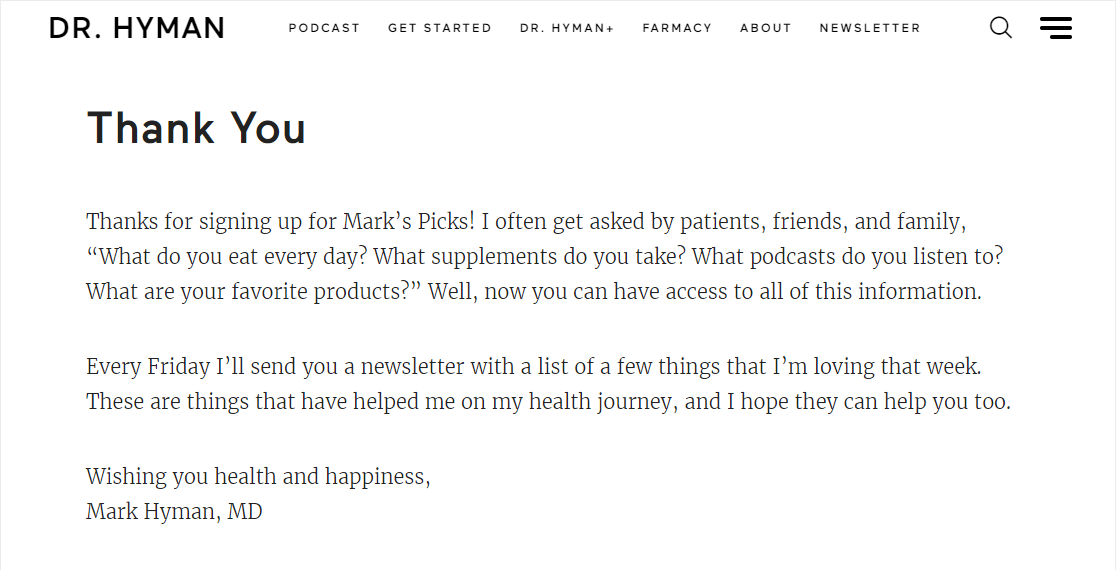 Although this is a simple thank you page example that could probably benefit from some external links or a flashy CTA, the straightforward of this look matches this brand well.
Users probably appreciate that the clean, focused copy helps set up what to expect now that they've signed up. Something streamlined like this might be a good idea for your own small business if your brand and ideal customer align.
10. Thank You Page That Invites People Back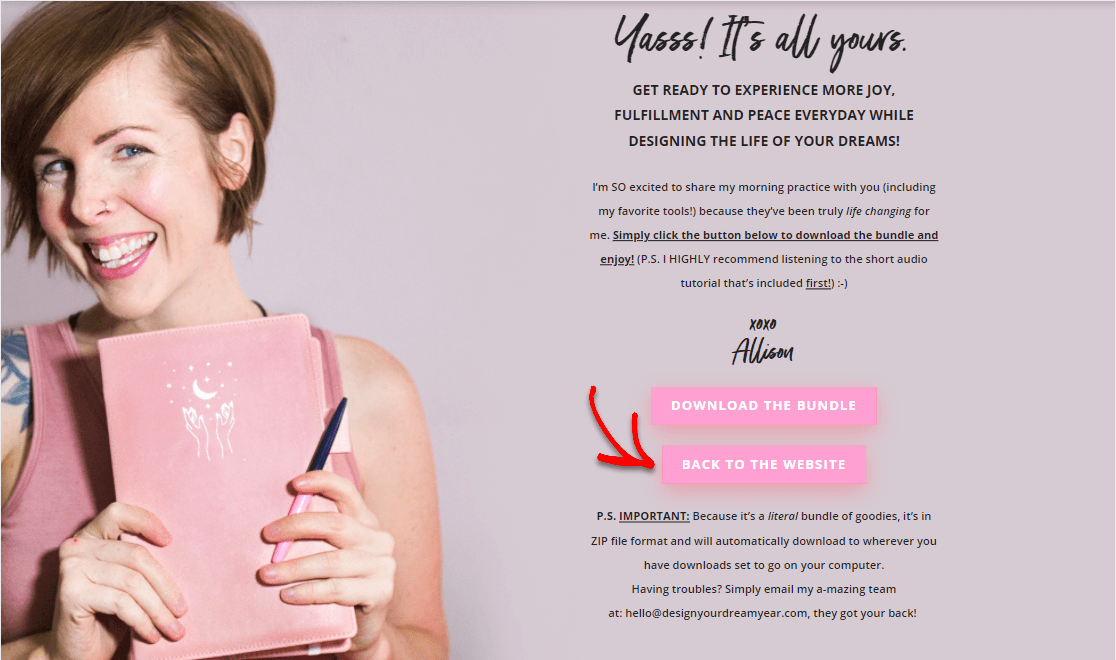 In this fun thank you page example, there's a pretty smart CTA button included on the page.
One is for the content download people signed up for, and the other is simply an invite back to the homepage of the website.
If you've worked really hard on your website and have a strong homepage, there's absolutely nothing wrong with doing this. You might be able to get the website visitor to engage even more with your website this way, so taking them back to ground zero can be smart.
11. Thank You Page That Segments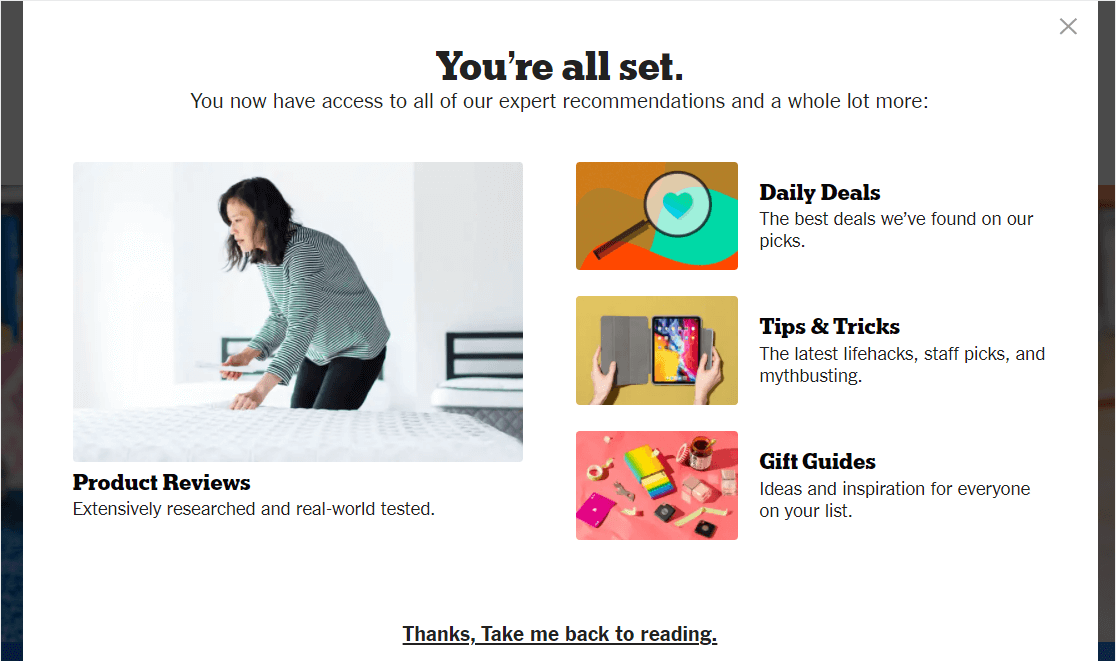 In this thank you page example, you can see some smart segmentation here. There are a lot of ideas here to keep an audience engaged.
Most importantly, the page offers different links to different places. They throw out all their top categories as suggestions and give the reader a choice.
Chances are, they were already on the site reading something in at least one of these categories. So this page helps keep people around the website.
Next Steps: Send People to a Thank You Page With WPForms
So you've seen some fantastic thank you page examples here today. But still wondering how can I send someone from a form my website to a thank you page on my website (automatically)?
Well, it's super easy.
With WPForms, you can easily direct your visitors to a thank you page after filling out your form. Simply navigate to Settings » Confirmation and then, choose Show Page as your Confirmation Type.
In the Confirmation Page dropdown menu, you can choose the right thank you page you've just created in SeedProd.
So there you go. We hope these thank you page examples helped inspire you to create your own.
Since you're setting up what happens to your form after people fill it out, you might also want to check out our article on form success message ideas to boost customer happiness.
So what are you waiting for? Get started with the most powerful WordPress forms plugin today and start redirecting your users to your beautiful SeedProd thank you page.
And if you like this article, then please follow us on Facebook and Twitter for more free WordPress tutorials.